The right type of curtain for the bedroom helps set the ambience by blocking light while offering privacy and warmth. Bedroom curtains also contribute to the overall decor by adding texture and a sense of dimension to the space.
But when it comes to choosing the best curtain for your bedroom, there is more to consider than just privacy, aesthetics, and insulation. The wrong curtain choice can adversely affect the quality of your sleep, so be sure to follow our guide to pick the best bedroom curtains for your needs.
Best Colors for Bedroom Curtains
The colors you pick for your bedroom curtains should be thought thoroughly – whether you just want to choose the colors to create privacy, and block light or you want to opt for colors that are in style with the room furnishings. In the first scenario, darker colors are favored as they block light better and provide more privacy. If you want to create a syncing style with your furnishing, choose a color that harmonizes with the shade of the wall. Meanwhile, you can also make the curtain noticeable by creating a picking a contrasting color with the wall and the surrounding furniture.
When looking for the right bedroom curtain fabric, go for darker shades of colors that can provide adequate privacy. Some kinds of curtains like blackout curtains are highly effective in blocking out light and providing complete darkness. But if you still want some light to enter your bedroom or want lighter colors for aesthetic reasons, you can opt for light and airy silk or satin curtains.
Best Fabrics for Bedroom Curtains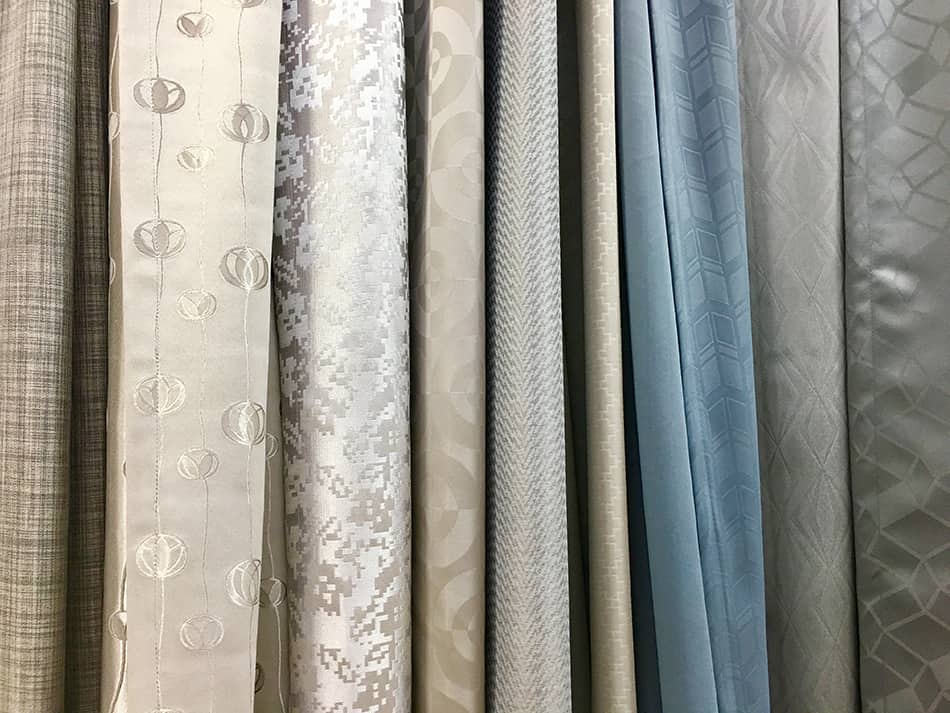 Like colors, the fabrics you choose will also affect your room style and mood. Commonly, heavier fabrics are more favored in classic and traditional rooms while lighter ones will create a gentle mood for the bedroom. Also, heavier fabrics tend to be more effective in keeping sunlight at bay.
Here are the most common bedroom curtain materials:
Silk
Silk or faux silk is a great fabric choice when creating a formal or luxurious look in the bedroom. This slightly heavy material boasts a rich texture and depth so when hung well, it will accentuate your windows and create a refined look in your bedroom.
Cotton
Cotton is a lightweight, affordable, easy to maintain and durable fabric that's perfect for both modern and traditional bedrooms. This fabric isn't as weighty as other materials, but it can drape in a similar fashion.
Velvet
Velvet is a thick and dense material that blocks light more efficiently than silk and cotton curtains. This tufted fabric provides excellent insulation from the cold as well as helps prevent dust from entering the bedroom. For people who suffer from allergies, velvet is a healthier option than polyester. It also has a greater soundproofing advantage over other materials. That said, velvet curtains tend to cost more and require regular maintenance to prevent dust accumulation.
Polyester
Naturally mold-resistant and just as durable as cotton, polyester curtains don't fade as quickly in direct sunlight. In addition, polyester doesn't stretch nor wrinkle unlike other materials, plus it is suitable for all budgets.
Best Length for Bedroom Curtains
The best length for bedroom curtains depends on your interior decor style and the size of your window.
Apron lengths, for example, typically measure 84 inches and are best suited for windows that you open regularly. These curtain lengths make opening and closing the curtain very easy with minimal effort. Apron length curtains slightly brush the floor and tend to gather less dust and dirt This makes them ideal for windows that are right above the bed or other furniture.
If you're looking for longer-length curtains, then consider puddle length that drapes on the floor. These curtains measure up to 108 inches and are ideal for master bedrooms where there are no pets or children.
Bedroom Curtain Styles
Curtains can be found in a wide range of different header styles. Here are the most common styles that are suitable for a bedroom:
Pinch pleats: this classic header style makes the curtain perfect for an elegant bedroom. With plenty of evenly spaced pleats that are sewn at the top of the drape, the pleats are weighted down at the bottom seams, which makes the curtain fall smoothly. Pin hooks are sewn at the curtain panel's top, which is then attached to the rings or traverse rod system. You can choose from different pinch pleat curtain varieties, including 2-finger, 3-finger, 4-finger, 5-finger and French pleats.
Grommets: this curtain header style consists of a continuous panel at the top of eyelets. To be able to hang heavier drapes, metal grommets are attached to the panel, but you will also need a rod to pass through the eyelets.
Tab tops: these popular header styles also have a continuous top panel like grommet curtains. The only difference between the two is that tab tops have fabric loops or tabs instead of eyelets. These tabs run along the top panel with a row of pockets at the back of the panel for easy hanging. You'll need hooks on a rod or tracks in order to be able to hang these curtains.
Gathered pleats: this traditional yet casual header style best suits small windows. The gathered pleat is similar to the pencil pleat with under-defined pleats along the top panel. There is a series of pockets at the back of the panel to hang the curtain with the help of hooks on a rod. You may also hang these curtains on tracks.
Our Top Picks of Bedroom Curtains
Now that you've learned about the best fabrics, lengths, and header styles, make sure you choose curtains that offer a good degree of privacy. Here are 9 of the best quality blackout curtains you can find online.
Black Blackout Curtains by BGment
These functional blackout bedroom curtains can block 99% sunlight, especially if you choose darker colors. Day sleepers should find these energy saving curtains particularly beneficial. These thermal curtains are made of superior quality fabric with the top grommet making the installation an easy task.The extra wide length will fully cover your windows and if you hang the curtains on a traverse rod, you'll find them easy to slide.
Grey Blackout Insulated Curtains by NICETOWN
These curtains are made of heavy microfiber that are interwoven by triple weave technology. They can block 99% UV rays and reduce noise effectively. These bedroom curtains insulate against summer heat and winter cold, with an impressive 23 colors to select from.
Dotted Blackout Curtains by Deconovo
Check Price on Amazon
These attractive patterned curtains are made of 100% high-quality polyester. The blackout panel features foil printed wavy lines with dots, which adds to its appeal. The fabric is soft and silky and comes in a set of 2 panels with 2 matching tie backs. You also get 8 stainless steel grommets for durability. The curtains are available in 18 colors and various sizes.
Velvet Light Blocking Curtain by SPXTEX
Check Price on Amazon
Do you like luxury textures? Then how about this high-quality velvet curtain for a touch of elegance to your bedroom. The curtain blocks sunlight, is heat insulated, and provides utmost privacy. All this makes the curtain soundproof and energy-efficient. And best of all, the velvet fabric won't fade, thus ensuring durability. There are 12 colors to pick from so you're spoiled for choice!
Cotton Geometric Curtain by YOU SA
Another heavy and durable bedroom curtain is this geometric design fabric made from high-quality cotton. Although the fabric is heavy, it won't weigh a rod down so you can easily hang it on a double or single rod and use a tassel to decorate your windows. We love the attractive boho design of this curtain that makes it an ideal choice for a traditional or modern bedroom.
Faux Silk Rod Pocket Curtain by Madison Park
Check Price on Amazon
If you are looking for a luxurious yet budget-friendly bedroom curtain for a classic interior, we have selected this faux silk curtain that can be hung on a rod pocket. The alluring fabric weave is woven in shades of blue and taupe in a shimmering pattern. The panel is made of solid faux silk in gold details that create a stunning look. Simply hang it on back tabs or rod pockets for a custom finish. It comes in 4 unique color options.
Grey Polyester Thermal Curtain by WONTEX
With a staggering 26 color options, this triple weave blackout curtain promises to balance room temperature throughout the seasons. This means the panel consists of 3 fabric layers that are heavy weighted and look very upscale. In addition, the curtain blocks 99% light, is soundproof, energy-efficient and fade resistant. It is thread trimmed and won't wrinkle after washing in the machine.
Room Darkening Drapes by SimpleHome
Check Price on Amazon
With two-tone gradient color, this panel adds a stylish touch to your bedroom windows. We love the chic pattern of these draperies that look so trendy in formal and informal bedrooms. It is a great option for day sleepers who are seeking to block daylight or keep sun glare out. The fabric feels very soft and is highly durable with a service life of more than 10 years.
Lattice Pattern Curtain by HLC.ME
These lattice pattern curtains are made of thick satin material with a stunning printed design that makes them look luxurious. The room darkening curtains are made of triple weave technology, thus making the fabric denser in order to fight against the cold, heat, and light. The blackout grommet top panel promises to block 90% of light to ensure you get a good night's sleep.
Any of our above curtains picks will provide your bedroom with maximum insulation, privacy, and darkness so you can enjoy an afternoon nap without feeling too hot or cold. Just remember to choose a darker color in any material you like if you want to block 99% of sunlight.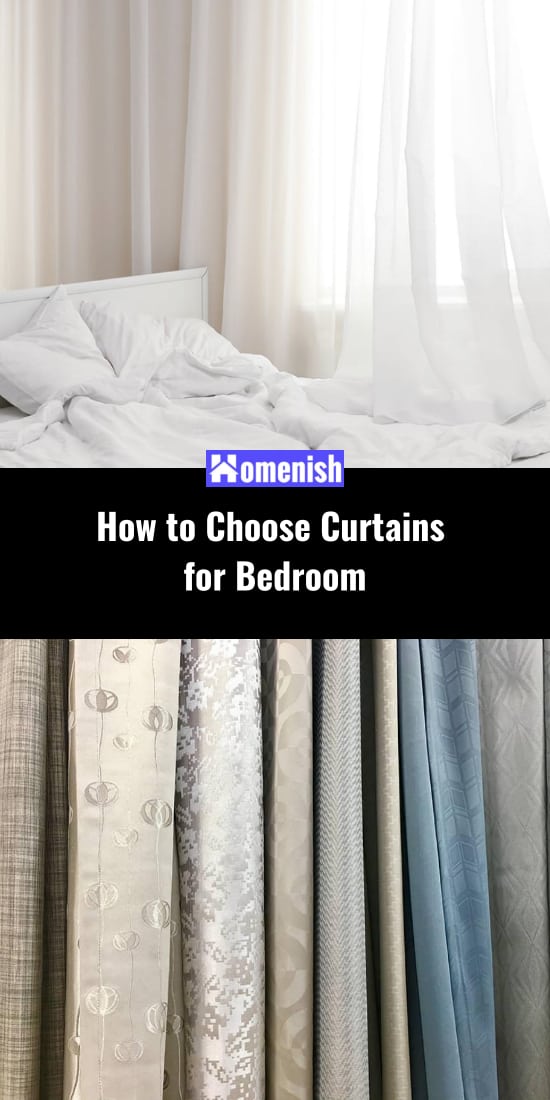 data-pin-description="The right type of curtain for the bedroom helps set the ambience by blocking light while offering privacy and warmth. Bedroom curtains also contribute to the overall decor by adding texture and a sense of dimension to the space."