If you're looking for a cozy and stylish addition to your home, an egg chair is a nice choice. With its unique shape and comfortable design, the egg chair has become a popular piece of seating furniture for both indoor and outdoor spaces.
While egg chairs share the same shape, they come in a range of different sizes, which can make choosing the right egg chair a challenge. A standard egg chair has dimensions of around 43 inches in height, 34 inches in width, and 31 inches in depth, though this can vary between each model.
Here we explore the different egg chair dimensions available and how to choose the perfect fit for your home and your body.
What is an Egg Chair?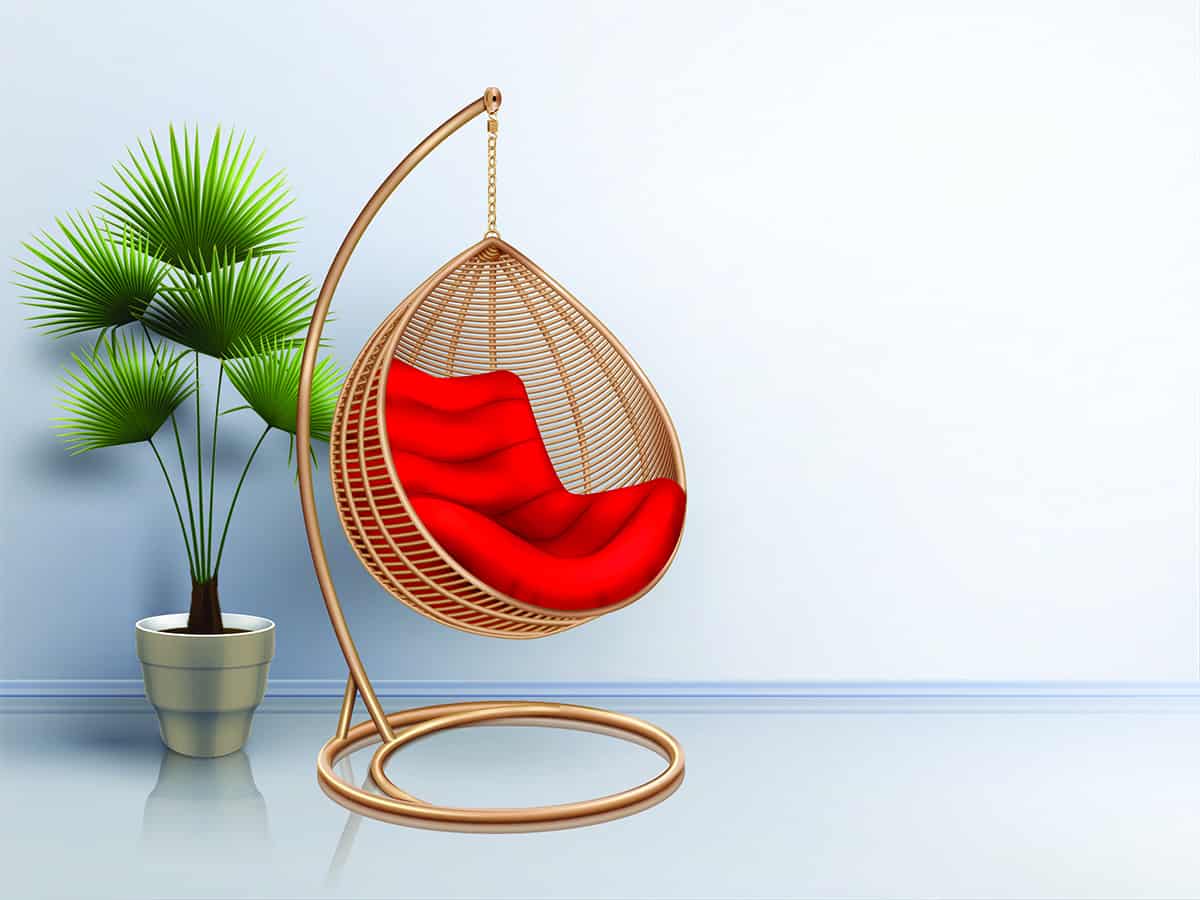 An egg chair is a type of chair that has a frame loosely based on the shape of an egg. The attraction of an egg chair lies in both the iconic style as well as the feeling of comfort it creates. The egg chair surrounds you on both sides and overhead, making you feel somewhat enveloped by the chair for a sense of safety and security.
Egg chairs have padded cushions for added comfort, which can be found in almost any style and color you want. The main drawback of the egg chair is that they take up so much more space than most standard chairs, so it's important to be clear of an egg chair's measurements before you purchase one for an area of your home.
Egg Chair Origins
The concept of the first egg chair was created by Danish architect Arne Jacobsen in 1958. Jacobsen designed the chair specifically for the SAS Royal Hotel in Copenhagen, where it was used to furnish the hotel's lobby and lounge areas.
The egg chair's iconic shape and comfortable design made it a popular choice for relaxing and socializing. Since then, the egg chair has become a symbol of mid-century modern design and a sought-after piece of furniture for the home and garden.
Types of Egg Chairs and Sizes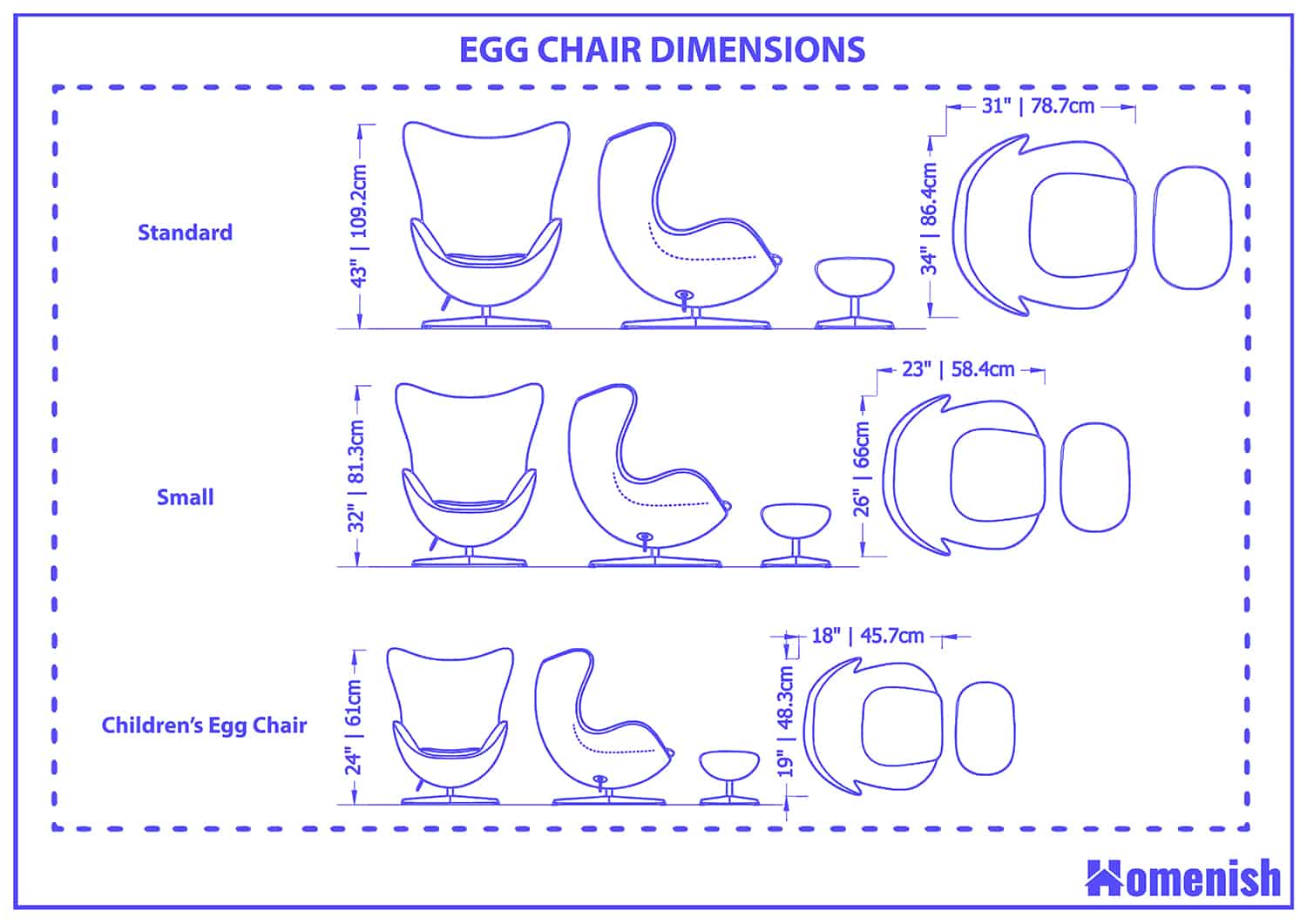 There are many different designs and sizes of egg chairs available, so it shouldn't be too difficult to find one with measurements that suit your needs and the dimensions of the space you have in your home.
Standard Egg Chair Dimensions
The standard egg chair dimensions are approximately 43 inches in height, 34 inches in width, and 31 inches in depth. This size is suitable for most people of average size, and the chair's unique shape provides a comfortable and cozy seating experience. The standard egg chair can accommodate people of various sizes, making it a versatile piece of furniture for any home.
These measurements represent the average egg chair. However, you should note that the egg chair's dimensions may vary depending on the manufacturer and the design. Some egg chairs may be slightly smaller or larger than the standard size, so it's essential to check the dimensions before making a purchase.
Small Egg Chair Dimensions
If you're looking for a smaller egg chair to fill a compact corner of your home, the mini egg chair may be a good option. Mini egg chairs typically have a height of 32 inches, a width of 26 inches, and a depth of 23 inches.
These dimensions make the mini egg chair a great choice for smaller spaces, such as apartments or bedrooms. The smaller size of these egg chairs can inhibit comfort somewhat since they provide less space for lounging, and therefore they work well as occasional chairs.
Children's Egg Chair Dimensions
Some egg chairs are designed specifically with children in mind. Children's egg chairs typically have a height of 24 inches, a width of 19 inches, and a depth of 18 inches. These dimensions make the chair perfect for children between the ages of 2 and 6. Older children would be better suited to small egg chairs, which are slightly larger in size.
Children's egg chairs are available in a range of colors and designs, making them a fun and playful addition to any child's room. You can also find outdoor egg chairs in children's sizes, which are great for keeping in the garden as a spot for kids to relax in the warmer months.
Considerations for Choosing an Egg Chair
When choosing the right egg chair dimensions for your home, there are several factors to consider. The first is the size of the room where you plan to place the chair. If you have a smaller space, a mini egg chair or a children's egg chair may be a better fit. If you have a larger room, the standard egg chair may be the perfect size to fill the space while also providing the utmost levels of comfort.
Another factor to consider is the height of the person who will be using the chair. Users who are tall in height may find the standard egg chair more comfortable, while those who are shorter in height may prefer the mini egg chair or children's egg chair. As well as considering the practical aspects of egg chair dimensions, you will also want to think about the style and design of the egg chair. Egg chairs are available in a range of materials, including leather, cotton, velvet, and polyester.
The chair's style can have a significant impact on the overall look and feel of your room, depending on the color and fabric you choose. If you want your egg chair to stand out or accent against the rest of the space, opt for a color that contrasts the color of your walls. For example, in a room with navy blue walls, opt for a bright orange upholstered egg chair.
Garden egg chairs will usually have wicker or wooden frames, and these can help to create an exotic or laid-back vibe in your outdoor space. Take care to house your outdoor egg chairs in the garage or a shed during storms or throughout the cooler months to help extend their lifespan.