Ceilings in any room of the home are traditionally painted white, and this is still a popular color choice in modern and contemporary homes. It is becoming more commonplace for other paint colors to be used on the ceiling, so if you want to branch out from the norm, then you can explore alternative options.
This guide explores some of the best paint colors for kitchen ceilings.
Should Kitchen Ceilings be Painted White?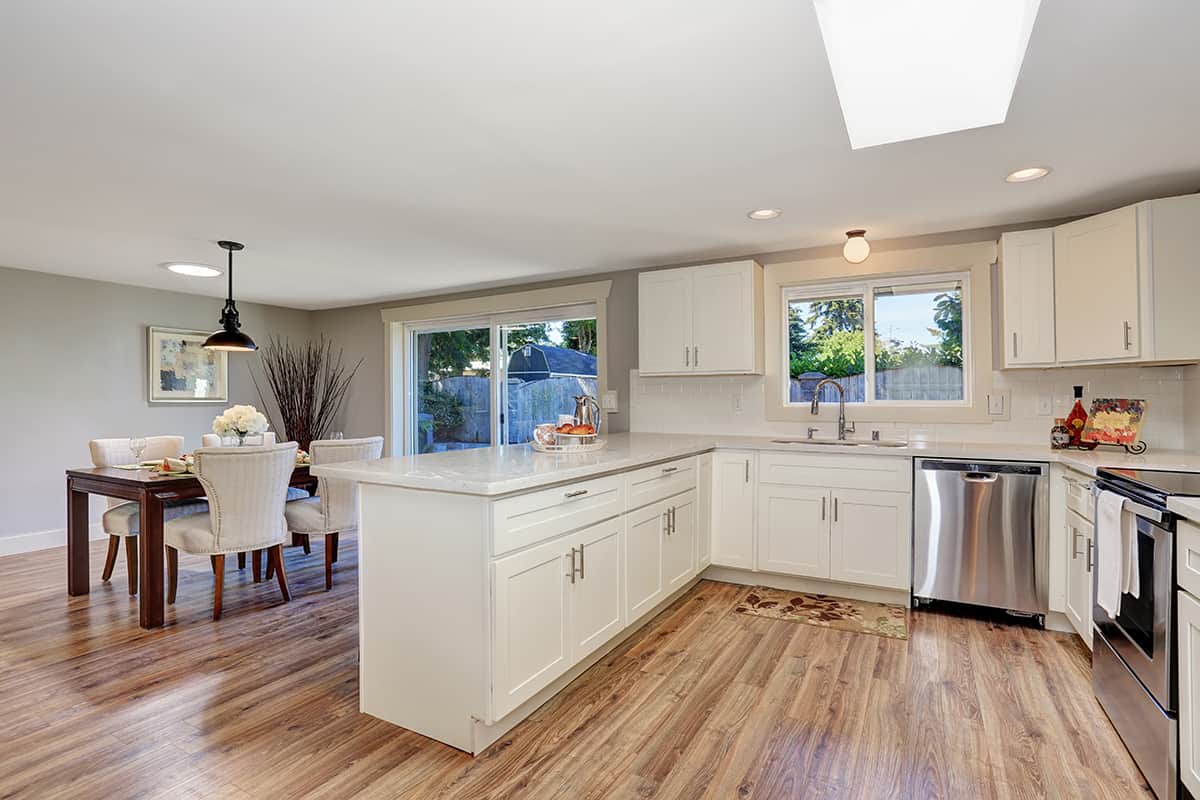 White is the standard paint color for ceilings throughout residential homes, and this is for good reason. White reflects light, so a white ceiling helps to make a room feel more airy and spacious. The ceiling can appear further away when painted in white, which can make the walls feel taller and create a sense that the room is bigger than it really is.
As a pure neutral color, white doesn't detract from any other features in the space. For example, white paint isn't going to draw attention to the ceiling or make a focal point of it.
Instead, it will help it to fade into the background and become a non-feature. If you have a lot of bright colors or if you find the kitchen lacks space, then it can make sense to paint the ceiling white because adding more colors will be too overwhelming.
From a purely functional point of view, white is the easiest color choice. Pure white paint works with any other color, so if you opt for white ceilings, you don't need to worry about whether or not your wall color is going to look ok with them. As ceilings are traditionally painted white, you'll find a lot of different types of white ceiling paint at the hardware store.
You can find white ceiling paints that are designed to be able to cover mold, water stains, nicotine stains, or grease stains, which can be especially useful in the kitchen where stains occur more frequently. If you need to repaint or touch up your kitchen ceiling, this is going to be easiest if the ceiling is white.
You can pick up any white ceiling paint and be sure that it's going to blend in without having to worry about matching the exact right shade. If you paint your ceiling in a different color, you'll need to be sure to keep some of that color on hand for touch-ups.
Alternative Kitchen Ceiling Colors
Using a color other than white for ceiling paint is a design idea that has been gaining popularity over the last few years. Most commonly, people will choose to use the same color on the walls and the ceiling, as this creates an enveloping feel and can make for a cozy atmosphere.
You can also consider painting your kitchen ceiling in an entirely different color from the walls, and this works especially well if you want to make a feature of your ceiling, for example, if there is paneling on the ceiling that you want to draw attention to. Some of the best alternative colors for the kitchen ceiling include:
Beige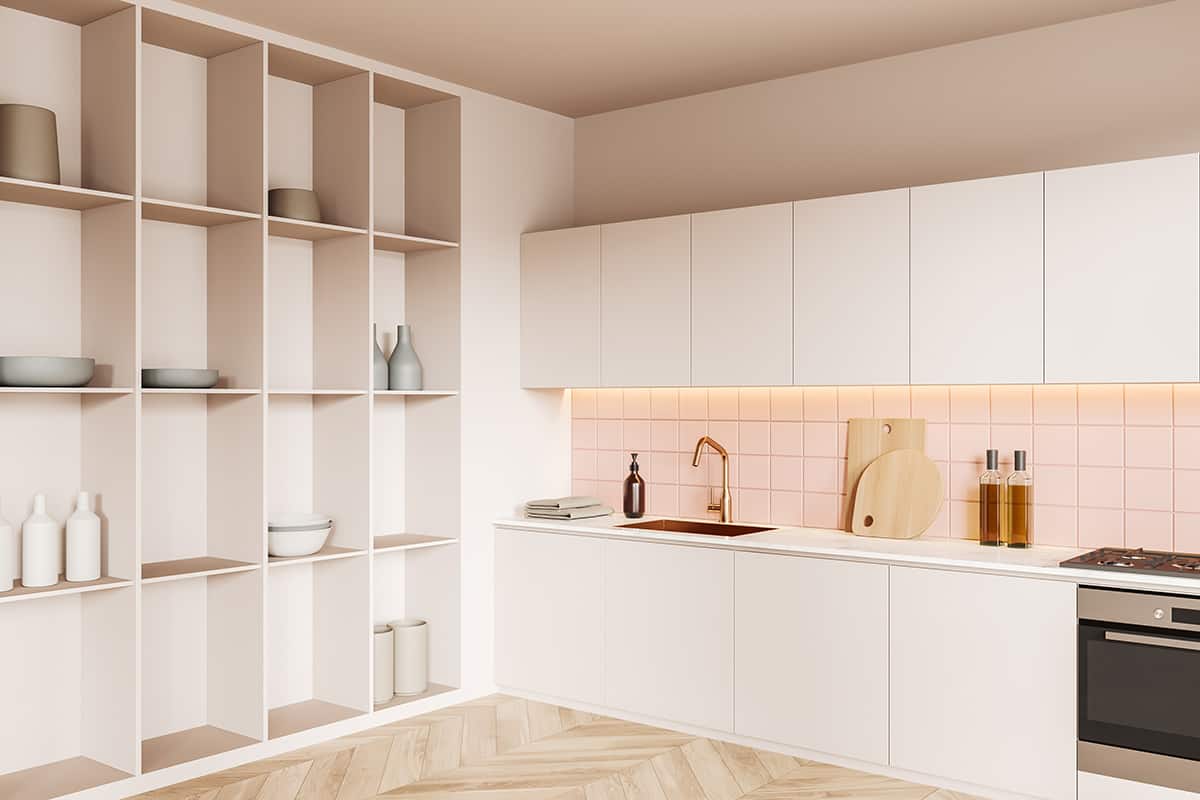 Beige works as a really comforting ceiling color in a kitchen, and it looks great when used on the walls as well or as a standalone ceiling color by itself. If you have white kitchen cabinets, paint the ceiling beige to encourage a wholesome and welcoming vibe to ensure the kitchen is the heart of the home.
A beige kitchen ceiling can also look great with black kitchen cabinets since a white ceiling can look too stark alongside black. Beige is a light color so it doesn't make the room feel small or dark, yet it has enough warmth in it to make the kitchen feel more homely compared with a white ceiling.
Gray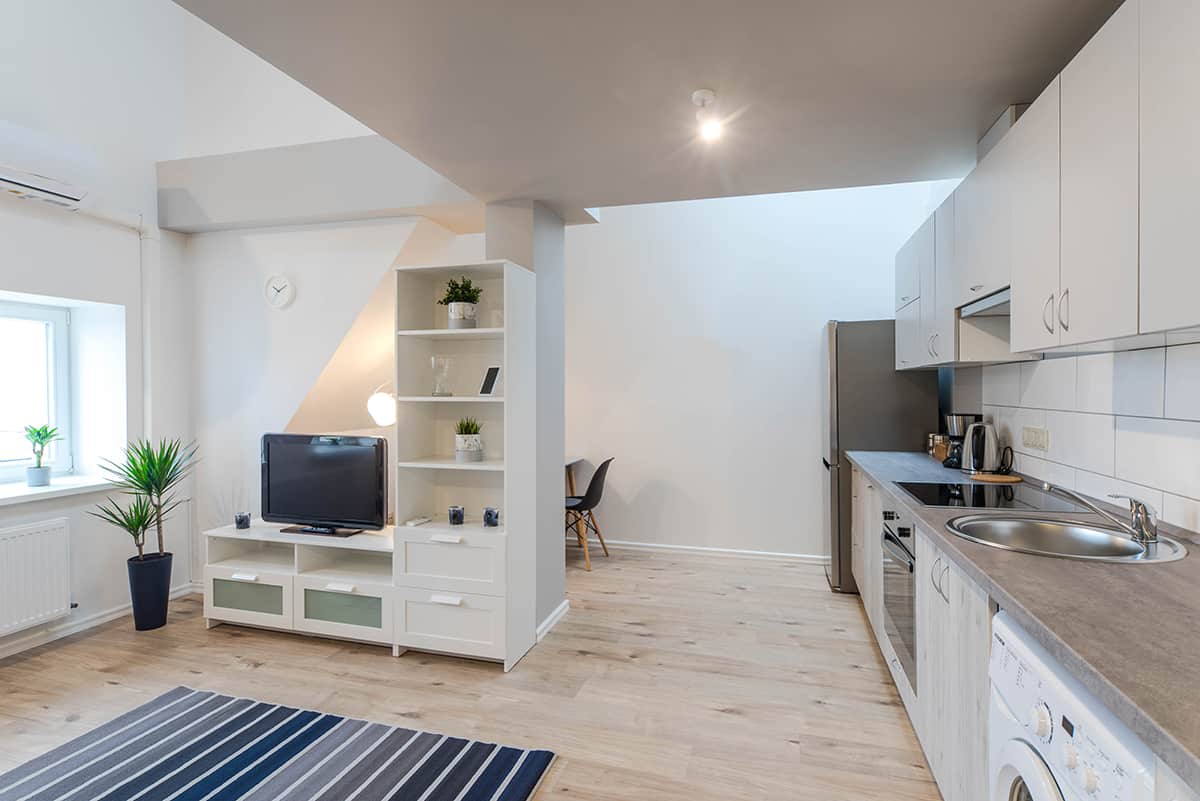 Gray is a cool color that can be used on the kitchen ceiling if you want to define the room as sleek and modern. This color will work best in a kitchen that receives plenty of natural sunlight throughout the day. Otherwise, a gray-painted ceiling can make the room feel too cold and unwelcoming.
If you have gray cabinets, you can paint the ceiling gray to match a cohesive design or use gray as a contrasting color on the ceiling with honey oak cabinets or yellow-painted cabinets. A gray ceiling can help to set off cabinets that have a warm tone.
Yellow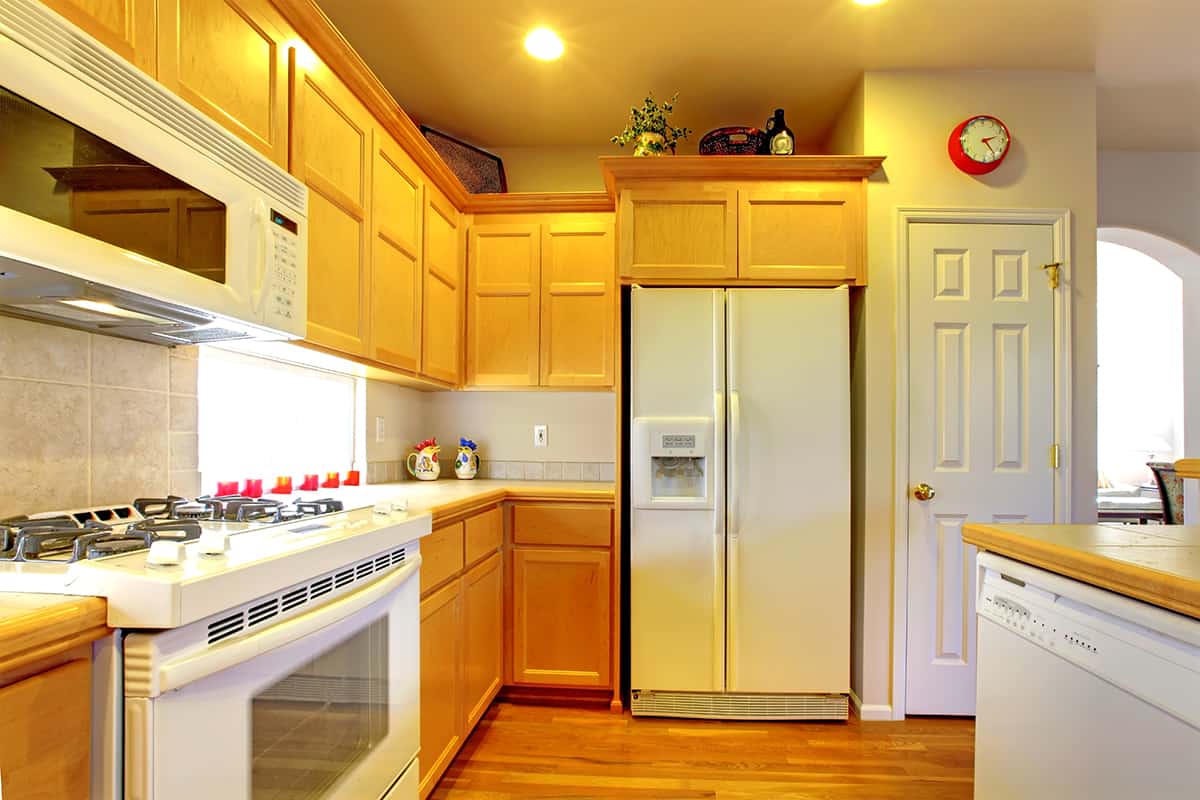 If you want to inject some faux sunshine into your kitchen then a yellow ceiling will do just the trick. Opt for a bright lemon shade for a cheerful energy, and be sure to keep the rest of the surfaces in the room quite plain.
White cabinets and white-painted walls will look great with a yellow-painted kitchen ceiling, as they will allow the ceiling to be the dominant feature. A pale pastel yellow could also work well as a kitchen ceiling color, giving a positive, sunny vibe to the room even when the weather outside is far from pleasant.
Green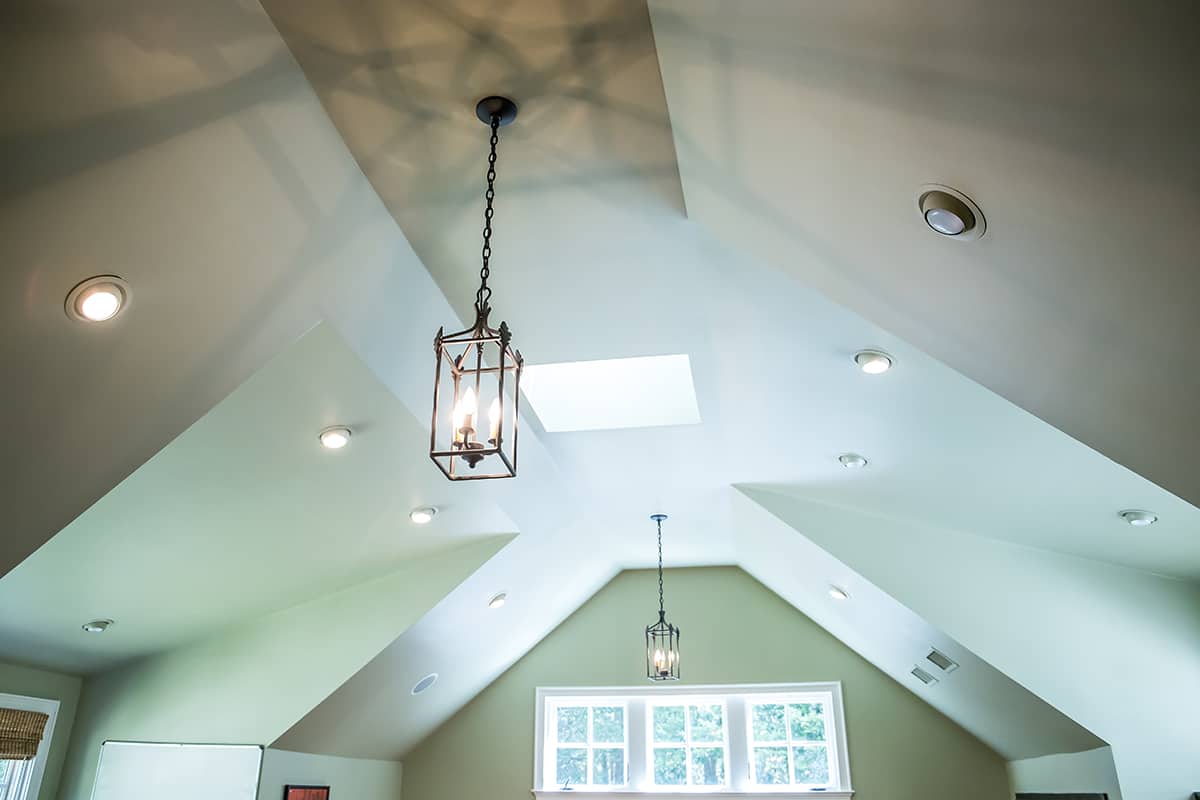 Green is an increasingly popular color to use in kitchens since it helps to link the inner rooms of our homes with the outdoor world. Green is a prominent color in nature and as such it can help to make us feel invigorated, refreshed, and inspired. Green is also thought of as a comforting color to be around, making it ideal for use in any area of the home.
If you've painted your kitchen walls in green, then consider continuing the color across the ceiling. Not only will this mean you don't need to cut in the paint at the corners where the walls meet the ceilings, but it will create a feeling of consistency and make the whole space feel more connected.
Any shade of green can work well for the kitchen ceiling, but the shade choice will of course affect the atmosphere. Pale and muted green shades on the kitchen ceiling will appear more subtle, while bright shades of green will have a more obvious, fresh appeal.
Dark shades of green on the kitchen ceiling can create an intimate vibe which can be useful in large kitchens that can feel too large and vacant when painted in lighter colors.
Blue
Since blue is the color of the sky, it's a popular color to use as ceiling paint for people who would prefer to avoid the standard white ceiling. Choose a pale and pretty shade of blue if you want to emulate the sky in your kitchen, and if you wish you can even paint some fluffy white clouds onto the ceiling.
A dark blue ceiling will be more reminiscent of the night sky, which can be really effective for an intimate atmosphere if you enjoy entertaining in the kitchen. Carry blue paint from the walls through to the ceilings for a relaxing and cozy feel, or use a different color paint on the walls if you want your ceiling to be a feature in the kitchen.
Here the vibrant blue ceiling in the kitchen contrasts refreshingly with the muted teal walls. This pop of color complements the rich wooden cabinetry and countertops, creating a harmonious and balanced color scheme.