A divan is a type of bed also known as a box spring. It is a type of bed that is built from a wooden structure covered in fabric, instead of the more traditional bed frame, and the mattress sits on top of this.
Divan beds come in a wide range of different standard sizes to suit a variety of mattress sizes, and you can also get custom-made divans in specific dimensions. It's helpful to know the size of a divan before you order one so that you can plan the layout of your bedroom, and ensure it is going to work in your space.
Here we look at the standard sizes of different types of divans in the UK and North America.
Divan Height Measurement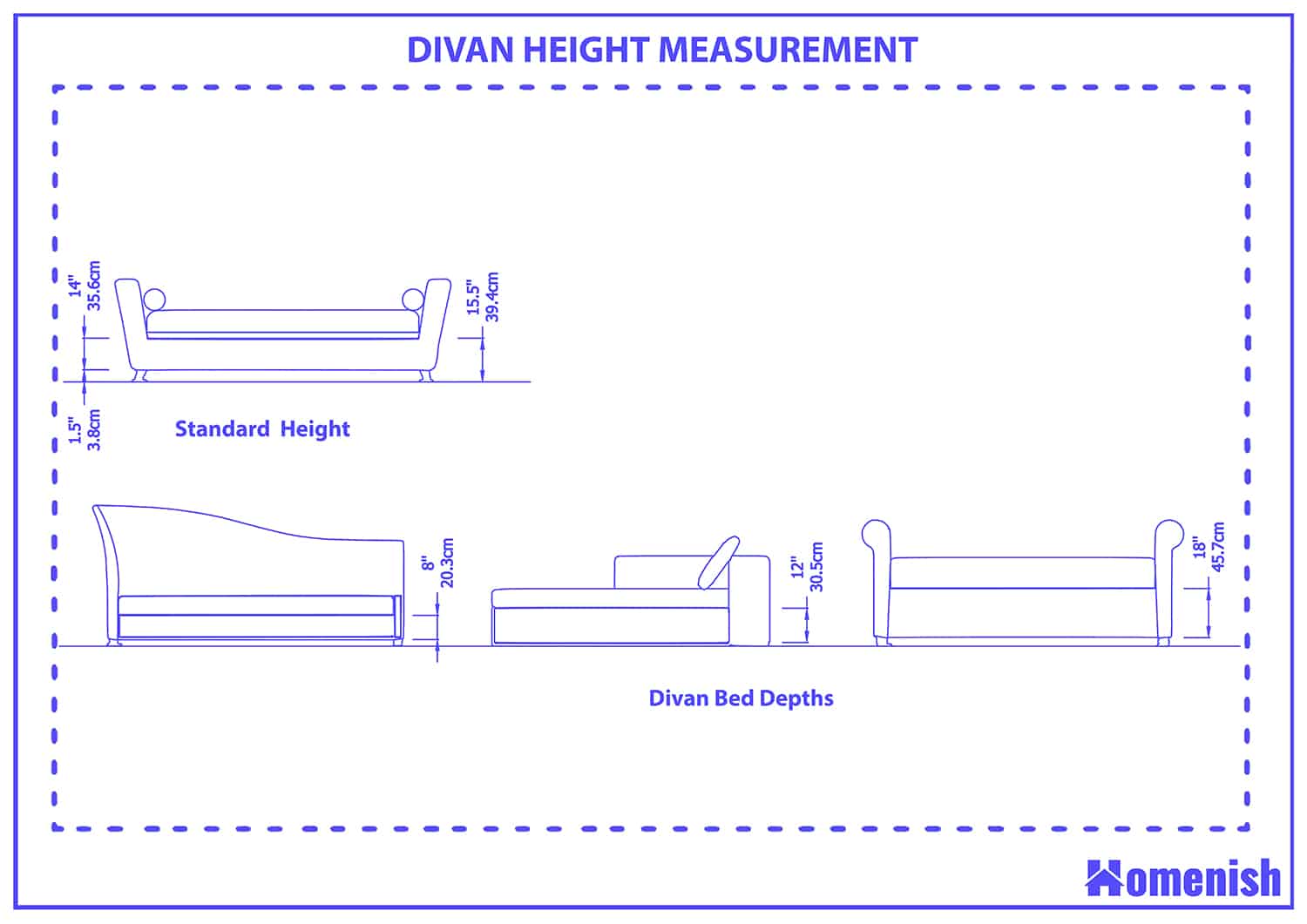 The standard height for a divan is 14 inches. This does not take into account the mattress or the castors which get screwed into the bottom of the divan base, but purely the height of the divan frame itself. Although 14 inches is the standard height, divan bed bases are available in other depths of 8 inches, 12 inches, and 18 inches.
The divans with smaller depth measurements are well suited to children, as this will make it easier for them to get in and out of bed. The lower depths might also be more appropriate for older people, or those with mobility issues who struggle to get in and out of a high bed.
The taller divan bases work well for large beds in master bedrooms because they create a more stately, dramatic look. The height of the castors which are added to a divan base is 1.5 inches, so this should be added to the divan depth measurement if you want to ascertain exactly how far from the floor your divan base will be. A standard divan will have a depth of 15.5 inches once the castors have been installed.
Divan Base Types and Dimensions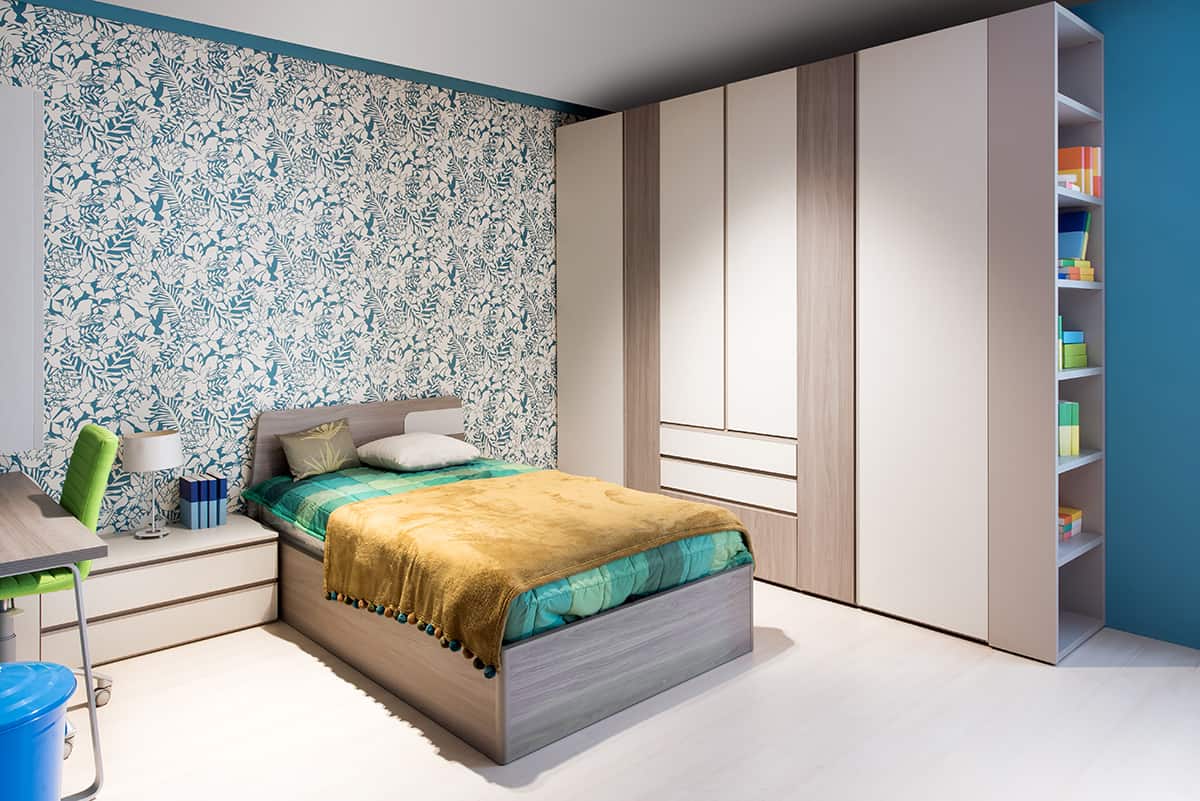 Divan beds are a type of bed frame constructed from wood and covered in fabric, to create the look of an entirely solid bed base. Within this type of bed, there are a small number of different types of divans. This includes drawer divans, ottoman divans, high divans, sprung divans, and platform top divans.
Platform Top Divan
A platform top divan is a type of divan which has a solid piece of wood as the top surface of the base, which a mattress will sit on. These can also be known as hard-top divans and solid-top divans. They provide a more rigid and supported sleeping experience that some people prefer compared to the standard sprung divan base.
These are typically less expensive to buy than sprung divans, but the standard measurements will be the same. The height of a platform top divan will be 14 inches, or 15.5 inches if you include the castors. The length and width of the divan will depend on which size mattress you need to fit on it.
Sprung Divan
A sprung divan has springs beneath the upper surface, which allow more movement in the mattress. A standard sprung divan will measure 14 inches in height, or 15.5 inches if you include the castors.
Drawer Base Divan
A drawer base divan makes use of the hollow space within the bed base, with the addition of drawers. This is a great solution for compact rooms where you need to maximize storage space, or for any room where extra storage would be beneficial.
These types of beds are more expensive to buy compared with divan bases which have no storage. They have the same height measurement as standard divan bases, at 14 inches without castors, and 15.5 inches with castors.
Ottoman Base Divan
An ottoman divan base lifts up from the foot of the bed so that you can access the large inner compartment and use it for storage. Most people store spare sheets and blankets in an ottoman bed, and they can also be great for keeping out-of-season clothing. These bases measure 14 inches tall, or 15.5 inches if you include the castors.
High Divan Base
A high divan base is exactly that; a type of divan which sits at a taller height than is standard. High divan bases create a more luxurious, opulent feel in a bedroom. They are typically more expensive than standard divans and have an increased height of 18 inches without castors, or 19.5 inches with castors.
Divan Width and Length Measurements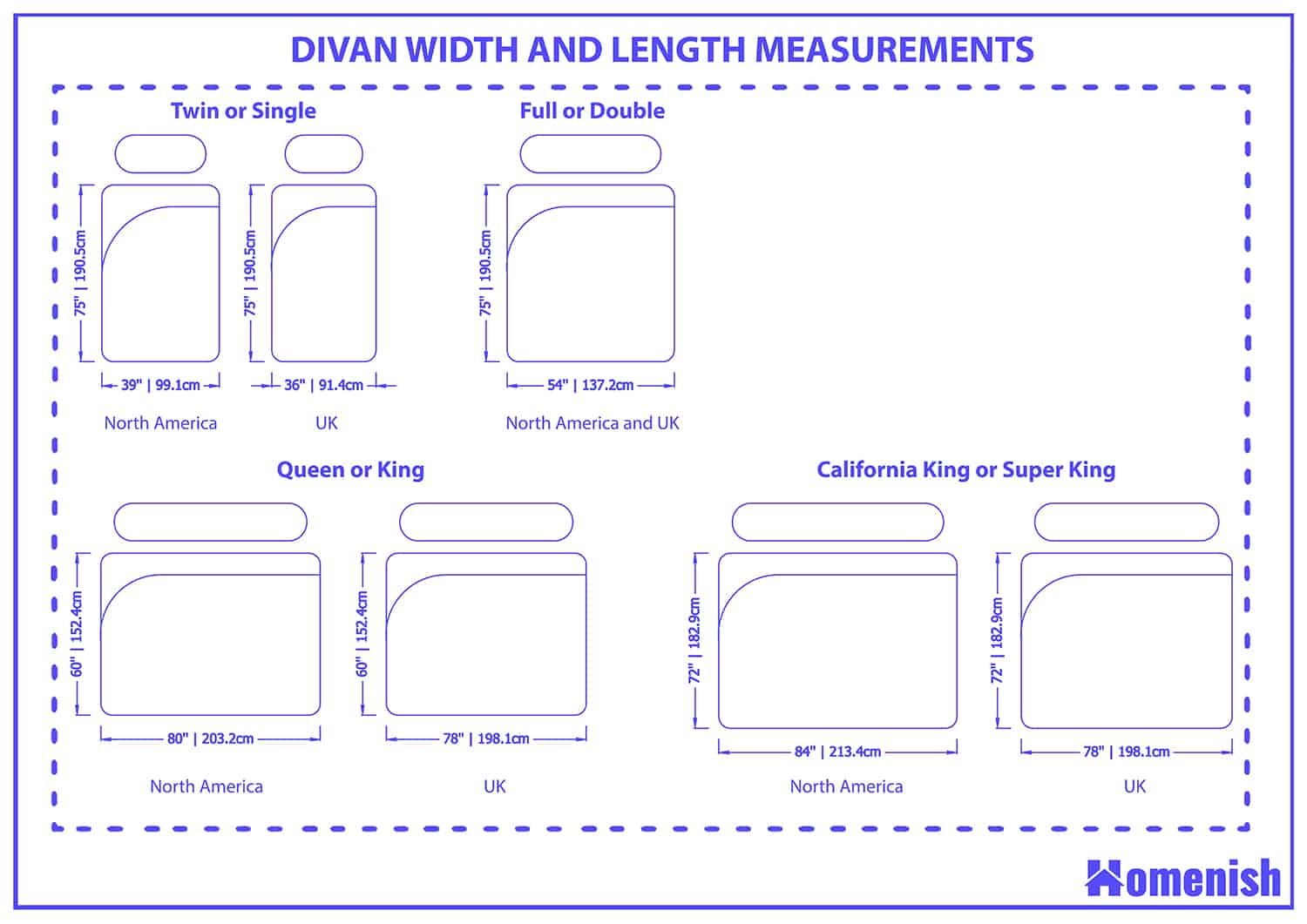 The length and width measurements of a divan will correspond to the mattress sizes in your areas. Beds and mattresses have different names and different measurements in North America and the UK. Divans are intended for the mattress to sit flush on top of the base, so they should not extend into your space any more than the mattress itself, in terms of length and width.
North America VS UK Divan Sizes
Twin or Single
In North America, a divan for a child or individual adult is called a 'twin', while the similarly sized bed in the UK is called a 'single'. The American dimensions for a twin are 39" x 75" (3'3" x 6'3"), while in the UK a single divan would measure 36" x 75" (3'0" x 6'3").
Full or Double
What is called a 'full' sized bed in America is called a 'double' in the UK. The measurements for both of these beds are exactly the same, so an American full divan or a British double divan will measure 54" x 75" (4'6" x 6'3").
Queen or King
A queen-size divan in America would be the equivalent of a king-size divan in the UK. A US queen bed measures 60" x 80" (5'0" x 6'8"), while a UK king is slightly smaller at 60" x 78" (5'0" x 6'6")
California King or Super King
The largest standard-sized bed in North America is known as a California king, and the equivalent divan in the UK is called the super king. The US California king divan measures 72" x 84" (6'0" x 7'0"), and the UK super king is slightly smaller at 72" x 78" (6'0" x 6'6").