There is nothing like a beautiful blue carpet to bring a calming vibe to the room. But when it comes to deciding what wall colors go with blue carpet, you must ensure the flooring doesn't become an eyesore. There is also the size of the room to consider as darker shades can cause a small room to feel dreary.
A blue carpet works well with most paint colors, including neutrals and bright oranges. Whether you have light or dark blue carpeting, it is all about how you blend it in with the rest of your room's colors.
While most homeowners prefer darker blue shades of carpet for the bedroom and light blue shades for other rooms, it is about how you pair it with the right wall paint colors. Let's take a look at some ideas right here:
Wall Color Ideas to Complement Blue Carpet
White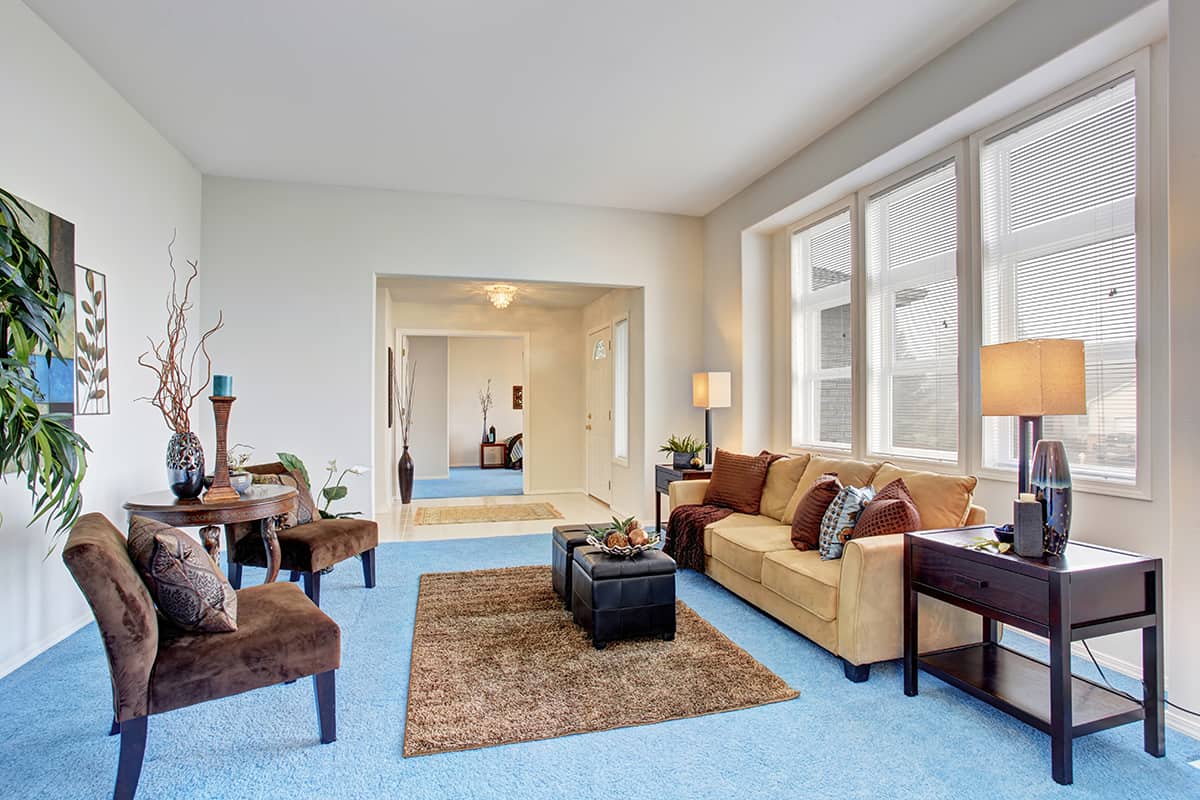 Blue and white are classic color pairings for all modern room styles. Whether you are decorating a nursery, creating a nautical vibe or going for a Scandinavian interior style, you can be sure that white walls will work perfectly with blue carpeting.
To create a contrasting design, you might want to mix the cool blue shade with a warm shade of white. This is a visually appealing combo as white goes with every other color, not to mention it adds a cheery, bright touch to your space.
In this cozy living room, the light blue carpet stands out thanks to the earthy brown and beige furniture and white walls. The ambiance of this modern room oozes elegance and an inviting feel.
Beige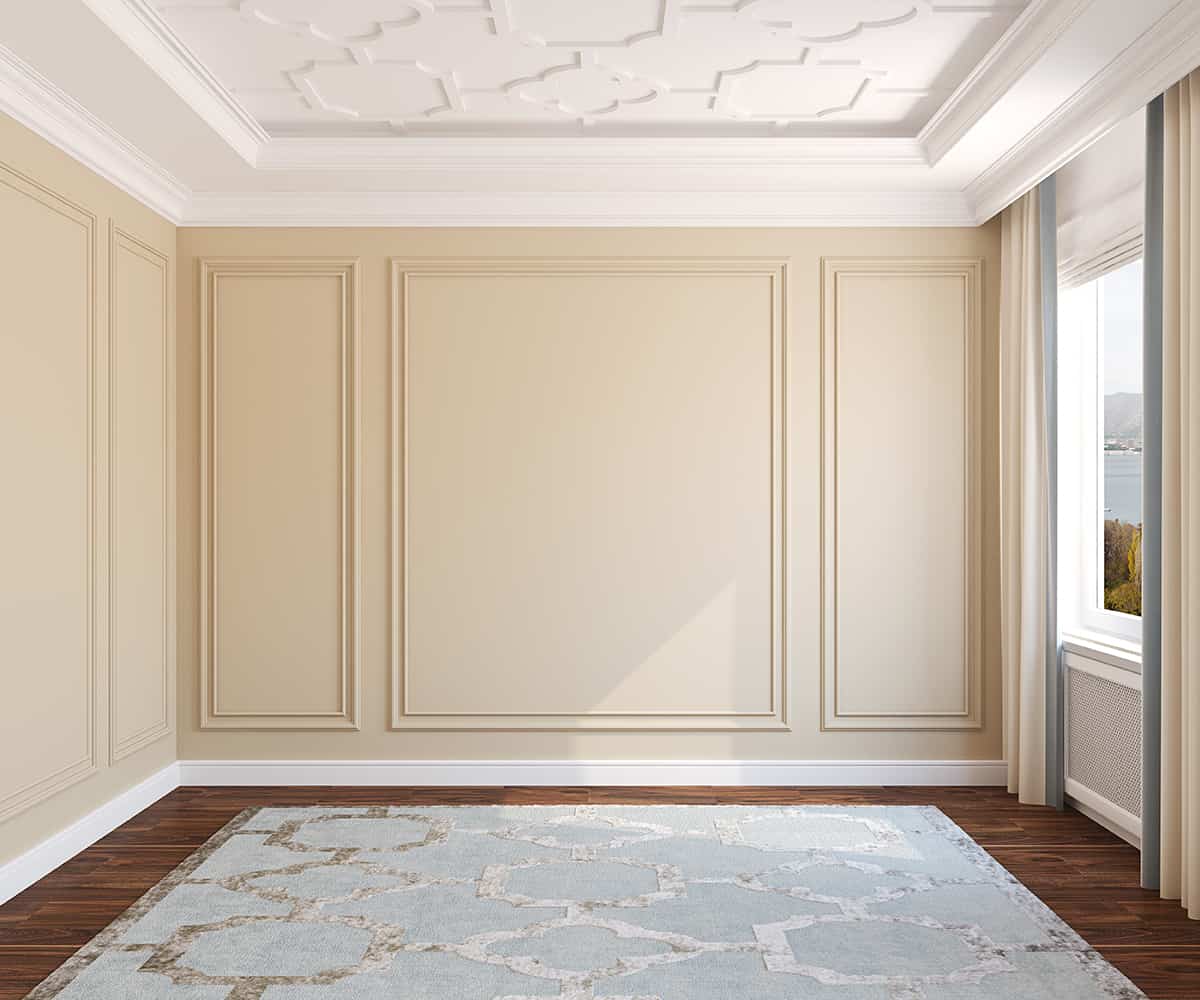 There is no denying the cooling effect of blue. When you add this carpeting color to your bedroom or living room, it needs some warmth to balance the cooling effect. That's where the warm-toned beige comes in as a wall paint color. This color combination works wonders for traditional interiors like Victorian or Colonial homes.
Beige walls paired with light blue carpet make a room feel much bigger than it is. This sophisticated pairing will never go out of style and is a smart way to ensure your room remains timeless.
Warm, neutral paint colors allow you to add a visually appealing color scheme. From light to medium shades of blue, this soothing, cool-toned carpet color can work with all warm wall colors. An excellent alternative to beige is a combination of greige or cream to enhance the elegance of your blue carpet.
If your carpet is a light ice-cool blue shade, you can add light brown furniture to accentuate your beige walls, just like this empty living room design shows how a soft blue carpet paired with beige walls can bring a perfectly balanced look to the elegant room.
Light Gray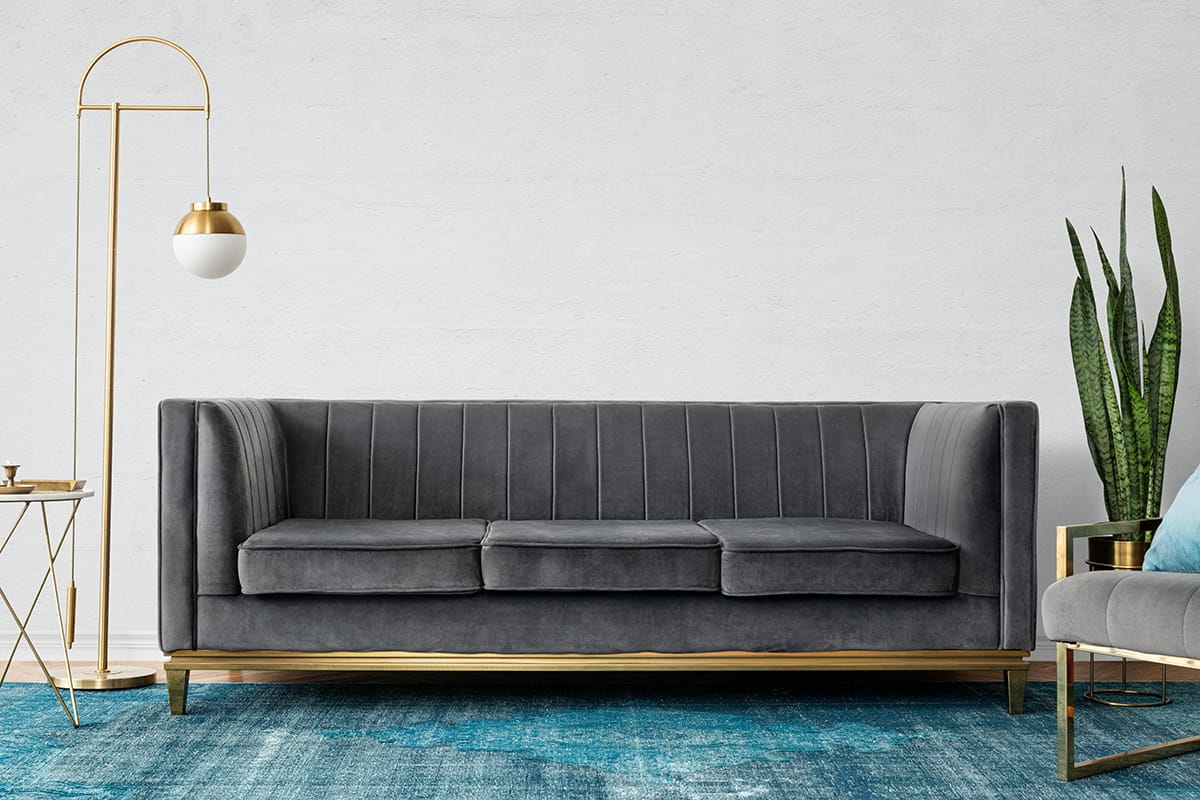 If you want to turn your room into a luxurious space, consider painting your walls a light shade of gray to pair with dark blue carpeting. Since gray is a neutral color, you can use matching furniture to create a chic visual appeal. The trendiness of gray will never wear off next to the timeless blue.
But it is important to pick the right shade of gray as you want your walls to remain firmly in the background in order to allow the dark blue carpet to shine. Make sure the gray shade you choose doesn't have any undertones to it, as this may clash with the dark blue carpet. Instead, go with a darker shade of gray for the seating furniture to keep the light gray walls in the background.
Pale Yellow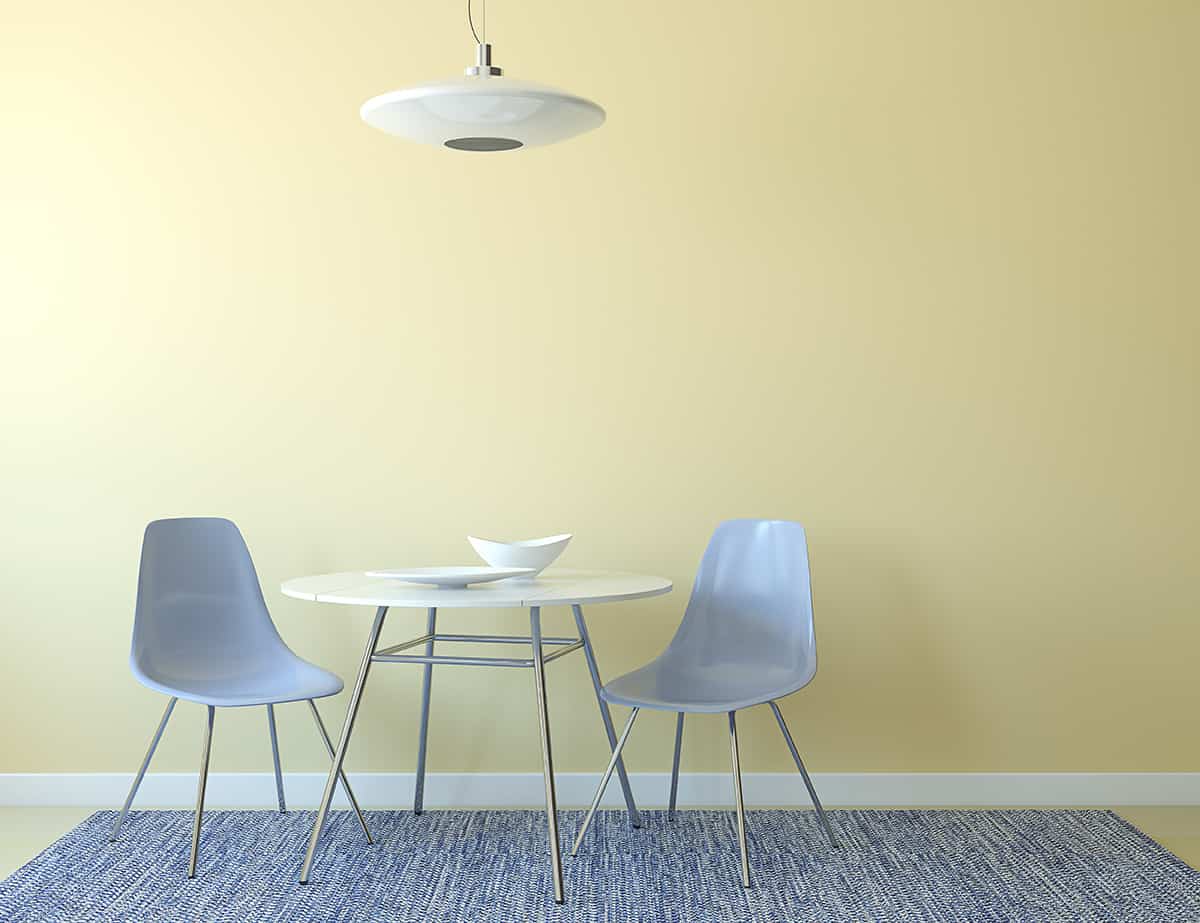 The classic blue and yellow combo is another timeless addition to a modern home. The gorgeous blue carpeting adds a cool, relaxing touch, while the pale yellow walls add warmth to your space.
For those who are a fan of mid-century modern or French-style interiors, the blue and yellow combo can work out nicely. You can never go wrong with this contemporary color scheme when adding a splash of pop to your living room, dining room or bedroom.
Light Blue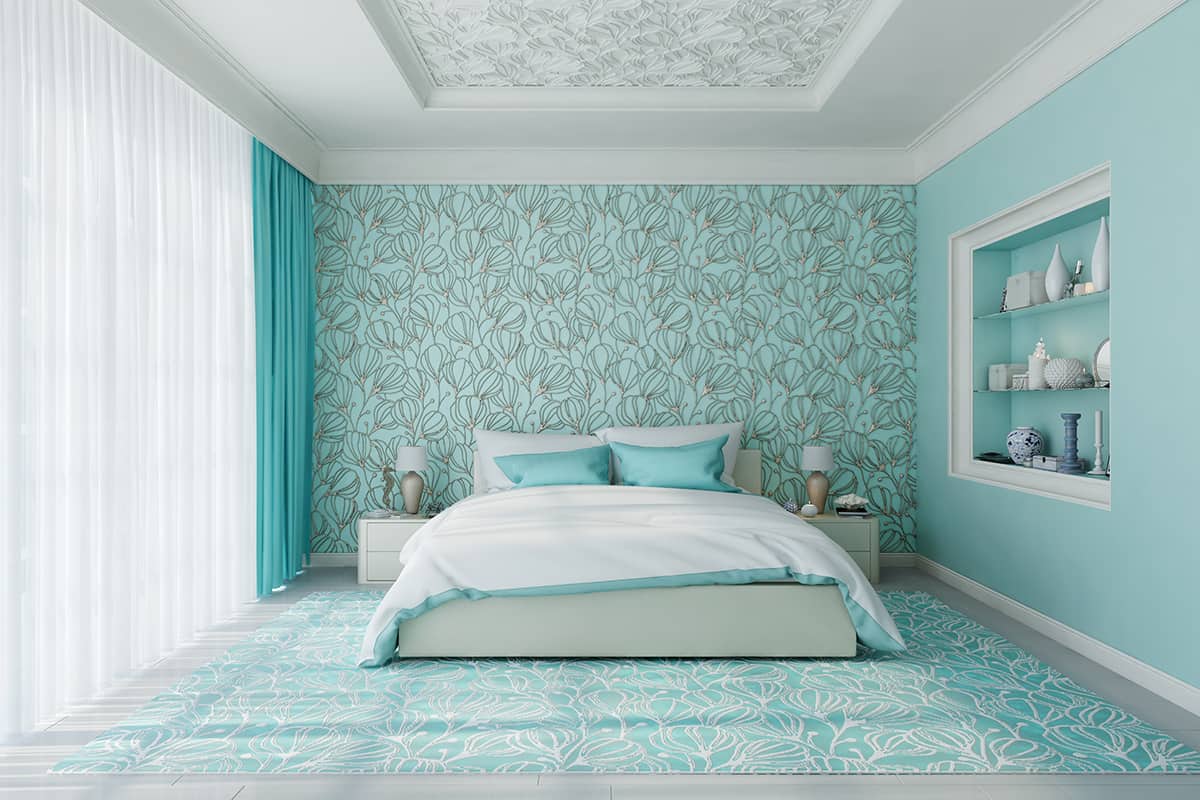 For a more monochromatic color scheme, consider painting your walls a different shade of blue to the carpet. Blue is a soothing color that's perfect for bedrooms. This color offers numerous shades to harmonize the room.
However, to break the eyes from all that blue, add some gray and white accents to your all-blue bedroom. Also, remember to choose two different shades of blue for the walls and carpet to break up the visuals. You can also pick a darker shade of blue for the curtains, just like in this example.
Here, the blue carpet looks super coordinated with the gray, white and blue colors. This harmonizing look has a hint of monochromatic charm, which makes the sleeping space incredibly calming. The shades of blue you choose don't matter as much as how you use them in your room. The idea is to create a unified look without too much of the same color.
Orange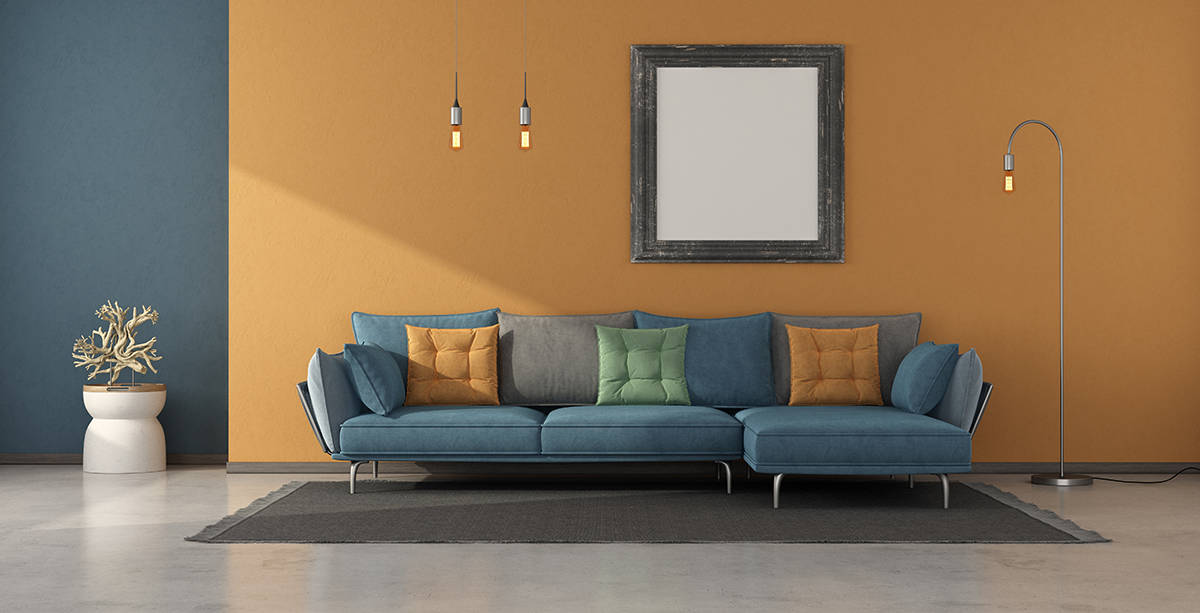 Considering the popularity of using warm-toned paint colors to pair with blue carpeting, it is not surprising that a bright shade of orange can work just as well with blue.
A pastel shade of orange can complement a light blue carpet as a pop of contrast. If you like this color combination, we suggest using it for the dining or living room as the orange walls can give the room a bright and sunny outlook. Orange reflects light, hence the reason most people prefer pairing this color with blue. In fact, you'll often find this color combo in Southwestern or desert homes.
Since orange is seen as a bold, loud color, be sure to avoid using it in the bedroom as this is where you want to have peace and quiet. Orange is an overwhelming color, so it is best used in living rooms and dining rooms instead of children's and master bedrooms.
Green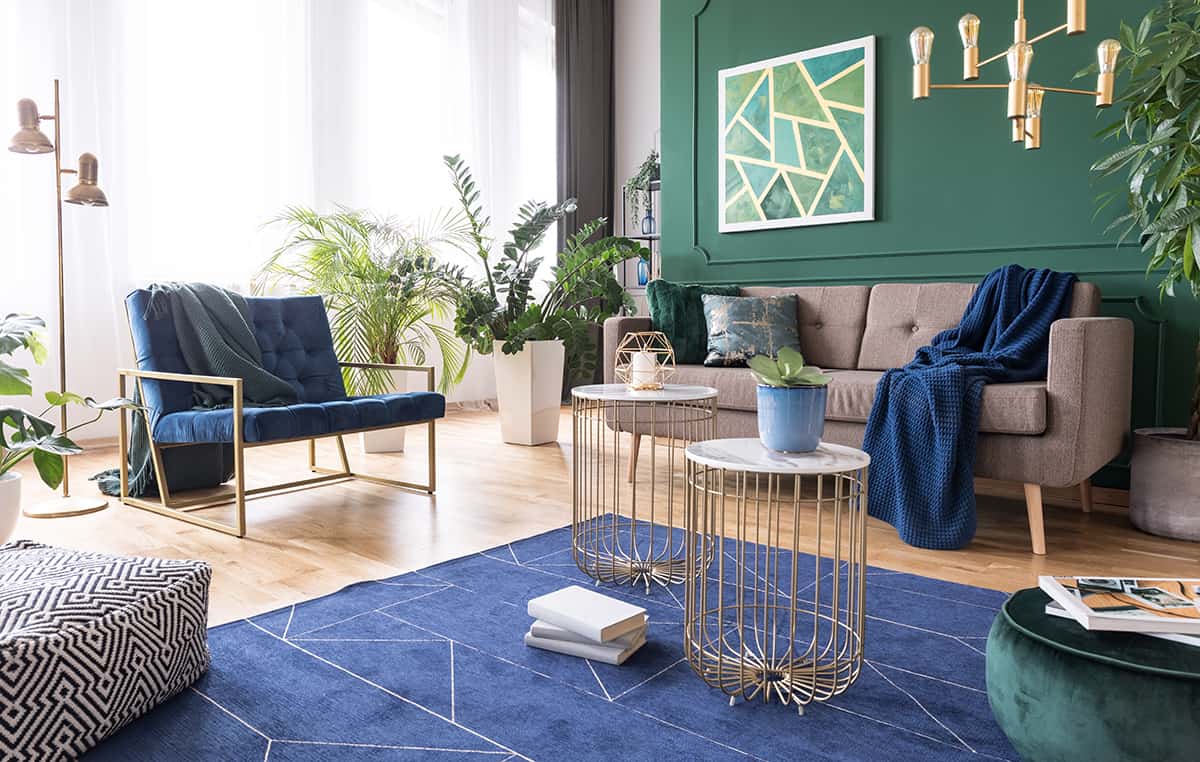 A striking green shade as a feature wall color creates a soothing environment when paired with a dark blue carpet. With this color combo, you can make your living room or bedroom truly restful as proven in this image. Since both green and blue are associated with relaxation, it makes sense to use them in the same space for a nature-like feel. That said, we don't recommend painting all your walls a bold shade of green as this can overwhelm the space.
Incorporate earthy furniture into this color mix so the focus can either be the blue carpet or the green wall. This color scheme is also a great pick for children's rooms. Decorate their blue and green room with neutral decor or create a coastal theme. The options you'll have are endless thanks to the versatility of blue and green.
Pink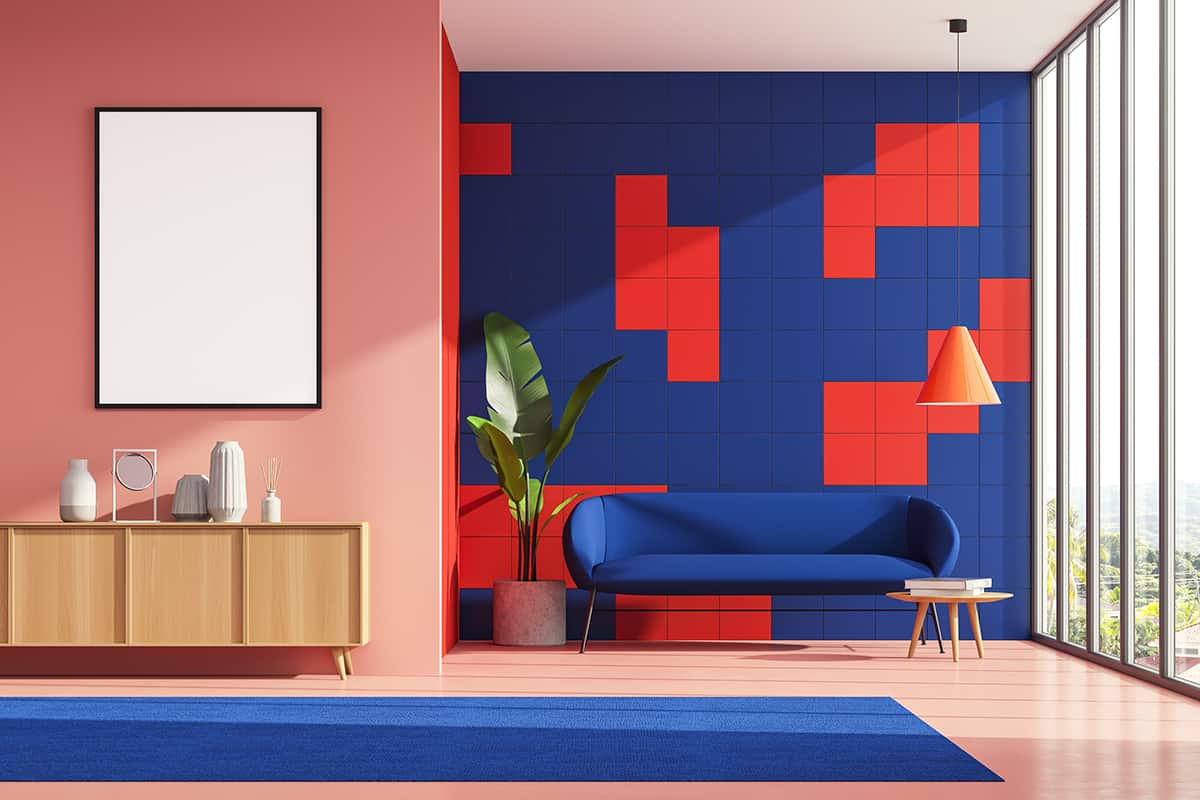 Now, how about a dose of feminity with pink walls and a blue carpet? Whether you pick coral, rosy pink or a hot shade, this palette can bring a cozy feel to a living room or girl's bedroom.
The watery blue highlights the pink walls and gives the space a cheerful look. This colorful pairing is without a doubt lively and welcoming, especially when you include matching furniture and decor colors in this mix.
Is Blue a Good Carpet Color?
As a calming and versatile color choice for a carpet, blue can be used in every interior to complement many styles and themes. Blue carpets are an especially excellent choice for bedrooms that don't get a lot of sunlight. This is because blue doesn't absorb as much light as darker colors, meaning it keeps the room bright and airy. Combine it with brighter accent colors to bring your bedroom to life.
For example, a dark blue carpet can be paired with bright white walls and gray furniture to create a beach-like theme. Dark blue carpeting is ideal for high foot traffic areas or households with children as it hides stains and spills easily. Consider shades like navy or admiral blue for modern or traditional interiors.
On the other hand, if you prefer light blue carpeting, you can pair it with dark gray, green, or black furniture for an earthy, organic vibe. So is blue a good carpet color? Absolutely! This color carpeting is perfect for bedrooms and spacious living rooms as it creates a calming and nautical feel.