When a red brick house is paired with wall siding, it can boost the home's curb appeal and even increase resale value. But there are also other benefits to adding wall siding to your red brick home. This exterior design feature can hide any structural defects on the red brick wall and bring out the red brick's undertones.
The right color for the wall siding can make the red brick design even more appealing. You'll only need to paint the wall siding once and enjoy this exterior feature for years – provided you select the right color for the exterior siding.
In this article, we'll take a look at what color siding goes with red brick so you can get a better idea of how to enhance your red brick home's exterior.
Best Siding Color that Goes with Red Brick
Beige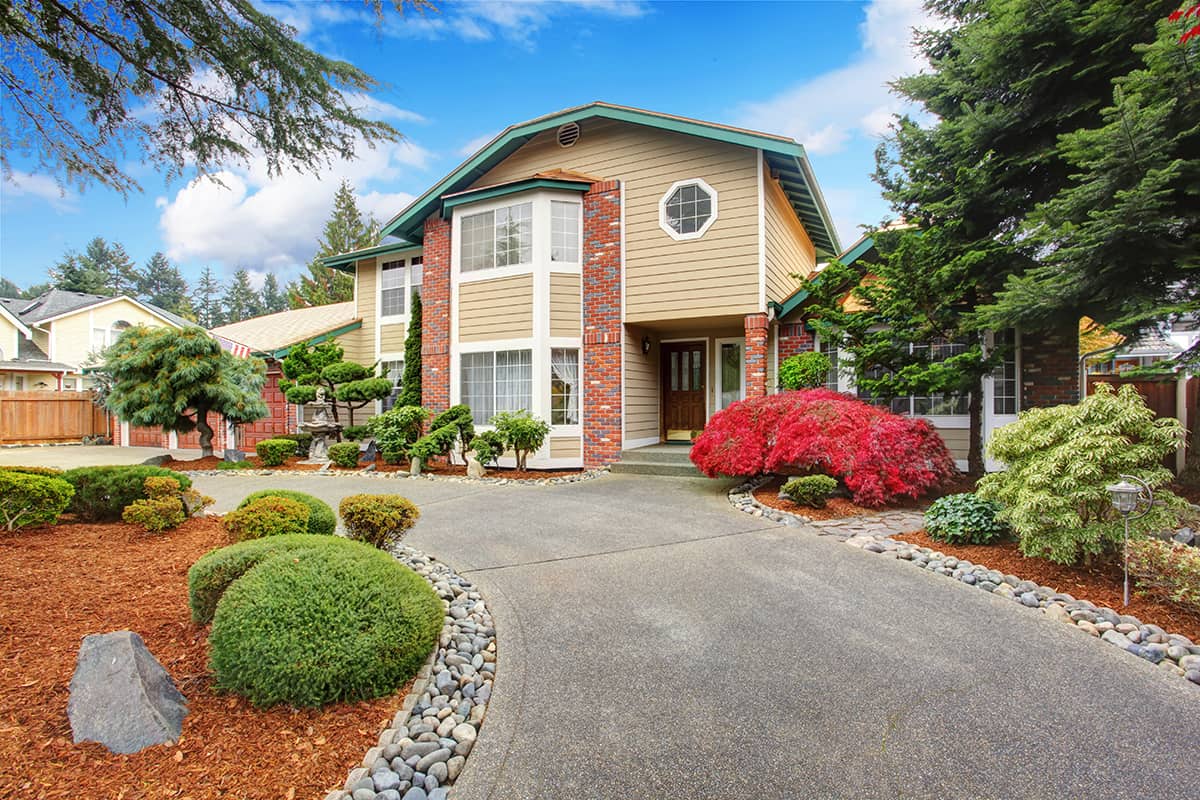 A warm beige is a timeless and harmonious color palette for a red brick home's siding. Beige has a cream undertone that looks great next to red brick. This charming color pairing belongs to the warm color spectrum, which can create an inviting feel.
The example here will give you a good idea just how well beige siding goes with red brick while keeping the red brick as the main focus. Not only will this color pairing increase curb appeal, but it also gives the overall exterior design a luxurious look. The colorful landscape has enhanced the aesthetic appeal of this beautiful house, with green, red, and beige as its dominating colors.
Blue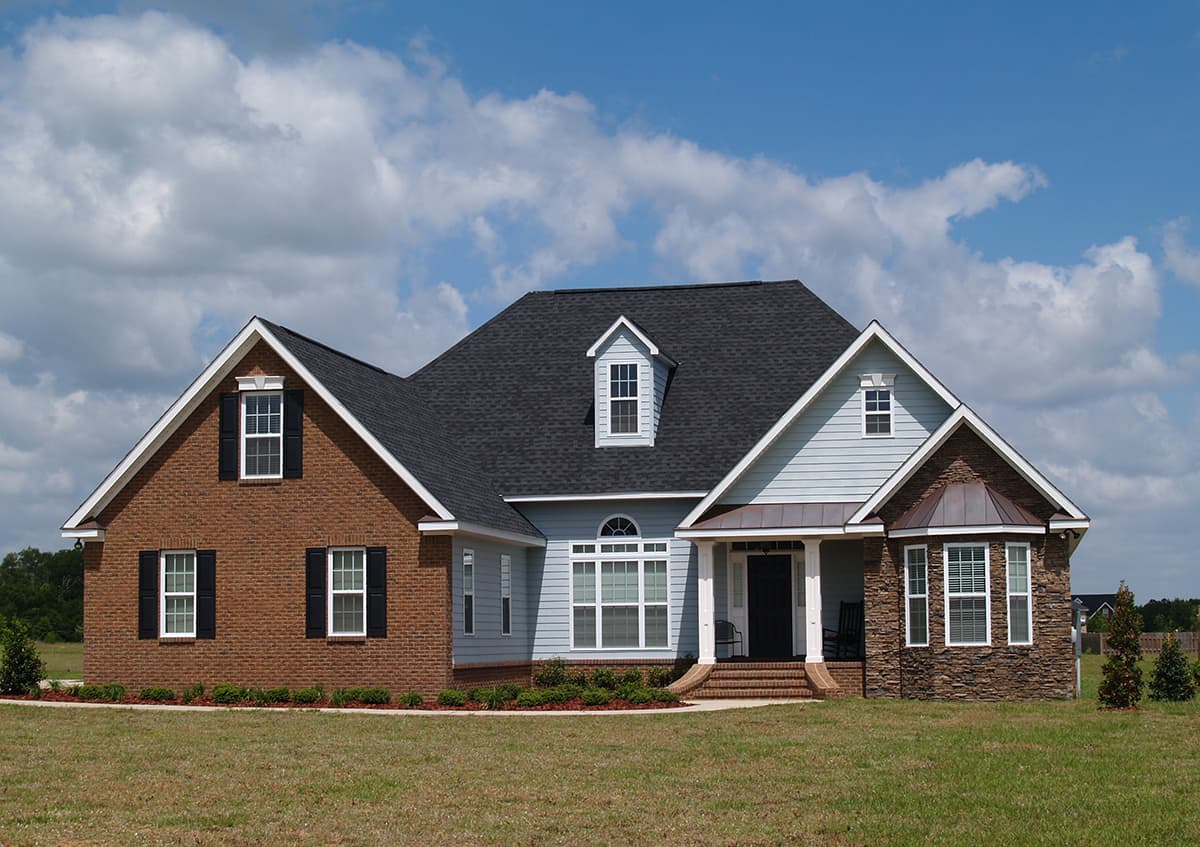 For a bolder and brighter siding color, let us suggest blue next to red brick. At a glance, this color combo can bring out the exterior beauty of the house, but there is more to it than that. For anyone who loves soft blue shades, the combination of this color with red siding is a great blend of warm and cool tones.
If you don't want the blue siding to stand out too much, opt for a soft shade like the one shown in this image. Sky blue is an ideal siding color next to red brick as it won't detract attention from the rich color of the brick exterior.
Pale blue for the siding color gives your red brick home dimension and immediately draws the eye toward the upper part of the house. This attractive siding paint color won't clash with the dominating red hue of the brick, but rather, it makes the exterior design even more interesting.
Red
A deep shade of red like burgundy or cherry goes perfectly with red brick. Since dark red has a rich brown undertone, combining these warm hues will bring out the aesthetic beauty of your home.
But when it comes to coordinating a red brick home with red siding, you must first decide how dark or light the red siding must be. A matte version of red will tone down the light red brick, whereas a dark red siding will stand out.
Since red is a warm, primary color, it can make a bold yet cohesive statement. This color pairing is ideal if you want a continuous design of red for your home's exterior. That said, to keep the overall design visually interesting, it's best to go for one or two shades lighter or darker than the red brick exterior.
Sage Green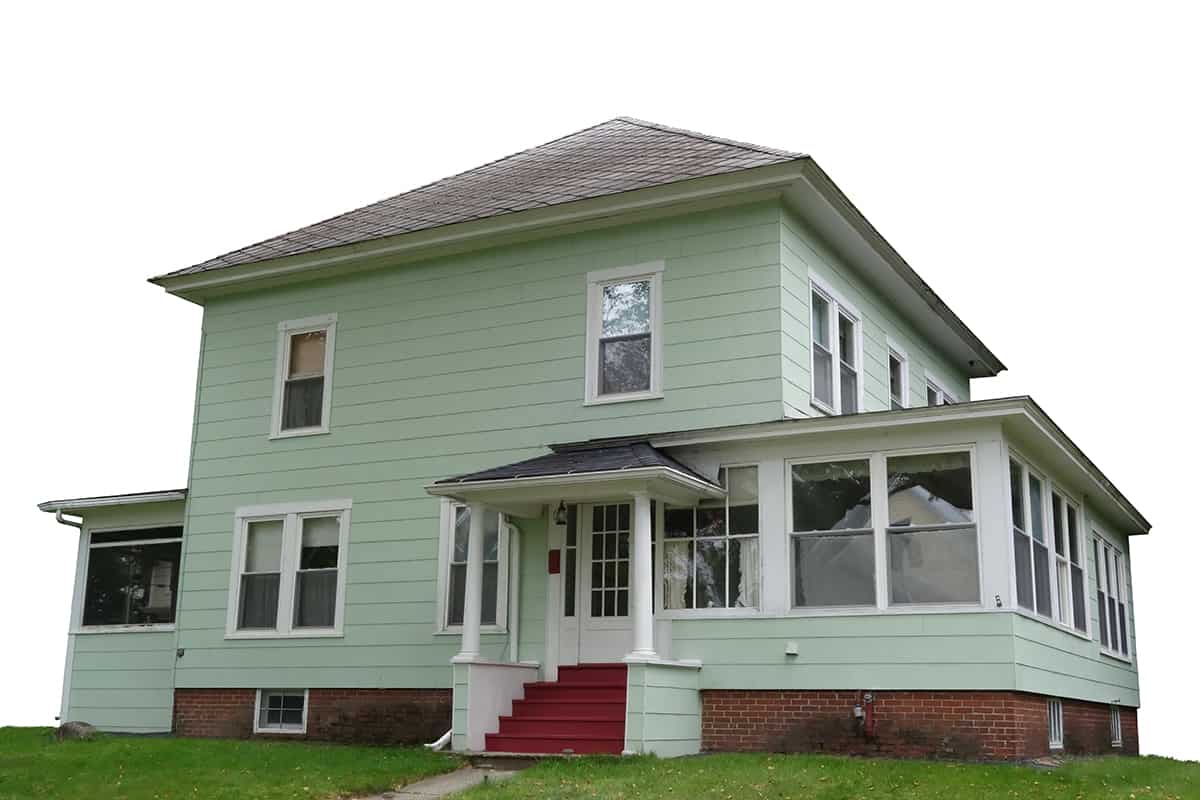 Another warm siding color for a red brick house is green. Sage green, for example, is a beautiful, soft shade that works well with red brick. This is a timeless color combo, especially for traditional-style homes. As sage green has a grey undertone to it, it is the ideal color pairing with red brick.
This traditional-style house gives off an elegant vibe with its dominantly sage green siding and part red brick exterior. The combination of white trim, sage green siding, and red brick makes this color pairing truly compatible as it pulls everything together.
Brown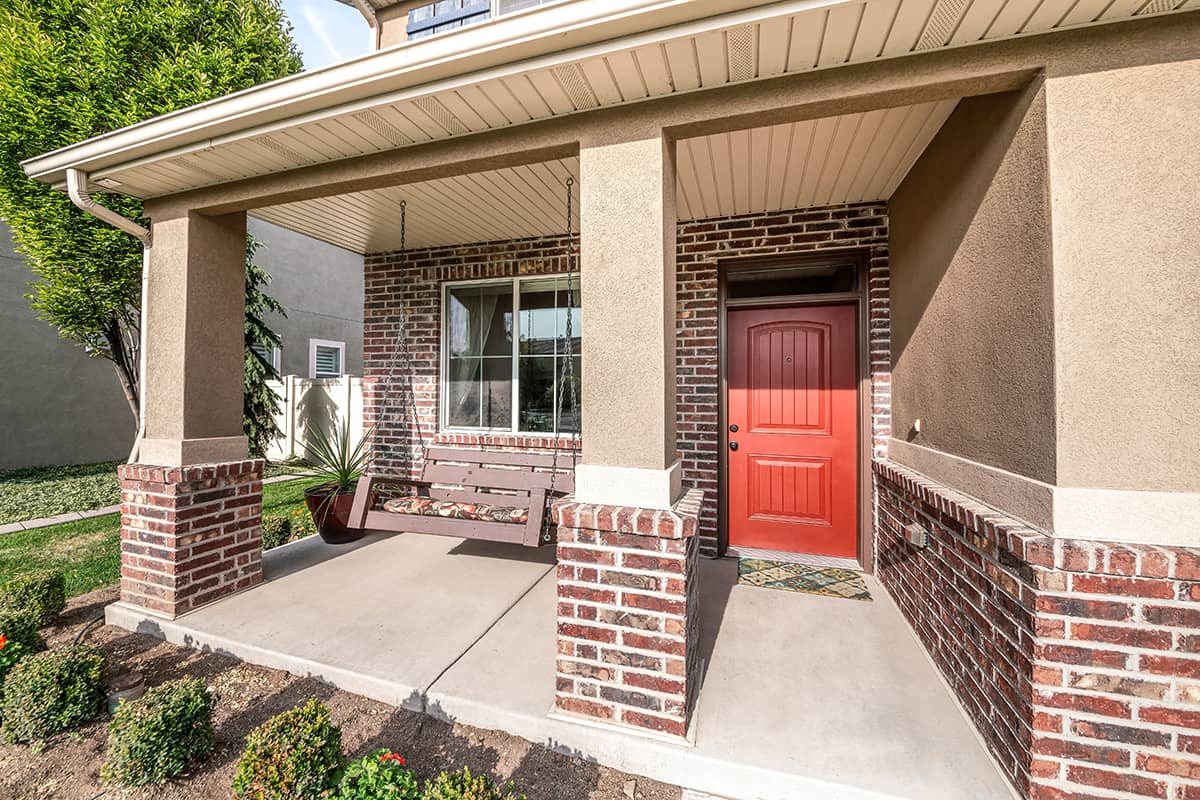 Red is a warm color, so what better siding color to pair your red brick home with than brown! This hue will give a cohesive look that matches the red brick perfectly. Whether you paint the siding a light or dark brown shade, it will give a traditional look to the exterior of your home, plus brown blends well with the landscaping around it.
If you want to make your red brick home stand out in your street, create a subtle balance by using a very light shade of brown for the siding.
Here, the red brick exterior stands out with the orange front door as its main focal feature. The soft brown wall color is a beautiful addition to the front porch of this red brick house.
Classic White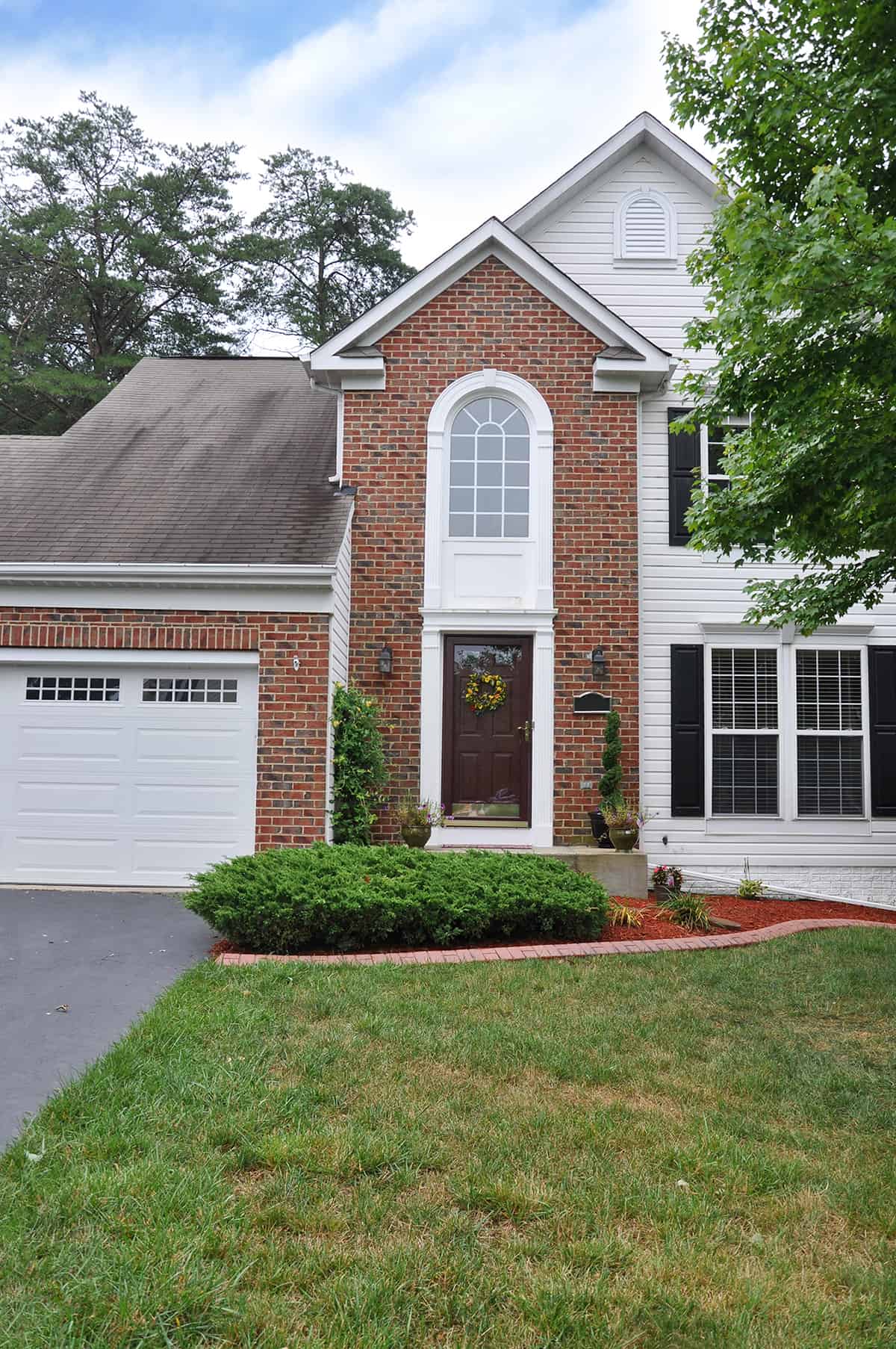 Now how about painting your siding one of the most popular colors: white? White is a no-fail color for a red brick home's siding as it's clean and classic. This ultimate neutral color provides a sharp, crisp contrast to the red brick. So the siding color schemes go well even if the brick's undertone is brownish-red or orange-red.
By bringing out the lightness of your red brick exterior through white siding, you will do an excellent job of breaking up the sometimes bland red brick.
The bright white siding will add a uniform texture while drawing attention to both the contrasting siding color and red brick. The example you can see here is proof of how stunning white siding is next to red brick. This color combination works for both modern and traditional-style homes.
Black
If you really want to make your red brick home stand out from the rest of your neighbors, then opt for black siding as a bold option. For a modern or contemporary home, black siding next to red brick provides a contemporary look.
This eye-catching siding color lets the red brick shine as an accent. When paired with white trim or shutters, you can create a truly elegant look.
And as for the roofing color, go for charcoal grey shingles to finish off the stylish look. Make sure you add plenty of greenery around your red brick home. The black siding creates a mysterious vibe and adds depth to the home's exterior.
Grey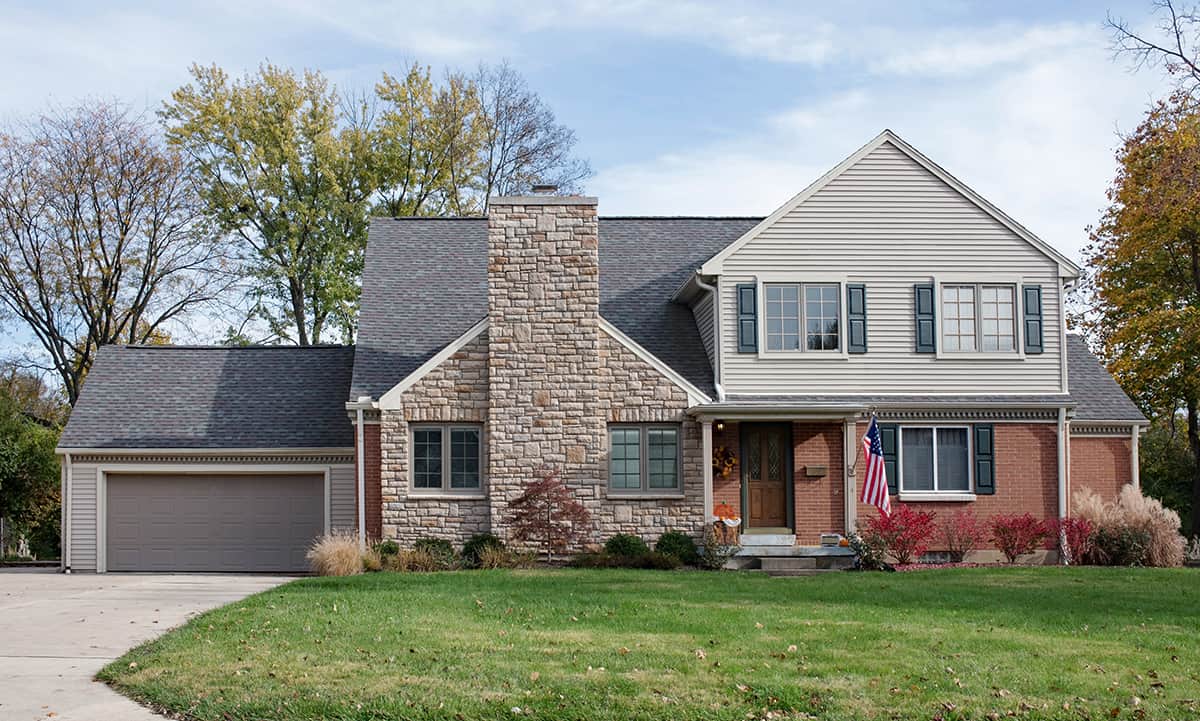 As a newly emerging color choice for siding, a softer neutral alternative to black is grey. This cool hue is an excellent option for a red brick house as it contrasts the warm tone of red brick. Grey can be used as an accent color to bring balance and stability to a modern or traditional home.
Even if you're not too keen on the color grey for siding, there is always greige to turn to as a more interesting alternative to pure grey. This color is a blend of grey and beige to create a warmer tone. When paired with red brick, greige can make your exterior feel warmer and more inviting.
You can see just how beautiful a blend of grey siding, stone veneer, and red brick exterior are by taking a look at this example. The bluish-grey siding is well coordinated with the blue shutters and grey garage door, which all work perfectly with the grey roof.
What is the Best Siding Material that Goes with Red Brick?
Red brick is a type of exterior that works with almost any siding material. Whether you choose stone veneers, natural wood, or vinyl for the siding, any of these materials will coordinate with red brick. But if you want to opt for a more durable, cost-efficient, and low-maintenance material than wood or stone, then consider vinyl.
This versatile siding material can be painted in any color and requires virtually no maintenance. Wood, on the other hand, will require repainting every few years and it must be protected against insects and mold, while stone veneers are the most expensive option.
In Closing
By determining what color siding goes well with red brick helps you create the most attractive exterior design that will certainly turn heads in your neighborhood. Thankfully, there are lots of beautiful paint colors for a red brick home's siding.
Our above list of examples should help you as a guide and get you started with giving your red brick home's siding a fresh coat of paint. But it is important to take into account your home's particular exterior style.
Is it a traditional or modern design? Do you want a neutral siding color to highlight the red brick or a bold hue to be the main focus? Any choice of color for the siding will create a beautiful design based on your own preferences and your home's specific architectural style.