A couch and rug are two of the biggest decor pieces in a living room, so ensuring they complement each other can enhance the overall aesthetic of your space. When you have a beige couch, choosing the color of your rug doesn't have to be complicated. Pairing your neutral couch with either patterned prints or solid colors can help make your floor covering stand out.
But if you're unsure what color rug goes with a beige couch, here we have some suggestions to help you get started:
Rug Colors that Complement a Beige Couch
Beige for a Cohesive Look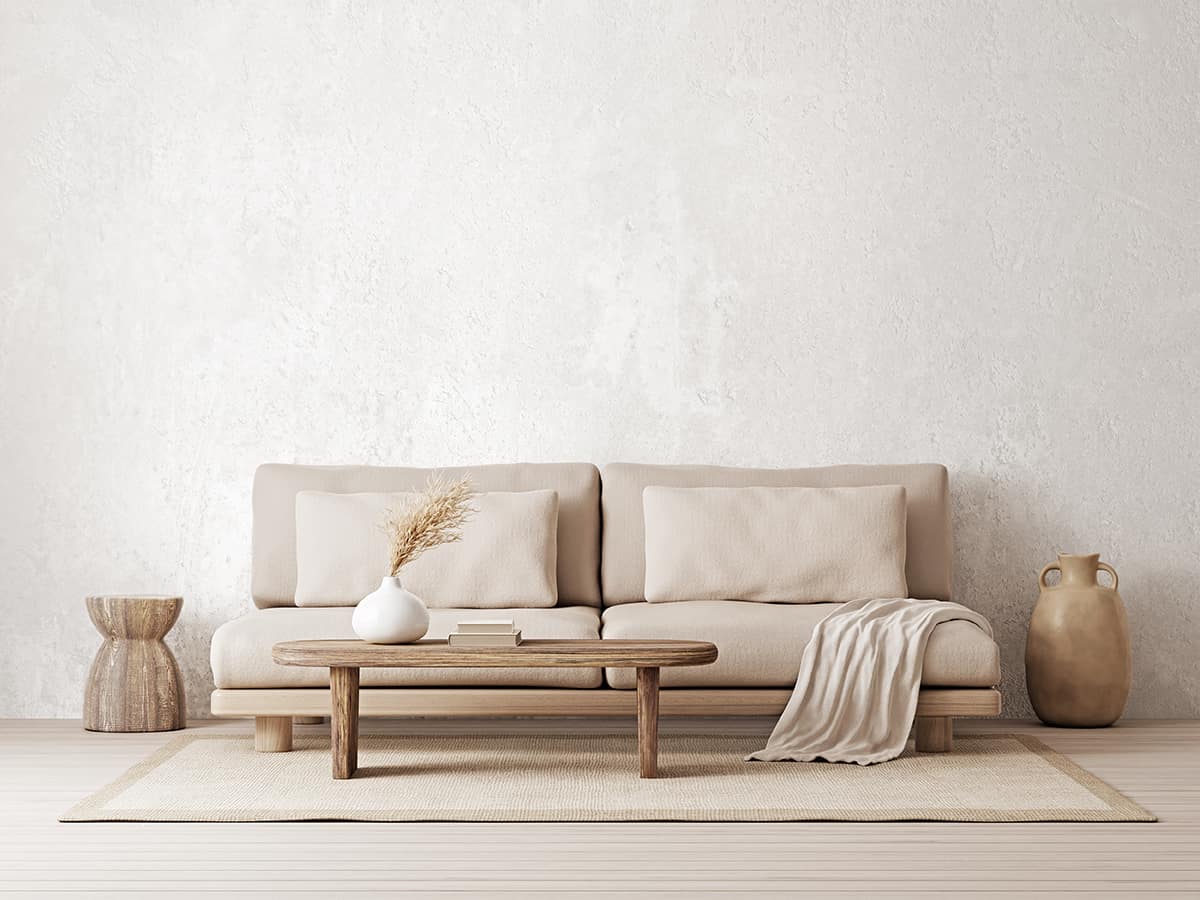 A monochromatic color pairing may not appeal to all homeowners as some fear creating a bland or monotonous look. However, we think a neutral rug and couch are the perfect pairing for a light, bright interior setting.
But we're not recommending just any beige rug; a hand-woven jute or bamboo floor covering can bring an interesting and unique look to your living room with a beige couch. This idea works best in minimalist, modern, or Japanese-style interiors.
Just look at how warm and light this stylish beige couch looks with the woven jute rug as a neutral pairing. The surrounding decor of this space goes cohesively with the furniture and floor covering, so it is important to think about the overall furnishing colors when you choose beige on beige.
Gray as a Neutral Backdrop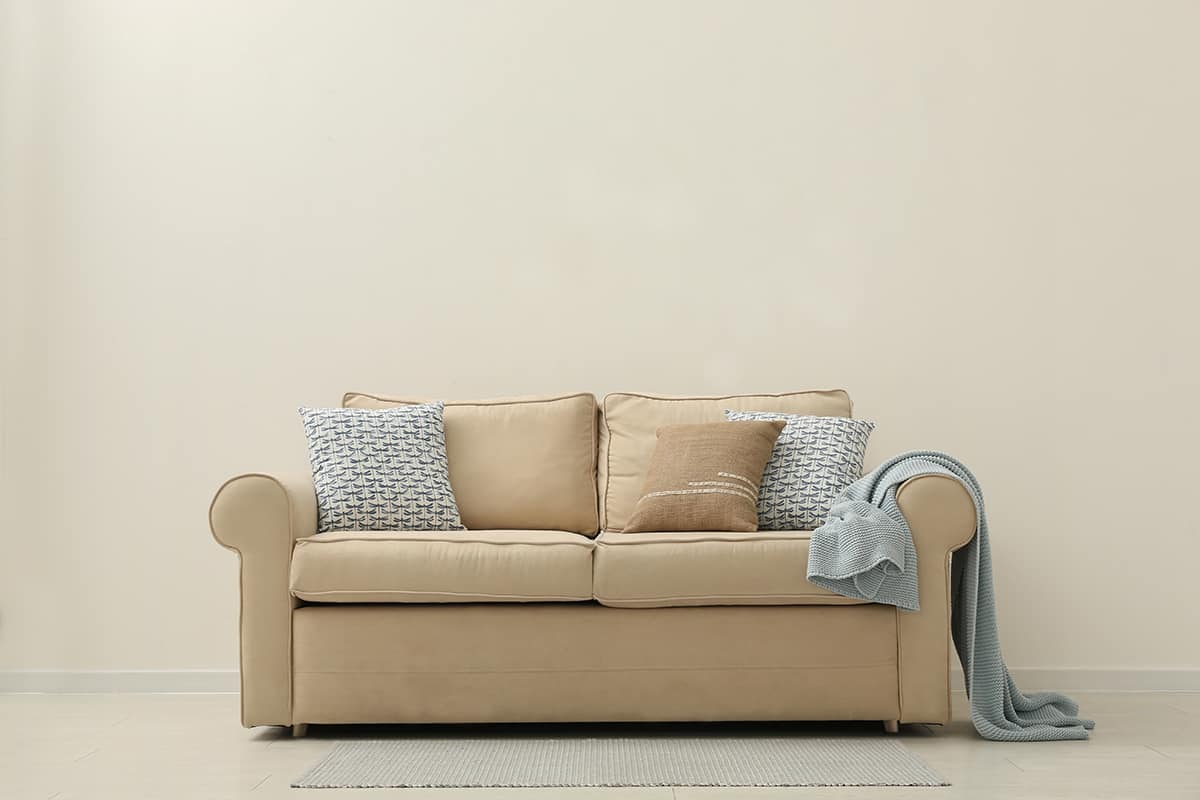 Another neutral color option with a different tone to beige is gray. This simple, soft color brings balance to any space. By combining a warm-toned beige couch with a cool-toned gray rug, you can create a relaxing and comfy living space.
But which gray shade should you choose? Almost any shade will work well with a beige sofa, so you can easily select the one that matches your room's decor. Keep in mind any light gray shade can brighten up your space, while a dark shade can add an elegant vibe.
Light Brown for an Earthy, Warm Vibe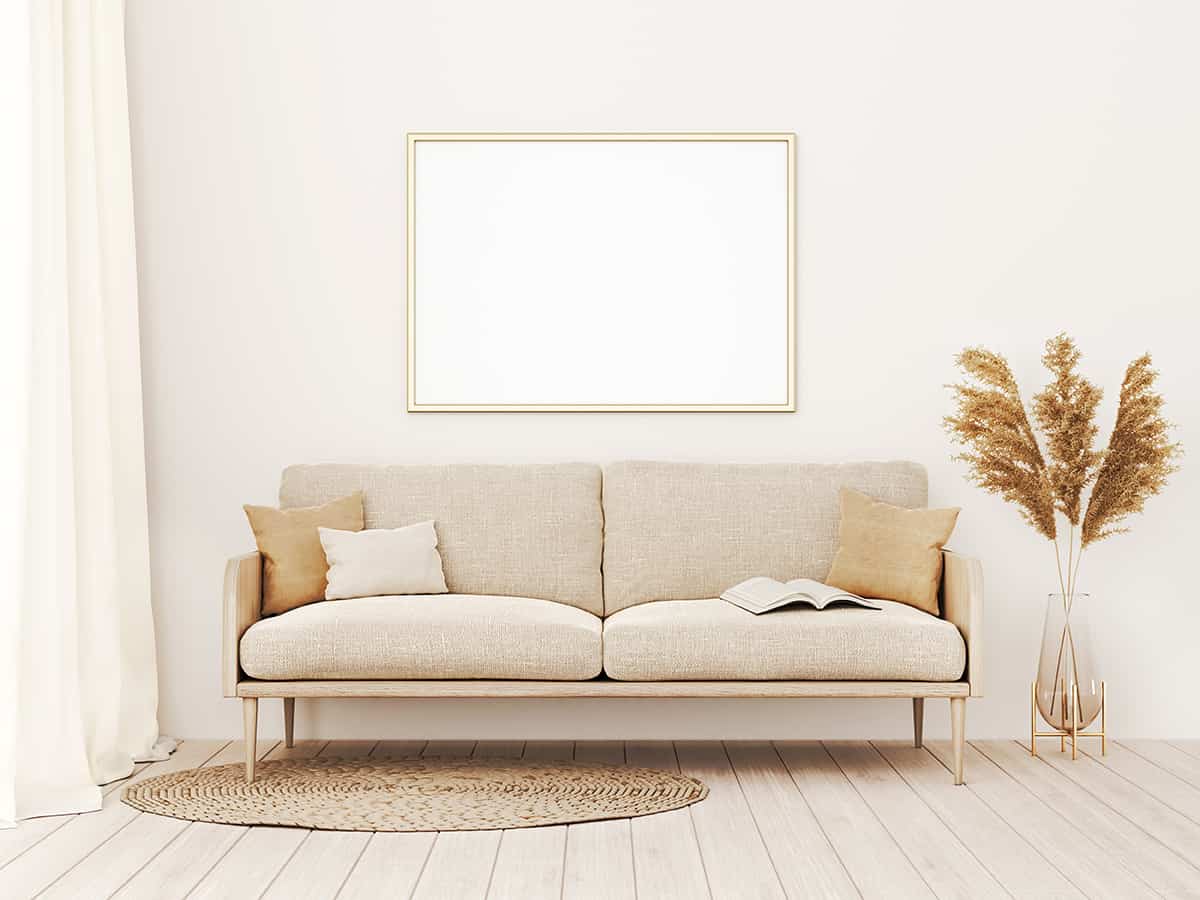 Warm browns and beige go well together as they instantly bring a cozy feel to a space. A light brown rug looks beautiful next to a beige sofa purely because of the stunning tonal contrast they both bring to the room. For a luxurious look, choose a handwoven rug paired with matching throw pillows.
In this example, the beautiful beige couch makes the space feel warm and inviting. We love the warm tones of the light brown woven rug combined with the beige and brown throw pillows here. Although there are only two earthy tones in the same color family used in this space, they still have enough contrast to prevent the room from looking monotonous.
Off-White or Cream for a Soft Look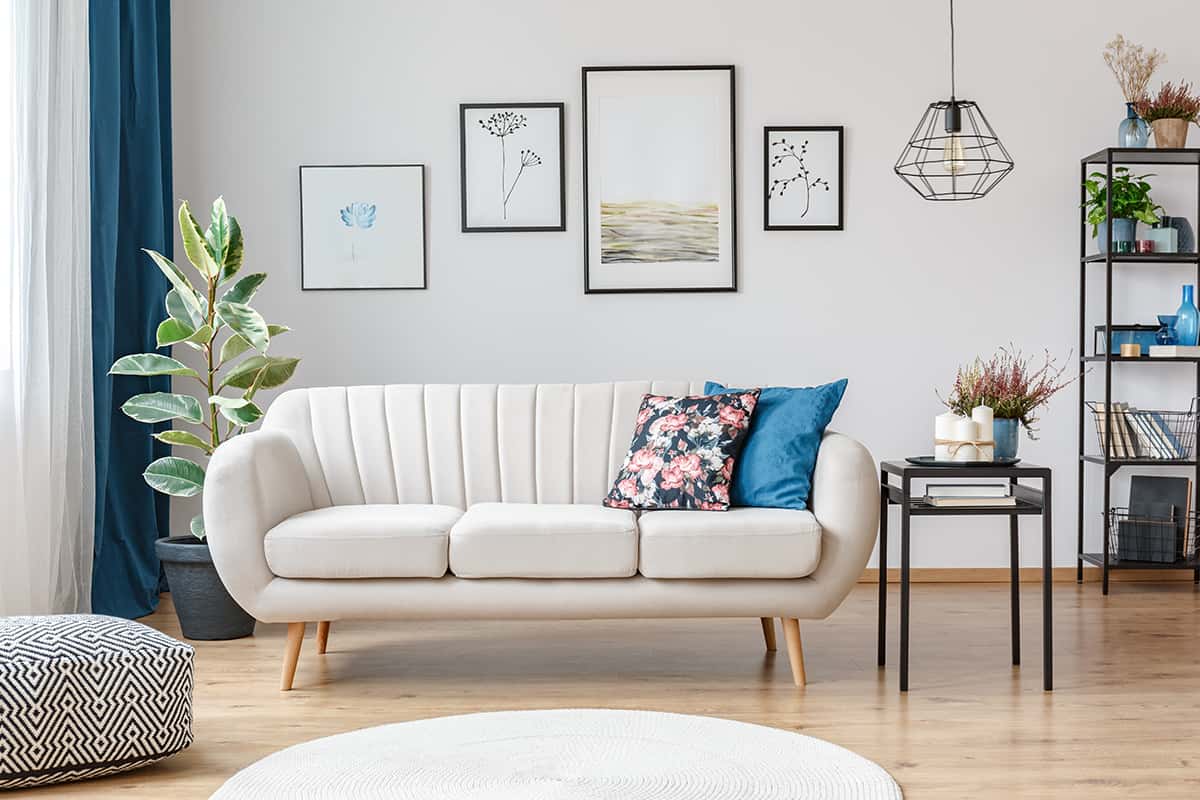 To continue with the neutral living room design, consider adding a cream or off-white rug next to your beige couch. While this combination may sound a little bland, adding texture to your furniture can spruce up the space. For example, include a floral and bold color throw pillow like the one shown here.
The bright, creamy-toned rug looks simple and neutral as a soft and comfortable underfoot. It is, without doubt, the throw pillows on the beige sofa that are the highlight of this living room.
Blue as a Chic, Refreshing Option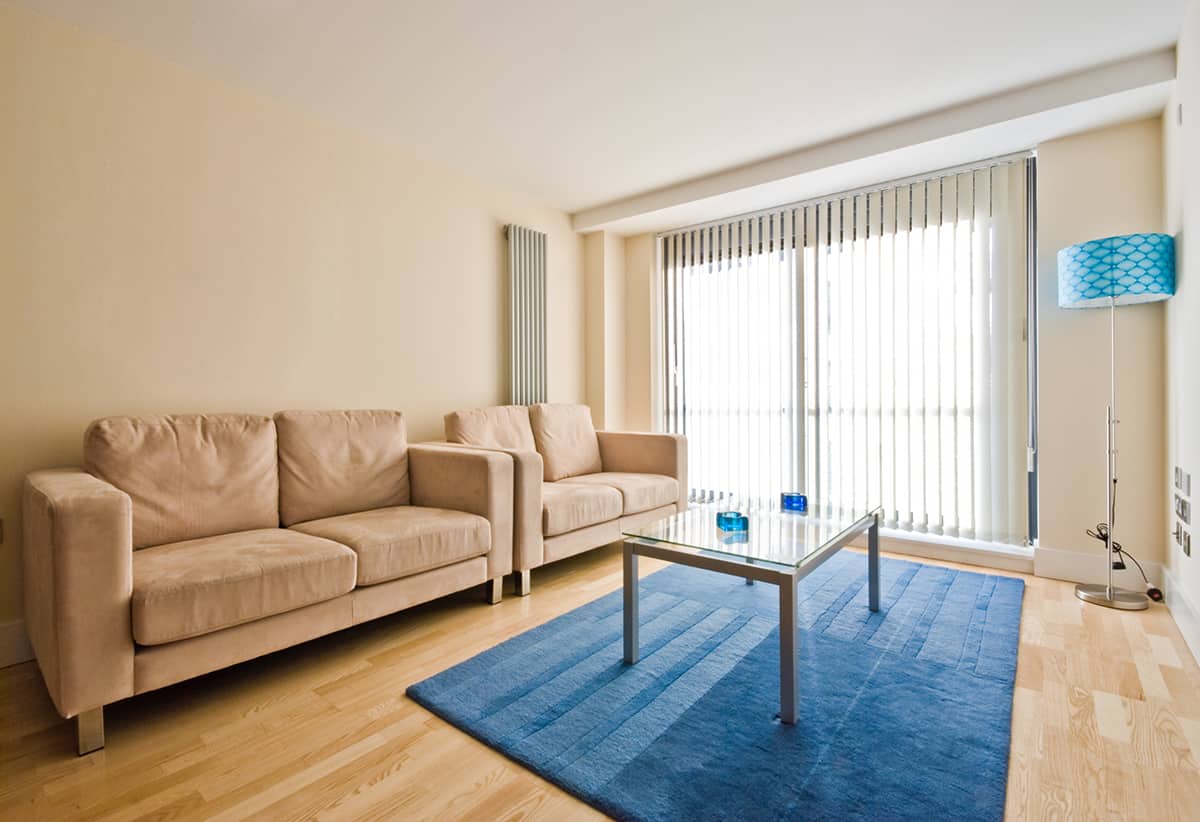 For a chic, refreshing living room design, place a rich blue rug in front of your beige sofa. A deep blue rug adds vibrance to the space and prevents your room from appearing dark. While any blue shade can work with beige, oftentimes, it is best to use bold blue as it can dominate the entire seating area and draw attention to the floor covering rather than the neutral seating furniture.
In this modern living room, the beige sofas sit in the background while the bold blue rug and matching floor lamp highlight the space. This is a beautiful color coordination, especially if you use a warm blue shaggy or area rug.
Sage Green for a Natural Feel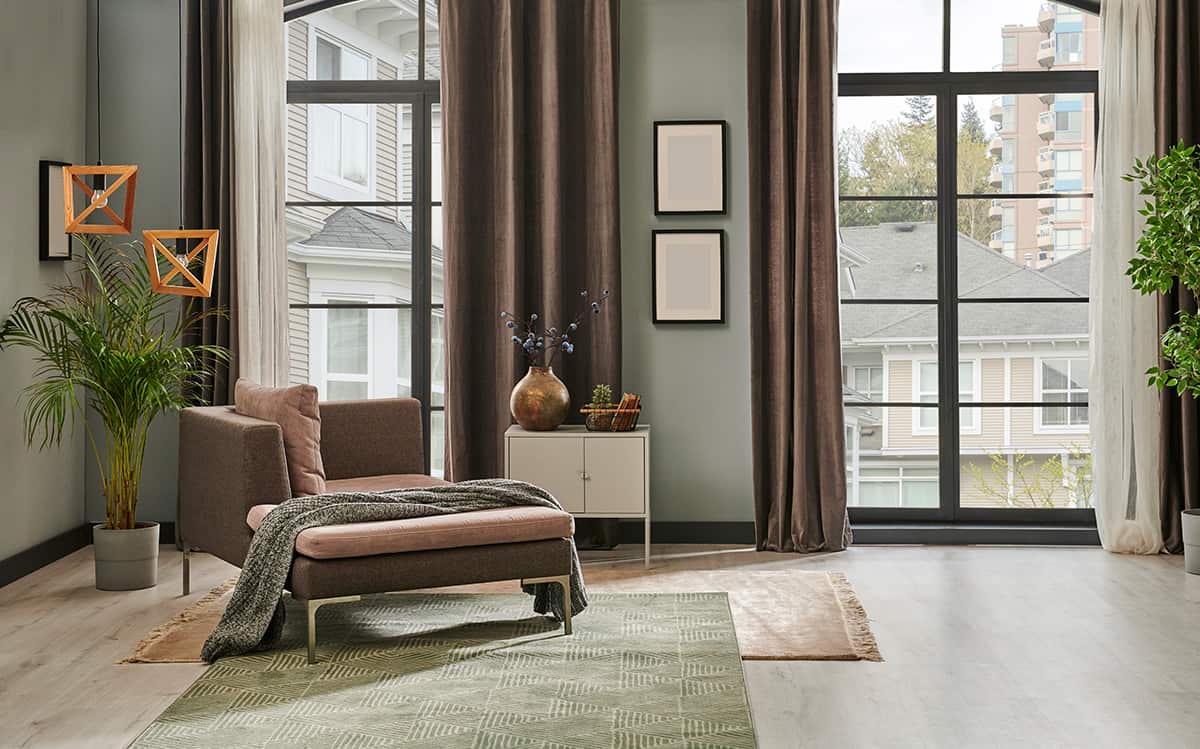 Green is another refreshing rug color option for a living room with beige seating furniture. When you want to add natural elements to your space, such as indoor plants, a fresh green rug will go nicely with a neutral room.
Whether you choose a synthetic rug or a shaggy one for a soft texture, sage green will bring a warm and elegant feel to your space. There are also solid green shades like olive or moss as excellent pairings with a beige couch. For a modern, transitional design, always opt for warm greens, as they add visual interest to your living room with a beige sofa.
Yellow for a Cheery Ambiance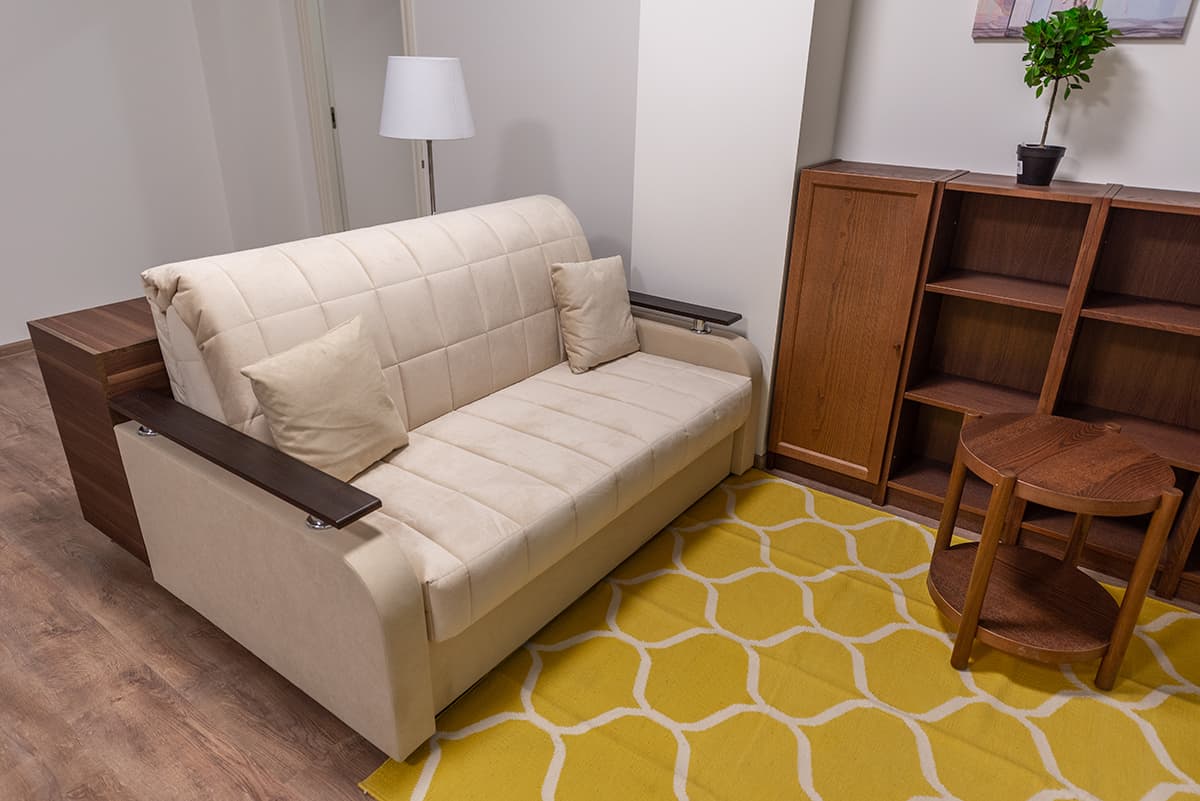 A patterned yellow rug coupled with a beige sofa can create a bright, eye-catching ambiance. Whether you place a woven or shaggy yellow rug to your neutral space, the vibrance of this cheerful color is hard to ignore.
A geometric design in bold yellow tones is sure to spice up your space without dominating the beige seating furniture. But in order to keep the yellow rug from stealing the spotlight from your beige sofa, pair it with dark brown wood furniture, as shown in this photo.
The contemporary style living room features a geometric yellow rug and wood furniture for a warm, inviting feel next to the soft beige couch.
Black for a Striking Contrast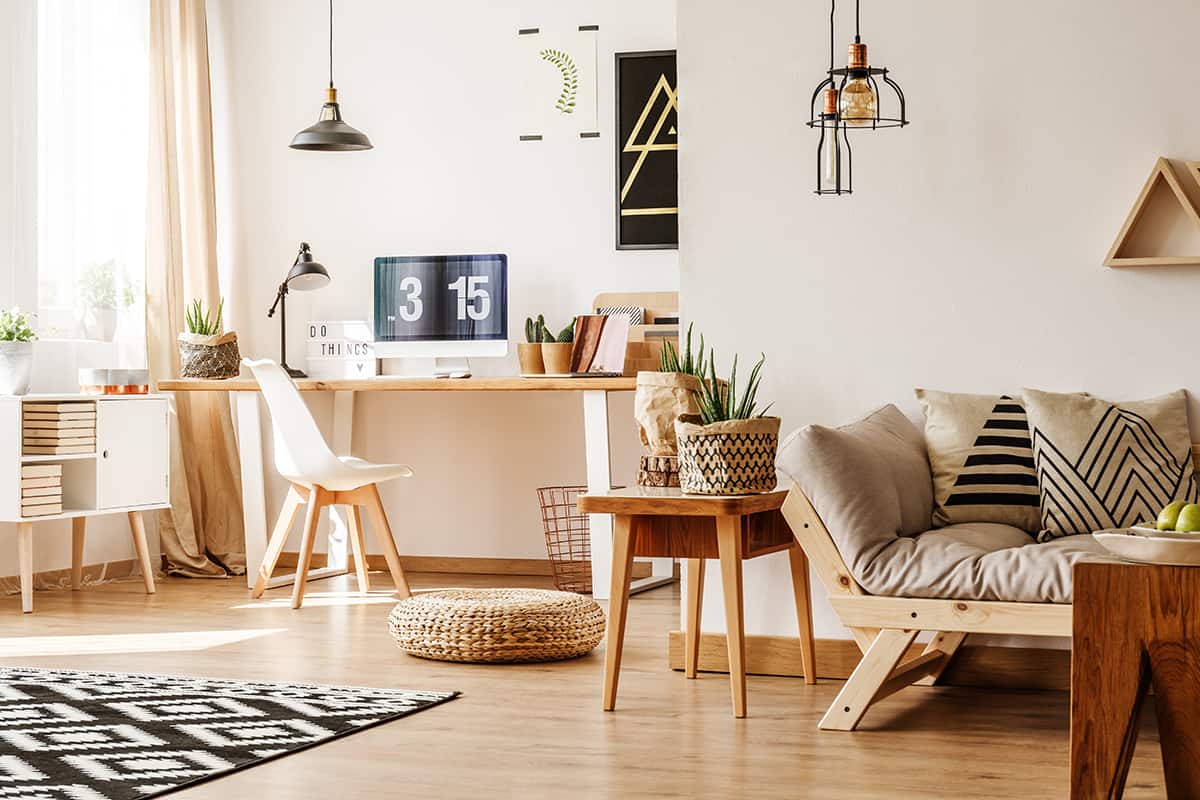 Since beige is such a versatile neutral, it can look fabulous as a light contrast against black. But this doesn't mean you have to pick a plain black rug. A black and white design with geometric shapes will look more interesting than a plain solid black option. This dramatic color combination is perfect for modern or contemporary living spaces as black and beige take on a minimalist look.
A synthetic mono-black rug is an ideal choice for high-traffic living rooms. Your beige couch sits in the background while all the focus is on the rug. You can also choose other complementary colors, like off-white or gray accessories, to pair with your geometric black rug and beige sofa.
White for a Crisp and Clean Touch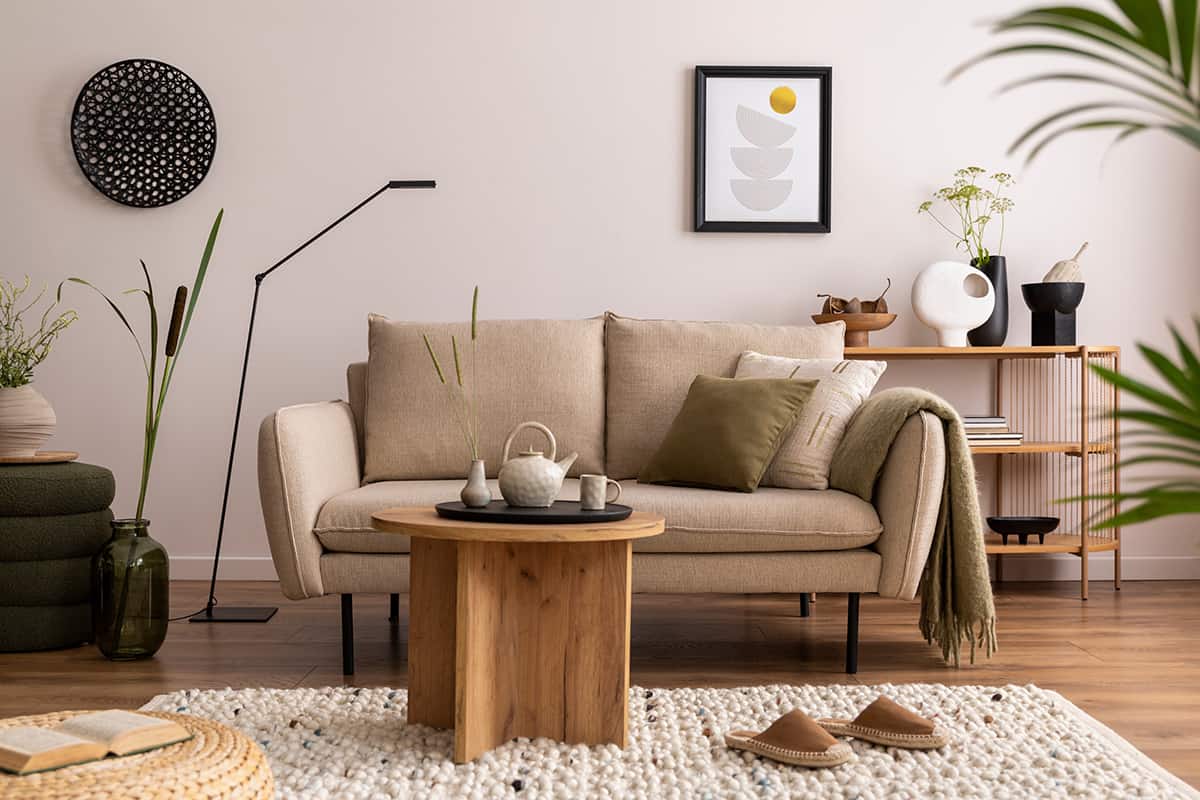 Do you want to make your rug stand out as the main centerpiece of your living room? Then instead of off-white or cream, use a lighter shade like crisp white. This is the perfect neutral color pairing with a beige couch for both a modern and traditional living room.
In this cozy living room, the beige sofa with the matching throw blanket and pillows blend in perfectly with the neutral setting. Our attention is drawn directly to the elegant hand-crafted white rug as the focal point of this interior.
Multi Colors for Vibrance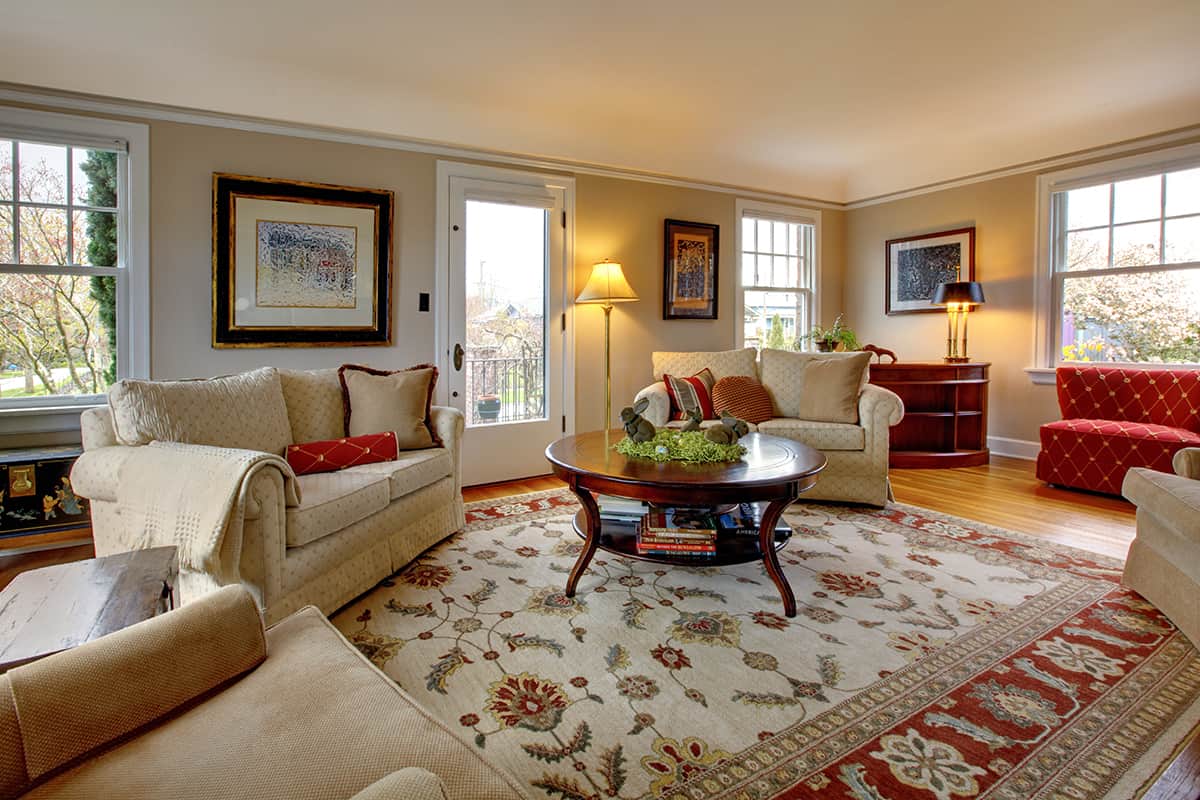 For those who love bold, bright colors all in one place, how about bringing vibrance to your space by using a multicolored rug? This approach will transform a neutral living room with a beige couch. Place a low-pile rug with a multitude of colors, or go for a blend of warm tones, such as olive, orange, red, and cream.
In this inviting, luxury-style living room, the beige sofas are highlighted by the large multi-colored rug, which doesn't overpower the room, yet blends beautifully with the rest of the decor.
Printed Designs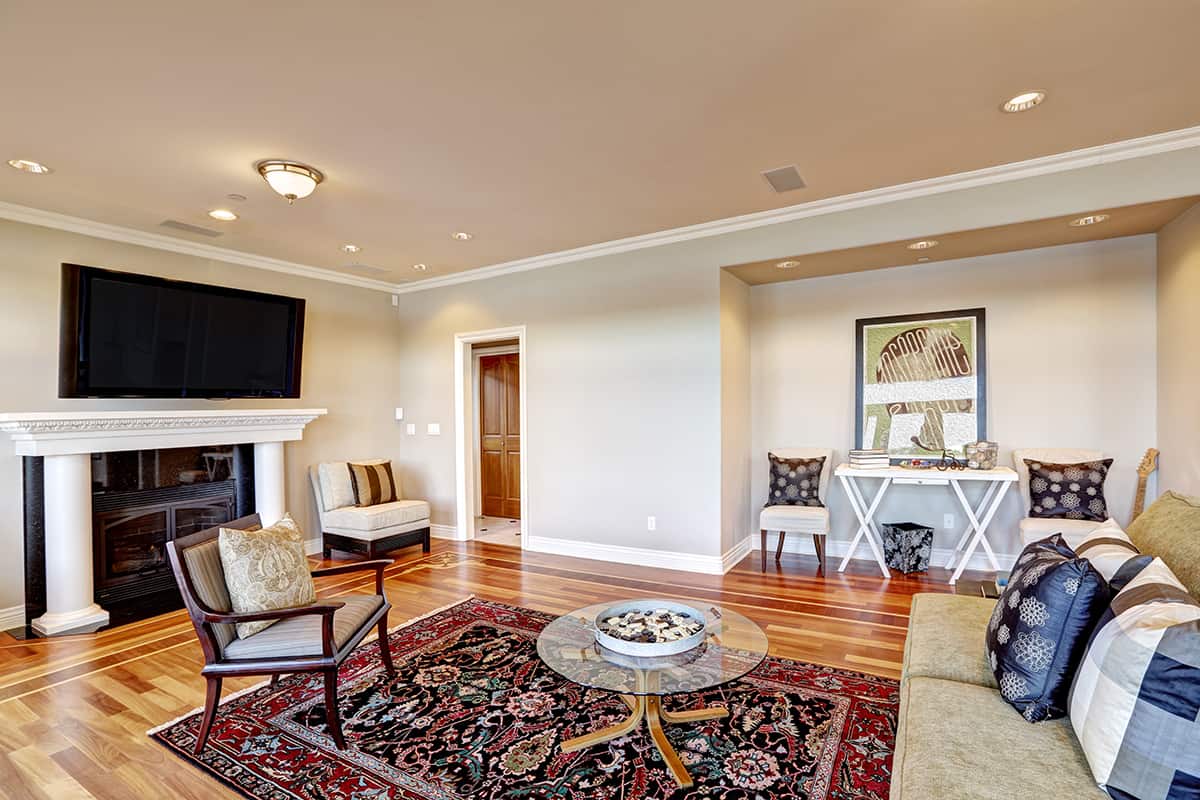 As an alternative to a multi-colored design, you can always opt for a Moroccan or Persian rug to pair with your beige sofa. These intricately designed oriental rugs are instantly noticeable, with the majority boasting rich red patterns and prints. A lovely Persian rug can add elegance to a neutral living room as it cures the heavy neutral use of the seating furniture.
Add some cool-toned accessories to this mix to boost the visual appeal of your living room. Color schemes that work best with patterned rugs include black and white, blue, gray, and brown.
Just as you can see in this cozy living room, the Persian rug instantly draws the eye to the center of the room, where the patterned throw pillows are also competing for attention.
Conclusion
A beige couch is a neutral furniture piece that can be paired with a variety of different rug colors. This lovely, soft color complements almost any other tone or style of color, as you've seen in our examples above.
So whether you prefer a subtle or bold rug color for your space with a beige couch, these two essential living room items can blend with any interior style while complementing each other.