A bedroom curtain serves two main purposes: to block light for privacy and better sleep and to make the space look good. While most types of curtains can achieve this, the length of the curtains will play a big role.
Should bedroom curtain length be long or short? The length you choose can turn your bedroom into a casual or formal space, so it comes down to personal preference not to mention the size of the bedroom.
To help you decide on whether to choose long or short curtains in the bedroom, read our detailed guide right here:
Long Length Curtains
Long-length curtains are highly popular for bedrooms. They visually elongate the room and pull the aesthetic together. There are many advantages to opting for long-length bedroom curtains. If your room is small, you'll want to block out as much light as possible so it makes sense to opt for longer-length drapes instead of short ones.
With long-length curtains, your bedroom can appear brighter and more spacious thanks to the additional length of the curtains. Let's take a look at the best examples of long-length curtains:
Almost to The Floor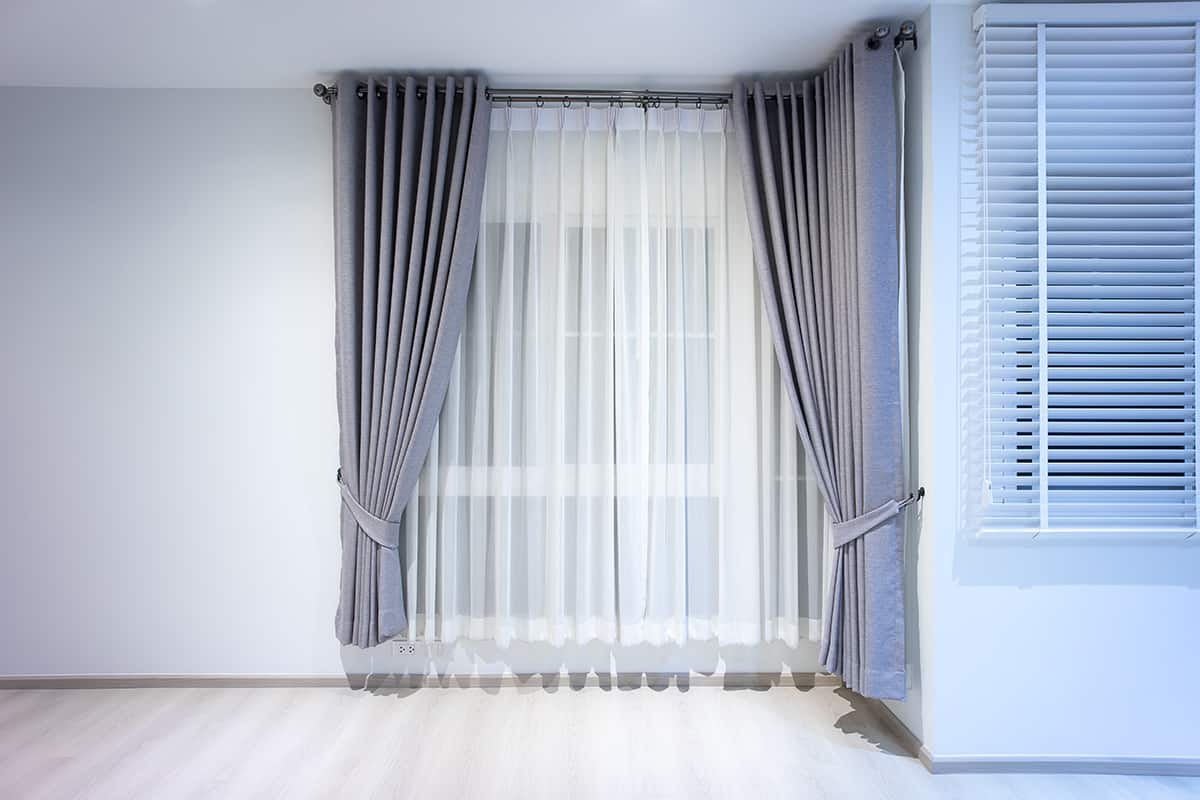 Floor-length curtains don't quite touch the floor. They stop around an inch above the floor and are considered to be the most popular for bedrooms.
With these tall curtains, your bedroom can appear larger as though it has a high ceiling. In addition, since the curtains don't touch the floor, they are less likely to gather dust or dirt. Whether you hang them straight or with a tassel, these curtain lengths help bring a classy, formal look to your bedroom.
Perhaps the only downside to long-length curtains is their vulnerability to getting grabbed and pulled by small children. Moreover, some people aren't keen on creating an overly formal look for their bedroom so the long length may not be to everyone's liking.
Puddled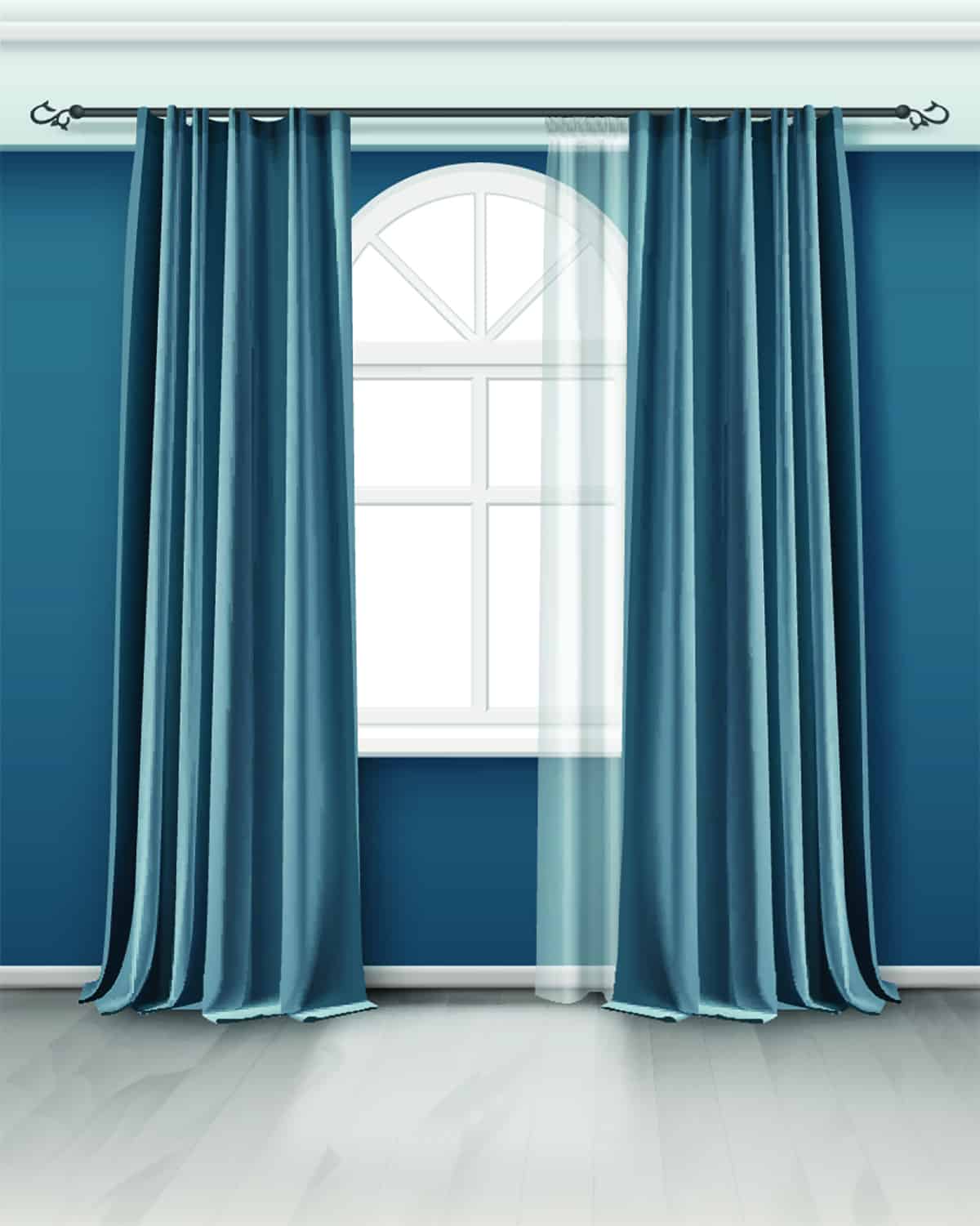 Puddled curtains can hang beyond the floor or just over it. In fact, these curtains pool onto the floor by as much as 6 inches. For anyone who likes a dramatic or romantic look in their bedroom, these are the curtains to go with.
On that note, be prepared to clean these curtains often as their full contact with the floor makes them susceptible to picking up dirt and dust. What's more, they can be difficult to vacuum around because of their extended length.
Floor to Ceiling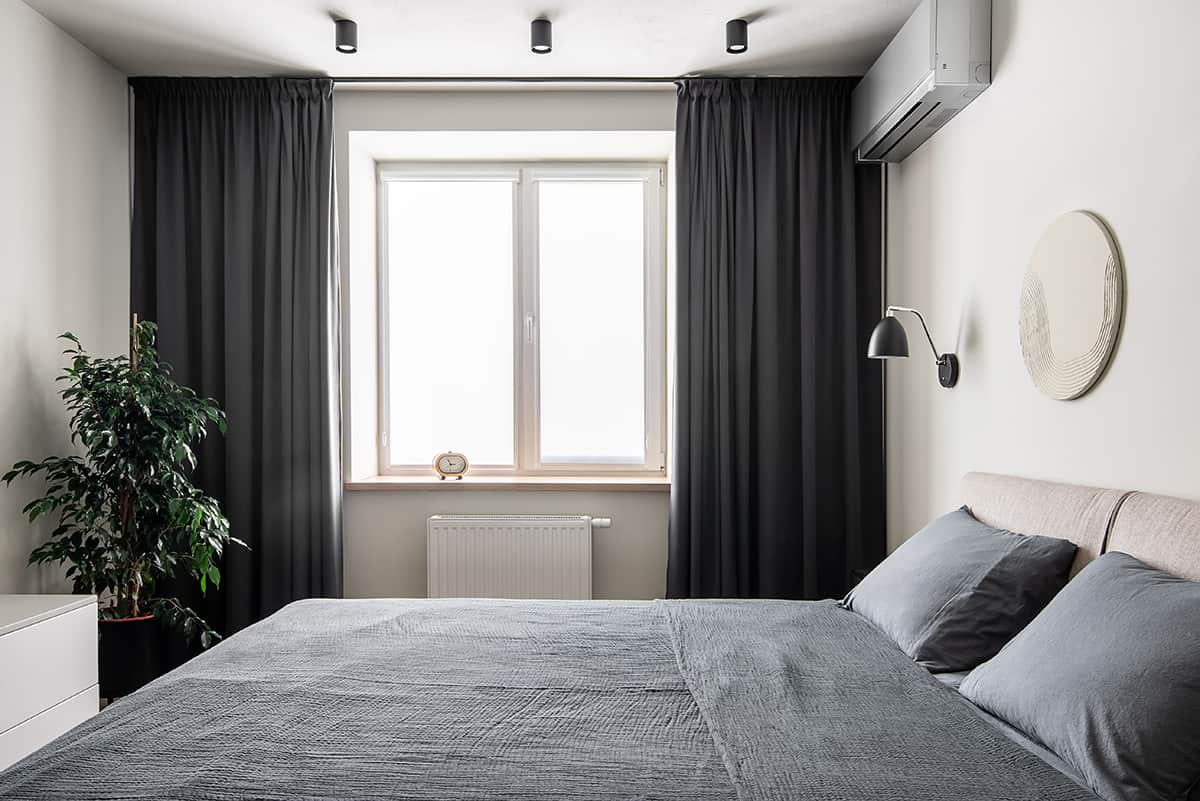 Another popular long-length curtain option for contemporary bedrooms is a floor-to-ceiling window covering. This option helps make your sleeping space appear taller as it visually draws the eye toward the windows. By hanging your floor-to-ceiling curtains from the highest point on the wall, the eye will be drawn upwards, causing you to think there is an additional height from where you're standing.
If your bedroom already has high ceilings, floor-to-ceiling curtain lengths can be an excellent complementary choice. These curtains help divide the space and accommodate the area with a window seat. The only challenge that comes with these curtains is their difficult installation, as the trick is to hang them at the right height. After all, the visual aesthetic of these curtains lies in the way they are hung.
When a bedroom has large, tall windows, it can often feel cold, especially in the winter months. By opting for floor-to-ceiling curtains, you can cover the entire window and make your sleeping space instantly feel cozy and snug. With these curtains, there is no room for cold air to flow through, thus serving as excellent insulation.
Short Length Curtains
On the other end of the spectrum, we have short-length curtains for bedrooms. Visually speaking, this option isn't the most appealing, especially in large rooms. In addition, shorter-length curtains are seen as outdated so not the best choice for modern spaces.
Another downside to short-length curtains is their ability to cut the visual height by half. That said, these are the most practical options for homes with small children. No more dirty fingers touching the base of the curtain or pulling at the window treatment. In bedrooms with radiators, short-length curtains are the safest solution. If you want to consider this option, here we have a couple of examples to show you:
Window Sill Curtains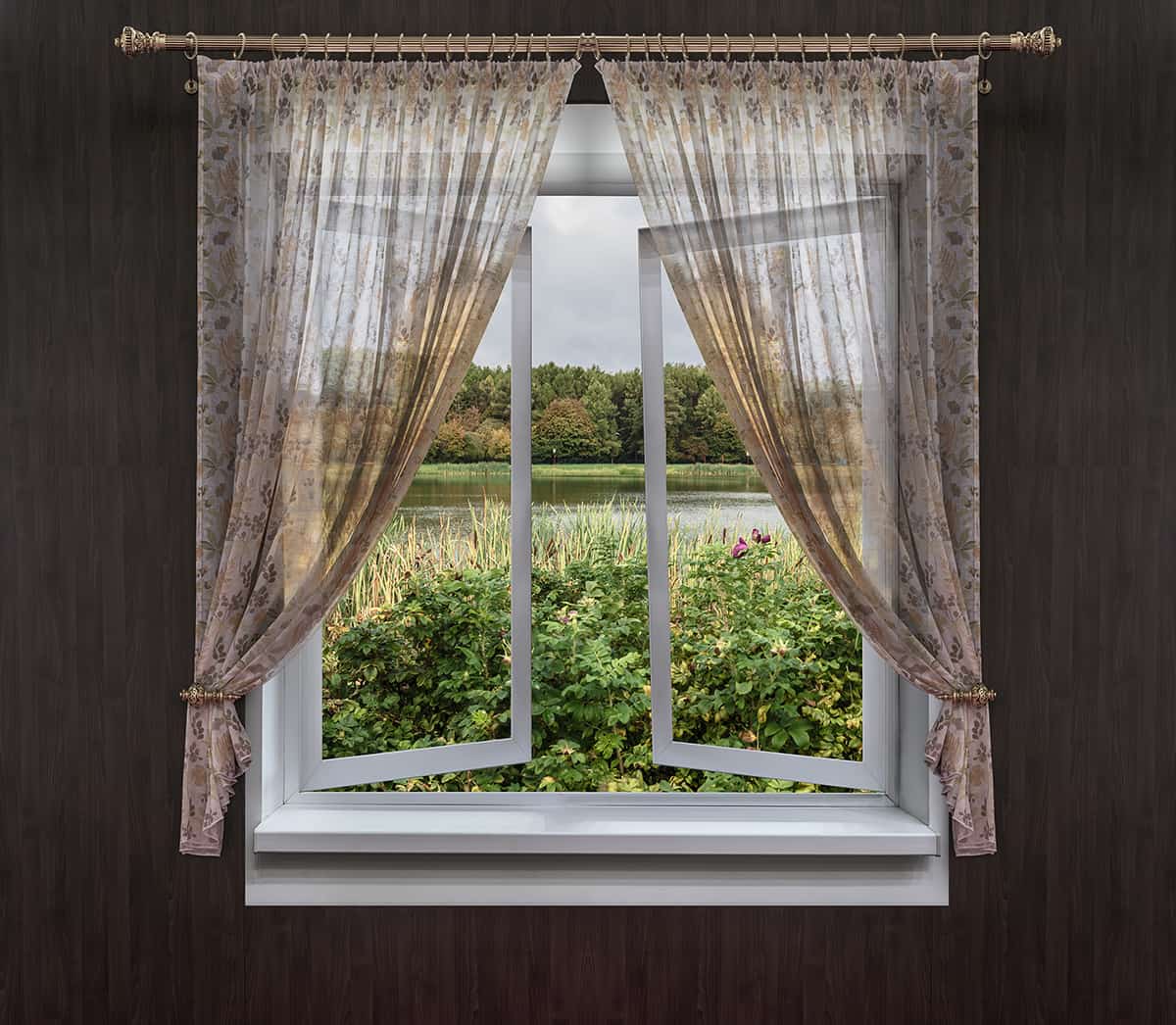 Sill length is a short curtain category that hangs less than half an inch above the window sill. This type of short-length curtain brings a casual look to your bedroom since it takes up less visual space. The window sill curtain is the shortest of all, even a few inches shorter than apron curtains, which makes them ideal for small spaces. Such a curtain is a perfect fit for:
windows that are located close to a radiator or other appliances
Bedrooms with small windows
Households that have pets or children who keep playing with long curtains
Bedrooms located in dust-prone areas
Baby's bedrooms
Double Panel Curtains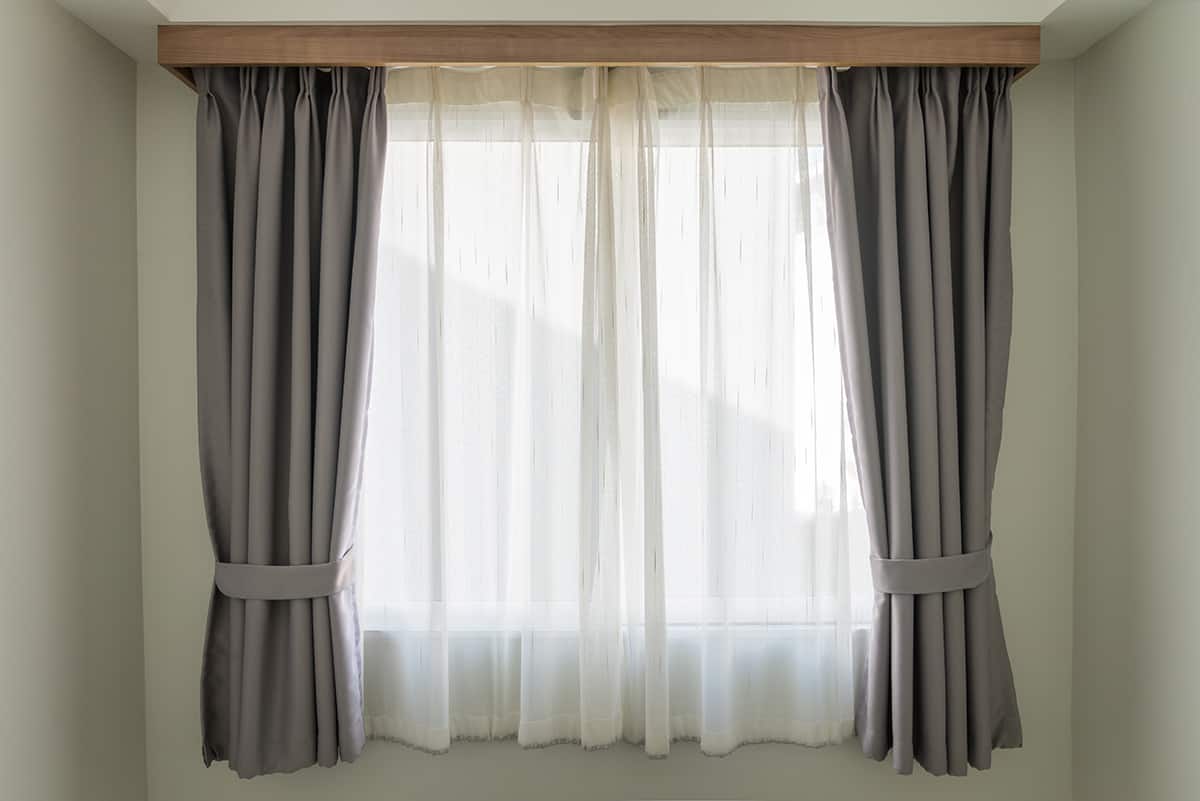 For a classy look, consider pairing your short-length curtains with sheer panels to match your bedroom decor. This is ideal for those who want their bedroom accessories to stand out from the rest of the rooms. A single, short-length curtain can often shrink the space visually, but when you use a double panel, you can open up the space and use tassels for a classy finish. This style of curtain works particularly well on large-size windows.
Should Bedroom Curtain Length be Long or Short?
Short-length curtains should only be considered for bedrooms if there are radiators, bulky furniture, or other appliances in front of the window. This option isn't ideal in modern bedrooms as it is rather outdated.
The biggest downside to short-length curtains is how they visually lower the ceiling height because of their size, thus looking unfinished. That said, there are many trendy designs available now, so your bedroom doesn't necessarily have to be dressed with long-length window curtains.
Long-length curtains, on the other hand, can add dimension to the bedroom. But it is more about how you hang these curtains than their actual length. For example, if you are hanging the curtain from the rod up close to the ceiling instead of the window frame, the panel will draw the eye toward the entire wall length, thus giving the illusion of a higher ceiling.
If you are going to hang a long-length curtain in your bedroom, and your ceiling isn't as high for the floor-to-ceiling panels, then consider the slightly shorter, almost to the floor length.
This option is ideal for windows that don't have any obstruction in front of them. Long-length curtains offer a better aesthetic than shorter versions, as they can make the bedroom appear larger, especially if you hang them higher than your window frame.
So the question is, short or long bedroom curtains? If you prefer more natural light in your bedroom, you should consider going with long-length curtains. On the other hand, those who want more privacy and less light should choose blackout short-length curtains.