White is a popular neutral choice of paint for a room that can help to make a living room feel brighter and more airy. If you're on the lookout for a new sofa to go with your white walls, then the options really are endless.
There are so many different colors of sofa that will look great alongside a white wall, depending on the type of style or atmosphere you want to achieve. In this article, we examine the perfect sofa shades that harmonize with white walls.
Neutral Sofa Colors for White Walls
A sofa in a neutral color is a good option if you don't want to make a bold statement. Neutral walls alongside a neutral sofa will make for an easygoing style that feels comfortable.
Cream or Beige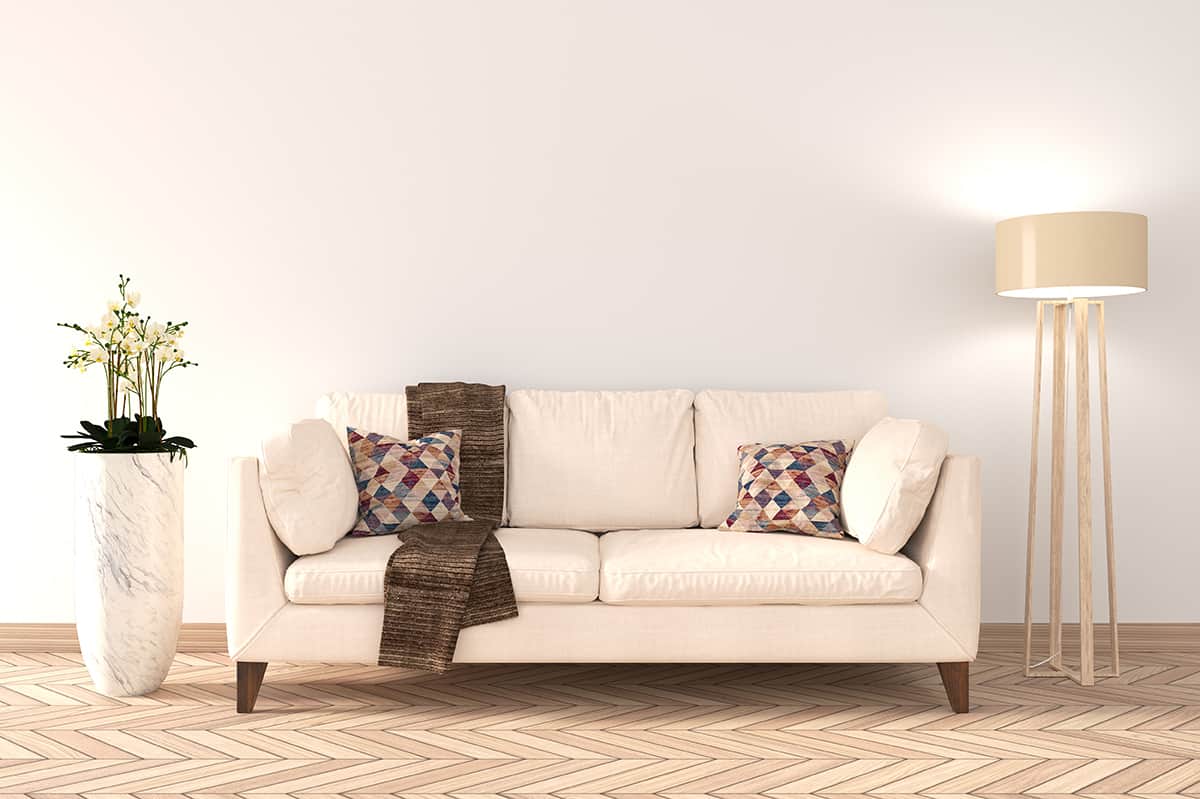 A cream or beige sofa will complement a white wall because cream and beige both contain large proportions of white. This selection of light colors works effortlessly together for a classic or modern vibe.
Brown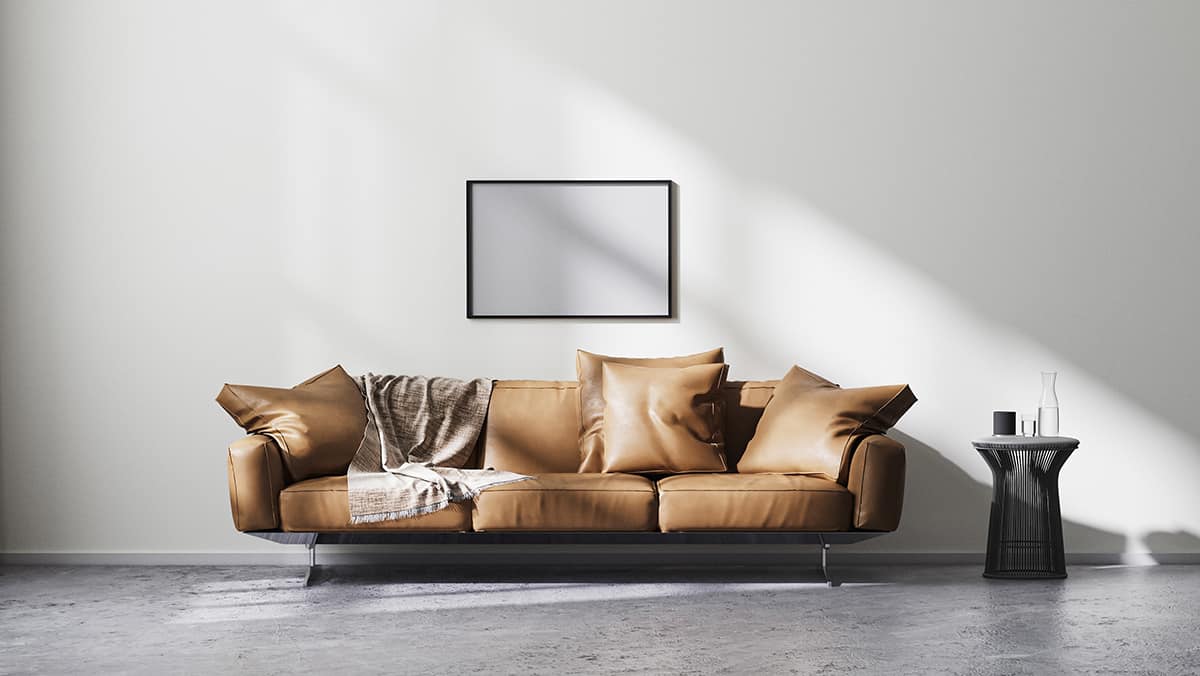 Brown is a dark neutral that looks warm and comforting next to a white wall. Consider a brown leather sofa or a tan corduroy sofa to add texture.
Contrasting Sofa Colors for White Walls
If you want your sofa to make an impact against your white walls, choose a fabric color that is going to stand out. The strongest contrasting color for white is black, but you can also create contrast with other dark colors, such as navy blue and charcoal gray.
Dark Blue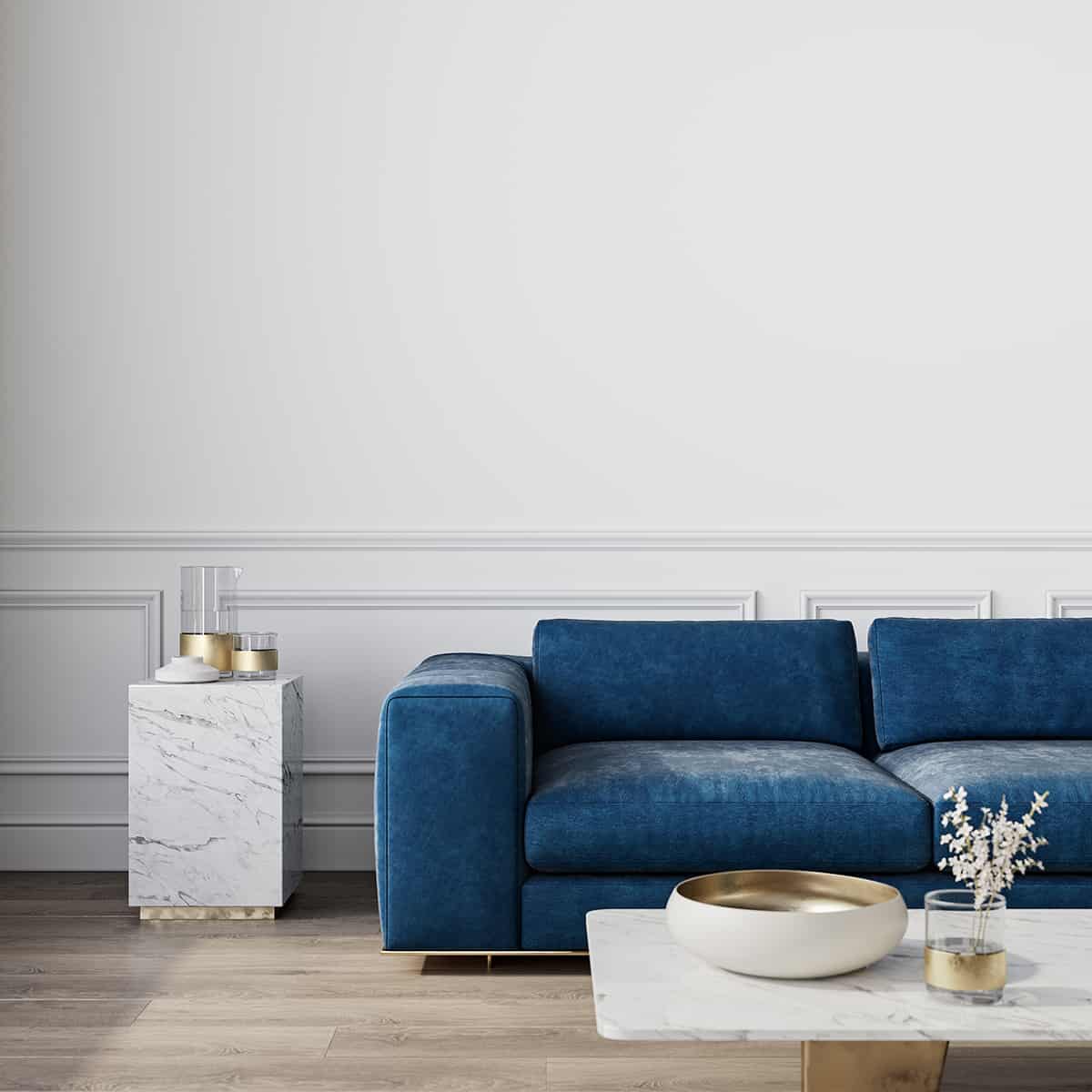 A dark blue sofa can create a contrast against a white wall; however, dark blue isn't bright or intense, and therefore, the contrast will feel relatively muted. Add pale pink cushions to a dark blue sofa for contemporary elegance, or use blue and white striped cushions for a nautical style.
Black
A black sofa against a white wall can look stark, but you can blur the edges of this color scheme by adding mid-gray accessories, such as throws and cushions.
Forest Green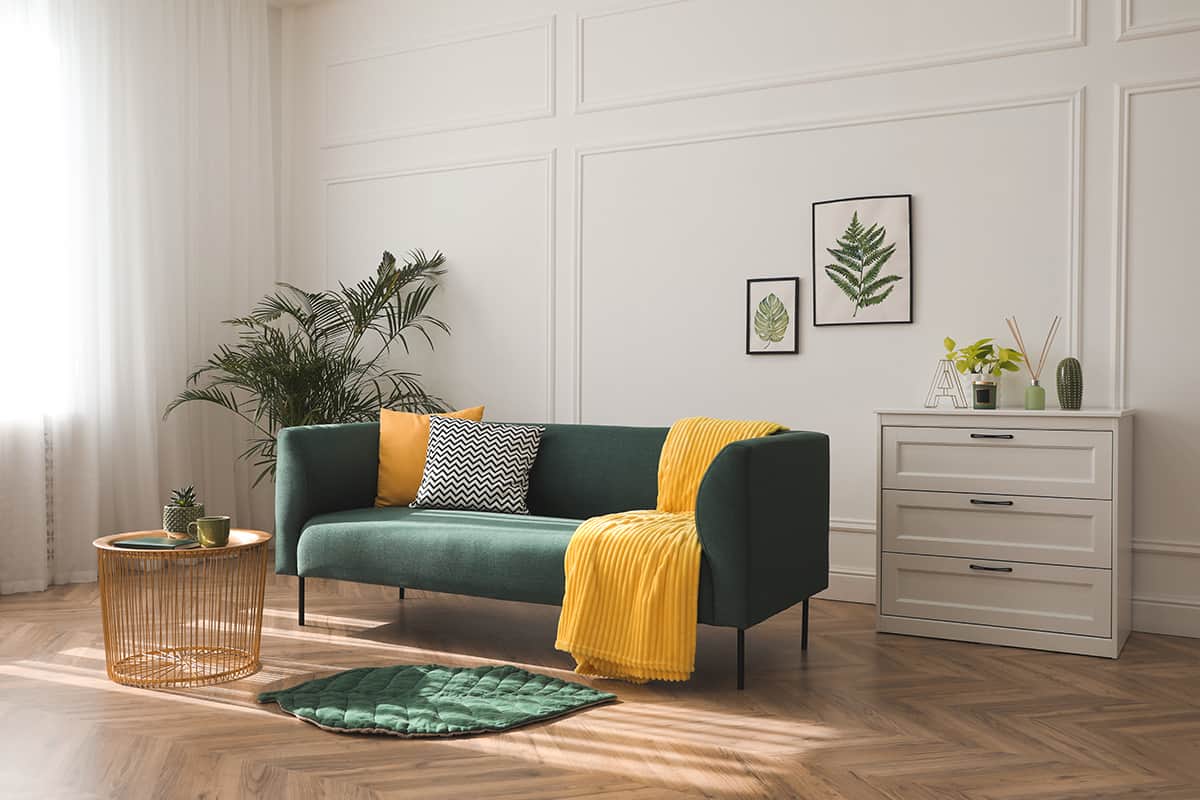 Forest green is a very popular color in home decor right now, helping to link the indoors with the outdoors.
A dark green sofa will be stylish next to a white wall, and you can opt for a number of different accent colors, including blush pink, gold, burgundy, or burnt orange.
Which Color Sofa is Best with White Walls?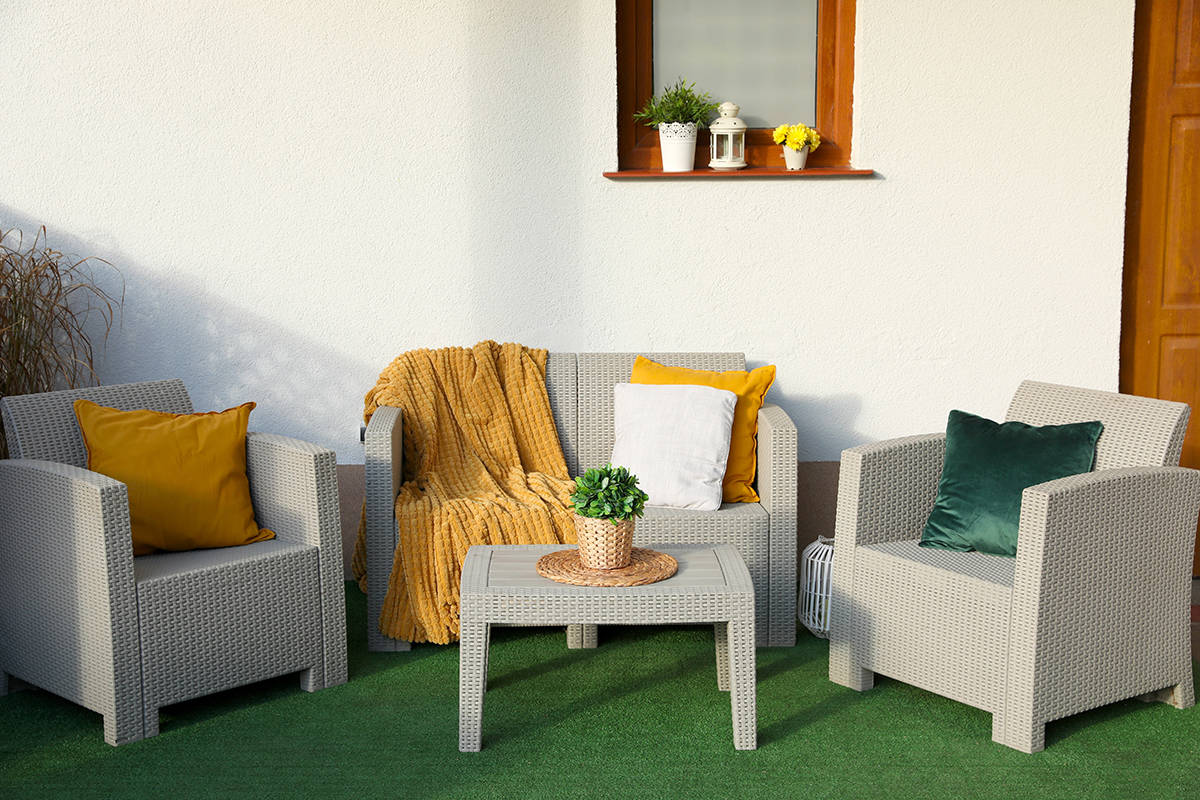 One of the best things about painting your walls white is the peace that comes with knowing you can choose furniture in absolutely any color. White is the truest neutral color that exists, and it will work well with any other color in any other shade.
When your walls have been painted white, you won't be restricted to a particular color scheme because white is a color that will go with any other color. This is great news for the future because it means you can easily switch up the whole look of your room just by changing a few of your furnishings, and you won't need to think about repainting the whole space.
The best color for a sofa with white walls, therefore will be determined by your taste and the type of style you want to achieve, rather than by the fact that your walls are white. Here we explore the best sofa colors with a white wall according to the type of atmosphere you want to create in the living room.
Calm and relaxing
The best color sofa in a white room where you want to achieve a calm and relaxing vibe is pale blue. Blue is known for its ability to relieve stress and calm the mind, making it a perfect color for home decor since most of us want to feel soothed and at ease in our homes.
Pairing with light blue colors is an excellent choice as these colors are more relaxing than bright or dark shades of blue because they have a more casual, easygoing feel that is easy for the eyes to adjust to. A light blue sofa next to a white wall won't spark any strong reactions, making it a nice choice for a gentle and comfortable space.
Consider muted pale blue hues for an energy that feels relaxed and soft, or opt for a blue-colored sofa that sits between light blue and medium blue for a more refreshing feel.
Bright and creative
A room with white walls is a blank canvas where you can create almost any atmosphere that you want. If you're decorating a home office or a living room that doubles as a hangout space for friends, then a bright and creative vibe can work really well. Orange is known to inspire creativity and confidence, making it a great color choice for a sofa in an energetic room.
Orange is a color that often feels overwhelming or overstimulating when used in other color schemes, but it goes perfectly with white because it isn't going to compete for attention or cause any contrast. Instead, white walls will allow an orange sofa to be the star of the show, and a strong-colored piece of furniture like this can make a really fun and bold style statement.
To ensure the look remains lighthearted and positive, keep other accessories and furnishings to a minimum and use colors that aren't going to compete. Cushions in lemon yellow can be a nice addition to maintain the fun and upbeat atmosphere or choose plain white accessories for a minimalist style.
Comfortable and cozy
You might think of a room with white walls as being quite cold and uninviting, but actually, if you choose the right furniture and accessories, then a white room can be very cozy and comfortable. The best way to add a sense of comfort to a room with white walls is by using soft furnishings in warm colors.
Opt for a sofa in an oatmeal color for a neutral, toasty feel, and accessorize this with a few darker touches such as cocoa-colored cushions or a deep brown rug.
For a more intensely warm atmosphere, choose a dark neutral sofa, such as a rich brown leather couch with mocha-colored cushions and chunky knitted throws. Color and texture are equally important when creating a cozy vibe, so pay attention to soft and sumptuous fabrics to make the most out of this style.
Can You Have a White Sofa with White Walls?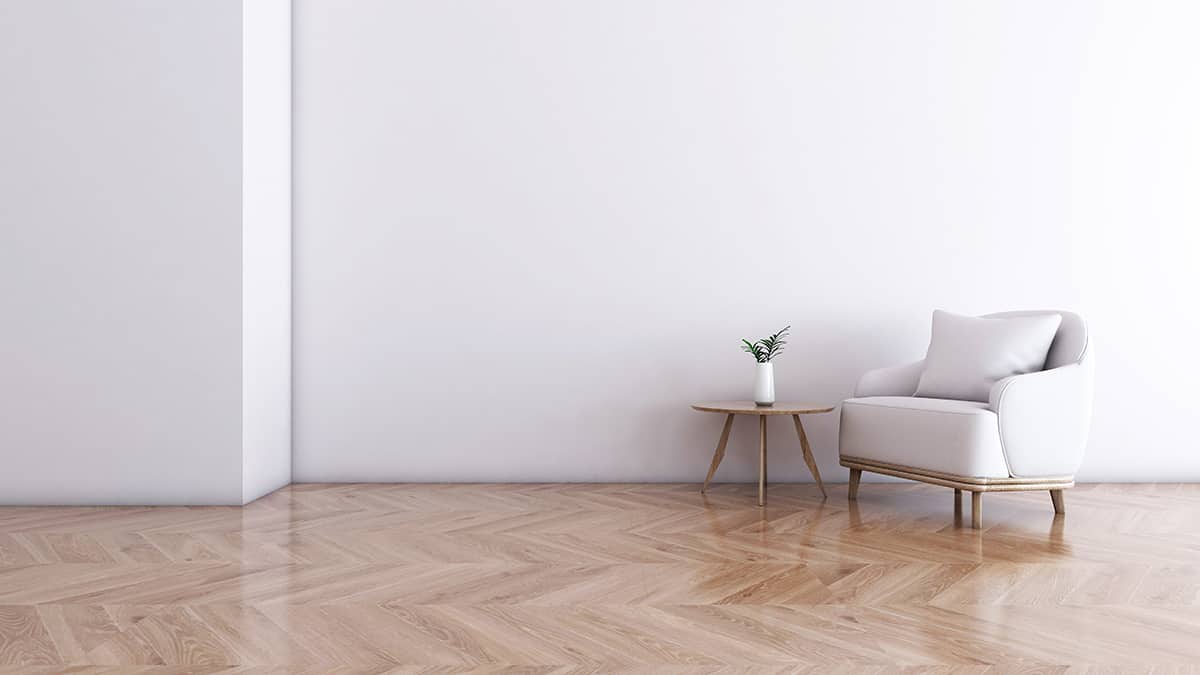 If you have a white sofa, you might wonder if it will look ok if you paint the walls white. When a sofa and the walls are the same color, it's normal to worry that the overall look might appear flat or boring.
While you absolutely can set a white sofa in front of a white wall, there are a few clever hacks you can use to ensure the whole space is aesthetically pleasing and feels comfortable to spend time in. If you are using a white sofa with white walls, try these easy tips:
Accessorize
In a room where the sofa and the walls are the same color, whether white or a different color, it's important to accessorize to create a feeling of depth and interest so that the room doesn't feel bland or plain. Since there will be no interest or contrast created by the walls and sofa both being white, you should add accessories in other colors in order to achieve this.
Consider a throw over the back of the sofa to create a distinction between the sofa and the wall, for example, in beige or gray. This will help to add a definition without a stark effect.
Cushions can be layered along the sofa seats in varying colors, including white, which will help tie the whole look together. Outside of the sofa itself, coordinate your accessories to ensure continuity. If your sofa throw is gray, opt for gray curtains and a gray rug to match.
Add texture
The texture is really important in any interior design, but especially if your color palette is quite simple. You can opt for an entirely white room if you have plenty of different textures to create depth and interest.
For example, set a fluffy faux fur white blanket over the back of a white velvet sofa and hang glossy white frames on the walls to showcase your art prints. A white sheepskin rug on the floor beneath a white wooden coffee table will look stylish, elegant, and alluring.
Create contrast
If an all-white look isn't your style, you can create a more striking look by incorporating bold colors into the mix. Choose some bright or dark soft furnishings to accessorize your white sofa, for example, lime green cushions or a dark brown blanket. The other furniture in the room will play a central role in defining the atmosphere, so consider this when choosing your items.
Opt for dark wood pieces in a rugged finish if you want a rustic style, or choose black-painted furniture in a glossy finish for a slick and contemporary style. Avoid white or pale-colored furniture if you want to achieve a more exciting look, and instead, opt for colors that will stand out against your white walls and sofa.