Ensuring your home has curb appeal is not only beneficial for you and your neighbors, but it can also significantly boost your home's resale value. When you have painted your home exterior blue, you'll want to make sure it looks harmonious. Choosing the right roof color is a good place to start.
If your home is painted in light or dark blue, you will find very limited options in roof colors. That said, some neutral, as well as bold colors, look beautiful when paired with blue siding. So what color roof goes with a blue house? Here are some calming and cohesive suggestions:
Pale and rich grays
Grayish blues
Black
Dark brown
Dark red
Any colors to avoid with blue siding? Tan, beige and taupe roof colors won't complement your blue home as they detract the eye from the rest of the house exterior. To show you exactly how your blue house will look with the above-mentioned roof colors, take a look at our ideas below:
Best Roof Colors for a Blue House
Dark Gray Roof with Dark Blue Siding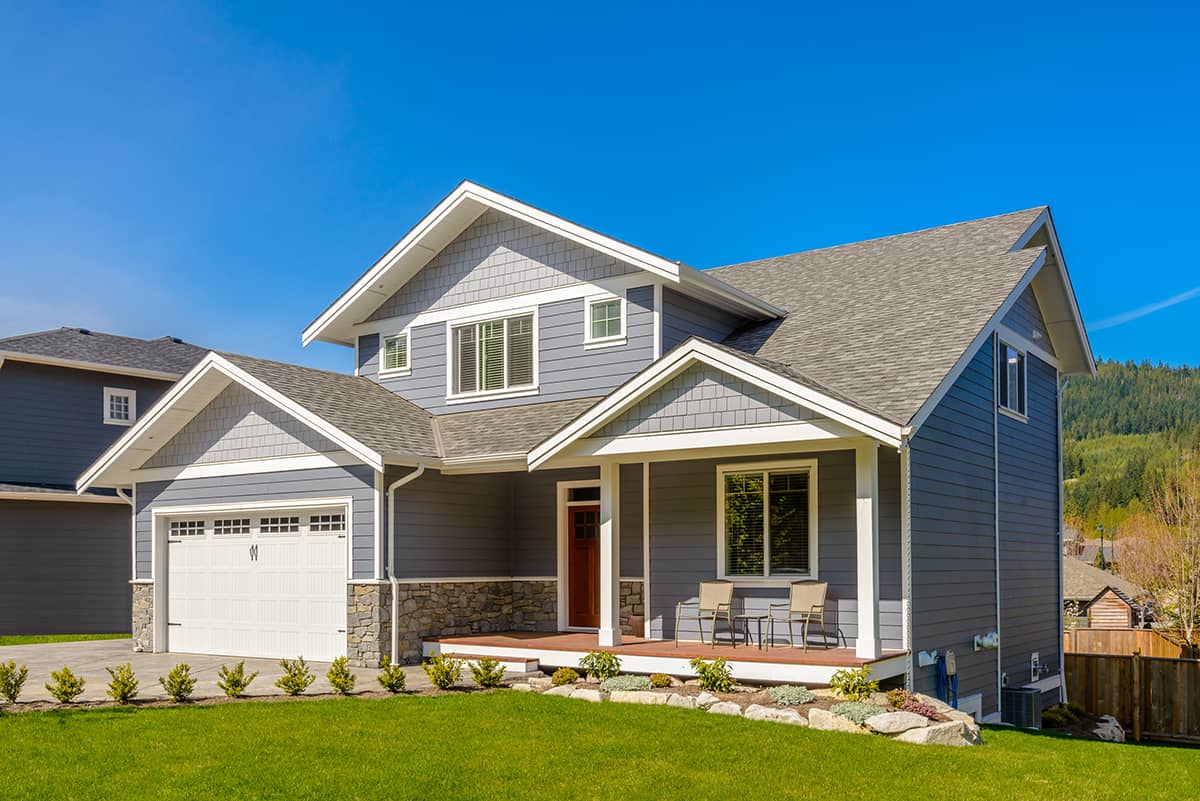 A simple roof color to pair with your blue house is to go all dark by choosing a dark shade of gray for the shingles. Although this might sound extreme, the color scheme works well on large-size houses.
Bold color combinations like blue with dark gray are becoming popular for large-family homes since cool-toned hues act as accent colors. Add white trim to complete the look as shown in this example.
Light Gray Roof with Blue Exterior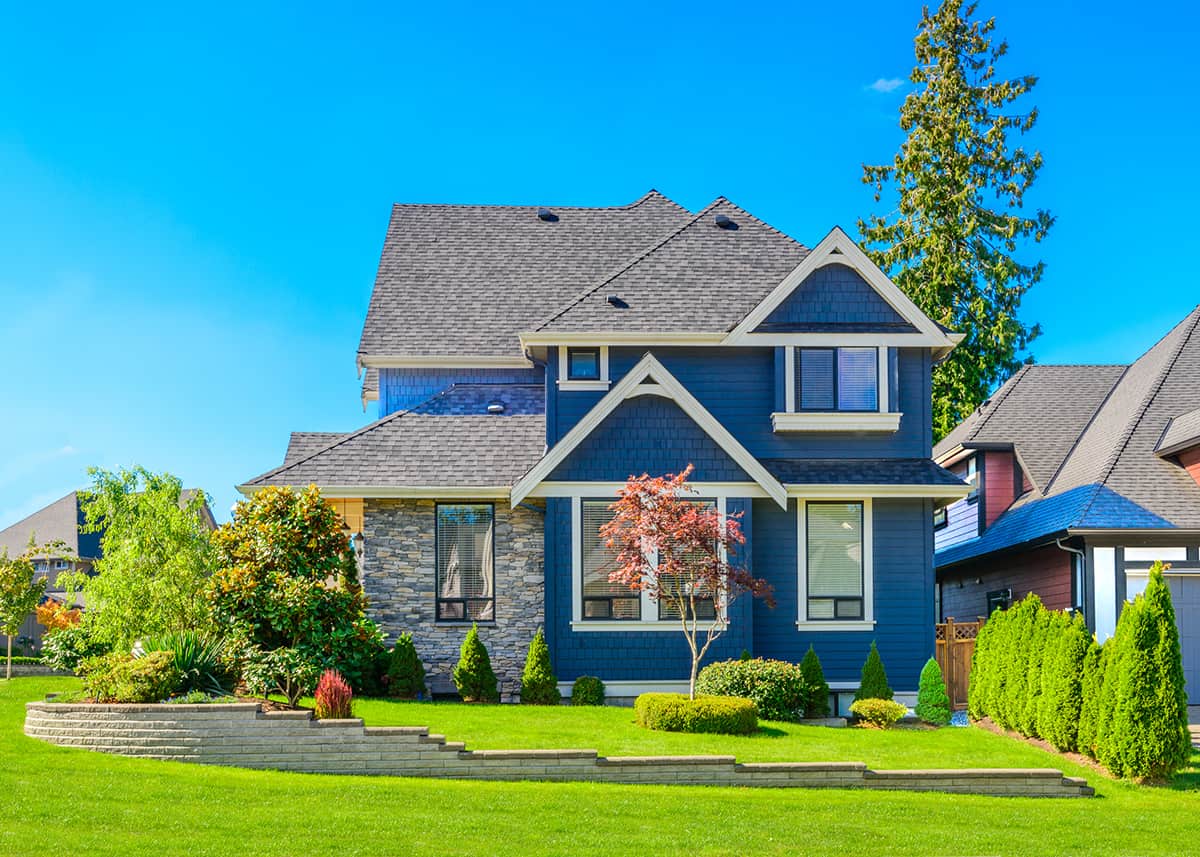 Since gray is a complementary color to blue, it makes sense to pair your blue-painted house with light gray roof shingles. This color scheme can be accompanied by bright and colorful landscaping to help pop in the background.
This combination works best on small-sized homes, with light gray as a stunning contrast against a vivid shade of blue. You can choose white trim to help emphasize the bold blue exterior of your home just like in this image of a luxury blue house with white trim and light gray roof shingles.
Brown Roof with Light Blue Exterior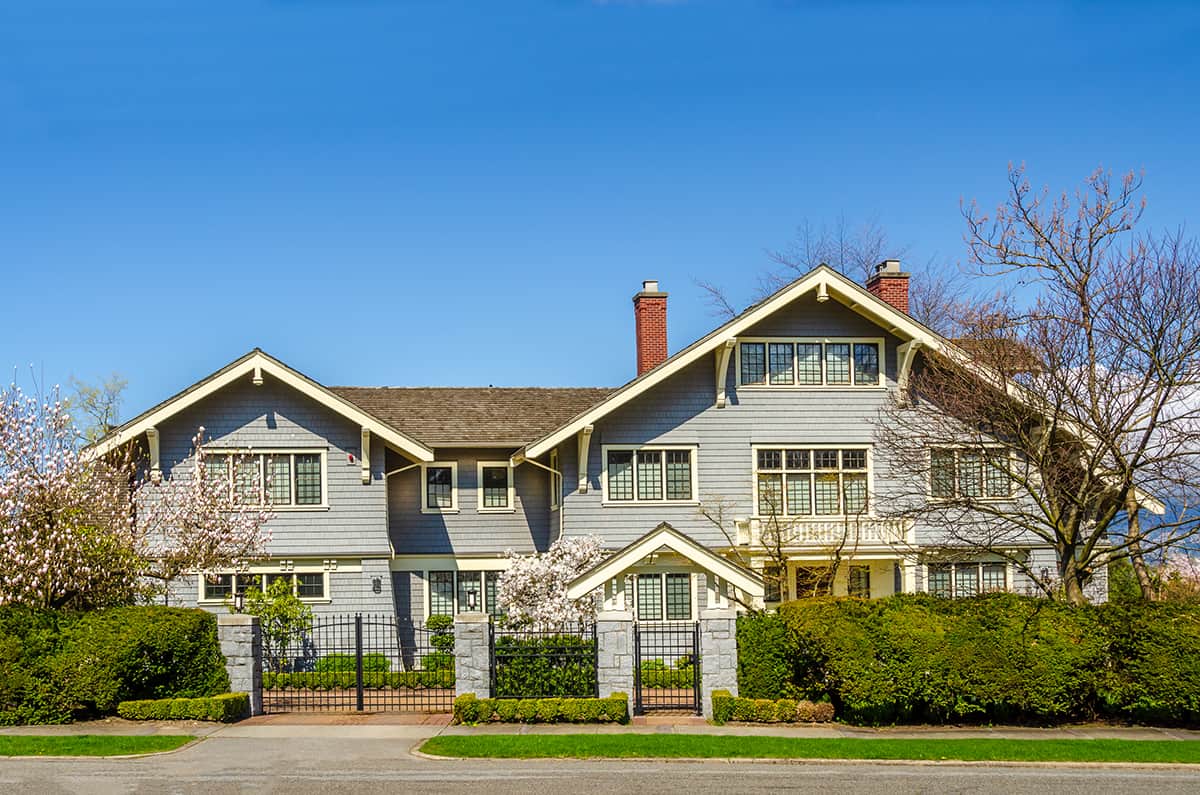 As a classic siding and roof color combination, use brown with blue. Unlike other neutrals, brown is an earthier and softer color that can highlight the blue siding. By opting for a brown roof, you will allow your blue home to blend in with natural surroundings, especially if you live in the mountains.
When your blue home's roof is going to be brown, you may either pick a light or dark shade. This earthy color is ideal for homeowners who love nature and wooded landscaping. With this warm and cool-toned color pairing, you have the freedom to add any trim color you like!
Two-Toned Roof with Light or Dark Blue Siding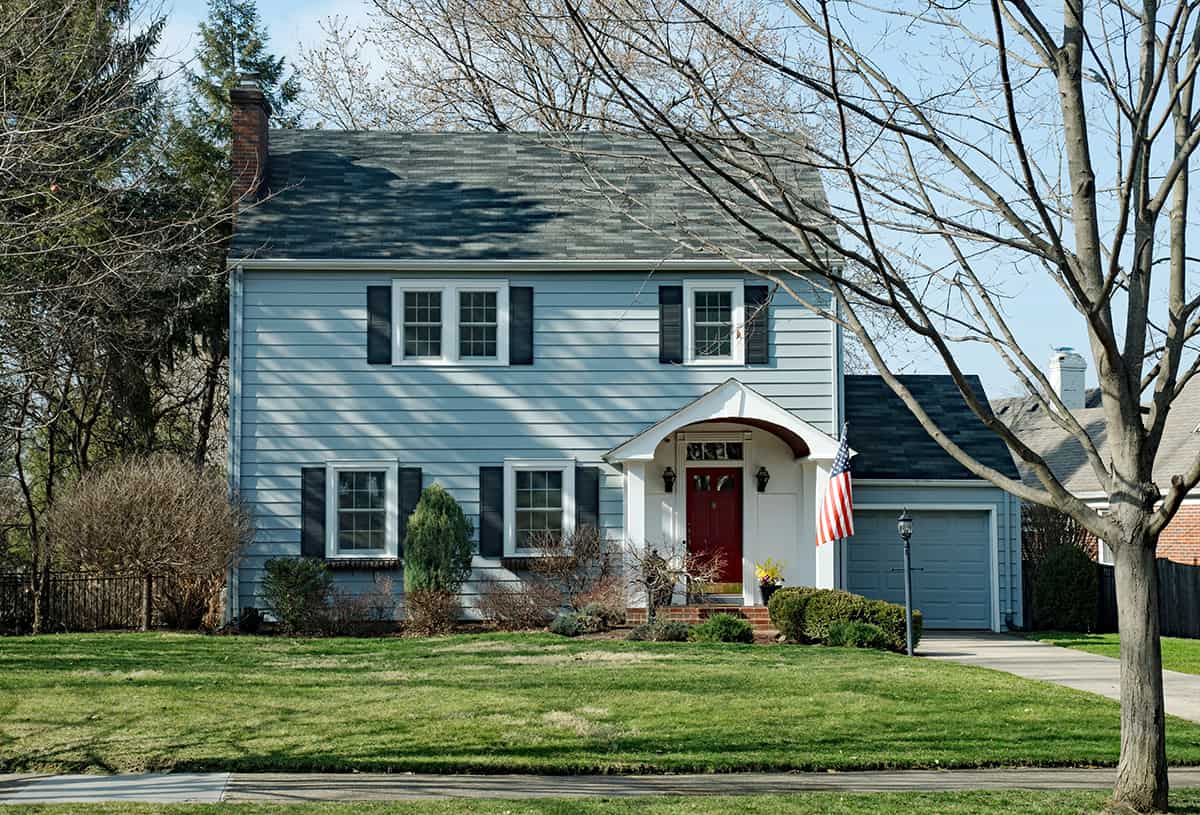 To go one step further, don't be afraid to add a pop of color to your blue home's exterior. In terms of choosing something different, we suggest a two-toned color palette like mixing a dark hue with a light hue and using them on each half of the roof.
You are then free to add any trim color to this mix to help bring all the elements together. Here, the blue house features dark gray and light gray roofs with black shutters that help define the blue exterior.
Black Roof with Light Blue Siding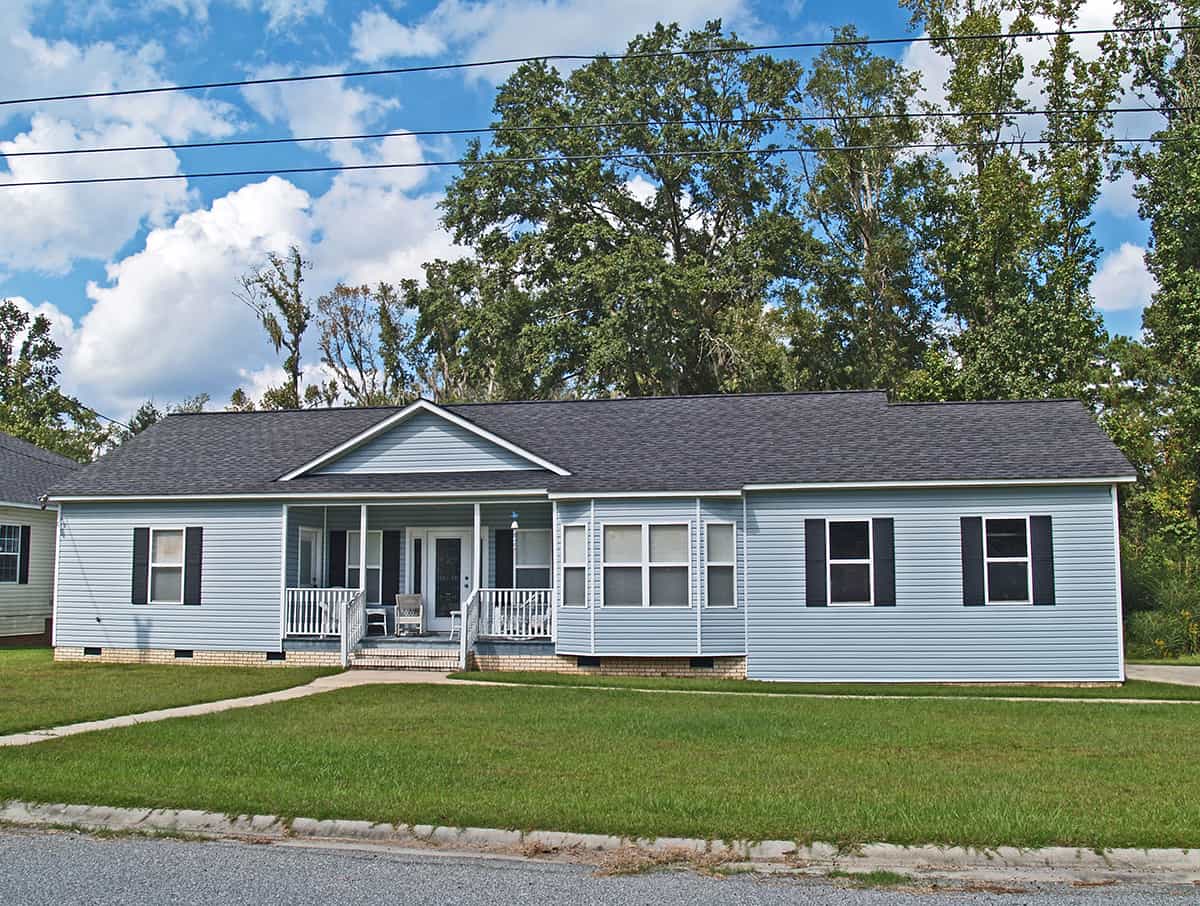 One of the safest roof color choices to pair with light blue siding is black. This classic neutral color will never go out of style and will suit any size of homes thanks to the light shade of blue exterior. A black roof has the added advantage of being incredibly versatile so you can pair it with any style house with blue siding.
By using a black roof and matching trim for your blue house, you can easily create a more modern exterior. Since black is a cold color, it goes perfectly with cool-toned blue, plus it attracts sunlight to your home and keeps it warmer in the winter months.
Red Roof with Dark Blue Siding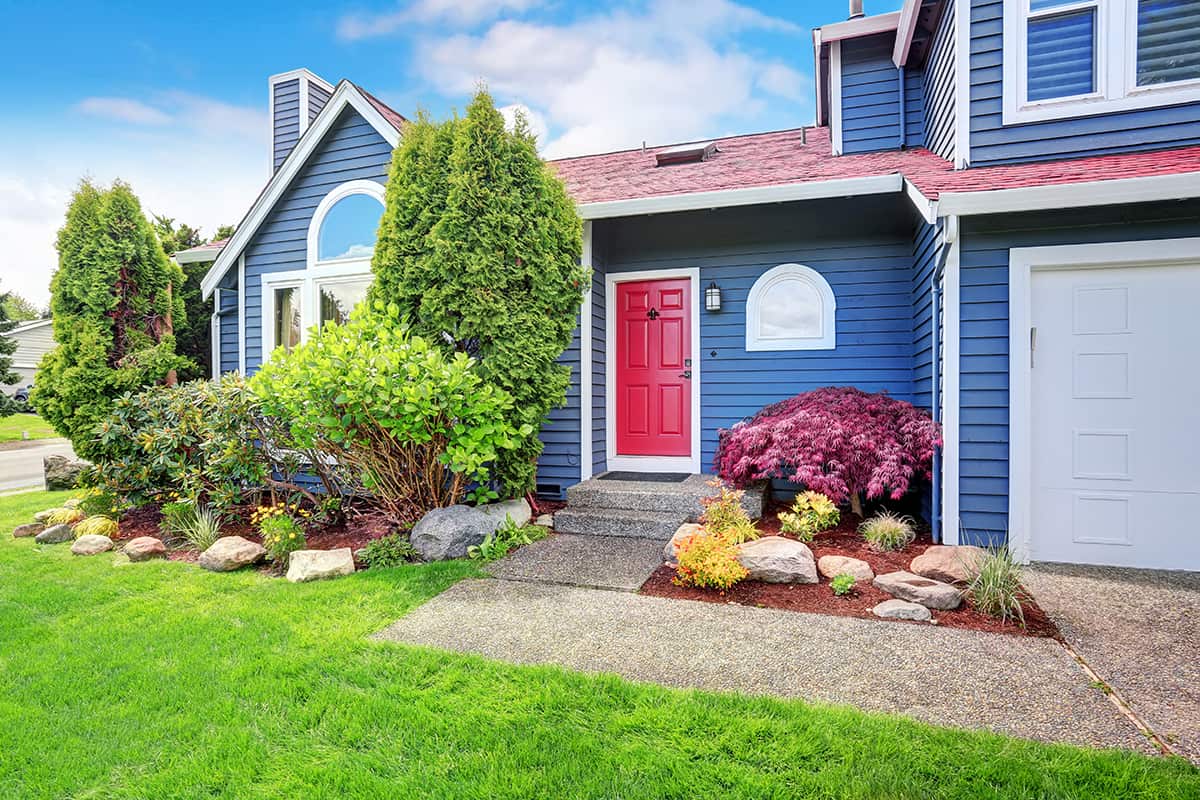 Our last roof color idea to pair with your blue house is a surprisingly rich, bold red! While most people may think brown, black or gray are the only roof colors they can combine with blue siding, we think red would be the perfect choice if you want your home to stand out from the rest of the street.
To prove just how beautiful dark blue siding with a red roof can look, here is a great example! This house is oozing with curb appeal thanks to the pop of exterior colors combined with white trim.
Is Blue a Good House Exterior Paint Color?
If you want your house exterior to stand out in your street, blue can be a unique paint color to choose. With so many shades at your disposal, blue makes an excellent choice as it gives a classic look to your home.
Whether you're a fan of coastal or traditional exterior design, blue is, without a doubt, a unique and eye-catching paint color for a home in the mountains or at the seafront. From vivid dark blue to bright, vibrant pastel hues, you can certainly capture the right mood using an attractive shade of blue for your exterior.
What Blue Shade Should I Paint My House Exterior?
Since a home's exterior is the first thing people see as they pass by, it is important to choose the right blue shade that reflects your personality as well as gives your home an inviting and friendly vibe. Blue is a cool-toned color associated with serenity, so it's hardly surprising for homeowners to pick this color for their home exterior.
But if you want to make a strong impression with your blue exterior color scheme, you must ensure you select the right shade that fits your mood and the rest of your home's trim or architectural design. Blue paint can transform an old house and give it a new lease of life. All you need to do is ensure you choose the right shade. Here are some excellent blue shades you can go with for your home siding:
Grayish Blue
A popular option is to paint your home a light, neutral shade of blue. Grayish blue goes with most other colors and is very popular since it's not too bright or subtle. Light shades like Iced Slate or Livid can be the perfect neutral blue paint for your home's exterior.
Brilliant Blues
If, on the other hand, you want your home to stand out in your street, consider painting the exterior a bright blue shade. There are many saturated blues that evoke excitement and turn heads, including brilliant blues and true blue hues. These radiant, bright blue shades stand apart from pastel blues so they'll definitely help give your home a stunning curb appeal.
When you are considering a bright, vivid blue shade for the exterior of your home, pay attention to the direction of natural light during the day as this will have a big impact on the bold blue shade you pick. For instance, if you have a south-facing seafront home, you might want to choose a medium shade of blue like turquoise to emphasize the beach theme.
Dark Blue
If you're one of the many who loves rich, dark blue shades, don't disregard painting the exterior of your home in navy or admiral shade. These dark blue hues suit large homes with architectural or accent features. Dark blue exteriors are not only appealing, but they also emit an air of tradition. Honorable Blue is one such example as it's a dark, rich shade that looks stunning on any large home's exterior.
In Closing
Your home's exterior color isn't the only factor to consider when selecting your roof color. You should also pay attention to the architecture and size of your home as these are just as equally important. A blue house instantly draws attention, but if your home is on the small side, the roof shingle color will dominate the rest of the exterior, thus leaving it looking even more compact.
In this case, it's better to opt for a light gray roof to pair with blue. You can only use dark roof shingles, like charcoal or red, for a large-size blue house as the tones will highlight the exterior and give it an air of class.
Ultimately, when you're thinking of the best roof color to go with a blue house, a neutral option is the safest bet. Whether you choose dark or light gray, black or a two-toned neutral, your blue home's exterior can truly stand out among the neighbors.