When it comes to painting the exterior of your home, it's important to consider all of the visible elements, including the soffit and fascia. These two components not only serve functional purposes, but they also play a significant role in the overall aesthetic of your home's exterior.
Choosing the right color for your soffit and fascia can have a major impact on your home's curb appeal and can even result in an increased property valuation. Popular colors for soffit and fascia include white, gray, black, and beige, but there are many other colors you could opt for.
Here we explore some factors to consider when selecting a color for your soffit and fascia, as well as some attractive color options and combinations.
What are Soffit and Faascia?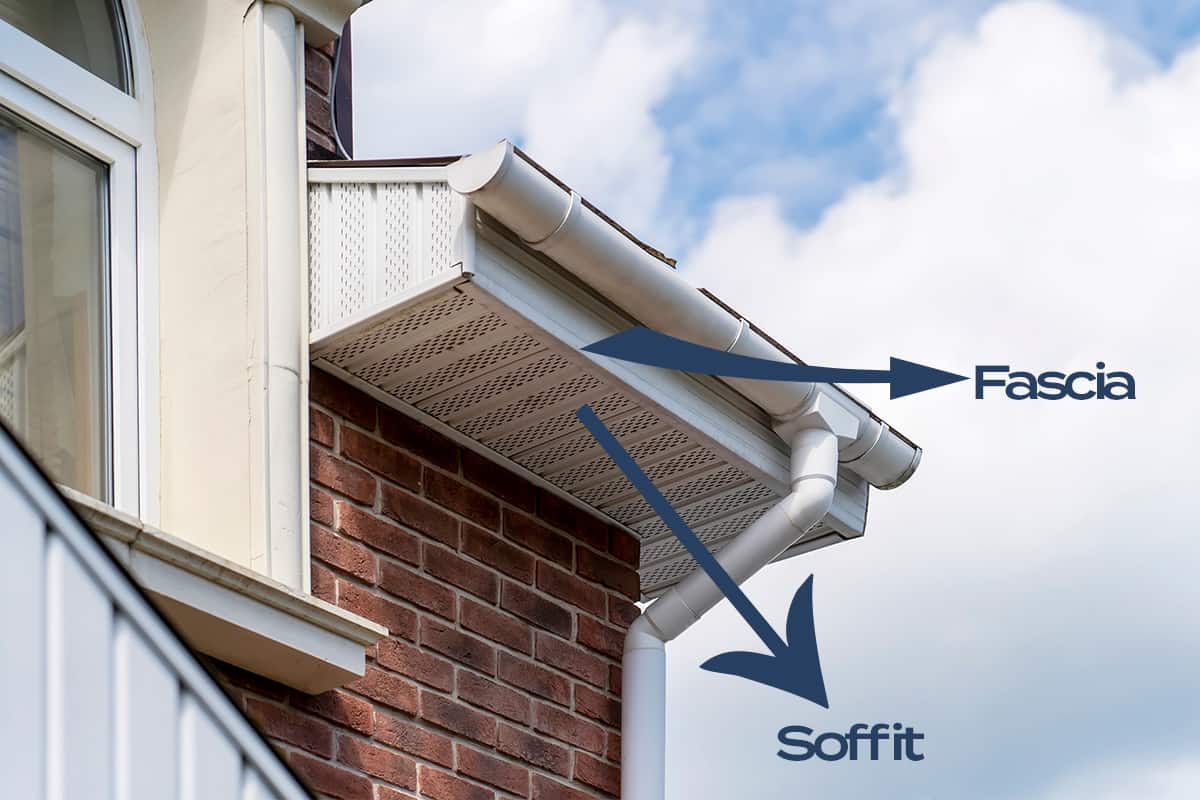 Before you start thinking about color options, it's important to understand the role that soffit and fascia play in your home's exterior. The soffit is the material that covers the underside of your roof's overhang, while the fascia is the vertical finishing edge that runs along the roofline.
These two components protect your home's interior from water damage, pests, and other environmental factors. In addition to their functional purpose, the soffit and fascia also contribute to the overall appearance of your home's exterior.
They can be used to create contrast or continuity with other exterior elements, such as siding, trim, or shutters. Ultimately, the color you choose for your soffit and fascia should complement the other elements of your home's exterior while also reflecting your personal style.
Considerations for Choosing Soffit and Fascia
When it comes to choosing a color for your soffit and fascia, there are a few key factors to consider.
Exterior color scheme
First, you'll want to think about the overall color scheme of your home's exterior. This means deciding on whether you want neutral exterior decor, light, and bright exterior decor, or dramatic exterior decor with contrasting elements.
If you aren't changing the color of your siding, window frames, and exterior doors and trim, then you'll want to choose a color for your soffit and fascia that works well with your existing color scheme.
Architectural style
Another important factor to consider is the architectural style of your home. Different styles may call for different color choices. For example, a traditional Colonial home may look best with a white or cream-colored soffit and fascia to maintain a classic or traditional look, while a modern home may benefit from a more contemporary color, such as dark gray or black.
Local climate
You may also want to consider the climate and environmental factors in your area. For example, if you live in a hot, sunny location, you may want to choose a lighter color for your soffit and fascia to reflect heat and keep your home cooler. Alternatively, if you live in a wet or humid area with frequent rainfall, a darker color may be better suited to hide any water stains or mildew growth.
6 Common Colors for Soffit and Fascia
The most common color choices for soffit and fascia are neutral and earthy tones. This is because these components of your home's exterior are not typically considered to be particularly attractive, so most people prefer to have them in a color that blends in with the rest of the property.
You can choose a contrasting color for your soffits and fascia, though this could potentially draw attention to them.
White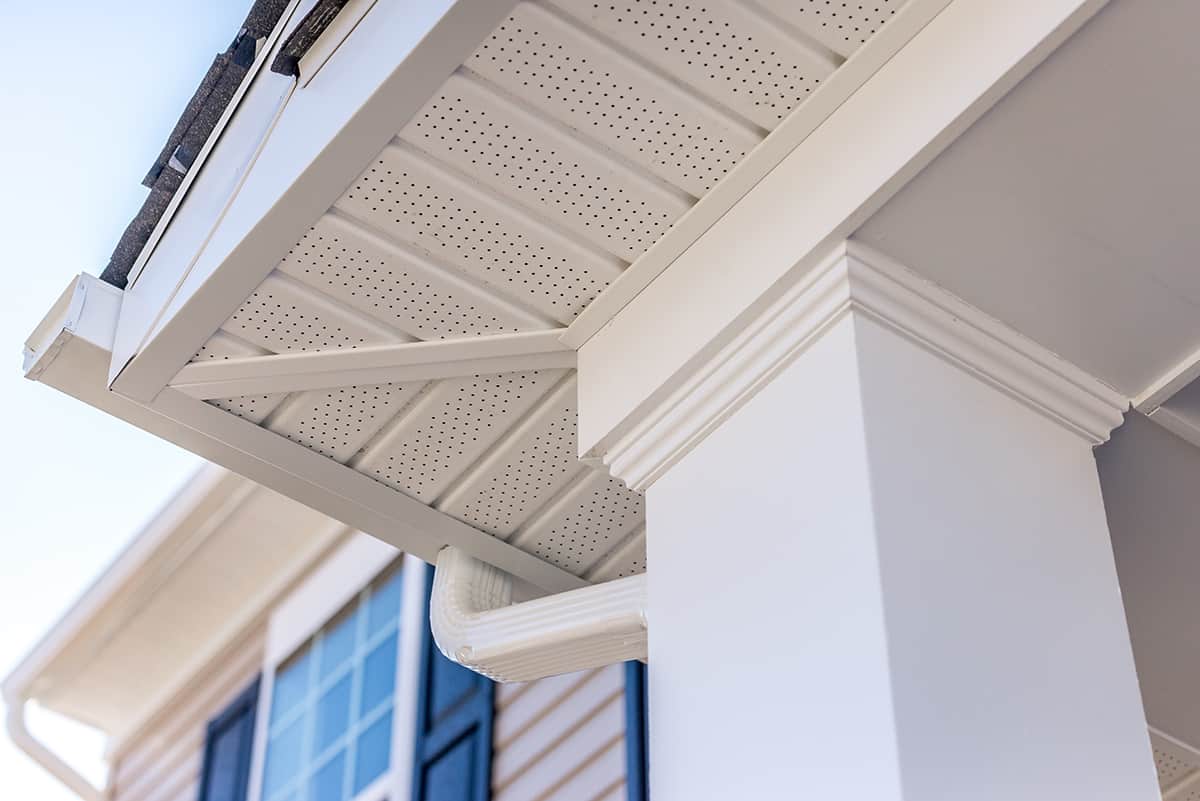 White is a timeless color choice for soffit and fascia, particularly for traditional-style homes. White pairs well with almost any other color, making it a versatile choice that works great with any kind of roof and siding color. It also reflects heat, making it well-suited to warmer climates.
White is by far the most popular color choice for soffits and fascia, and as a result, this has driven the price down. If you want to have your soffit and fascia replaced on a budget, then white will most likely be the best and most affordable option because it is the most widely available.
Gray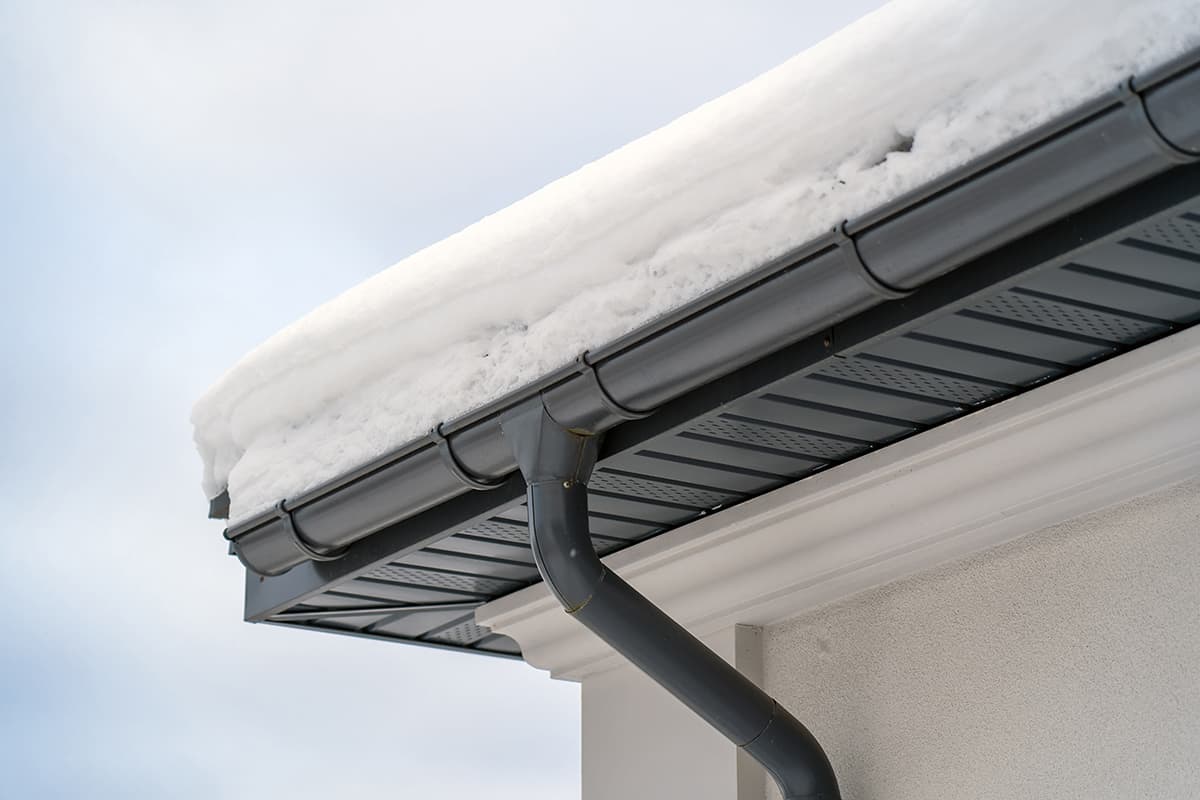 Gray has become a popular choice for soffit and fascia in recent years as a result of the huge gray trend which exploded onto the interior design scene in the early 2000s. Many modern and contemporary homes have updated their soffit and fascia in shades of gray, creating a sleek and sophisticated exterior style.
Dark gray looks striking next to sandy-colored brickwork or white siding, creating a strong contrast to frame the home. 'Anthracite' is the most widely used color of gray for soffits and fascia, which is a deep and dark cool gray that can appear almost black in some light.
This gray has blue undertones, which ensures it maintains a cool and slick appearance, helping to bring an updated look to older homes.
Lighter shades of gray can also work well, though these are less popular than darker gray colors. Light gray soffits and fascias can complement a variety of exterior colors, adding a subtle outline to the walls of the home.
Pair light gray soffits and fascias with siding in white, blue, green, red, black, or dark gray. Gray soffits and fascias will hide dirt and watermarks better than white options, which means they can be a good choice for a variety of climates.
Black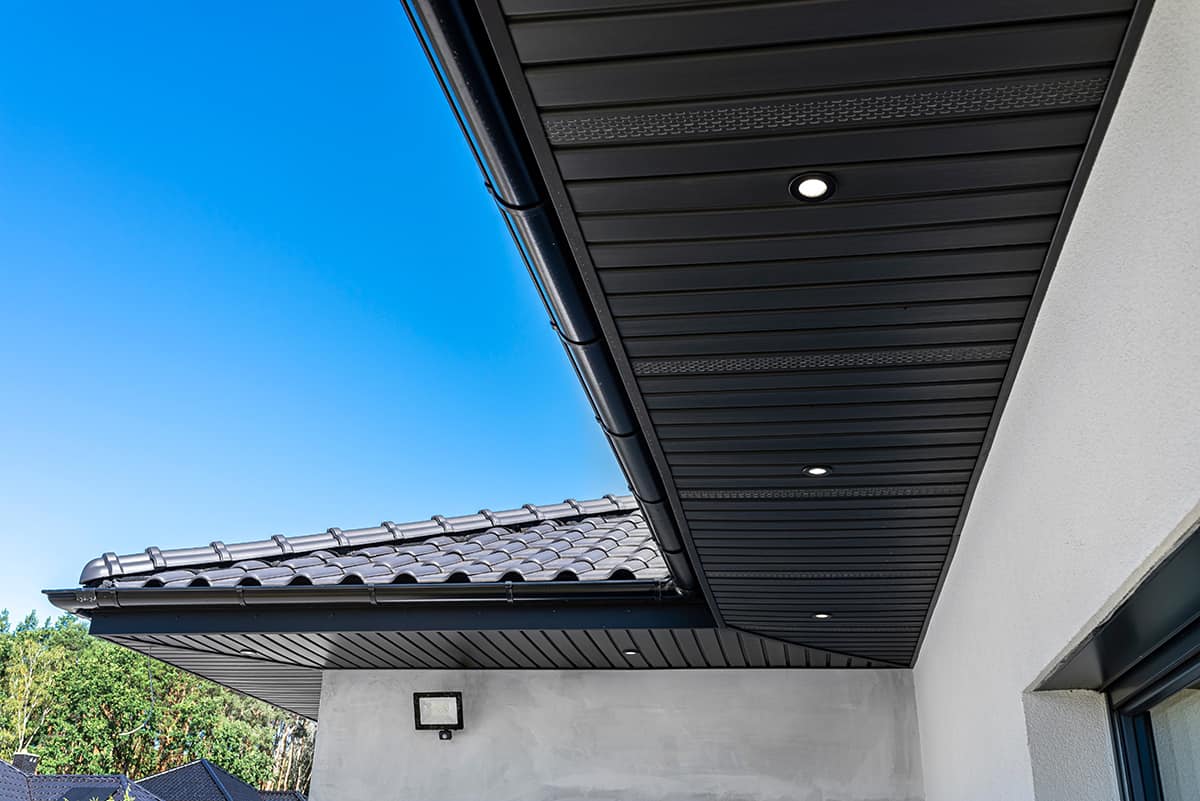 For a dramatic look, black soffits and fascias are a good option. This will work well next to light gray siding or dark gray siding, and it can also pair well with darker masonry.
Since black is the darkest color you can get, it typically looks too extreme next to white, so avoid using it on homes with white exterior walls.
Beige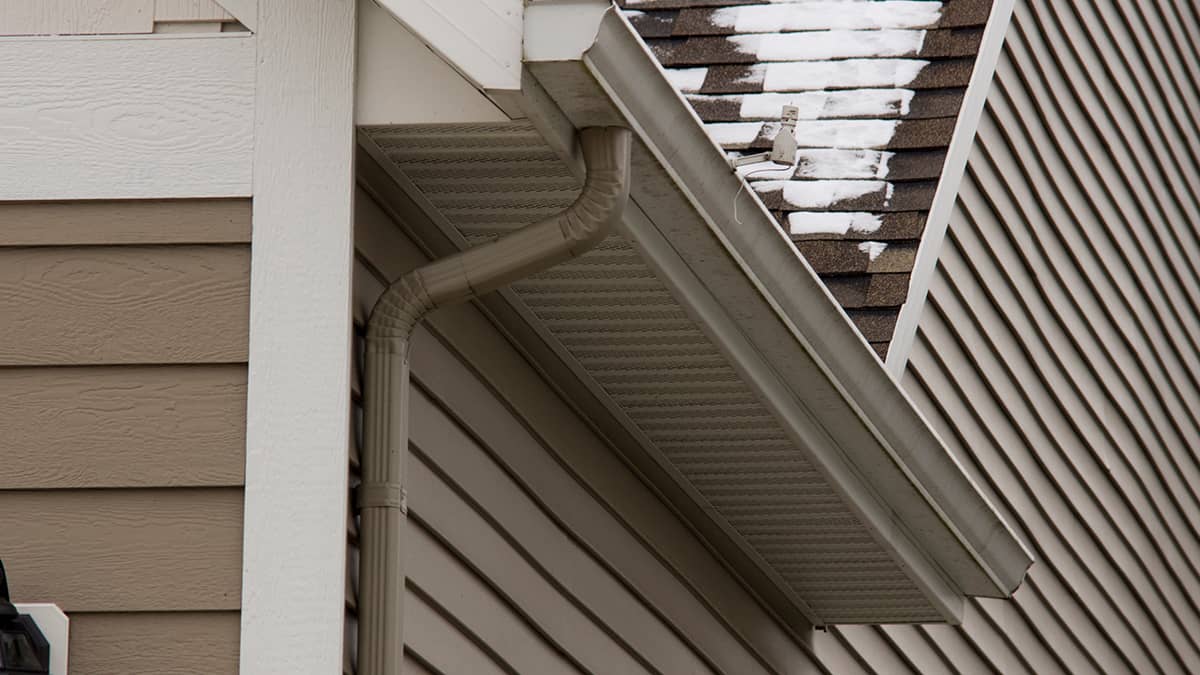 Beige soffit and fascias look good on almost any style of home, with any color scheme. This neutral and earthy color blends well into the landscape, avoiding drawing attention to the soffits and fascias while creating a classic look.
Beige is growing in popularity once again in interior design, so expect to see more and more beige on the exterior of homes in the coming years.
Brown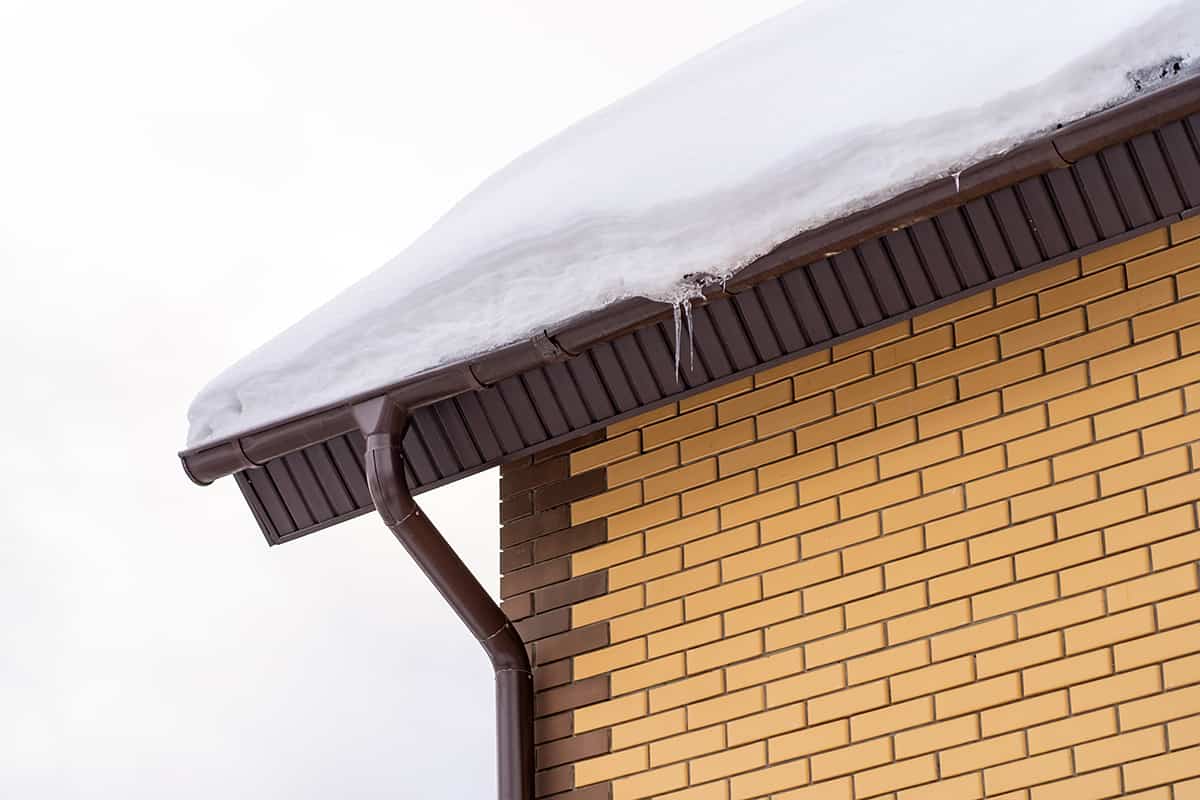 Brown is another neutral, earthy color that always works well on the exterior of a property because it helps to create continuity with the landscape, where brown is a heavily featured color.
Choose brown soffits and fascias on a house that has other warm tones on the exterior; for example, a beige or greige-colored house will pair well with brown siding.
Brown soffits and fascias can also look attractive on white or cream-colored houses, as long as you choose a softer shade of brown such as tan. Dark browns will create too much contrast which can be overwhelming for the eyes.
Green
Green is a cool color that can be read as a neutral shade because it is such a dominant color in nature. Green is really seeing a revival in interior color schemes, and this will also translate to exterior color schemes in the coming years.
Green soffits and fascias in earthy or muted tones such as sage, moss, and forest green will work really well on both modern and classic styles of property. These colors will look great alongside both warm and cool siding; for example, pair moss green soffits and fascias with beige siding or forest green soffits and fascias with medium gray siding.