When we look at house exteriors, we typically see brown or white windows. But did you know black windows can make just as big an impact as brown and white? Black provides a stark contrast to siding colors as well as highlighting the architectural features of the exterior. In fact, it can even serve as a focal point – if paired with the right siding colors.
Most siding materials, including vinyl and wood add a sleek look to a home with black windows. But it's the siding colors that can ultimately make your bold black windows stand out.
If you're toying with the idea of coordinating the best siding colors that go with black windows, here we have compiled some sophisticated color options to help you upgrade your home's exterior.
Best Siding Colors that Work with Black Windows
White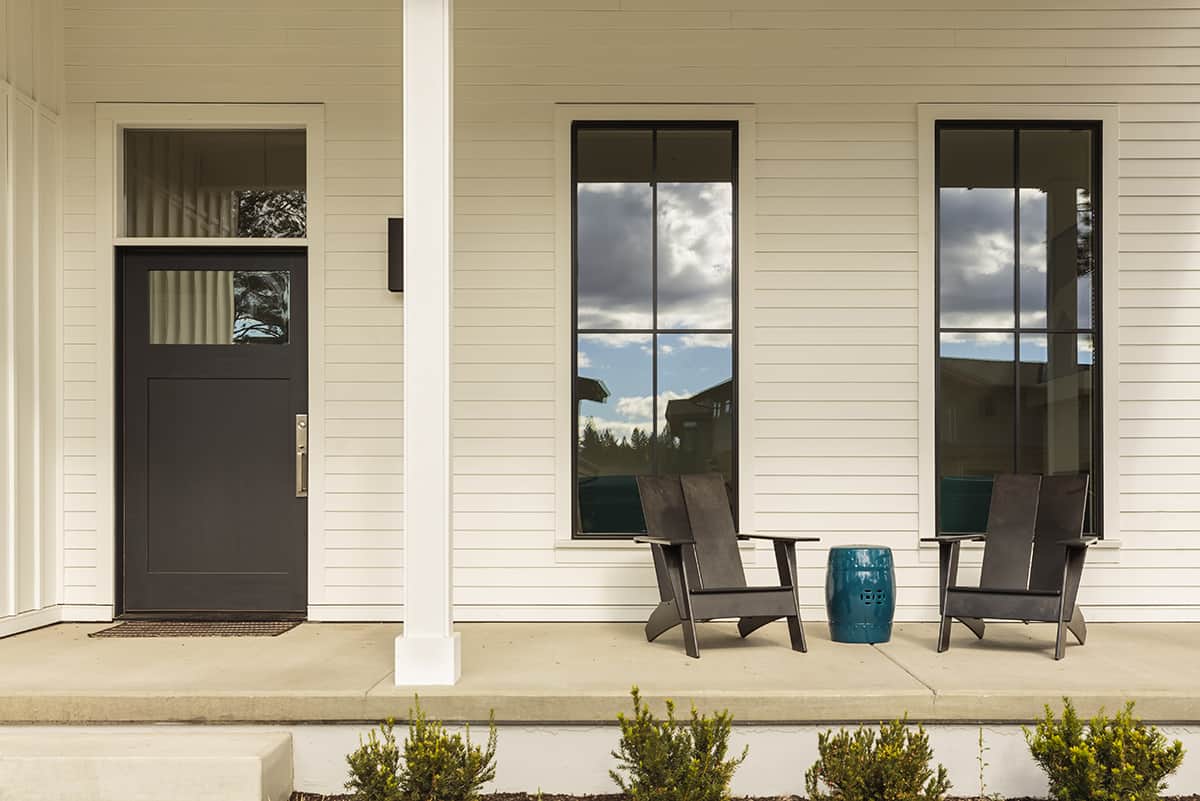 The ultimate color duo, black and white, is a sophisticated and smart combination that is sure to make a statement on the exterior of your home. White siding next to black window frames is particularly attractive on traditional style homes.
Just look at how dramatic these black window frames with the matching front door look thanks to the crisp white siding. The white siding serves as a beautiful backdrop to the stark black while providing a subtle softness. Black and white are timeless and elegant color duos that give a wow factor to any style home.
Natural Wood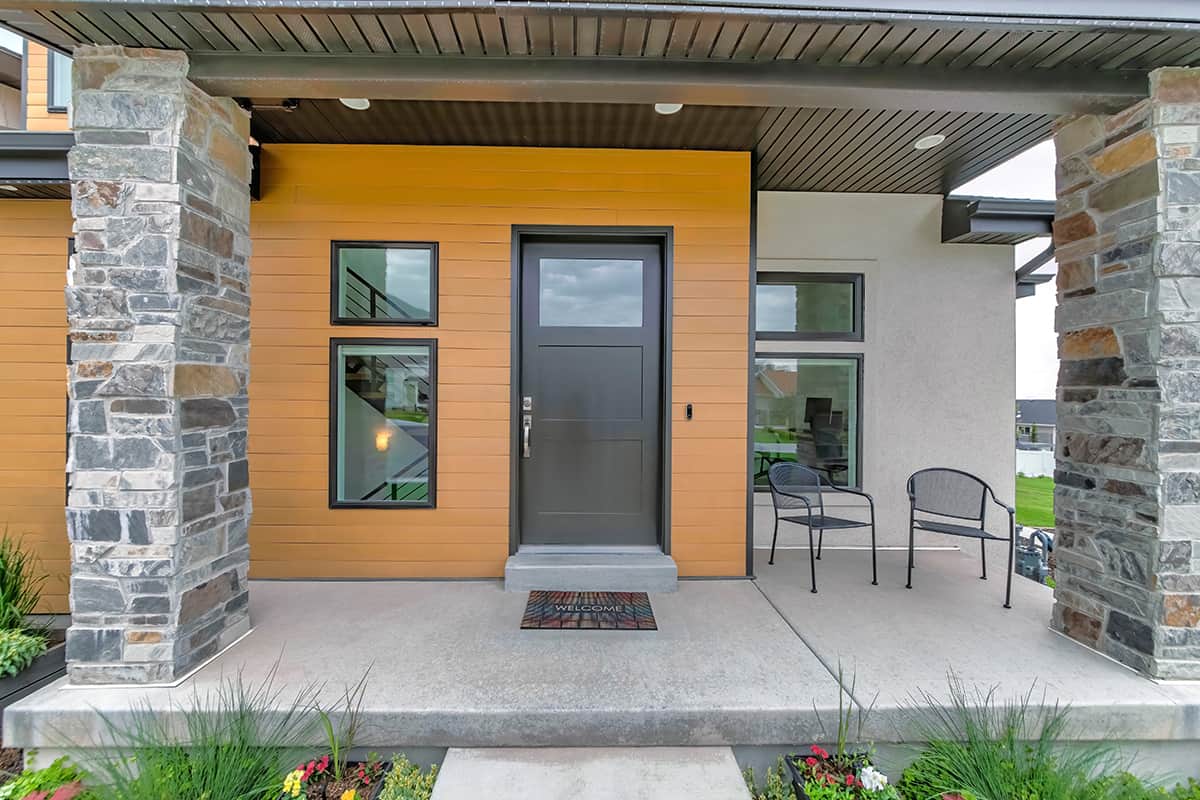 If you want to go for an even more appealing color combination, then how about natural wood siding in light stain. Natural wood is a great option with black window frames as they are both neutral.
Natural wood siding next to black window frames tones down the stark look of the windows, so consider combining your windows with a light to medium warm color for a rustic feel.
The example we've picked for you is of a modern house with light stain natural wood siding and stone columns to highlight the black window frames. This proves natural wood siding isn't limited to traditional homes.
Light Gray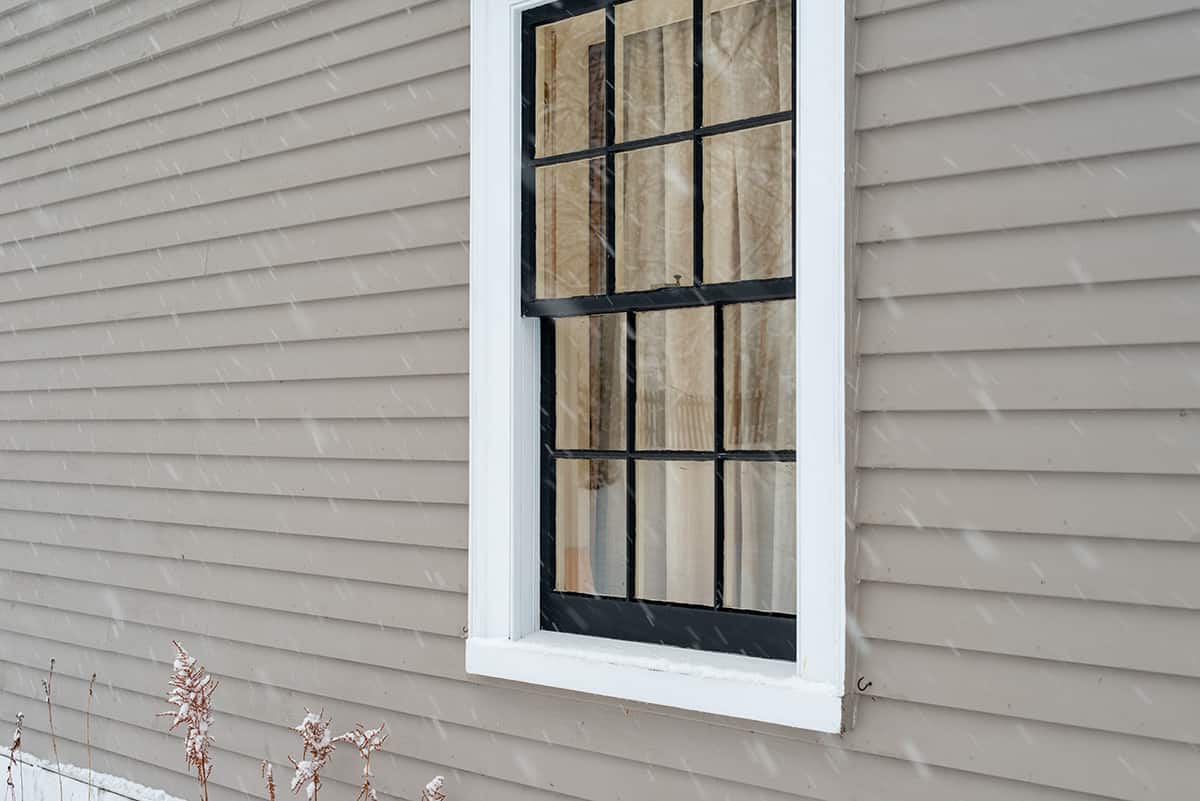 Another timeless siding color that goes with black windows is light gray. This hugely trendy neutral color is the perfect pairing with the neutral black as its partner. Gray siding and black windows are suitable for both traditional and modern homes.
The black window frames in this example have a white trim, which is another neutral color that makes a perfect mixture with gray siding. For the front door color, you may go with either black or white to match your home's windows or trim.
Light Blue
Subtle shades of blue are such diverse hues that can easily be paired with black window frames without looking odd or out of place. In fact, the lighter the shade of blue you paint your siding, the more sophisticated your exterior design will look.
Whether you want to create a country, cottage or contemporary vibe, light blue siding is the ideal combination with black windows.
Soft blue shades, such as periwinkle, powder blue and turquoise complement deep-toned black windows. You can add white trim to this combo for an even brighter and lighter feel. The exterior color scheme can be further softened with the use of light gray shutters or roof shingles.
Dark Blue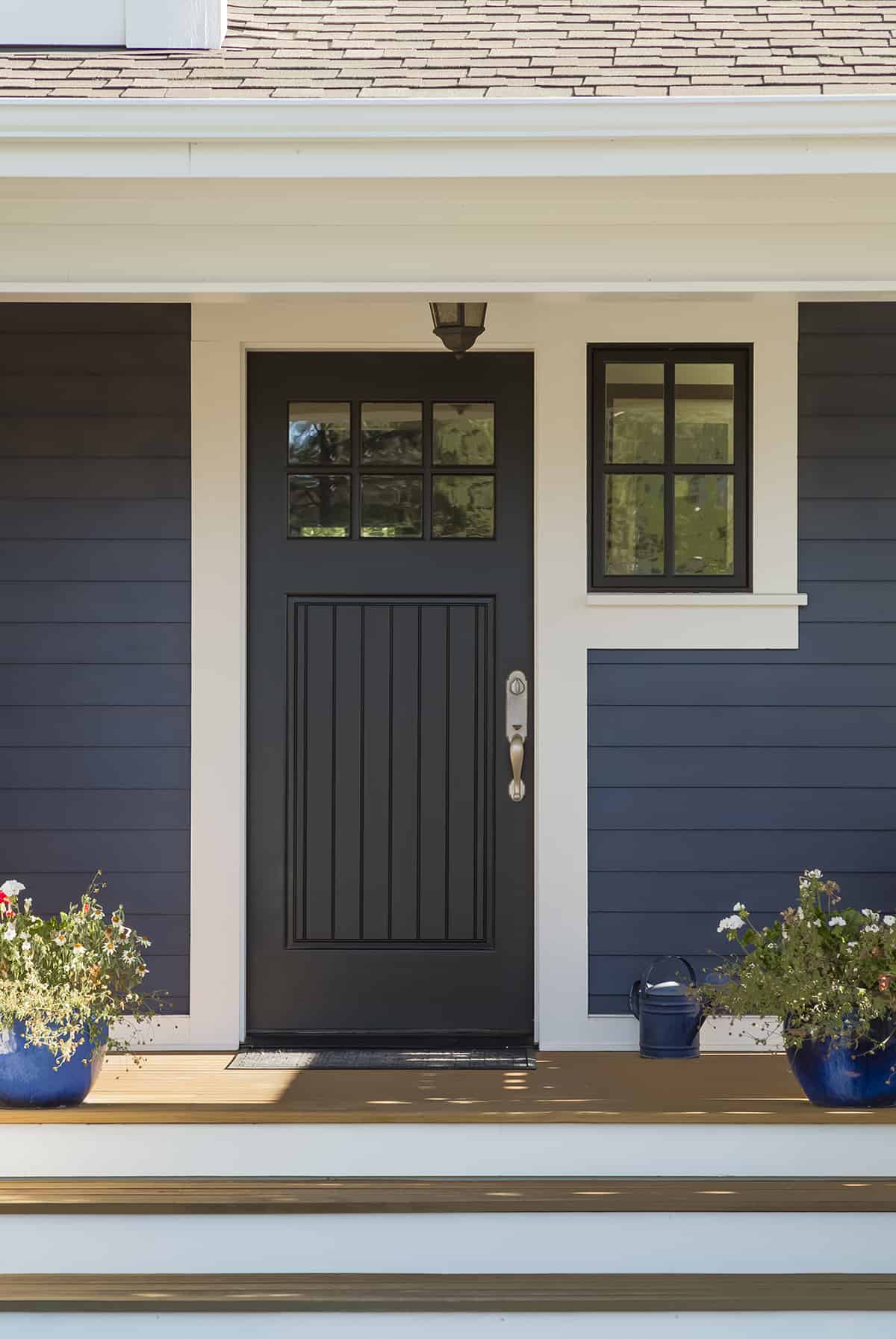 You've already seen how a great contrast black window frames can bring to light color siding. But what about dark siding colors? Instead of light blue or gray, pick a dominant shade of blue, such as navy or ocean blue. This contemporary color combination will complement other neutral and bright trim colors, including white.
We mentioned white trim for a good reason. To avoid your exterior looking too dark with the dark blue siding and black windows, you may want to introduce white splashes to soften the darker shades.
White shutters work particularly well on a dark blue house with black window frames as this lends to the sleek and defined design. Your home's architectural style can be highlighted with this cool color palette.
Just like in this photo, the black front door and matching side windows are beautifully presented thanks to the dark blue siding. This color combo adds a modern charm to any style house as well as create a unique aesthetic in your neighborhood.
Red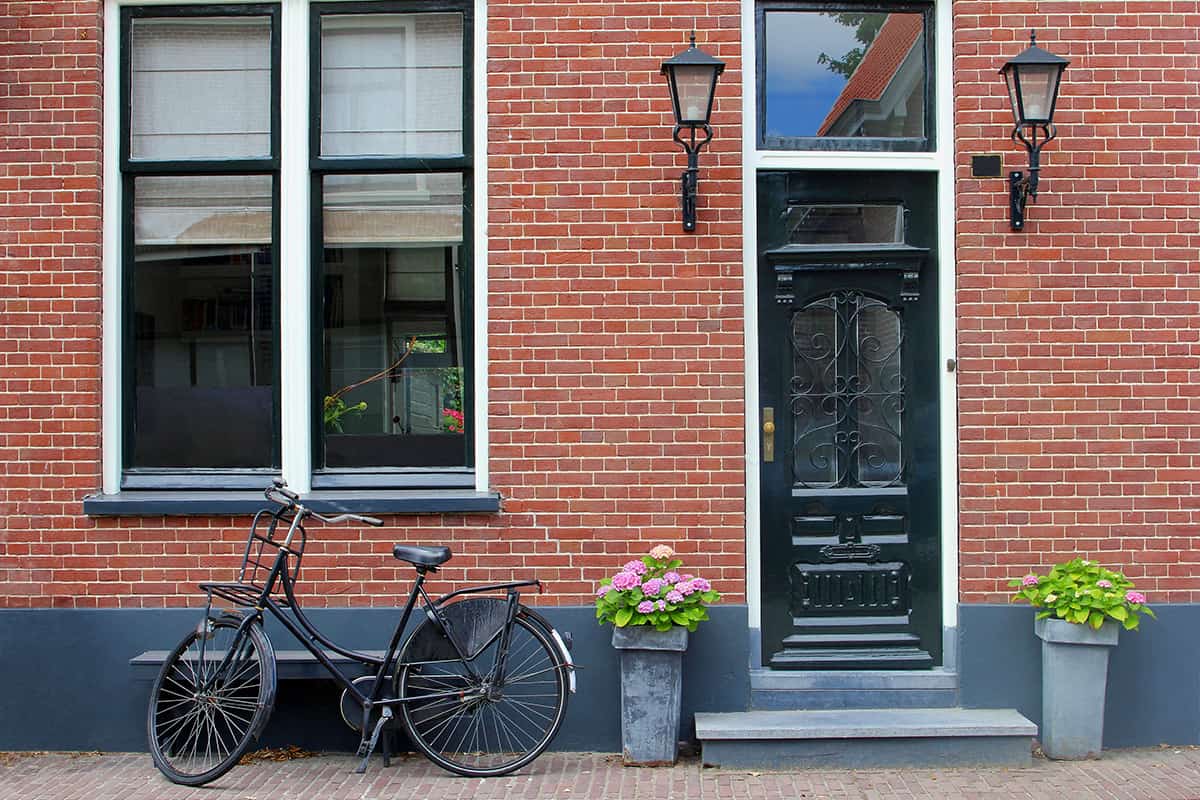 As a vibrant and rich color, red is the perfect contrasting siding color to black window frames. Whether your home exterior features red brick, or you are thinking of painting it a bright shade of red, it is sure to enhance curb appeal. Pairing red with black windows brings depth while balancing out the vibrance of the red.
Here is an example of a traditional red brick house with black window frames and a black front door. Doesn't it remind you of Georgian style houses?
Yellow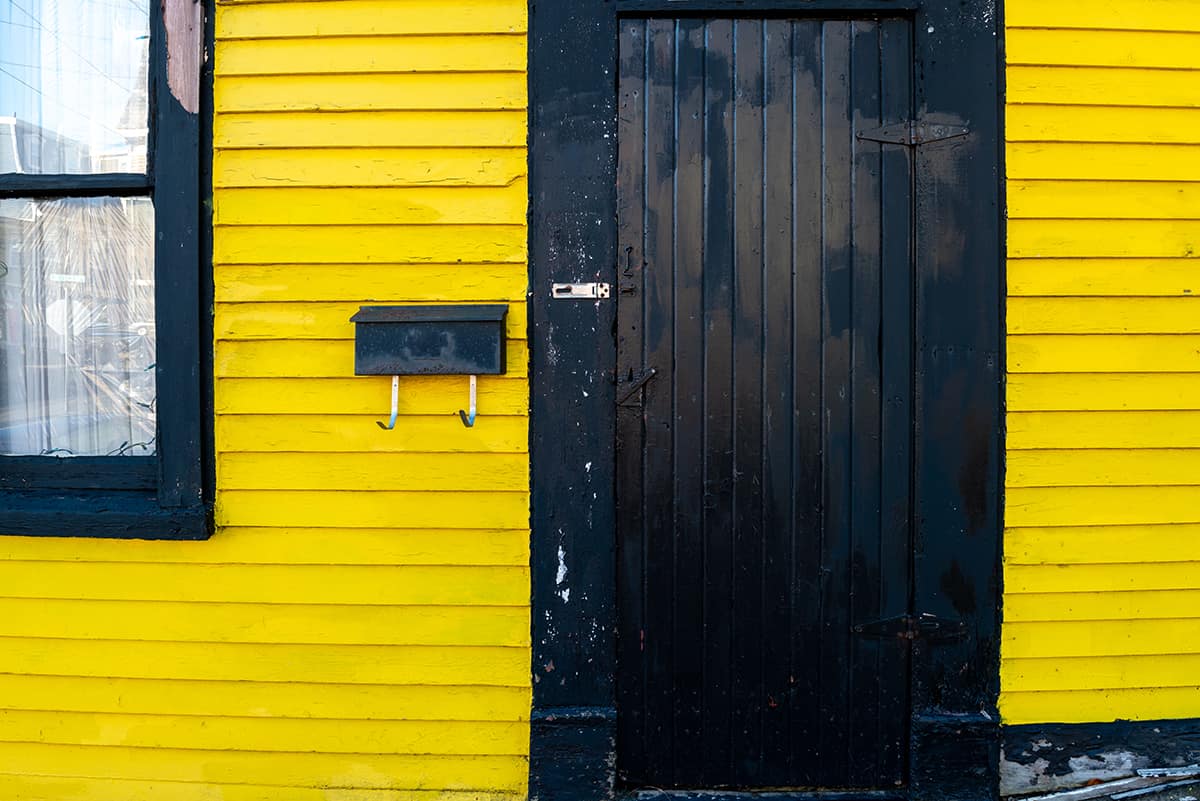 Now how about a sunny, warm shade of yellow for your home's siding? Sounds unusual, right? This color suggestion brings an energetic feel to a house with black window frames just like you can see here. Although yellow may not be to every homeowner's taste, we definitely recommend it for traditional style exteriors. The black window and front door look dramatic next to the bright yellow siding. You may add metal hardware for a cohesive look.
Are Black Windows Still in Style?
Yes. Black windows have long appeared in trendy interior design magazines as the focal feature of a traditional style home. This gorgeous exterior addition goes back many decades ago when it was mostly seen on industrial style buildings. However, it wasn't long before black windows became the preferred exterior design for contemporary homes.
Aside from the emerging design feature of modern homes, there are many advantages to opting for black windows. After all, they make a fresh change to the traditional white and brown window frames that we see on most houses. Let's briefly look at the main advantages of black windows to determine why they are still in style today:
Black windows enhance curb appeal: if you are considering renovating your home, adding black window frames will boost its curb appeal, especially when you coordinate it with a bright and contrasting front door color and trim.
They create a bold, dramatic effect: for a pop of drama, black window frames are the go-to additions to a neutral exterior. Just imagine your black windows framed with white or other shutter colors!
Black absorbs heat: we all know how black is the best heat absorbing color – so black window frames are no exception. Those who live in cold or chilly climates can benefit from a few degrees higher by replacing their white or brown windows with black. Dark window frames are beautiful as well as practical.
They hold their value: although fiberglass and aluminum window frames are the most affordable options, they don't tend to retain their value as much as wood and vinyl. So if you want to increase your home's resale value, choose exterior black wood or vinyl window frames. While these are the more expensive window replacement options, they are more aesthetically appealing and hold their value much better than aluminum and fiberglass.
Do Black Windows Increase Resale Value?
Black window frames are fast becoming a must-have exterior design thanks to their simple yet elegant appearance. Not only do exterior black windows help make your house stand ou, but they also increase the resale value. When you incorporate black window frames into a sophisticated exterior design element, you'll raise your property's value and give yourself the biggest financial boost.
In Closing
Black window frames have been around for many decades. They first appeared in the early 20th century and were only seen on industrial buildings. Today, black window frames are booming as one of the most desirable exterior design must-haves to boost curb appeal.
If you are considering renovating your home's exterior to increase resale value and save on utility costs, go for black window frames. We've already discussed their advantages in terms of absorbing heat, but they are also very versatile when it comes to pairing with siding colors.
Black window frames go with any contrasting color, including white and gray. But there are also bold and vibrant siding colors that easily work with black windows as per our above examples.
The only siding colors we advise you to avoid pairing with black windows are earthy hues: tan and brown. The best thing about this dramatic window frame color is its power to highlight the architectural details of a home, so no matter which siding color you choose from our list of ideas, you're sure to make a big impact!