Interior design styles are influenced by different periods of history, different parts of the world, and different elements of nature, among other things.
To learn about the many different interior design styles popular today and find inspiration for decorating and furnishing your own home, this list encompasses tips and explanations for twenty-four styles of interior design from around the globe.
Craftsman Style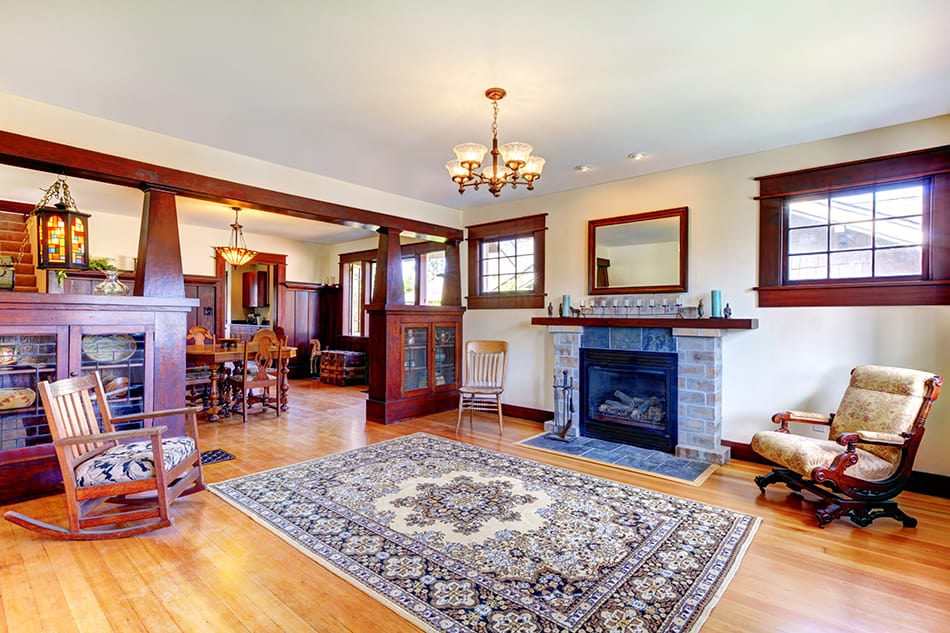 Craftsman-style interiors were popularized at the beginning of the 1900s by leaders of the Arts and Crafts movements, such as furniture designers William Morris and Gustav Stickley.
Craftsman style is based around being at one with your environment, and therefore it incorporates practical and functional furniture with minimal fussiness or ornamentation.
It uses plenty of natural materials, such as wood, which are ideally sourced locally. Craftsman style exudes a cozy and warming feeling that is gained from paneled wooden walls, natural light, and nature scenes depicted in embroidery, arts, and wallpapers.
Many houses built between 1900 and 1930 in the United States were designed in the craftsman style, and this is an interior style that is still popular today.
Rustic Style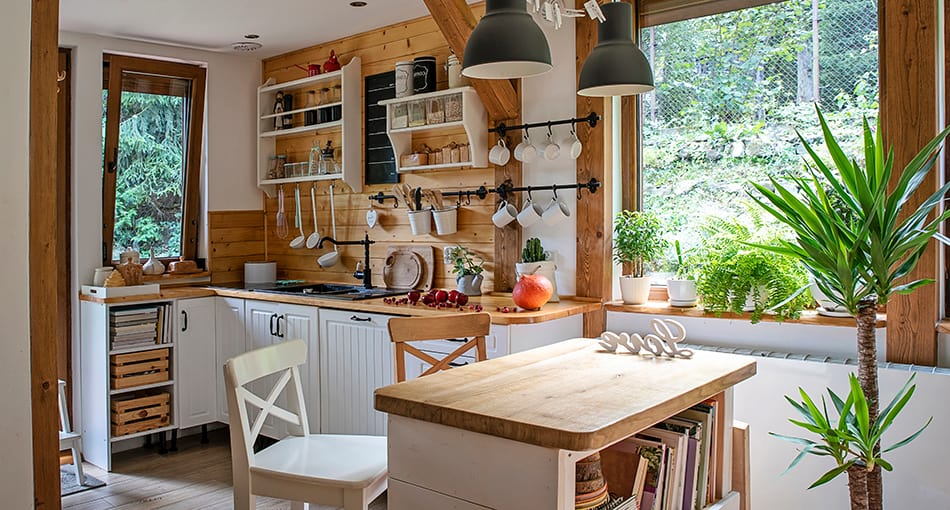 Rustic interior design is based around enjoying the natural aesthetics of a home without any added fuss or ornate design. Typically rustic interiors will incorporate worn stone floors, exposed beams, and open fireplaces. Emphasis should be placed on the natural beauty of the surroundings, for example, by making a feature out of old tiles rather than trying to hide them.
Rustic style also concentrates on cozy accessories and furnishing, such as knitted blankets and tapestries. In many instances, rustic design is considered most appropriate in older homes, but actually, modern homes can also be styled in a rustic way.
To add rustic touches to a modern home, select chunky wooden furniture that has a natural finish, and avoid anything that is glossy or highly polished. Shopping at vintage stalls or antique stores will be a good idea to pick up some aged rustic pieces.
Learn more about rustic style here
Contemporary Style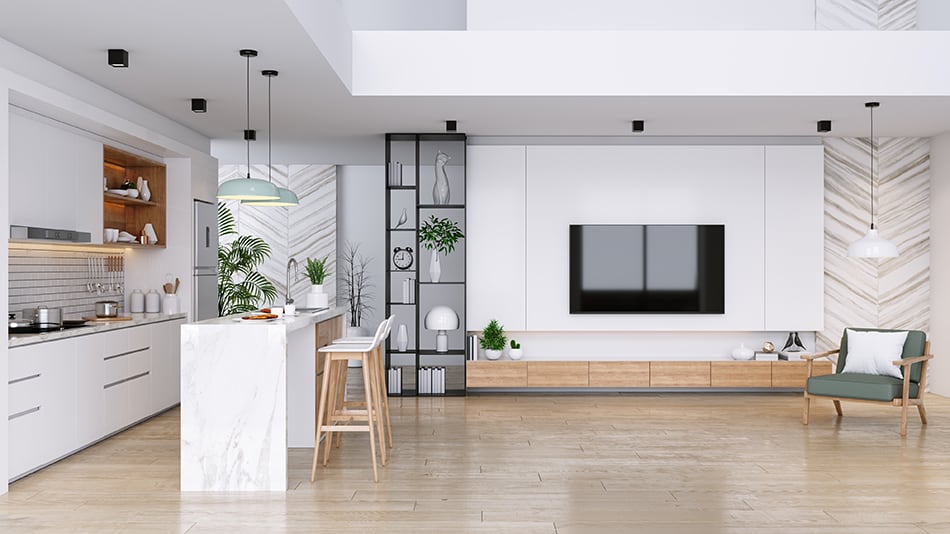 Contemporary interior design is a modern, clean, yet comfortable and luxurious look. To achieve a contemporary look inside your home, you'll need to focus on the furnishings, choosing well-made pieces that have clean lines, and neat uncomplicated finishes.
Texture is important in contemporary style interior design, and you'll want to create a soft and comfortable feel by selecting many different types of soft furnishings, such as velvet drapes, chenille sofas, and fur throws.
Lighting is also important, with modern light fixtures in clean and polished metals, such as gold, copper, or silver. Furniture, such as bookshelves and coffee tables, can be wooden, metal, or glass. The material is less important than the actual design and finish. Contemporary style could best be described as luxurious functionality.
Click here to learn about contemporary style interior design
Asian Style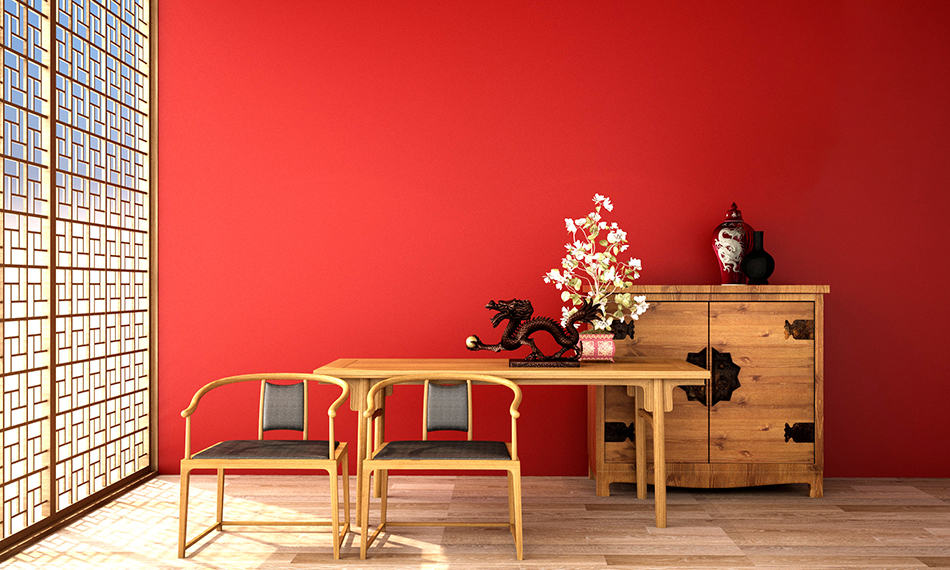 Asian style interior design is based around looks that are popular in Eastern countries, namely Japan and China, but also Korea, Vietnam, and Thailand.
Asian style interiors can focus around one Asian country or combine several. For those interiors based on a Chinese design, bold colors in rich tones are important, such as ruby red and jade green.
Chinese style furniture is typically ornate, with detailed wooden carvings. The wood might be stained a dark color or is sometimes given a high gloss finish with black lacquer.
Chinese interior design also incorporates paintings of ancient scenes and nature on items such as porcelain jugs, folding screens, or wall murals.
For those leaning more towards Japanese style design, focus on warm colors and natural, luxurious fabrics, like silk. Japanese interiors are quite minimalist, often with the addition of zen-like water features and Japanese house plants. Japanese furniture is usually quite low and made from wood such as bamboo.
Mid-Century Modern Style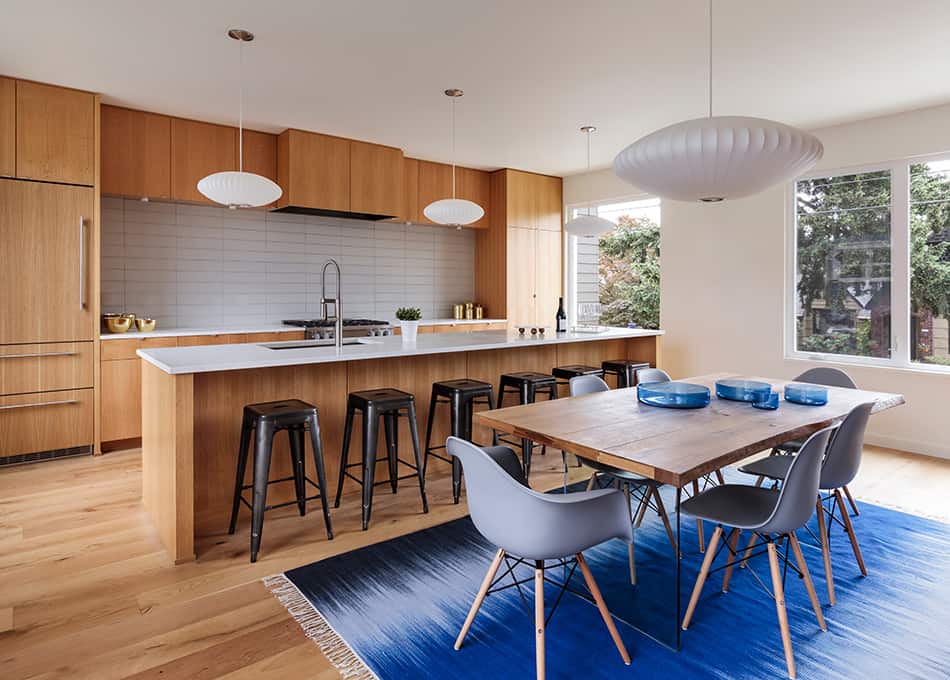 This style of interior design became popular in 1940's America and has remained a mainstay in interior design ever since. This style was largely based around focal pieces of furniture, such as the Egg chair and the Eames lounger, which are still sought-after items today.
Mid-century modern style fuses together clean lines and high functionality with bright colors and rich textures.
High gloss finishes are common in this type of design, with heavily polished woods where the natural grain can be appreciated, such as walnut and teak. Vivid colors are also popular in this style, such as avocado green, mustard yellow, and hot pink.
We explain the Mid-century modern style decor here
Industrial Style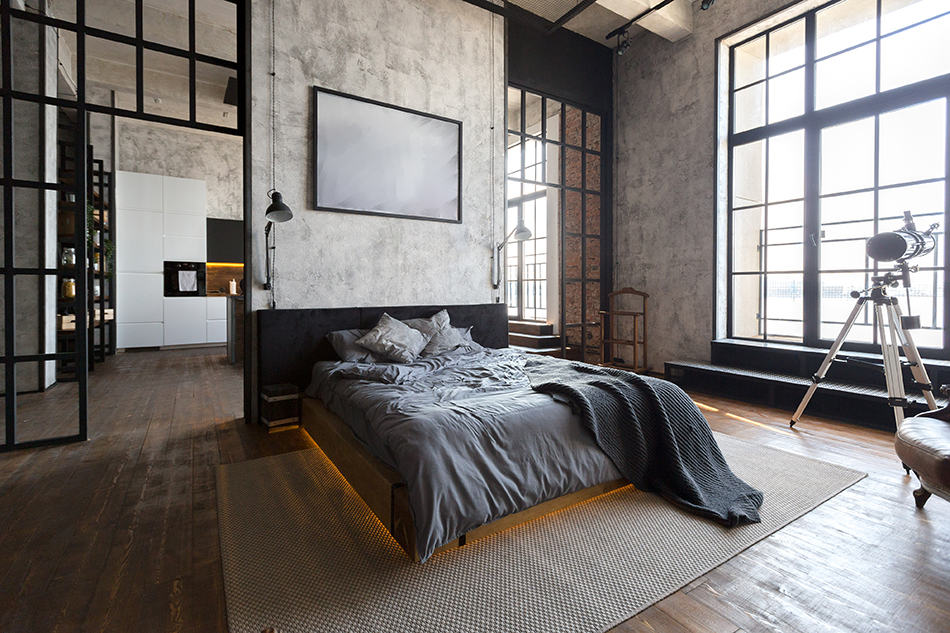 Industrial style interior design was first popularized in lofts and converted warehouses but has since become a much-emulated style of interior design in all types of homes.
Industrial style design is focused around raw edges and utilitarian materials. The aim is for the look to be almost unfinished, with exposed pipework and bricks.
Metal is an important material in this style of interior design, which can be used in everything from side tables to lampshades. Many industrial-style interiors will have open-plan spaces to give the feel of a warehouse or loft space.
High ceilings are also an important feature of industrial design. Incorporate old road signs, bar lighting, and second-hand bar stools to give the space an authentic industrial feel.
Southwestern Style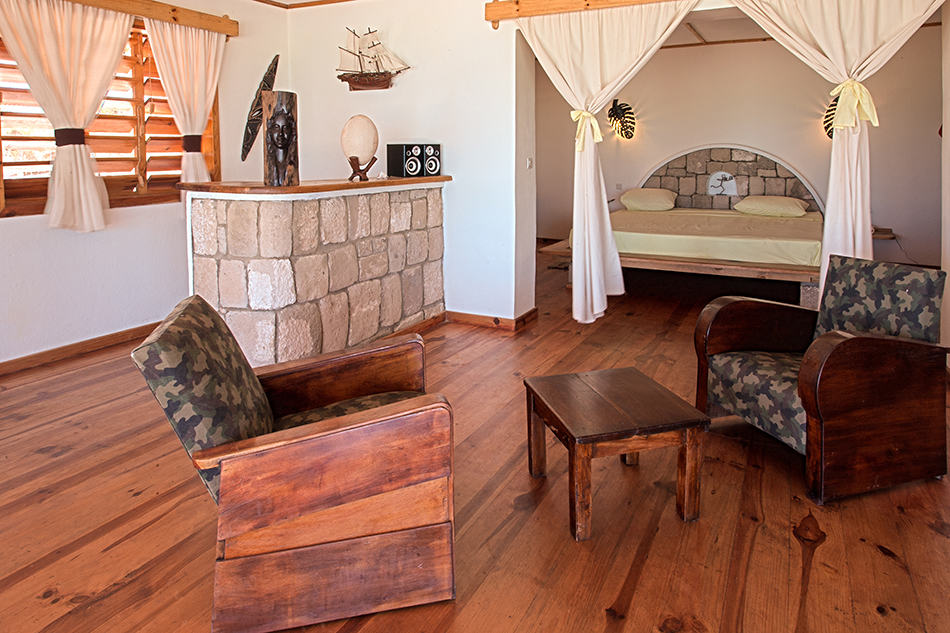 This interior design style incorporates a range of different aspects that were inspired by Pioneer and Spanish settlers who made the southwest of America their home in the 1700 and 1800s. This style has a distinctly warm and earthy feel to it, with Mexican and Spanish influences.
The color palette in this design is probably the most important aspect. It uses colors that you will find in nature in desert landscapes, such as rust red, sand yellow, and terracotta orange. The textures of this design should also mirror the landscape, with terracotta tiles, woven grasses, and wooden furniture.
This type of interior design should feel warm, homely, comfortable, and casual. Chairs might be upholstered in leather or cotton, and rugs and blankets will be woven or knitted. For storage, use rattan or woven baskets.
Tropical Style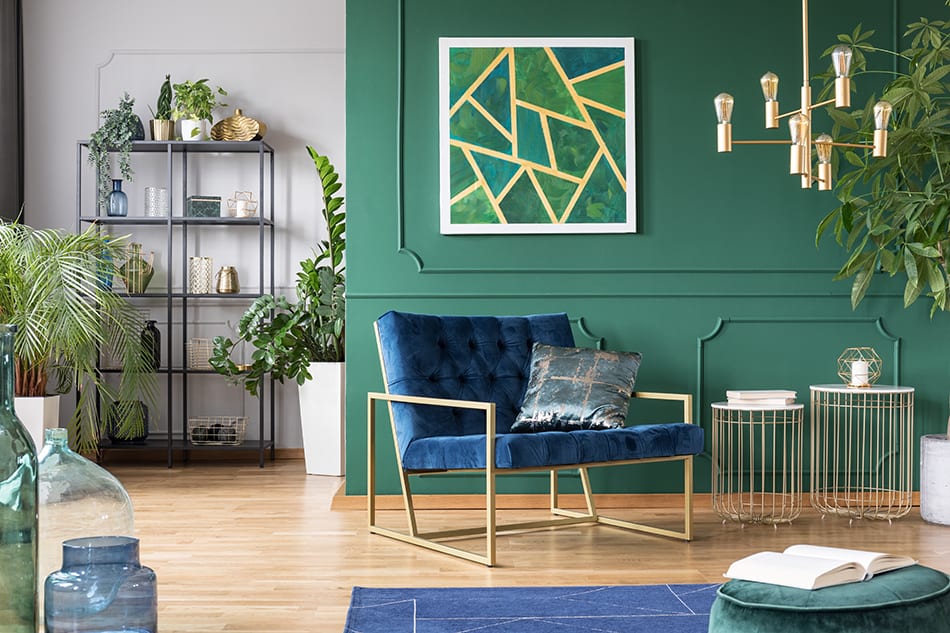 Tropical style interior design can be achieved by using a motif of tropical plants, such as palm leaves. As well as having live tropical house plants in a room, you can also select wallpaper with a tropical leaf design on it or cushions covered in a banana leaf print fabric.
This style should look casual and comfortable, with a strong influence from the outdoors.
Use natural materials as much as possible, such as bamboo, wicker, and rattan furniture. The space should feel light and airy, so pale and neutral colors are essential, such as off-whites and muted greens.
Tropical-style rooms should not be too fussy and ornate, with minimal furnishings. Maintain a casual look by using loosely hung drapes at windows in a simple fabric.
Boho Style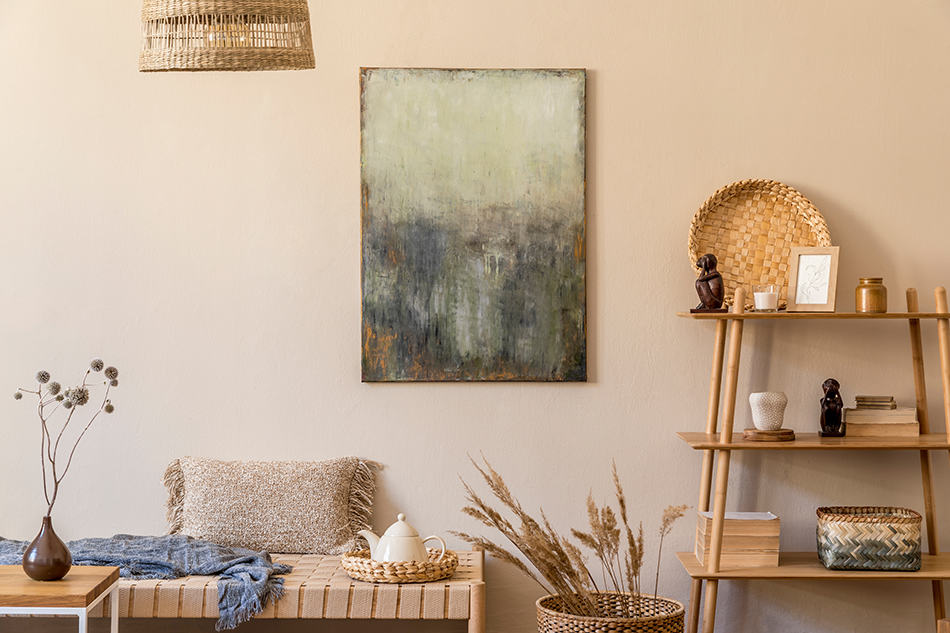 'Boho' refers to the word 'bohemian,' which is used to describe something unconventional. Boho style interior design reflects a type of look where different styles might be mashed together and results in a unique and distinctive space.
To achieve a boho style in your home, you should focus on layering. Start out with a neutral base, such as white walls, then add layers of different colors and patterns, such as floral drapes, striped cushions, boho curtains, and varying textures.
The use of contrasting patterns is important in boho design, as well as injecting random pops of color that seemingly don't match anything else in the room. This is one of the most cost-effective styles to achieve as you can pick up odd items in clearance sales or at flea markets and throw them all together.
To avoid the space looking messy, make sure you also use plenty of simple and plain fabrics. Adding houseplants also adds to a boho look.
Coastal Style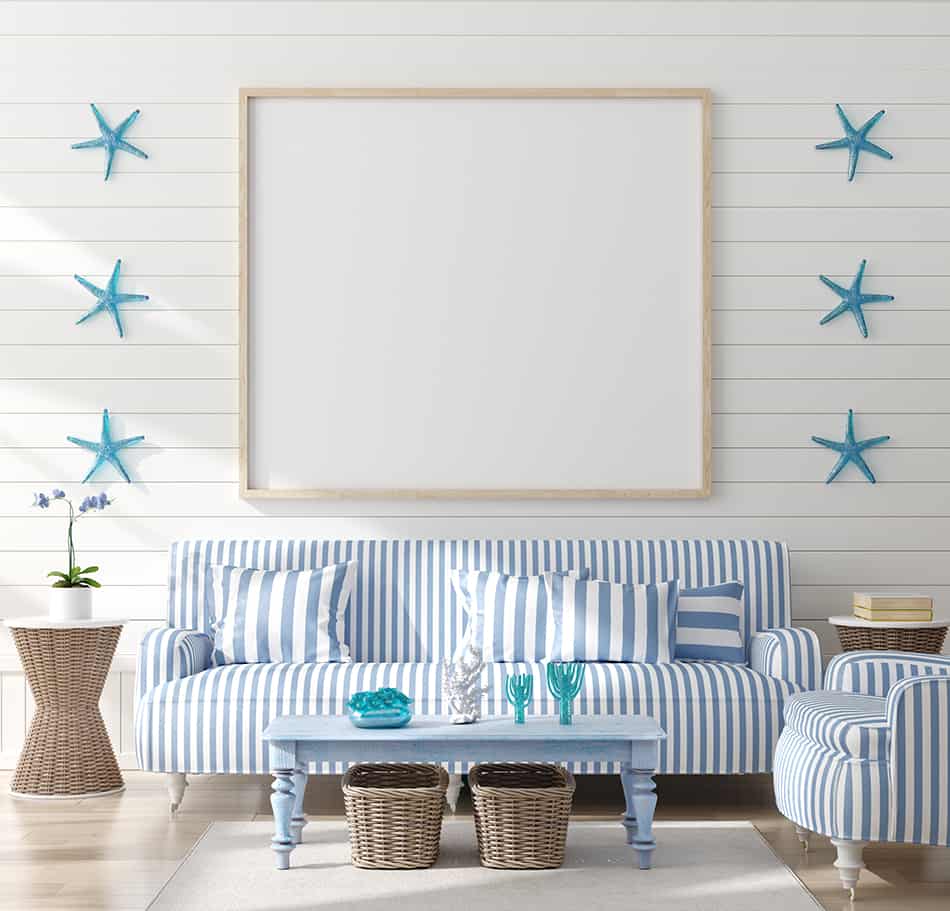 Coastal style interior design gives a space a feeling of casual, calm, relaxing, and airiness. For this reason, pale and neutral colors are best, such as white, pale grays, and pale blues. To add to the relaxed look, finishes should be weathered and aged, with any high shine or glossy finishes avoided.
Fabrics can be used to add texture, but avoid luxurious fabrics such as velvet or silks, and instead opt for more rustic fabrics, such as rugs made from jute and cushions with canvas covers.
Coastal style interior design is inspired by the colors and textures of the ocean and beaches, so you can contrast the neutral base colors with splashes of dark blue.
Nautical Style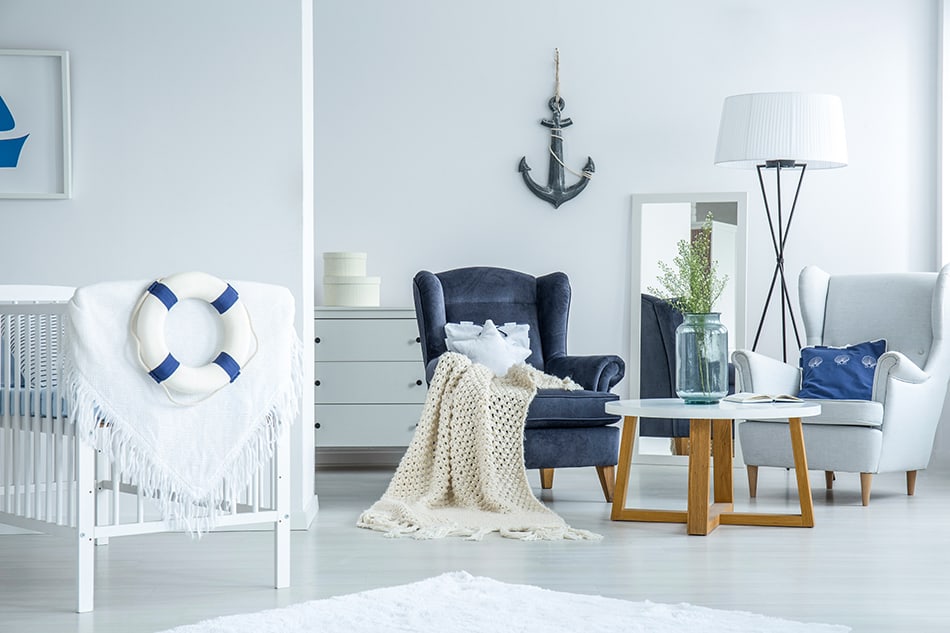 Though the nautical style and coastal style are similar, the two terms are not interchangeable, and there are subtle differences between the two interior design styles. While both share a color palette inspired by the coast, coastal style interiors are more casual, while nautical style interiors can be more structured.
Nautical interiors will typically include various ornaments as a nod to the maritime, such as a lamp designed in the style of a lighthouse, ship figurines, or a clock in the style of a porthole. Nautical interiors also tend to have a glossier finish and use darker woods.
For example, a highly polished mahogany desk would not look out of place in a nautical interior, whereas furniture in coastal interiors would be natural pine or whitewashed woods.
Here are some ideas for nautical style bedroom
Mexican Style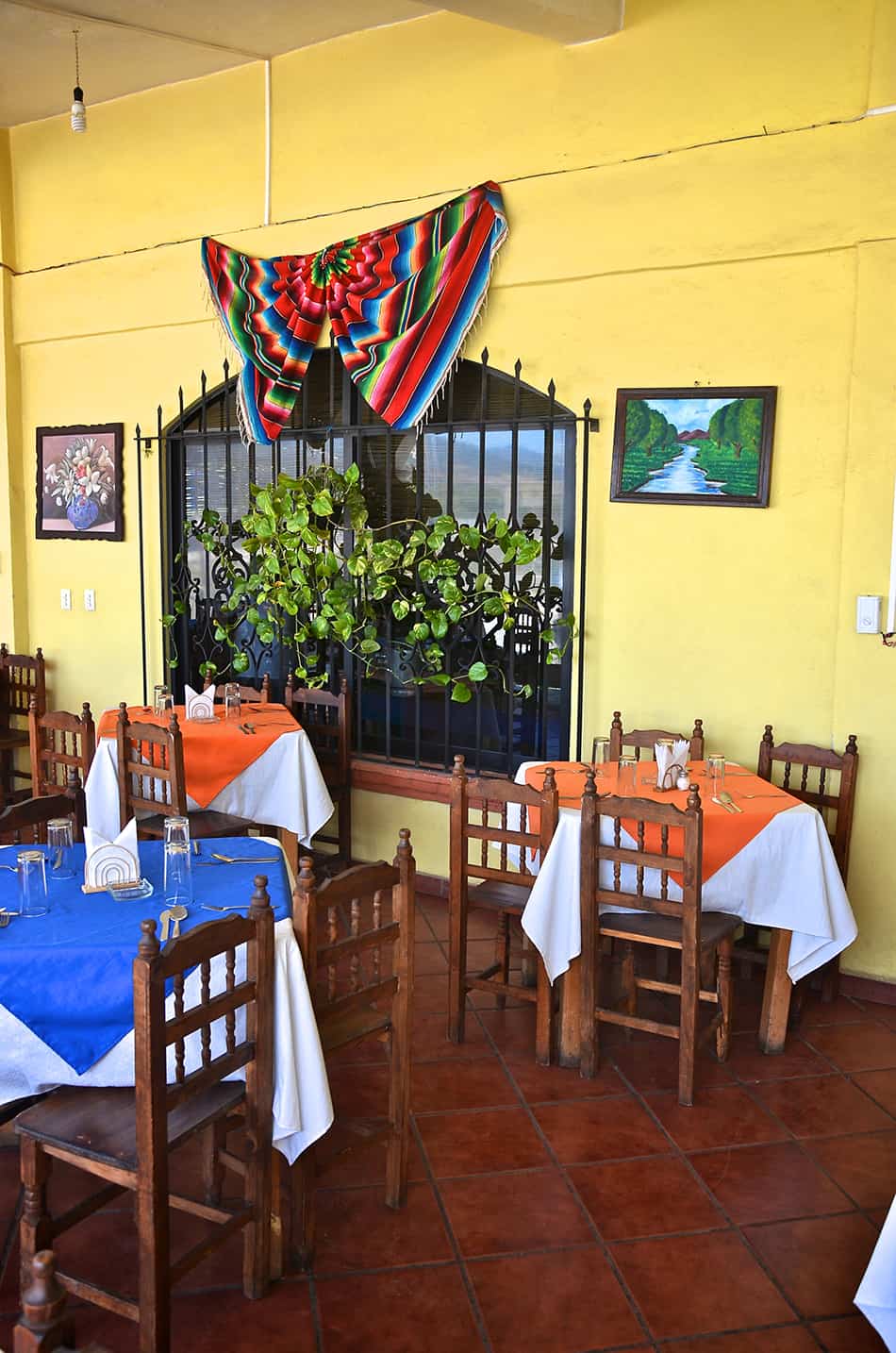 Mexican style interior design uses bold and contrasting colors to give a warm and vibrant feel, for example, orange and blue, or pink and green. The addition of plenty of textiles is important in a Mexican-style interior design.
Rugs and wall hangings are a good way to introduce new textures and patterns into a space, with woven or embroidered textiles a good choice to add depth to the design. Houseplants are also a good way to add a Mexican vibe to a space, especially with cacti and succulents, as these plants thrive in Mexico and so are synonymous with the country.
Here are some examples of Mexican style kitchen ideas
Egyptian Style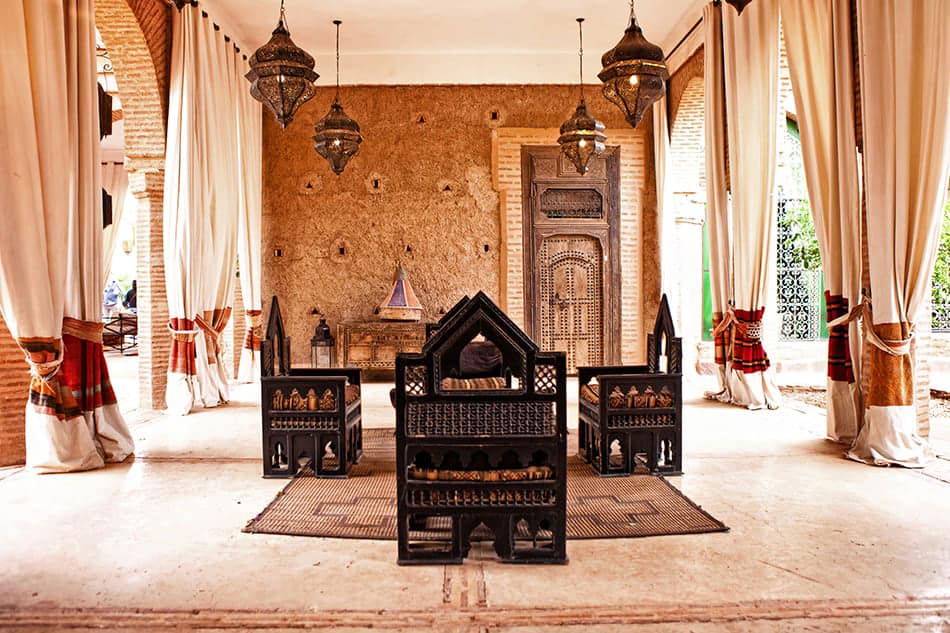 Egyptian style interior design is heavily based on lavish fabrics, glossy finishes, ornate design, and geometric shapes. Gold is frequently the base color in an Egyptian-themed interior design, as this color is opulent and luxurious.
Bold splashes of color such as deep blue or vibrant red work well in Egyptian style design, but they shouldn't overpower the space. Opt for furniture that is bold and chunky, with ornate detailing and a high shine finish.
Japanese Style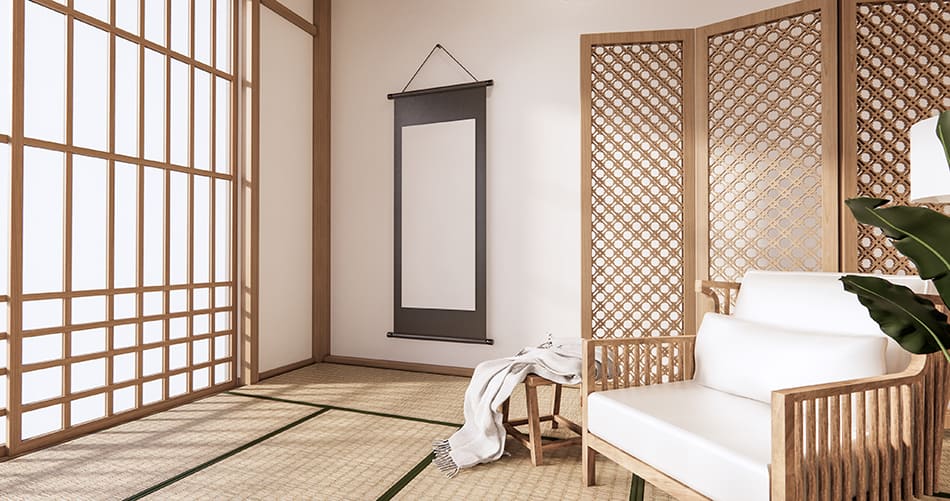 Though Japanese style can creep through into Asian and Oriental style interior design, if you want an authentic Japanese style space, then there are certain features that are exclusive to Japanese design.
Unlike Chinese style interior design, which can be dark and cluttered, Japanese style interior design is focused on creating tranquil spaces with clean lines and simple shapes. For this reason, furniture should not be ornate or have high gloss finishes but instead, have natural beauty.
Wood is an important material in Japanese design, especially bamboo for decor. Try to incorporate wood into more areas of the home than just simply furniture. For example, have wooden flooring, a wooden screen room divider, and wooden plant pots.
Above all, Japanese design is about clean and functional living, with minimal clutter, so to achieve this look, you should focus on this principle.
Oriental Style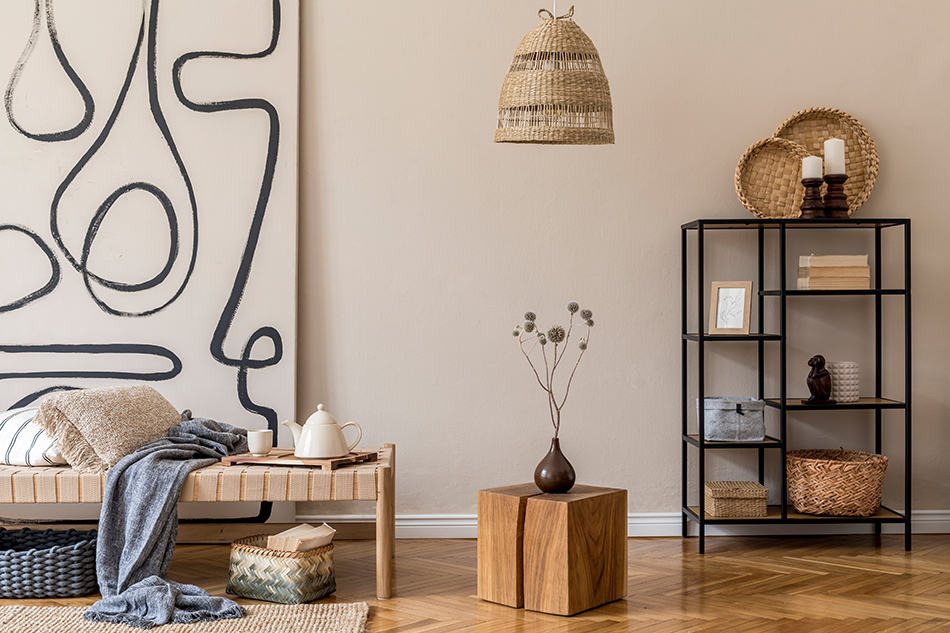 Oriental style interior design can include aspects from a number of different Asia countries. One popular theme in oriental interiors is the concept of feng shui, which aims to arrange a living space in such a way as to create harmony and balance between the space and the occupier, therefore opening it up to more positive energy.
This is a concept that can be incorporated into any interior design in order to achieve a more oriental style, as well as opting for colors and fabrics that are influenced or inspired by Asia.
Moroccan Style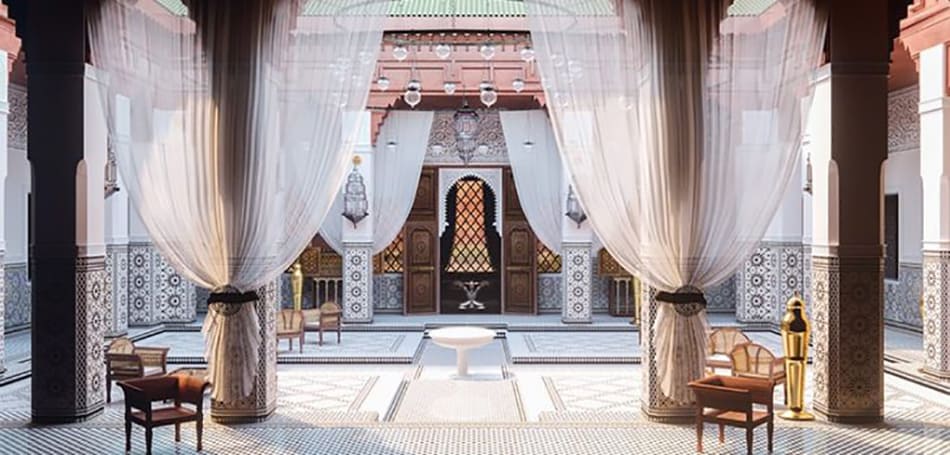 Moroccan style interior design is all about bold color choices, opulence, comfort, and rich texture. Jewel colors are popular in Moroccan design, such as emerald green, sapphire blue, and ruby red.
Intricate patterns are also a vital element of Moroccan-style interior design, which can appear in a mosaic form on floor or wall tiles, on detailed embroidered rugs, or on embellished blankets.
Moroccan-style interiors should be plush and sumptuous, so they commonly have plenty of cushions, throws, upholstered furniture, and cozy surroundings that make you feel as though you want to relax your body in them all day long.
Dark woods are used in Moroccan-style furnishings to give a feeling of warmth and depth, and these usually feature many ornate carvings in repeating patterns. Gold is commonly an accent color in Moroccan design to add to the lavish and luxurious vibe.
Art Deco Style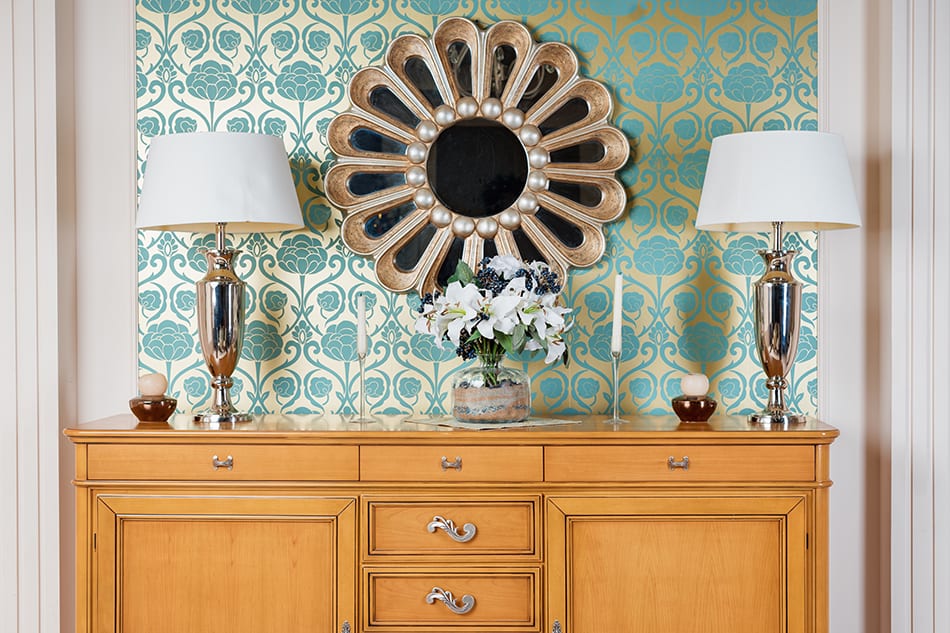 This is an enormously popular style of interior design that achieved prominence in the 1920s and '30s but is still very important today. Art Deco often uses a monochrome color palette or black and white, with additional bold accent colors, such as gold.
One of the key features of this style of design is the curved shapes it uses for furniture. Tables, drawers, chairs, and sofas can all have rounded edges or arch shapes as part of their theme.
The motif of a sunburst shape is also prominent in art deco style, which can be featured in artwork, furniture design, or on soft furnishings.
Rich woods with glossy finishes are also vital in art deco design, with furniture often being made from wood such as Zebrano wood to add a luxurious depth to the look. Marble finishes are also popular in this style, adding to the high shine look.
Scandinavian Style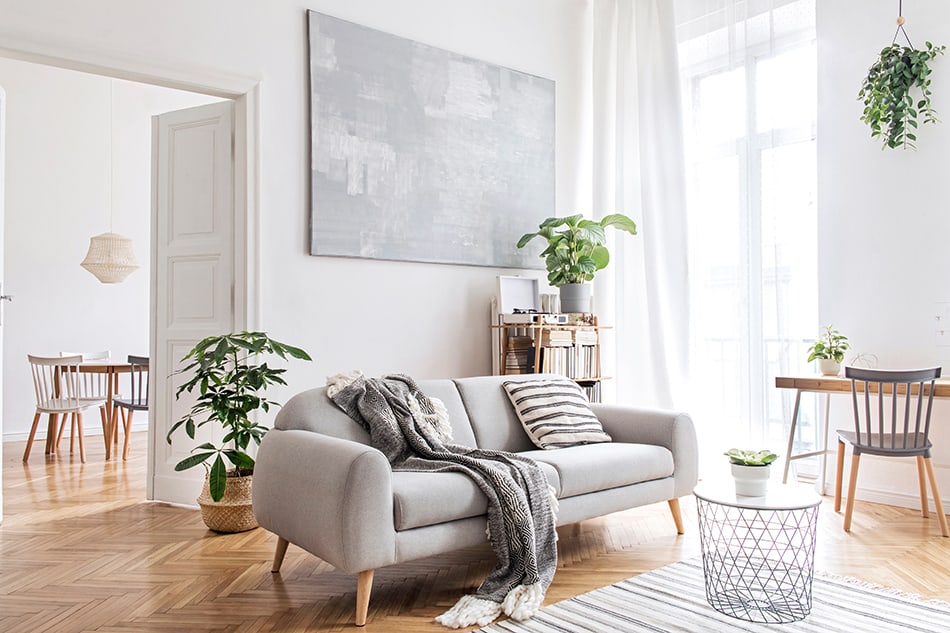 Scandinavian-style interior design is based around functional and natural design. The rise of popularity of this style of design may be down to the likes of IKEA and other Scandinavian stores that sell easy-living pieces and affordable prices.
Scandinavian style interior design typically features pale wooden furniture, such as pine or beech, with basic designs and no ornamentation.
Design is based on functionality and natural beauty more so than fussiness or luxury. This type of style should feel casual and comfortable, with slimline seating often with wireframing.
Large art prints on white walls further add to the Scandinavian look and bold splashes of bright colors such as canary yellow in the form of cushions or a lone armchair.
Traditional Style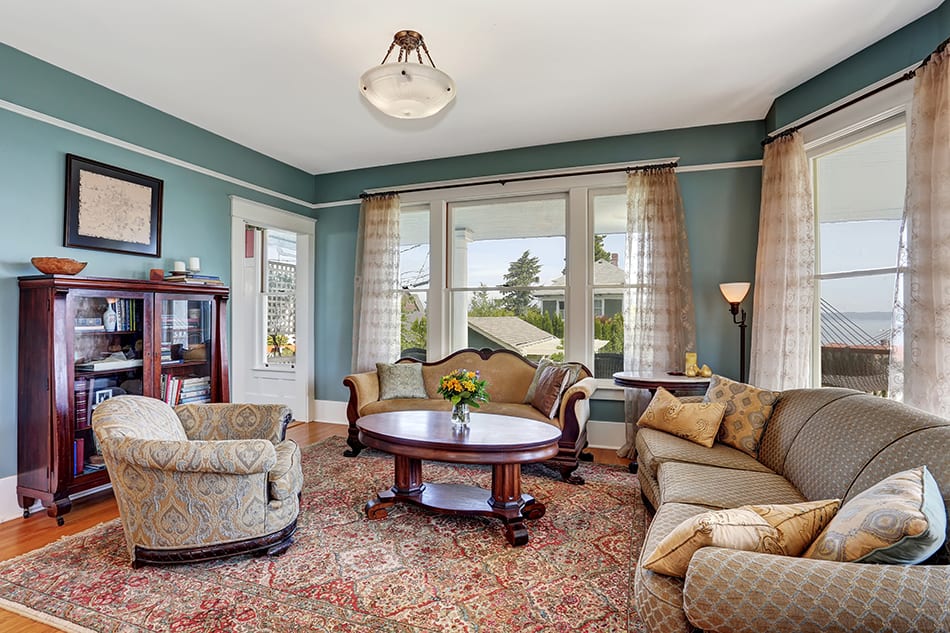 Traditional style interior design is characterized by rich textures and colors, such as deep mahogany furniture and brown leather sofas. Traditional design features items that have been styled to look statuesque and resemble something you might see in a stately home, for example, paneling on the walls, chesterfield sofas, wingback chairs, and grand furniture.
Traditional style interior design will typically have a neutral color palette, with blues, reds, and greens brought in amongst artwork, soft furnishings, or on ornate vases.
This is a style that can feel quite formal and may not work well for a regularly used room for relaxing but can be great for entertaining spaces.
Minimalist Style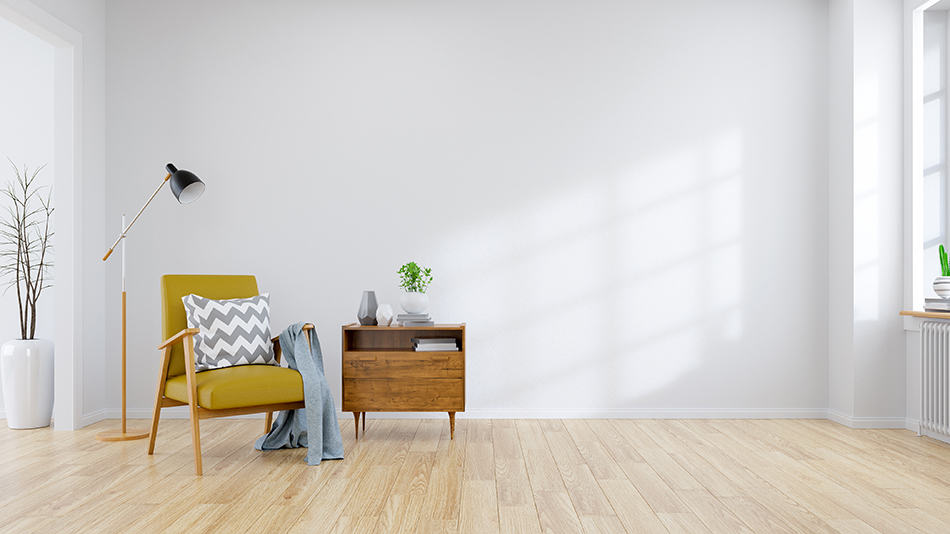 This is a style of interior design that became popular towards the end of the twentieth century. It is known for its simplistic design, vacant spaces, and stark color palette.
Most commonly, minimalist-style rooms will have white walls with white furniture, though you can mix up the color palette slightly and introduce other tones while still maintaining a minimalist look.
Bold contrasting colors can work well with this look, for example, a predominantly white canvas with a bright blue sofa.
Minimalism focuses on clean lines and harsh edges, with an importance placed on negative space. This means you may have to think very carefully about creating invisible storage in order to keep clutter hidden from view. Stay away from patterns in a minimalist interior, as this is at odds with the uncomplicated theme of the design style.
French Style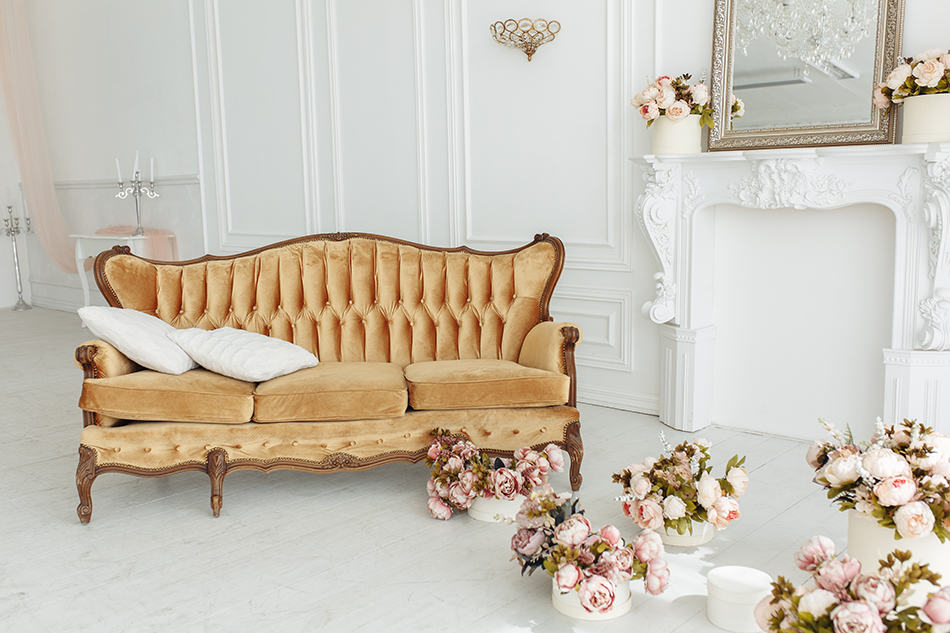 The French-style interior design dates back to the 17th century, in the era of Louis XIV. This style can easily be recognized by its intricately carved ornate wooden furniture, which would commonly be gilded or painted. This is a style that is synonymous with luxury and royalty and has achieved favor in our modern age, especially across Europe.
Fluted legs on tables or desks are a common feature of this style, along with deep, heavily carved frames around large mirrors. Lighting is also an important component of French-style interior design, with crystal chandeliers being a popular element.
Hollywood Regency Style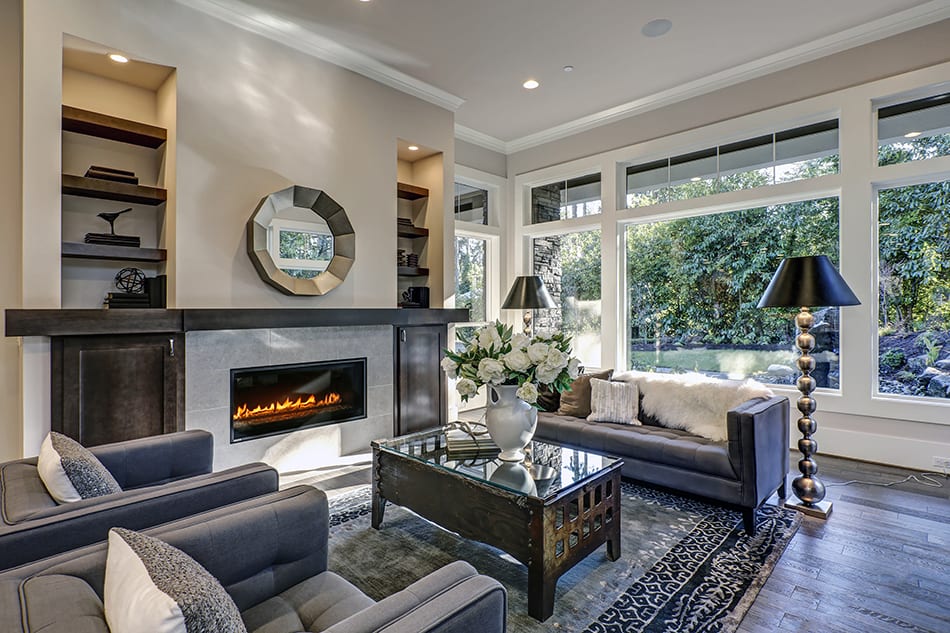 This is a style that was popular in the US, especially California, during the middle of the twentieth century. It took inspiration from glamorous movie stars of the era, and as a result, this style has a decadent, luxurious, and yet quirky feel.
This style combines high gloss surfaces with plush soft textures, for example, shiny marble floors and velvet sofas. Contrasting colors are a common theme, in rich and bold shades such as hot pink with emerald green.
Hollywood regency-style interiors give the feeling of a stylish boudoir, with the addition of expensive-looking chandeliers and intricately upholstered furniture.
Chalet Style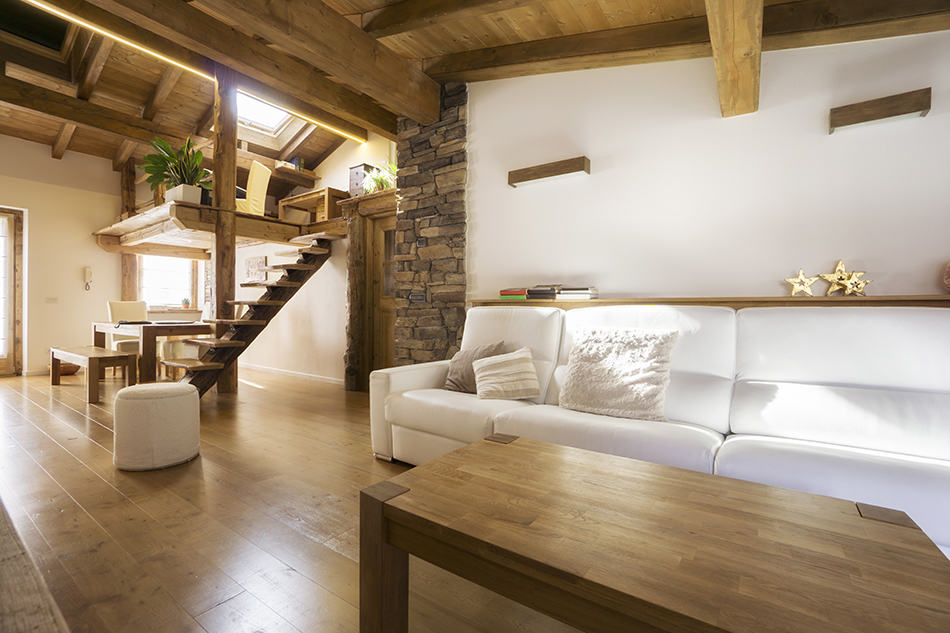 This style of interior design takes inspiration from mountain lodges and lakeside chalets. It is the type of interior you could expect to find in a Colorado cabin, with generously sized comfortable furniture, natural materials, and animal prints.
Wooden floors and timber furniture are common, and the walls themselves can also be made from exposed timber. Inspiration is taken from nature, with antler chandeliers and fur throws a key design feature. The color palette should be neutral, with lots of brown, beige, and cream.
Country Style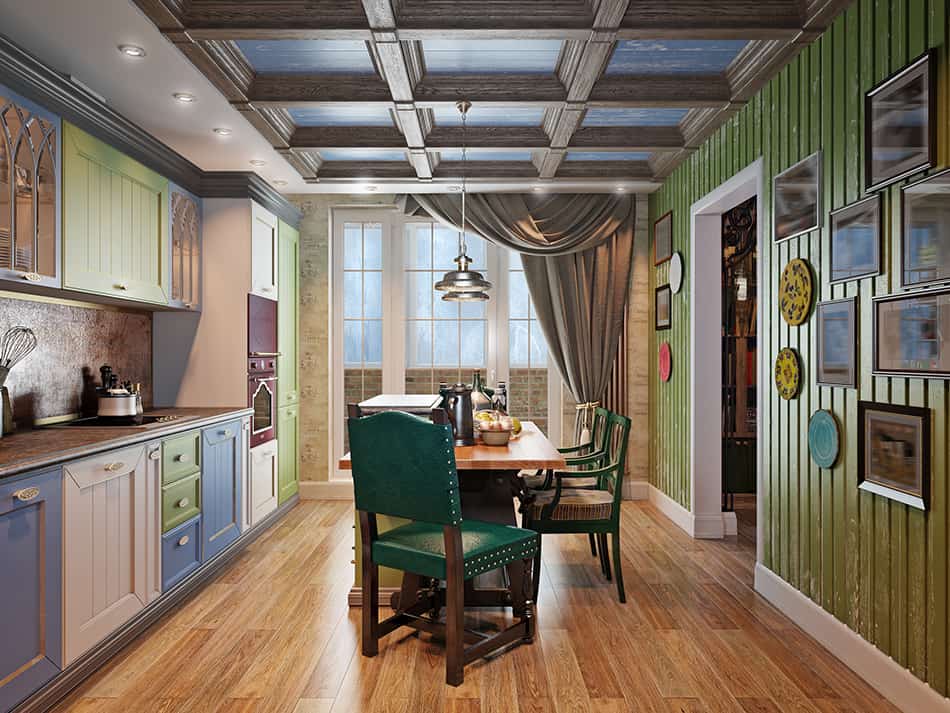 Country-style interior design takes inspiration from European country houses, where the vibe is smart casual. This style features lots of upholstered furniture, heavy drapes, cushions, and throws, to bring a comfortable feel to the room.
Patterns are an important design element, with tartans, floral, stripes, and polka dots all widely used. Wallpaper in a pattern that matches the soft furnishings is also commonly seen.
Furniture should be solid and imposing, in a natural finish or whitewashed. Antique accessories such as vases or candelabras also add to the vintage country feel of this interior design style. Add a bunch of fresh-cut flowers from the garden for an authentic country vibe.