A Moroccan-style interior design boasts elegance, luxury, and drama all in one. This Middle Eastern home decorating style enjoys a blend of rich, bright colors with dynamic contrasts and traditional patterns.
In typical Moroccan homes, the most unique Arabian decorations and accessories can be seen, which are made by highly skilled craftsmen.
If you have ever been to a traditional Moroccan home and felt inspired by this ethnic interior decorating style, you'll be pleased to know that you can achieve the same look in your own home with just a few simple changes and additions to your rooms. Here are a few pointers to steer you in the right direction.
What is Moroccan Interior Design?
Morocco is a North African country with Arabic as its official language. Morocco was once the colony of Spain and France, hence the reason some of the Moroccan interior decoration styles have traces of the Mediterranean and French elements.
But it wasn't until the 1960s that the Moroccan interior decorating style became popular outside Morocco. Having taken its influences from the Spanish and French cultures, the Moroccan-style interior is a blend of the country's history, climate, traditions, and architectural features.
The Main Characteristics of Moroccan Themed Interiors
Accessories: a Moroccan-themed room feels warm and inviting. The typical accessories found in these homes include terracotta pots, decorated mirrors, hand-painted ceramics, metal ornaments, and stained glass bowls.
Architectural features: intricately designed carvings can be found in the room's corner next to arched doorways or windows. Some windows or doorways have a curved top or arched alcove known as the horseshoe arch.
This is made to resemble a holy temple. Another important architectural feature in a Moroccan-style home is the stunning stained glass windows that provide colorful beams of light inside the room.
Rich colors: strong colors are another important element of Moroccan-style interior. While neutral colors are often used in most Moroccan interior walls, nearly everything else in the room is in bold colors.
Walls: as mentioned above, the walls are usually in a white or neutral color, and almost always bare as Moroccans place their arts and crafts on the floor rather than hang them on the walls.
Patterns: in Moroccan style interiors, patterns play an important role. They can be colorful sequences or geometric patterns on the floor, textiles, or even furniture.
Textiles: these elements are used in every single room of a Moroccan-style home. From bedding, rugs, and pillows to throw blankets, and furniture. Textiles are often used to create focal points in a Moroccan-style home.
Floors: tiles are the most common type of flooring as carpets are rarely seen in Moroccan homes. The tiled floors are usually covered with a hand-crafted rug that features bright colors and patterns.
Now that you've learned a little about the main characteristics of a Moroccan-style interior, here are my 11 inexpensive Moroccan-style room decor ideas you can use in your own home.
1. Use Strong Colors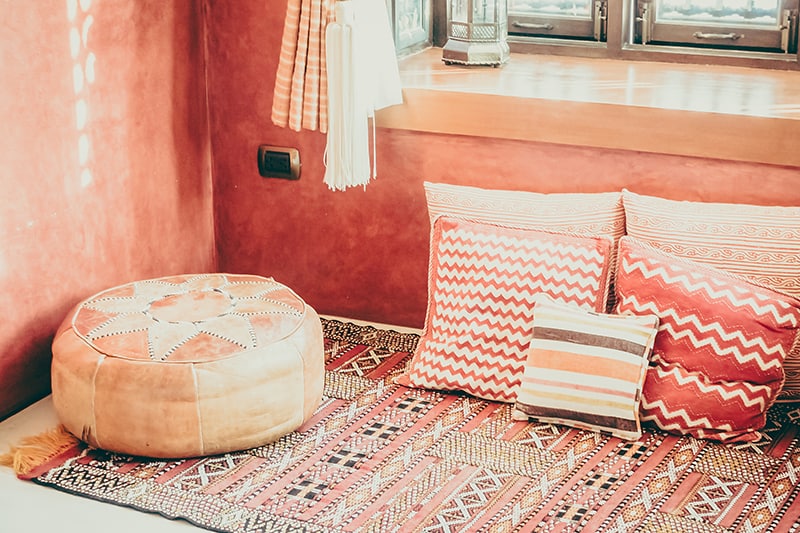 Take inspiration from the beautiful North African sunsets by adding bright orange, golden yellow, and red colors to your Moroccan-style interior.
Bold shades provide warmth and charm to this ethnic interior design style, especially when the colors are combined with leather materials, embroidered fabrics, and patterned pillows as shown here.
2. Add Luxurious Throw Pillows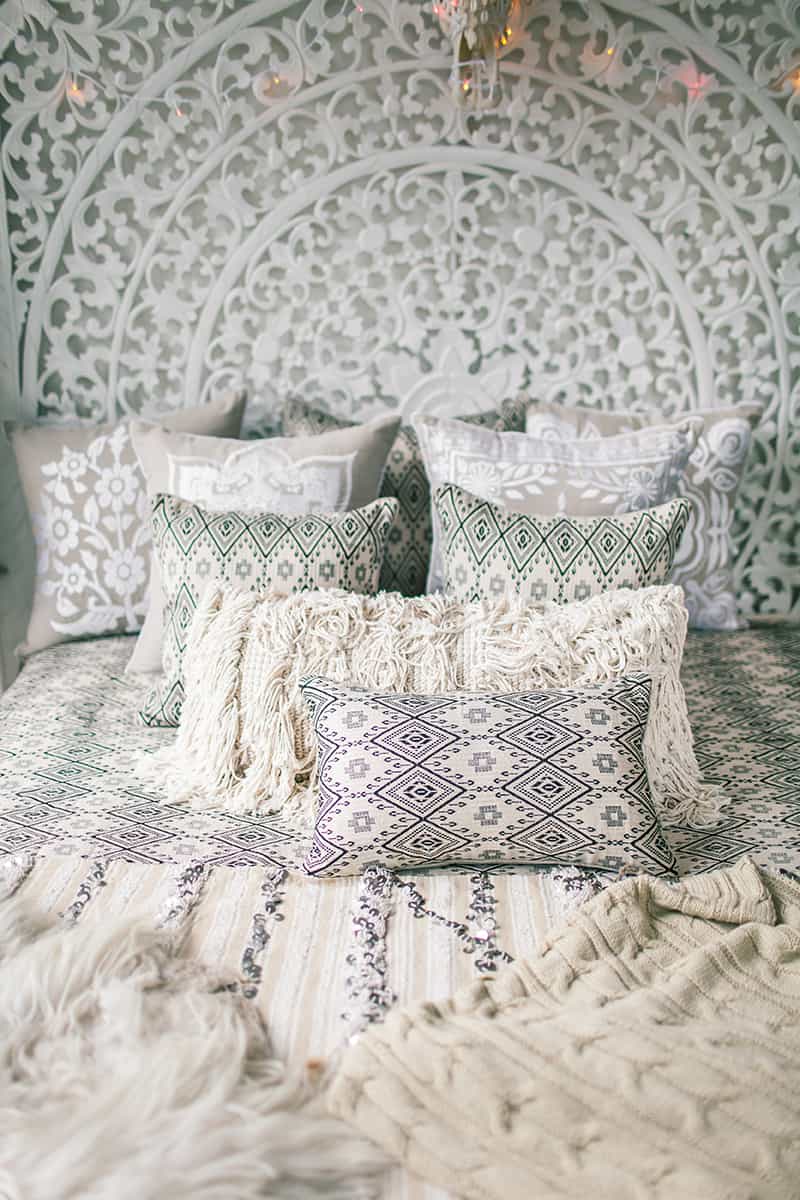 In a Moroccan-style bedroom or living room, fabrics must be luxurious and in bold patterns.
Add plenty of throw pillows and blankets on the seating or sleeping area as well as draped curtains in the same color as the pillows. If you're decorating your bedroom, remember to match the patterned bedding to the headboard as Moroccan-decorated beds always feature elaborately designed headboards.
In this Moroccan-themed room, you can see how a classically designed white bed complements the stunning pillows. The interesting patterns are what the Moroccan style decor is famous for.
This bed isn't just for sleeping; you can also sit comfortably on it and read a book in luxury. Feel free to experiment with bold colors as you don't necessarily have to stick to a neutral tone for the pillows.
3. Embroidered Rugs are a Must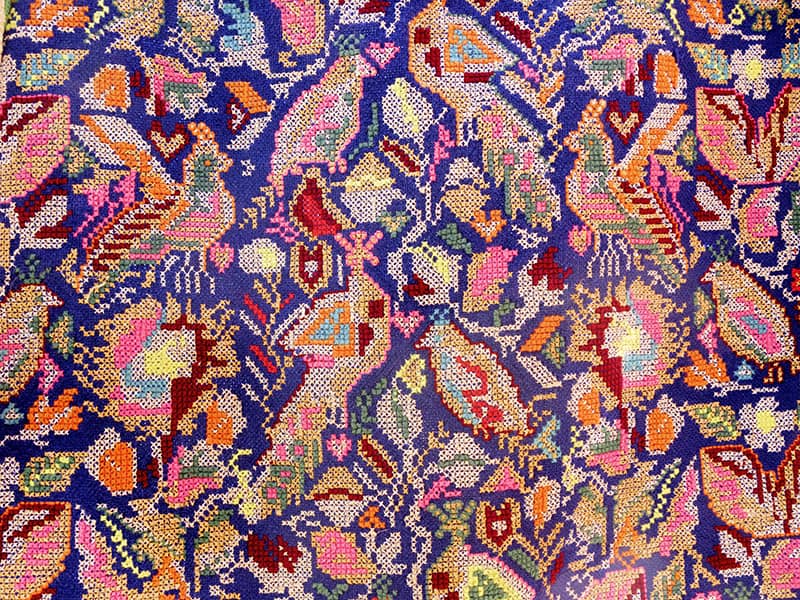 Authentic Arabian embroidered rugs consist of rich colors featuring simple abstract patterns or intricate geometric designs. A Moroccan-themed room isn't complete without a Moroccan rug.
You must add these woven rugs to every room to create an inviting feel. Embroidered rugs bring texture to any room and even act as interesting focal points. You can buy these ethnic rugs in neutral or bold colors, but they can be very expensive.
Look for replicas online from reputable merchants who sell them at a fraction of the cost.
4. Intricately Designed Lighting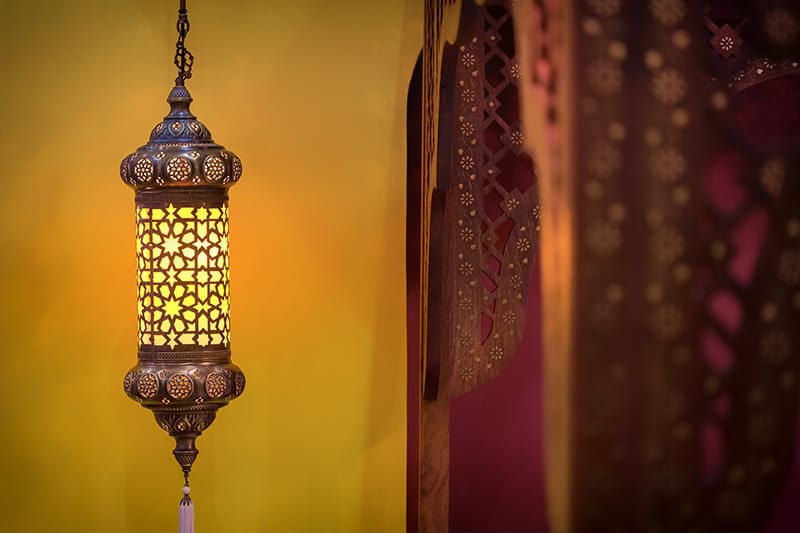 Lighting is a distinctive feature of a Moroccan-themed interior. Choose from beautiful Moroccan lanterns that are intricately designed and made from brass or copper.
You can hang these lanterns above the dining table or in the bedroom to make an authentic statement. They can make a room feel extra cozy and warm.
5. Moroccan Decorating with Arts and Crafts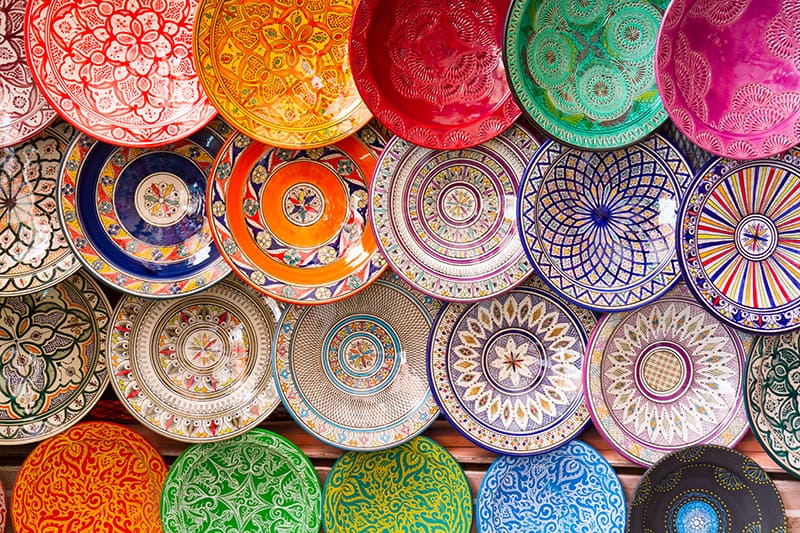 The traditionally decorated Moroccan arts and crafts have a long history. This unique tradition started in ancient times and combines ethnic decorating techniques and patterns on handcrafted plates or vases.
These beautiful and colorful plates are typical Moroccan-style handcrafts that you will come across in traditional African bazaars. They can be used in kitchens, courtyards, or living rooms as stunning decorative features.
6. Carved Wooden Furniture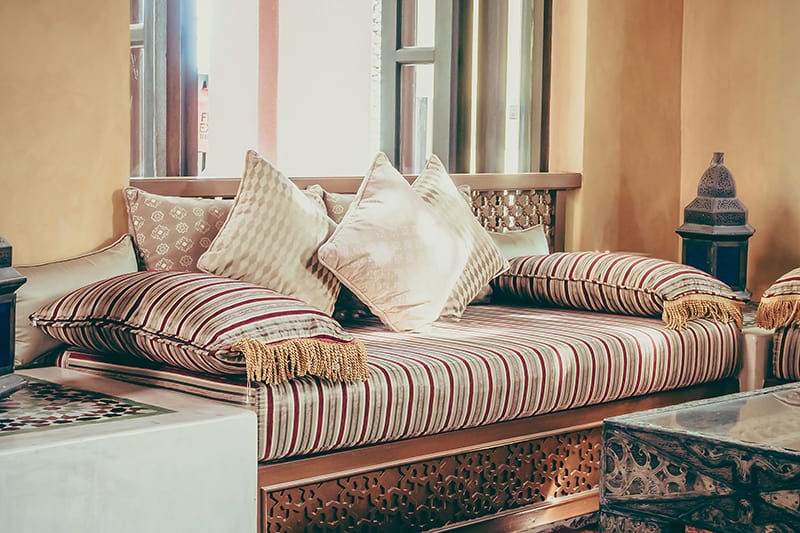 Moroccan-style furniture goes beyond elaborate arts and crafts. A carved wooden sofa is a must-have furniture item with authentic cushions to decorate it with.
Further accents to add can be large metal lamps on the floor on each side of the sofa as shown here.
7. Moroccan-Style Bedding with Matching Curtains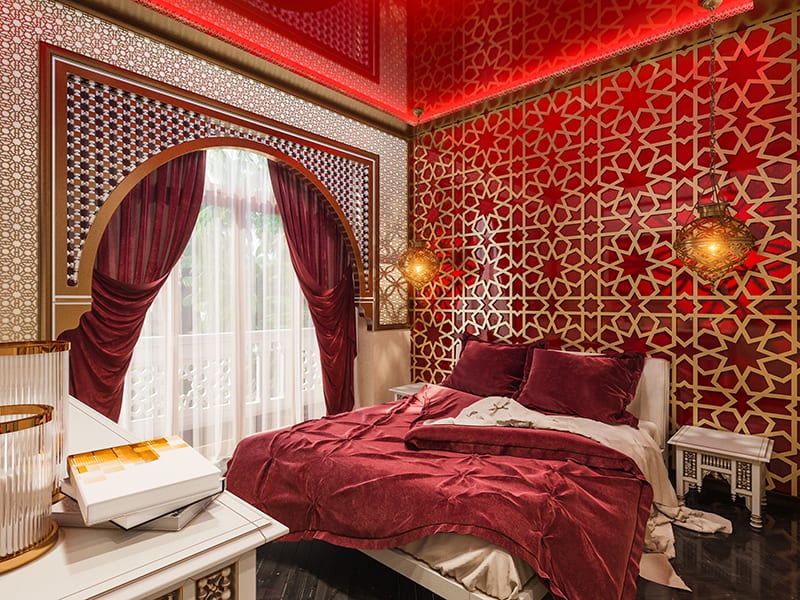 One of the easiest ways to redecorate your bedroom in a Moroccan style is to add a matching blanket, pillows, and curtains in one bold color, such as deep red.
For the material, opt for velvet or satin to make your room look ultra-luxurious. Since your bed is the main focus of the bedroom, hang two Moroccan lamps above the bed, and to make an even stronger statement, go for Luxurious textures.
8. Decorating the Bathroom in Moroccan Style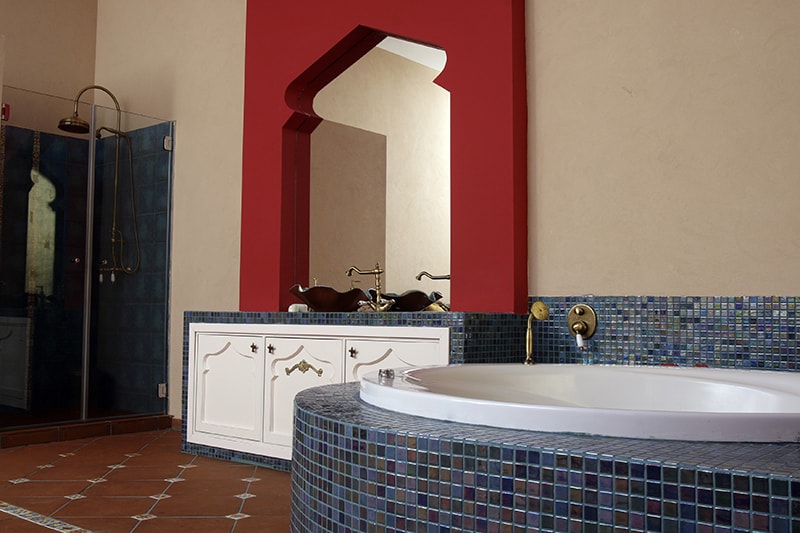 A typical Moroccan-style bathroom consists of gold-colored taps and fittings. Elaborately colored tiles are used sparingly throughout the bathroom and there is almost always a corner bath or a freestanding tub in a Moroccan-style bathroom.
To achieve the perfect look, place a large mirror in an alcove-shaped arch as shown here. See how the red arch has created a focal point in this ethnic-style bathroom.
While the tiling around the bathtub may look sharp, it has provided a contrasting hue to the authentic arch. This is an especially eye-catching bathroom, which you can replicate the same look by changing the fixtures and fittings to mimic a Moroccan-style bathroom.
9. Decorating the Living Room in Moroccan Style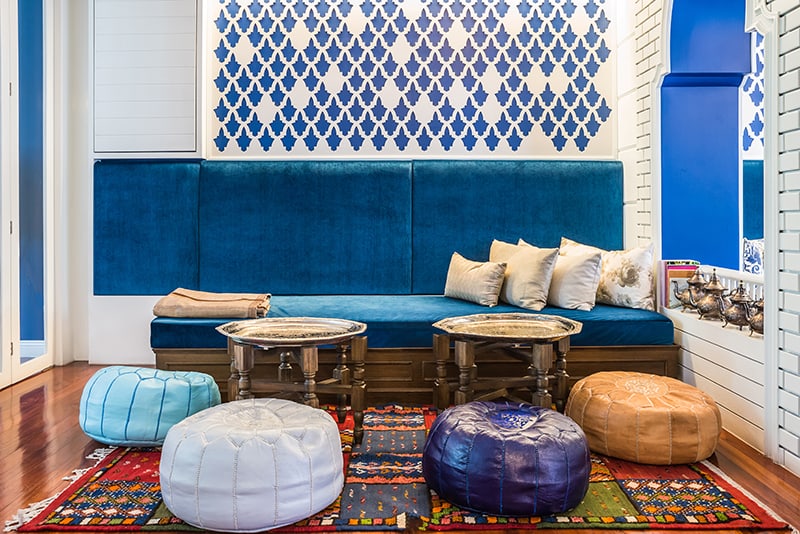 As I mentioned before, a Moroccan-themed living room typically has white or neutral color walls, however, this doesn't mean you can't add other colors to the walls. In Moroccan-style living rooms, you will also find a blend of white with bold colors like blue as seen here.
Patterned rugs play a big part in such living rooms along with low seating to help you feel relaxed. Here the blue sofa complements the light and dark blue seating as well as the intricate blue and white walls. The focal point of this living room has to be the extra detailed wall accent above the sofa.
10. Decorating the Kitchen in Moroccan Style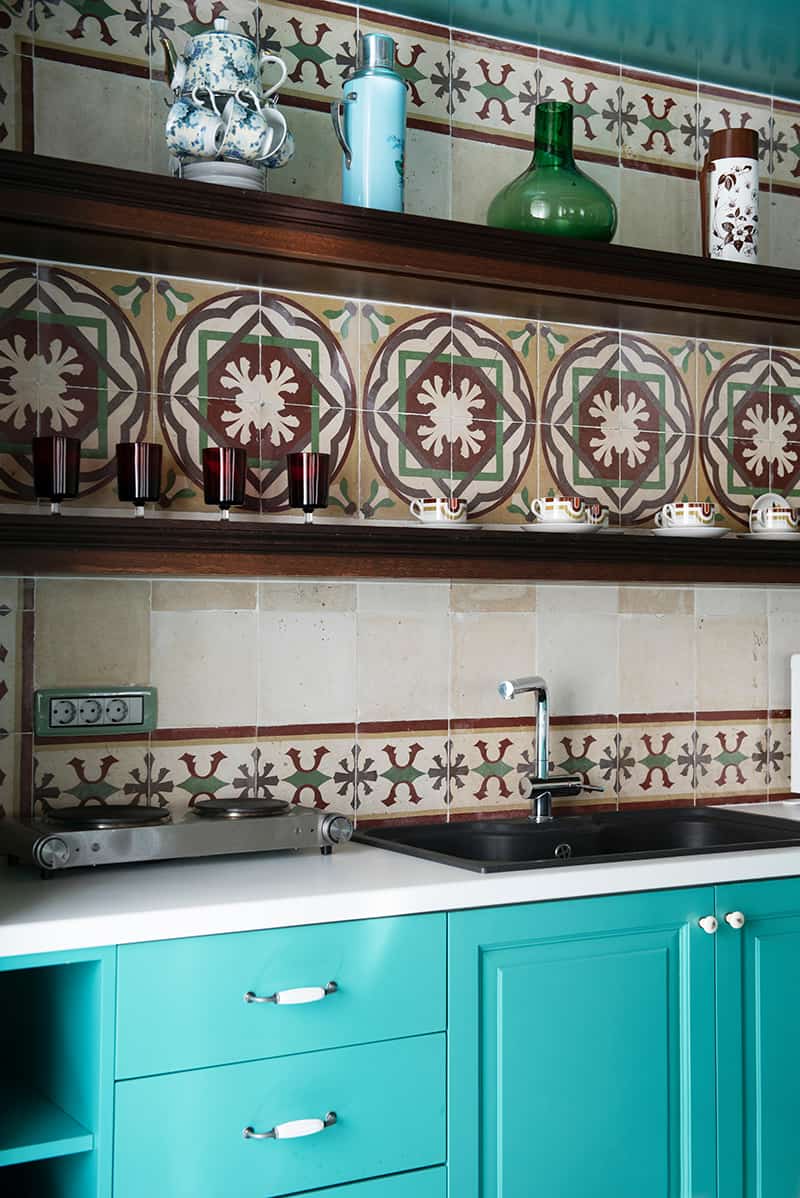 To achieve the same look as a traditional Moroccan-style kitchen, the first thing you need to think about is the tiling. Just like other rooms in Moroccan homes, patterned tiles are an important feature in the kitchen. in order to create a backsplash against the tiled wall, the kitchen cabinets should be in a bold color like sky blue as shown here.
The intricate patterns of the tiles and the bold kitchen units have created a practical and visually appealing look in this traditional Moroccan-style kitchen. You can mimic the same look by simply changing the color of your cabinets and choosing lively patterned tiles.
11. Decorating the Bedroom in Moroccan Style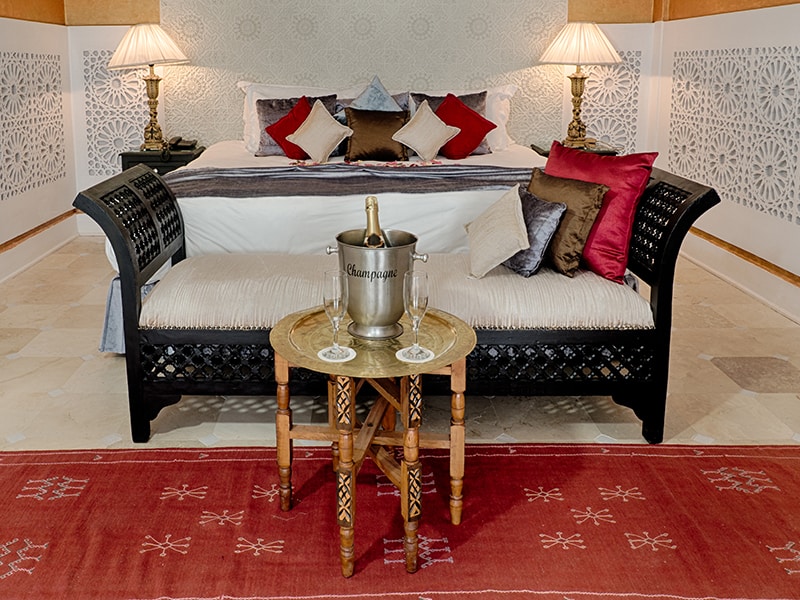 When designing your bedroom in the Moroccan theme, opt for a light and relaxing look, such as white being the predominant color.
Pair this with a red rug, black sofa, and brightly colored pillows to complete the look. The dramatic look of the furniture in this bedroom doesn't take the focus away from the bed with its colorful pillows.