Rustic style interior design provides a perfect combination of practical and fuss-free decor, put together to create an inviting interior. Natural elements are the foundation for rustic home decor, thanks to their authentic beauty that creates a cozy space.
To decorate your home in a rustic style, you don't need to live in a log cabin – you only need organic and natural materials with some white paint to cover your walls and some distressed wood accents.
If you want to go the whole hog and transform your interior into a traditional and characterful space, then make sure you read this article for some inspiration.
What is Rustic Interior Design?
Rustic interior design is an organic, aged style that's completely natural. It is often combined with coastal or farmhouse design to create a distressed look. Rustic is the exact opposite of contemporary design and mostly fits cottages and townhouses.
This style is a blend of stone, wood, and earthy decor that's reminiscent of old-world dwellings. At the same time, it is very easy on the eye with a cozy and warm vibe.
Most people associate rustic with an unpretentious type of design that's incredibly relaxed and inviting. The color palette is a combination of warmer, muted tints. In fact, you won't find many bold colors in a rustic home – unless you're mixing the old with the new.
A Quick History of Rustic Design
Based on the early settlers of the US, rustic interior design was first identified in the 19th century. Many of these settlers who made their homes throughout US cities, crafted their furniture by hand using local materials.
One such example of a typical rustic home is a Craftsman-style that was made popular in the Midwest. The European version of rustic homes can be seen in the Colonial-style homes, which have a unique charm of their own.
Key Features of Rustic Interior Design
The biggest aim of rustic interior style is to be as natural and unpretentious as possible. This isn't a style for cold color palettes, plastic furniture, or modern lighting.
It is purely focused on comfort and warmth: from dark wooden floors and woven blankets to reclaimed furniture and open fires. If you want to add depth to your home, get to know the following characteristics of rustic style design:
Wooden Furniture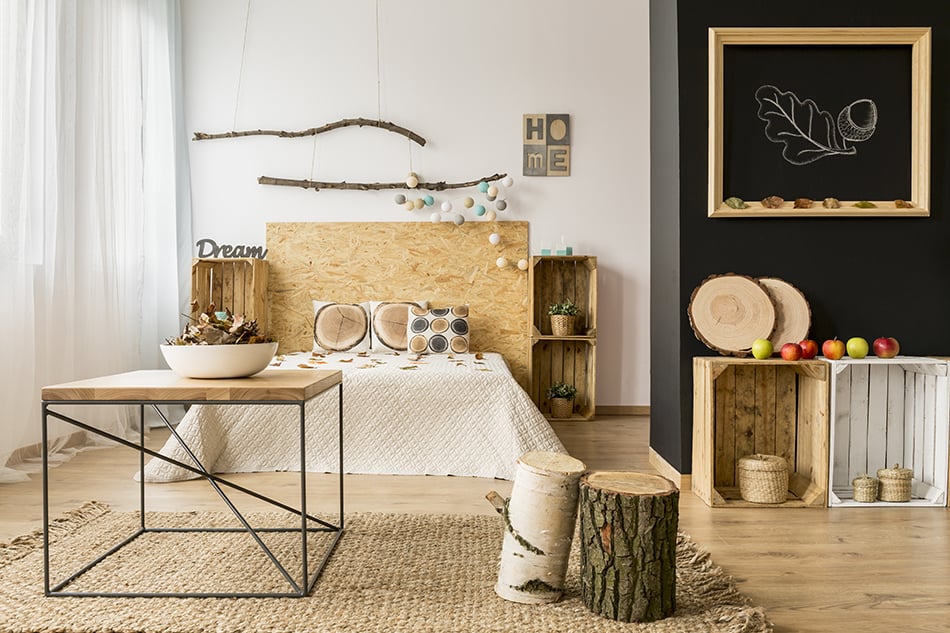 A typical rustic interior must have wood or stone furniture for a homely feel. To create harmony with the overall interior, opt for wood to create an exquisite decoration. For example, a simple setting will benefit from all-wood furnishing as the main element of antiquity.
Handmade Pieces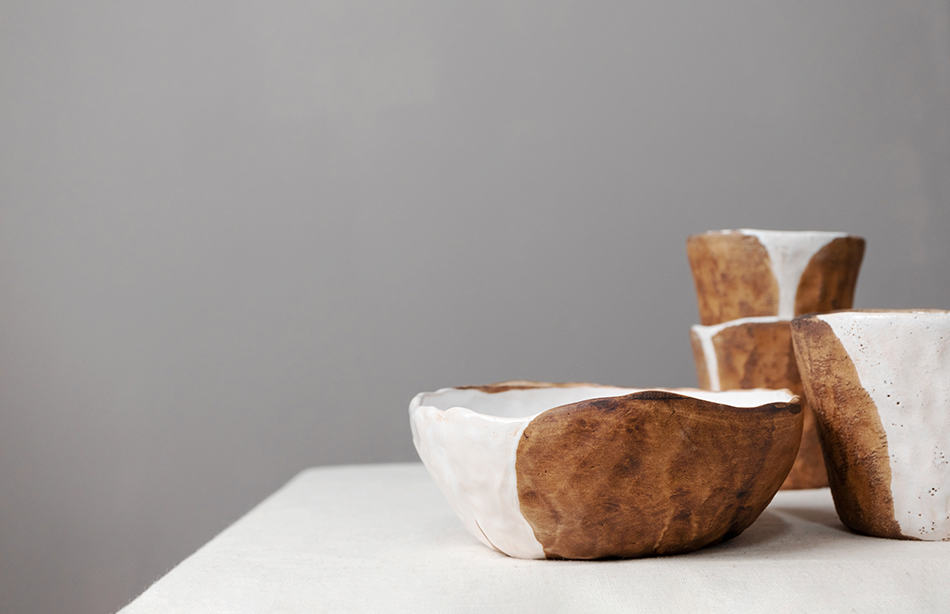 Rustic decor elements are often unique unlike any other. Handmade items can easily swing this look. But this doesn't mean you can't select a combination of different accessories as focal points. When it comes to choosing one main centerpiece, try to find a handmade item with character.
Reclaimed or repurposed antique pieces are the typical example of injecting life into a rustic space. For example, a vintage wood dresser, bookshelf, or antique drawers breathe new life into the room.
Stone Fireplace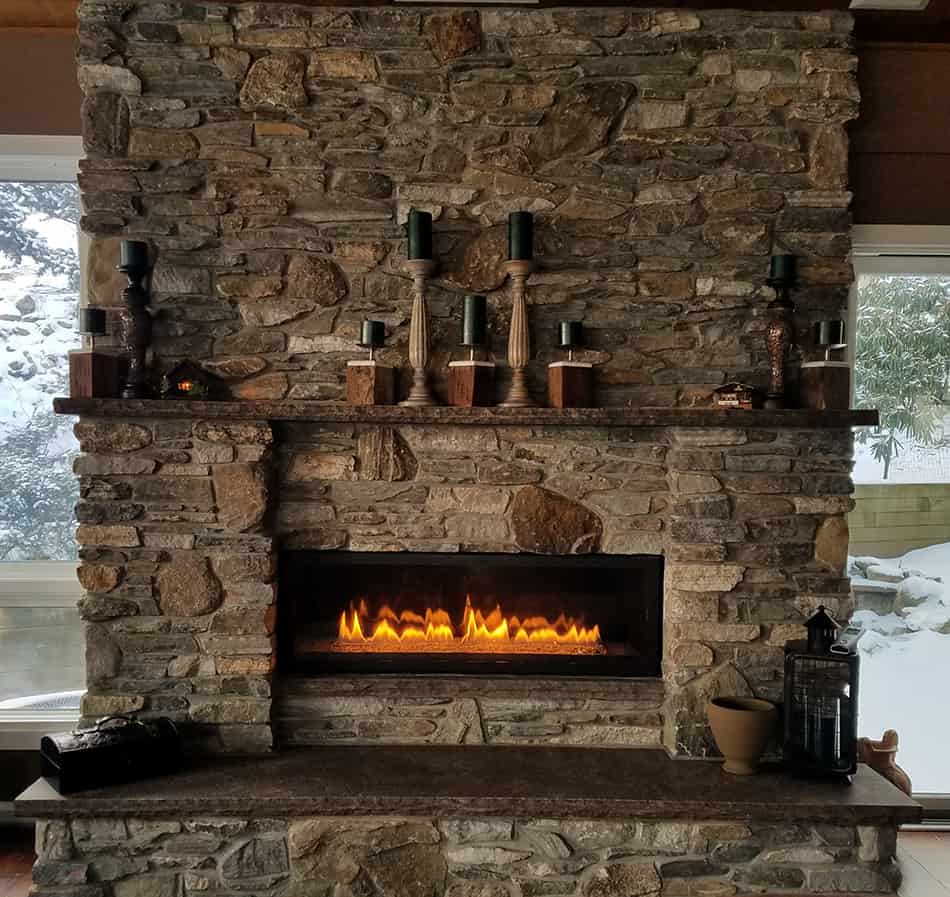 The one feature that is a must-have in any rustic interior is a stone fireplace. This is your chance to go all rustic by decorating around the fireplace with warm and inviting accessories. A stone fireplace is the main gathering place in the home thanks to its romantic and rustic appeal.
Exposed Beams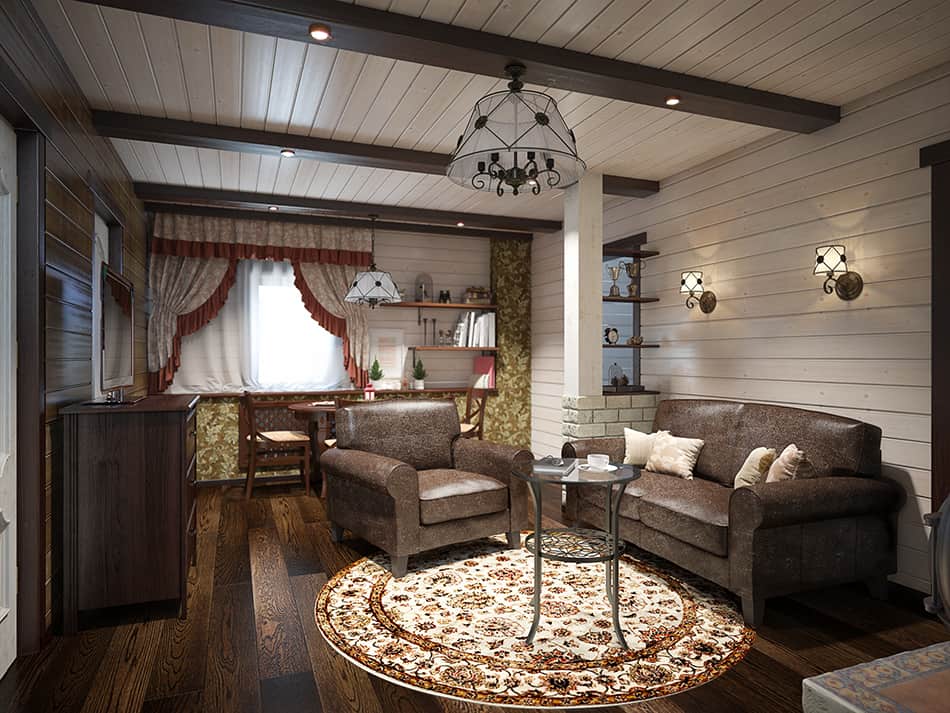 Exposed wooden beams are another essential feature of a rustic interior. Whether you're aiming for a rustic farmhouse decor or want to adopt the coastal look, exposed beams are the epiphany of rustic design.
With chunky exposed beams on the ceiling, the vibe evokes nature at its finest. This is an excellent way of bringing the outdoors into your home.
Earthy Colors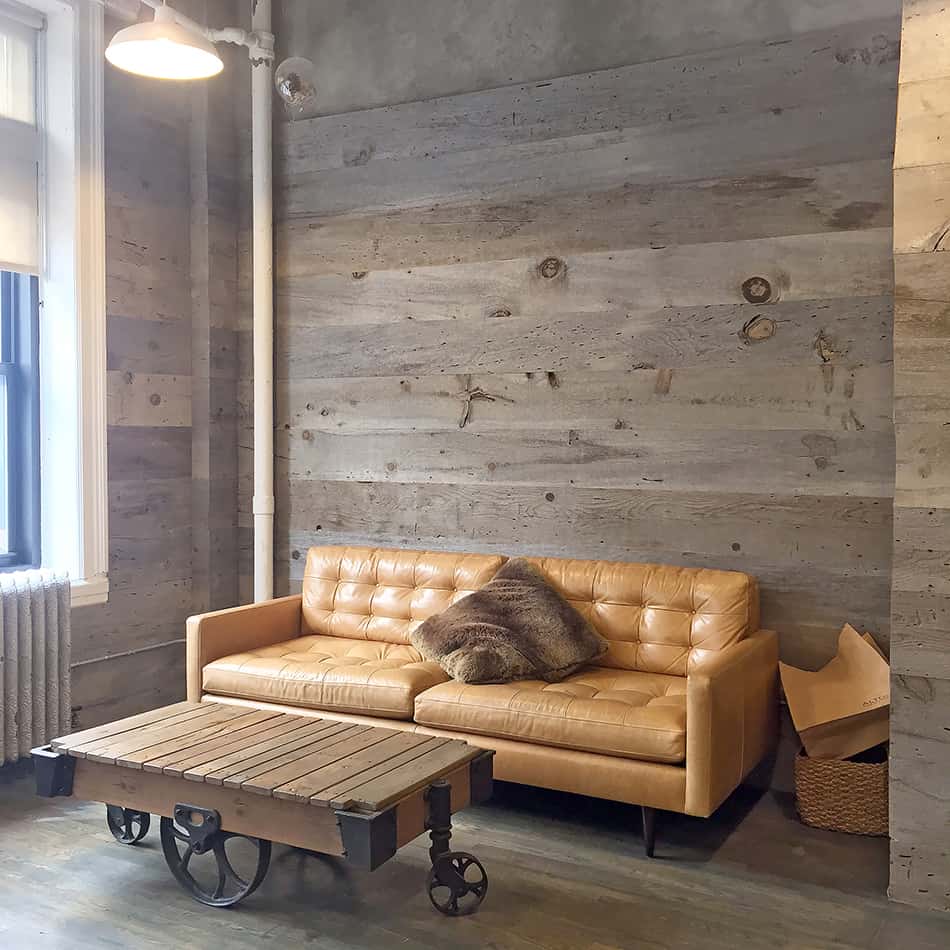 Neutral tones are often used in rustic interior decor to complement natural elements. But why not add vibrancy to your room by introducing other color palettes to the neutral tones. This will make your space stand out and feel warmer.
You can make your home even more inviting by accentuating your rustic decor with warm colors. Earthy tones like orange, gold, brown and dark green go beautifully with other rustic decorations.
Whitewashed walls, for example, can be paired with natural wood color features. White as the backdrop and brown as the flooring can become a focal point of the room, whereas a bold wall color will only detract attention.
Inviting Fabrics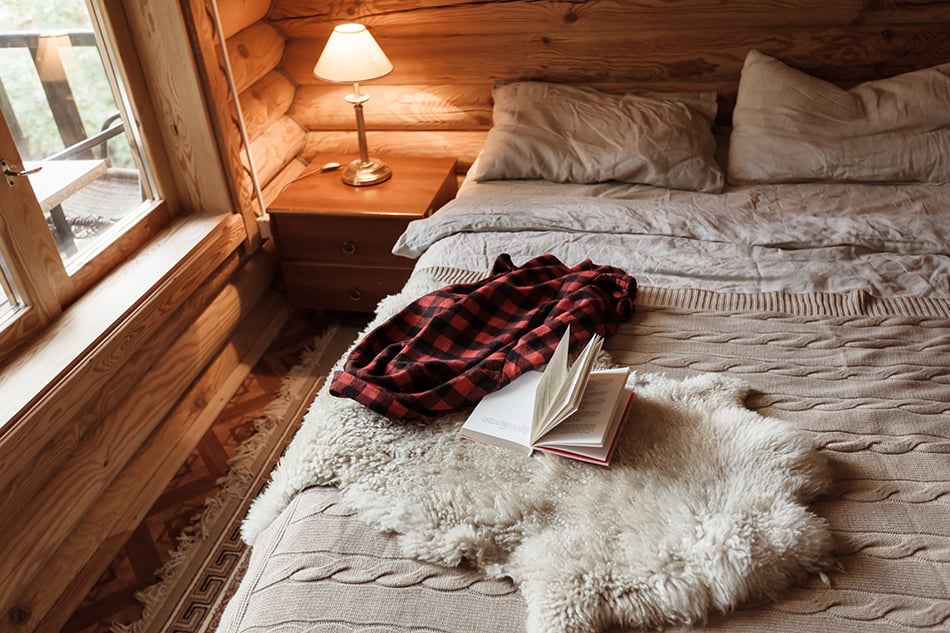 Comforting fabrics in warm shades of color will make your rustic decor feel even cozier and inviting. Think checked blankets and heavy knitted fabrics to create a relaxed vibe. For added luxury, choose a faux fur throw blanket for your sofa paired with a red woven rug for a splash of color.
Red rugs on oak flooring are perfect for warmth, but you can also go for unprinted wool, burlap, or linen as the best fabric for rustic-style interiors.
Wooden Signs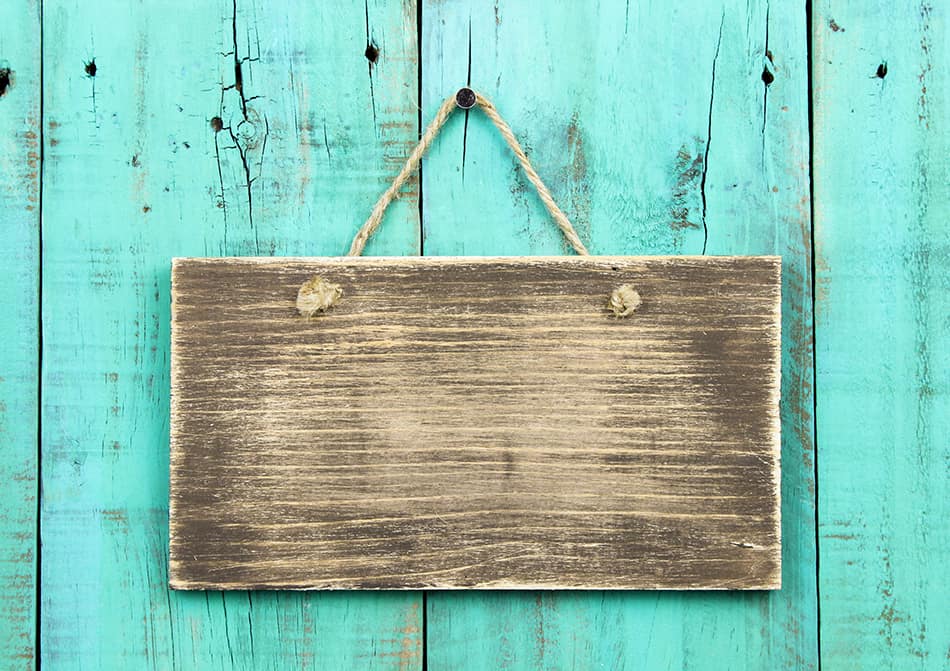 Hanging wooden signs on your walls is a simple and characterful way of mimicking rustic design. A wooden sign with a nice message on it can make your visitors feel more welcome and fill the space on the blank canvas wall.
You can even follow a themed design by hanging different size wooden signs painted in earthy colors. When displayed on whitewashed walls, they can bring out the rustic beauty of your interior.
Wooden Flooring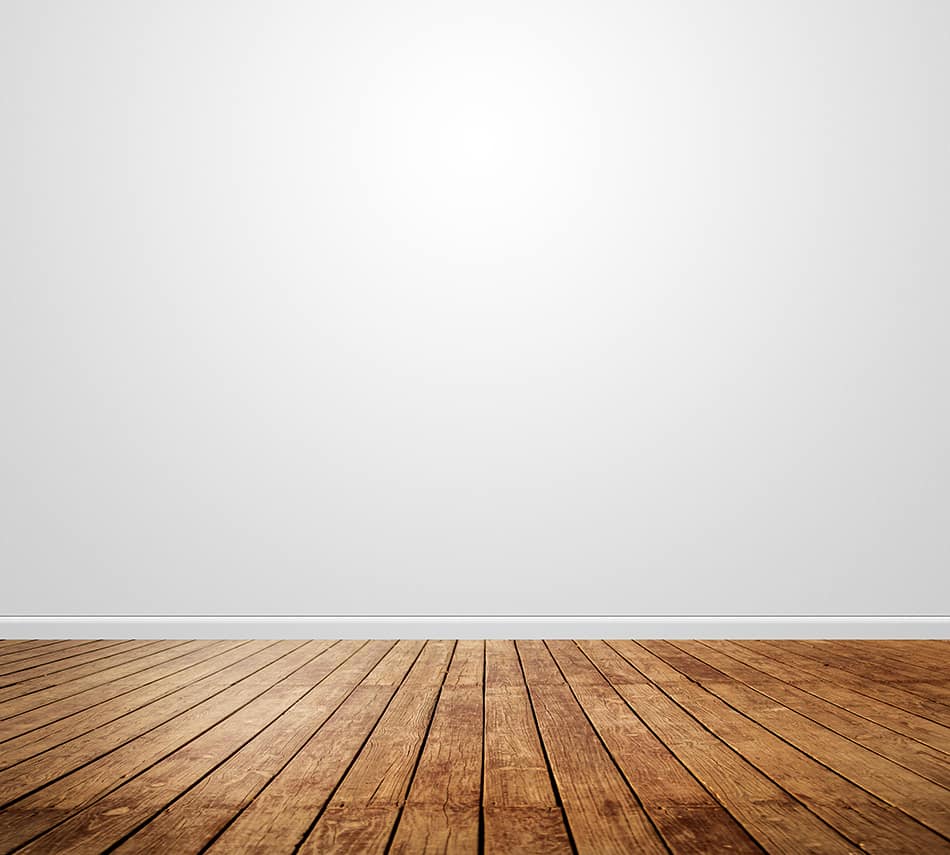 Wooden planks are often seen in rustic design floors. Wooden planks are designed to look natural and authentic, so you don't have to completely cover them with carpet or rugs. Nowadays, rustic style ceramics that mimic wood are also favored to accentuate the overall rustic style. When installed in different directions, these flooring trends keep the look primitive while emitting character.
Can You Mix Rustic Style with Contemporary?
Yes, you can! To compliment your rustic interior with contemporary design, you can introduce neutral colors that fall in line with the emphasis on rustic's natural textures and tones. Since contemporary style is all about clean, sleek lines, it can easily blend with the rugged appeal of rustic.
The key is to incorporate both rather than just follow their trends. Just be sure to keep it balanced by not using too much of one style over the other.
Is Farmhouse Design the Same as Rustic?
Not quite. While the two styles are very similar with common elements, they shouldn't be confused. Sure, both rustic and farmhouse have an old-world homely feel to them but there are some features that set them apart.
Let's first assess the similarities of both styles before we pinpoint the differences. Both rustic and farmhouse-style furniture consist of natural materials and exposed wooden beams. Distressed wood is their main signature, whether it's the flooring or wall paneling. But there are some distinct differences between the two.
In rustic room decor, the wood used for the walls or flooring is more natural-looking as though it is unfinished or unstained. Even the joints are exposed to give the planks a more natural feel. So if you want your interior to take you back in time when everything was very simple, then this is the style you need.
Farmhouse style, on the other hand, promotes a traditional and more of a fresh feel than rustic design. While there is still an emphasis on the natural elements, with farmhouse style, it gets a little more complex. For example, the furniture is usually smooth rather than rugged, and the color palette is much lighter. But this doesn't mean you can't mix rustic with farmhouse decor.
Rustic farmhouse style is a blend of all-natural, rough-sawn elements with plenty of repurposed items, so keep these in mind when decorating your rooms in such styles.
8 Rustic Style Room Decor Examples
Distressed Wooden Wall Paneling in a Rustic Bedroom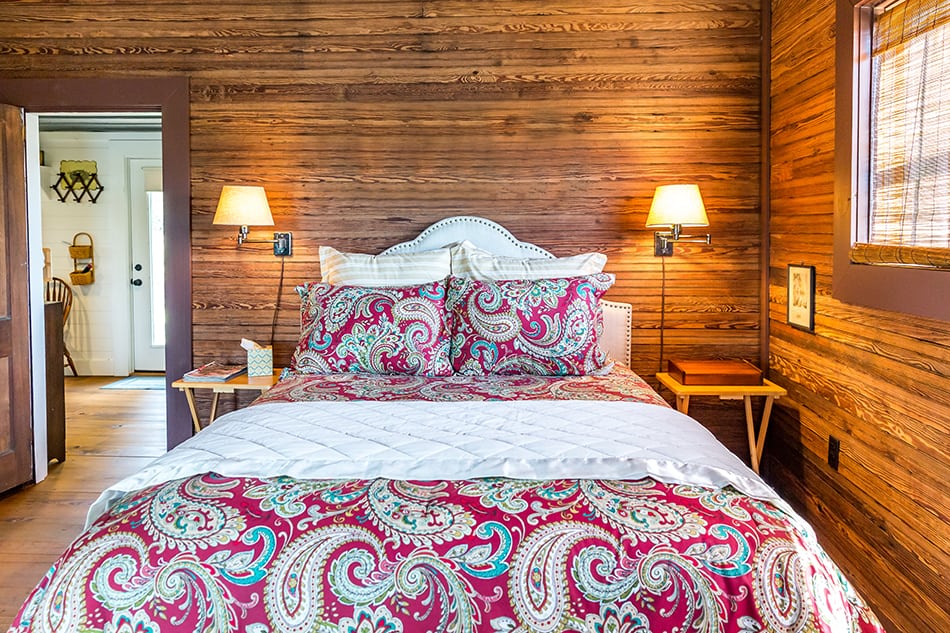 Distressed wood panels on the wall are another inexpensive and easy addition to achieve the rustic look. In this cabin-style bedroom, the overall decor gets an extra dose of humbleness thanks to the wood-slat walls.
To bring softness to the room, add patterned bedding as shown here. The bedroom space can easily be warmed up with light colors and cozy throws.
Statement Beams in a Country Style Bedroom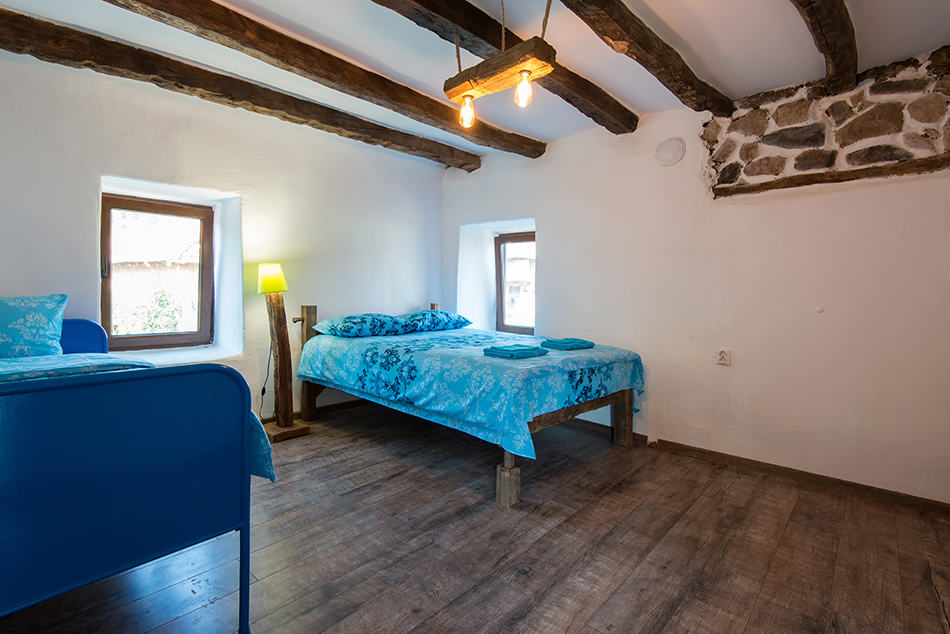 Exposed ceiling beams are favored for their old-world appeal, but there is much more to them than meets the eye. Heavy, exposed wooden beams add depth to a room, so if you love the rustic style look, you definitely need to add this feature to your home extension.
Large beams function as the structural component of interior design as well as make the room feel homely. No matter where these beams are installed, they are sure to bring out the character of the room by adding a dramatic statement.
Double Barn Doors for the Living Room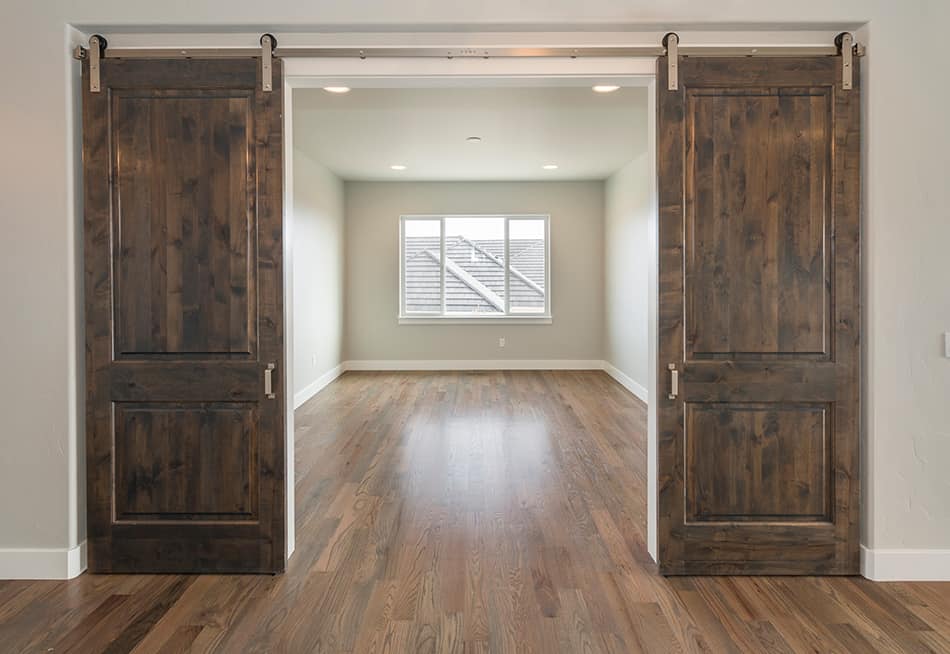 Classic timber doesn't have to just appear on the walls, the floor, and the ceiling. How about a double or sliding barn door for your living room with accompanying hardware?
These authentic wooden doors are an elegant solution that takes up minimal space and looks very charming. Even if your interior is all modern and you're struggling to find a rustic feature, barn doors will make a great addition.
Whitewashed Walls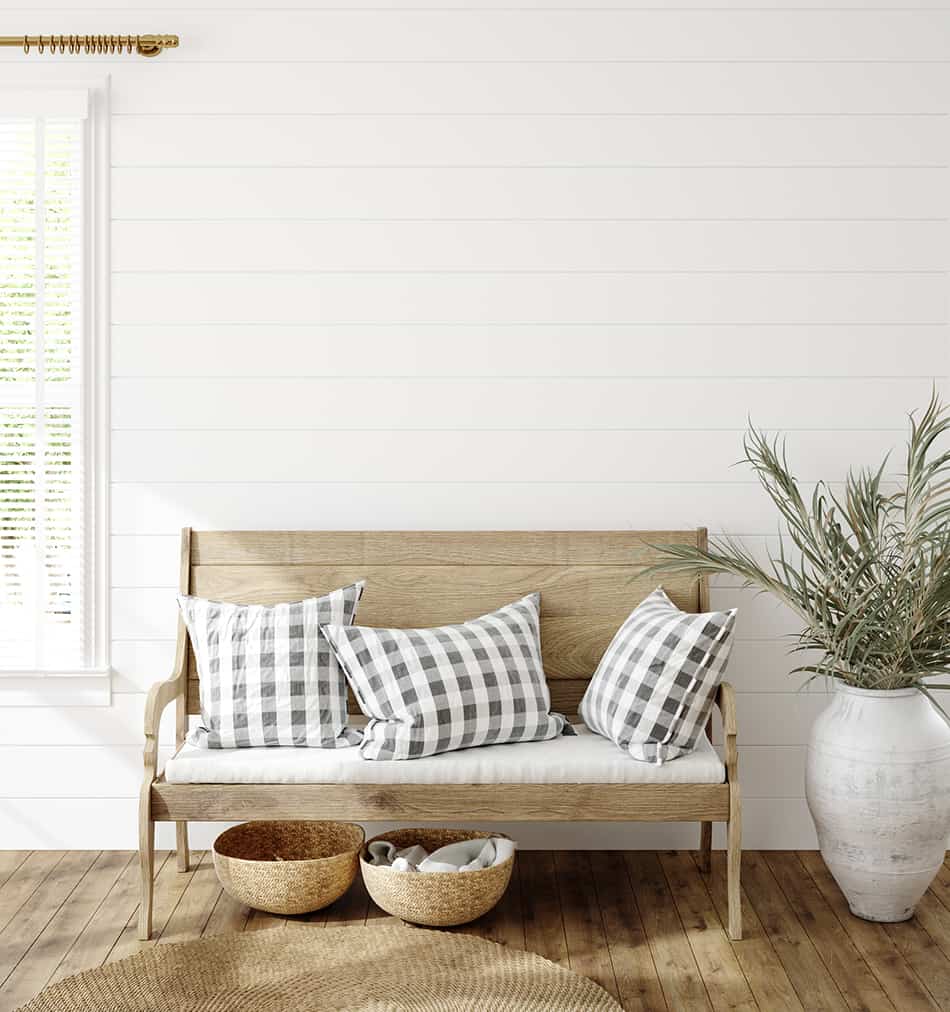 Whitewashed walls are easy on the eye and make a space feel brighter and larger. White walls can either be textured or completely smooth to maintain the room's rustic charm. If you aren't able to install wooden panels on the walls, you can always paint the existing wall white to work your rustic magic.
Whitewashed walls are incredibly versatile, so you can decorate them with wooden accents to increase their charm.
A Blend of Natural Elements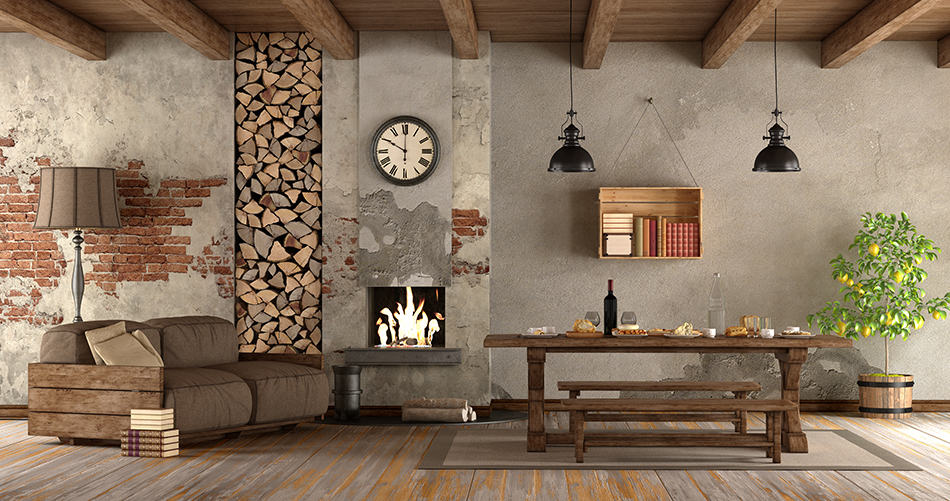 If you're lucky enough to have a fireplace, consider using a base color palette like gray and brown to create a monochrome look. Tie in the classic with modern features by introducing a combination of different styles, such as industrial, rustic, and farmhouse designs as shown here.
The wooden beams, wooden flooring, handmade wooden furniture and wooden shelf go hand in hand with the rugged brick wall and tall fireplace.
Rugged Textures and Colors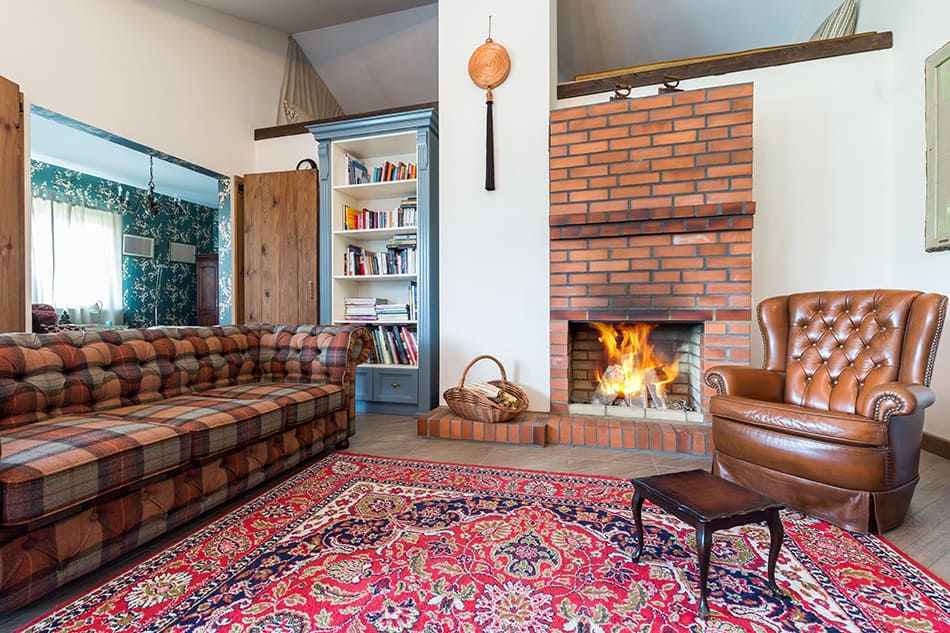 An elegant living room can look just as rustic using beautiful color palettes and textures. But did you know brown leather furniture is just as stunning in a rustic interior as wooden furniture?
Here is a great example of a rustic living room featuring an open fireplace, a Persian rug, and a blend of textured elements that have accentuated the entire decor. By accessorizing your room with ethnic fixtures, you can easily create an inviting feel.
Mix Modern with Rustic Decor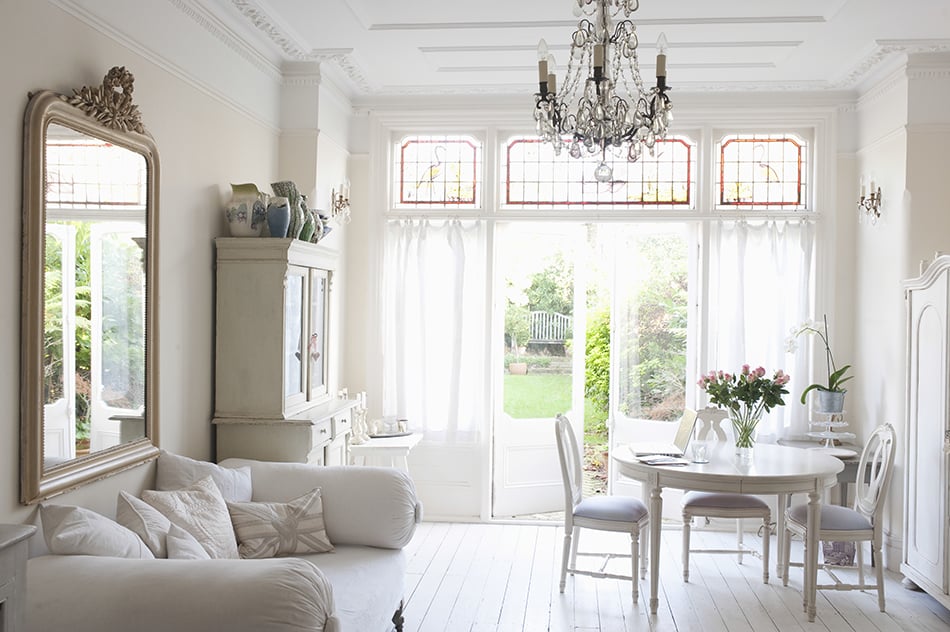 To bring your rustic living room into the 21st century, why not mix contemporary with vintage with a statement chandelier, all-white furnishings, gold-framed mirror, and white wooden flooring just like this beautiful rustic living room?
Rustic interior design doesn't have to just focus on raw elements of nature. It is so versatile that you can easily pair it with modern decorations in order to create an inviting atmosphere.
Modern Rustic Hallway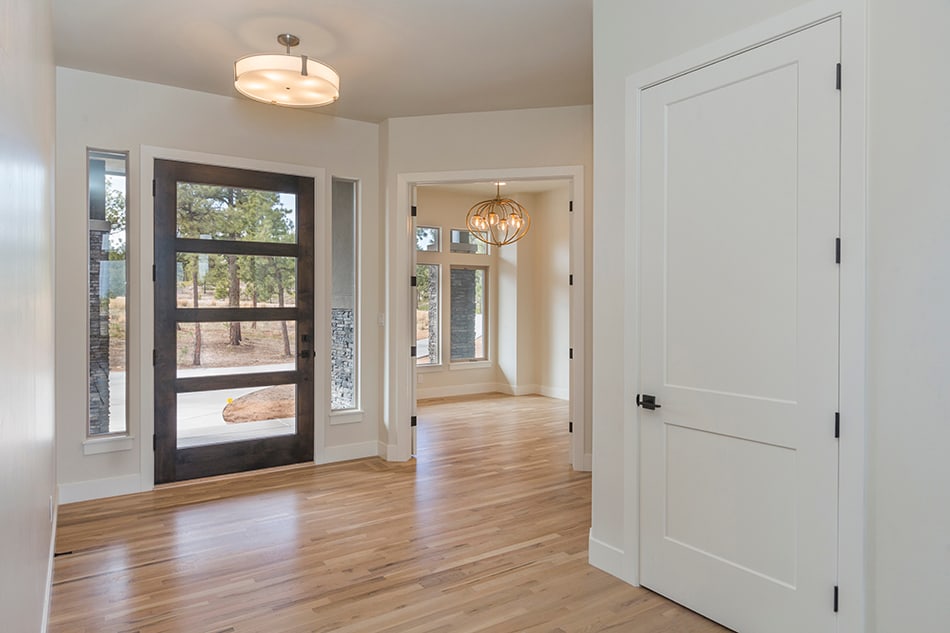 Give your visitors a modern yet rustic surprise by creating a light and airy entryway. Feel free to get creative with rustic accents, including shiplap and whitewashed furniture to further enhance this room. An entryway is like a blank canvas that you can decorate how you like!
All our rustic decor ideas will make a big impact on your home's overall aesthetics. But you don't have to take on a huge project to turn your interior space into a dream home. These ideas can be implemented in small doses to make your home feel uniquely rustic.