Whether you're looking to remodel your rooms or refresh your spaces, there is something sophisticated about contemporary style interior design.
But to fully understand this style, we should define its main characteristics in order to master the look in your home.
Here we will explore the key elements of contemporary style design, how it differs from modern interior design, and define the style from room to room so you can mimic the look in your own home. So let's get started!
What Is Contemporary Style Interior Design?
Contemporary style interior decor is a classic yet timeless design. Dating back to the 70s, this interior style is unique thanks to its borrowed elements of other aesthetics.
In fact, you can see traditional, art deco, retro, modern, and even futuristic designs in contemporary styles.
While contemporary decor can look cold and overly minimal, it can easily be enhanced with decorative, bold details to create a warm and sophisticated space.
By focusing on a concise color palette and architectural elements, a simple contemporary interior can transform into a dramatic and balanced space.
Today, many modern trends are implemented into contemporary interior design that emits elegance. Some of the most common interior styles that make up contemporary interior design include minimalism, Scandinavian, industrial and shabby chic.
Modern Vs. Contemporary Interior Design: What Are Their Differences and Similarities?
Most people tend to confuse modern interior design with contemporary. But the two styles aren't the same. While there may be synonyms in both, the era of modern designs has long passed, whereas contemporary interior design is all about now.
The most popular modern interior design, which is also known as mid-century modern, refers to the era of the 50s and 60s.
Modern designs aren't connected to a particular era, but contemporary design constantly adapts itself to the latest trends. This is why you tend to see other popular styles, such as farmhouse chic, art decor, minimalism, and many others in this design.
The biggest difference between modern and contemporary design is the featured materials. The first design often features earthy elements like wood, whereas contemporary design features innovative materials like metals and glass. Having said that, both design styles tend to mix and match such features into their look. The 4 shared features are:
Minimalist aesthetics
Simple, clean lines
Open spaces
Exposed elements
Both modern and contemporary styles incorporate neutral colors, but modern design leans more towards warmer, subdued color palettes.
Contemporary design, on the other hand, favors more striking hues. Both designs incorporate crips and clean shapes in the form of curvy or patterned furnishings or textures.
So as you can see, there are differences and similarities to both modern and contemporary interior designs. Read on to learn more about the key characteristics of contemporary design.
How to Create a Lived-in Look in a Contemporary Home
We previously talked about how cold and overly minimal contemporary homes look. In fact, some look more like showhomes than family homes.
To create a more lived-in look in contemporary homes, the homeowner may want to consider adopting a functional space by incorporating warmer features into their space.
For example, wooden floors are attractive and much cleaner than carpet or tiles. The idea is to create an uncluttered space with contemporary furnishings.
If your interior design consists of whitewashed features, pair them with striking colors to create a homely feel.
Other modern solutions include art deco or Scandinavian furnishings that are designed to create a minimal, yet homely look.
With some clever and functional furniture, your contemporary style interiors will be everything but bland or cold.
9 Elements that Define Contemporary Interior Design
Exposed Structural Features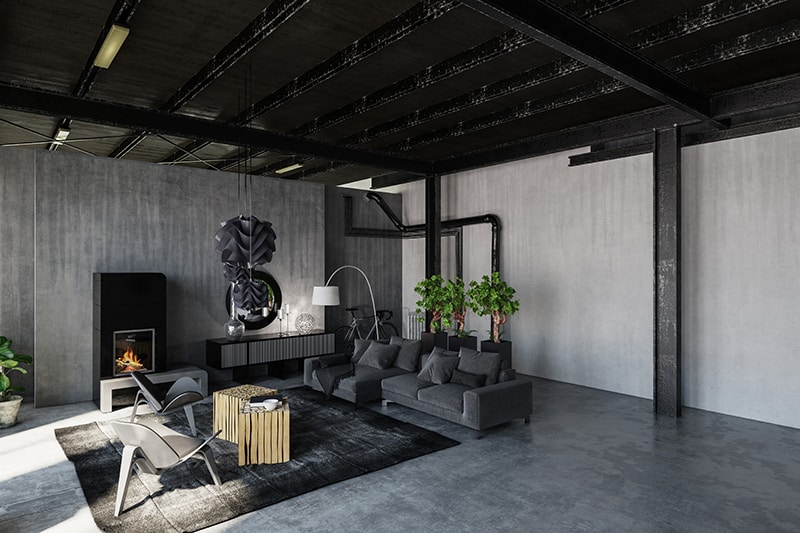 Industrial style features like exposed materials are key to contemporary home interior design. These bare structures take the modern era of interior design one step further. Exposed structural features can be steel pillars, brick or concrete walls, or wooden beams.
When used as artistic features in a dominantly gray setting, the materials create a monochrome look as shown in this image.
Open Spaces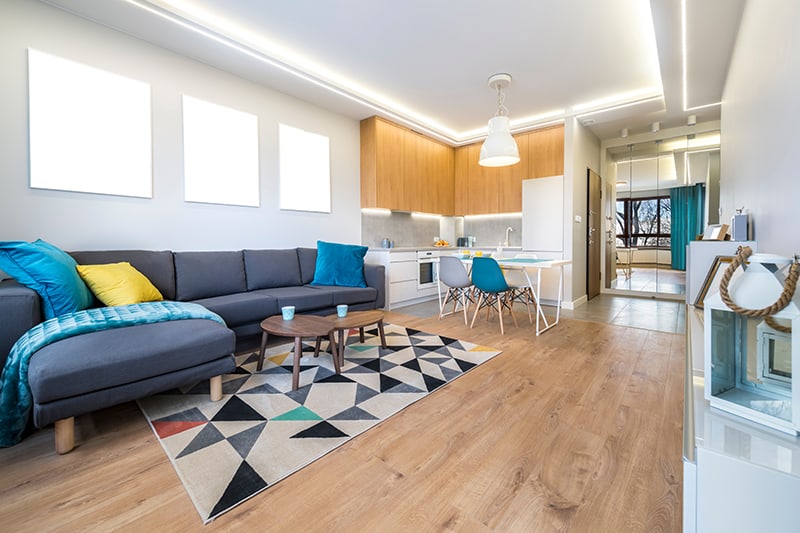 Open spaces don't have to be bland and dull. With less division and more space to play with, it's no wonder that most modern apartments feature open-plan living rooms and kitchens.
The idea behind contemporary home interiors is to improve living standards by having fewer walls.
The biggest advantage of open spaces is the amount of natural light that enters the rooms as well as making the room appear larger. Here, the open living space is beautifully decorated with bold colors that make it look anything but boring.
Modern Materials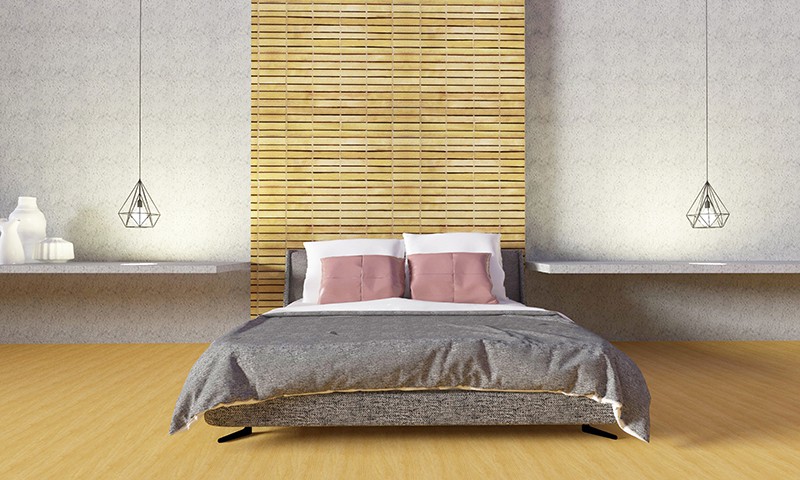 Eco-friendly and innovative materials give the contemporary design a visually interesting edge.
Bamboo, for example, is one of the most common natural and modern materials that feature in the world of contemporary design. You may also consider experimenting with recycled glass, clay, cork, or aluminum for a touch of modernism.
Contemporary Art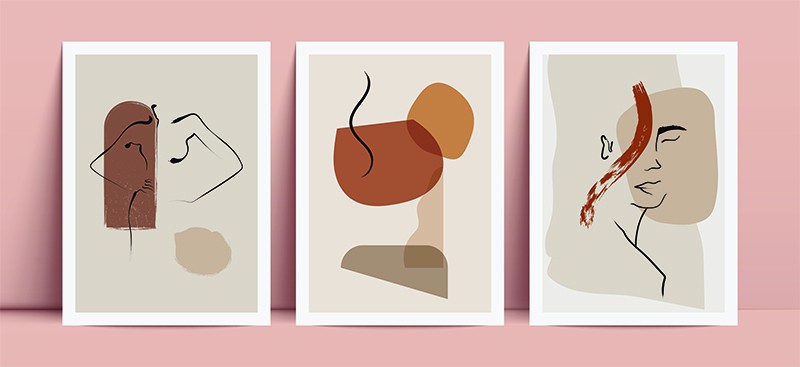 A contemporary-style room isn't complete without modern artwork. A feature wall or one single art piece in the entryway or living room is often incorporated into such homes.
Though make sure the artwork you choose isn't overly ornate. Here we've selected abstract art as the perfect example of contemporary interior decor that's a must-have in any room of your choice.
Streamlined Lighting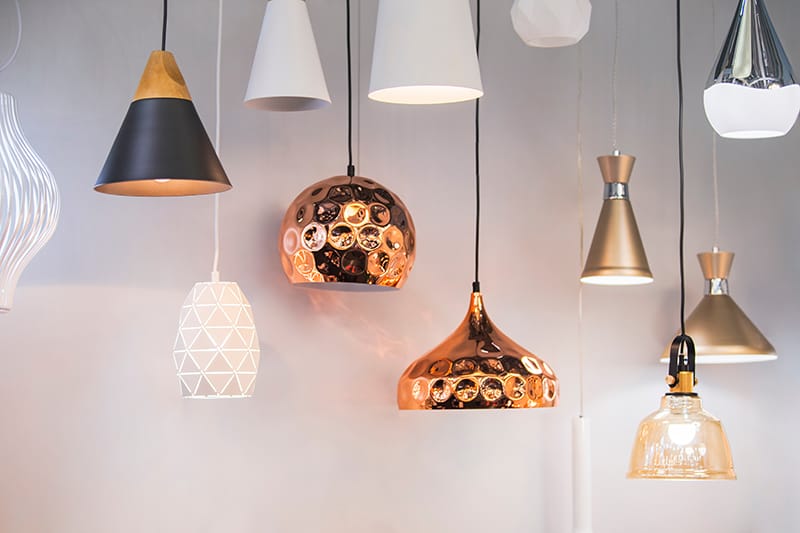 Streamlined lighting showcases contemporary interiors as an architectural feature.
Whether you choose statement floor lamps, chandeliers, or retro lighting, you can rely on this approach to bring some extra style to your contemporary interiors.
Uncluttered Surfaces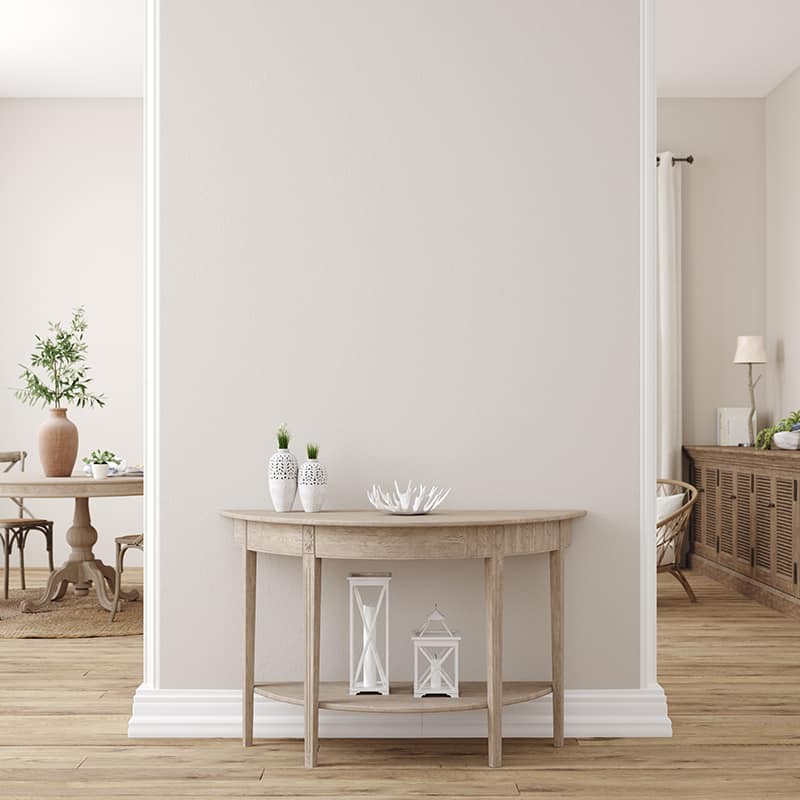 Clutter and contemporary just don't mix, so resist the temptation of littering your surfaces with lots of picture frames, ornaments, and other shelf-filling clutter.
Instead, go for a couple of carefully-selected decorative pieces that add character to your home and make an impact against smooth, clean walls as shown in this Scandinavian farmhouse style decor example.
Neutral Colors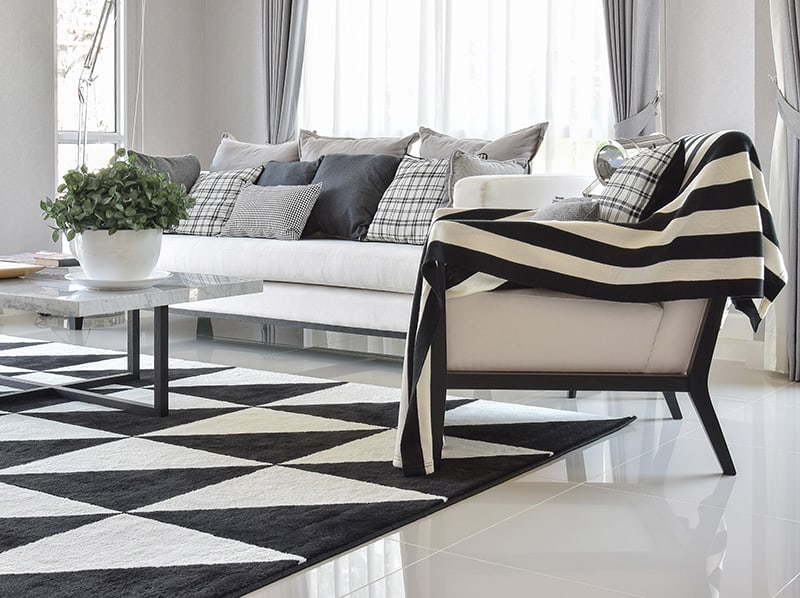 Black and white are the dominant hues in contemporary style design. White is often used for grounding while black defines the style. This color palette is often accented with bold, bright colors that play against black and white.
As a good starting point, introduce hints of color in the form of expressive artwork and textures for personality.
For a contemporary living room, select the right neutrals to blend with striking colors. Alternatively, you may experiment with just two colors: black and white.
See how the black and white color combos are used to create texture and depth in this contemporary living room. All the furnishing complements the style beautifully and adds flair to the entire room.
Natural Elements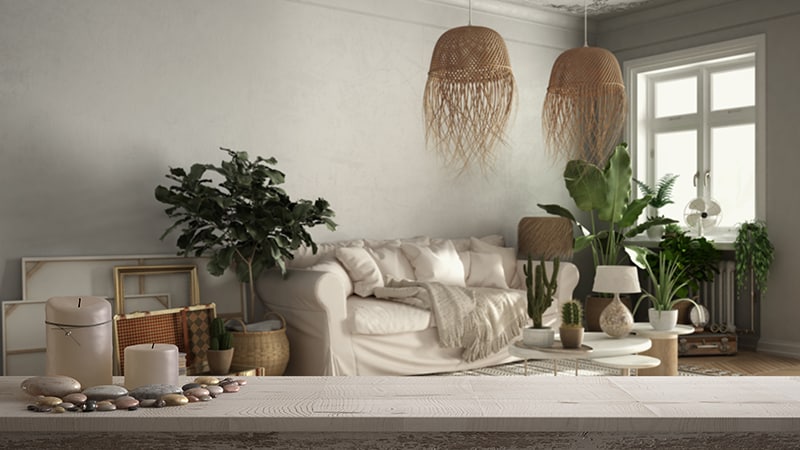 Indoor plants, wooden or rattan furniture, and stone are the natural elements that make a big statement in a contemporary room.
The larger the blooms, the more dramatic they will be in a small room. If your living room lacks architectural features, bring out its contemporary style by introducing plenty of plants to create a flawless look.
You can keep the look natural with wicker lights, wooden blinds, and pebble decorations with sheer white walls to add polished drama to your contemporary living room.
Minimalist Furniture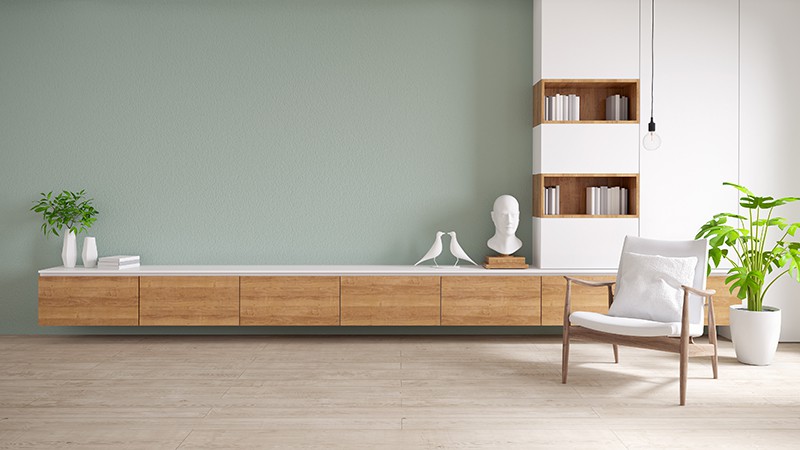 One of the biggest elements of contemporary interior design is minimalism. Not sure what minimalism is? In simple words, use minimal furniture to decorate your room as a less-is-more concept. Choose furnishings that are conversation starters without any prominent features.
Smooth, clean, and unadorned furniture materials in solid hues always work best for contemporary homes.
If you want to furnish your home with upholstered pieces, go for textured neutrals in natural materials like cotton, silk, wool, or jute. Add subtle hints of color with throw pillows and blankets but resist the temptation of going all out with loud patterns.
6 Examples of Contemporary Style Rooms
Now that we've explained the key features of contemporary style interior design, here are some great ways you can introduce this style to all the rooms of your house with ease:
Contemporary Style Living Room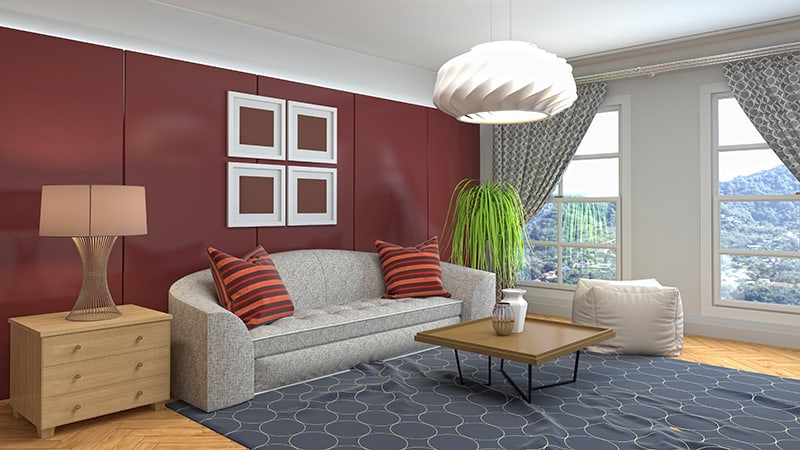 Geometric shapes, smart colors, and clean lines that are easy on the eye keep your living room uncluttered and open. To create a truly contemporary feel, use a sleek sofa paired with a simple table and drawers to formalize the space.
You can break the simplicity with some dramatic floor covering and accent walls. Alternatively, you may keep the flooring quite bare with wooden planks or tiles to create the illusion of space.
Throw pillows in striking colors help create a cozy conversation area, especially if you add more seating to highlight your personal taste.
Adding character to your living room can be in the form of decorative extras that make your interior stand out.
Here, the colorful features of the contemporary living room, from oversized lighting to bold color wall and rug have set the room apart and provided a minimalist appeal to the space.
Contemporary Style Bedroom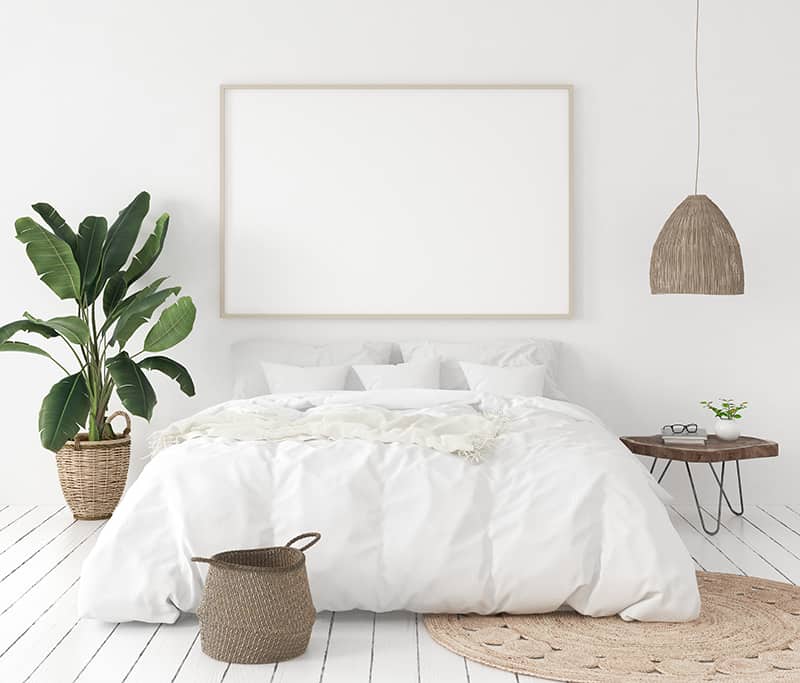 Just as you would in any other room, go for straight, clean lines in the bedroom too. This will boost the richness and bring extra warmth to the space. A bedroom should, after all, offer a sense of comfort and relaxation, so the fewer accessories you use the better.
This whitewashed Scandinavian-style bedroom is a typical example of a contemporary interior design thanks to the simple, clean lines with minimum furnishing.
You can emit the same look for your bedroom by adding natural materials in the form of wicker pots, baskets, lighting and floor covering.
Contemporary Style Bathroom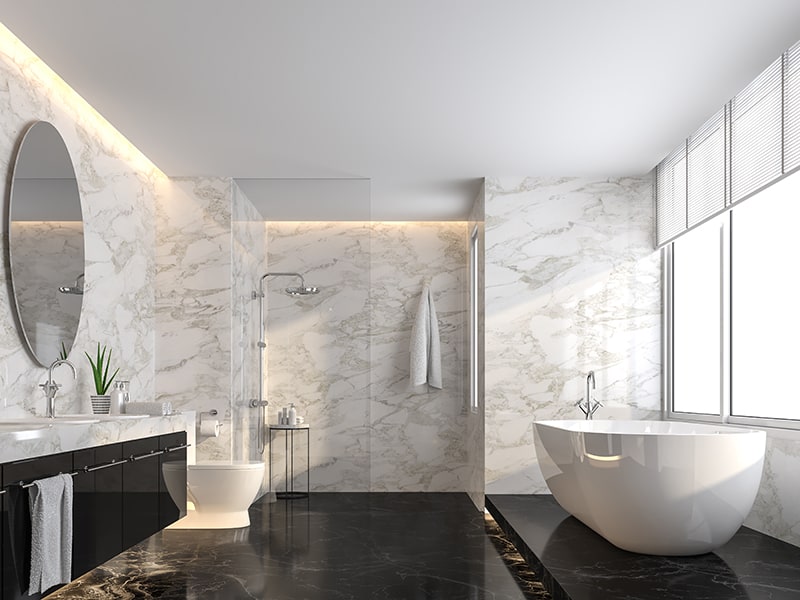 There is something about marble that oozes luxury in a contemporary home. And where better to use this natural material than in the bathroom. The concept of a serene oasis can certainly be achieved with a white and light-filled marble wall and black marble floor.
To add a personal touch, opt for custom fittings that stand out as shown in this example.
Contemporary Style Kitchen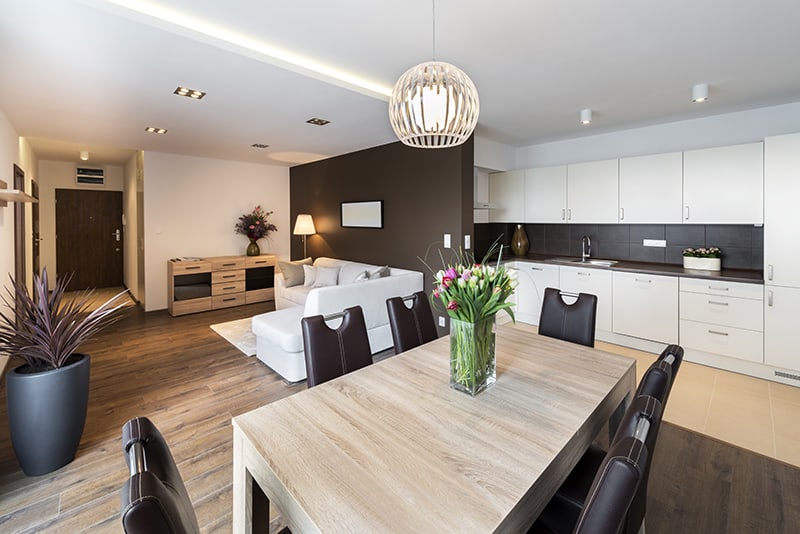 Since the kitchen is the most used room of the house, it makes sense to highlight its contemporary features. A luxurious kitchen consists of sleek solid countertops with plenty of clean angles and lines.
As you've learned by now, contemporary interior design is all about a minimal approach. When you are thinking of the most suitable kitchen cabinets and countertops, always go for modern cabinetry with either matte or high-shine finishes.
The most storage your kitchen has the better so that you can keep the surfaces clutter-free.
In this example, black and white are beautifully combined to present a sleek and luxury contemporary kitchen in minimal style.
Notice the open floor plan that has created the illusion of space with the kitchen, living room, and dining room all coming together in harmony.
Contemporary Style Entryway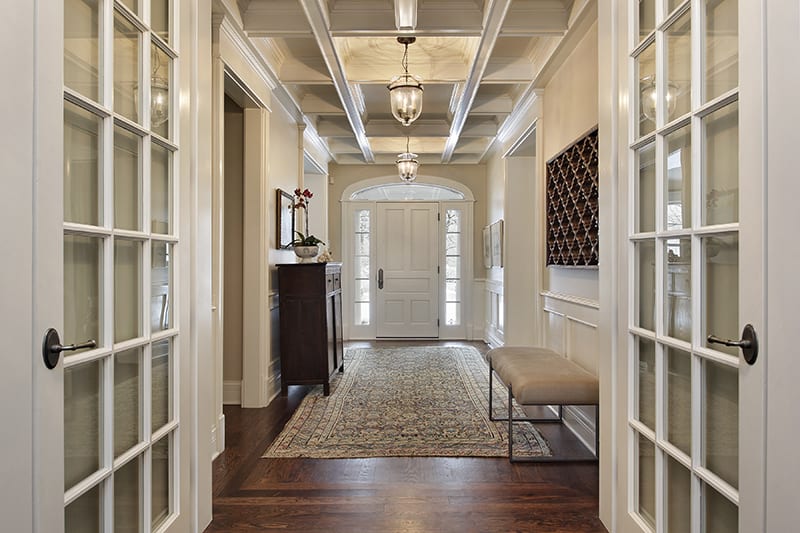 An upscale contemporary entryway must surprise anyone who walks through your door. This is the best room to showcase your favorite artwork or furniture. A stunning gold mirror or sculpture is all you need to draw attention.
Contemporary Style Study Room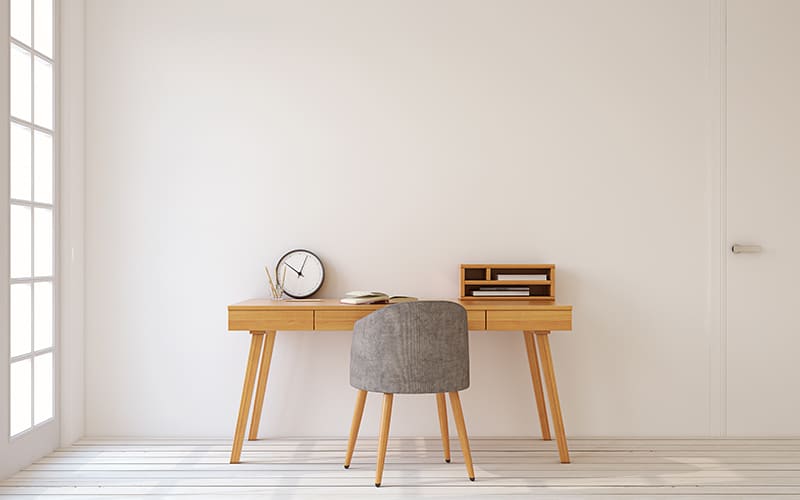 If you work from home, a study room or corner office is a great place to bring your creativity to life. This intimate space must be clutter-free so pick a simple desk lamp and a comfortable chair for a flawless look.
If you're blessed with large windows, it's always best to place your work desk close to the window as artificial lighting can never replace natural sunlight. In contemporary homes, large windows are a key element that offers a view of nature.
Here you can see how the large floor-to-ceiling window has naturally brightened up this minimalist corner home office.