The retro-style interior design is all about combining a variety of patterns, textures, and colors to create a classic look. In a retro interior, all the furniture is functional and completely usable. The key to this theme is to mix colors and shapes without creating a messy space.
In our retro interior design style guide, you'll learn about how retro originated, its defining characteristics, the main differences between retro and vintage style, as well as some great examples of retro style rooms to inspire you. Let's delve into this interesting topic now!
What is Retro Interior Design?
Retro interior design style is an eclectic combination of new and old materials. This style first appeared in Scandinavian countries and started gaining popularity in the 1950s and 70s.
Retro style is all about the colorful 50s, 60s, and funky 70s. This combination of hippy fashion with charming floral themes and bold color patterns reminds us of the 60s discos.
The funky retro style interior design mainly focuses on the past as it is a reference to the 50s and 60s fashion trends. These trends include synthetic materials, floral patterns, shiny leather, and posters of classic singers of those years. The furniture is almost always antique and multi-functional.
The 50s inspired retro style introduced bold and bright colors for the seating furniture as well as shiny black leather.
In the 60s era, the hippie movement caused the retro design to go one step further and introduce flowers, rainbows, and symbols of peace. But unlike the 50s, the colors and patterns, which all featured floral motifs, were a little more restrained.
In the 70s, which was the disco era, the rainbow colors of the 60s expanded to brighter hues of green, gold, and blue to go with the mood of that era. In addition, the size of the furniture changed to larger, low-lying sofas, bar stools in black metal, wooden cabinets and ottomans.
Is Retro Style Same as Vintage?
Retro can sometimes be confused with vintage. While these two terms are very similar, they are actually two distinct styles from different backgrounds.
Vintage style interior design is often referred to as old school and must be at least 50 years old or even older than a century to be considered vintage. The main similarity between this style and retro is the antique furnishings.
However, retro is more about reviving old and new styles by recapturing the nostalgia of the old times. That said, retro interior design doesn't have to be purely about the past. It can incorporate the modern-day era into its decoration, whereas in vintage interiors, you won't see any modern themes.
So if you want to create a more retro interior than vintage in your home, you must base the decor around the 50s to 70s era. But your retro design doesn't have to be old; it can adapt all the styles of the past mentioned decades.
Now that you know a little more about retro interior design style, keep reading for the defining features of this style so you can implement the same ideas for your own home.
Key Characteristics of Retro Style Interior Design
Since retro design represents a past era with a blend of new materials to create a lively interior, it comes with distinct characteristics that are more on the funky side. These characteristics include:
The use of plastic and PVC materials
Bright and vivid colors
Antique or old-fashioned elements, lamps, textiles, and floral patterned vases from the last century
Unusual-shaped furniture
Abstract art forms
Here are more examples of retro style interior design:
Retro Furniture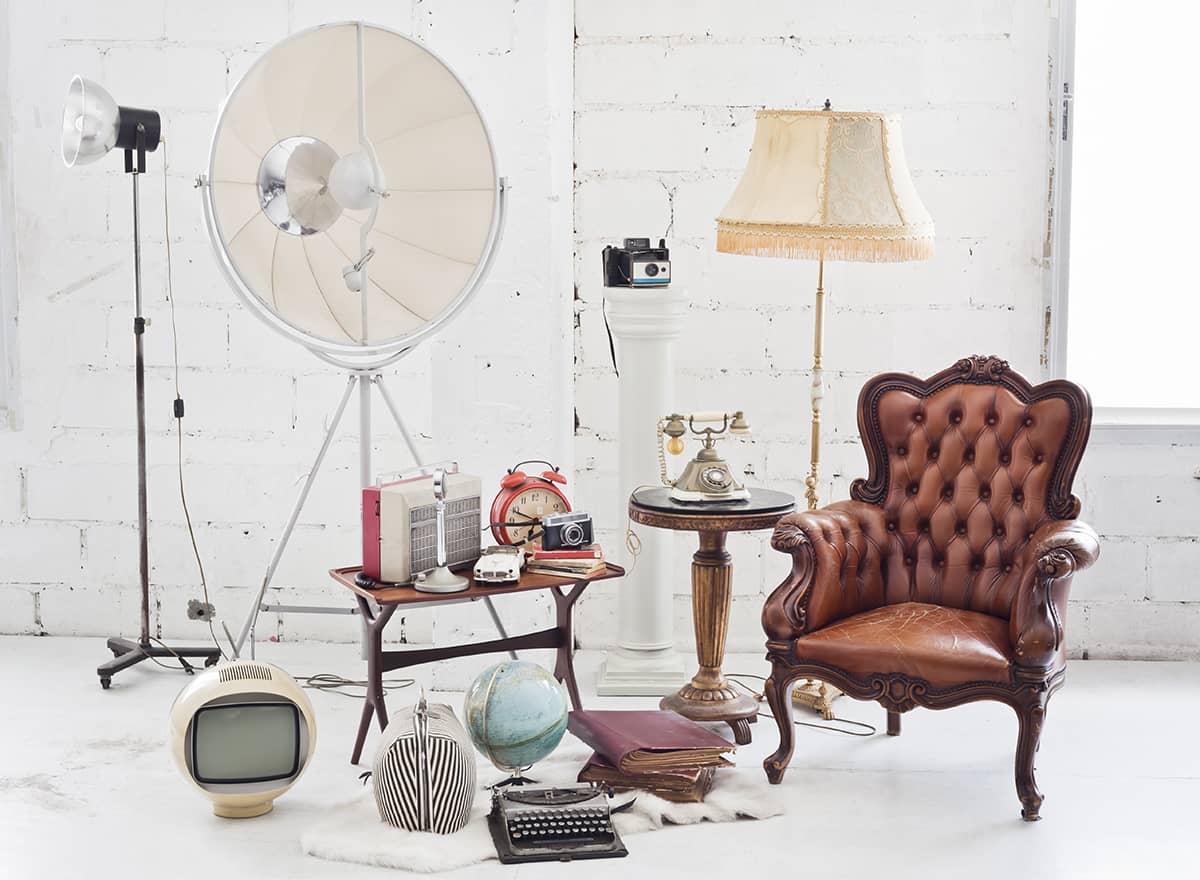 Retro furniture isn't the same as modern furniture. Think bright, colorful items in unique shapes that are funky and lively. The idea is to create furniture that's in unusual shapes but not impractical. In fact, retro-style furniture has a certain abstract look to it, hence the reason it is often the focal point of the room.
This furniture style is often elongated or broad-shaped with multi-colored accent pillows for a dash of color. You will also find chrome stools with bright color seating furniture including ottomans.
In this example of retro furniture, notice the unusual shapes of the furniture and decoration items that belong to the 50s and 60s era.
Heavy Patterns and Textures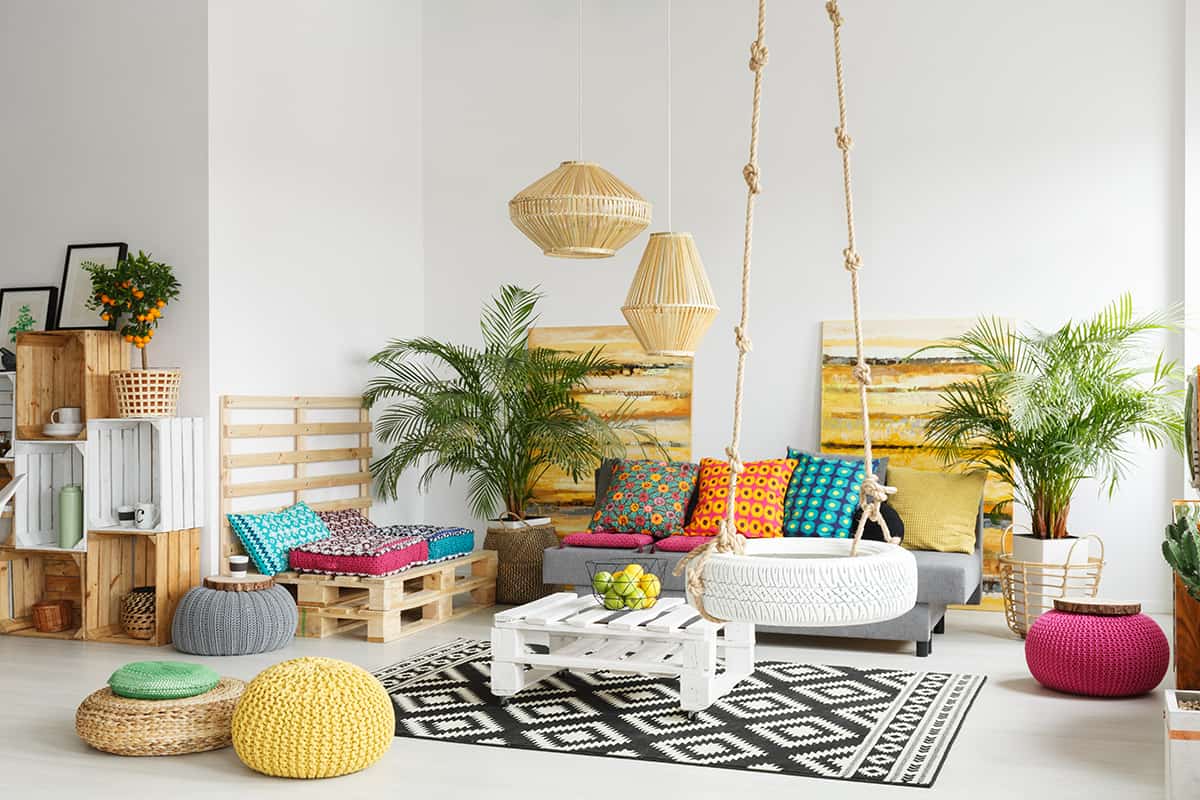 The flooring and walls in a typical retro interior must be full of lively patterns. Colorful and patterned wallpaper is often the preferred choice for the walls while geometric rugs are ideal for this lively design concept.
Some people may think the heavy patterns and textures are chaotic at first glance, however, when you mix all the eclectic elements with some neutral color schemes, the busy patterns won't clash.
In fact, your retro room will look more interesting and stylish. The idea is to go bold and colorful so as to make a dramatic statement.
One excellent interior design style to blend with retro is the Scandinavian interior. The simple, bright furnishing together with the vivid decorative textures will help liven up a plain room by making it more exciting to live in.
Retro Colors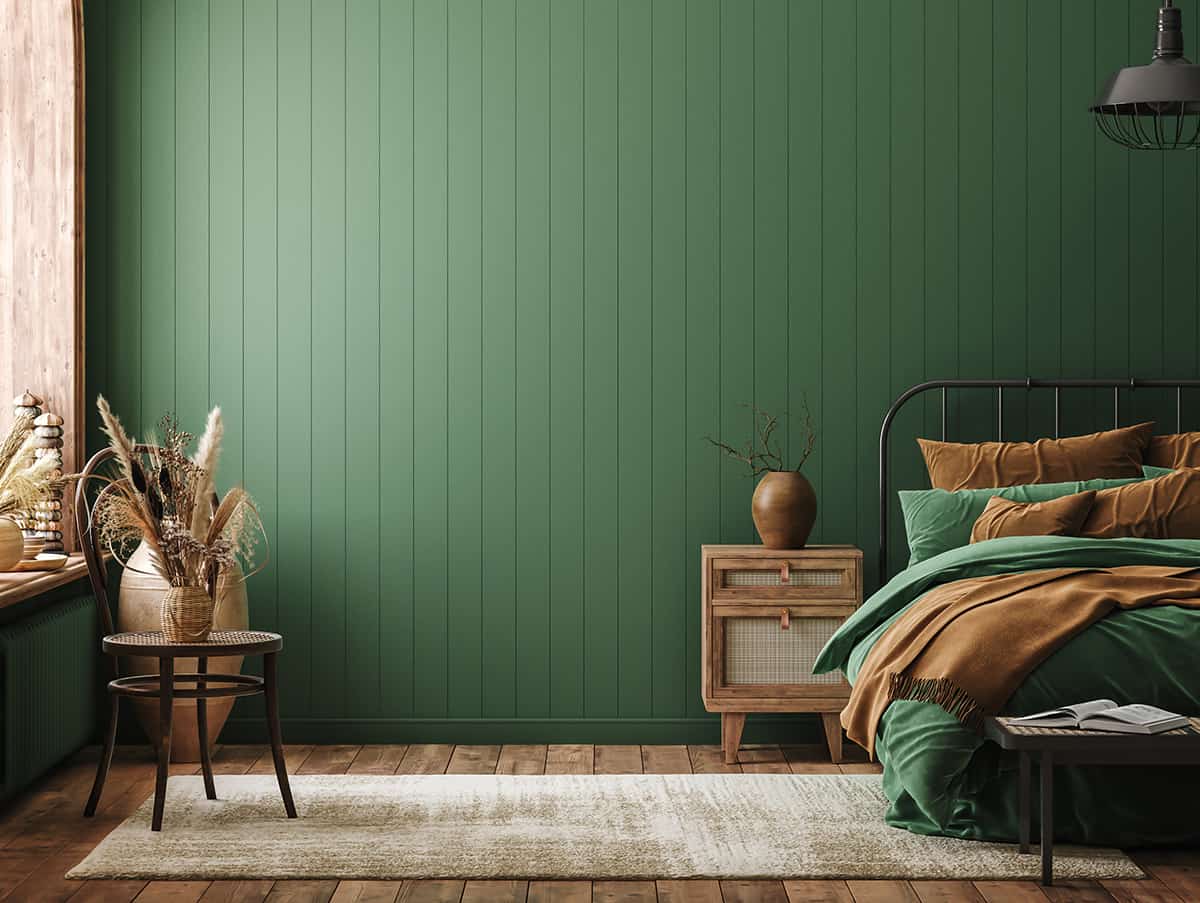 As we previously mentioned, retro is all about vivid, bright colors. This is one of the easiest ways to liven up your room, and it's not hard to implement. Dark green is one such color that's highly popular in a retro room.
For example, dark green wall paneling accompanied with earthy tones like brown and red will complete the retro design in your interior.
That said, don't be surprised to find other bright colors like orange, yellow and indigo blue on single pieces of decoration, as well as checkered patterns and prints, which are a trademark of the 50s era.
Retro Lighting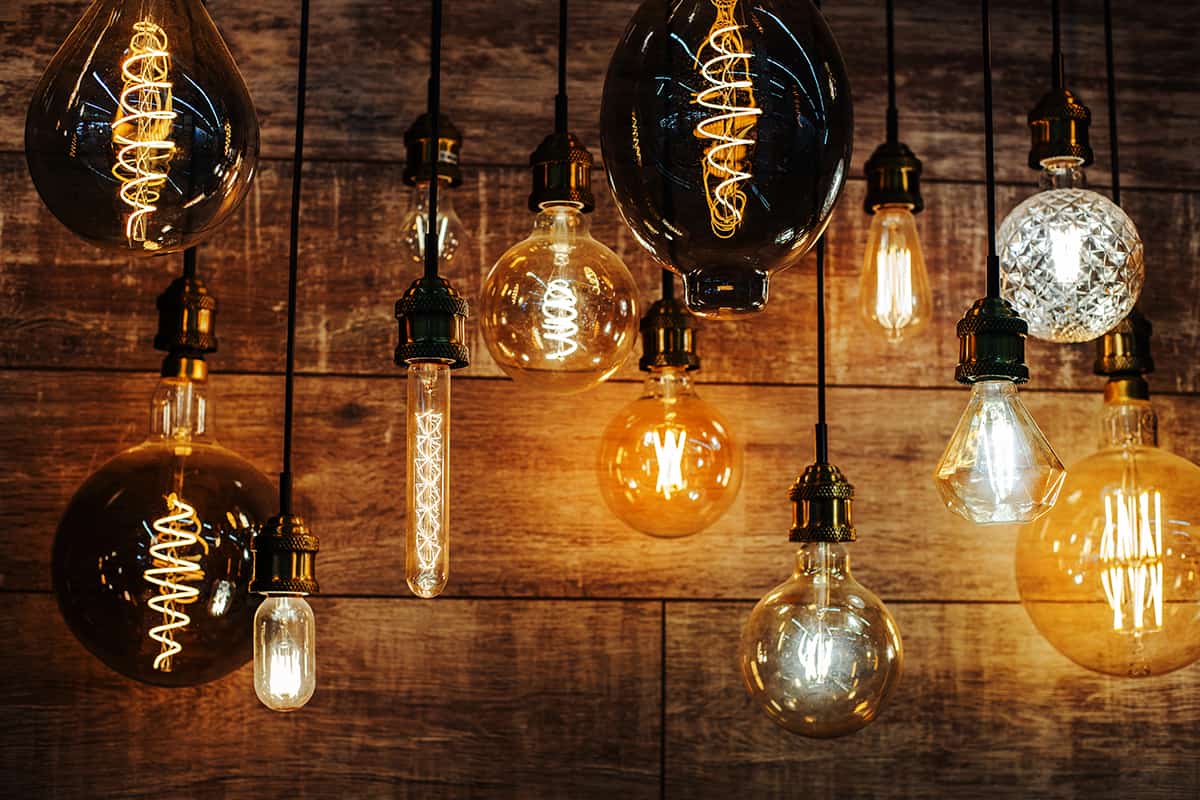 Retro lighting is solely about shapes rather than function. The nostalgic 60s era is the inspiration behind retro lighting, which focuses on colorful fluorescent ceiling lights.
Even neon lights are included in this style as it's used to express one's personality. Pendant lights are the other typical retro-style addition as long as their bulbs are warm yellow ambiance rather than cool white.
Retro Style Living Room Example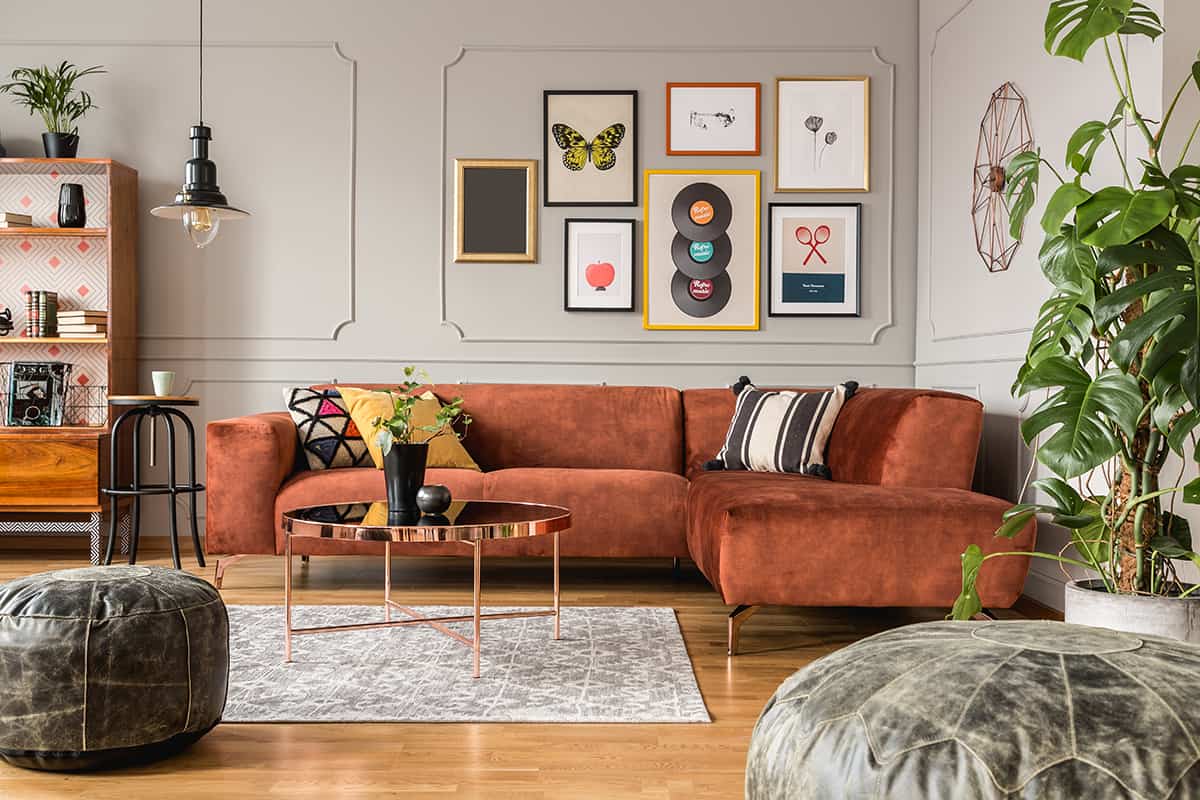 In a retro-style living room, the most important element is the textures used in such spaces. This interior design style almost never incorporates flat, smooth finishes. Instead, it focuses mainly on heavy, rich patterns on upholstery and wallpapers in order to inject character into space.
Elaborate prints on throw pillows, blankets and rugs are a must to create a retro vibe in your living room. Patio chairs, hanging metallic lights, beanbags and bubble-shaped chairs are just some of the typical furnishings you can find in retro living rooms. Be sure to include some collectible pieces to your living space as an extra special charm.
In this retro-style living room, notice the beanbags, black metallic tables, the hanging light and colorful, patterned throw pillows as the defining features of this theme.
Retro Style Bedroom Example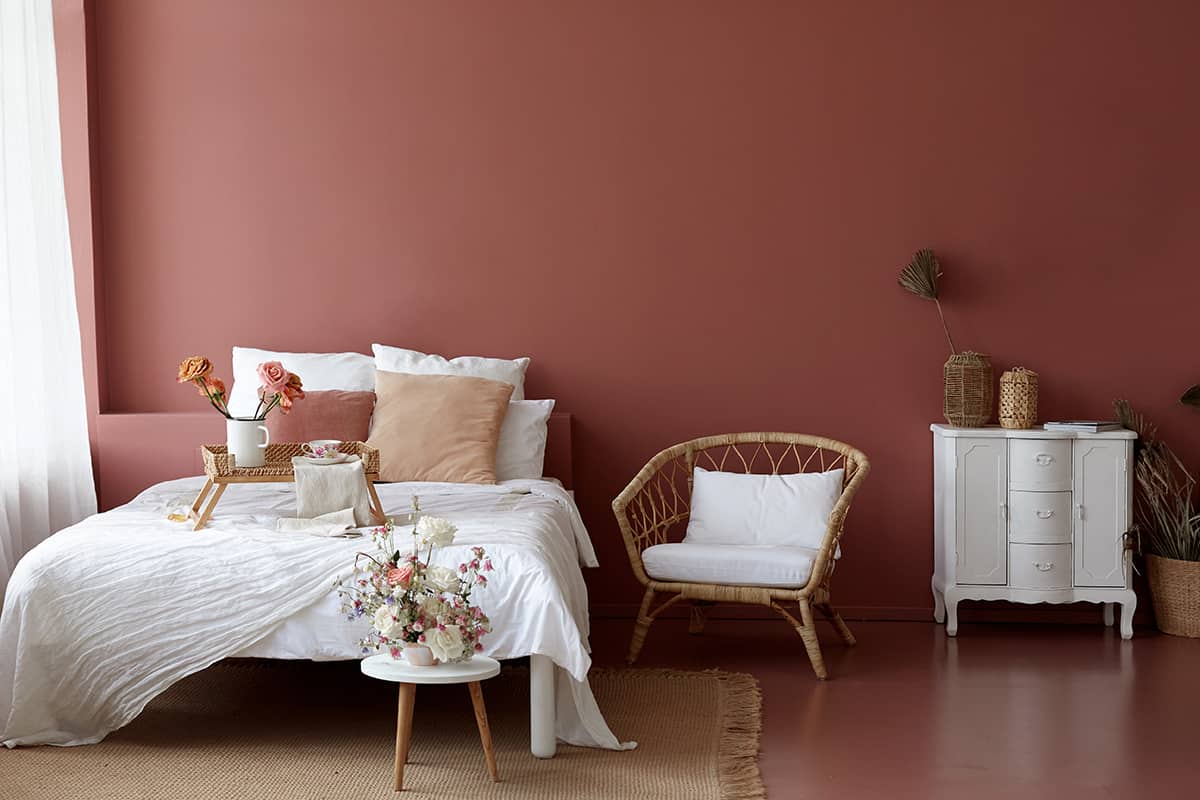 The retro-style bedroom should be full of personality by incorporating lively colors with earthy, natural materials. Experiment with unusual designs and shapes in order to create a free-spirited space. A feature wall in a vivid color such as coral is one such recommendation for an eclectic vibe.
You may also play around with interesting lighting fixtures that take their inspiration from the 60s or 70s. Bedside lamps are the most popular in achieving the retro look in a bedroom.
A wooden bed frame is an ideal addition to soften the bold wall color. Accessorize the bed with patterned bedding and add floral motifs or textured blankets.
Just let your imagination run wild when it comes to designing a typical retro bedroom by injecting plenty of charm and personality into this space.
Retro Style Kitchen Example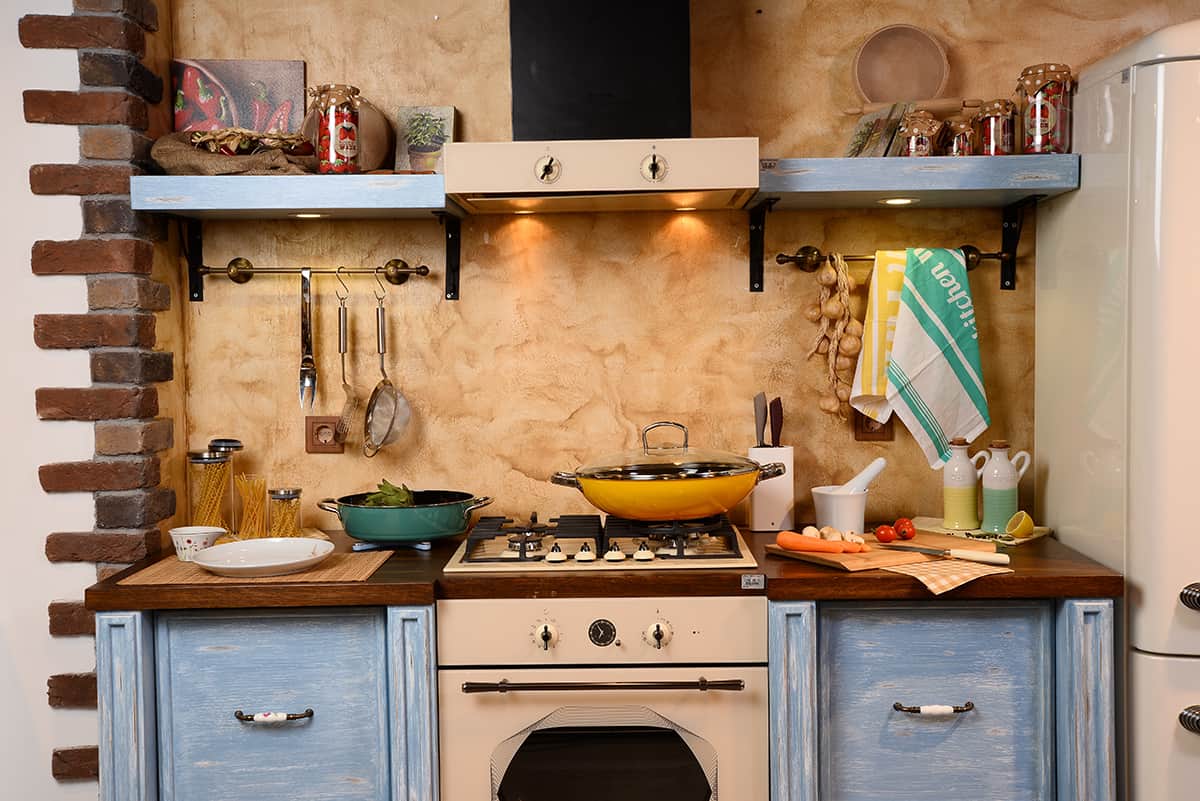 Retro kitchens are similar to rustic or farmhouse style, only they are more joyful and colorful. With bright kitchen cabinet colors, rounded shapes, and patterned backsplashes, even the smallest kitchens can look great with a retro style theme.
A fully retro kitchen is synonymous with pastel and vivid colors, especially blues, greens, yellows or pink hues. These colors are excellent choices for a retro look. You may even keep your kitchen wall in a neutral shade like cream or beige while adding bold colors to the rest of the space.
Just like you can see in this retro kitchen, the blue cabinets and colorful cooking accessories stand out here as the defining characteristics of this theme. As an alternative color to blue cabinets, you can always go for burgundy or coral pink to make a dramatic statement.