Egyptian culture is without a doubt one of the most fascinating in the world, so why not bring the beauty of ancient Egypt to your home? You can apply this style to almost any room in your house.
An Egyptian-themed room creates a mysterious Oriental vibe for the room – as long as you make use of color.
With a little planning, you will be able to transform your interiors into a dream Egyptian-style home.
To find out how to take a look at our 15 examples of Egyptian-themed room decor.
1. Incorporate Rich Colors into Living Room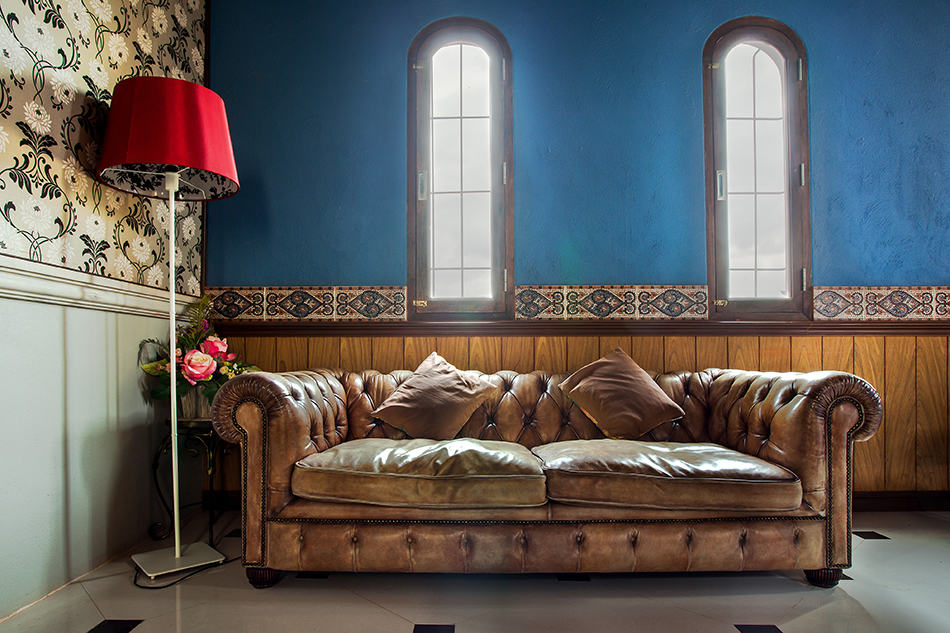 Did you know the traditional Egyptian colors are deep shades of blues, browns, and reds? Now you do!
To decorate your living room in an Egyptian theme, decide on the main color for the walls and incorporate several accent colors, such as brown and red.
A deep color like blue represents Egyptian royalty, so it makes sense to pair blue with light brown, as shown here. See how the brown sofa and rich blue wall work with the red lamp in this classic Arabian-style living room. Another alternative to brown can be jewel-toned colors, such as gold or yellow.
2. Choose Authentic Floor-to-Ceiling Drapes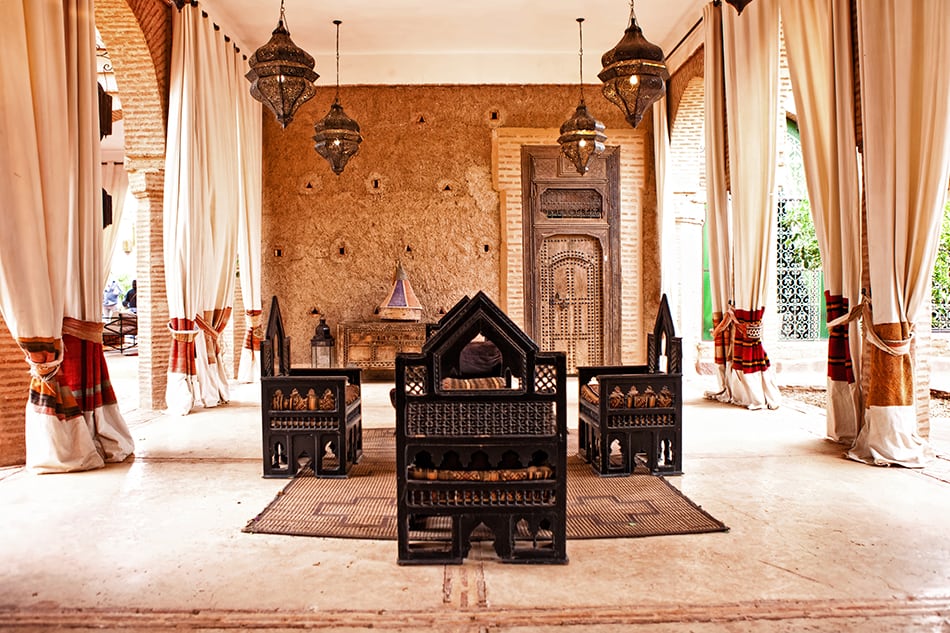 To go one step further in your quest to create an authentic Egyptian-themed room, consider a neutral backdrop like sandy-beige drapes.
Why sandy beige? It's the same color as the dessert! Pair the tall and heavy curtains with vintage furniture and strong colors like orange, black and red.
In this example, see how the drapes surrounding the room stand out with the black antique chairs and matching lanterns. This decor not only works in the living room, but it's also a perfect theme for the patio.
Welcome and relaxation is the two words that ooze from this image, don't you think?
3. Decorative Throw Pillows With Simple Egyptian Patterns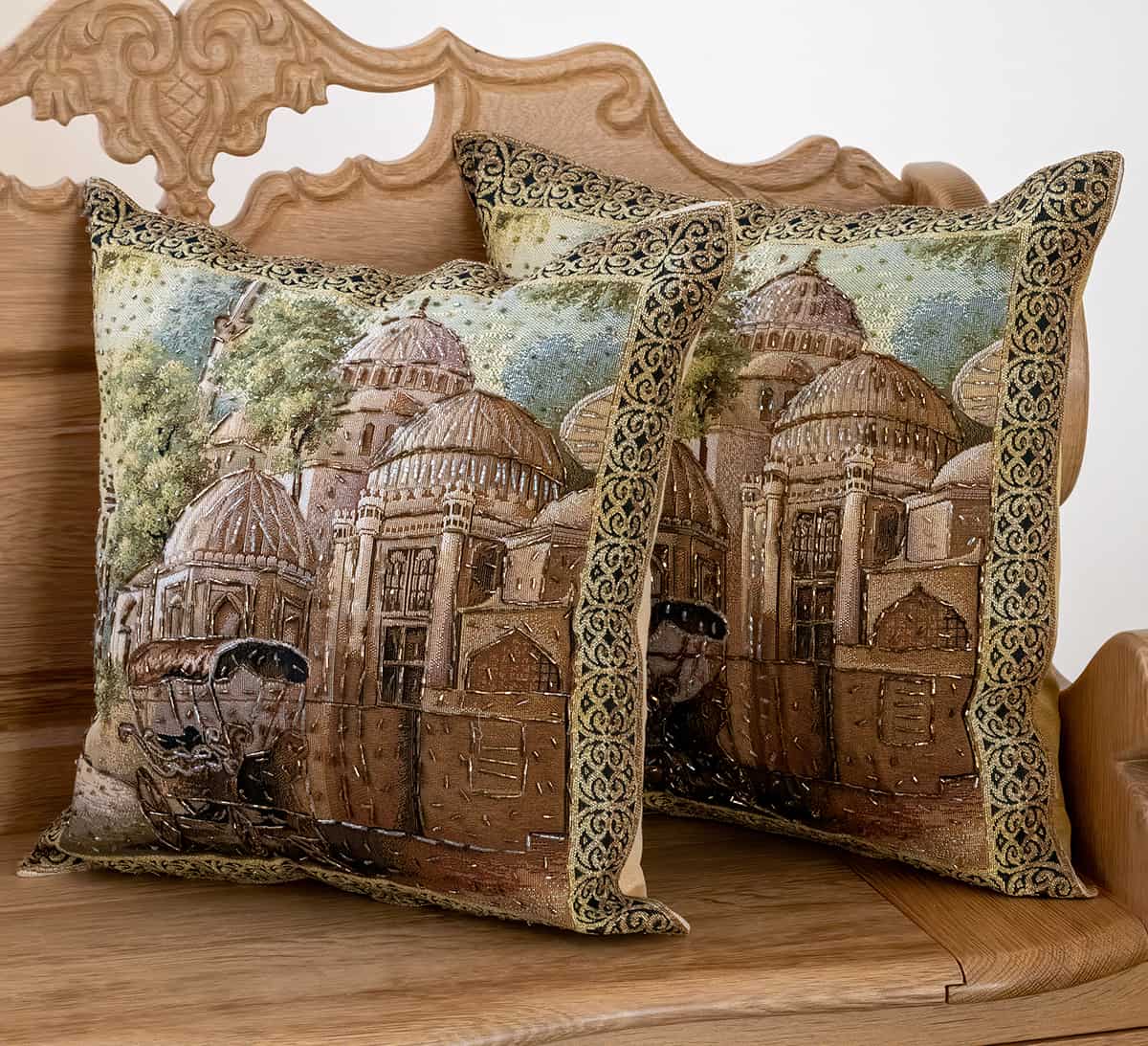 Keep it simple but warm with personalized Egyptian decorative throw pillows for your sofa. Textiles like throw pillows will add a personal touch to any space, but when they are in the Arabian theme, they elevate your room.
Tip: use an odd number of throw pillows when decorating your sofa to create an artful look. Experiment with different shapes and textures to achieve the perfect look.
This beautiful handmade square pillow with its simple Egyptian patterns is, without a doubt, a tasteful way of decorating your sofa, bed, or outdoor seating.
4. Add Traditional Carving to Express Your Artfulness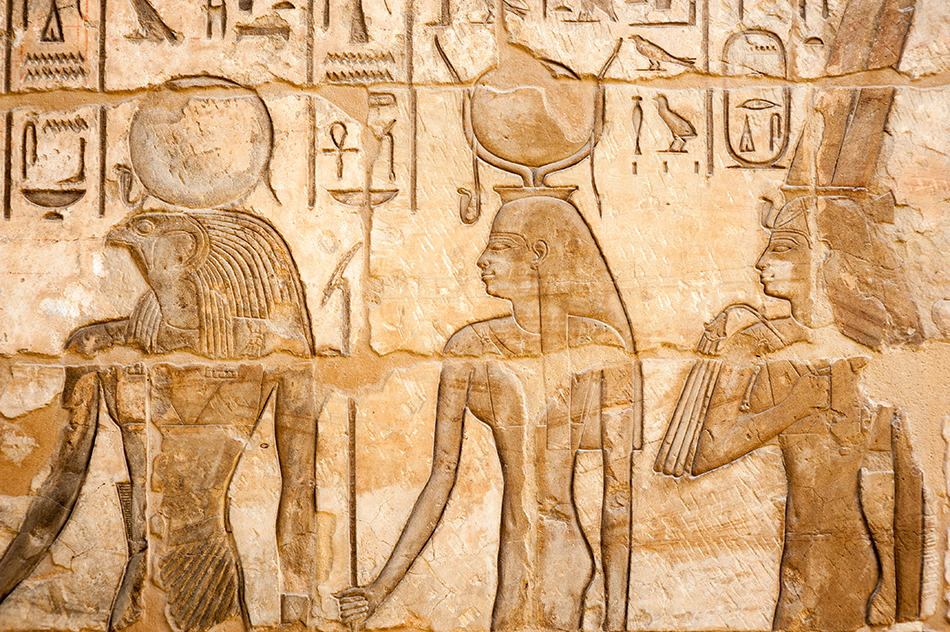 Egypt is home to the world's most treasured gems and hand carvings. Hang intricate ornaments or carvings as a simple way to preserve ancient Egypt's past, and express your artful side in your home.
For example, you can hang a portrait of the ancient Egyptian falcon God Horus on your living room or dining room wall. It will definitely be a conversation starter!
5. Egyptian Wall Art is a Must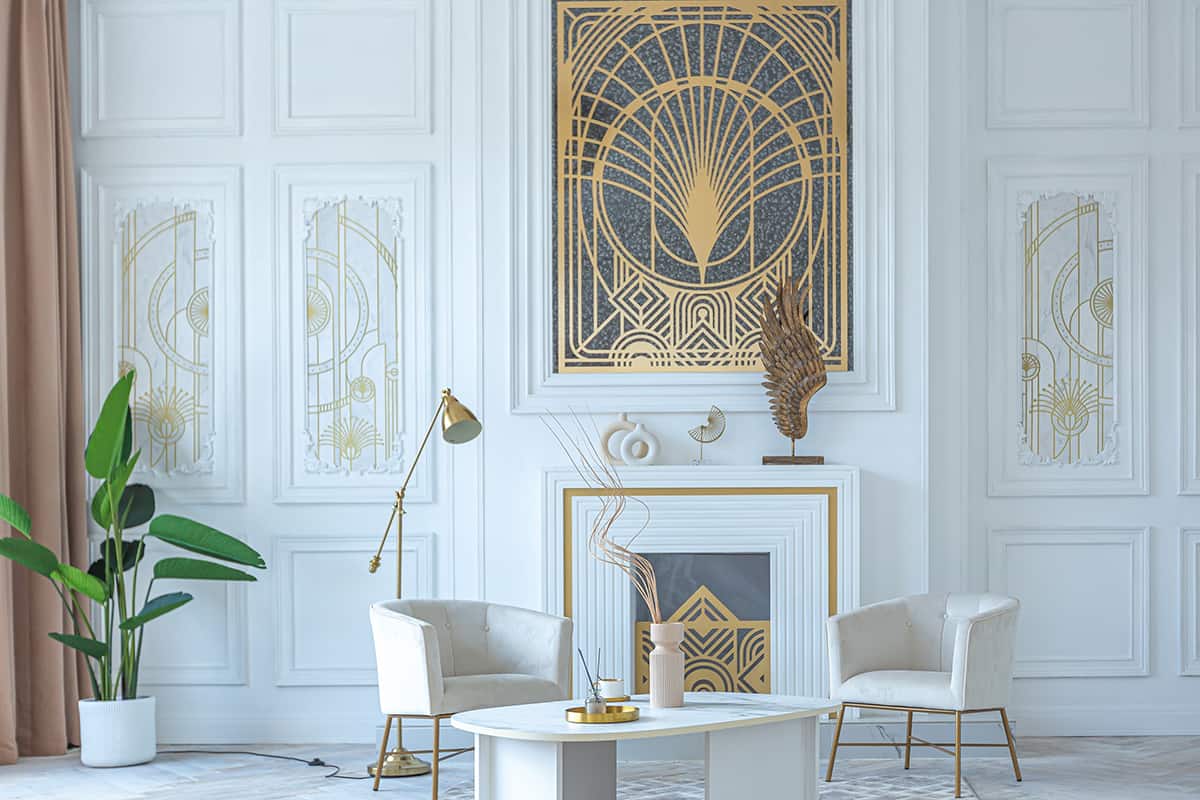 No Egyptian-themed living room or bedroom is complete without wall art. One idea is to display an abstract painting of the Egyptian styles
This geometric painting is a unique high-definition piece of artwork that will stand out in any room of the house. A perfect addition to your Arabian-style home.
6. Egyptian-Themed Bedding Set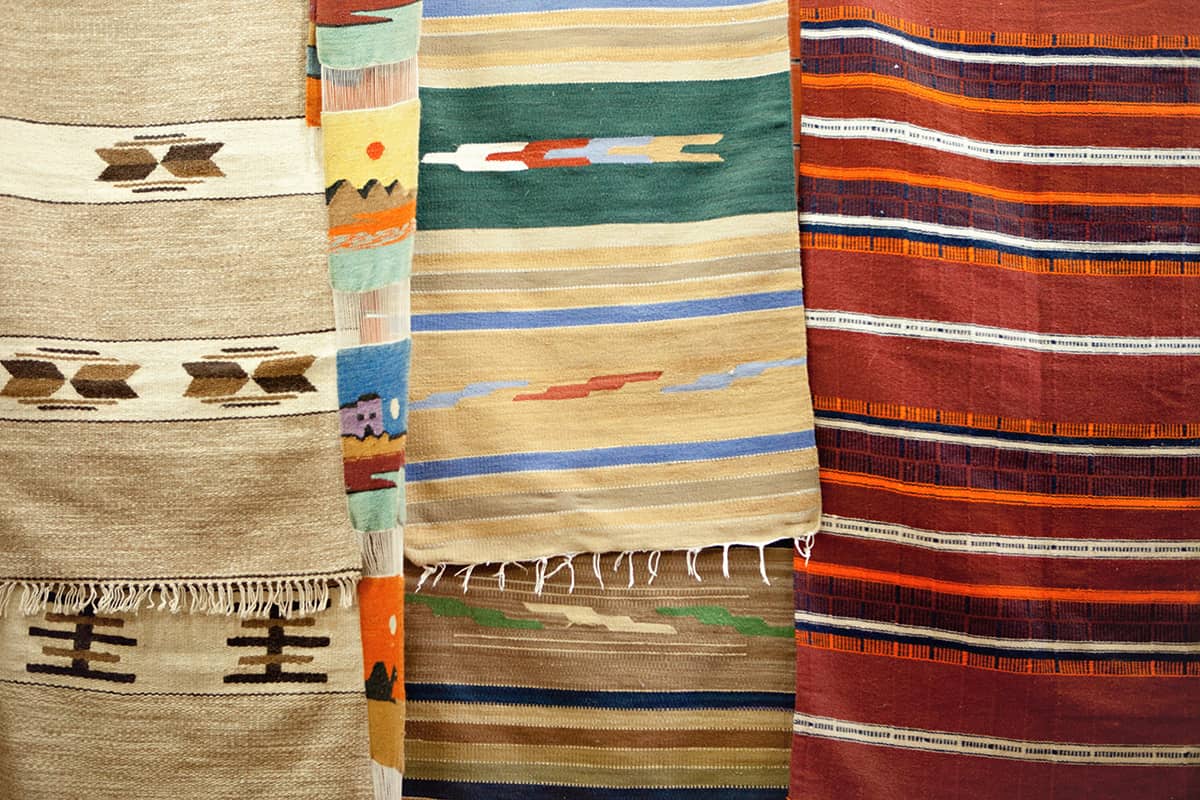 Feel like an Egyptian king or queen by furnishing your bed with sparkly-gold pillow shams and a quilted bedspread. Pair your themed bedding set with red and gold bedroom furniture to complete the Arabian look. You can even drape fur throw blankets across the end of your bed for the ultimate luxury.
7. Bold Geometric Motifs in Bedroom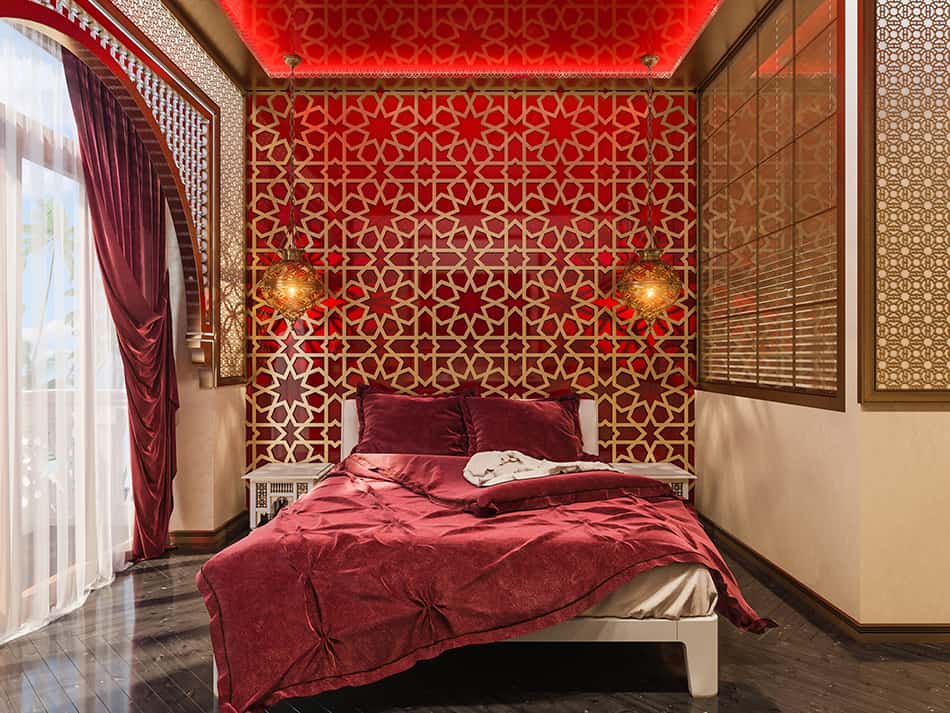 Striking lines and patterns will make a dramatic statement in any Arabian-style bedroom. Geometric motifs add sophistication and harmony to any interior.
When you use these motifs with bold colors like deep reds, you'll accentuate the room and create a focal point as shown in this example.
8. Oversized Furniture to Draw Attention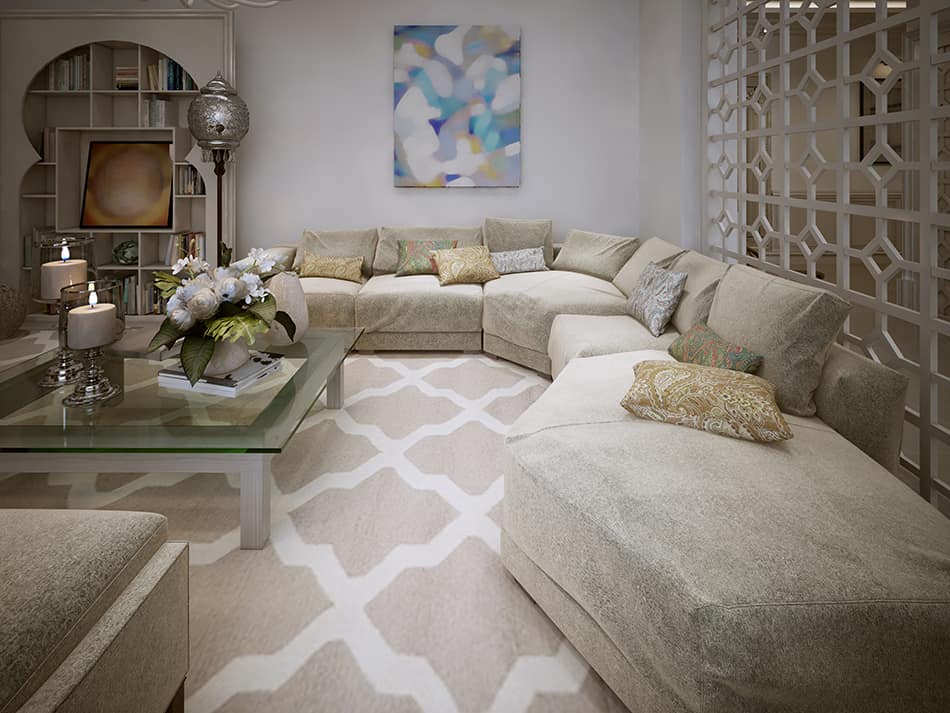 Choose oversized sofas, tables, and other ornate features to draw attention to the Arabic theme of your living room.
In this modern Arabian-style room, see how the eye is drawn to the decorative pillows, the accent wall, and the floor covering, thanks to the oversized furniture that has highlighted the ornate detailing. It's the subtle touch of oversized furniture that hasn't overwhelmed the space.
9. Add a Focal Point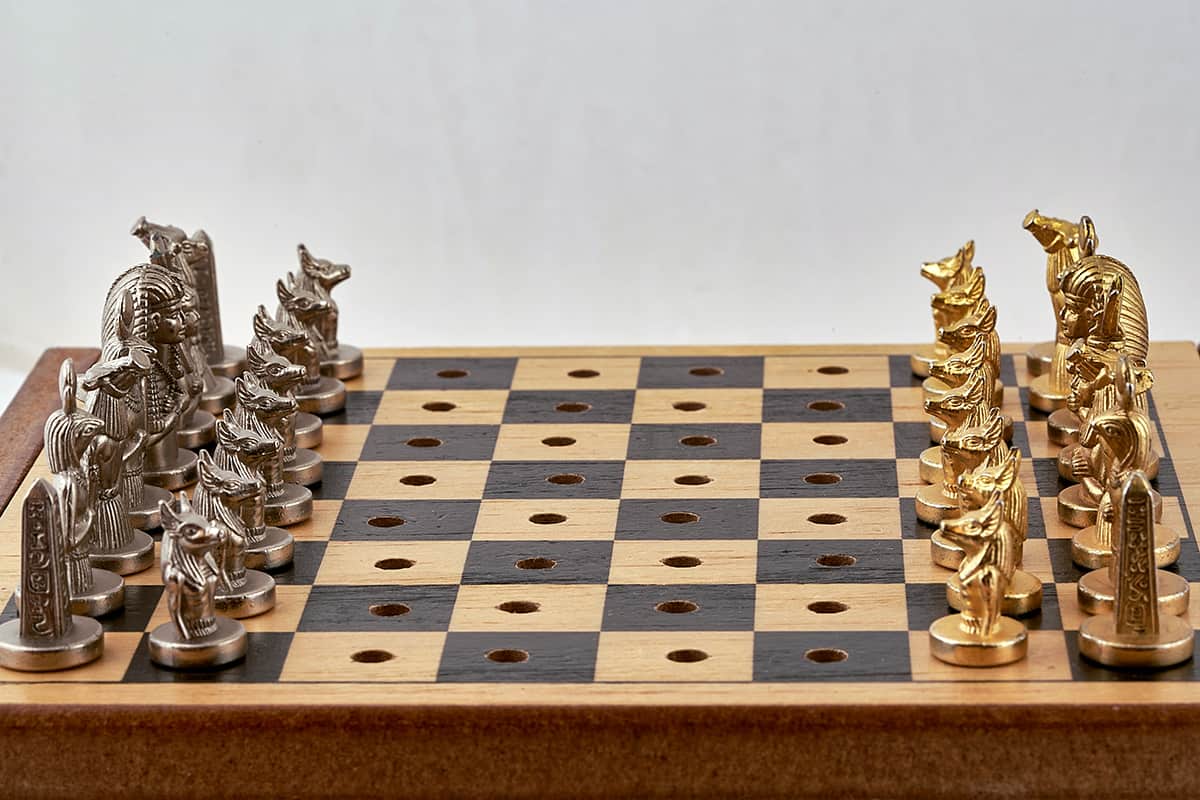 A chess table or a sculptural table that showcases Egyptian-themed art is a great way to add functional and creative decor to your living room. A mesmerizing side table depicting the Egyptian god of hunting, war, and sky, Horus, is an excellent idea that will be appreciated by your guests.
For those who truly love Egyptian icons, this side table from the renowned brand Design Toscano evokes the rich mystery of ancient Egypt, with Horus spreading his wings beneath a bevel-edged glass table top.
When you place this table in the middle of your living room, it will definitely draw the eye to its beauty.
10. Black White and Gold Bedroom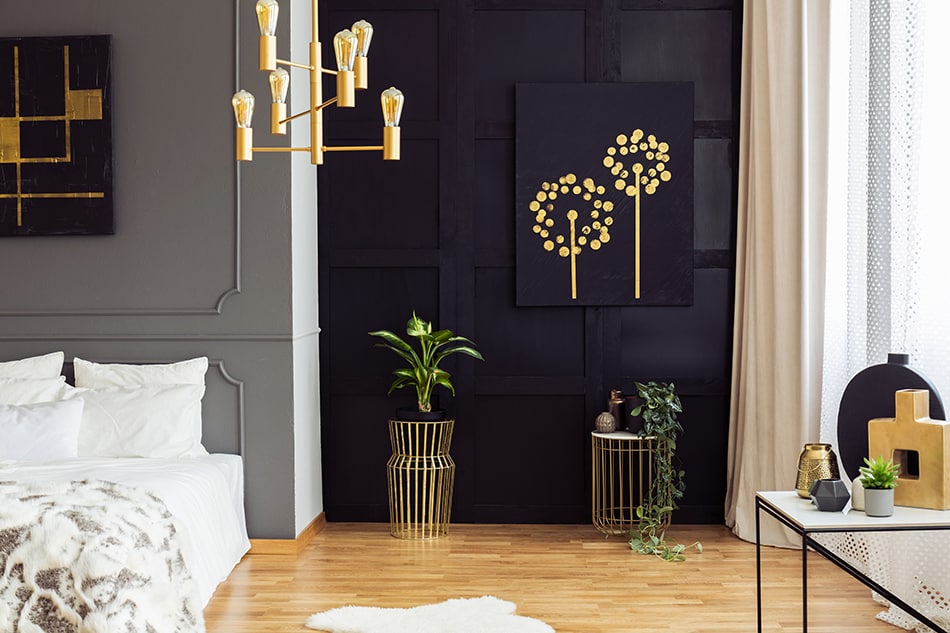 Black, white, and gold are the most classic color combinations to pull off a traditional Egyptian-themed room.
In this bedroom, the simple yet elegant gold and black wall arts with matching vases help create a clean look that hasn't gone overboard. It's all about adding the right accents to your Egyptian-themed room without overwhelming the space.
11. Create Mystery With Dark Colors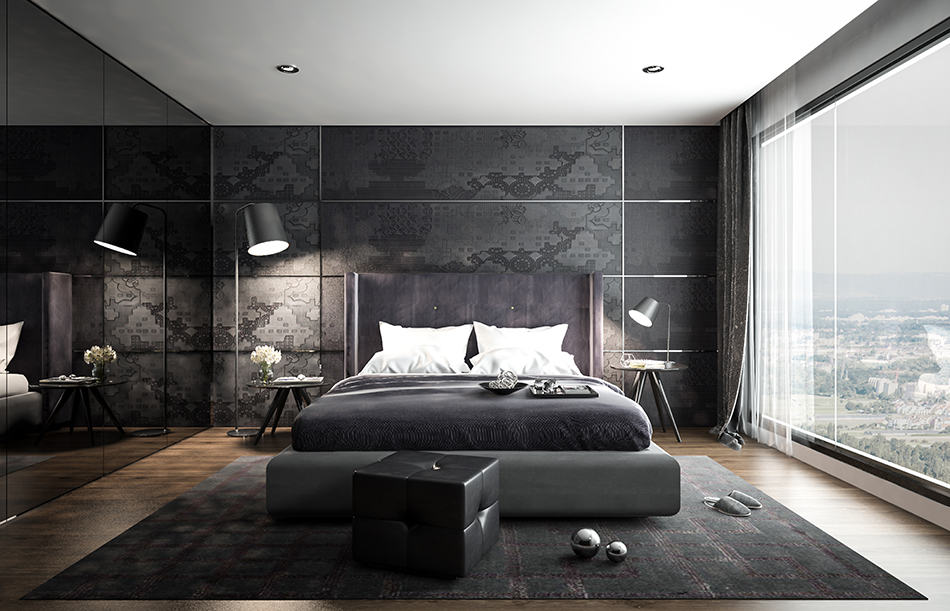 If you're inspired by the mystery of Egyptian tombs and pyramids, why not go dark in your bedroom? See how this modern bedroom looks so mysterious with its dark walls, bedding, and floor covering.
The bed is the focal point of this room as everything points towards it to keep the mystery going.
12. Small Accent Pieces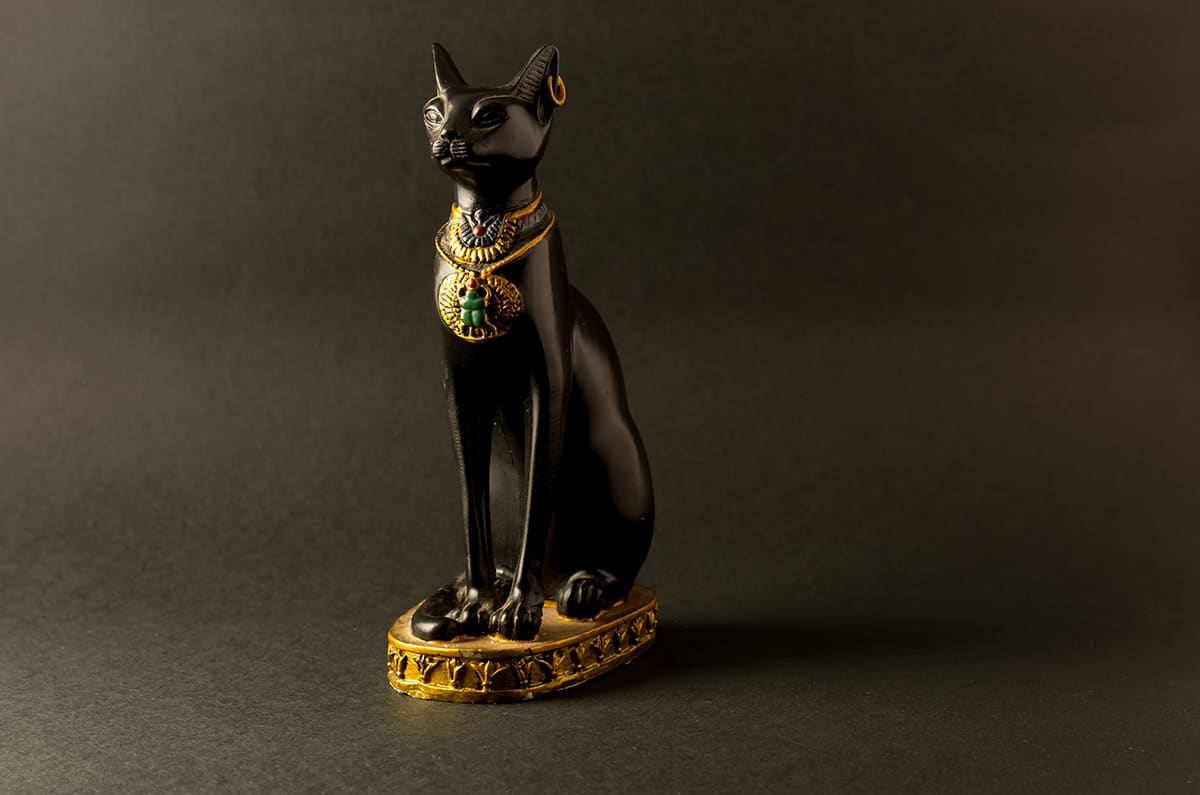 The Egyptian theme doesn't have to be so costly if you want to achieve an authentic look. While we all wouldn't mind creating a home that's fit for Cleopatra, adding lots of artwork and accents can prove to be expensive.
To bring a little color to your space, why not place small accent pieces like Egyptian statues or other accessories on the mantle or table as an accompaniment with other small decorative pieces? This is the easiest way to lend a royal touch to your interiors with striking figurines or sculptures.
13. Egyptian Lighting
No themed room is complete without authentic lighting to change the ambiance and mood. When choosing the right lighting, take into account both the atmosphere you want to create as well as functionality.
This beautiful handmade polished brass lantern will be the perfect addition to your Egyptian-themed room. Hang it in any corner of the room as an eye-catching accent. Tip: add warm yellow LED bulbs to enjoy a warmer glow.
14. Traditional Arabic Rugs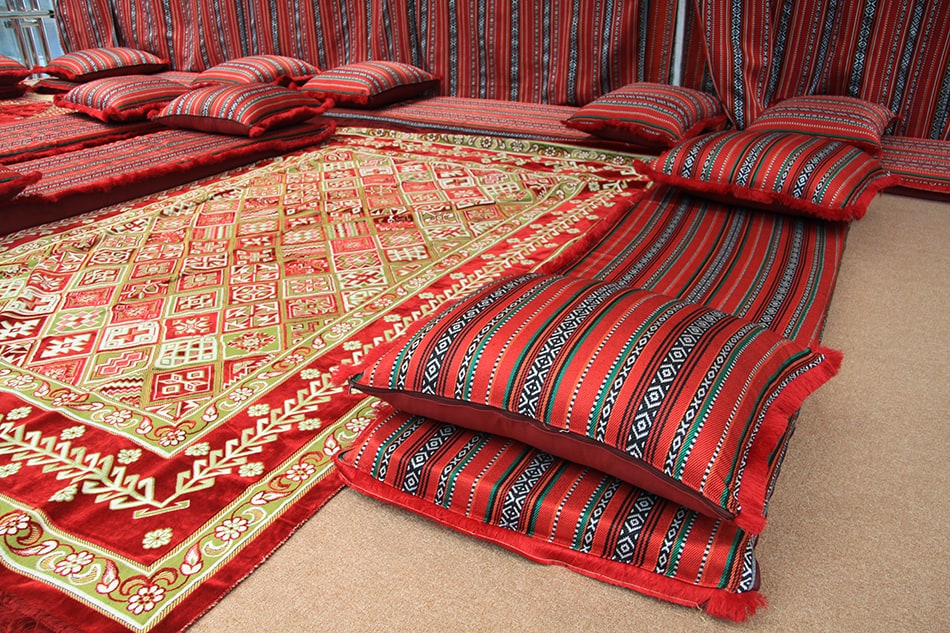 Traditional rugs have always been popular in Arabian-style rooms. And this trend doesn't look like it's going anywhere anytime soon.
The intricately patterned, colorful rugs perfectly complement any furnishing in a simple yet beautiful way.
Tip: place some matching Egyptian cushions around the rug and invite your guests to sit on the floor for a private gathering just like a "majlis" (a private sitting area in the home designed to host guests.)
15. Handmade Decorative Pottery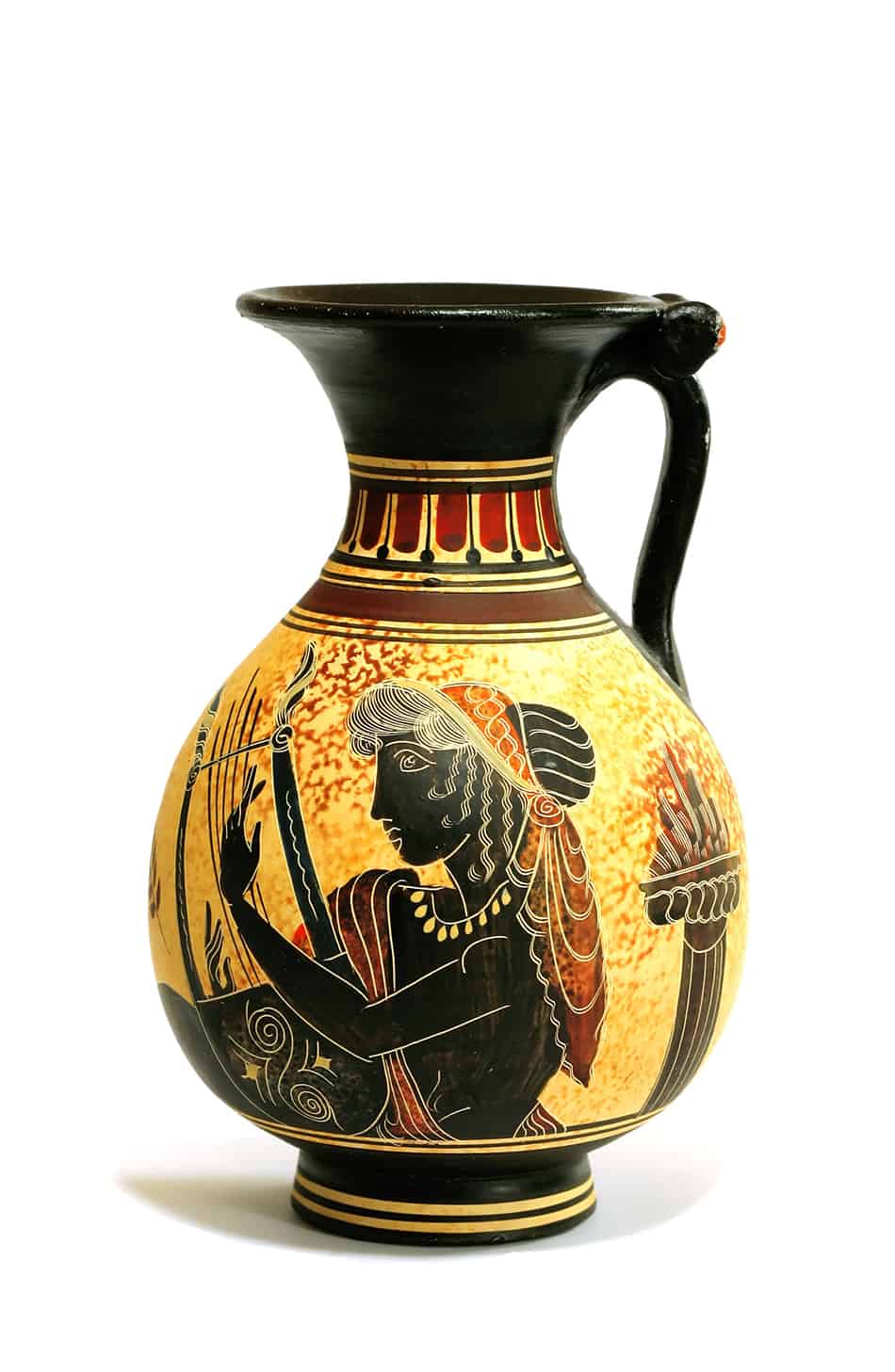 For thousands of years, Egypt has been home to the most beautiful craftsmanship; ceramics and pottery.
While pottery was originally made for functional rather than decorative purposes, it brought elements of Egypt's cultural heritage into the present, thus the reason so many people love displaying these pieces in their kitchens, living rooms, and dining rooms.
You can make your Egyptian-themed room totally unique by adding handmade ceramics or pottery to any interior.