Bamboo is a natural material that represents nature. When used in interior design, it can capture the essence of the outdoors. In modern furnishing, you can introduce bamboo decoration to add a special touch to your interiors.
There are numerous ways you can style your home with bamboo. To make your task easier, take a look at our best bamboo decoration ideas with pictures.
12 Bamboo Decoration Ideas
1. Bamboo as a Room Divider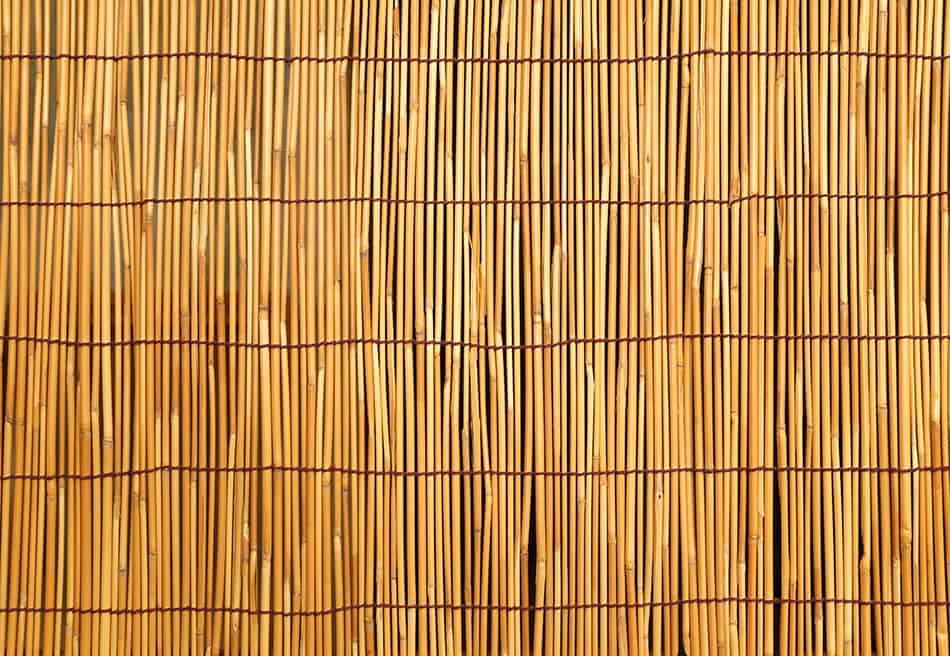 Using bamboo to separate your rooms will make open spaces feel more private, plus you won't need to knock down any walls!
Simply place some bamboo poles closely together in order to effectively create a barrier between the two rooms. Bamboo room dividers not only separate the spaces but also give the room a refreshing look.
2. Bamboo as an Accent Wall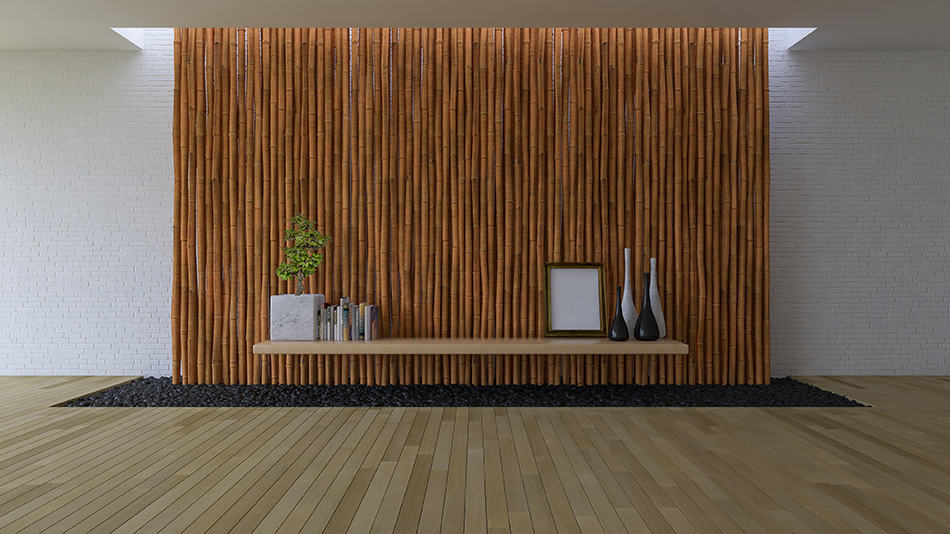 Another option to create a natural and refreshing look in your home is to use bamboo as a wall. This can be done by hanging a large bamboo panel down the ceiling as shown here.
This accent wall is further enhanced by the shelving and decorative items mounted on the bamboo wall. The minimalist look of this wall works beautifully in any room of the house.
3. Decorative Bamboo Lamps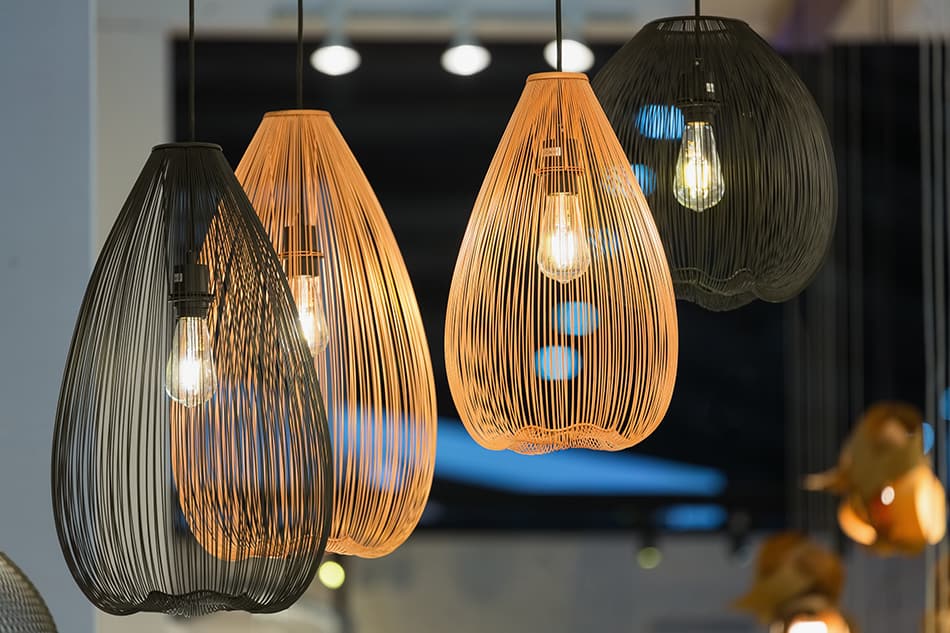 No room is complete without statement lighting! Transform your rooms into warm and welcoming spaces with the help of unique bamboo lanterns. These lights are the key elements of any home's decoration, but make sure you choose your lights carefully.
Think about where you want to hang them and how much light you want in your rooms. Bamboo lights give your home an exotic and tranquil look – as long as you match them with your bamboo furniture.
4. Bamboo Poles to Accessorize Your Space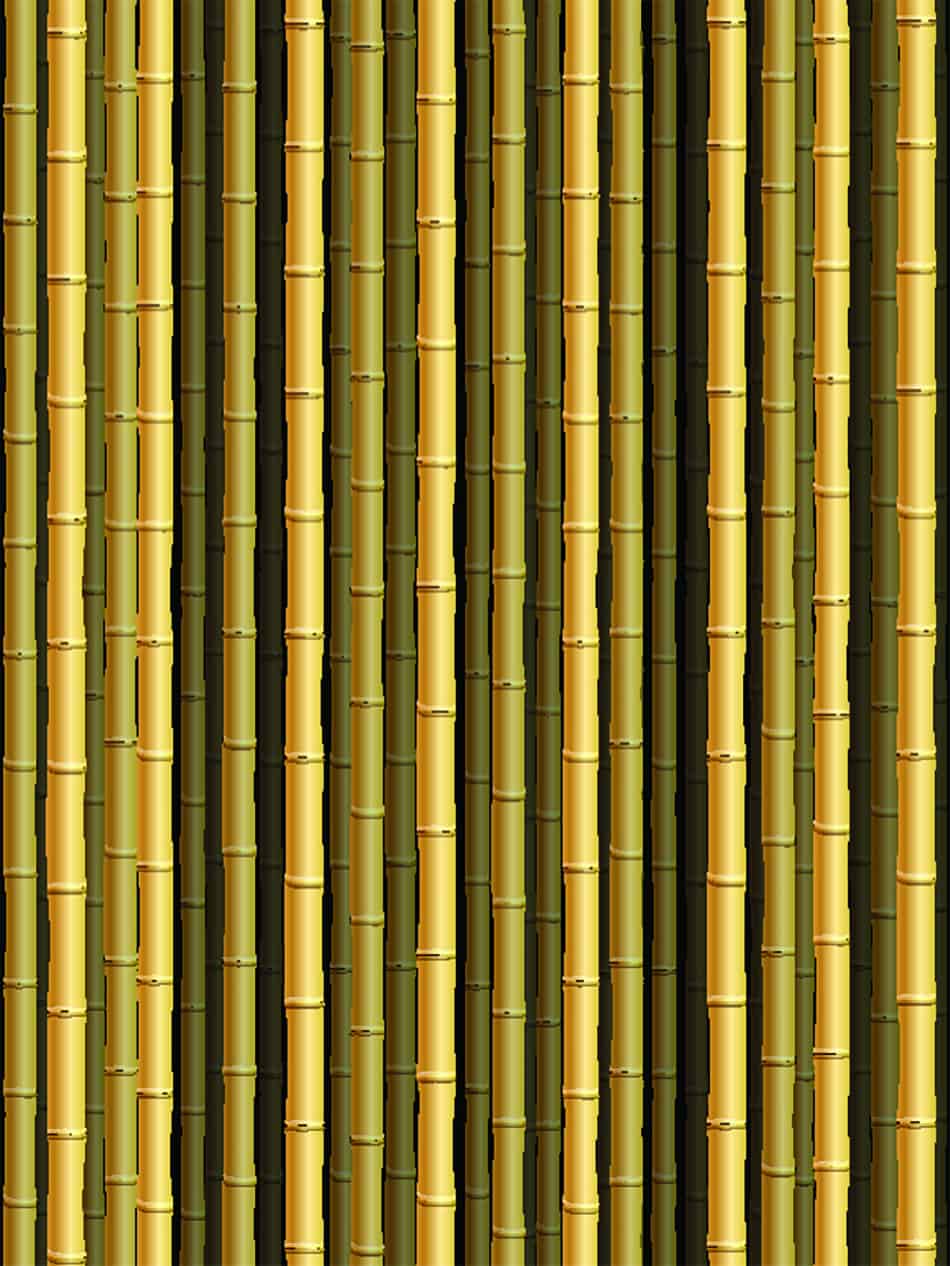 Bamboo poles don't necessarily have to stand in pots to accentuate a room. They can be strategically positioned in a corner of your room to add a tropical vibe in a calming and original way. Another way to highlight your bamboo decoration is to lean the freestanding poles against the wall for a serene effect.
This is the most effortless decoration idea that anyone can implement using bamboo poles. If you have high ceilings, you can even use these poles on your ceiling or set them against other bamboo furniture pieces like cabinets or drawers. T
These tall decoration items are the perfect way to accessorize your space and create an exotic look.
5. Bamboo Framed Mirror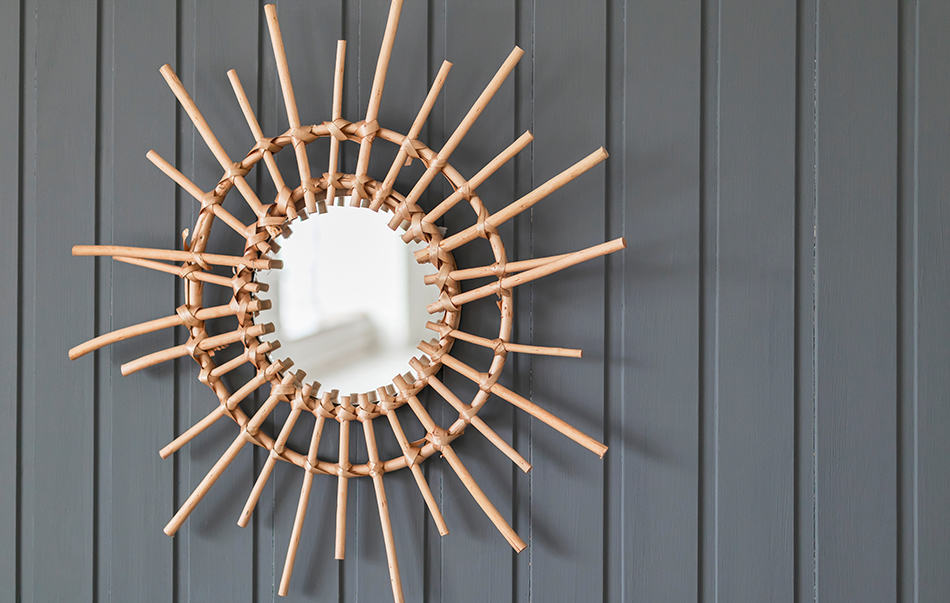 A centrally placed statement mirror made from bamboo framing will instantly draw attention. In fact, it'll be hard to look away from such a unique-looking mirror.
Half-round bamboo poles or slats can easily be made into frames so all that's needed is a round mirror in the middle. Hanging such mirrors on the wall of your living room is a natural way to attract attention to the artist's work.
Frames of various heights with segmented bamboo and wood work very well as the two materials have a similar appearance. As an alternative to bamboo framed mirrors, you can always opt for a raised canvas painting with simple bamboo frames or slats. Paint the frames a dark color to create contrast with your lights.
6. Bamboo Bed and Matching Headboard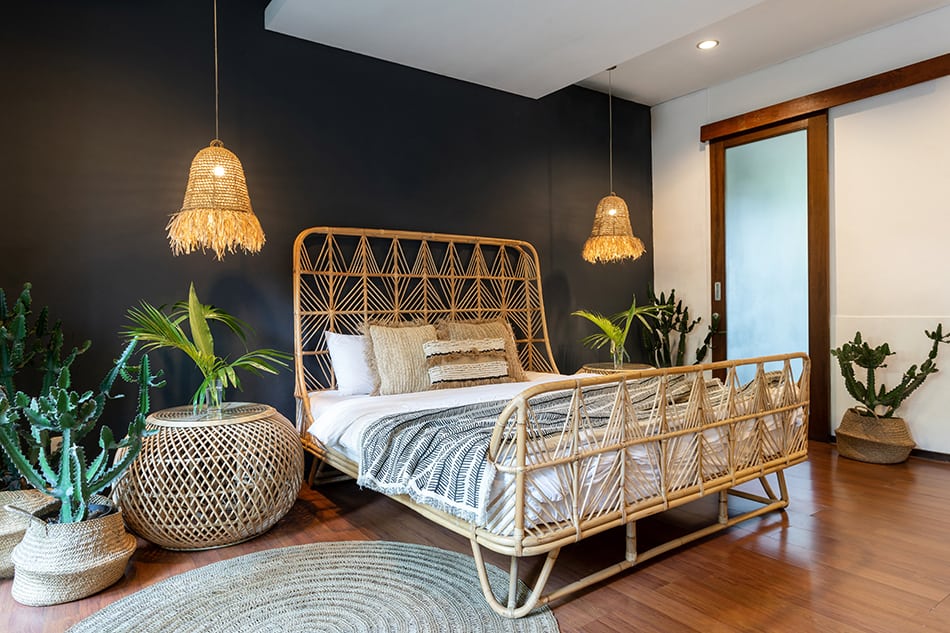 To make a grand entrance to your bedroom, why not highlight your bed with bamboo. For example, you can choose a bamboo bed to give your bedroom a stylish and unique look as shown in this example.
Here the bamboo bed is complemented by the bamboo lighting and matching plant pots. This is a great way of bringing extra depth by decorating your bedroom with bamboo.
The headboard of this comfortable bed is light and sturdy, but what makes this bamboo-decorated bedroom stand out is the dark wall that serves as a backdrop. There is something luxurious about light-color bamboo in this classic bedroom.
7. Bamboo Furniture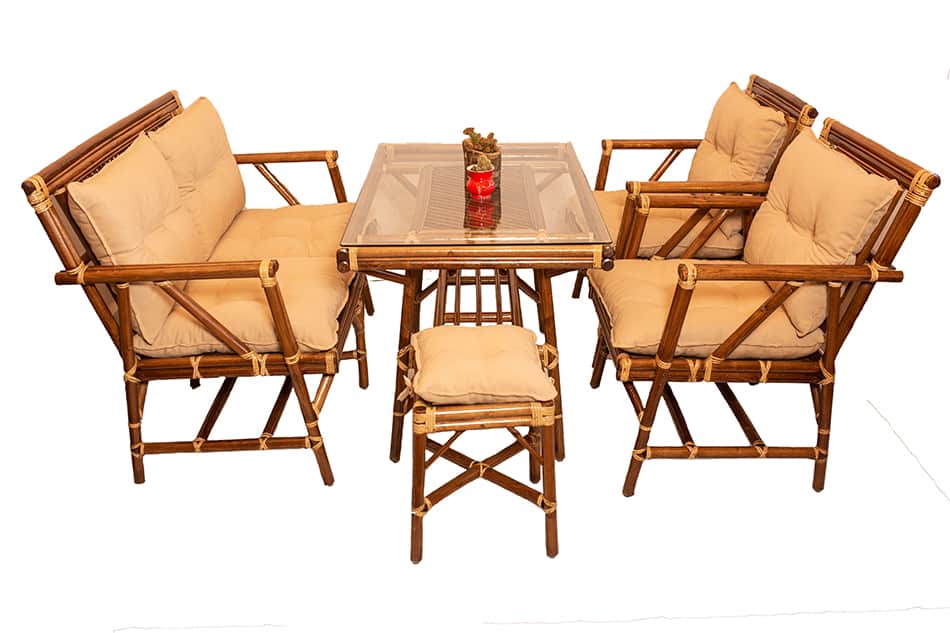 Furniture made from bamboo isn't just for enjoying the outdoors in your garden or patio. This is a great alternative to wood as you can create a tropical theme in your indoor living spaces.
In addition to your bamboo poles and wall treatment, introduce comfortable bamboo furniture to accessorize your interior areas. A complete set of bamboo seating will provide an attractive look, especially in coastal or tropical-themed rooms.
There are many different bamboo furniture styles that suit indoors, with some featuring slatted surfaces that are smooth and shiny. A bamboo coffee table, for example, is an original addition to living rooms.
Whether you choose a square or round bamboo table, you'll also need matching side tables to provide refreshments or place your reading materials on.
8. Bamboo Shelves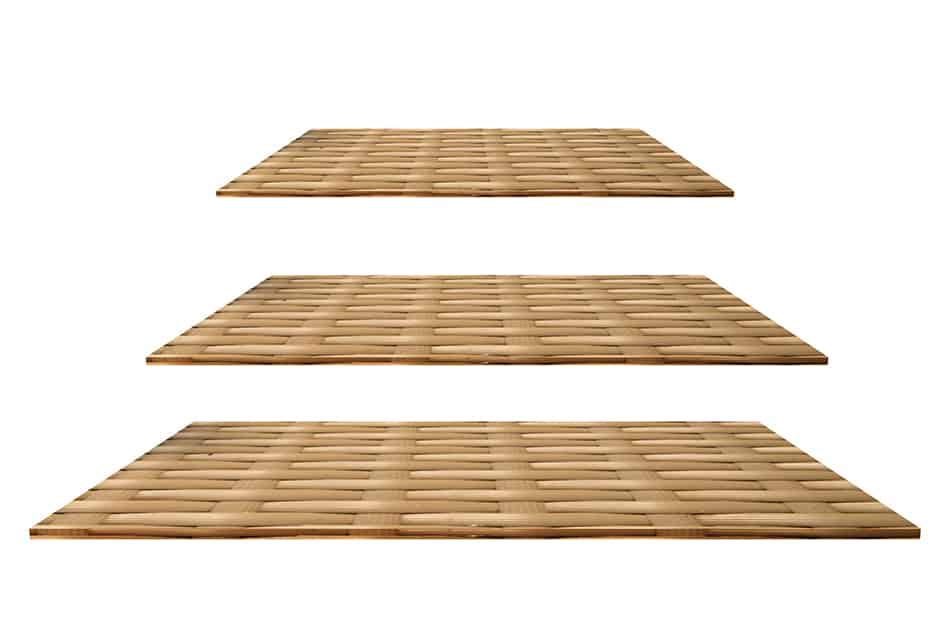 Bamboo shelves are practical and fashionable. No matter what you place on these shelves, you will undoubtedly make good use of the space on them.
You can place your bamboo shelves in any room you want to adorn your bedroom, kitchen, or bathroom. Bamboo shelves provide ample storage, and the material is sturdy enough to hold the weight of most items – as long as you mount the shelves on the wall expertly.
9. Indoor Bamboo Plants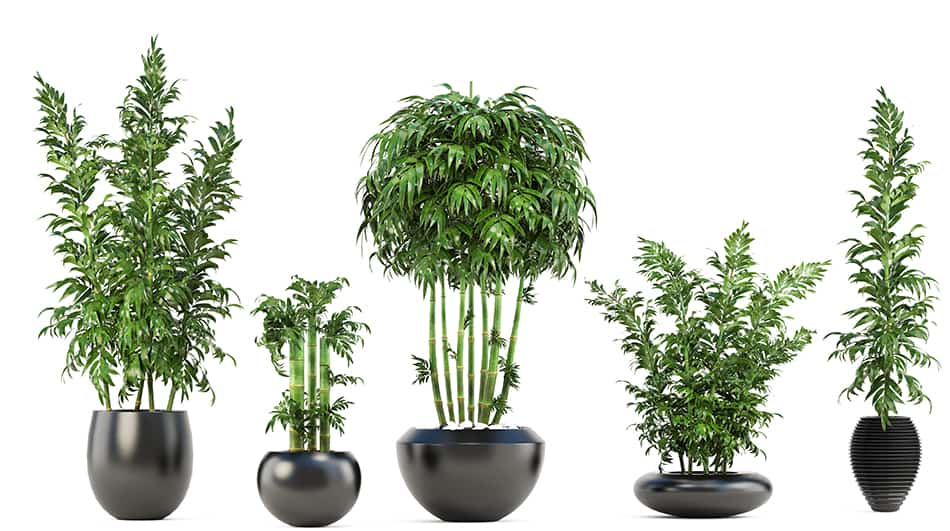 To build a tranquil and serene environment, opt for the freshness of indoor bamboo plants. If you're into zen gardens, you don't have to limit your options by keeping bamboo trees outside.
When arranged in pots, bamboo plants will emanate a sense of coziness in any indoor space they are placed. Bamboo plants don't require much maintenance and are ideal in small indoor gardens.
10. Bamboo Rug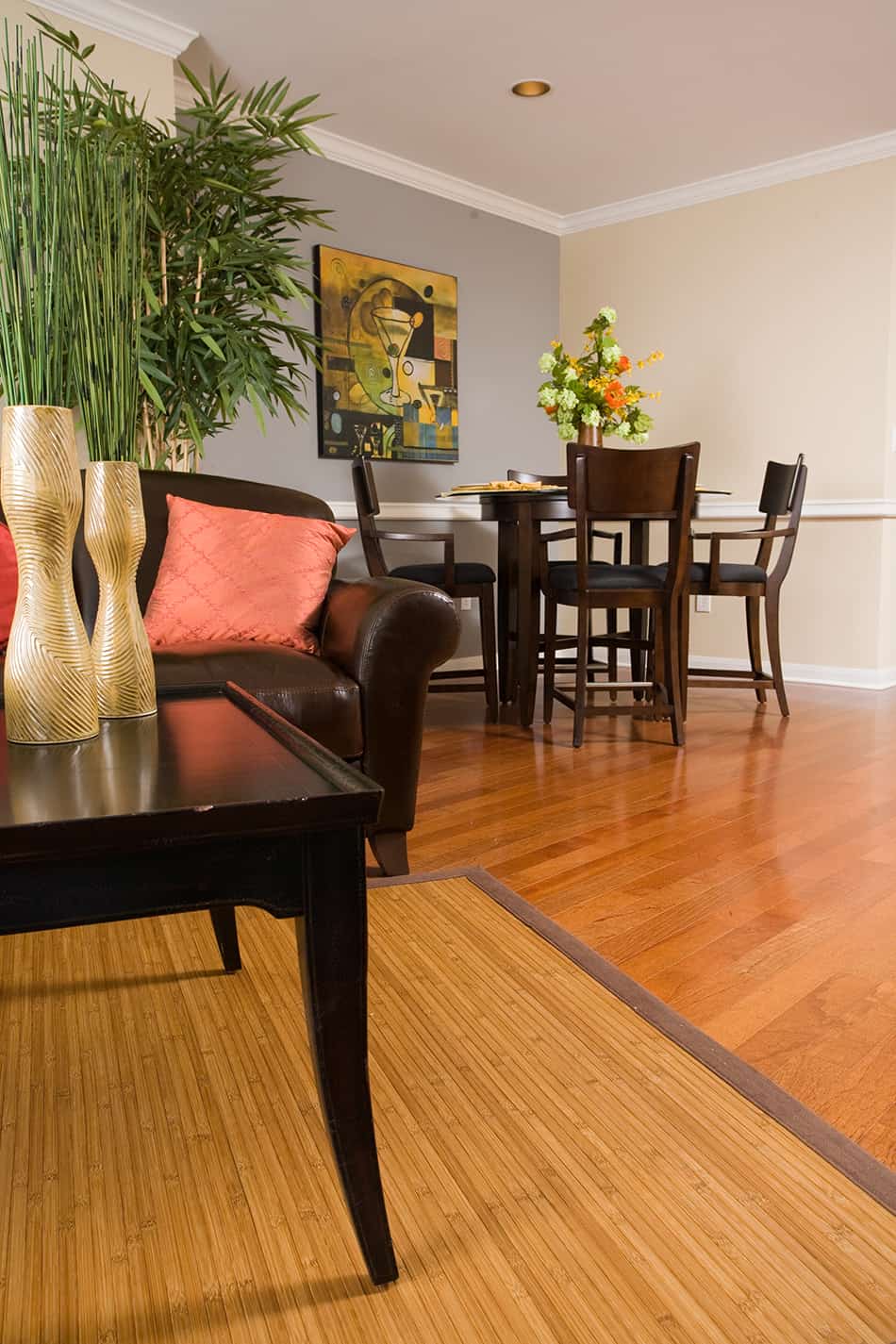 When we mention bamboo rugs, you may think of woven rugs in sand or dark brown color. But you'll be surprised to know that there are many other types of bamboo rugs, from colorful area rugs to patterned, narrow strip ones.
Using a bamboo rug in the living or dining room is a great way of keeping spills to a minimum. This is because bamboo rugs are much easier to clean than fabric rugs or carpets. Another good place for a bamboo rug is in the entrance area.
If you love bamboo as rugs, you can also consider using bamboo for flooring. They look stylish, are more durable than laminate wood, and are much less expensive than hardwood.
11. Bamboo Framed Prints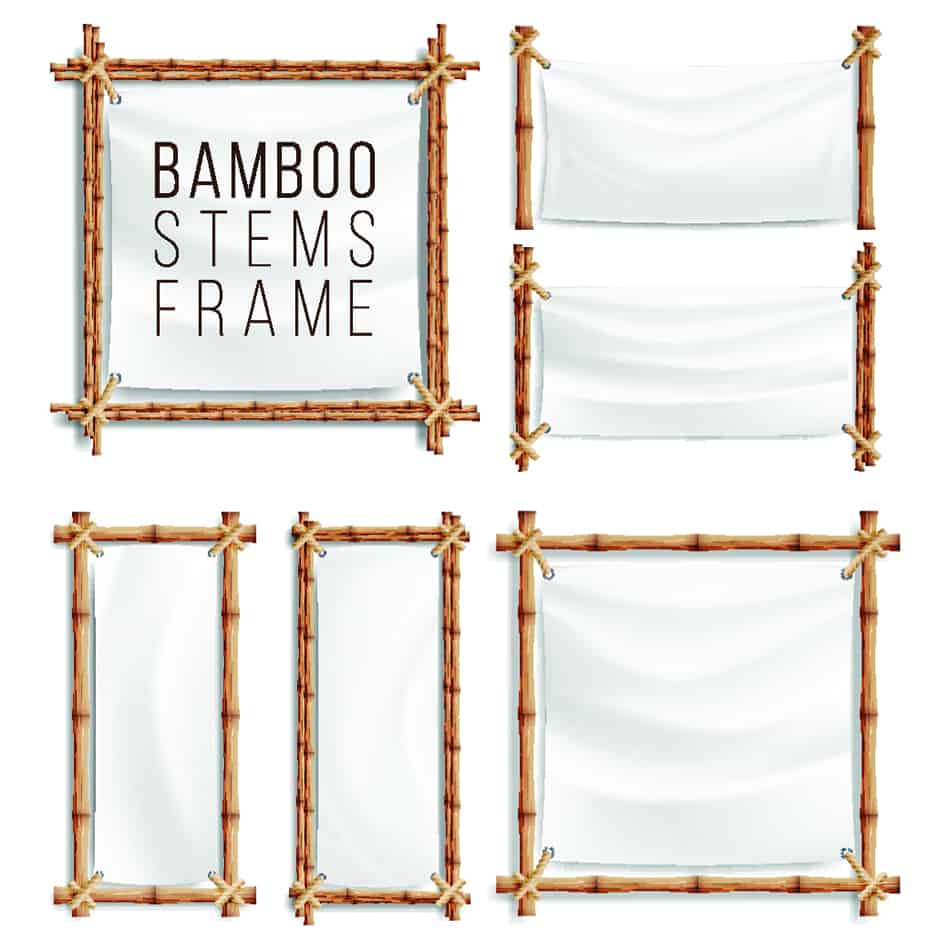 Bring some grace into your interiors with a gallery wall of bamboo framed prints. These beautiful decorative pieces come in all shapes and sizes.
As an alternative to the traditional wooden picture frames, you can create a real twist with large bamboo frames. This material is lightweight so you can display as many framed pictures as you like on the mantelpiece, the wall, or side tables.
12. Bamboo Blinds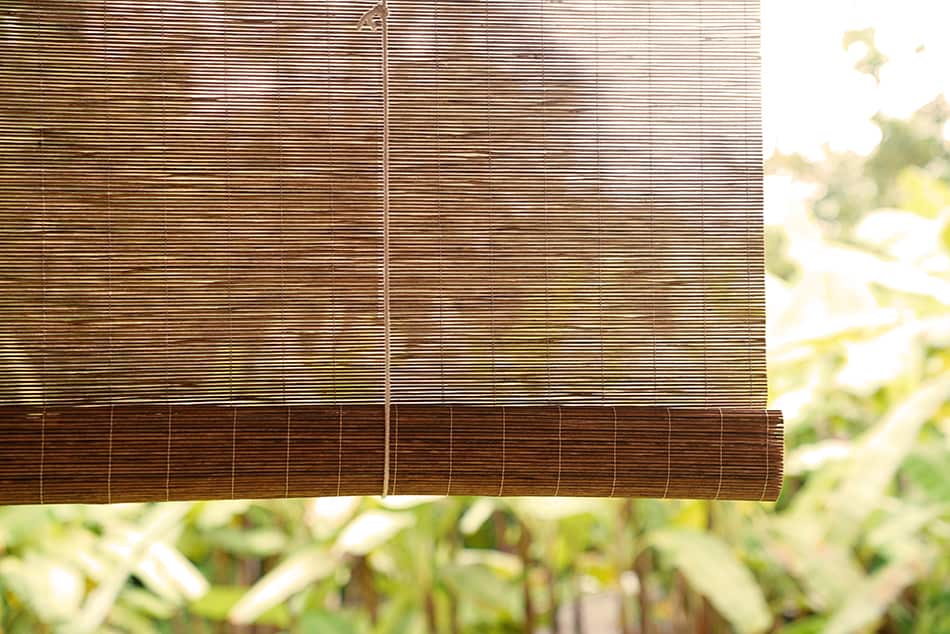 Bamboo blinds have a natural and delicate appearance. What's more, they are known for their durability and resilience. These types of blinds are easy to clean and effective in light and privacy control.
Modern bamboo blinds come in an extensive array of colors and styles for covering windows of all sizes.
Why Decorate Your Home with Bamboo
It's Eco-Friendly
Bamboo is a green and sustainable material. This ancient building material is lightweight and just as durable as wood or plastic. But unlike those two materials, bamboo is renewable and safe for the environment.
Bamboo trees grow fast, so producing and harvesting the plant isn't difficult.
Simple to Maintain
Bamboo is an easy material to maintain. Depending on the condition it is kept in, you can easily take care of your bamboo decorations by applying a coat of sealant.
This will prevent your bamboo item from fading and weather damage, but you will need to apply the sealant once a year if you are going to keep the item outdoors. Sealing the bamboo will also prevent signs of wear and tear and keep the item in its original state.
Highly Versatile
Since bamboo is a fast-growing plant, it is both strong and inexpensive. In fact, it is one of the strongest natural materials around. This plant has many beneficial qualities and has been used in Asian countries for thousands of years to make flooring, shutters, and furniture.
Western countries are also realizing the true benefits of bamboo and value its strength. Using this exotic material in your home is a sustainable option that helps combat deforestation – not to mention giving a vibrant and personal touch to your spaces.
Conclusion
For a complete makeover of your interiors, go ahead and choose a few of our bamboo decoration examples to create an Asian or tropical theme in your home.
This minimalist-looking material is more affordable than wood but is just as strong so it makes sense to decorate your home with bamboo to create a warm and authentic feel!