Understated and uncluttered appearance are the typical characteristics of a mid-century modern style house. This interior design style has made a decidedly welcome return thanks to the endless ways you can incorporate it into your home.
To help you understand this undeniably timeless design, we will explore the ins and outs of mid-century modern style elements and how to emulate this interior design in the different rooms of your home.
What is Mid-Century Modern Style?
The mid-century modern style became iconic in the 50s and 60s thanks to its timeless appeal in the world of interior design. This style was a blend of modernism with Scandinavian design trends that boast affordability and minimalism.
This unique mix became highly popular after the writer Cara Greenberg officially named the style Mid-century Modern in the title of her published book.
The retro fresh and completely alluring vibe of this interior style oozes comfort and practicality wrapped up in a stunning design that never goes out of style.
In fact, most modestly decorated homes today have taken their inspiration from mid-century modern as the most budget-friendly room decorating style that anyone can afford.
Why Choose Mid-Century Modern For Your Interiors?
This style is ideal for those looking to create an authentic vintage vibe in their homes without having to go full force with more expensive interior styles.
Adopting mid-century modern in your home is a fun way of bringing even the smallest spaces to life with quirky and quiet designs.
Mid-century modern homes not only boast much charm, but they also feature durable and easy-to-source materials that are easy on the eye.
When compared to contemporary or rustic style interior design, mid-century modern allows more freedom to decorate your home with simple and sleek accessories without the need to make a dramatic statement. This style is, after all, simple without being boring, attractive without being fussy!
Mid-Century Modern Elements
Simple and Clean
Mid-century modern interiors are certainly inspiring thanks to their clean and sleek lines. Simplified forms are vital in mimicking this style. The clean lines are followed by geometric shapes. But the main focus is on the aesthetic essentials.
In other words, a piece of furniture is the structural base of this style but it also serves as the only decorative feature. Mid-century modern rooms are always kept free of clutter with minimal furnishings.
Natural Materials And Textures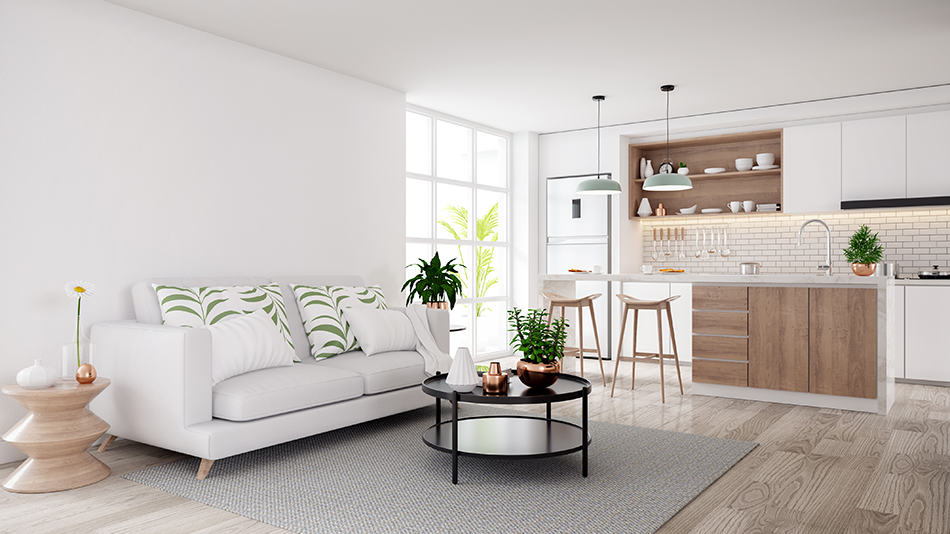 Wood is the typical element of mid-century modern style. But over time, other materials like leather and vinyl followed suit. As such, interior designers began mixing and matching synthetic and organic materials to create this look.
Laminate and white leather materials are simply elegant and hard-wearing so don't be afraid to experiment with these to add texture to your room.
Bright Color Schemes Against Neutral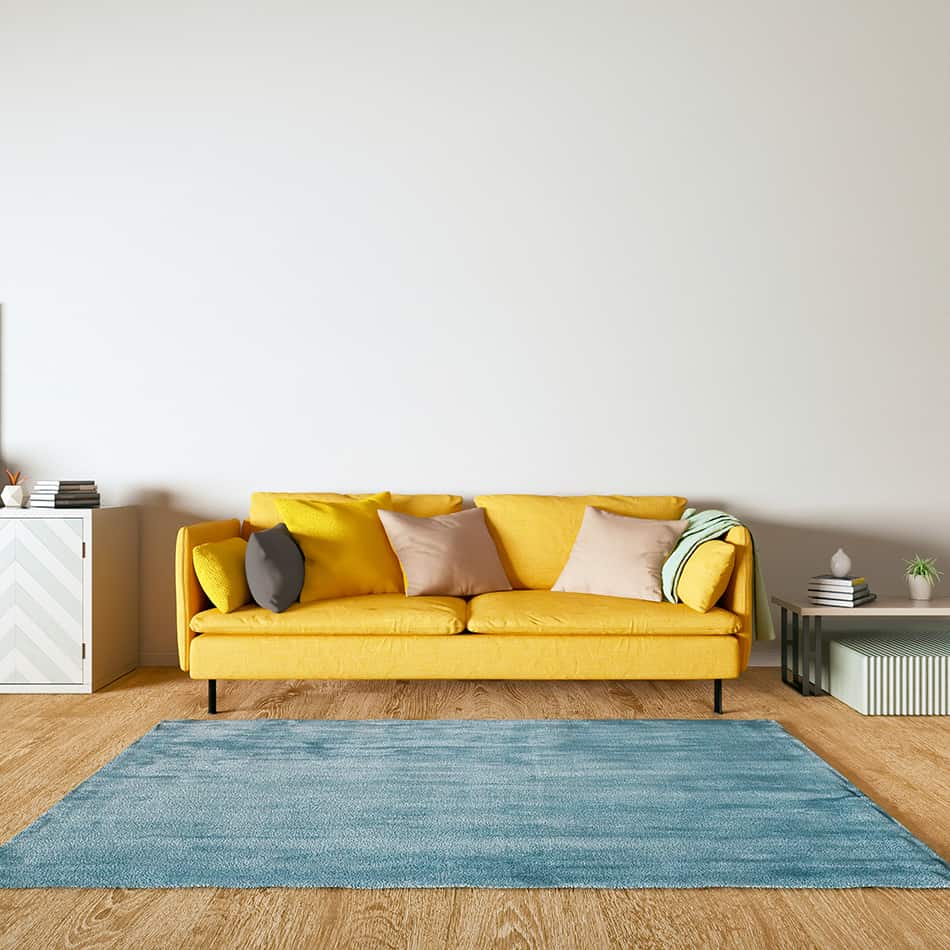 Color schemes in mid-century modern interiors can go either way, with a combination of pale neutral walls paired with bold accents. The neutral walls will accentuate the bold features of the room, thus making them appear more luxurious.
Just make sure the accents you use are bright in order to contrast against the white walls.
Creative Lighting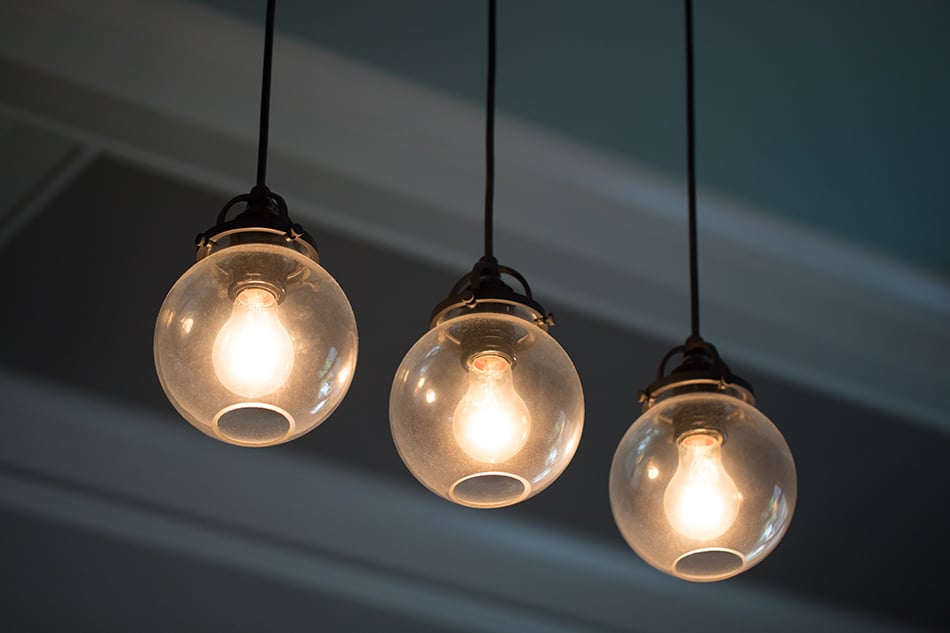 One important detail about this style is the lighting: it is always creative and unique. Most lighting trends in this style tend to be hanging lights as opposed to wall-mounted ones.
The idea is to use multiple hanging lamps to enhance the room's decor.
Abstract Art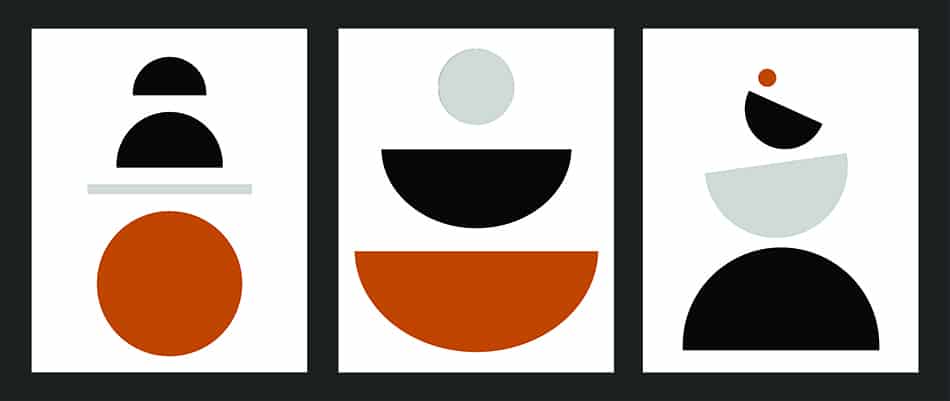 Artists were the main driving forces behind mid-century modernism so it makes sense to include artwork from this era. When paired with retro furniture and bold accents, your interiors will make a beautiful and timeless statement.
Whether you're into artists like Henri Matisse, Andy Warhol, or Jackson Pollock, abstract art from these painters has truly gained momentum. Be sure to include some bold artwork pieces from these artists in your living room or dining area.
Retro Furniture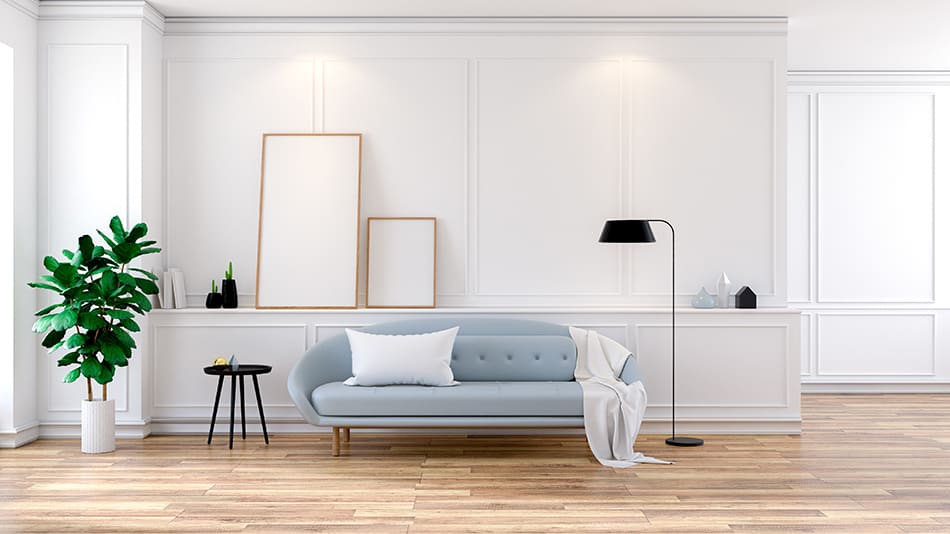 Speaking of retro furniture, this is an absolute must for a vintage-style mid-century modern home. Furniture with slim, short legs and straight lines is characteristic of the period and makes the interior ooze with sophistication.
Retro furniture may look simple, but it is highly sought after in modern homes. The comfort level, material, and structure of the furniture are equally as important. For example, wood or leather (but not both) are the two most popular furniture materials found in mid-century modern homes.
Organic Shapes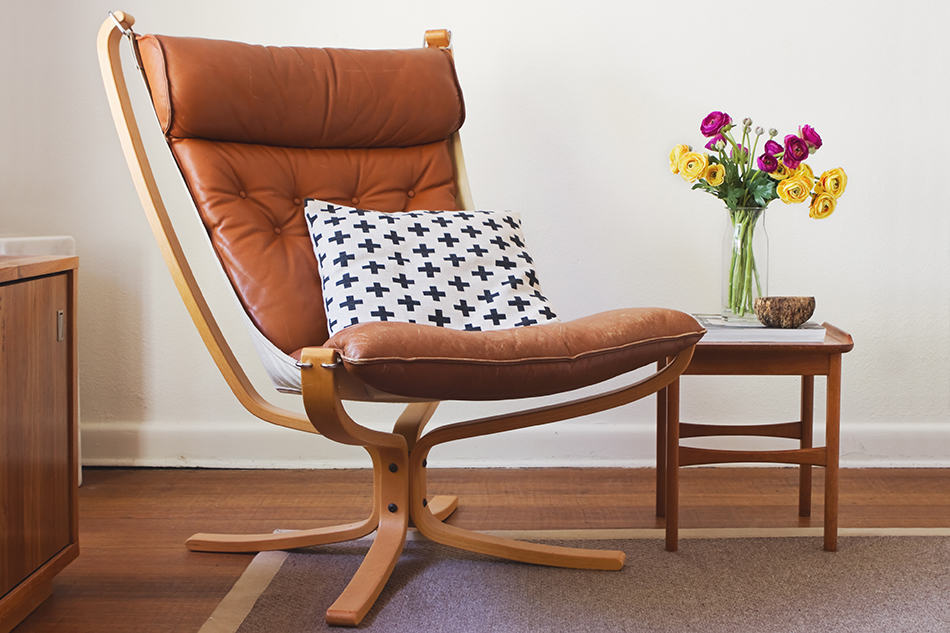 Since mid-century-modern style focuses on sleek, plain lines, you need to add a mix of organic shapes to enhance the look.
Some of the most basic living room furniture items in a mid-century modern style include minimalist tables and chairs. When looking for new furniture, always go for a simple, minimally elaborate design.
Embracing Nature Indoors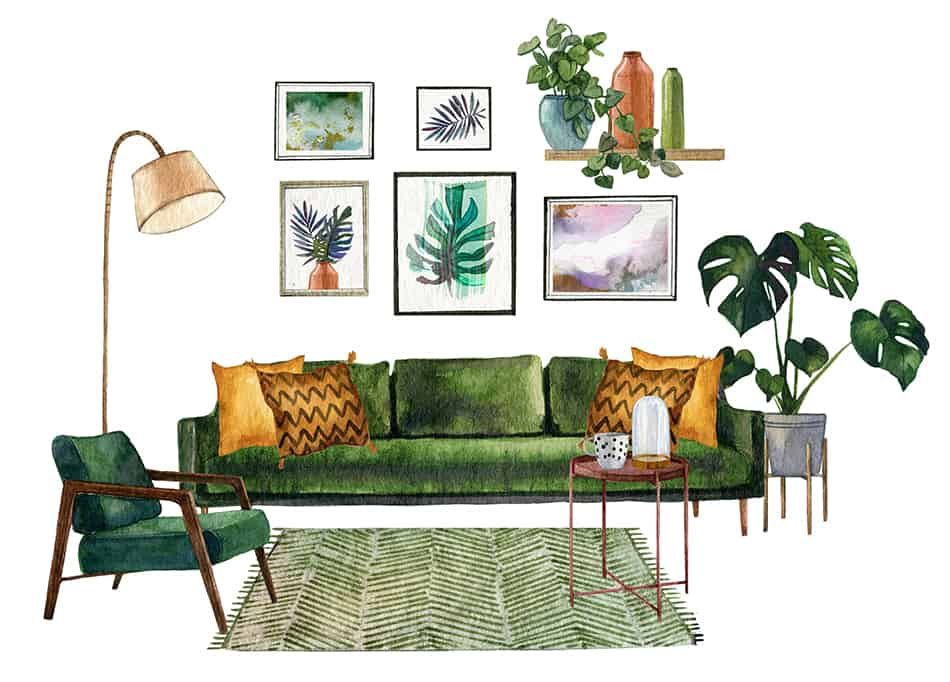 A home integrated with the outdoors is a typical mid-century modern design. Bringing nature indoors through raw elements, such as houseplants and decorative wall art is a great way of emulating this timeless look as shown in this image.
Mid-Century Modern Room Ideas
Use Bold Colors for the Living Room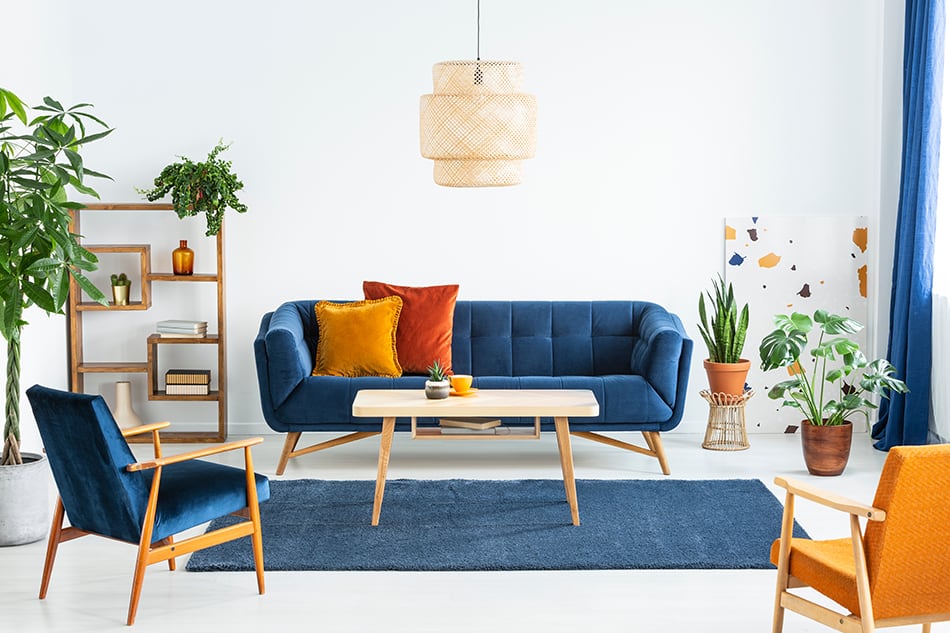 The use of bold colors bring out the glamor in a neutral living room. See how the retro furniture in navy blue complement the orange and red throw pillows. This vibrant living room interior boasts furniture with slender legs and of course plenty of indoor plants to complete the look.
The bold blue color can be seen on the curtain, floor covering, and furniture. This color is also in line with the wooden tones of the rest of the room as it adds a funky vibe to the room. The example shown here is great for fans of mid-century modernism who love a bright pop of color as a statement piece.
Not Daring Enough to Go Bold? Tone it Down with Neutral Colors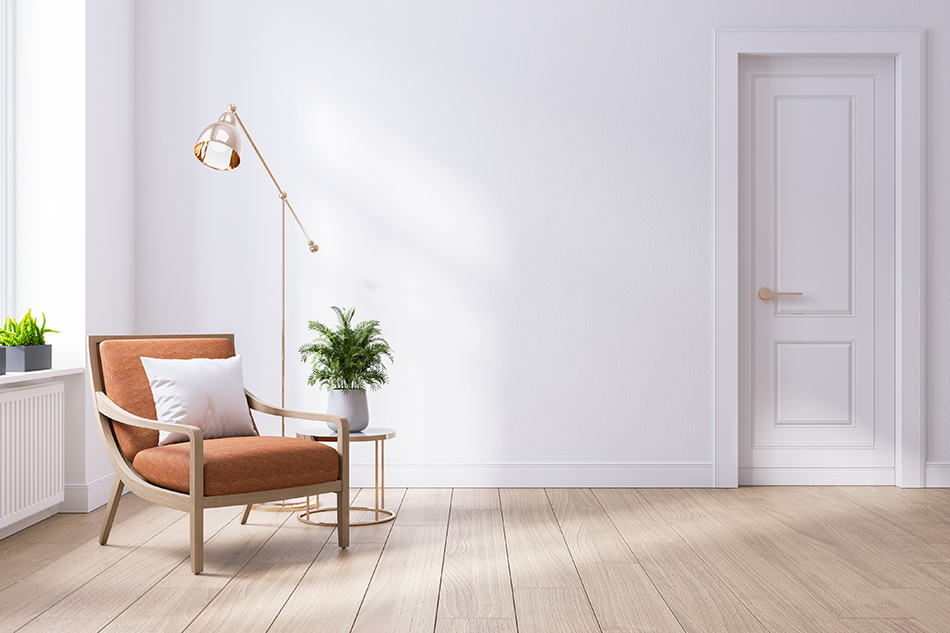 Who said a mid-century modern living room has to be loud and flamboyant? Here we have a typical minimalist interior with white walls and a light wooden floor as the perfect example of a neutral color palette.
The leather chair has added to the minimal style here, but it can be further enhanced with other soothing colors like soft yellow and darker brown shades. You may even throw in a mix of the black and white palettes for balance. Whatever your preference for a toned-down interior, you're sure to create a casual and cozy living room with low-lying furniture.
Create a Down-to-Earth Look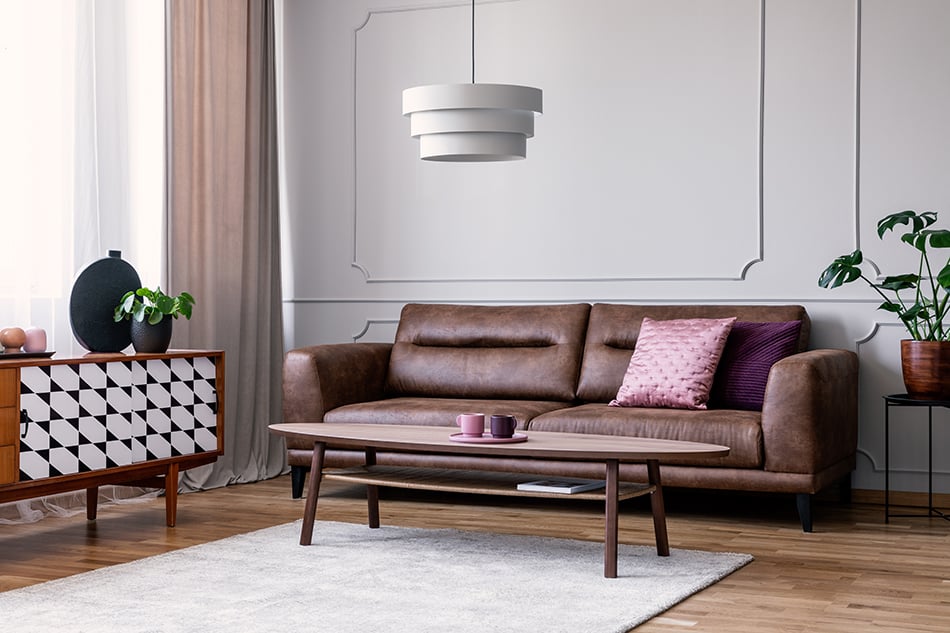 A mid-century modern living room will benefit from brown retro furniture in combination with an earthy color palette. We love the soft grey walls of this interior that are blended together to create a sleek aesthetic. This living room features neutral and earthy tones for a muted backdrop.
The leather sofa has added a sense of drama to the room and every piece of furniture, including the coffee table and the statement lighting, has enhanced the space. We can safely say this minimalist interior decor speaks volumes with very little indeed!
Minimalism Equals Mid-Century Modern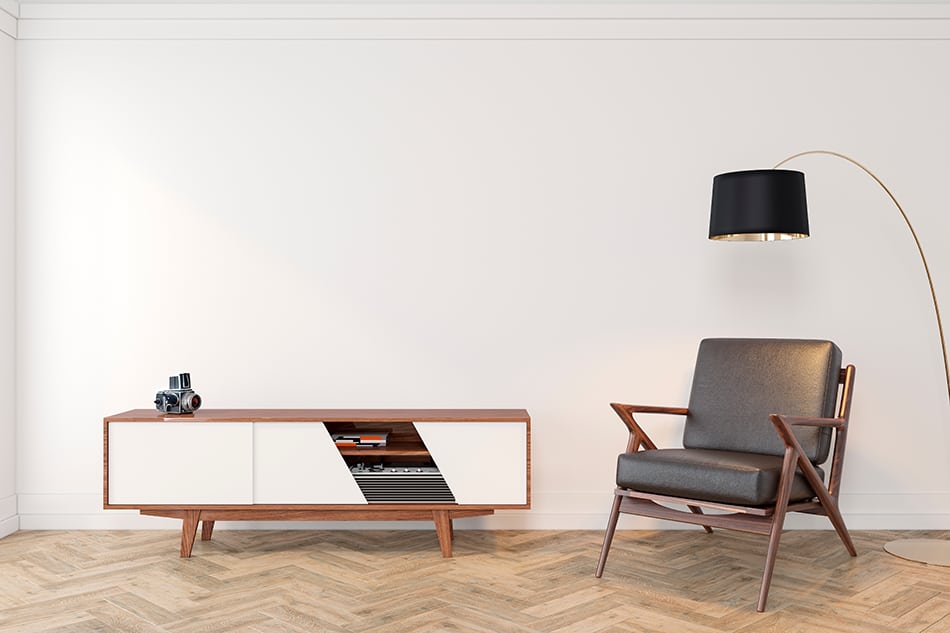 Speaking of minimalism, this mid-century modern room forms a cozy and warm look with very little furniture and decoration. The dresser console and armchair add a funky pop of color into the mix without drawing attention.
Meanwhile, the black floor lamp has created a cohesive look to the entire room, with the patterned wooden floor bringing the space together beautifully.
Vintage Style Mid-Century Modern Bedroom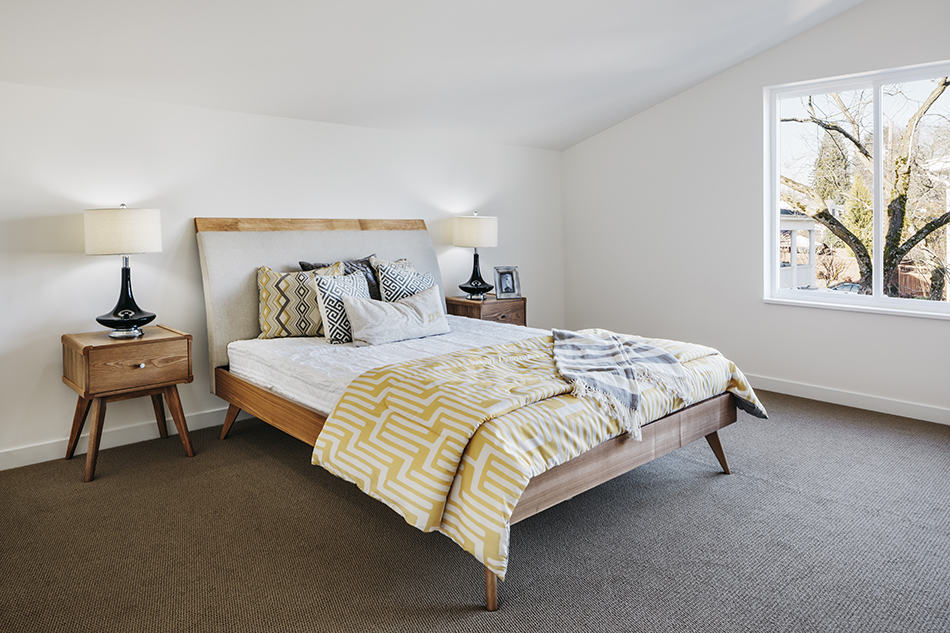 Take a tour of any vintage bedroom and you're sure to find untreated wooden headboards, bed frame,s and side tables that look timeless thanks to the sleek, straightforward design of a mid-century modern interior.
It is all about combining classic features with muted, simple lines for texture. See how this simple, yet elegant bedroom is designed in a vintage style decor that oozes charm and character.
Relaxed Retro With a Hint of Minimalism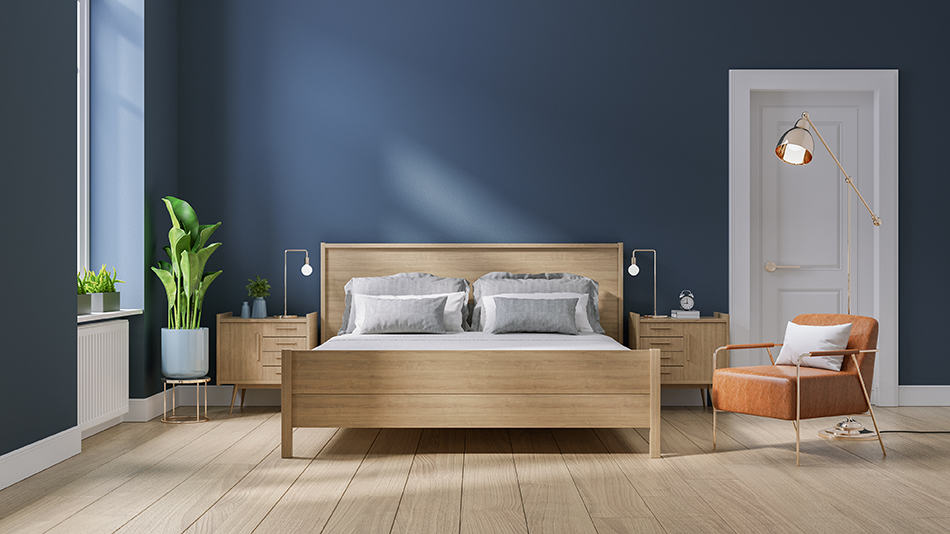 Relaxed retro is one of the most common mid-century modern elements in the form of angled furniture legs, wooden tones, and bold colors. The dark blue wall in this bedroom against a muted soft-colored furniture keeps the palette earth-toned with a pop of color.
This cohesive style provides a balance of patterns along with the solid wood tones. If you love mid-century modern design for your bedroom, but prefer a bold look, then this example might just be what you're looking for!
Organic Materials for a Softer Feel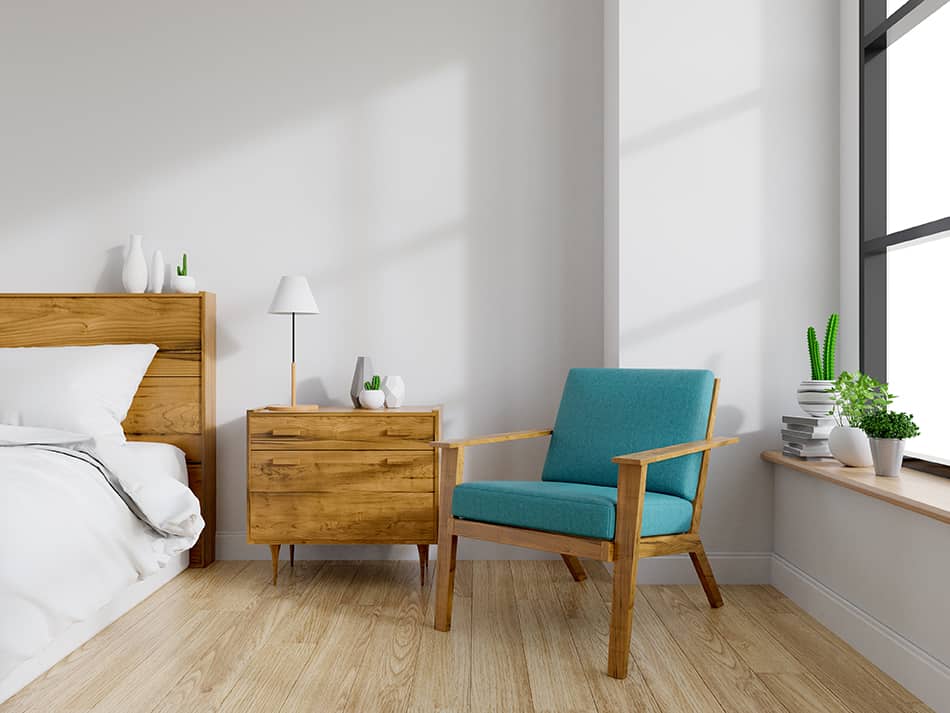 If you aren't keen on bold wall colors in your bedroom, opt for a softer look instead. Here is a blend of organic materials as the perfect example of how neutral and vibrant colors can mix beautifully. Only a minimal amount of decor is required to mimic the look.
You can experiment with wood, stone, or marble as natural and organic materials that enhance the aesthetic appeal of the bedroom.
A Pop of Color in the Kitchen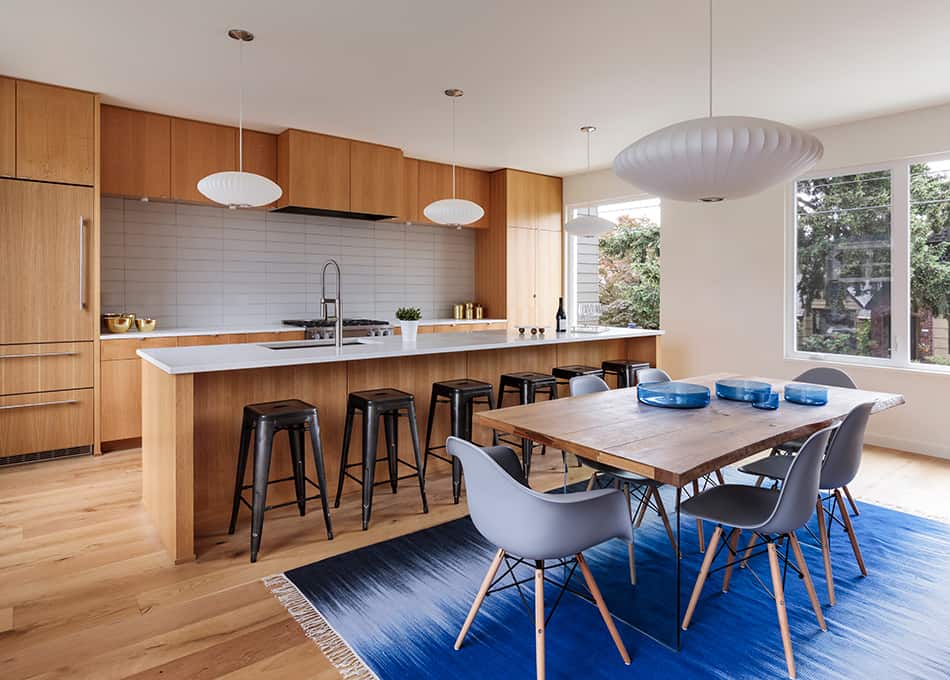 Now how about introducing a pop of color to your kitchen to emit the mid-century modern design. This kitchen looks warm and inviting, is full of character, and best of all, it's practical!
The simple seating furniture in blue along with the basic wooden cabinets play in harmony, without the need to highlight any retro appliances. The kitchen color palette here is both earthy and bold in matte finishes for extra impact.
A Kitchen Island is a Must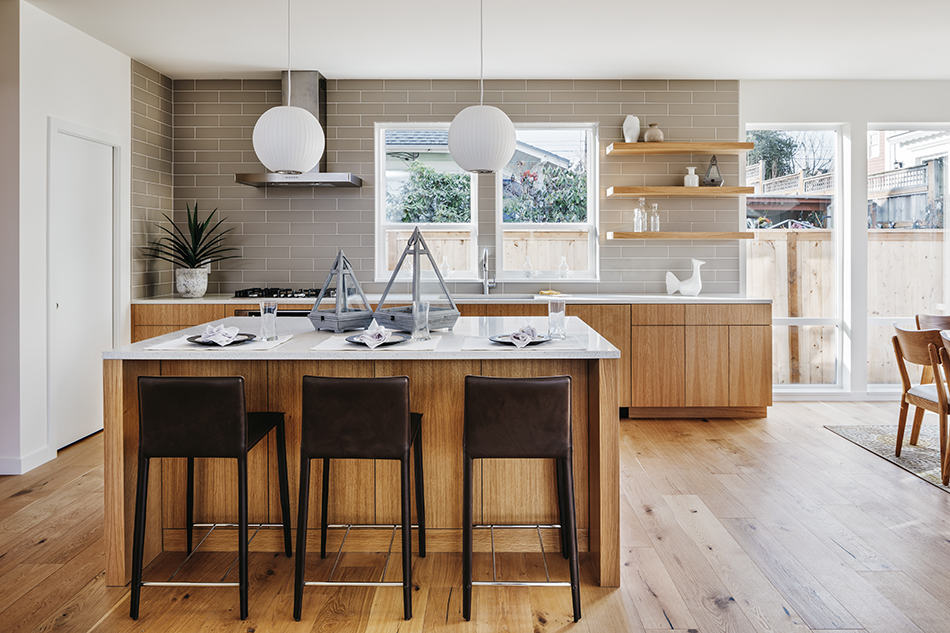 Now if you like the idea of simple and clean lines on cabinets, the other top feature of a mid-century modern style kitchen is an island.
This contemporary favorite is also a vintage must-have so be sure to pair it with slim bar stools to bring your retro kitchen to life as shown in this example.
Scandinavian Style Dining Room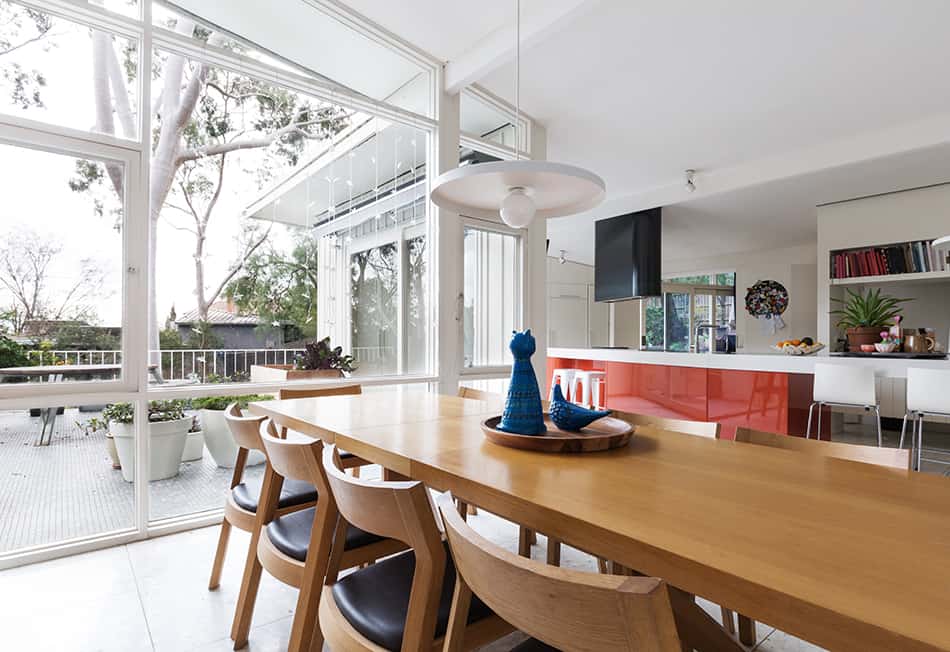 If you're lucky enough to have a separate dining room then you're probably wondering how you can decorate it in mid-century modern. Admittedly, the dining area is one room that can either make or break this interior design.
But the good news is, the dining room is easier to furnish as all you need are brilliantly shaped chairs and a rectangular dining table as shown in this Scandinavian-inspired image.
The beautifully cohesive interior has a modern twist that stands out in this white and bright room. It goes without saying that mid-century modern interior design is very much identical to Scandinavian style decor so if you like the look, it is very easy to emulate as shown here.
Vintage Inspired Mid-Century Modern Bathroom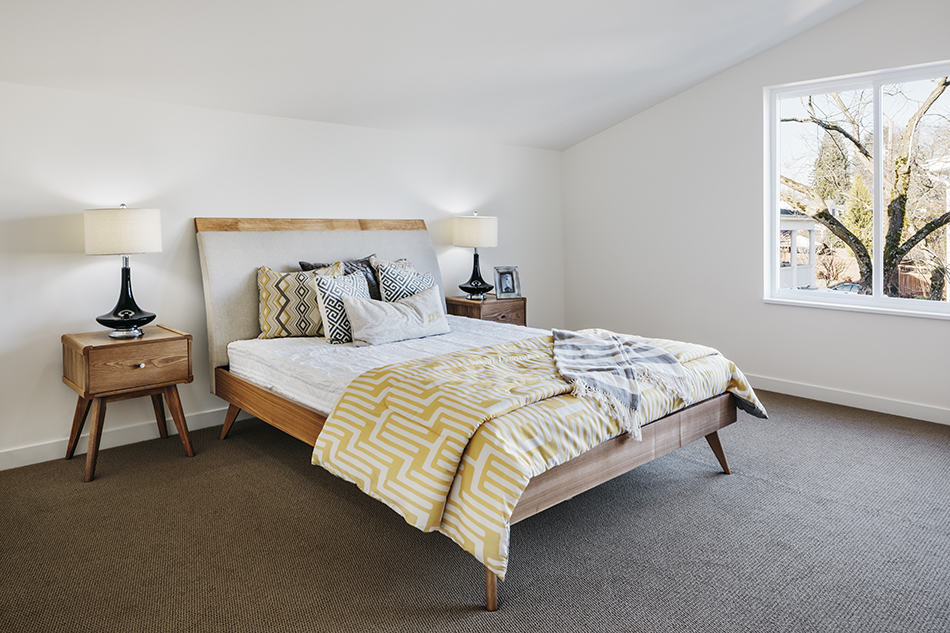 We couldn't bring this article to an end without including a typical mid-century modern bathroom. Although a bathroom doesn't necessarily need to be decorated in this particular design, it will still look great if you approach the same look in small doses.
The bathroom here, for instance, features sleek lines and minimal decor for a timeless appeal. It oozes richness thanks to the layered and organized look featuring simple fixtures that are easy on the eye. You can follow a similar approach by adding small details and extras to your bathroom – no matter what the color of your tiles or walls is!
If you're ready to get started with your mid-century modern room but not sure where to begin, our above examples should help you achieve the same look for your home.
To pull it off, just remember to keep the decor nice and simple by going for an uncluttered look in the form of low-lying furniture in bold colors against a neutral backdrop.