Do you want to live a simple and uncluttered life? Would you like to design your interior spaces in a minimalist style? If you've answered yes, then the Japanese interior design is just the right decorating style for you.
This simple and modest interior decorating concept was introduced to the West during the 19th century and has taken the world by storm ever since.
The unique aesthetics of Japanese-style houses give us a better understanding of the Japanese culture, and it's something that many minimalist-loving fans would love to incorporate into their own homes.
There are several ways you can adopt Japanese-style decoration for your home to achieve harmony and balance. Get an insight into the most important elements by reading my article now.
What is Japanese Style Design?
Japanese style interior design is all about zen. In other words, it's refined minimalism that mixes color and design within natural surroundings. If you're not familiar with the philosophy of zen, let me put it in simpler words.
Zen was originally taught by the Buddhists at the school of Mahayana. This philosophy focuses on intuition and meditation, which is at the heart of the Japanese decorated rooms. These homes boast peaceful simplicity surrounded by modest decorations.
You can easily recognize a zen-inspired home by the abundance of natural flower arrangements and a minimal amount of furniture in the structured spaces. This style will especially appeal to those who like to live in a simple and clutter-free space or want to reorganize their decor to only the essentials.
A typical Japanese-style room consists of earthy colors with clean furnishings. There is no loud music played in these rooms as the atmosphere should be calm and tranquil to create a sense of zen.
Open floor plans are the key elements of this design, in which neutral color schemes sync in harmony. To give you a better idea of how you can decorate each of your rooms in Japanese style, I've compiled some pictures and tips to help you get started.
Embrace the Minimalist Style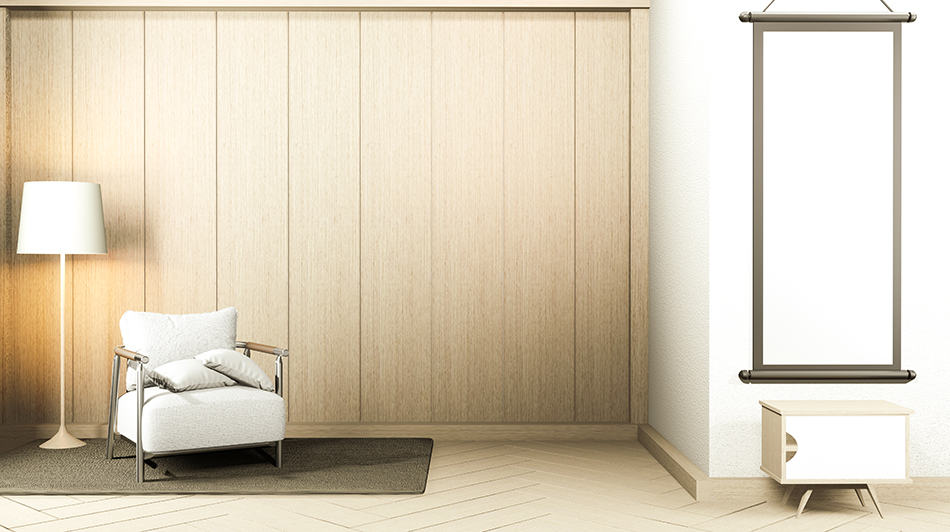 In Japanese-style interior decor, the phrase, less is more, is strictly adhered to. Spaces must be arranged in a non-overbearing way for everyday use. The intention of this minimalist approach is to create an uninhabited and open state of mind.
To bring clarity to your home, you should embrace the minimalist interior design concept that's still highly popular to this day and shows no signs of slowing down. This is the foundation of Japanese design.
Start from Your Entryway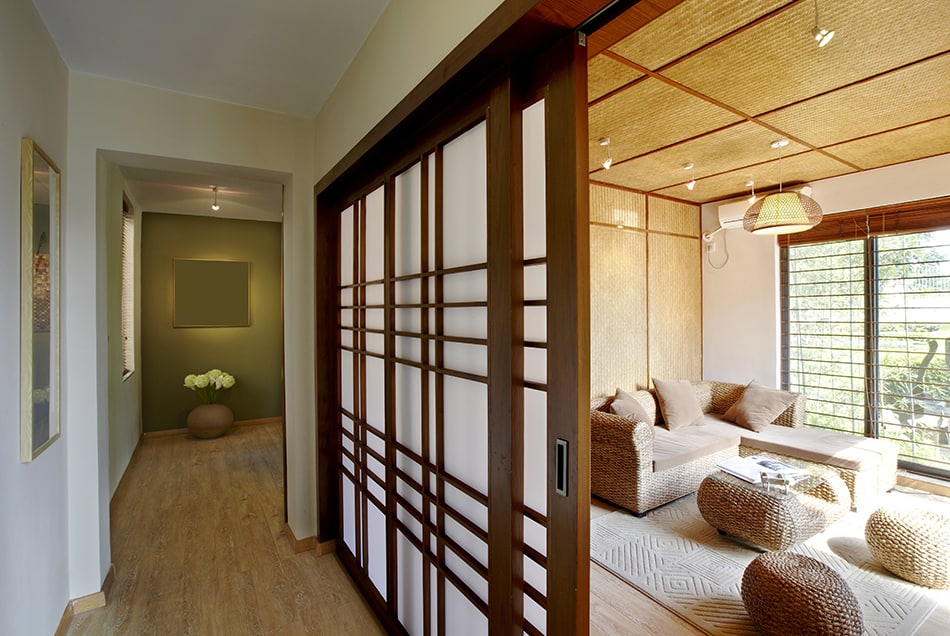 Starting from your home's entryway, the guests can be welcomed in Japanese style by providing them with a shelf to store their shoes.
This Japanese entryway is called a genkan, where the host provides the visitors with indoor slippers immediately after their shoes are removed before entering the living room.
To enhance the welcoming environment, consider having parquet flooring in the entryway to complete the look.
Choose Earthy Color Palette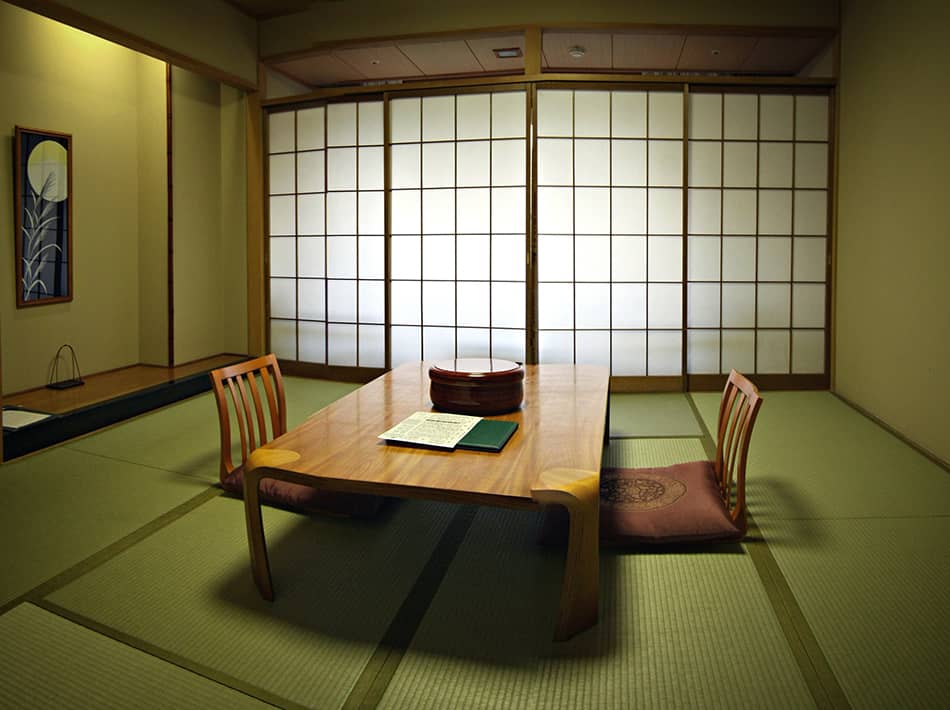 Natural colors are synonymous with a zen-inspired design. Soft tones, such as green, grey, or beige have the power of inducing calmness and relaxation.
You can achieve harmony by matching the color with the flooring and the walls as well as other elements. To add contour, choose one neutral color as the dominant hue with matching textures and objects.
Creating chromatic harmony in Japanese-style interior design is extremely important so you must ensure the walls, floors, and furniture have visual continuity. To do this, you can either choose a dominant color as mentioned before or combine two matching colors.
Earthy colors can be accompanied by stronger fire colors, such as yellow or red. Contrasts work very well in modest arrangements so consider combinations of red and white, or brown and soft green. The key is to achieve balanced and symmetrical elements throughout the room.
Bring Nature Indoors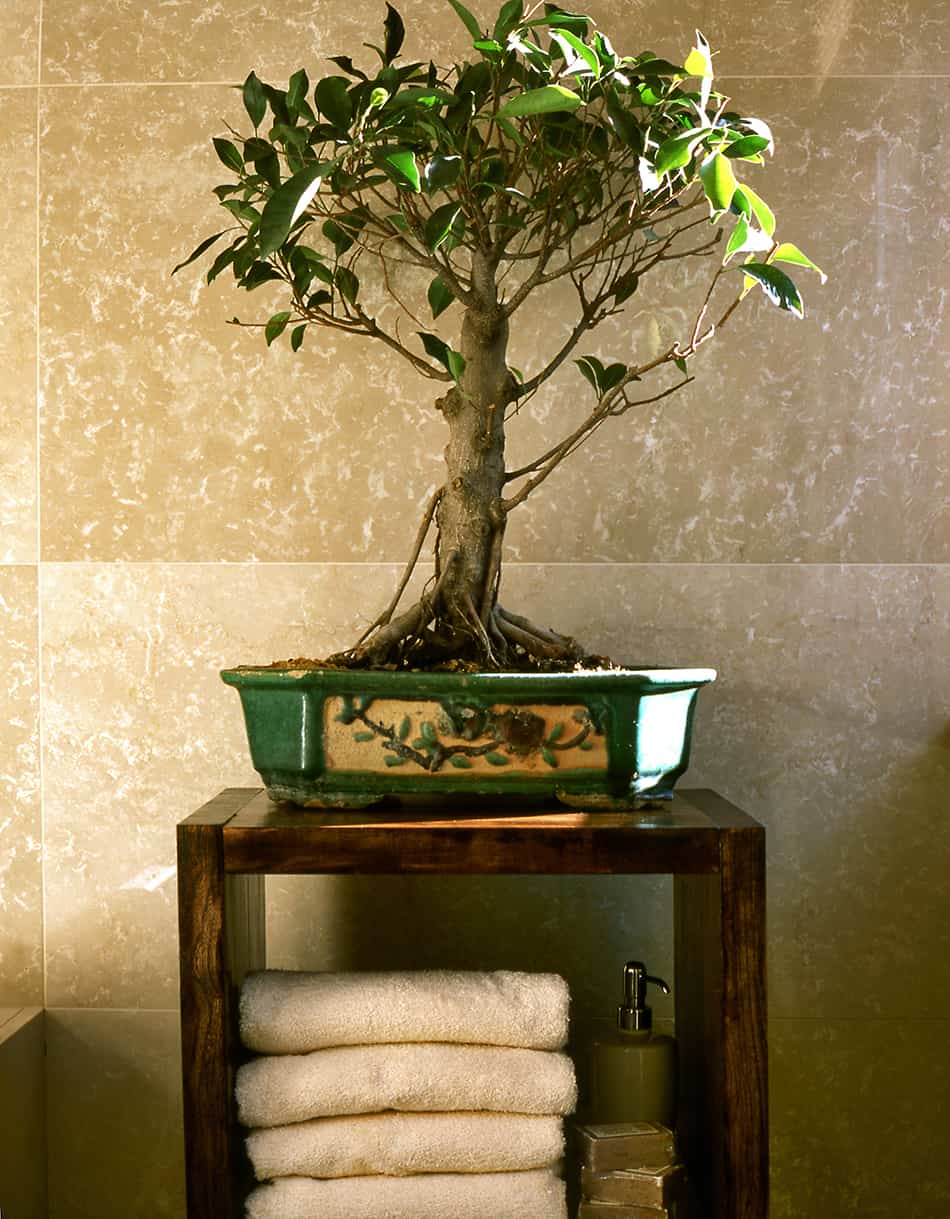 In Japanese culture, nature plays a huge part in maintaining a strong connection between the outdoors and indoors. Bring nature to your home by adding traditional Japanese plants like bonsai trees.
This will give your home a Japanese cultural touch, especially if you place these plants close to the windows. Other popular plants and flowers that are used in Japanese homes include Weeping figs, Chrysanthemums, and Gardenia.
Replace Your Interior Doors with Shoji Screens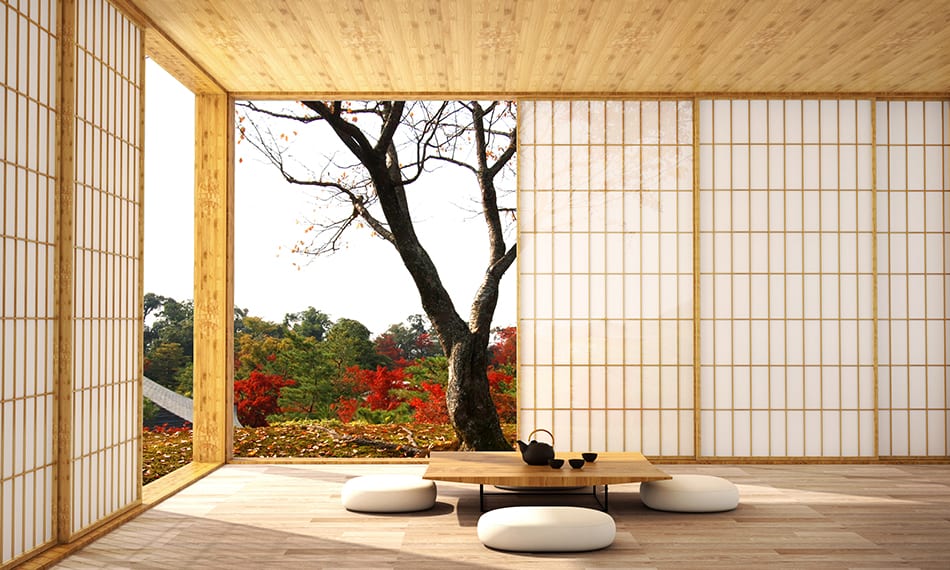 Sliding doors and screens are increasingly becoming popular features in modern homes. These subtle and discreet screens are a reflection of the zen philosophy in regards to open spaces, but they also make a practical solution for any home. Referred to as Shoji, these are semi-transparent folding screens consisting of a wooden frame filled with wicker, cloth, or paper.
If your living room space is large enough to be divided into two rooms, consider installing Japanese-style Shoji screens to transform the space. These sliding screens are the essential design element in traditional Japanese homes, and unlike the conventional swinging doors that take up space, Shojis only slide back and forth.
Keep in mind that the ready-made shoji screens can be rather expensive to buy, but if you're a DIY enthusiast, you can make your own by following the instructions here.
Low-to-the-ground Furnishings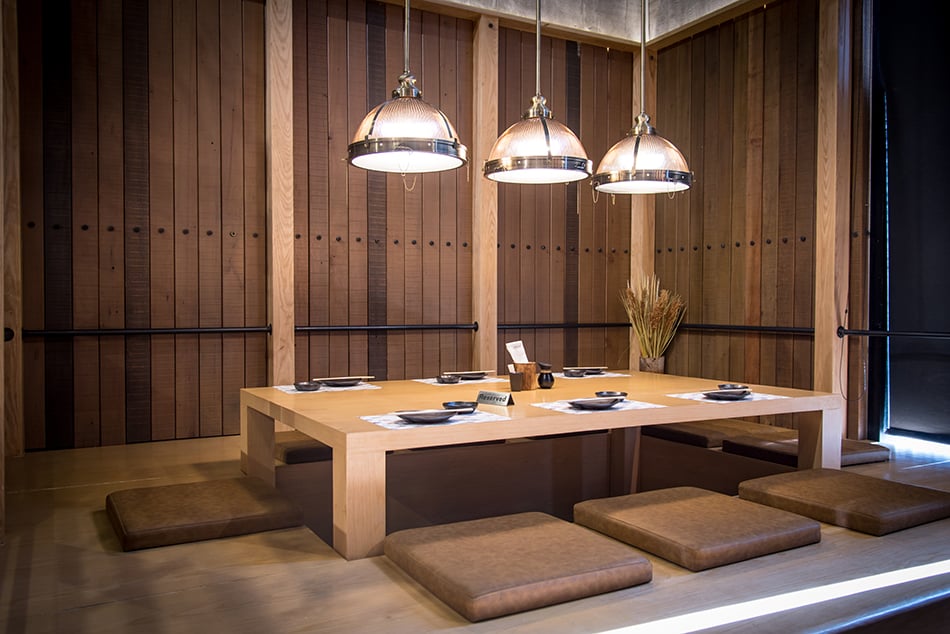 Japanese furniture is low to the ground and contemporary looking in style. The typical seats around the low-lying table usually consist of straw mats or cotton pads.
As you can see in this picture, the cushions on the floor surround the low-profile table to provide seating for dining purposes. Apart from the table and the seating around it, the room isn't furnished with much else as the idea is to keep the furnishings clean and simple.
So when you're choosing furniture for your Japanese-style living or bedroom, be sure to use items that serve functional purposes only. Never clutter up the space with more furnishings than necessary. Remember, the excess isn't tolerated in Japanese-style decor.
Install a Wooden Soaking Tub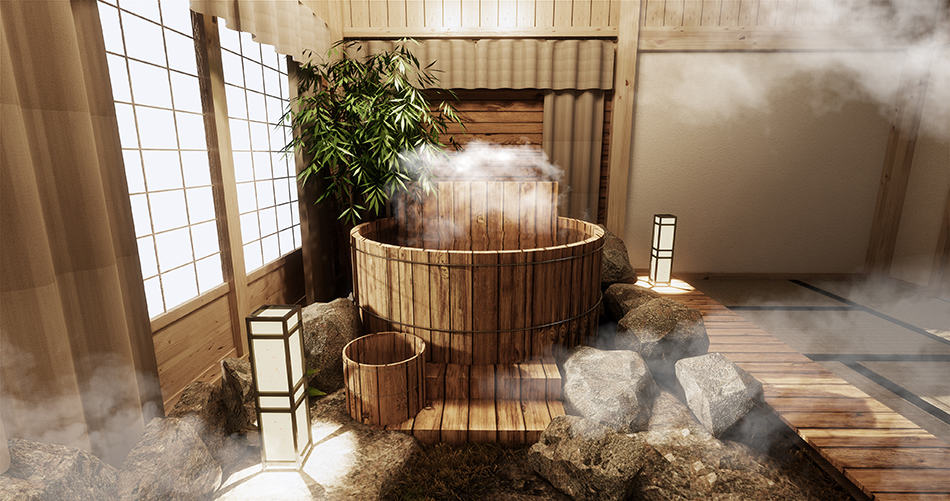 The sound of bubbling water is a serene sound that's very much appreciated in Japanese interior design. To incorporate this into your home, opt for a soaking hot tub installed in your living room or bedroom corner.
The Japanese version of soaking tubs is known as Ofuros and boasts many health benefits. They support relaxation and ease joint pain.
These ergonomically designed tubs are deeper than the standard bathtubs and are usually made of wood, although you can also find them in polyester and acrylic. Soaking tubs are a unique design feature for any zen-inspired home.
Raw Natural Materials are a Must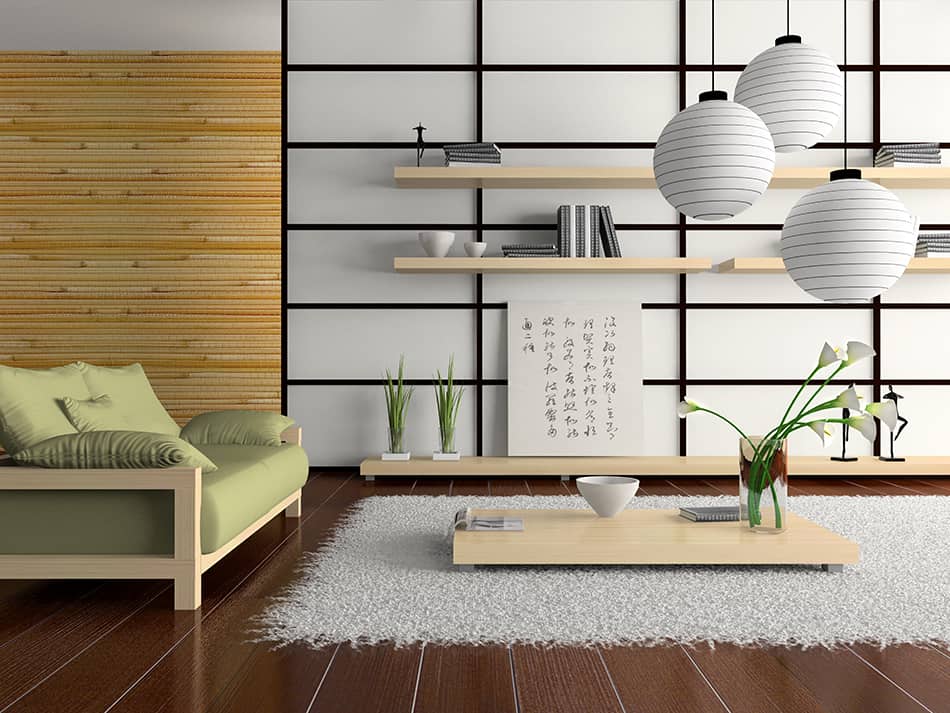 Bamboo and wood are raw materials that are often seen in Japanese homes.
These two natural materials emphasize on light thanks to their earthy appearance. When incorporating these elements into your spaces, consider wood for the flooring and bamboo for the window coverings or as wall accents.
Natural materials connect perfectly with the concept of not cluttering the space and reflecting natural light.
In Japanese-style rooms, bamboo is used everywhere from the floors and blinds to the walls. You will even see bamboo plants in stone vases in the middle of low-profile tables.
Bamboo or straw mats are often used as floor coverings, but they can also be hung on the wall as unique wall art.
Pay Attention to the Lighting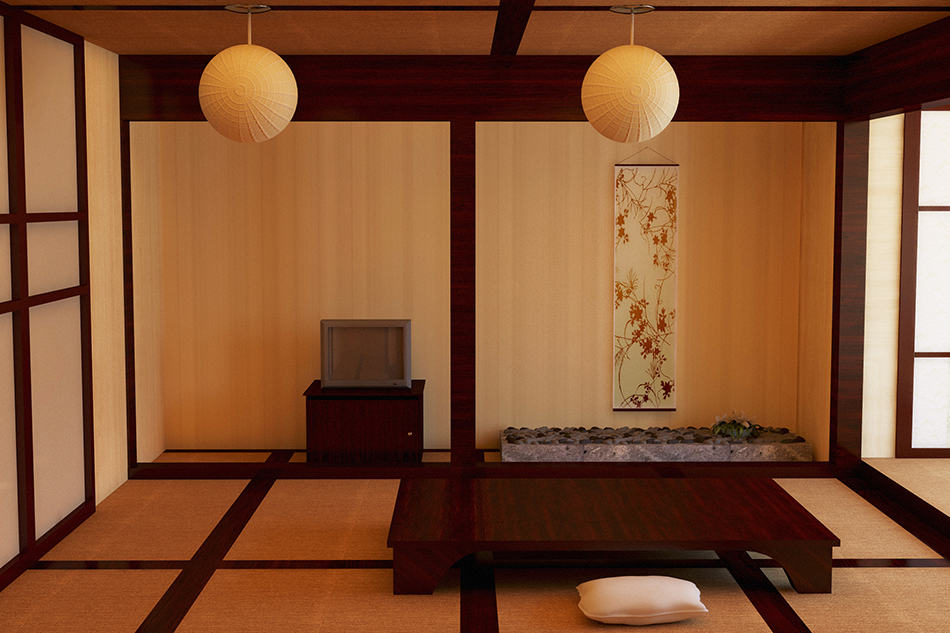 To recreate the same ambiance of oriental-inspired lighting, consider hanging Japanese lamps made from natural fibers. Lighting is typically filtered through natural materials like rice paper or washi paper.
Other common light fixtures in Japanese homes include bamboo-framed lamps and paper lanterns as shown here. You can even hang wall sconces and place a floor lamp on either side of your room.
Soft and mellow lighting made from natural materials works in perfect harmony with the minimalist concept of Japanese-style interior design.
For example, you can use pendant lights made from copper or Japanese-style lamps made from paper and bamboo. Make sure you place the lighting fixtures in the dark corners of your rooms and close to the windows.
Dedicate a Space to Zen Meditating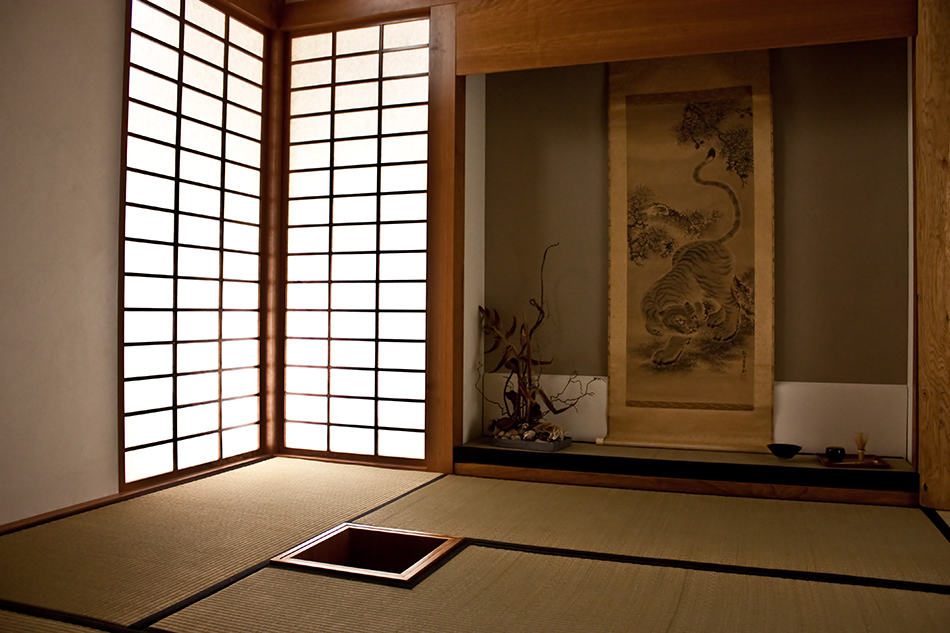 Follow the peaceful Japanese tradition of zen meditating by dedicating a quiet area of your home to do yoga or just enjoy a cup of tea. A serene space away from all the distracting noises with a couple of cushions for sitting down on and meditating is a must in every Japanese-inspired home.
To enhance your meditation space, add a water feature or burn some incense sticks to promote relaxation. Remember not to furnish this particular room with any unnecessary fixtures or furniture.
Tatami Mats for Floor Covering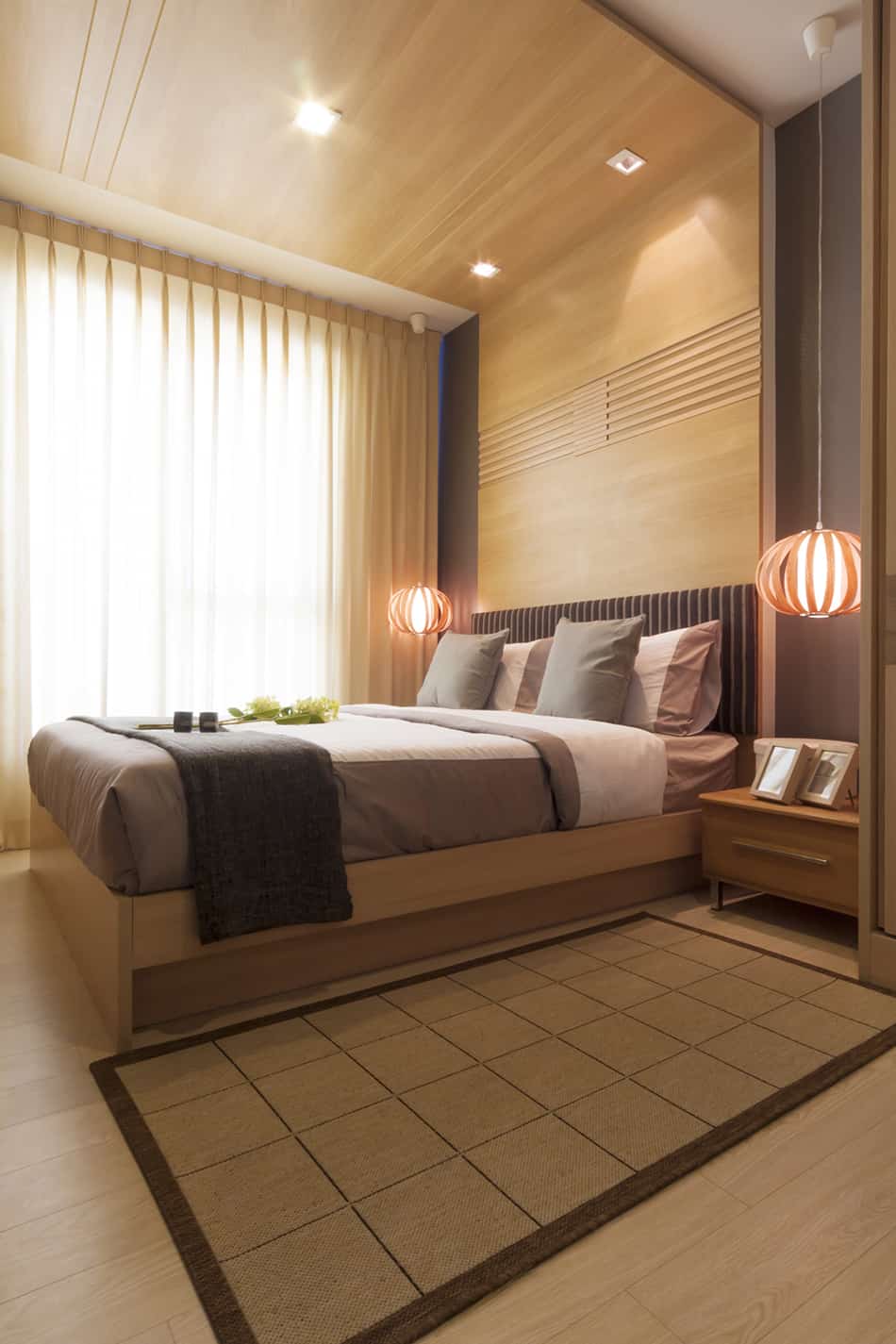 Tatami mats are the key elements of traditional Japanese interior design. They are perfect for covering the floor of your bedroom or living room. These traditional mats are made from woven rice straw and are incredibly comfortable to walk on without shoes.
In most Japanese homes, tatami mats are used for sitting on or spreading on a tatami mattress called a futon. If you can't find a tatami to cover your living room's entire floor, just lay one in the middle of the room where you'll be sitting down to eat.
How to Decorate Your Dining Room in Japanese Style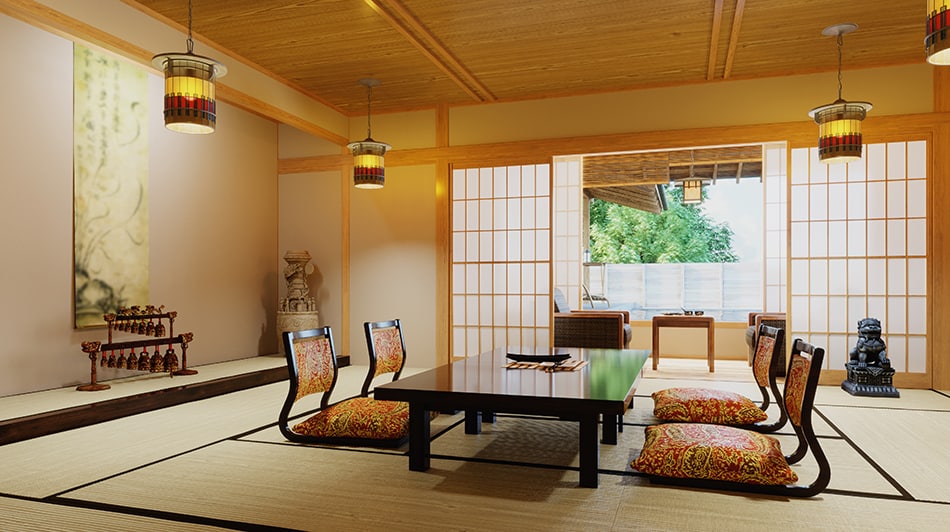 By now, you should have a pretty good idea of my emphasis on minimalism and simplicity when it comes to decorating your rooms in Japanese style.
The same principle goes for the dining room, from which too many photographs, paintings, figurines, and other unnecessary items should be omitted.
One or two items to decorate your room is acceptable but no more. The walls of this room should be bright with adequate lighting.
In this image of a traditional Japanese dining room, you can see how soft yellow and green are used throughout the room. The interior of this room includes tatami mats, shoji screens, and practical low-to-the-ground dining furniture. Furthermore, the decorative elements are kept to a minimum here.
How to Decorate Your Kitchen in Japanese Style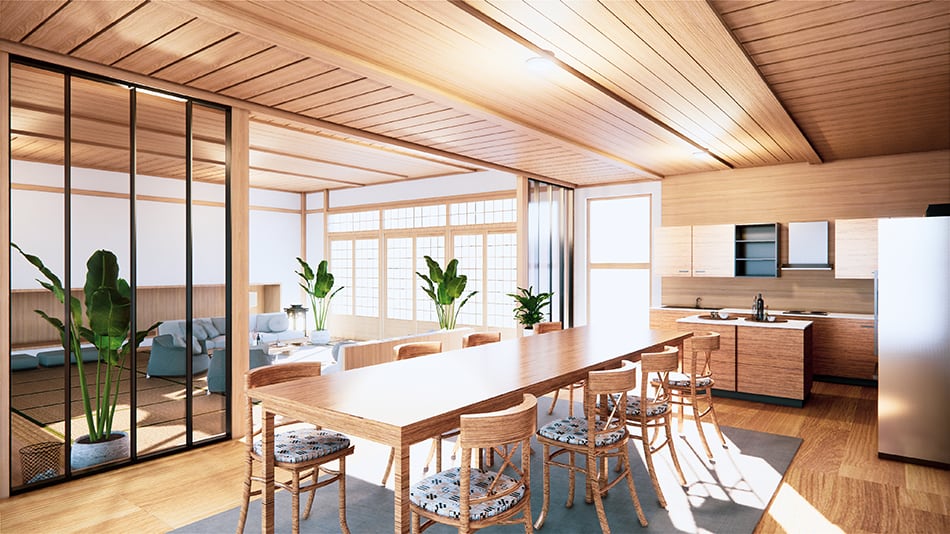 A typical Japanese-style kitchen must be warm and cozy, without feeling restrained. To create a comfortable yet modern oriental kitchen, add bamboo vases, Japanese-style dishes, cotton or bamboo curtains, and rice paper shades.
Mats can be used as seats or you can use simple wooden tables and chairs that match the wooden ceiling and floor as shown here.
How to Decorate Your Bathroom in Japanese Style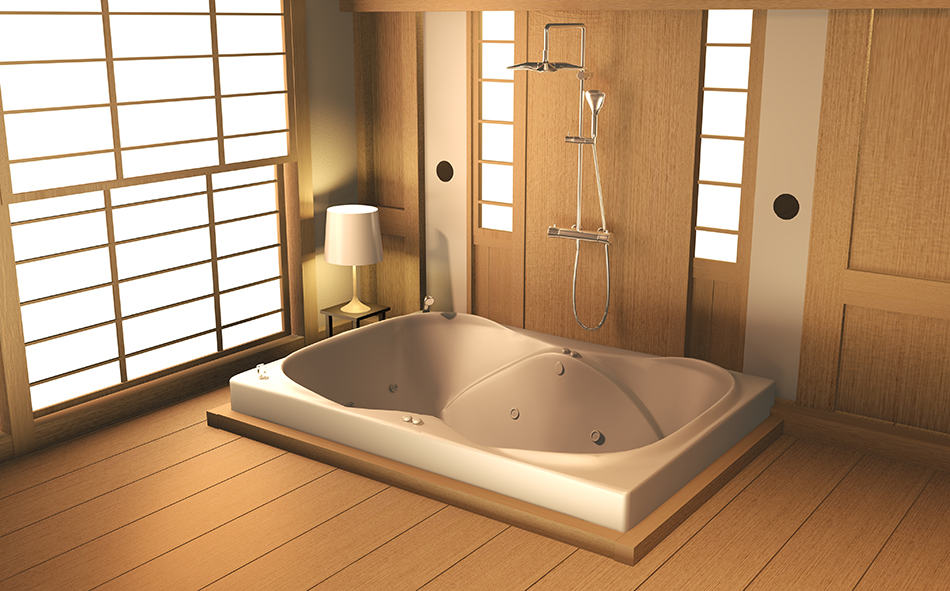 A traditional Japanese bathroom consists of a deep bathtub hidden inside the floor. The frame of the tub is usually made from wood to match the rest of the room's decor. It is customary to take a shower before bathing.
There is also a separate dressing area that's separated by a shoji screen or partition. See how the light and calm tones of this bathroom have created such a relaxing atmosphere. The walls and the floor can be made of wood or straw with a side lamp as a great addition.
Final Thoughts
You don't necessarily have to grow up in a traditional Japanese home to fall in love with its simple and peaceful decorations. The concept of clean, simple, and minimalist interior decorating is embraced by all cultures from around the world.
By adding a few basic elements like plants, soft lighting, water features, incense sticks, and low-profile furniture to your rooms, you can successfully achieve the same theme. Just remember that the Japanese interior colors are all derived from nature.
By implementing some or all of my above room decor ideas to your spaces, you'll be able to enjoy your zen-inspired home for years to come without having to spend a lot of money on fixtures and furnishings.
Try other interior design styles.