From real to decorative cacti, the use of this exotic plant as trendy home decor is something to rave about these days. If you have decided to improve the aesthetic of your interiors but don't know where to start and how, why not freshen up your rooms by updating your space with the cactus theme?
Cacti are stunning desert plants that not only purify the indoors but also provide a clean, natural look to help us mentally unwind. If you're interested in this exotic theme, then take a look at our wonderful cactus aesthetic ideas to find some inspiration for your own home:
How to Use Cactus in Interior Decor
Go for a Modern and Minimalist Design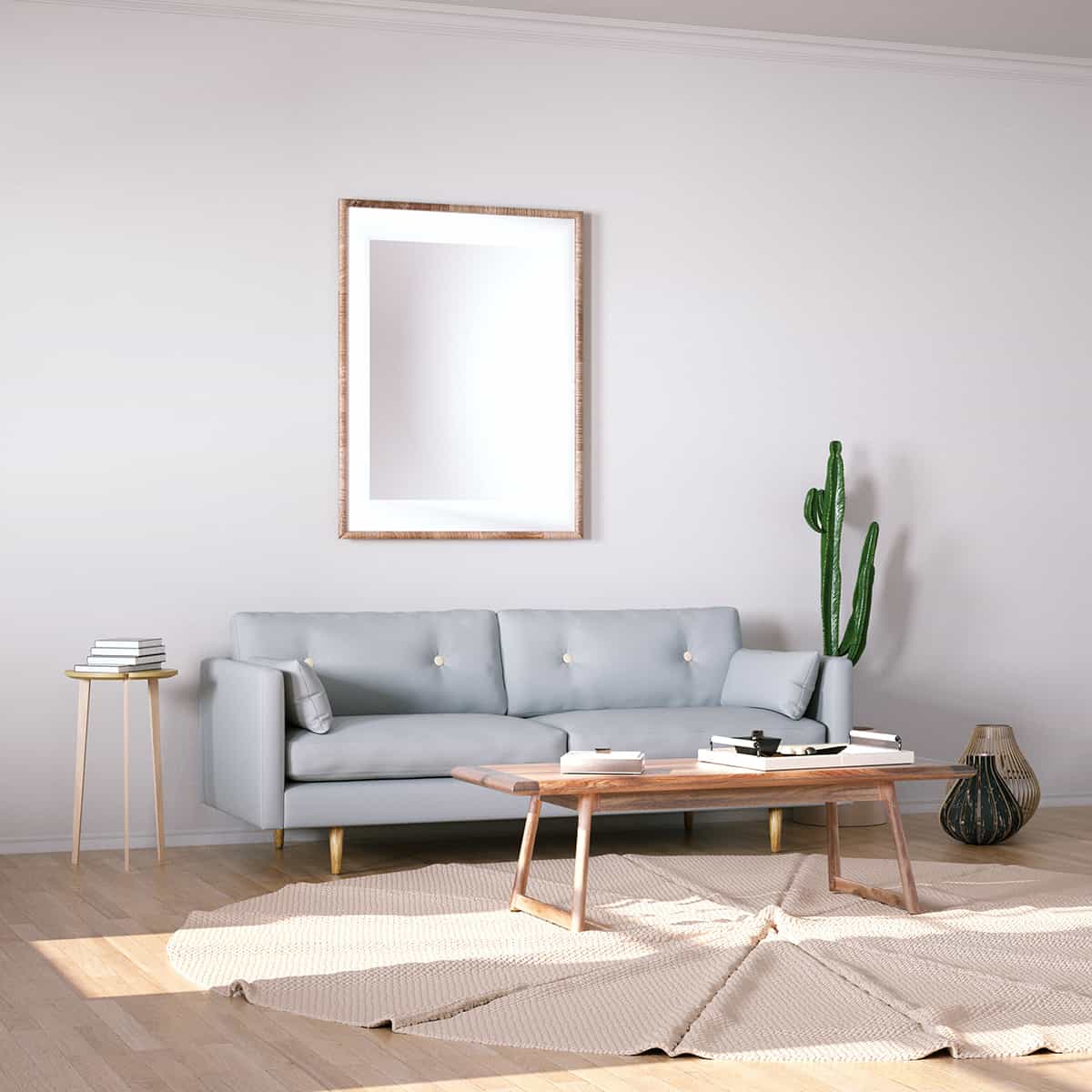 In cactus aesthetics, your exotic plant must be the eye-catching feature of your room. But not everyone has the luxury of large living spaces, where they can design their room around multiple cacti plants. Instead, your small living area can just consist of a sofa and a tall cactus plant next to the seating furniture.
In minimalist interiors, a modern design idea is to place a live cactus plant next to the sofa in order to make a statement. Here, the Scandinavian-style living room features neutral colors, with a tall cactus as the accent that gives a fresh touch to the interior. You may even choose to place the cactus on a side table, but be sure to add plenty of wood elements to embrace the natural theme.
Showcase Your Cactus Wall Art
Every modern living room needs wall art! To showcase your cactus-themed interior, it makes sense to choose a wall art featuring this exotic plant. This is the most eye-catching inspirational piece you can add to your living room to make a statement.
Cactus-Themed Wallpaper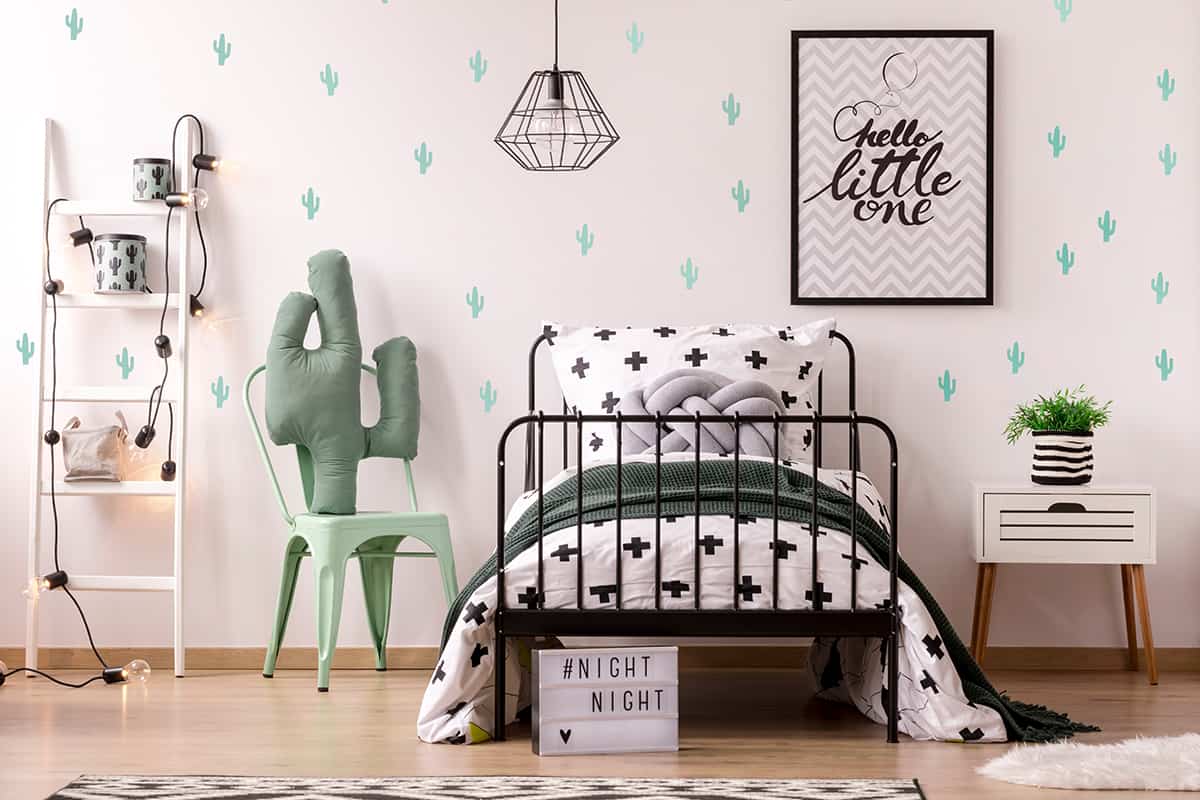 Besides wall art, another great way to use cactus aesthetics is by installing cactus-themed wallpaper on an entire wall. This idea works best in children's bedrooms and nature-inspired living rooms. You can choose pastel or bold color cactus wallpaper to create a desert theme. With so many creative designs available online, it's easy to explore and pick your favorite!
To show you a good example, take a look at this simple yet statement-making cactus wallpaper. It is sure to catch the attention of your visitors but doesn't overwhelm the space, thanks to its interesting yet plain cactus patterns.
Accentuate with Cacti Throw Pillow Covers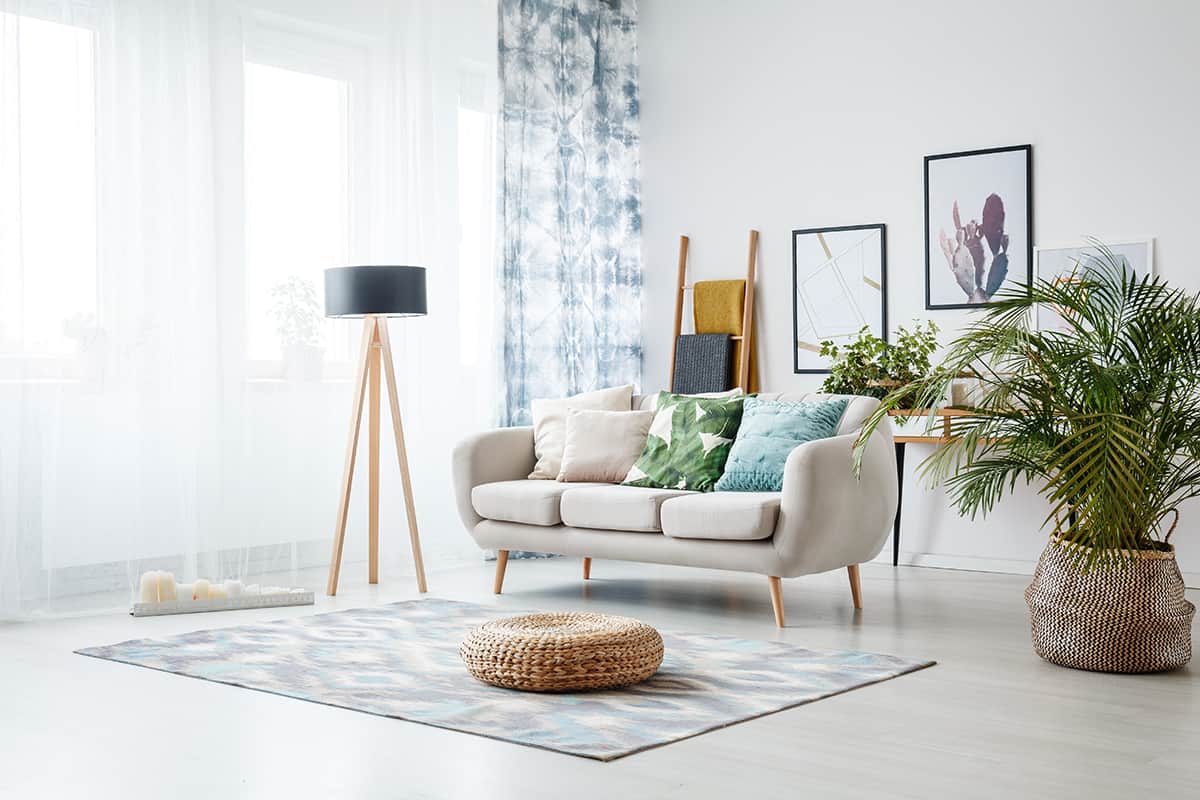 Another colorful and lively idea is to accentuate your furniture with cacti pillows. Cactus-printed pillows complement beds and sofas as they are playful accents that work in any interior.
Decorative pillows are normally used to tie in the theme of the room and bring some color to a neutral space. You may match them with your exotic plant-printed curtains or a collection of succulents on the shelf.
Make a Vertical Garden Out of the Living Room Wall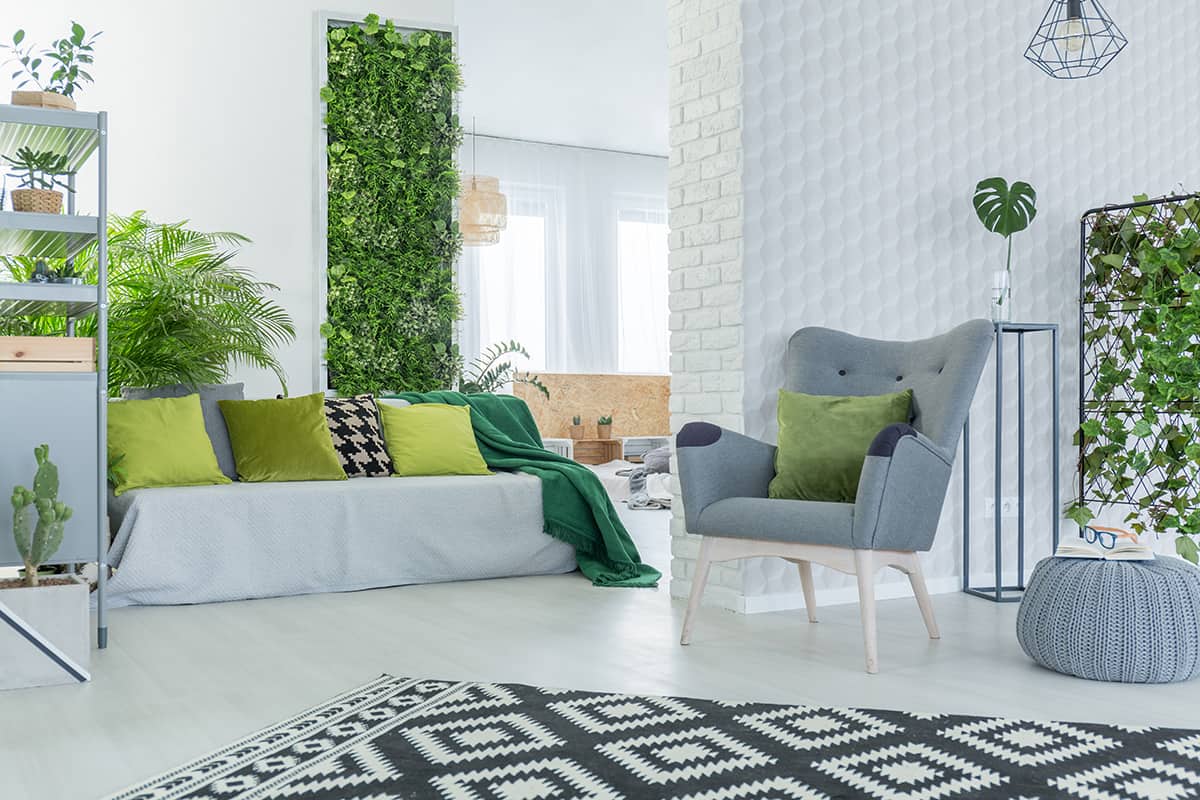 Keep your floor space clear by opting for a hanging garden right on your living room wall! Instead of displaying your exotic plants on tables or shelves, you can line them up along the walls to soften the look of your living room.
Vertical gardens help improve indoor air quality by filtering carbon dioxide and other pollutants from the air. This idea saves valuable floor space and is especially useful in compact living rooms.
Hang Cactus From the Ceiling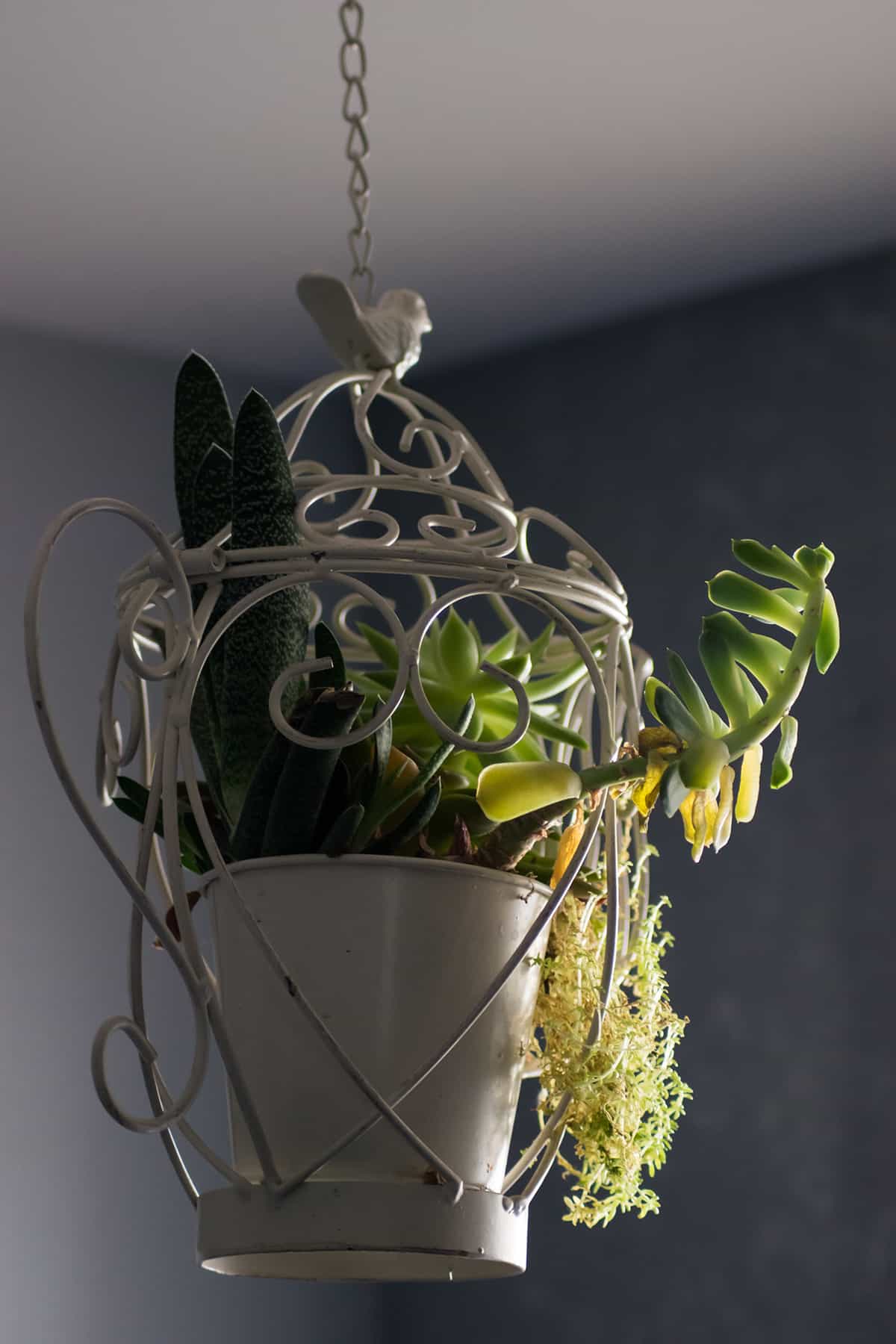 Another idea to keep your floor space clear is by hanging potted cactus from the ceiling. For this, you will need hooks and chains to suspend the cactus from the ceiling. A hanging planter will add visual interest in a living room or kitchen, but if you're hanging multiple cactus plants, be sure to use strong hooks.
Always hang the planter in a room that receives adequate natural light, and take care not to overwater the cactus.
Choose Cactus Bedding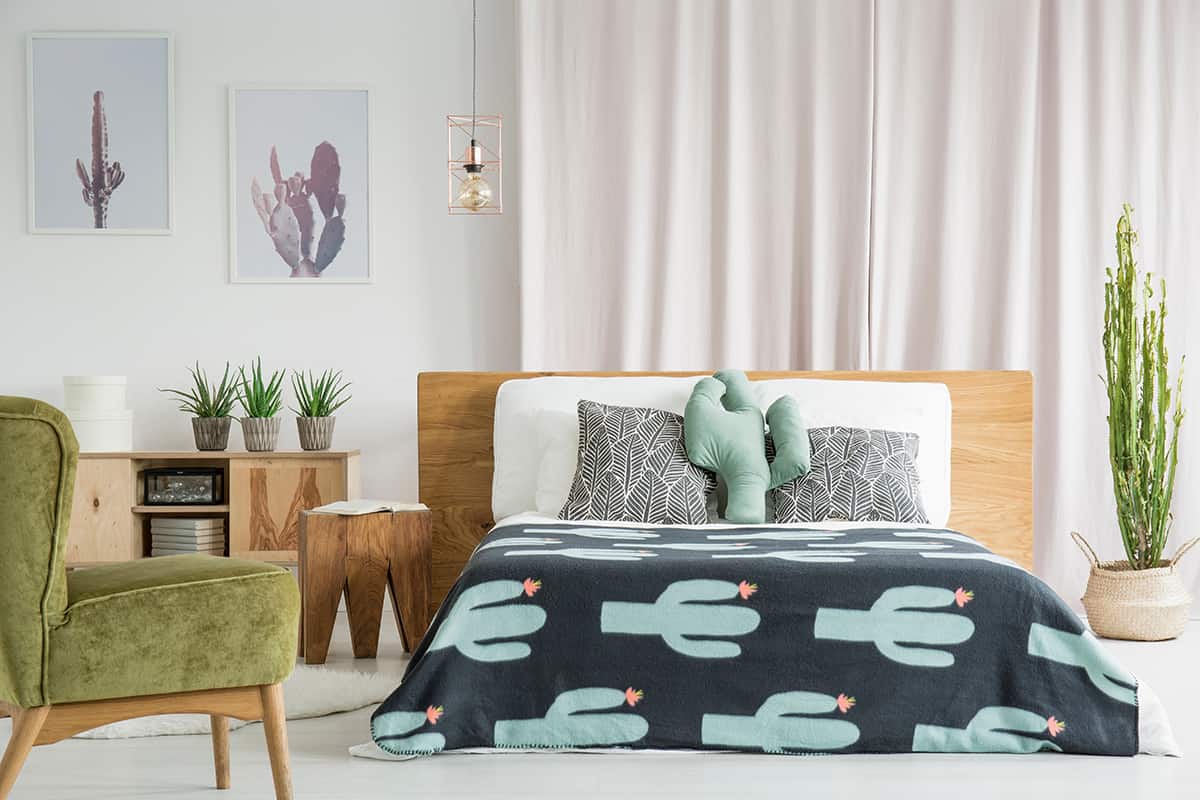 Cactus aesthetics don't have to be limited to just living rooms or kitchens. For the master or children's bedroom, it is worth considering this desert theme. Cactus-printed bedding is the ideal way to liven up a neutral bedroom.
Fill an Empty Corner with Cactus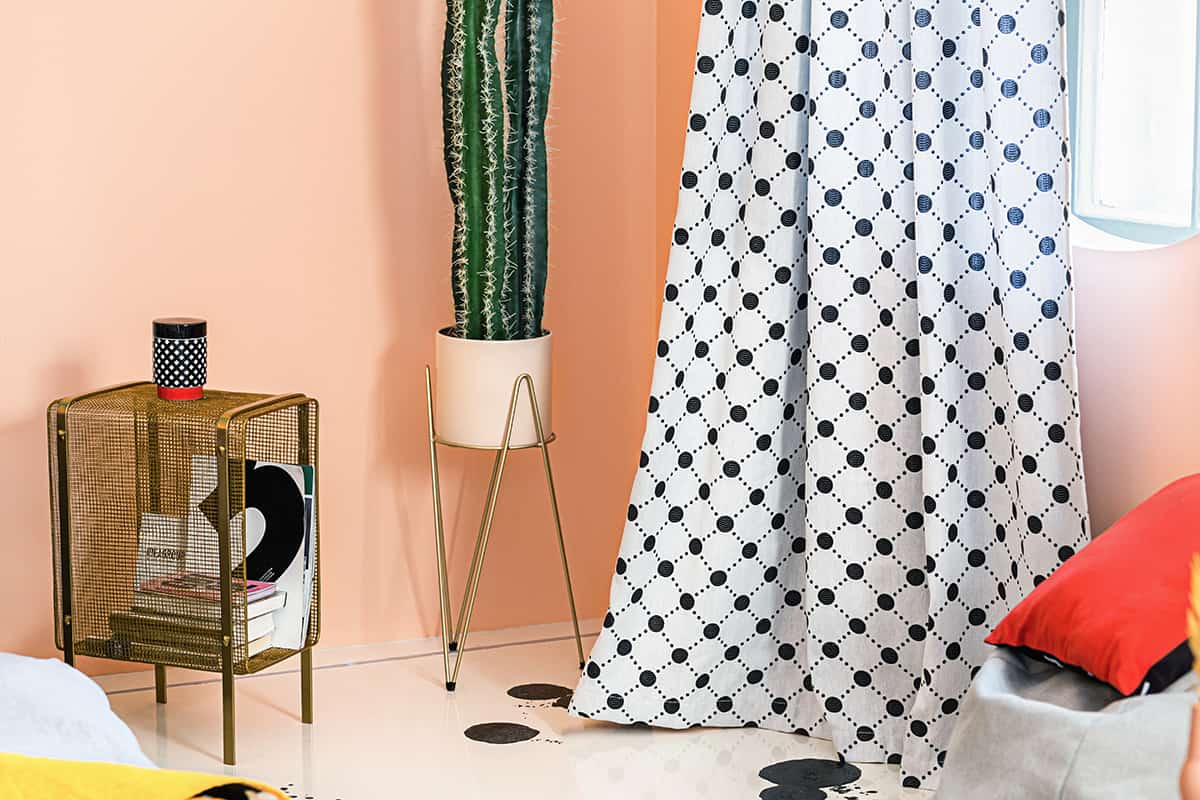 Do you have a bare corner in your living room and don't know how to fill the space? Why not place a lovely low-maintenance plant like cactus to bring your empty room corner to life? A tall potted cactus can quickly transform a bare corner into a focal point.
And if you want to take this idea one step further, get creative by putting the cactus in an interestingly designed pot so it stands out just like the one we've shown you in this example.
Place Some Cacti on the Window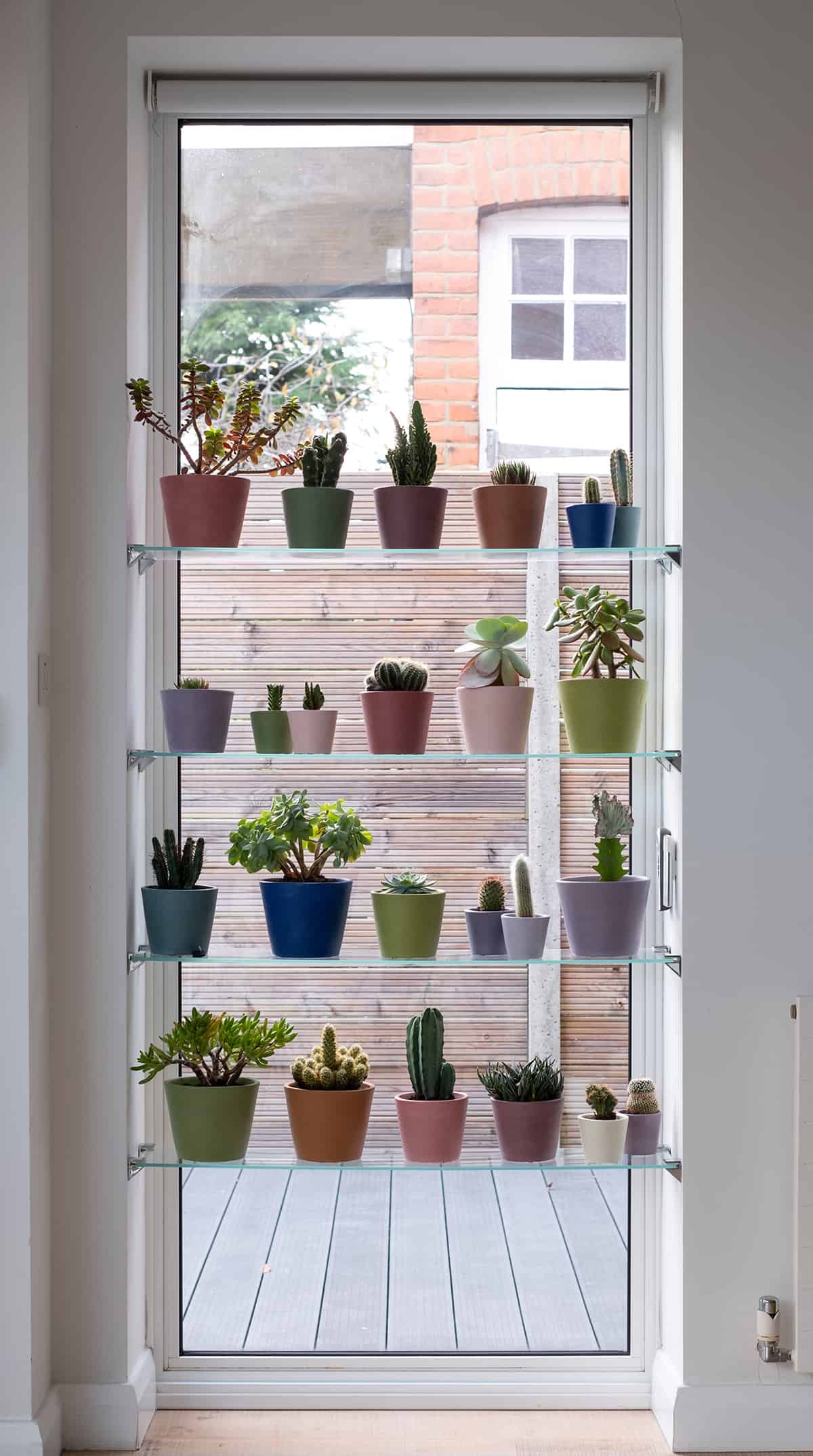 If your window is wide enough in your living room or bedroom, and you want to increase privacy without hanging curtains, then consider placing a row of cactus plants on either the windowsill. Succulents love bright spots where they can receive plenty of sunlight.
However, if your windowsill isn't wide enough, it is possible to mount some shelves to arrange your cactus plants. Since the best place to put a cactus plant is on the window, it will help your plants thrive as well as improve the aesthetics of your interior.
Display your Small Cacti Collection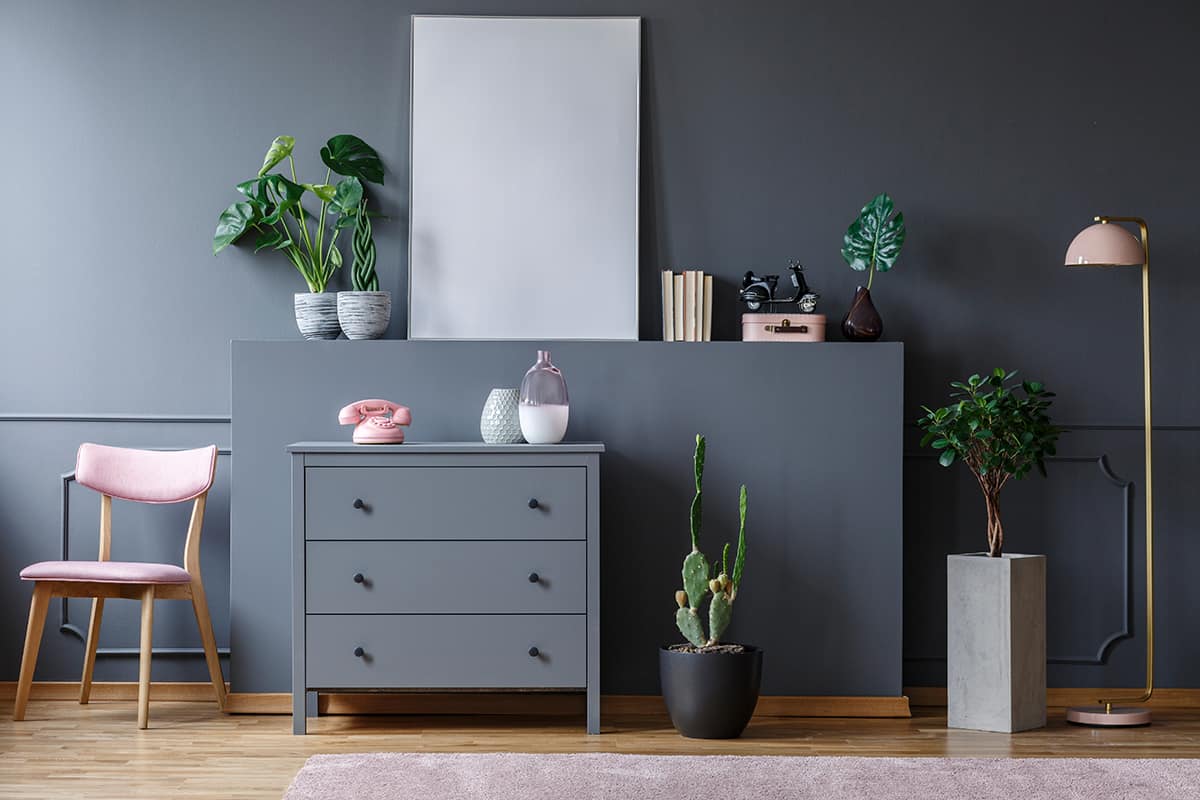 Aside from arranging your beloved cactus plants on the window, another great place to display your exotic succulents is on the nightstand or bedside table. You can easily show off your cactus collection amongst your favorite home art pieces and be proud of the exotic theme you've created in your bedroom.
Choose Hand-Painted Clay Pots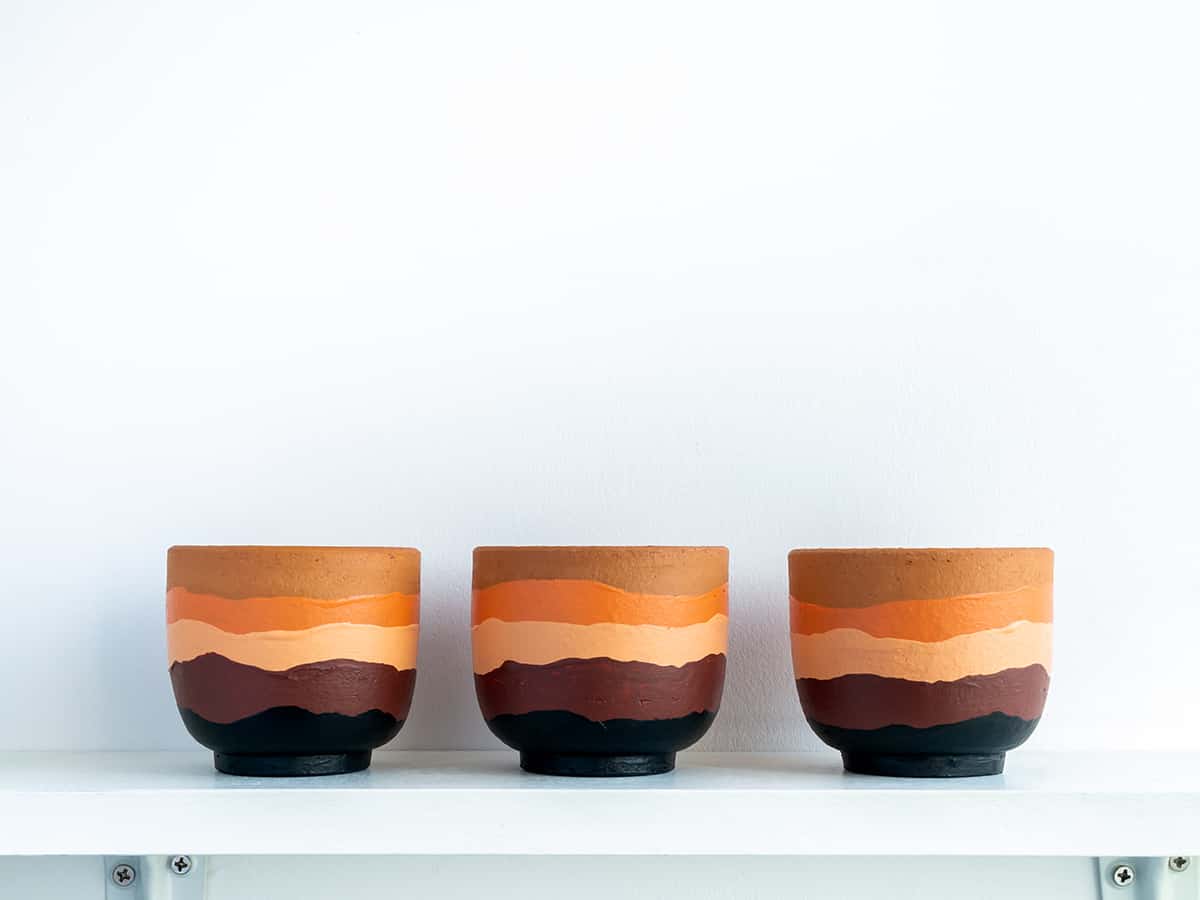 Indoor cactus plants certainly enhance the beauty of any room. But have you given a thought to the pot your plant is placed in? After all, the idea is to create a cactus aesthetic decor for the interiors. Using a beautiful hand-painted clay pot is an excellent way of increasing visual interest in your living room or bedroom. And for an extra pop of color, go for floral patterned clay pots like the ones we've picked here.
These stunning hand-glazed and hand-painted clay pots feature gorgeous multi-layer patterns in shiny colors. The clay pots aren't just suitable for your cactus plants, but they also make a great decorative accent.
Decorate the Coffee Table with Cactus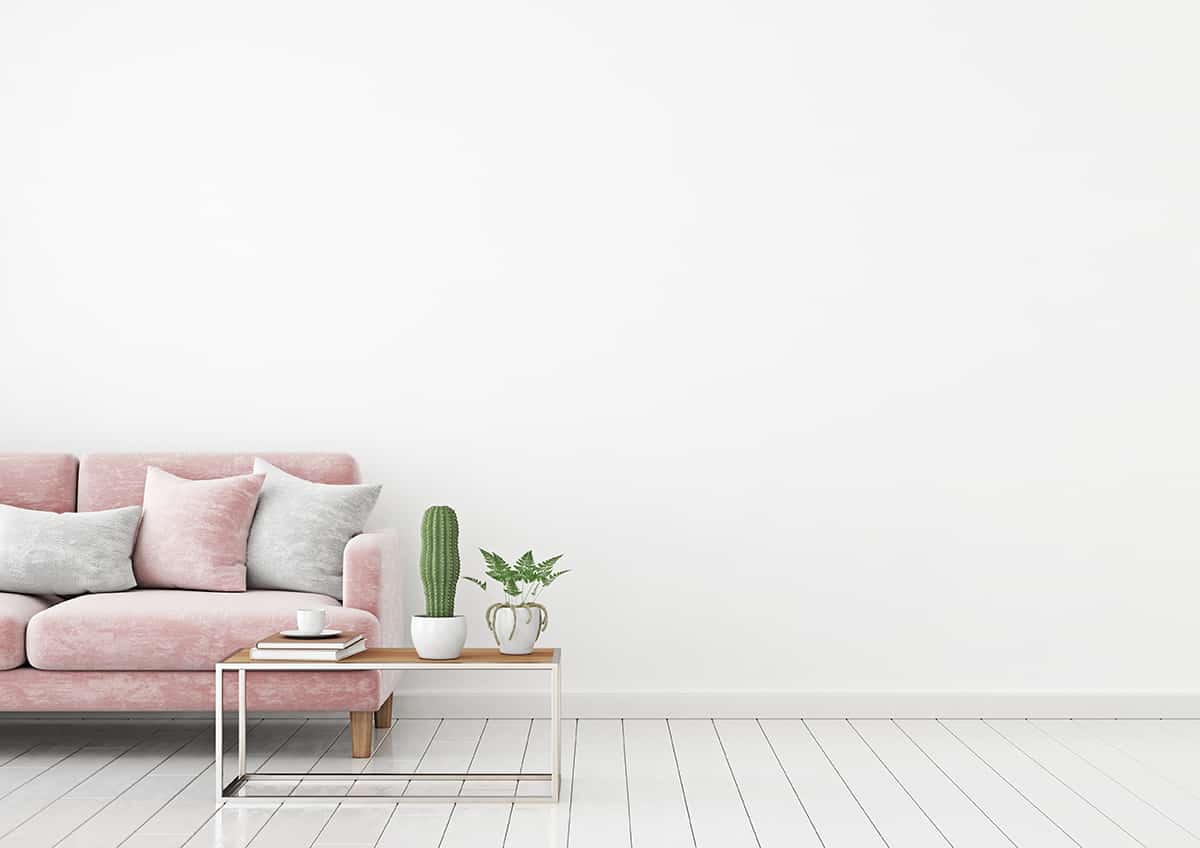 Even if you don't have a large collection of cacti to put on display, you can place one or two cacti on the coffee table as part of your room decor.
Pick a simple pot and place the cactus next to a stack of books or magazines on the coffee table. This elegant pairing will definitely make your living room stand out.
Use Cacti as Living Room Centerpieces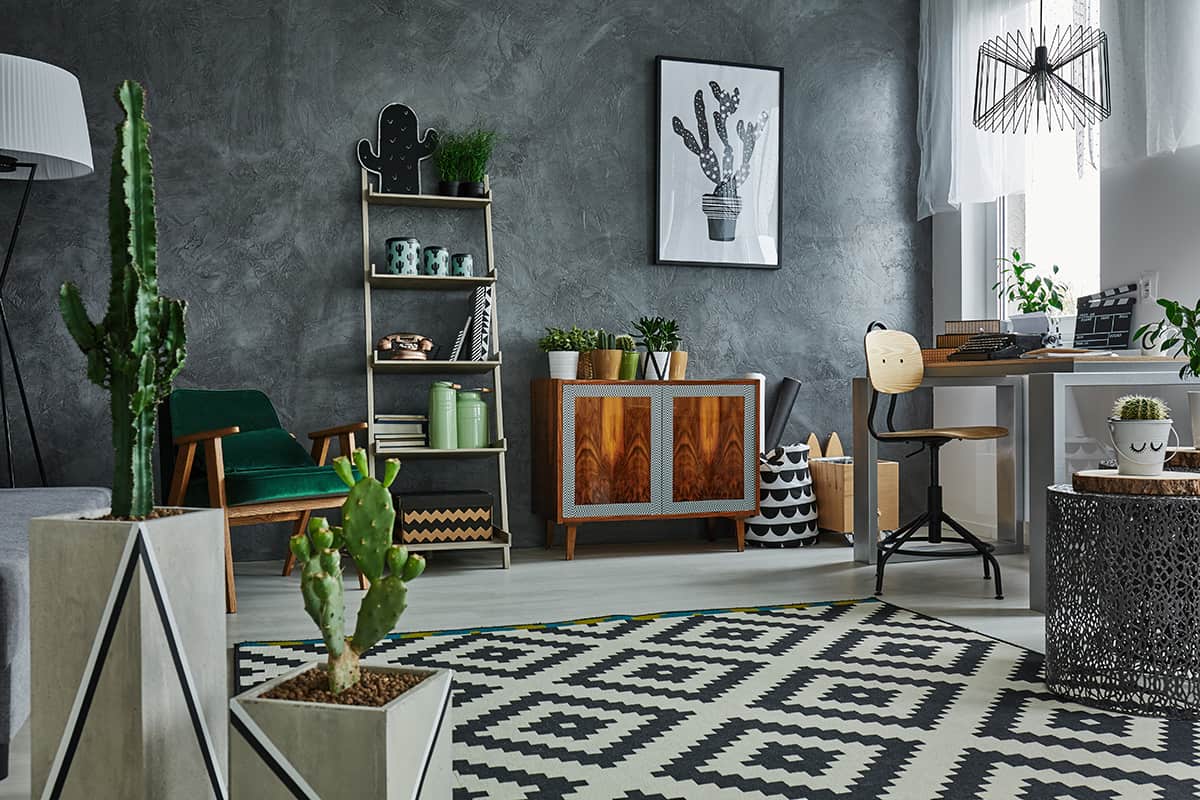 For those who want to go all out in a cactus-themed room, we have just the right suggestion. Make your cacti collection the perfect centerpiece of your living room by splurging out on cacti of all sizes and colors and placed in unique pots.
As you can see in this example, there are various cactus plants in beautiful, distinctive pots around the predominantly grey living room. The neutral pairing of grey with green cacti in white pots works like a treat to enhance the aesthetic appeal of this room. Since cactus plants are very low maintenance, you can simply place them all around your living room and let them shine instantly as the room's centerpieces.
Conclusion
Cacti are stunning plants that make a perfect addition to any house. Whether you want to improve the aesthetics of your bedroom, living room, kitchen, or dining room, by using decorative or real cactus plants, you'll be able to create exquisite home decor through cactus-themed accents, wallpaper, or throw pillows.
Simply take your pick from our above cactus aesthetic ideas to instantly beautify your home.