Yellow was once a popular color choice for bedrooms, but it has fallen out of favor over the last two decades. However, if you discount yellow as a paint color for the bedroom, then you're missing out because this cheerful color has so much to offer.
It is an incredibly versatile color that can be used to create positively soothing spaces or glowing regal rooms. Check out the list below to discover the best yellow paint colors for the bedroom currently on offer.
About Yellow
Yellow is a joyful color that is believed to have a positive impact on the mind. It is associated with bright sunny days and represents feelings of happiness, energy, and spontaneity.
Yellow is a warm color that can make a space feel welcoming and comfortable. The contrasting color to yellow is purple since this is the opposite color on the color wheel.
For a bold look, use purple and yellow together and enhance the qualities of both shades. Pale yellows can also read as neutrals since many neutral colors have a yellow base, for example, beige and cream.
Darker shades of yellow add richness to a space, while softer shades feel more easygoing and casual.
Opt for light and cheerful shades of yellow in guest bedrooms, pastel yellows in children's bedrooms, and more moody shades of dark yellow in adult bedrooms. Get to know more about the color yellow in our articles ' 10 Inspiring Colors that Go with Yellow ', ' 10 Colors that Go Well with Mustard Yellow '.
What Yellow Paint Colors For Bedroom?
Behr- Turmeric (M290-7)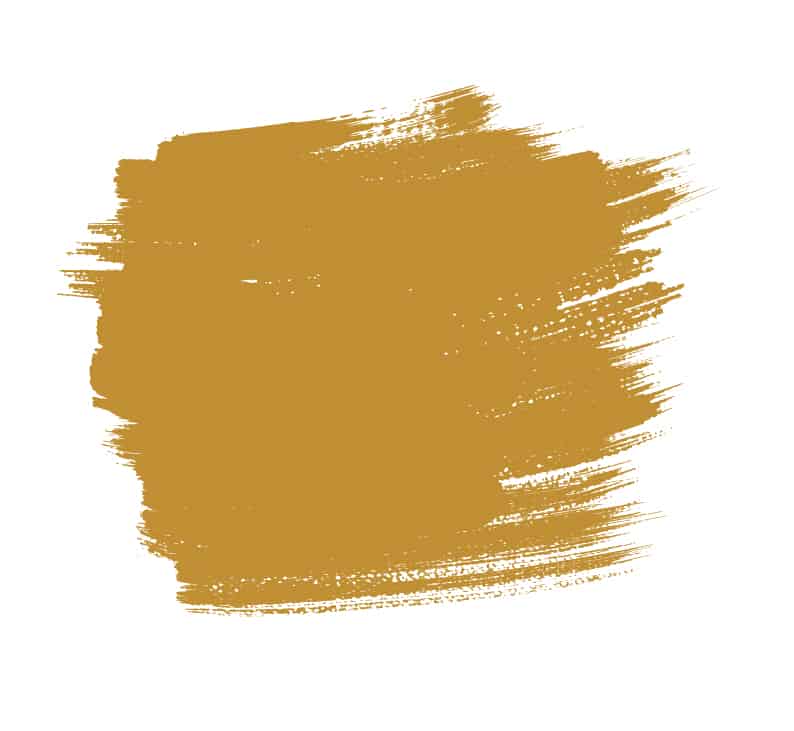 Turmeric is a deep and dark shade of yellow named after a spice of the same color. It has brown undertones, which give it a warm and luxurious feel.
This is a color that at first seems like a bold choice, but it has an intensely soothing effect that ensures it doesn't feel overwhelming when used on the walls.
In a bedroom, pair this paint color with white and ivory soft furnishings to brighten up the space, or opt for contrasting shades like teal for a sophisticated contemporary look.
Valspar- Saffron Ivory (7003-21)
This is a beautifully soothing shade of yellow that induces feelings of calm and lightheartedness. It is a barely-there yellow with a heavy proportion of white, which means that in some lights, it will appear to be more off-white than pale yellow.
The aspect of the bedroom you use this color in will make a big impact on how it reads, with low-lit rooms making it appear more of a dull yellow and brightly lit room giving it a stronger yellow glow.
Since this paint color is so pale that it almost falls into the neutral category, it will work well in any type of bedroom. Use it in a guest bedroom with lilac accents for a fresh, spring-like feel, or pair it with pastel pink in a child's bedroom for a subtle prettiness.
Behr- Bicycle Yellow (370A-3)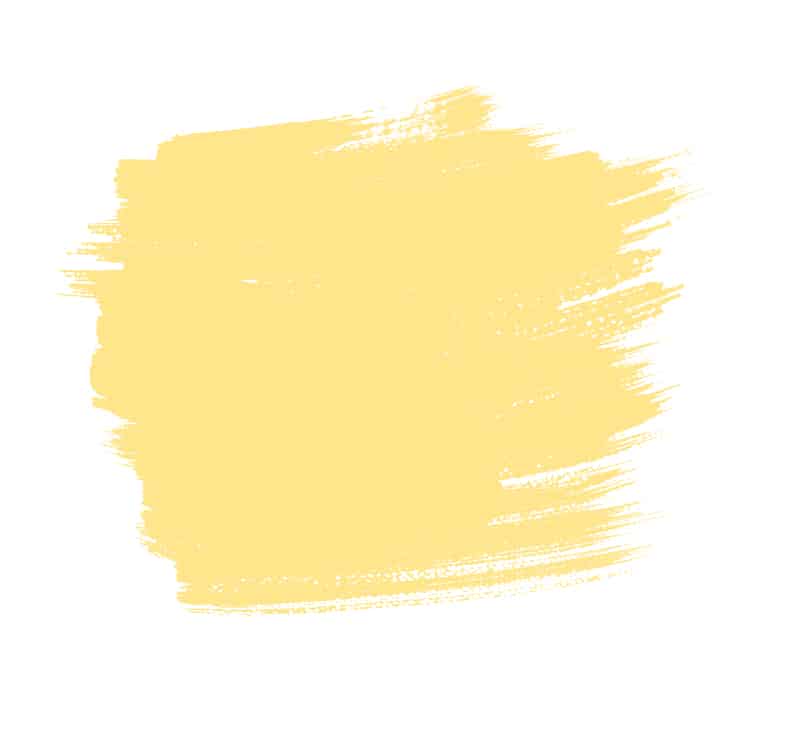 This shade of yellow is bright and cheerful but slightly muted so that it won't feel too strenuous on the eyes. It creates a joyous atmosphere that will brighten up the dullest of days and is sure to inspire positivity.
Use this paint color on the walls with white trim for a classic look, or pair it with a pale to medium gray for a more contemporary take on a yellow bedroom.
Valspar- Redstone Dining Room Gold (3006-8A)
This is a yellow paint color that has some brown components, giving it a golden glowy finish. If you want to paint a bedroom yellow but are wary of it being too stimulating, then opt for a gold shade like this that will read as more of a neutral.
The name of this paint color indicates that it is ideal for a dining room, but it also works well in bedrooms and formal living rooms to give a glamorous and sumptuous style.
Pair it with a light gray-green color to create a contrast that is subtle and opulent. In a bedroom with gold-yellow walls, avoid metallic finishes to ensure the resulting effect is not gaudy.
Sherwin-Williams- Moonraker (SW 6701)
This yellow paint color has green undertones that make it feel quite earthy and natural. It has an almost khaki feel to it that makes it incredibly versatile and almost neutral.
The green tones in this shade balance out the warm tones, resulting in a color that creates a leveling sense in space.
Pair it with dark brown wooden furniture to draw out the green tones, or use it with cream and beige shades to create a harmonious look that will feel easygoing and comforting.
Benjamin Moore- Hawthorne Yellow (HC-4)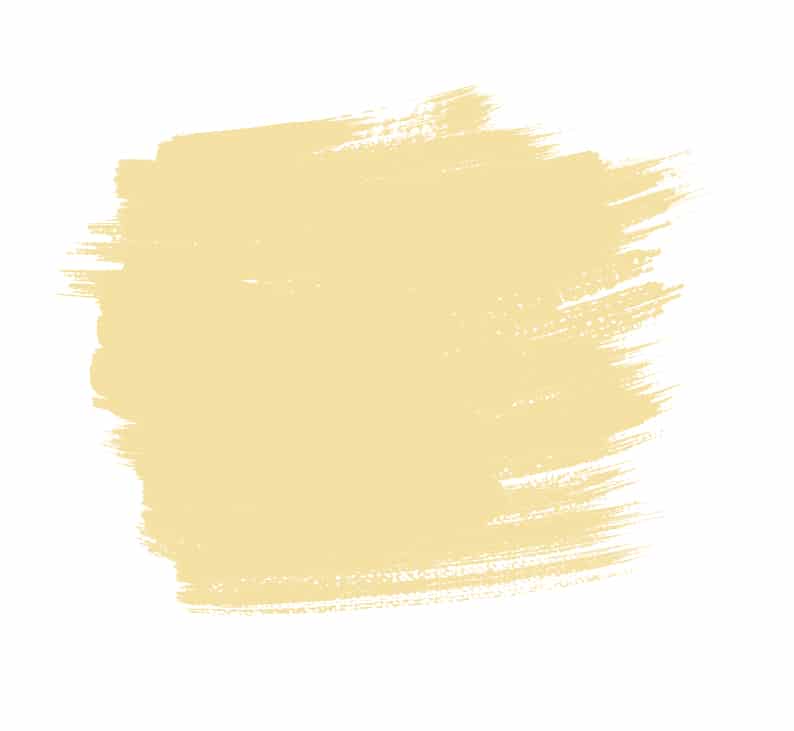 If you want to find a yellow paint color for the bedroom that is bright and cheerful without being too vibrant, then Hawthorne Yellow from Benjamin Moore won't let you down.
It is a popular color among interior designers because it comes across as contemporary and mature while also providing the sunny glow we all associate with yellow.
In a guest bedroom, use this paint color on the walls and opt for pure white seer-suckered bed sheets for a classic contemporary style.
For a little more personality in a master bedroom, consider using this paint color on the walls with dark eggplant lampshades and an eggplant rug for a shock of sophisticated contrast.
Farrow & Ball- Babouche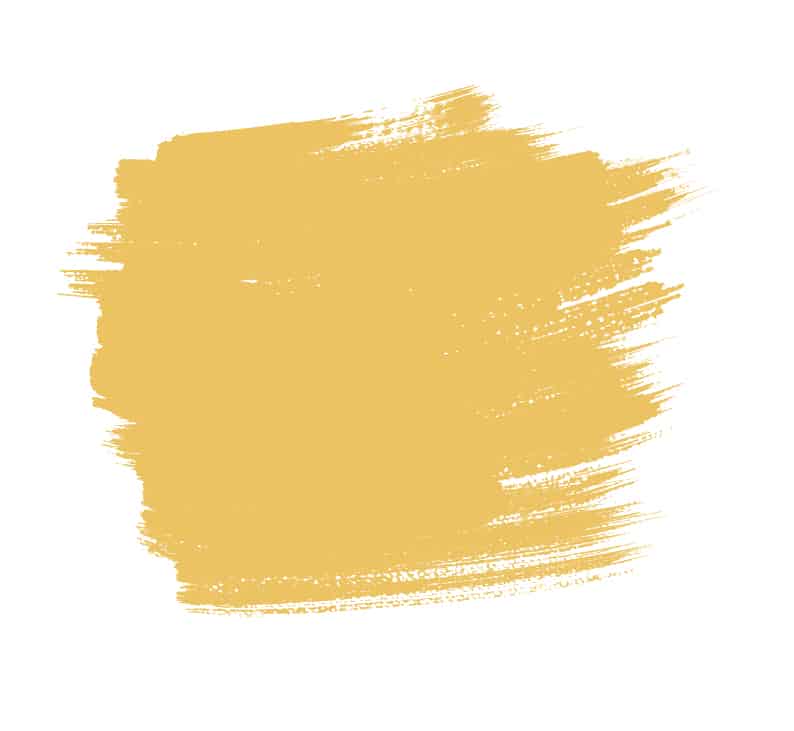 Babouche was named after a type of silk shoe originating in Morocco, and it has an intensity that brings to mind the exotic Moroccan markets.
This is a heavily saturated, almost mustard shade of yellow that is ideal for contrasting against other exotic and vibrant colors, such as teal and terracotta.
Use it in a bohemian-style bedroom with cerise pink bed sheets, bright purple cushions, and peacock blue lampshades.
Benjamin Moore- Concord Ivory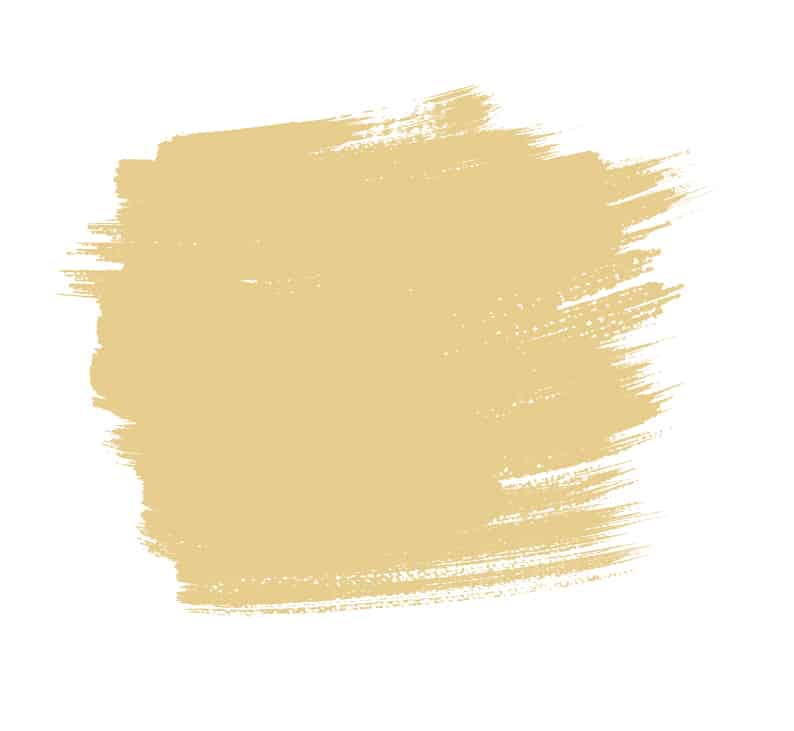 Concord Ivory is a soft and muted shade of yellow that reads as a pale gold in natural light. It has elements of brown in it which give it a look of a faded tan.
In a bedroom, this paint color creates soothing energy, and it works well with other muted warm shades such as beige and sand.
In a bedroom with an earthy theme, use this color on the walls and opt for olive green bed sheets and dark brown wooden furniture.
Farrow & Ball- Citron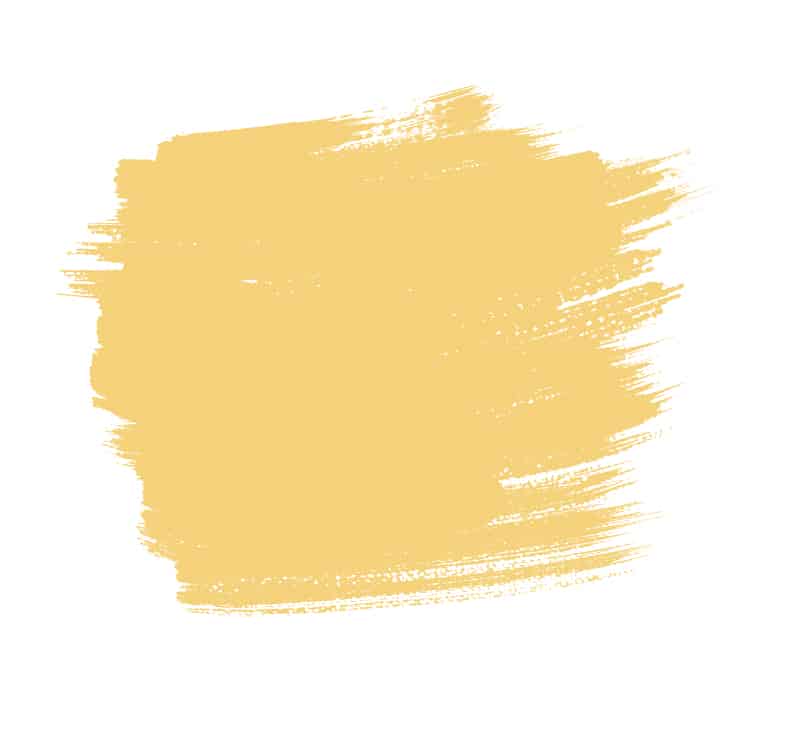 Citron is a bright shade of yellow that is reminiscent of Mediterranean-inspired decor. It is full and warm, making it ideal for a space that envelops you in a cozy and soothing vibe.
However, the intensity of this color means that it can cause fatigue for the eyes. To avoid this, use this paint as a color for an accent wall, with a neutral shade such as off-white on the remaining walls.
Alternatively, paint all of the walls in citron and use pure white gloss paint for the trim and interior walls for a sharp and sleek look. This color works nicely with white and aqua or sapphire.
If you want to achieve a Spanish-inspired style or to lean towards a more modern vibe, use it with black accents such as black photo frames and a black iron bed frame.
Benjamin Moore- Golden Retriever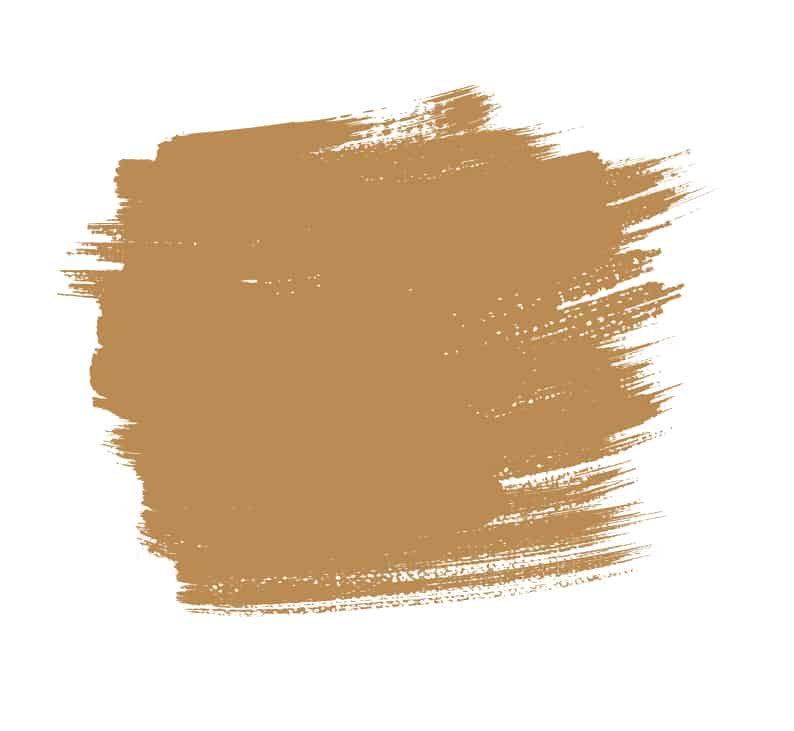 Golden Retrieve is a golden yellow-brown color inspired by the beloved breed of dog. It has a deep and earthy tone that makes it feel almost like a neutral rather than a shade of yellow.
If you are looking for a tan color with a difference, then choose this paint color which will result in a moody, old-world glamor vibe.
Use this color with an accenting green shade and natural wooden textures for a modern earthy atmosphere, or use it with magenta for a sophisticated luxury look.
In a bedroom, paint the walls in 'golden retriever' and select white bed sheets with a bright magenta silk comforter and matching curtains.
Farrow & Ball- Dayroom Yellow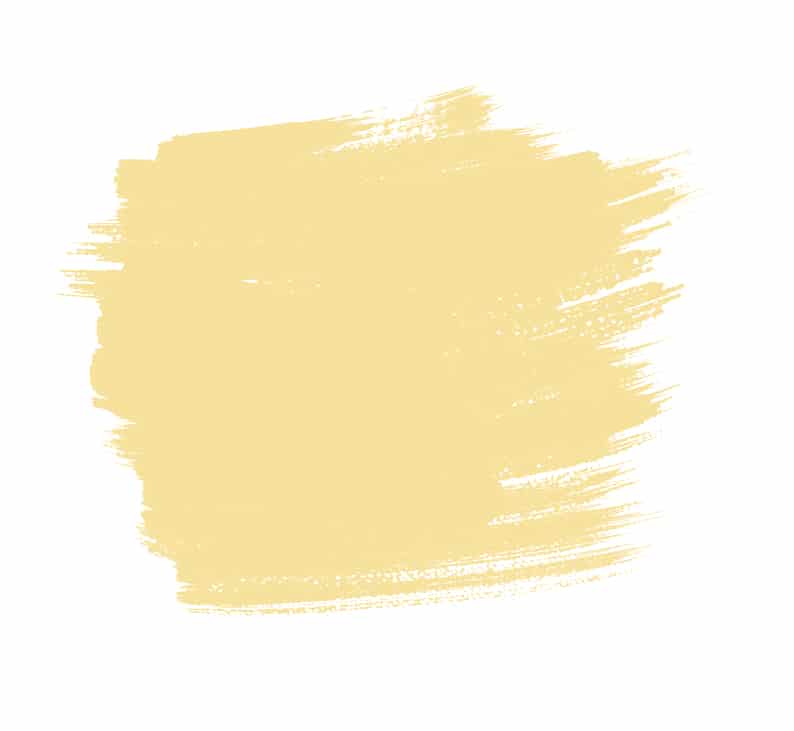 Dayroom Yellow is a pale shade of yellow that has very subtle, almost imperceptible undertones of green. It is a cheerful color that is light enough that it is easy to be around but pigmented enough that it doesn't lack personality.
It is a perfect color to brighten up a bedroom that lacks natural light and has a tendency to appeal dull or gray during the day. Use it with turquoise accents for a vintage style, or pair it with lavender floral prints to achieve a refreshing blast of spring.
Sherwin-Williams- Forsythia
This is a bright and bold shade of yellow that is heavily pigmented for maximum impact. It is the deep yellow color of sunflowers in full bloom and has a distinctly summery feel to it.
This is a paint color that will work well in a small bedroom to add depth to the space, but in a large bedroom, it could be overstimulating.
In big spaces, use this paint on one wall as an accent, or paint it onto wooden furniture against a neutral backdrop. For a bold Scandinavian-inspired style, paint one wall in 'forsythia' and the remaining walls in white, then opt for primary red and blue accents.