If you're looking to remodel your home's interior and like the idea of using oak wood accents, you'll need to think of what paint colors go with oak wood trim.
There are many paint colors you can use to bring out the beauty of your wood trim, no matter what stain color the wood itself is. Whether your oak wood trim is light or dark, you can pair it with bold or neutral hues to highlight the undertone of the wood.
For example, honey or golden oak wood has an orange and yellow tint to it so you can pair this beautiful wood with matching paint colors or use warm tones to complement the wood. White oak tends to be pricier than red oak while golden oak is the most popular molding for traditional-style homes.
Always keep in mind the oak wood's undertones before deciding on the best paint colors. To help you get a better idea, keep reading the rest of this article.
Paint Color Ideas that Work with Oak Wood Trim
Beige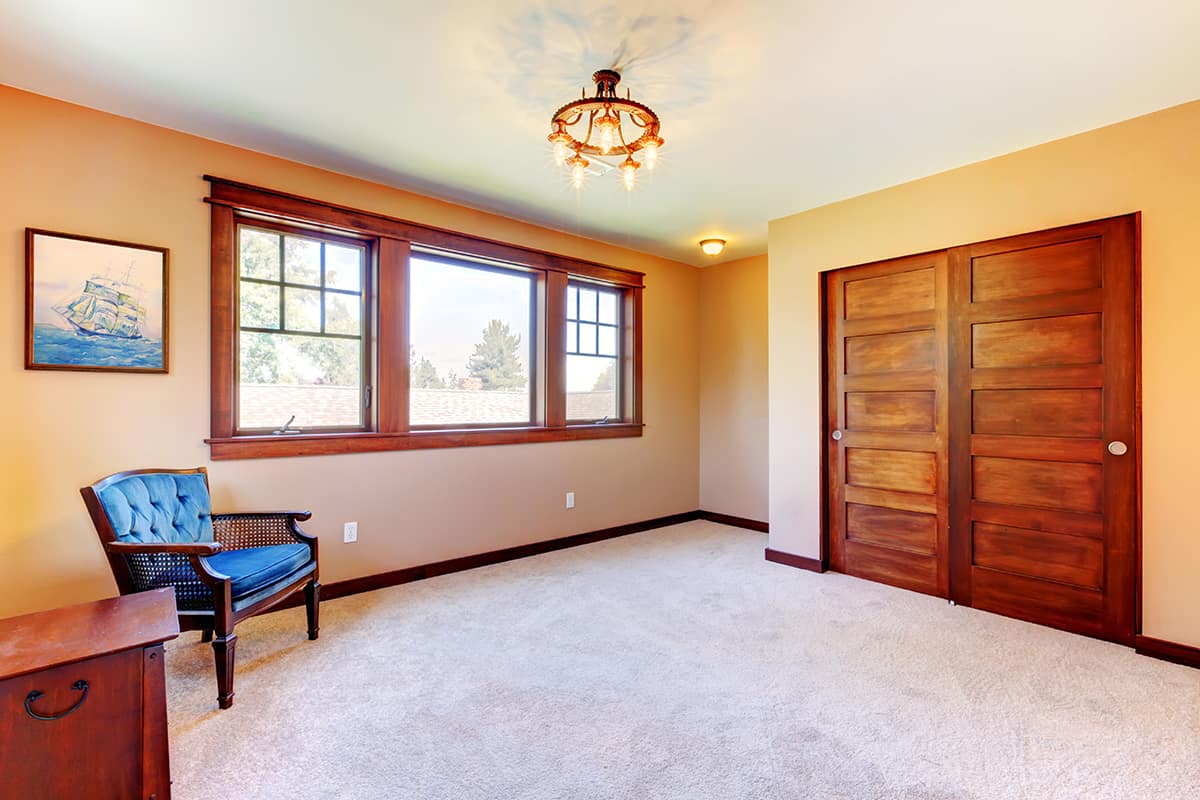 One of the most attractive and complementing colors that go with oak wood trim is a warm tone of beige. This neutral paint color looks stunning in a bedroom or living room interior with honey or golden oak molding.
See how inviting and comforting this empty bedroom interior feels thanks to the honey oak wood trim and beautiful beige walls.
Light Gray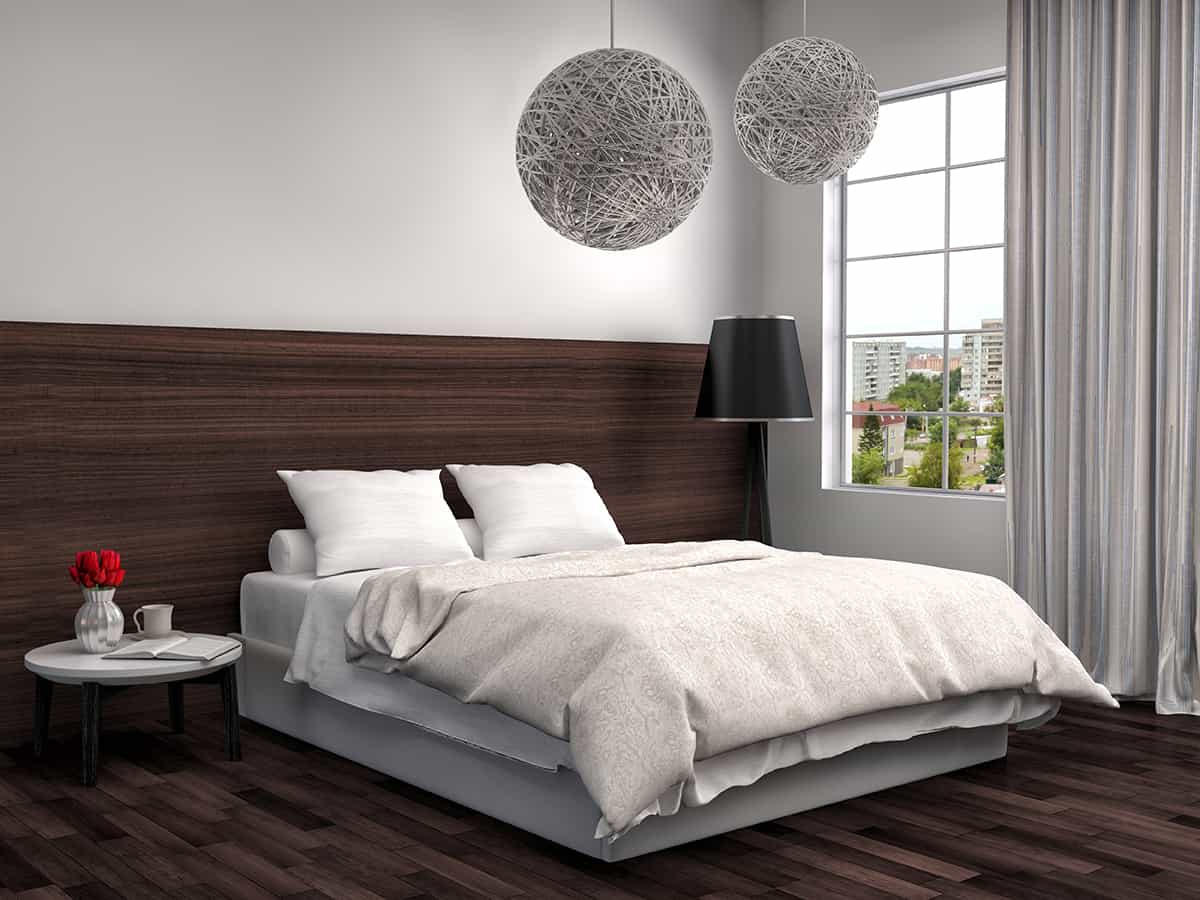 For a more modern feel, consider using a cool-tone neutral: light gray. This trendy paint color works with all wood trims, especially oak. A shade like greige appears to be well on trend as it's the closest hue to natural stone.
The reason we recommend light gray instead of off-white is to avoid creating a cold atmosphere in your home. Light gray goes especially well with yellow-tinged oak trim, thus bringing a relaxing vibe to your room.
Earthy Warm Colors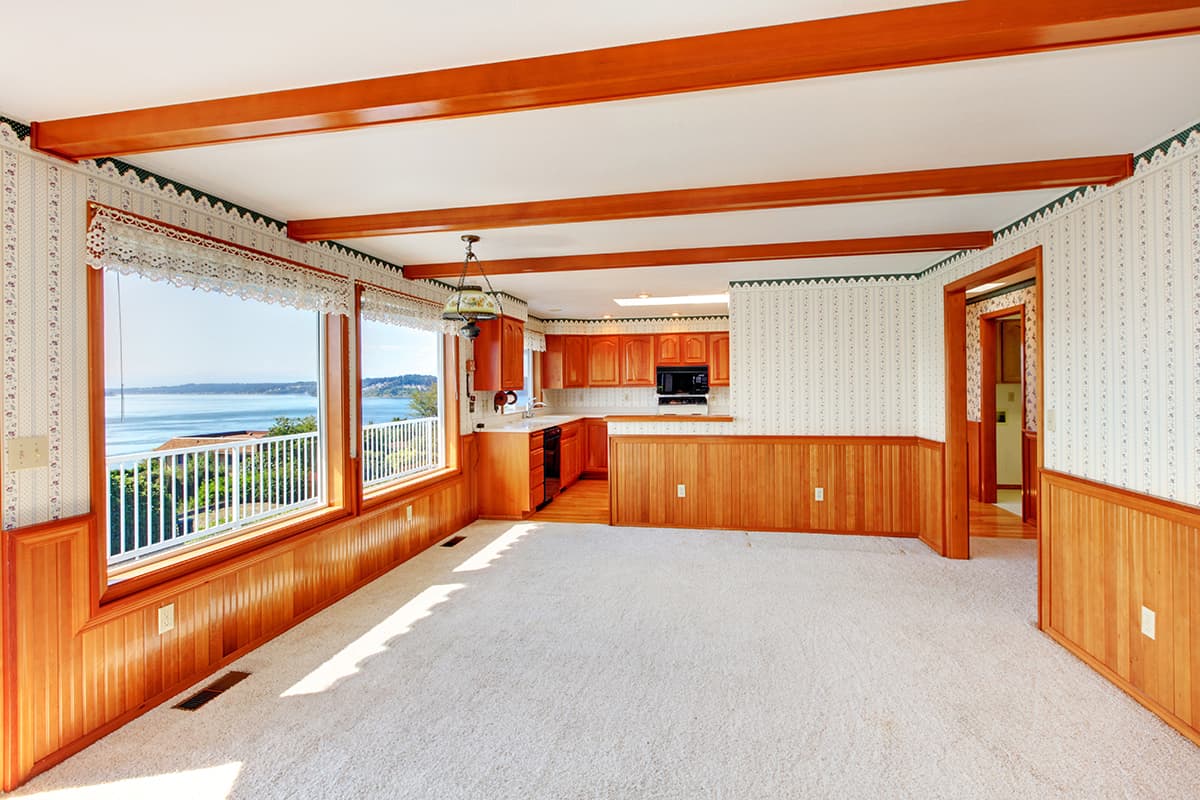 Earthy tones that lean more on the red side of the color spectrum work very well with both dark and light oak wood trim. In addition, bright shades of yellows also create a calm feel in a kitchen or living room. Other rich, earthy hues include terracotta and tan, which are excellent accent colors to complement your oak wood trim.
As you can in this image, the room boasts golden-red oak wood trim with warm, earthy paint colors.
Bold Purple
To make a bold statement, why not pair your oak wood trim with an elegant shade of purple like lavender or claret for a sumptuous feel. Bold purple shades work especially well with dark oak wood molding.
Incorporate the paint color into your bedroom walls to create a chic interior.
Pastel Greens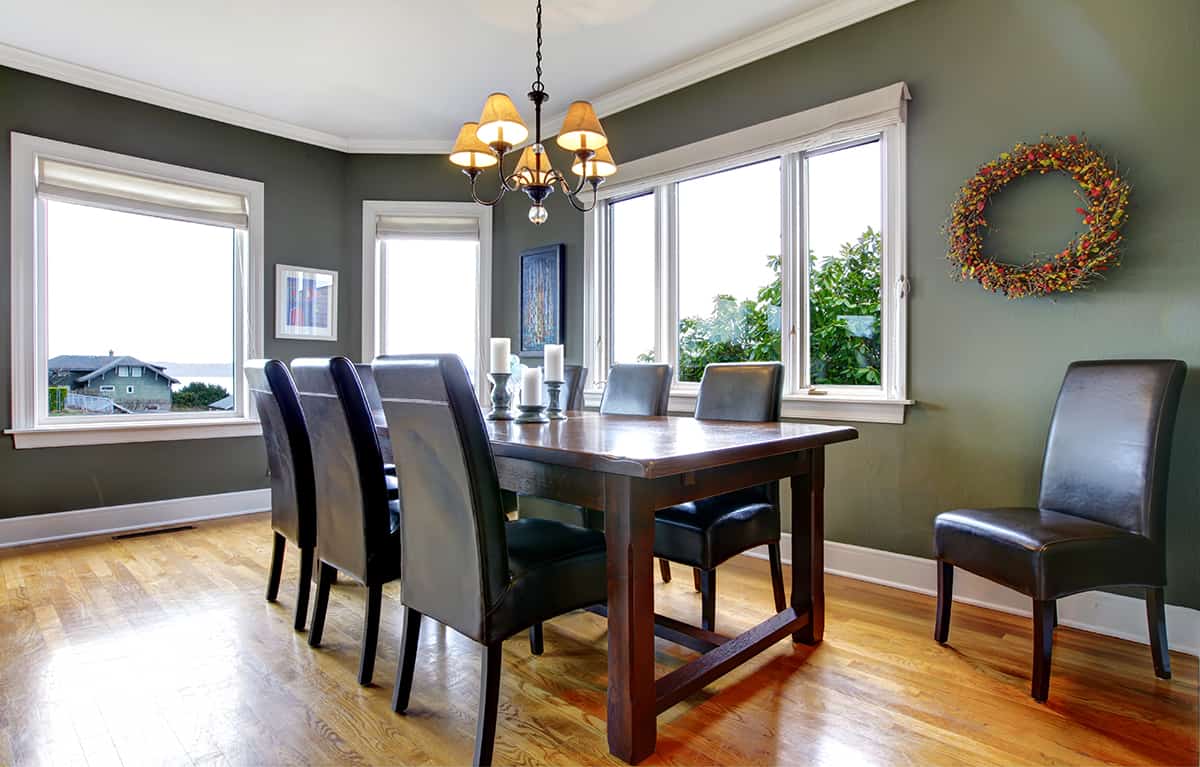 All pastel shades on the color wheel work well with oak wood trim. In a dining room with oak molding, for example, a splash of green paint for the walls works wonderfully with golden yellow oak.
Striking Black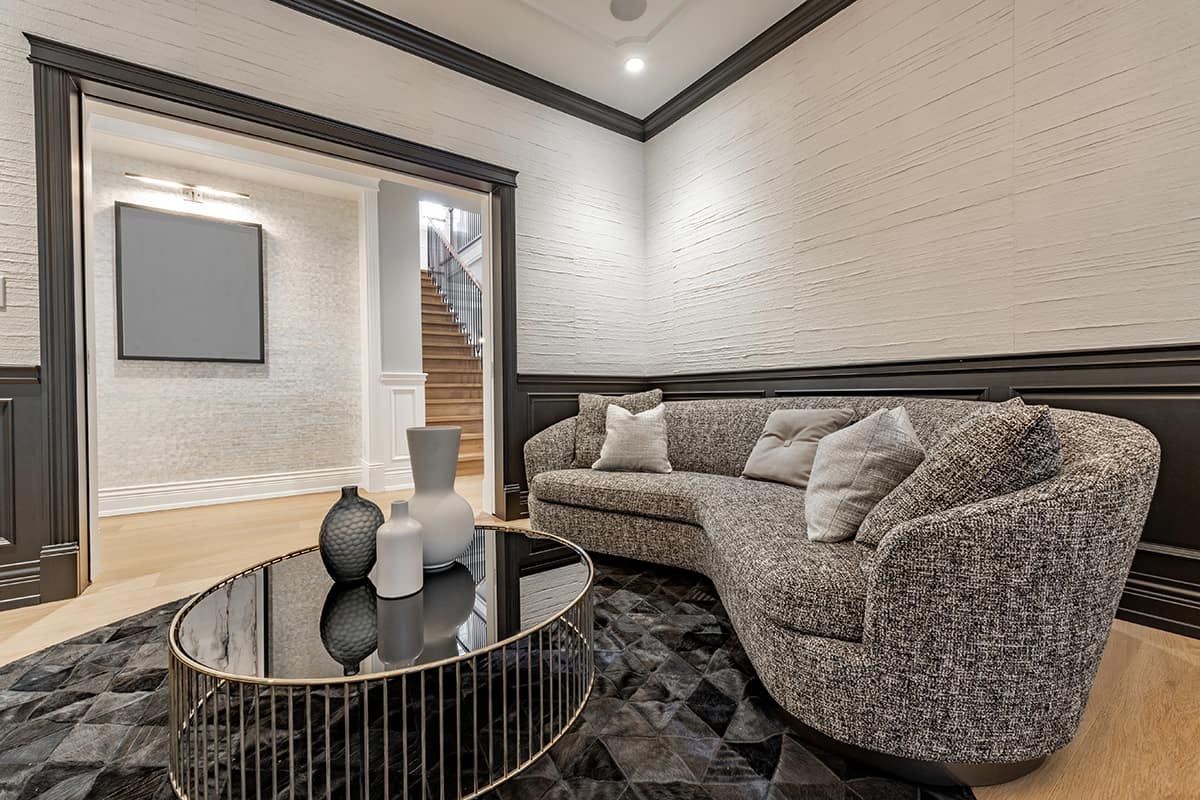 Black is a classic paint color that serves as a dramatic backdrop to light oak trim. When paired with rich, golden oak molding, black is sure to add a luxurious feel.
The best type of oak trim we recommend pairing with black paint color is honey oak as it provides just enough contrast to keep your living or dining room in balance.
If black paint is just too dark or stark for your taste, why not paint your oak wood trim a glossy black finish as shown in this image. You can paint the surrounding walls white for contrast.
White and Off-White
White and off-white paint colors are neutral hues that go with both dark and light oak trim. These colors add a fresh and naturally bright backdrop to a room with oak trim. Whether you paint your walls or the ceiling in these colors, you're sure to bring a modern look to the room with oak wood molding. Soften the contrast by adding bold color window treatments or floor covering.
Here is a traditional-style kitchen with luxury oak wood cabinets and trim paired with an off-white ceiling to brighten up the space.
Can I Paint My Oak Wood Trim a Neutral Color?
Oak is a type of solid hardwood that's prized for its high durability. Due to its beautiful natural color, most homeowners are reluctant to paint over their oak wood molding.
However, if you want to give your oak wood trim a more contemporary look, then it makes sense to paint over it. Painting your oak trim a neutral color will brighten up your room and give the wood molding a more modern appearance.
Still not convinced? Deciding on whether you should paint your oak wood trim a neutral color should be based on your personal taste and your interior's style. There are many reasons to consider painting your oak molding a neutral color. These are:
Neutrals Visually Enlarge Spaces
Small spaces with oak wood trim can benefit from neutral paint colors such as white or beige to visually enlarge the space. Light paint colors trick the eye into thinking the space is more expansive.
This saves you the effort to paint all the walls in light colors as you can just paint the oak trim white.
They Brighten Up the Room
Neutral paint colors reflect light, thus making them ideal for rooms without or lack of natural light. By painting your oak wood trim a neutral color, you can increase the brightness of your room.
The trick is to create a flowing design by experimenting with different neutral colors like light grays, whites or beige.
Oak Trim Needs Painting if Old or in Poor Condition
If the oak wood molding is in poor condition or has lost its original look, you should consider repainting it instead of replacing the trim. Honey oak wood trim has an orange tint so it will require more than one coat of neutral paint color to spruce it up.
The Alternative to Painting Your Oak Trim: Stain
We've given you some good reasons to paint your oak trim a neutral color, but if the wood is old and requires treatment, you may consider applying stain instead of paint in order to preserve its original look.
After all, painting over the oak trim will hide its rich character and not everyone is keen on doing that unless they wish to lighten up the wood color.
To stain your oak trim with a neutral finish, you need to remove the old stain if any, and refinish the job using a good quality sealer.
The old stain finish can be removed with a chemical stripper, and once you've successfully removed and cleaned the old finish, the next step is to gently sand the wood surface. Neutral or transparent stain finishes with medium to dark tones are the best choice for honey or red oak.
What Paint Colors Go with Light Oak Trim?
If your home has light oak trim, it can bring much warmth and coziness to your space. This is thanks to the light oak's orange and yellow undertones.
But when it comes to choosing a paint color that complements light oak trim, it can prove to be a challenge. For example, a bright coral pink shade can appear a little bland or even clash with the light oak wood trim, whereas deep shades of purple like lavender can create a beautiful contrast with golden oak.
To decide on the right paint colors, you must first think of the overall look you wish to achieve in your interior. While any color works with light oak, the key is to create a little contrast, especially if you want the oak molding to stand out. In this case, you should pick paint colors that are the opposite of your light oak wood hue.
Purples and greens add a dramatic contrast to honey oak trim, plus they make the oak's yellow and orange undertones pop. Therefore, if you want your light oak trim to blend in with the paint color, opt for beige, red or green shades.
Should I Accentuate the Orange Tones in My Oak Wood Trim?
This depends on whether you want to blend in your oak trim in the background or highlight it as a feature. Some people choose to emphasize the orange undertone of the oak by pairing it with contrasting or more neutral color tones.
Speaking of neutrals, these tones draw the eye to the oak trim by serving as the backdrop. On the other hand, if you want your honey oak trim to blend in with your wall or furnishing color, pair it with warm, earthy tones like reds and browns in order to help natural light accentuate the wood's undertones.