Waiting for the paint to dry is one of the most frustrating parts of the painting, and it even inspired the common phrase 'as boring as watching paint dry'. Fortunately, there is a wide range of paints now on the market that dry much quicker than you might expect.
Rustoleum offers a number of fast-drying paints that are touch-dry in as little as 30 minutes. In this article, we take a closer look at the drying time of different types of Rustoleum paints.
What is Rustoleum?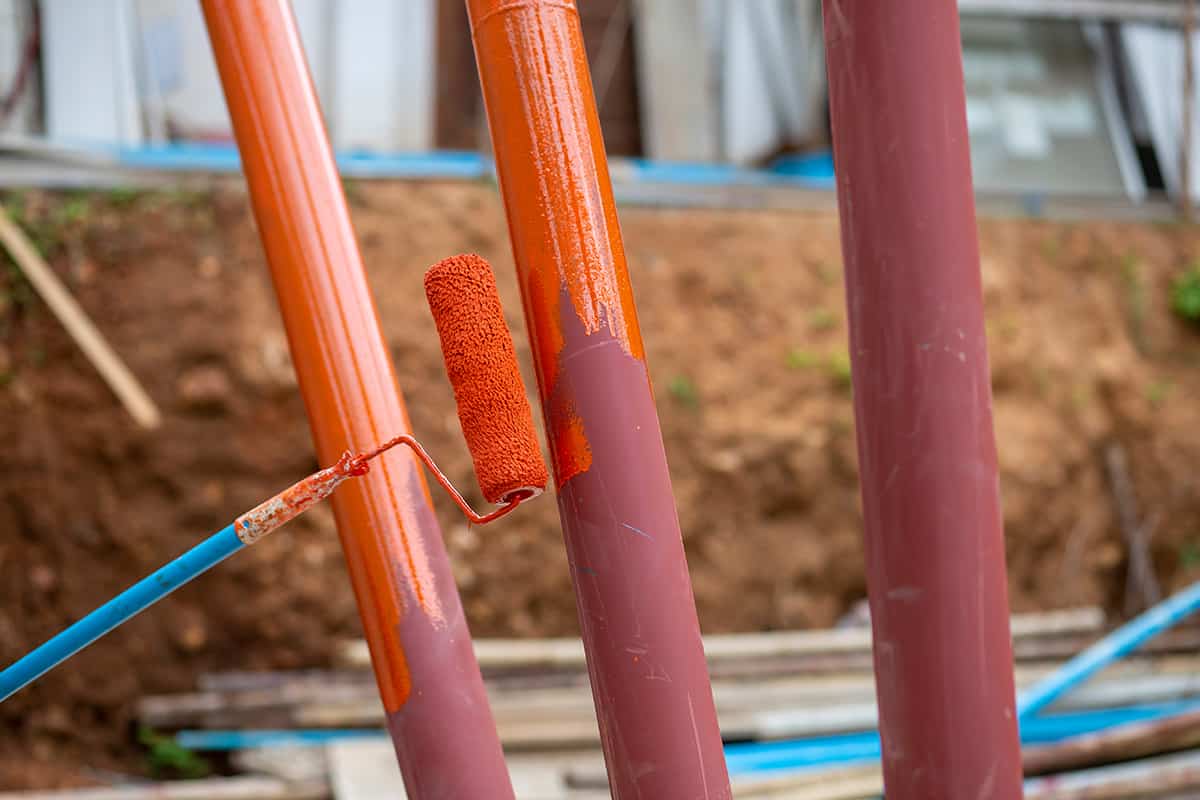 Rustoleum is a well-respected and popular brand of home and industrial paints that was founded in Illinois, USA, in 1921. It started as a manufacturer of paints that prevented rust after the founder noticed that fish oil that had spilled on ship decks stopped erosion problems.
The original Rustoleum formula used whale oil to prevent rust and erosion, but today, it instead uses resins. Rustoleum is still headquartered in Illinois but has branched out into a wide range of paints for rust prevention as well as decorative purposes.
Rustoleum Paints and Drying Times
Rust-Oleum paints were originally designed to prevent rust from forming and spreading, and it is still the most well-known brand of paint for this purpose.
The paint manufacturer has also developed other paints for various decorative and hardwearing uses. Different Rustoleum paints come with various drying time advisories.
Chalk Paint
Chalk paint is a type of paint produced by Rust-Oleum that is designed to be used on furniture. This paint is enormously popular for upcycling furniture projects because it is both a primer and paint in one, and it comes in a huge range of over 100 different colors. Rust-Oleum chalk paint is water-based and has almost no odor, making it pleasant to use and easy to clean up.
You can use this paint directly on bare wood or even on wood that has already been painted or varnished without needing to sand it first. Rust-Oleum recommends that only one coat is needed to give new life to an old piece of furniture. However, experienced users have found that two coats is often necessary.
For a super matte chalky finish, you can leave the furniture as it is after the chalk paint has dried, or for a more durable finish it should be coated with wax or lacquer. Rustoleum chalk paint is dry to the touch after just 30 minutes at around average room temperature and can be recoated after 2 to 4 hours.
Furniture painted in Rustoleum chalk paint will be safe to handle within 1 hour of painting. If you are painting your furniture outside or in a workshop, the drying time could be slightly different. Cold temperatures will cause Rustoleum paint to dry more slowly.
Concrete and Garage Floor Paint
Concrete and garage floor paint by Rust-Oleum is designed to provide a durable surface that is resistant to chipping and staining. The floor paint and primer in one requires just one coat of paint, but it can be recoated after 24 hours in necessary. This paint should not come into contact with water within 48 hours of being used, so avoid painting outdoor areas if rain is predicted. The paint will be dry enough to drive on in 5 days.
If you need faster drying garage floor paint, choose Rust-Oleum's Epoxy Shield floor paint which can be driven on in 3 days, or Rust-Oleum's Rock Solid floor coating, which can be driven on just 24 hours after painting.
Metallic Accents Paint
Metallic Accents by Rust-Oleum is a water-based paint that adds a shimmering finish to interior decor. It can be used on walls, trim, cabinet doors, furniture, and accessories if you want an elegant, light-reflecting finish. The water-based formula makes for easy cleanup, and it also means that the paint has hardly any odor.
Apply one coat for a subtle shimmer or more coats for a deep metallic finish. This Rustoleum paint can be recoated after 30 minutes and will be fully dry in 2 hours under normal room temperature conditions.
Glitter Interior Wall Paint
Rustoleum glitter wall paint for interior use is perfect for adding a dramatic sparkle to any space. It has glitter already mixed into the formula, allowing you to create a glittering finish without any of the usual mess associated with glitter. Rustoleum glitter paint comes in five colors: harvest gold, rose gold, copper, sterling silver, and iridescent clear.
For the best finish, it should be painted over a base coat in a similar color, for example, paint sterling silver glitter paint over a gray base coat. This statement paint can be applied in a variety of ways, such as with a roller, a brush, or a sprayer. One coat will give a subtle glittering effect, or you can layer more coats for a more intense sparkle.
Rustoleum glitter paint is dry to the touch after 2 hours, and additional coats can be added between 2 to 4 hours after the last coat. If you wish to use painter's tape over the glitter paint, this can be done after 24 hours of drying time. You can hang pictures or shelves over the glitter paint after 3 days of drying time, and the paint will have fully dried after 7 days.
Latex Paint
Rustoleum latex paint can be used for a wide range of applications. It can be used on interior or exterior projects and on wood, metal, plastic, ceramic, masonry, and plaster. It is very hard-wearing and resistant to chipping and fading and gives an ultra-smooth finish.
It comes in black-and-white color options in all finishes, and some finishes are also available in brown and red. The latex paint by Rustoleum is touch dry after 30 minutes and is suitable for recoating in between 2 and 4 hours after the last coat. Latex paint will be fully dry within 2 to 4 hours, making it impressively fast drying.