Mustard yellow is a beautiful color with a hint of brown and gold tone that reminds us of autumn. Depending on the intensity chosen, this soft yellow shade can transform any room in the house when used as part of the decoration.
If you want to create visual interest with a unique shade of yellow, take a peek at our following examples of decorating with mustard yellow in various rooms. We're sure you'll find them surprising and inspiring!
Mustard Yellow Decoration Ideas
Mustard Yellow Decoration in the Kitchen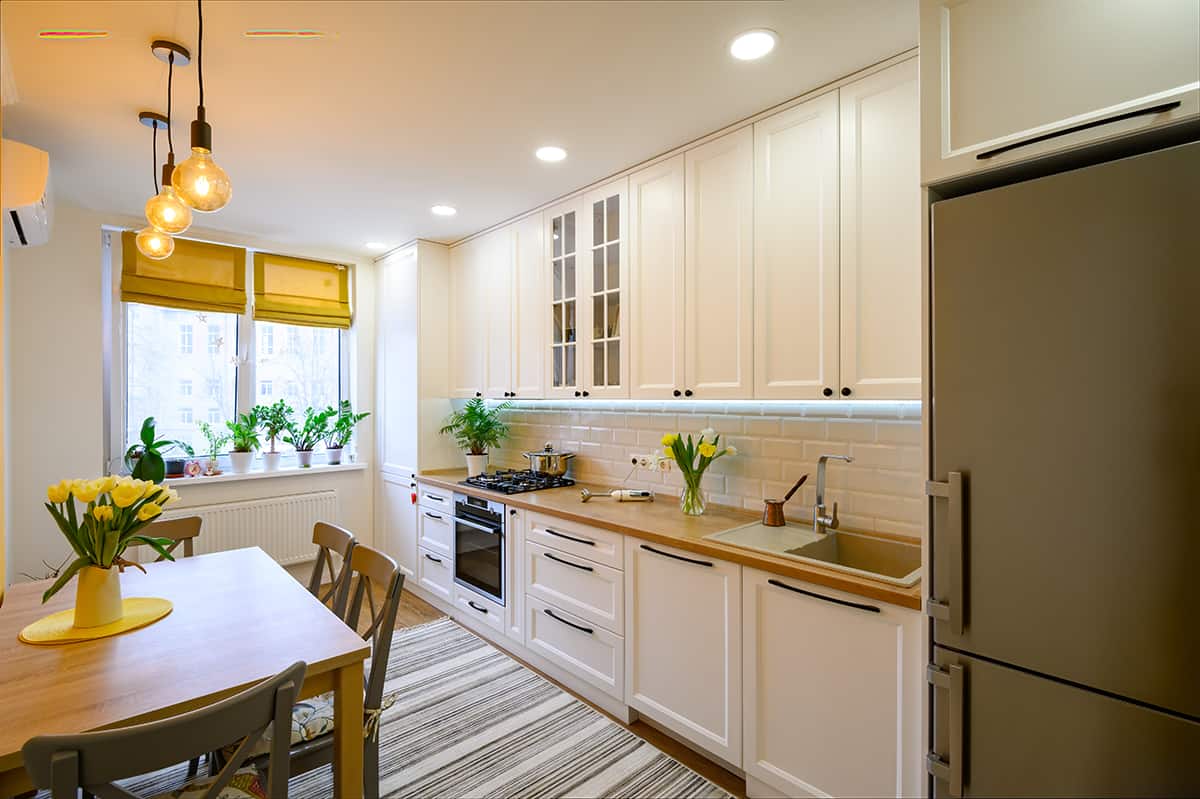 In a traditional or modern kitchen, mustard yellow can play an important role. Why not add this color to your table decor, crockery, or teapot as a simple way to make a bright, autumnal statement.
If you feel confident about using this color in a bigger way, go for mustard yellow tile backsplashes and a matching sink. Just make sure you choose your cabinet and countertop colors carefully to complement the mustard yellow.
In this example, we can see small hints of mustard yellow throughout the kitchen, with crisp white cabinets and stainless steel appliances to accompany this color.
Mustard Yellow Decoration in the Living Room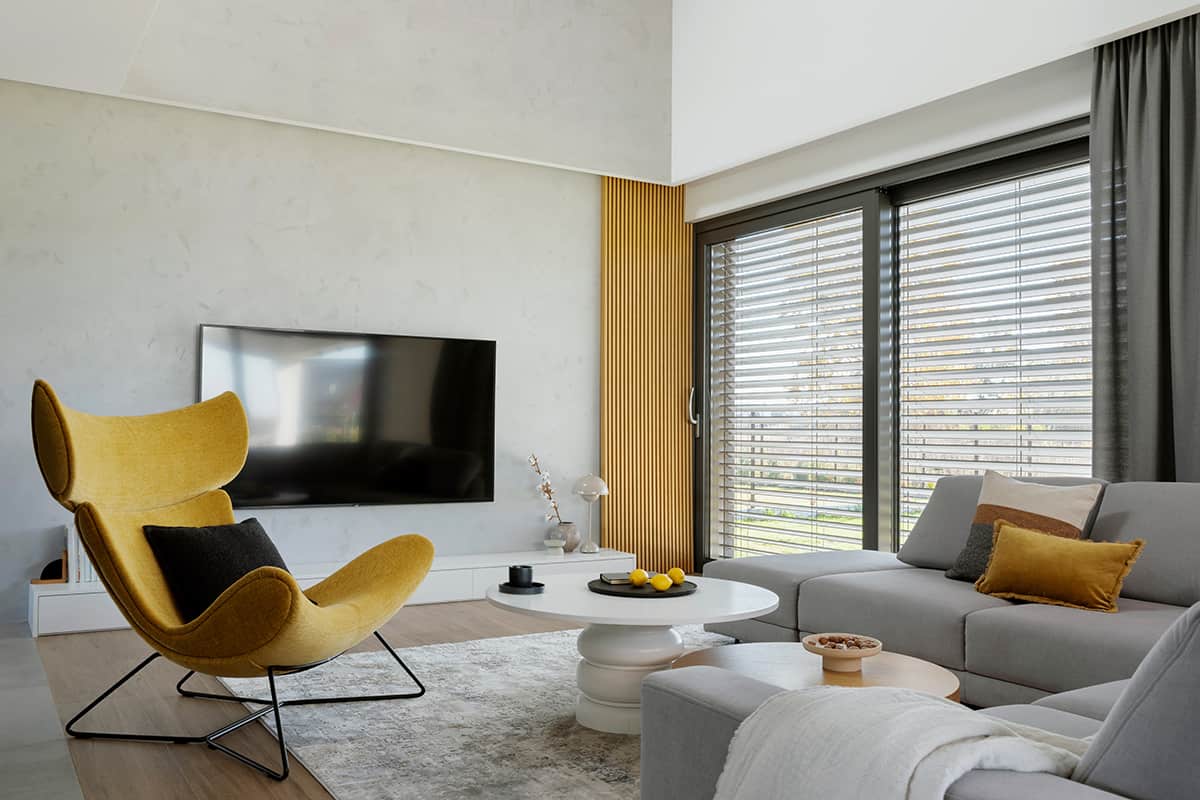 In the living room, mustard yellow can be used sparingly as a standalone decoration or in conjunction with other furnishings. Whether you add multiple mustard yellow photo frames, candlesticks, or textures to the walls or floor, this color will make a great impact on the overall interior decor.
In fact, even a mustard yellow rug can instantly brighten up your living room floor and make a statement.
In this living room example, the tone of mustard yellow is softened with a pairing of gray, black, and white. This color scheme has resulted in a calm and inviting feel. What we love about this simple living room design is the subtle hints of mustard yellow as the armchair, throw pillow, and wall treatment.
Mustard Yellow Decoration in the Hallway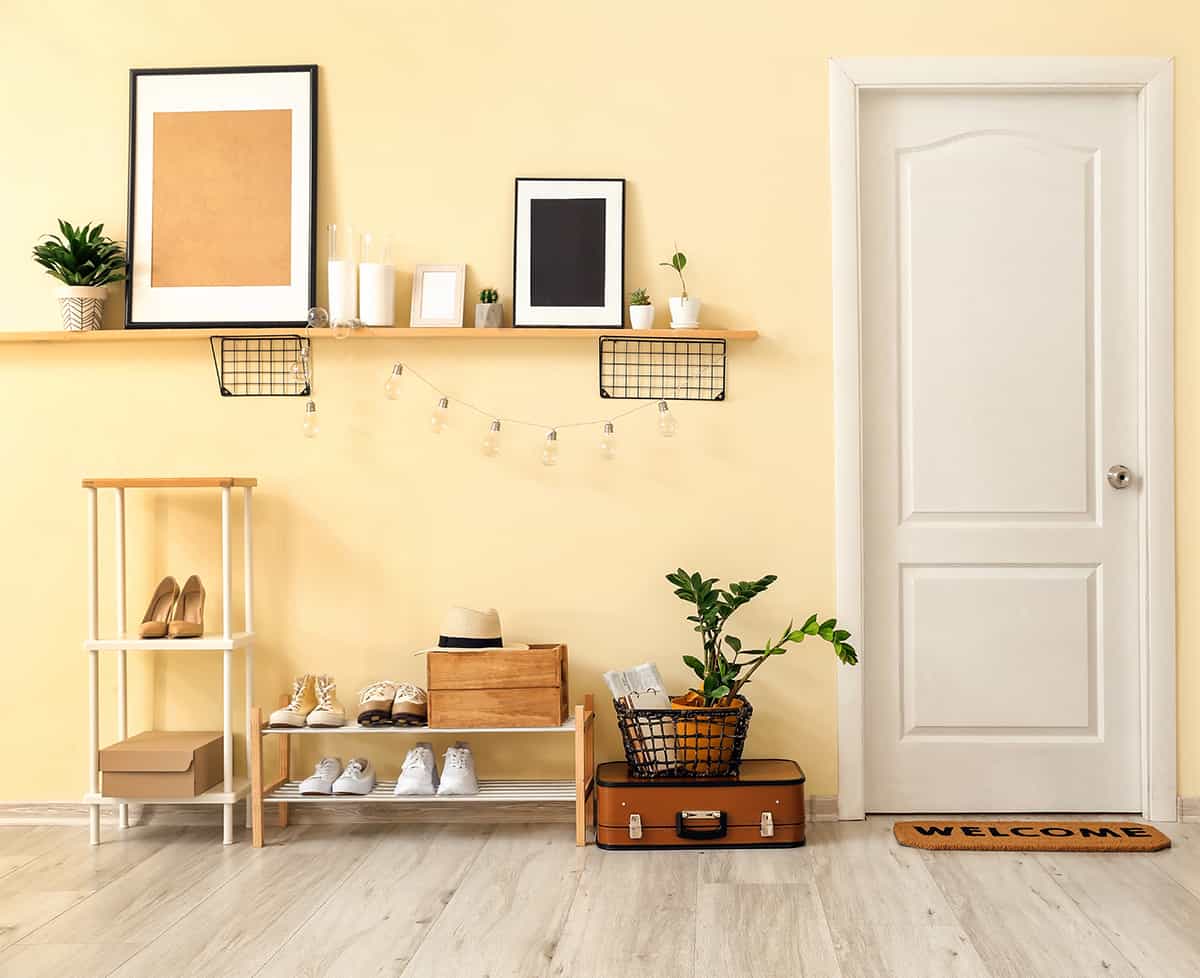 The hallway is the first entrance to the house, and therefore, you want to make a welcoming impression. This is where mustard yellow comes to play as a wondrous way to draw the eye. You can incorporate the color into the hallway walls or add interest by choosing tile flooring in this color.
Mustard yellow in the hallway helps divert attention from the room's small or narrow proportions. You can even add an oversized clock or mirror framed in this color.
A mustard mirror will give this compact room a greater impression of space, and the mustard walls will help draw the eye upwards.
Pair Mustard Yellow with Neutrals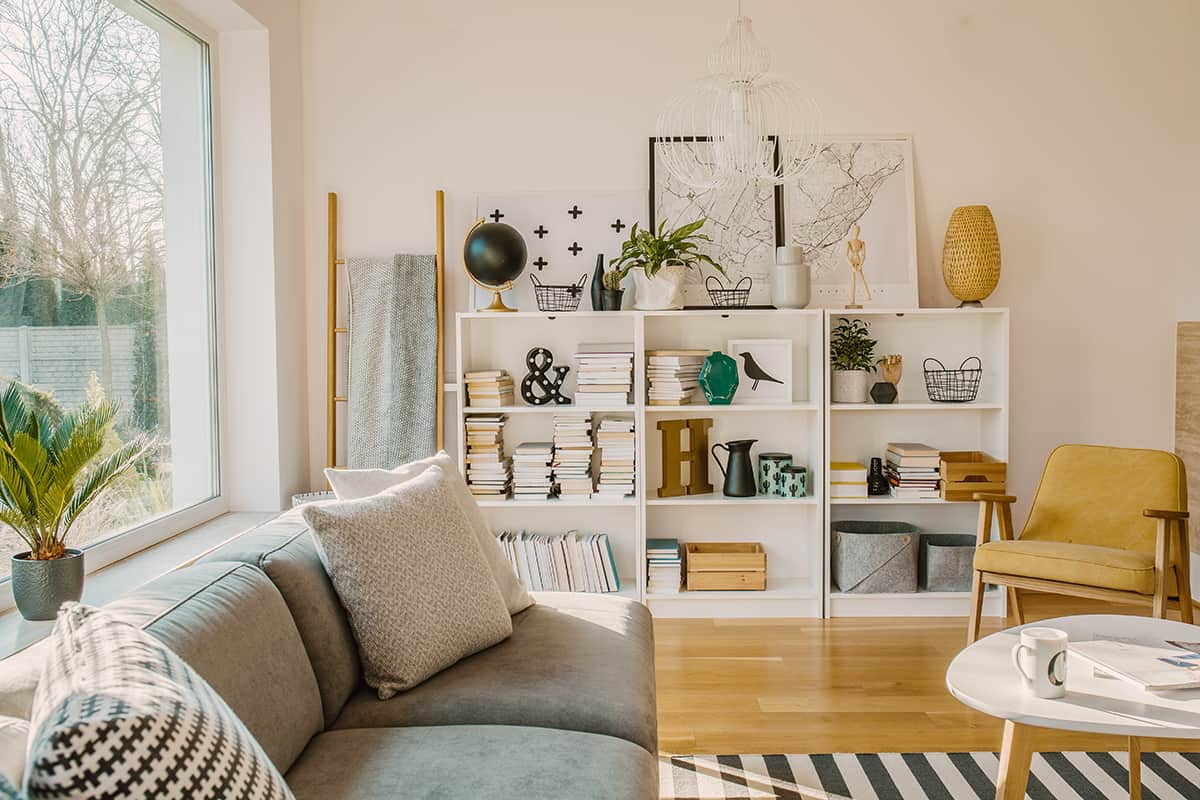 Mustard yellow is a soft, relaxing hue that can be paired with cool neutrals like white and gray. If you want to keep the focus on neutral furniture, it's best to use mustard yellow subtly like the example shown here.
Any neutral shade, including beige, cream, black, and gray can complement mustard. The idea is to keep the focus on neutral furniture without the mustard yellow decor becoming too overwhelming in the room.
Brighten Up the Room with Mustard Yellow Furniture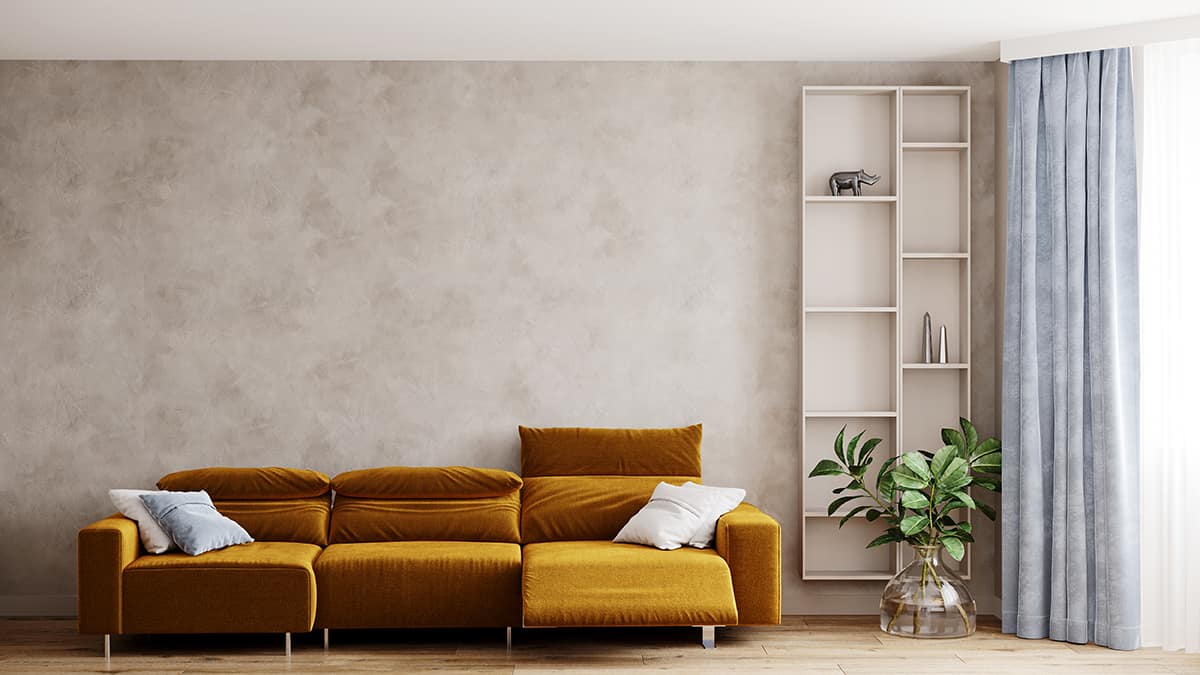 Adding mustard yellow furniture to your modern living room is a great way to inject some color into the living space. When combined with brighter tones, it can make your furniture stand out.
You can even add floral wallpaper to the background to make it pop. But whatever you do, make sure your furniture piece is large enough to stand out in the room.
We love this large mustard yellow sectional sofa as the focal feature of this room, paired with white pillows and a gray wall.
Mustard Yellow Artwork as the Focal Feature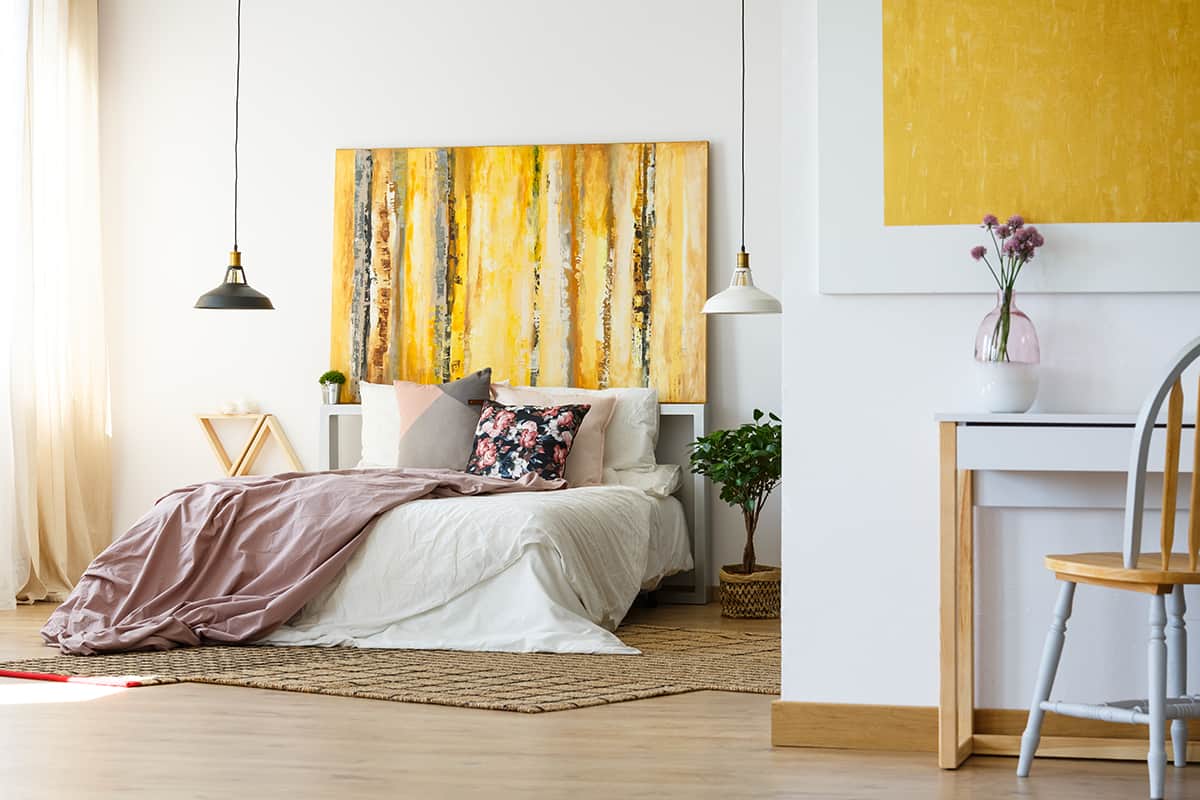 When it comes to artwork, color is the biggest part of the canvas. You can fill your bedroom or living room with mustard yellow artwork to command attention. The entire atmosphere of your room can be lifted thanks to this warm color.
Just take a look at this welcoming bedroom with its warm and energetic mustard artwork that demands attention and oozes character. The oversized artwork stands out as it's positioned directly above the bed and covers most of the wall.
Luxurious Mustard Yellow and Brown Draperies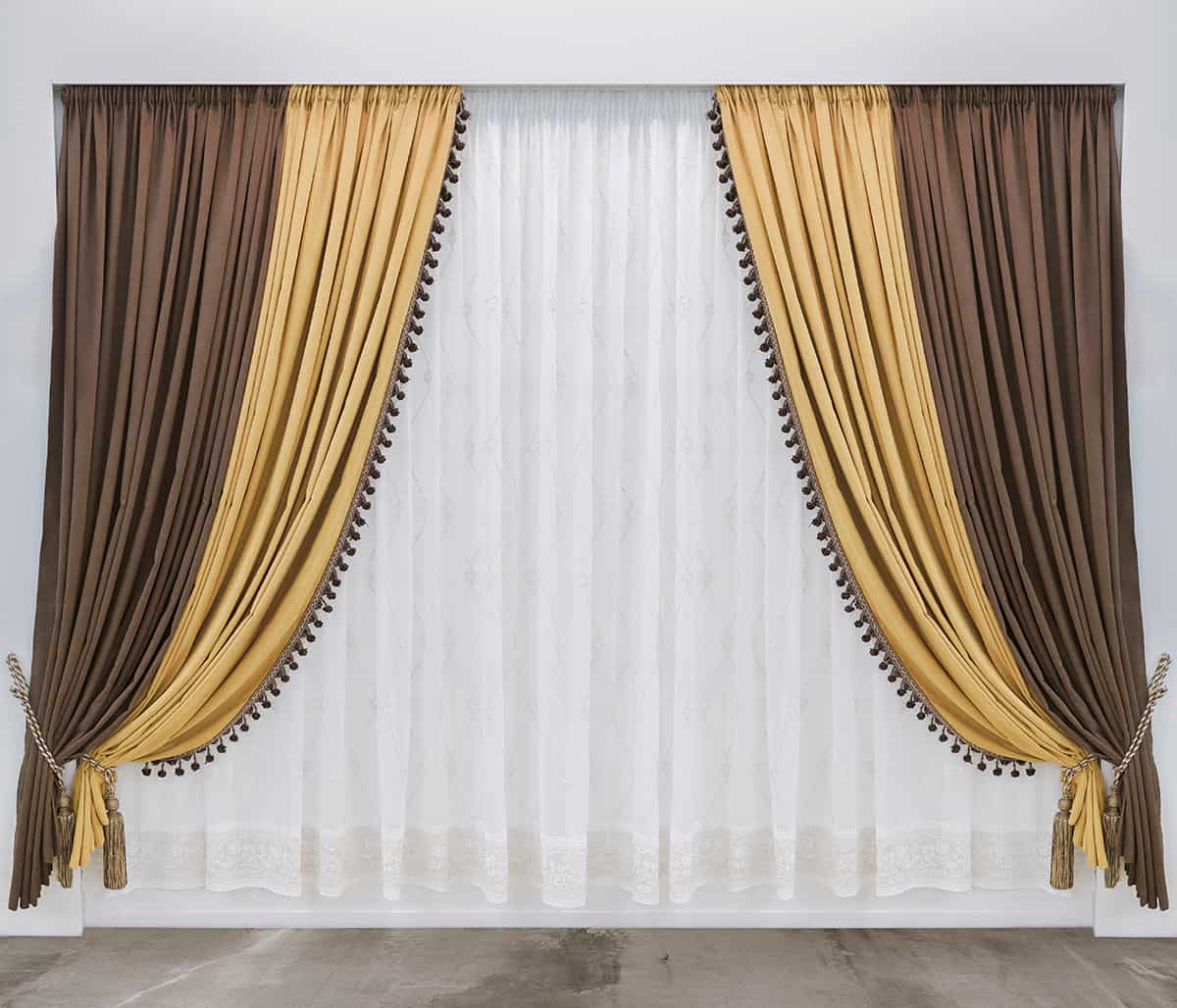 No interior design is complete without lavish draperies. In this case, why not opt for velvet brown and mustard curtains in full length for a luxurious feel. Full-length velvet curtains are ultra elegant in a formal living or dining room.
Whether your interior is modern or classic, a pair of chocolate brown and mustard yellow curtains are just the things your space needs. Add some stylish ropes to the curtains to complete the glamorous look, or choose a patterned mustard drape as an accent window treatment.
As you can see in this example, the brown and mustard yellow curtains have given this room added warmth. And to take the luxurious design to the next level, use textured pillows in light brown and light yellow for a fresh and inviting feel. Just don't be afraid to combine mustard yellow with other warm, earthy tones for a layered look.
Mustard Yellow Wall for a Bohemian Look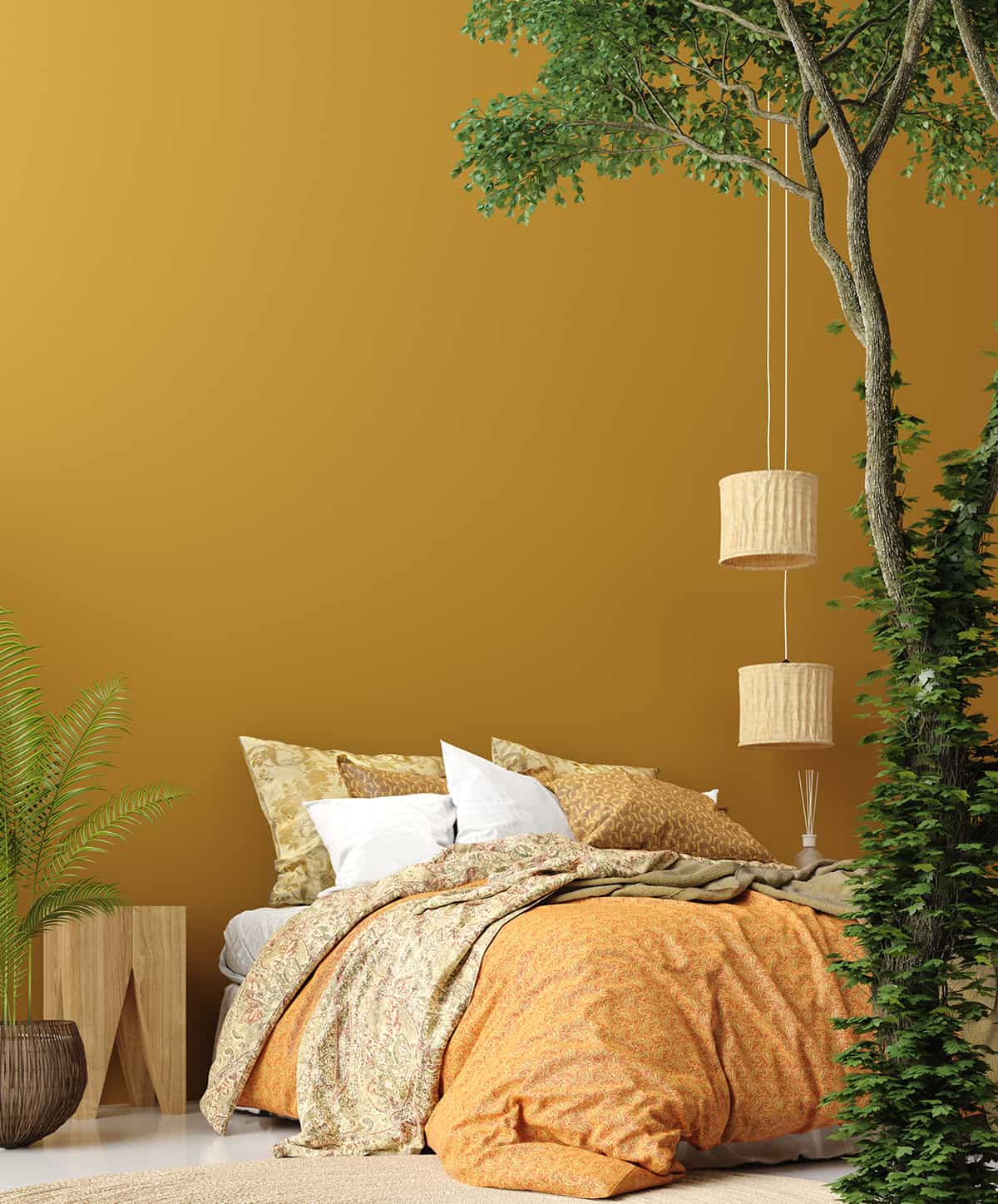 Did you know mustard yellow can lend itself to most interior decoration styles, including retro, classic, and bohemian? In fact, this is the top color choice in such interiors thanks to its versatile tone.
Whether you incorporate mustard yellow into the wallpaper, wall art, or floor covering, this color will easily bring an Eastern influence to a bedroom or living room.
Here is a boho-style bedroom with a mustard wall as the backdrop to the patterned bed.
Mustard Yellow Throw Pillow for an Inviting Feel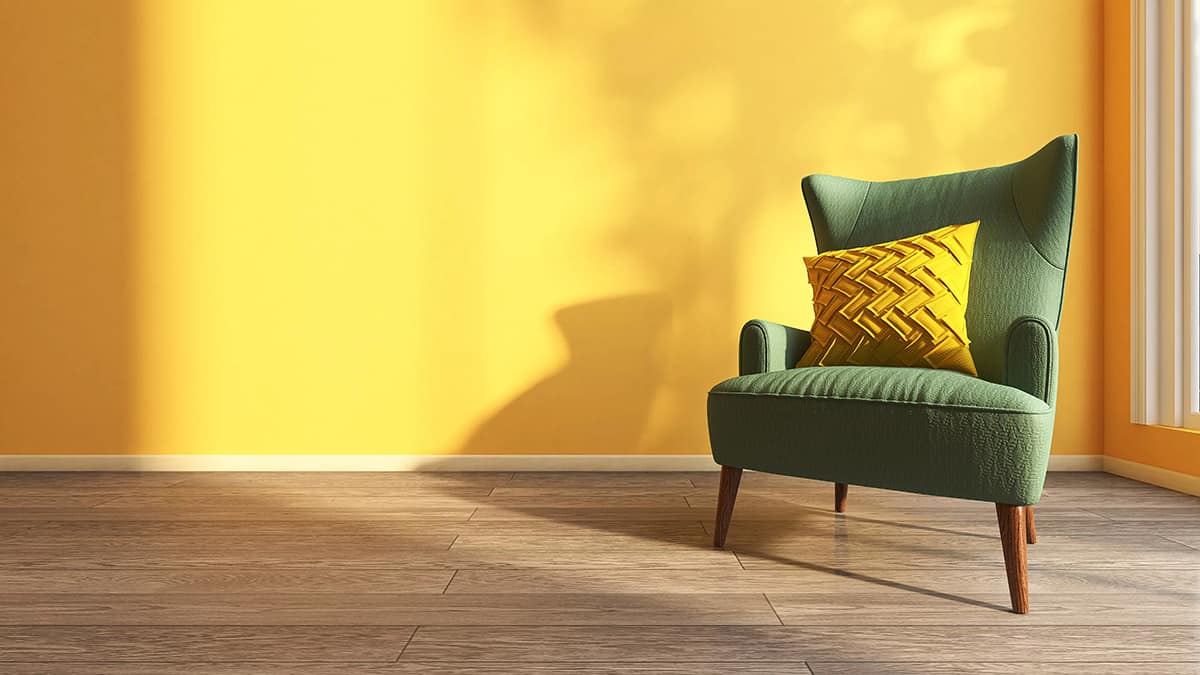 Mustard walls go hand in hand with mustard throw pillows. To elevate the brightness of your living space, add a mustard throw pillow to your armchair together with some gold accessories for a refined look.
Why gold? This is the closest color to mustard yellow so why not include it in your casual-styled living room? When combined with dark green furniture like the one shown here, gold and mustard will definitely make your space pop.
As an alternative to gold, you may pair your mustard yellow throw pillows and furniture with silvery accents as gray and yellow also work well together.
Best Colors that Go with Mustard Yellow
Mustard yellow is a warm hue that can be paired with most other warm and cool colors to complement your interiors. To enhance the aesthetic appeal of mustard yellow, consider pairing it with the following colors:
Brown
Dark brown goes very well with creamy mustard yellow. This warm, earthy tone gives texture to the soft yellow shade. You can use this color combination for the curtains or throw pillows.
Blue
A dark shade of blue pairs well with light mustard yellow. This pairing can be used as the living room furniture or bedding.
Fuchsia
This vivid reddish-purple color has a warm, earthy tone that compliments mustard yellow. It is best used in combination with dark mustard yellow in the bedroom. For example, you may paint one of your bedroom walls a fuchsia color and keep your bedding in mustard yellow.
Beige
Since mustard yellow has a warm, earthy brown undertone, it can work well with neutral, warm hues like beige or tan. If you want to create an inviting vibe in your living room, mustard yellow and beige are the perfect combo.
Another rich, neutral color we mentioned earlier is tan. This hue is a mix of caramel and cinnamon shades to achieve a dark brownish-gray tone. You may use these neutral hues with mustard yellow in the living room and dining room.
Check out more mustard yellow color schemes in our post on colors that go with mustard yellow.
In Closing
Decorating with mustard yellow is a super stylish way to spruce up your interiors. This shade of yellow has long been used in French and English style homes and can be described as a soft or muted hue. Whether you want to create a boho-themed or modern interior design, mustard yellow is sure to have a solid place as your interior decoration.
The best way to use mustard yellow as your interior decoration color is to start small. Include a couple of decorative pillows or cushions in this color to make a stylish statement.
If you want to go big on this shade, choose your seating furniture or wall decor in mustard yellow. Our ideas in this article should help you incorporate this beautiful yellow shade into your interior decor in order to inject some life into a neutral space.