A Chesterfield sofa is a very popular type of couch, which can work well with such a wide variety of interior decor styles, from traditional, to mid-century modern, right through to contemporary and rustic.
These sofas have been in fashion for a long time, and they show no sign of going anywhere fast. They represent a great investment for this very reason because they are so versatile in the way they can be styled to suit any space.
If you have a Chesterfield sofa, you may be wondering what other sets of furniture or accessories to pair it with. This will largely depend on the type of look you want to go for, and there is no shortage of options when it comes to creating stylish decor with this type of sofa.
Here we look at the Chesterfield sofa in-depth and recommend what pieces to use with it.
Here are the straightforward answers if you need one.
Use a Large Coffee Table
Use Contrasting Cushions
Tie in a Matching Rug
A matching chair for a traditional look and a contrasting chair for a modern style.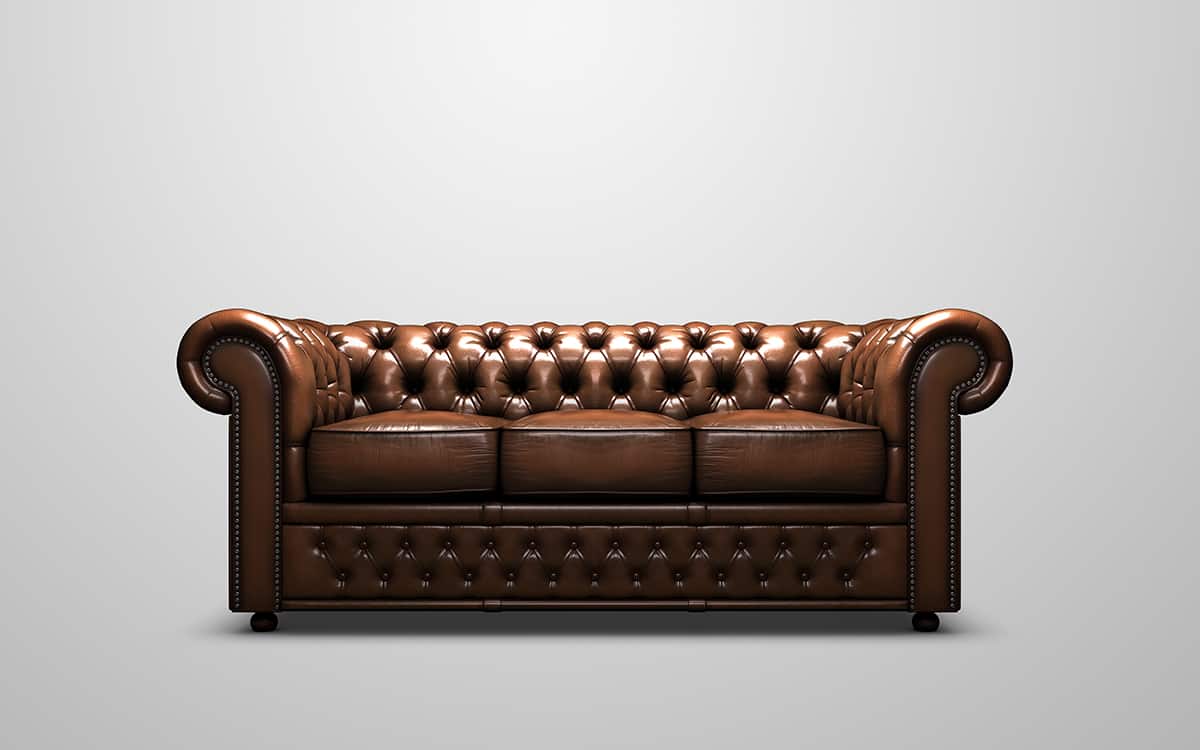 A Chesterfield Sofa is a style of sofa that can be easily identified by its low seat and deep-cushioned upholstery with buttons. These sofas are a symbol of elegance and luxury and are most commonly thought of as being leather sofas, though they can be found in just about any fabric you like.
This is a classic sofa that has a long history going back several centuries, and yet it is still the epitome of style today, proving that some pieces really never do go out of fashion.
The History of the Chesterfield Sofa
The Chesterfield Sofa has English origins, where it actually started out as a chair. In the early 1700s, a wealthy writer and politician named Lord Philip Stanhope, the Fourth Earl of Chesterfield, commissioned a chair by a local craftsman.
He stipulated that the chair must be suitable for a gentleman to sit upon it without his suit suffering from creases.
It is believed that he was so fond of his chair that, upon his deathbed, he ordered that the chair be inherited by his Godson, Solomon Dayrolles. After the death of Stanhope, the chair was displayed in Dayrolles home, where it received much attention from visitors and guests.
Dayrolles was also a respected member of society, being a popular diplomat, and people began to make requests to other craftsmen that reproductions of the chair be made. At this point in history, the reach of the British Empire was quite impressive, and the fashions of the British were emulated all over the globe.
The arrival of the Victorian era heralded the movement of combining style with comfort. It was during this period that the Chesterfield chair was given an overhaul and transformed into a more comfortable sofa.
The Chesterfield as redesigned by the Victorians is very similar to the Chesterfields we see today, so very little has changed in terms of the style of Chesterfield sofas over the last century, though with the advent of new technology and materials, they are now considered to be much better suited to modern-day relaxing and lounging.
What to Pair with a Chesterfield Sofa
A Chesterfield sofa has a very specific look, and most often, it will be the centerpiece of a space. This means that we need to find ways to style it that will complement the look of the Chesterfield without detracting from it.
The type of interior style you want to achieve is going to affect what type of accessories and other furniture items you pair with your Chesterfield. Here we will look at some simple recommendations to follow that will work in a variety of interior design styles.
Use a Large Coffee Table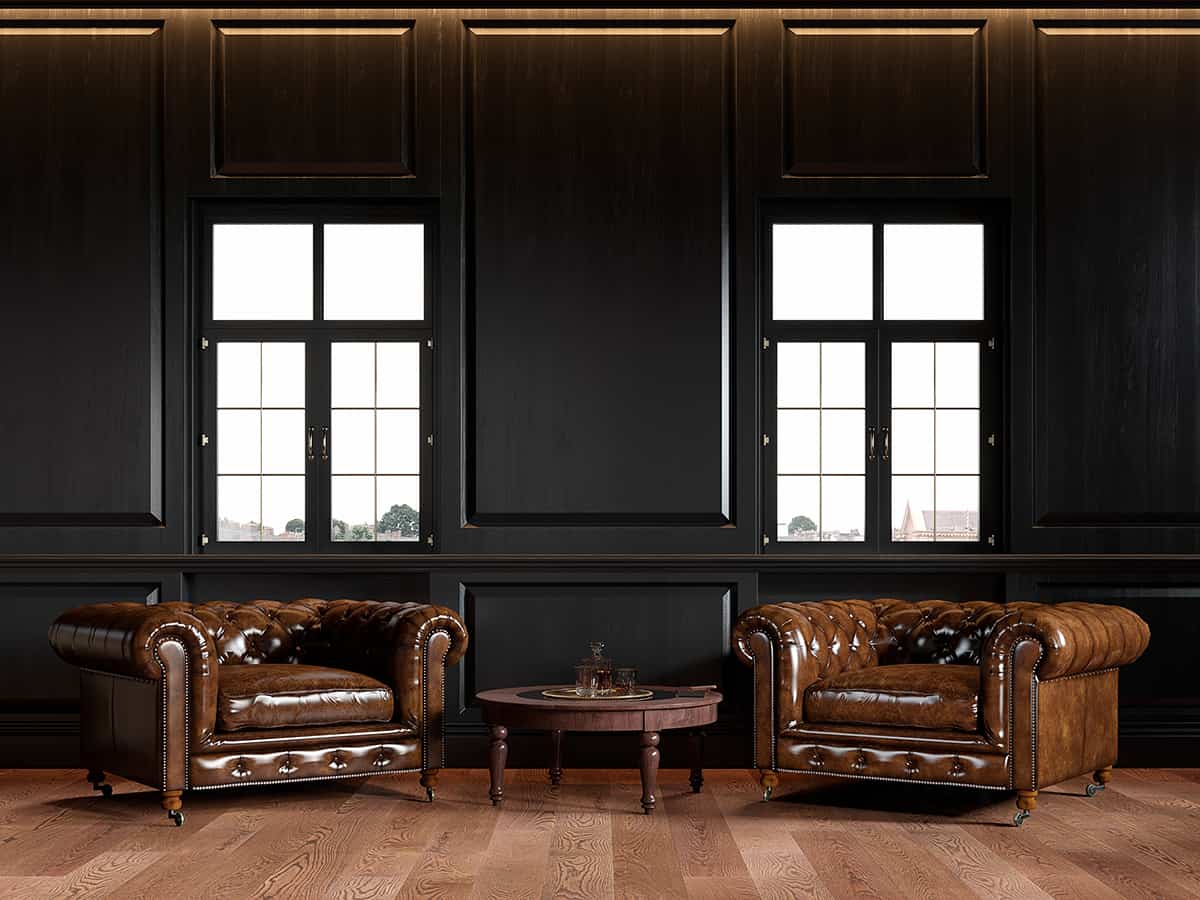 When choosing a coffee table to pair with your Chesterfield sofa, size really does matter. As Chesterfields are quite bulky, dominant pieces of furniture, you will need to balance this out with an oversized coffee table.
Keep the height of the coffee table low so that it does not detract from the Chesterfield or start to look like a dining table. A large coffee table will level out the room and ensure that a Chesterfield sofa doesn't stick out as the chunkiest piece of furniture in the space.
Use Contrasting Cushions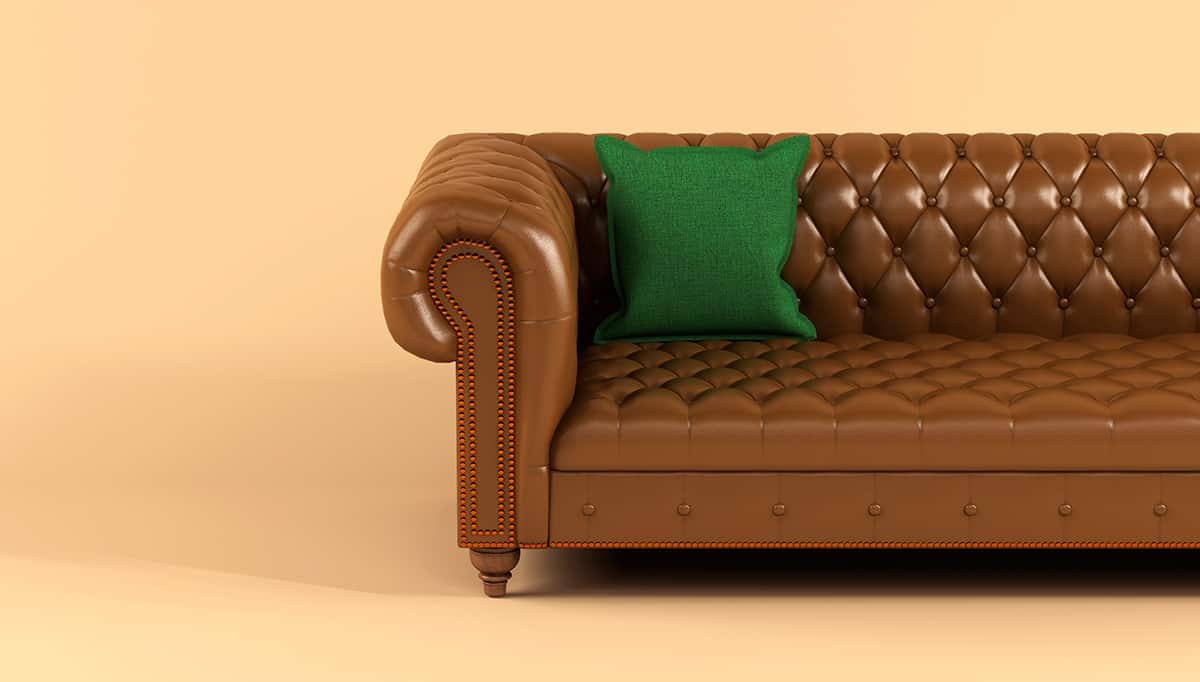 A Chesterfield sofa typically has a very classic look, and this will especially be the case if your Chesterfield is upholstered in leather or in a neutral-colored fabric. To bring the Chesterfield to life and ensure it doesn't look dated, choose a range of contrasting cushions to display along the seats of the sofa.
Prints will work really well to bring some personality to the room, such as animal prints or geometric patterns.
If your Chesterfield is a warm color such as brown, balance this out with vibrant cool cushion covers such as emerald green velvet or navy blue and white zig-zag patterned material.
Tie in a Matching Rug
If you have inherited a much-loved family heirloom Chesterfield, which you want to keep, but you also don't want to base your entire interior decor style and color scheme around it, you will need to find a way to make it feel like it fits in the space.
This is also a common problem for people who have paid a lot of money for a Chesterfield sofa and don't want to replace it; however, they want to update their color scheme, and the sofa doesn't seem to match.
An easy way to solve this problem is with a simple rug. Choose a rug in the same color as your Chesterfield sofa. For example, if you have a tan leather sofa, you could pick a tan-colored jute rug, or for a blue velvet Chesterfield, choose a blue deep pile rug.
Position the rug on the floor close to the sofa, but not directly underneath it or next to it. It should be at least three feet away from any edge of the sofa. This will help ground the sofa to the room and help it feel like it belongs in the room.
The rest of the colors in your room will not need to match the sofa or the rug, though they should be complimentary. By using this trick, you can incorporate your Chesterfield into any type of interior decor style or colored room.
Should Your Chair Match Your Chesterfield Sofa?
The quick answer to this is that it can match your sofa, but it doesn't have to. An accent chair can be exactly that; an accent to the rest of the room, including the sofa.
If you want to achieve a traditional look in your living room, then absolutely buy a matching Chesterfield chair to pair with your Chesterfield sofa.
However, if you want to create a more modern look in your home, then you should choose a chair to go with your Chesterfield sofa that doesn't match. While Chesterfield sofas have a very classic look, they can work really well in contemporary, rustic, or even industrial-style spaces.
If you have a leather Chesterfield sofa in a neutral color, such as tan, contrast this with a velvet accent chair in a bold pop of color such as teal. While the chair doesn't need to match your Chesterfield sofa, it should complement it.