When your living room is on the small side, it allows you to get creative with various sofa designs and colors. Choosing the right sofa color for a small living room can have a huge impact on the overall aesthetic of your space. The last thing you'll want is for the sofa to overtake the room.
The idea is to help your seating furniture blend into the small living room by complementing other colors that surround it while at the same time, the color you pick for the sofa must remain stylish for years to come.
If you're undecided on the best sofa colors for your small living room, here we have a few ideas to help you spruce up your space.
Sofa Color Ideas for a Small Living Room
White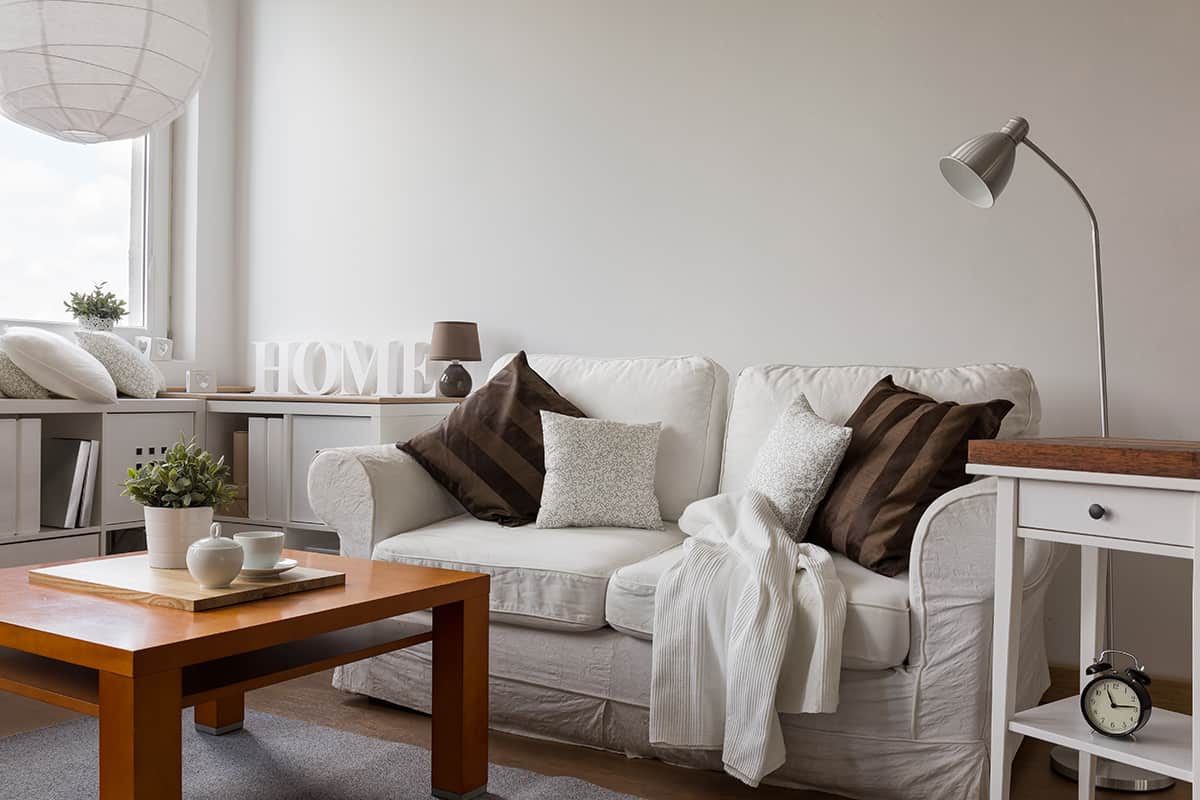 To make your small living room appear larger, opt for a bright-colored sofa. White is the brightest color that reflects the most light, making the room look bigger than it is. This is the best sofa color for compact living rooms, plus you can easily add other pops of color like pink or yellow to cheer up your space.
In minimalist living rooms, for example, a crisp white sofa with earthy throw pillows can create a cozy feel in the small space, as shown here. The white fabric sofa emits a sense of calm throughout the room, with the addition of a wooden table makes the entire room feel more homely. Mix in some pops of color or indoor greenery to further liven up your small room.
Light Gray

A gray sofa can make your small living room feel more elegant and cozy. This is the ideal color for tight spaces as the sofa won't stick out too much among the rest of the decor or furniture. By choosing a light shade of gray, you can keep the focus on the overall room. Slate gray, for example, is a popular shade for a sofa in a small living room. This shade creates a neutral backdrop that can be paired with sharper hues, such as greens and blues.
While some homeowners may see gray as a gloomy color, a light shade can actually brighten up a small room and prevent it from appearing dingy. This classic color goes with any interior design theme as it combines both a chic elegance with a relaxing environment. That said, it's best not to pick a large gray sofa as it can overtake the entire room.
Just like in this example, the light gray sofa is dressed with striped gray throw pillows that blend in beautifully with the small living room. The idea is to furnish the compact room with small-size furniture so that the eye isn't drawn directly toward them.
Other Neutral Tones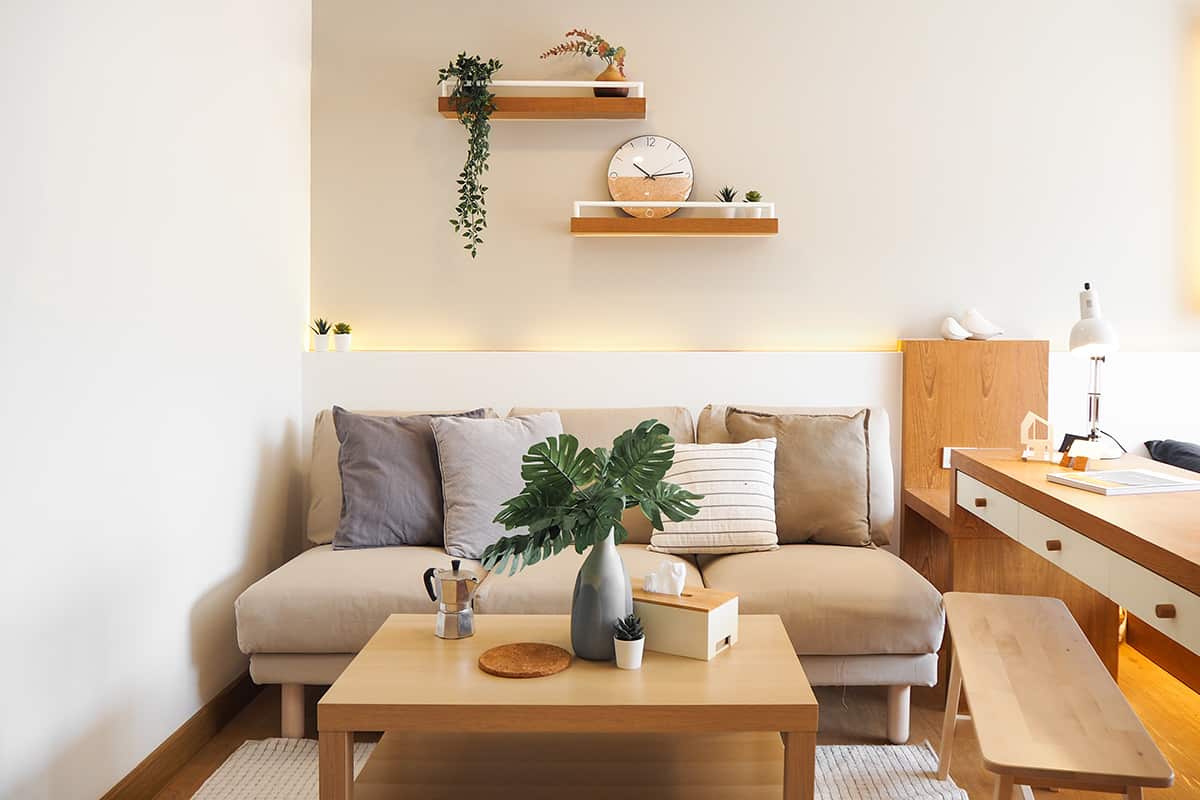 Other neutral sofa colors that go well with small living rooms include beige, cream, sand and off-white. These soft hues maintain a calming ambiance in white-dominant rooms. This color palette is incredibly versatile so you can mix it with a selection of neutral throw pillows and wooden furniture to add a little warmth to your small room.
You can safely combine your neutral sofa with plenty of brightly colored accessories, including wall art and rugs. These colors retain the neutral backdrop and allow the surrounding furniture to shine instead of making you feel cramped in your small living room.
Rich Green

Similar to neutrals, green is another calming color for a sofa in a small living room. While you don't have to go for a floral-themed interior, a stylish rich green couch can accentuate your small living room and make it feel cozier.
Rich green shades are a popular choice in minimalist, small living rooms. They work well with light wooden furniture to bring an earthy vibe to the room. As you can see in this small, stylish living room, the deep green sofa together sets a cozy and soothing ambiance. When decorated with other earthy and organic textures like indoor plants, the color green can freshen up the small living room in no time.
Taupe or Brown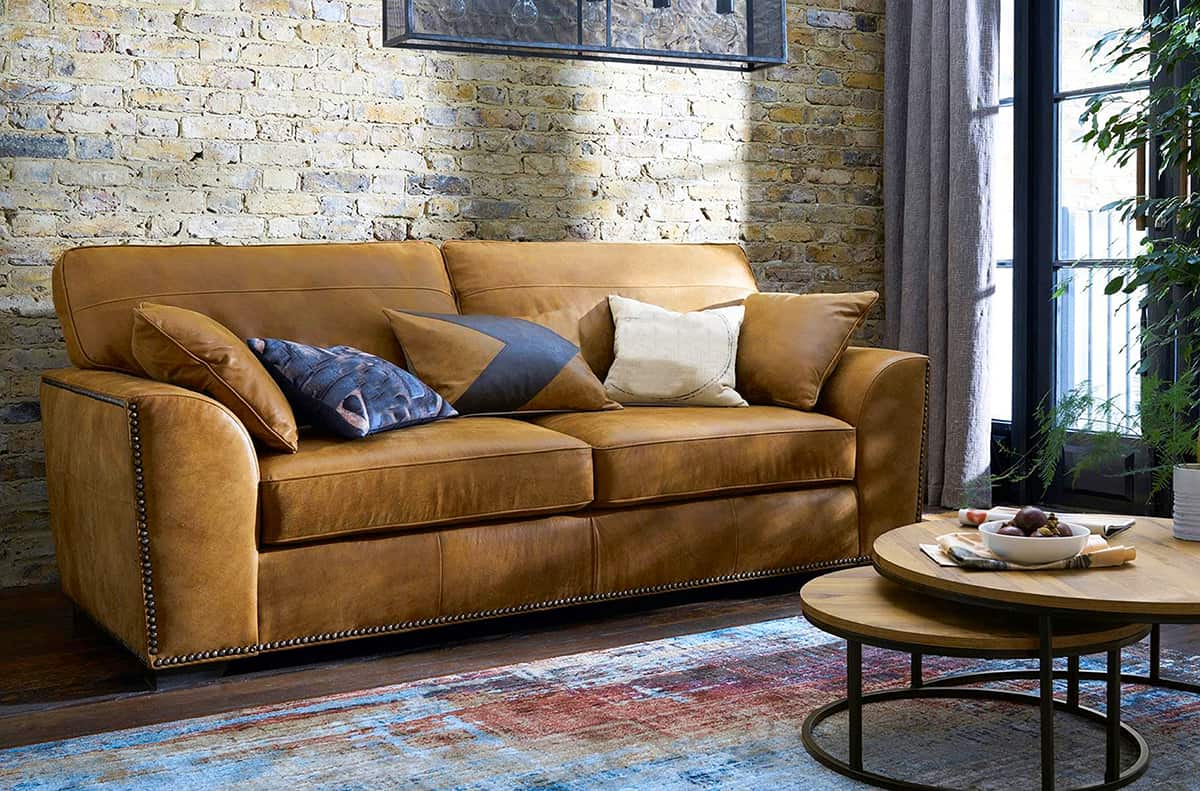 Staying with the earthy, organic color palette, taupe or brown are the other excellent options for a sofa color. In small, bright living rooms, any shade of brown, from tan to cocoa, and everything in between works beautifully.
Whether you choose a brown leather or velvet sofa, the earthy color can accentuate the natural tone of the furniture's material and blend beautifully with neutral surroundings. A brown or taupe sofa is perfect for both vintage or modern small living rooms as shown here. We love the cohesive look of this light brown leather sofa against the natural brick wall as a rugged backdrop.
Yellow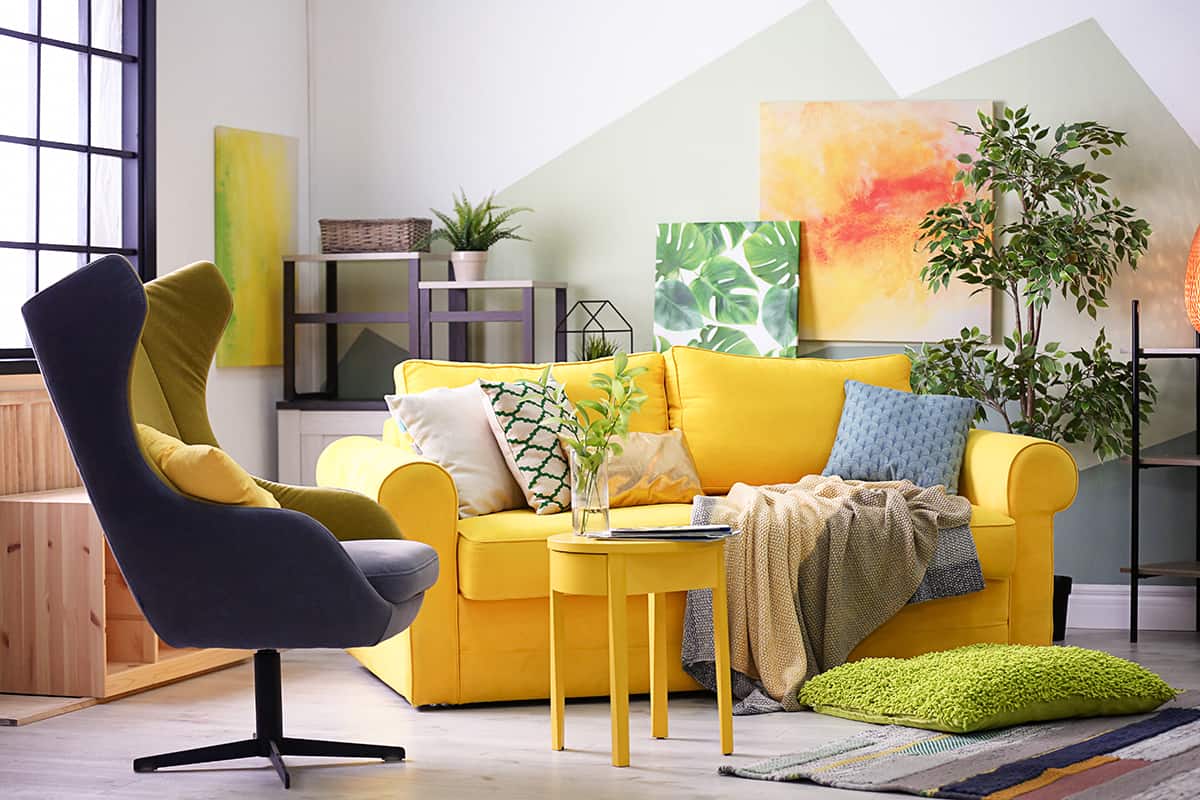 In small living rooms, a bright and cheerful sofa color can add elegance to your space. Yellow is a bold color that is sure to draw the eye to itself. When accentuated with other organic colors like green or blue, the pop of colors brings unity and cohesiveness to the small interior space.
This living room example pops thanks to the bright yellow sofa and a blend of blue with green textures. All these colors come together beautifully to provide a cozy, comfortable space.
Bright Orange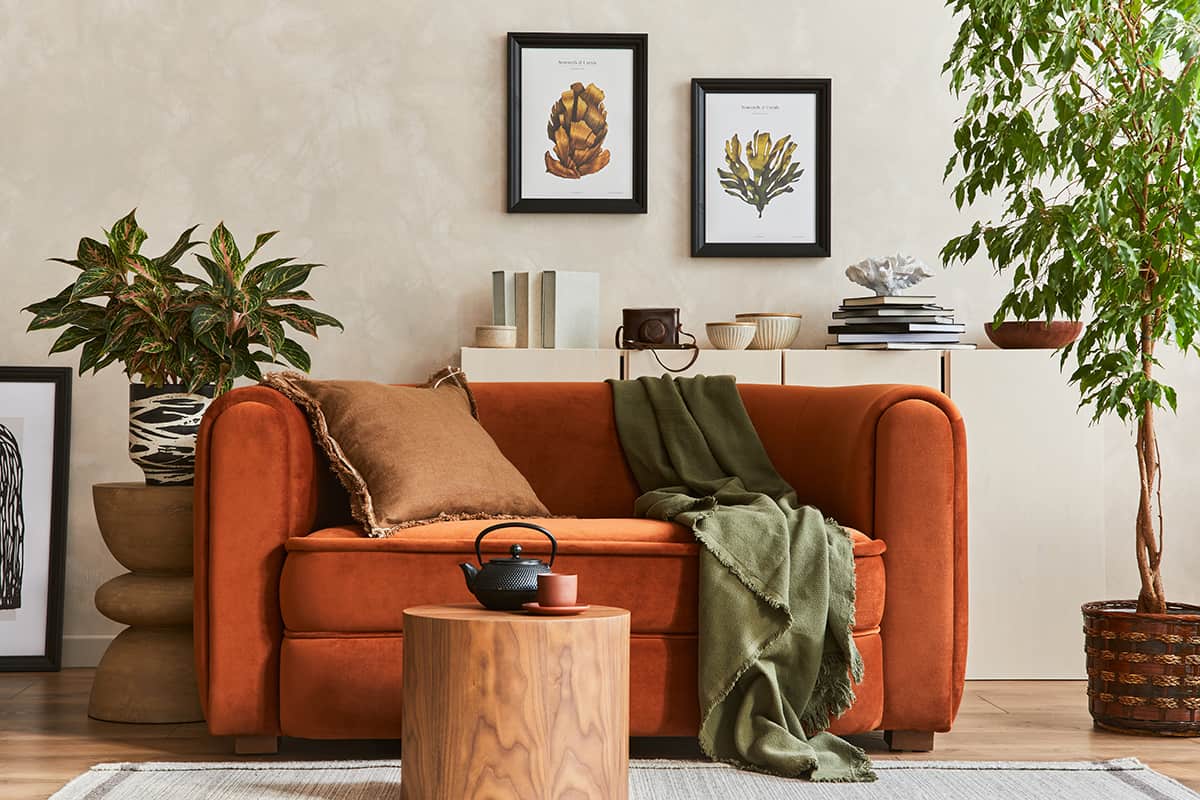 Whilst we're on the subject of bold sofa colors, orange is another great option for small, bright living rooms. Whether you go for a muted or light orange shade, it is the perfect on-trend color that brings a warm feel to the room.
If you haven't considered an orange sofa for your small living space, then the example we've picked for you might make you change your mind! This luscious, rich orange upholstery works beautifully with the green throw blanket and brown pillow. The natural textures together with the warm-toned orange sofa effortlessly add much personality to this space.
Light Blue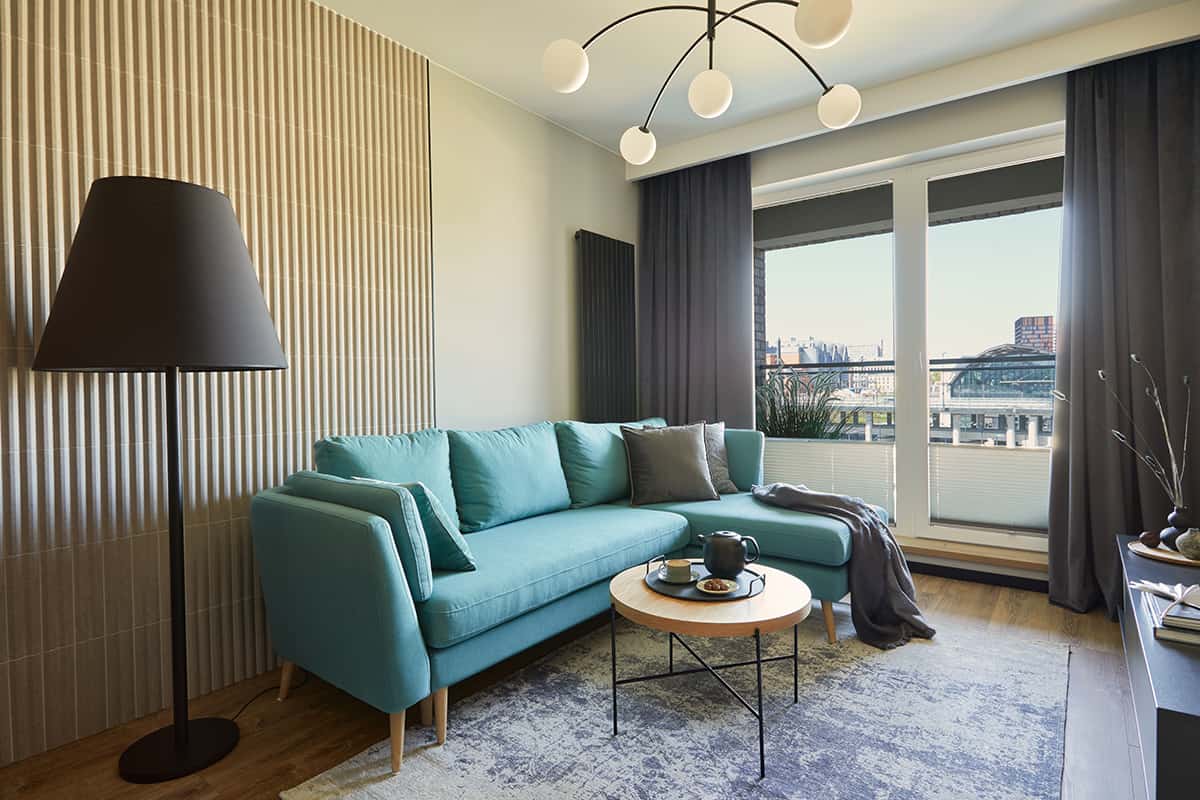 Blue is a versatile color that comes in many different shades, ranging from light or pale hues to rich, dark tones like navy or admiral. This stunning color goes well with both bold and neutral accessories, but you must take care not to create a cold vibe.
This can be avoided by adding complementary decor or accessory colors, such as green or purple in order to integrate the light blue sofa into the small living space.
Purple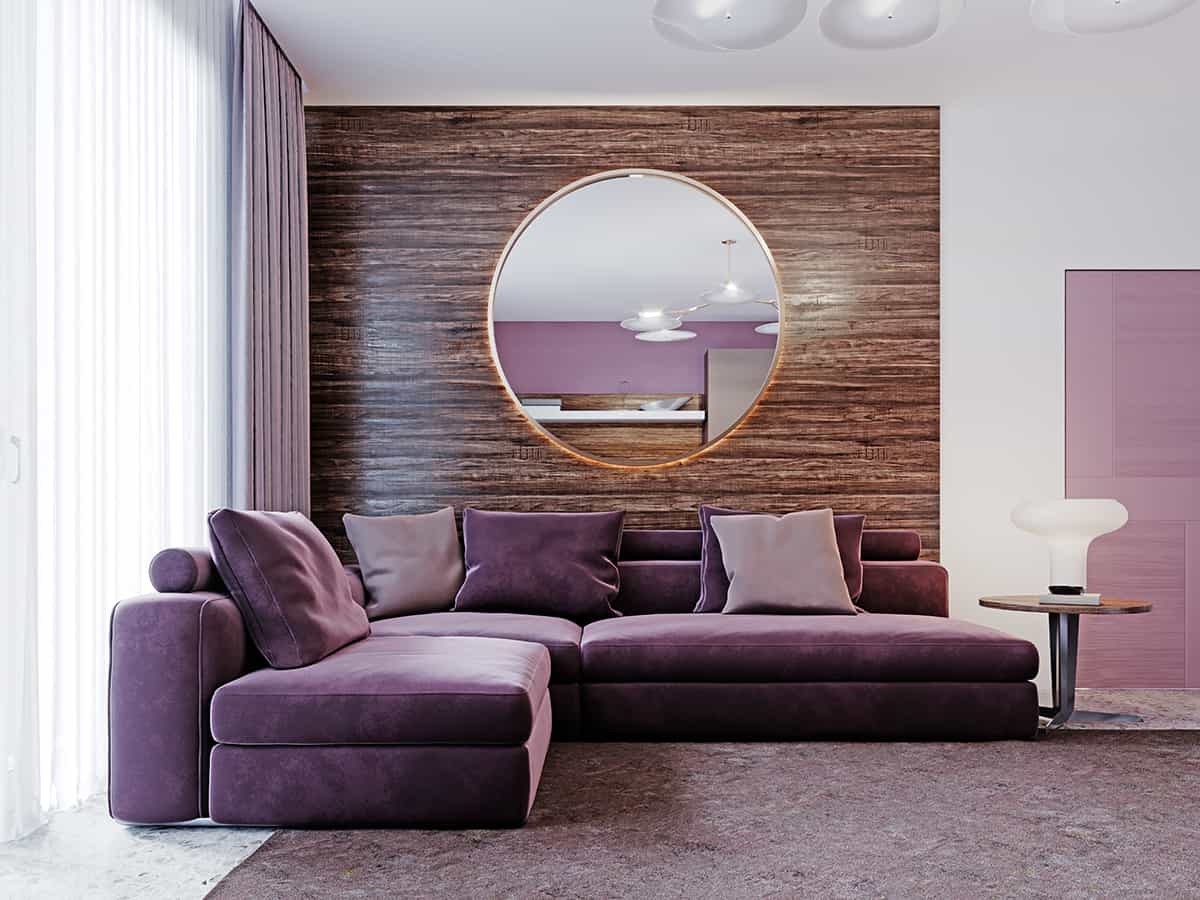 Purple has the gentle quality to transform a small living space into an open and light one. This sofa color looks beautiful next to a large window as it emits a soothing vibe. When paired with pale neutrals, a purple couch can set a calming ambiance in any room. We think this is an excellent color to make a living room appear bigger.
Purple has the gentle quality to transform a small living space into an open and light one. This sofa color looks beautiful next to a large window as it emits a soothing vibe. When paired with pale neutrals, purple can set a calming ambiance in any room. We think this is an excellent color to make a living room appear bigger.
In addition, the bold purple sofa makes a strong visual impression as the main feature of the living room. Combine natural wood for added warmth or a hint of red for the floor covering to emphasize on the cozy ambiance.
In Closing
When you have a small living room, you may not embrace the idea of dark or bold sofa colors, and with good reason. But that doesn't mean your options are solely limited to neutral furniture colors. A bright and cheerful sofa color like yellow, orange or pale blue can go very well with other bright accessories.
No need to worry about overwhelming your small living space with these bold colors. As long as you keep the backdrop neutral, you'll easily be able to blend your bright orange, green or yellow sofa into your living room.
For the finishing touch, don't forget to include complementary-colored throw pillows with your sofa. As a general rule, if your sofa is a bright and bold color, you can accentuate it with neutral or patterned throw pillows. Similarly, a neutral sofa will work very well with bold accent pillows. These little pops of color will pull the small room together and give your living space a cozier feel.