Are you feeling overwhelmed with the vast number of coffee table size options and have no idea how to choose the right one?
Admittedly, choosing the right table size for your living room isn't the easiest task, but there are some basic rules you can follow to avoid making the wrong decision.
Keep reading to find out the right measurements you need when choosing a coffee table for your home as well as my insider tips on selecting the best shape table.
Don't have time for the whole article reading. Here's a quick answer.
The average size of a coffee table size should be measured against the surrounding sofas and couches. Typically, its height is 1 – 2 inches lower than the sofa's seat height; meanwhile, its length should be no more than two-thirds of the sofa's length.

As such, in a room with 2-3 seat sofas (48″ – 80″ in length), an average coffee table size would be around 30 – 48 inches in length, and 16 – 18 inches in height. It should have 18″ of space from the sofa and 30″ clearances from other furniture in the room.
Standard Coffee Table Height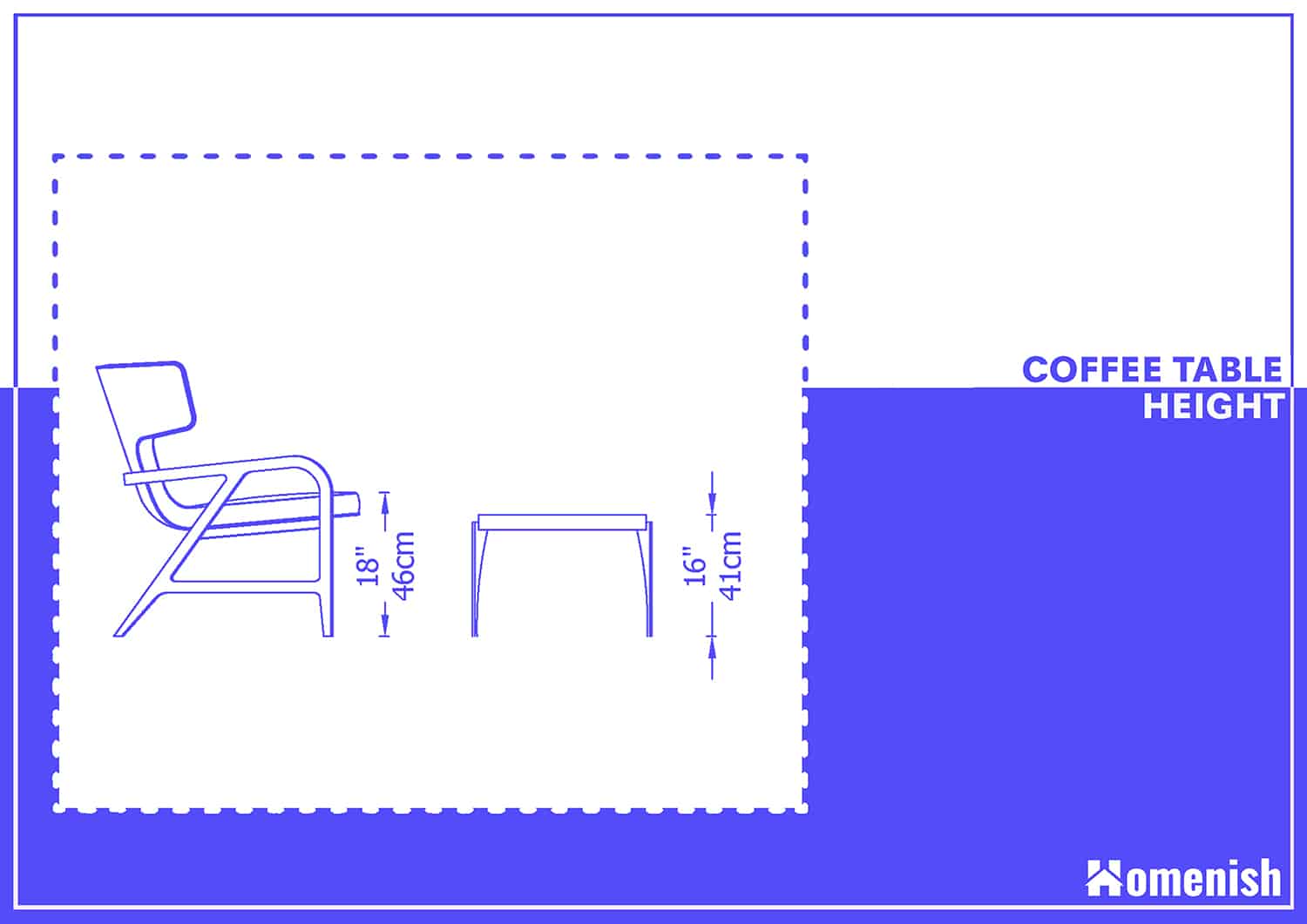 As a general rule of thumb, a coffee table should be about 1 or 2 inches shorter than the sofa's seat height from the floor. The height of the sofa is up to the seat cushions so when sitting on the sofa, it helps to have an unobstructed eye-line by going 1 or 2 inches lower.
The standard sofa seat height is 18 inches so the standard coffee table height will be around 16 – 17 inches. When in doubt, measure the height of your sofa including the cushions before buying the table.
If you want to create a modern feel in your living room, low-height tables can come in handy and provide an unobstructed view of the rest of the furniture.
On the other hand, if you want a traditional feel, taller tables are ideal for entertaining and ease of reach. These tables are especially useful when they are paired with tall sofas as the extra inches help make it easier to reach for the tabletop.
No matter which type of table height you choose, make sure it is 1 or 2 inches shorter than the sofa as previously mentioned.
Of course, there are some exceptions to this rule, which we explained clearly in our article 'Can a Coffee Table be Higher than A Sofa?.
Standard Coffee Table Length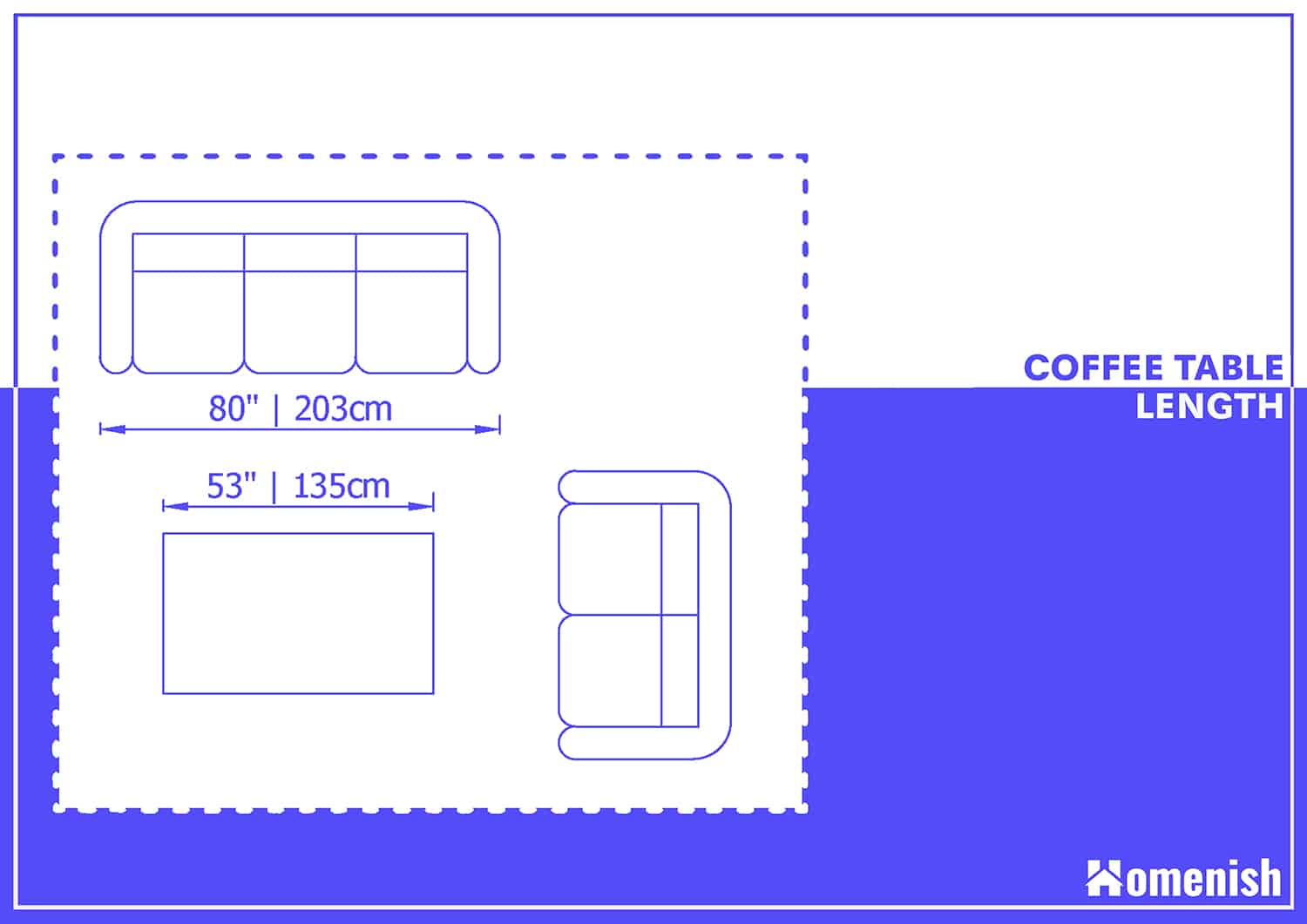 Once you've determined the proper height of your coffee table, it's now time to think about the table's width and length.
The ideal coffee table should be no more than two-thirds of the sofa's length. When it's centered with a sofa, allow equal space on each side of the table as this will allow you to move around the table easily.
To give you an example, in a living room with a 2-3 seat sofa (measured 48 – 80″ in length), an average coffee table size would be around 30 – 48 inches in length, and 16 – 18 inches in height.
Now that you have a basic idea of the right height, and length of your coffee table, you're ready to make a purchase decision.
Keep reading for more tips and recommendations on where to place your table and how to make your living room look more stylish with the right coffee table shape.
Placement & Clearance of a Coffee Table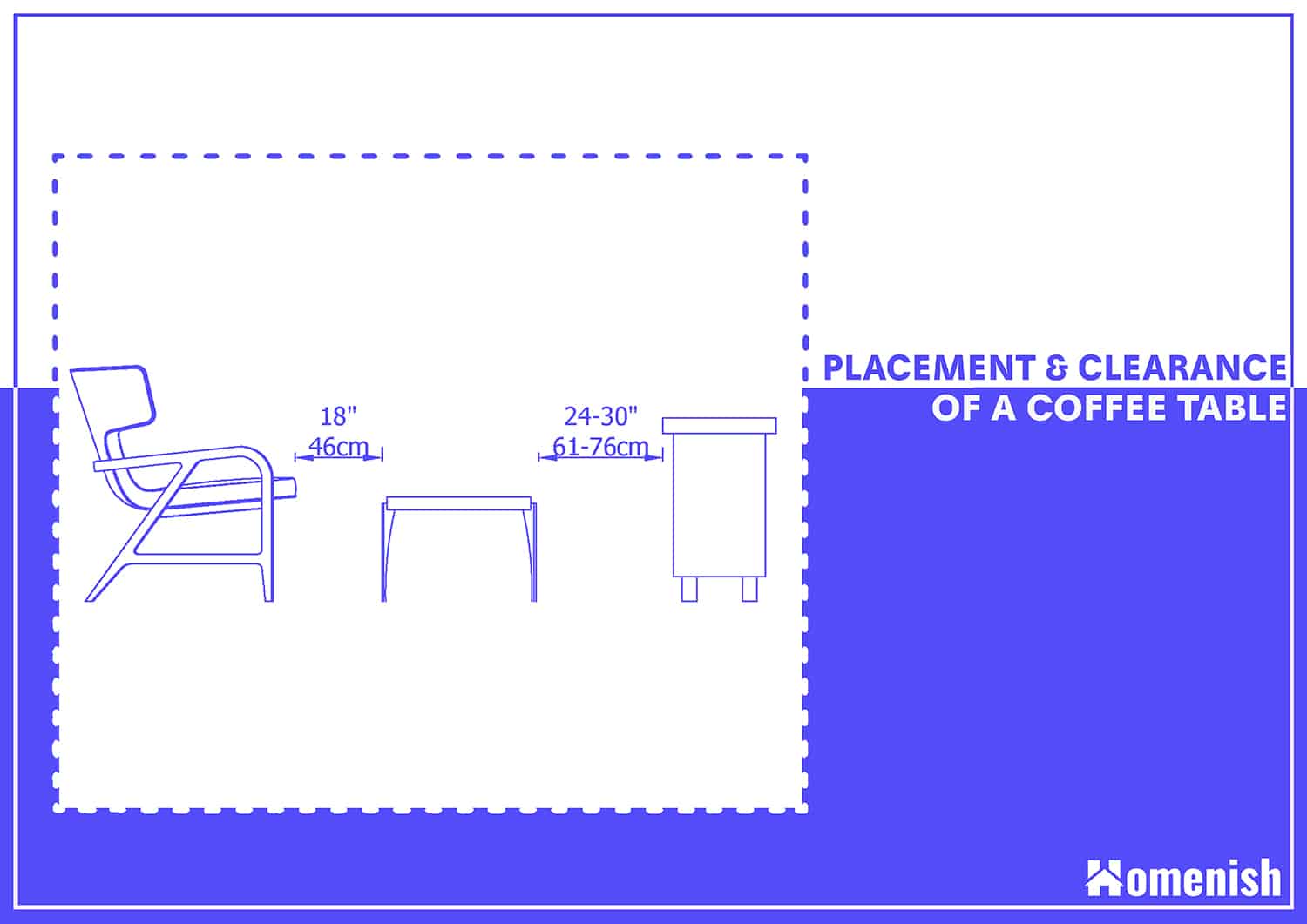 So your coffee table has arrived home and it's time to put it in the right place. As a rule of thumb, the ideal distance is 18 inches from the couch or sectional sofa as this will leave plenty of legroom while keeping the coffee table within easy reach.
If the table has cabinets or drawers that open towards the couch, the 18-inch space allowance will comfortably provide room for quick access.
If you need to place chairs close to the table, apply the 18-inch distance rule with them too.
Having said that, this rule isn't set in stone so you can be flexible and go within the range of 12 to 18 inches of space between the couch and table, depending on your personal preference.
It also depends on the type of coffee table you buy as an ottoman table, for example, needs to be closer to someone with short legs.
But what about other large furniture items? To prevent your coffee table from blocking the way in the room, allow at least 30 inches of space between the table and other furniture items. In narrower living rooms, allow 24 inches of open space.
To round it up, keep an open space of between 12 and 18 inches between the coffee table and the couch. Allow 24 to 30 inches of open space between the table and the TV stand.
Tips for Choosing the Right Coffee Table Dimensions
To help you pick the most suitable coffee table size and shape, take a look at my recommendations below:
For large living rooms with sectional sofas, either a round or square coffee table measuring 36 inches by 36 inches will be ideal. You may even pair two square tables next to each other if you have ample space.
The next size up for a coffee table is usually 40 inches long with a width of about 20 to 30 inches. These coffee tables are best for a small space as larger tables will make a large living room feel too small.
For an average size living room, opt for a 48 inches long coffee table with a depth of 20 to 30 inches. If you have the available space, you may even choose a fairly standard length of 54 inches long with 20-30 inches width.
If your living room is large enough for multiple sofas, go for a 60-inch long coffee table to accommodate everyone.
Remember that coffee tables are available in different shapes, materials, and sizes. While the room's shape can play a big role in selecting the right table, you must not forget to configure the seating. Whether you opt for a square, oval, round, or rectangular coffee table, your decision will be affected by the style and size of your sofa as well as your living room's interior decoration.
Here are some other quick tips to guide you in choosing the right coffee table and coffee table alternatives.
Rectangular, oval or round coffee tables work well for smaller living rooms.
Square or round coffee tables are perfect for sectional sofas.
A higher couch needs a taller table that's at least 20 inches high. The taller the table the easier it will be to reach for a glass of wine or snacks.
For large seating configurations, round or square coffee tables are ideal for large loveseats or sectional sofas.
Oval-shaped or round tables are safer around children as they don't have any sharp edges.
When selecting a coffee table size, take into account the actual measurements by ensuring the table doesn't exceed two-thirds of your couch's total length. As a reminder, you need to leave enough space around the table (at least one foot and a half) between the sofa and the table.
If you are taller, you will need to go for a higher coffee table. If, on the other hand, you are planning to sit on the floor, choose a lower table for convenience.
Additional Tips For Choosing a Coffee Table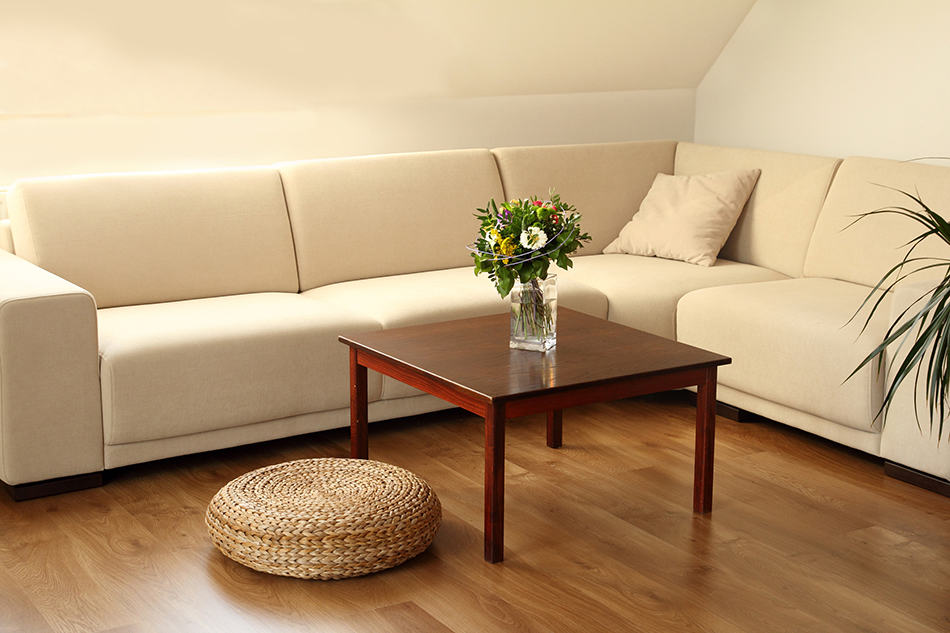 Keep it Balanced and Well-Proportioned
To make your living room space feel balanced and weighted, you must think about keeping the coffee table proportional with the other furniture in the room. But what exactly does this mean?
If your couch has low and slim legs, choose a table that comes with lower legs than the sofa. On the flip side, if your couch doesn't have any legs, go for a coffee table that has higher and slimmer legs. This will keep the room's interior balanced and proportional.
Mix and Match
Create a cascading pattern by arranging a couple of coffee tables at different heights. This combination will look great in both small and large living rooms. You can simply push the tables back in together whenever you need some extra space in front of the sofa.
Bear in mind that different coffee table sizes can also be made from different materials, not just wood. Why not replace one table with an ottoman so you can just push the ottoman under the table.
This way, you will always have an additional seat whenever you need it. For more surface space, consider putting a tray on the ottoman. Alternatively, you may use a round metal or glass coffee table that's a few inches smaller than your sofa.
Conclusion
Choosing the right coffee table size is not as complicated as it may seem – as long as you follow some basic rules. The most important thing to bear in mind is to keep the table proportional to the rest of the furniture so you have enough space to move around.
If the table is too close to the couch, it can ruin the room's polished look. By figuring out the height, width, and distance to the sofa, you will be able to decide which coffee table best suits your living room. Once you have picked the right table, you can start enjoying the great conversations you will be making around that table with your guests.