Yellow is a bright, cheerful color that's associated with positivity, fun, and happiness. When it's used for interior decoration, specifically as the color of the walls, it can look great with every design style. If you want to bring out the true beauty of this color, it is important to pair it with a complementary sofa color.
The biggest benefit of using this vibrant color for the living room walls is the spacious feel you can achieve. This is why yellow is a recommended paint color for small living rooms.
Incorporating this fun, sunny color into your living room is relatively easy. A large element like the walls can be a good way of highlighting the vibrant yellow, but you must take care not to let it overpower the space.
To achieve balance, choose your sofa color carefully. And if you're unsure which sofa colors work best with yellow walls, just take a look at our ideas right here:
Sofa Color Ideas that Go with Yellow Walls
Blue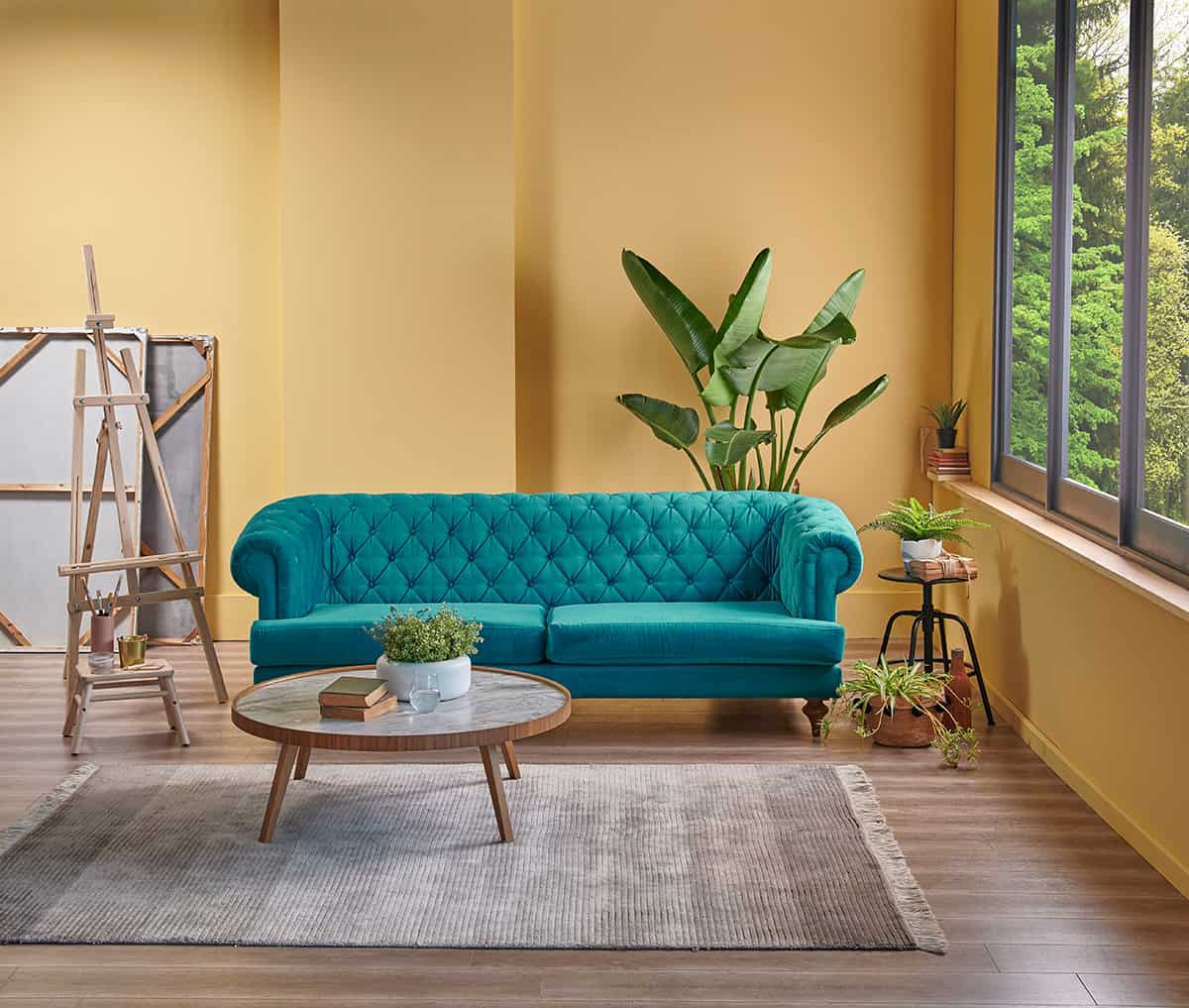 Blue is a beautiful furnishing color that pairs well with muted yellow walls. This modern yet classic color is not only eye-catching next to yellow, but it can also transform your living room into a stunning contrast.
The blend of a bold blue sofa with mustard yellow walls can add drama and depth as shown in this example. Since blue is such a vivid color, plus it stands out from the muted yellow in the background, no need to include any other bold tones in this mix!
Red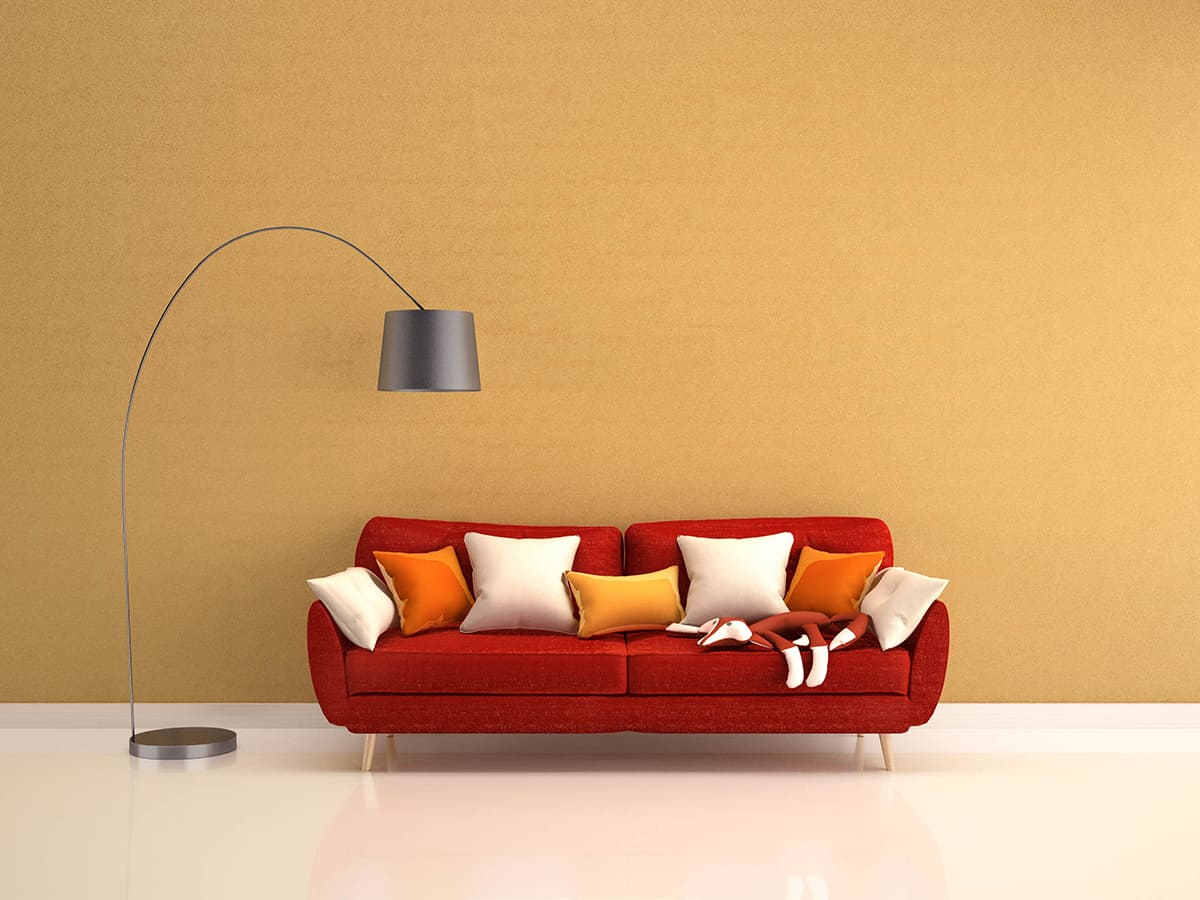 A red sofa with yellow walls in the background can look phenomenal in a modern or eclectic-style living room. This dominating color combination can bring an energetic vibe to the living space. But if you want to tone it down a little, you can neutralize the bold look by adding a blend of neutral and bright accent pillows or accessories as shown here.
Aside from throw pillows in colorful mixes, you can also incorporate indoor plants around the red sofa. This will bring a calm and refreshing feel to your living room with yellow walls.
Orange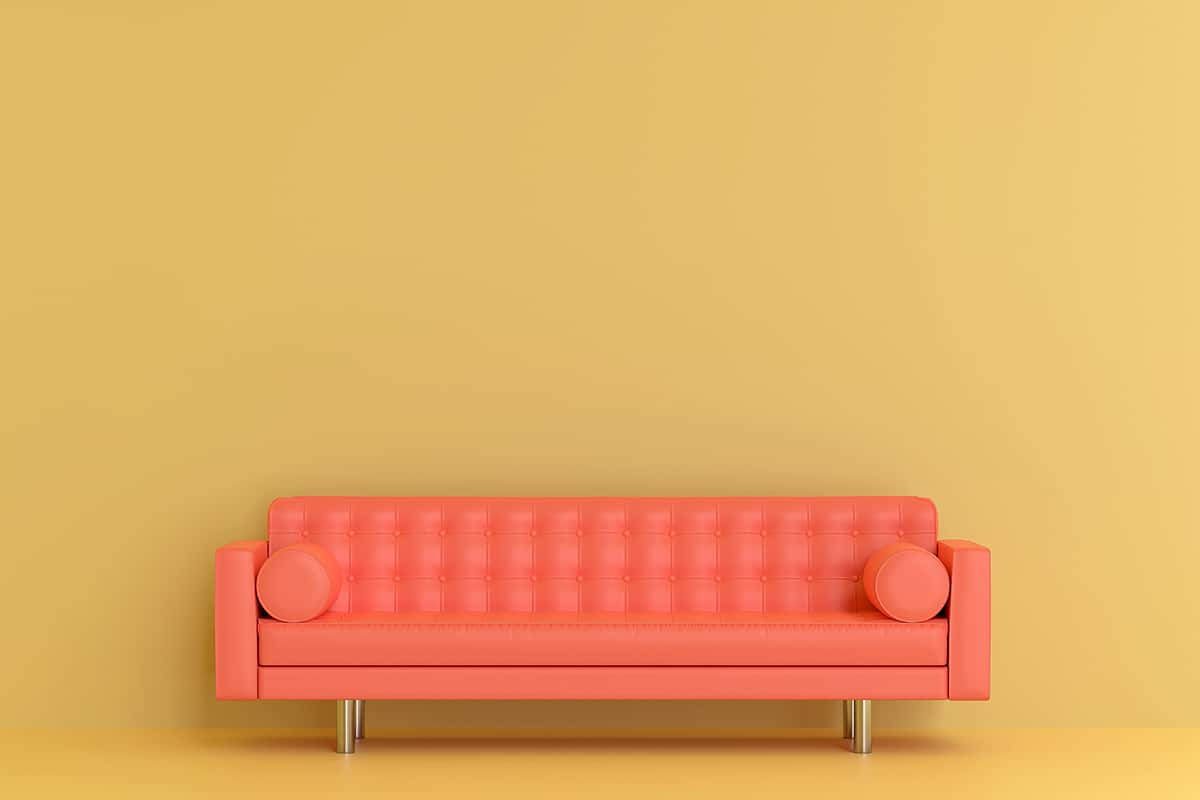 Another bold, striking sofa color option is orange. With this warm-toned color, you can draw attention directly to the sofa rather than the yellow walls. Regardless of the orange shade you choose, this thrilling and unique color pairs wonderfully with bright yellow walls.
By pairing an orange sofa with yellow walls, you can create a sleek and elegant atmosphere in your living room. With this combination, you won't need to add any other vivid colors as they may clash with yellow and orange.
Striped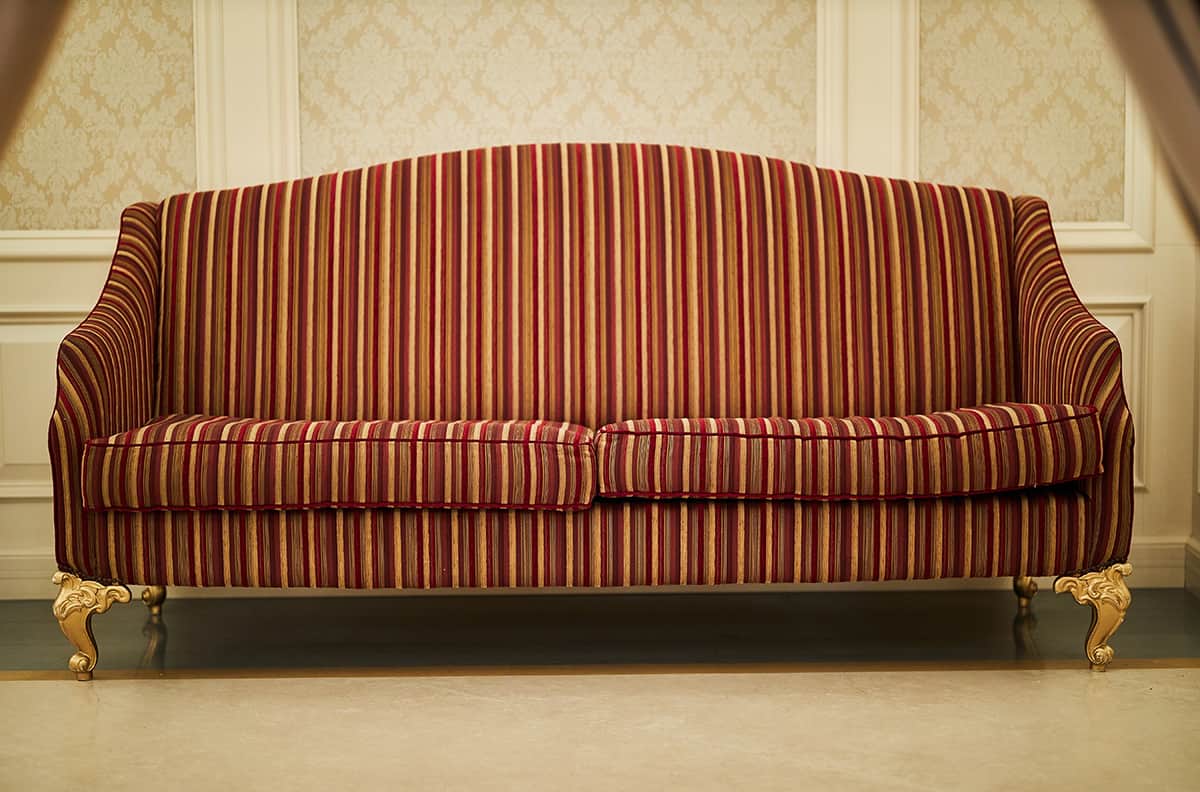 The beauty of the interior design is it gives you the freedom to pair any furniture colors with yellow walls, as long as they complement the rest of the decor. In traditional living rooms with pale yellow walls, a striped or patterned sofa can be quite stunning. This idea attributes to the rustic or farmhouse atmosphere of a living room with warm-toned yellow walls.
A vintage striped brown sofa harmonizes beautifully with pale yellow walls as it brings depth to the room. This combination gives you the flexibility to add any accents you like to the sofa, such as orange or red throw pillows.
White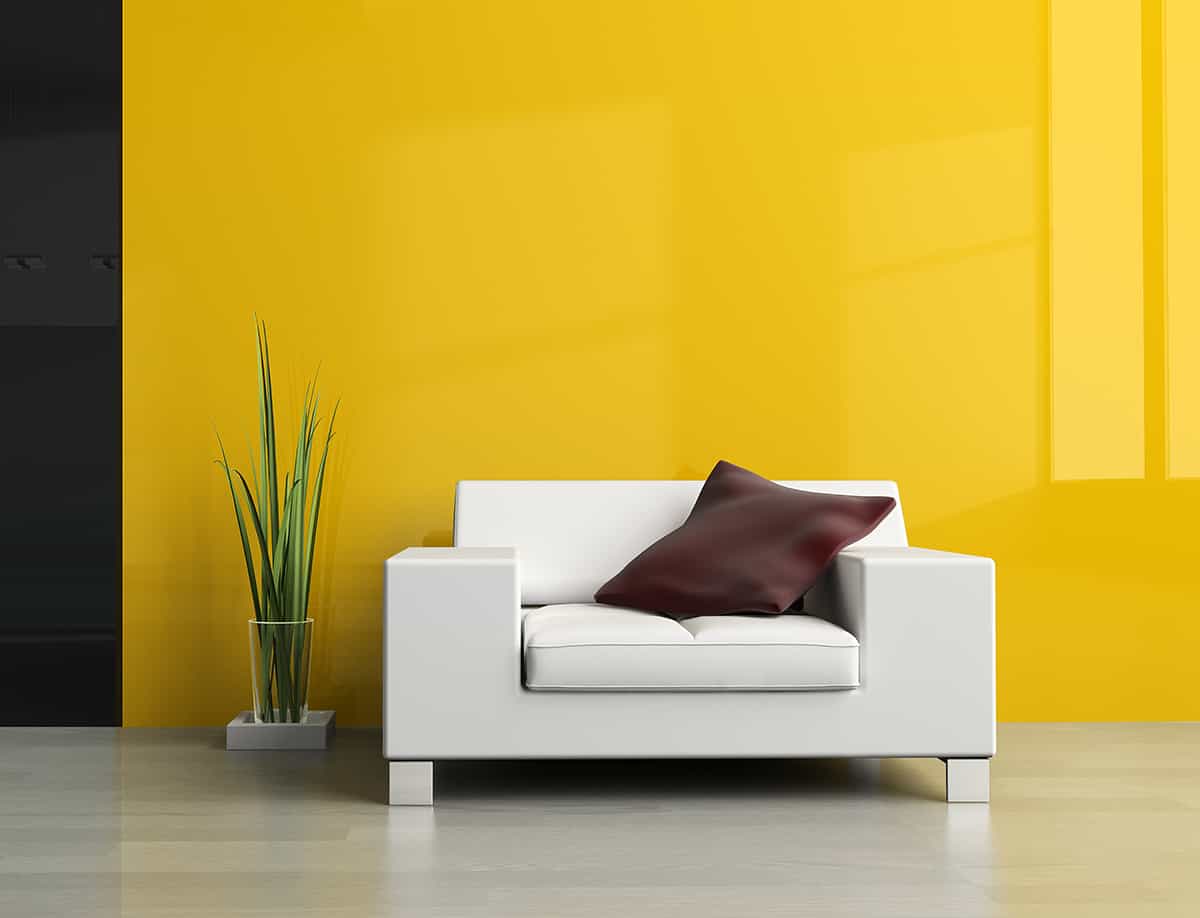 Whether you have painted your walls a pale or bold shade of yellow, a white sofa is the safest color pairing. Both of these colors can work in harmony to bring depth to a small room, without competing for attention. In addition, white is a flexible color that allows you to decorate around it with any neutral or bright decor colors.
For a little contrast, consider adding a black pillow to your white sofa. This helps keep the yellow walls in focus as shown here. And as for a particular shade of white to complement the bright yellow walls, you can go with either warm or cool-toned whites, including ivory, cream, or pearl.
Beige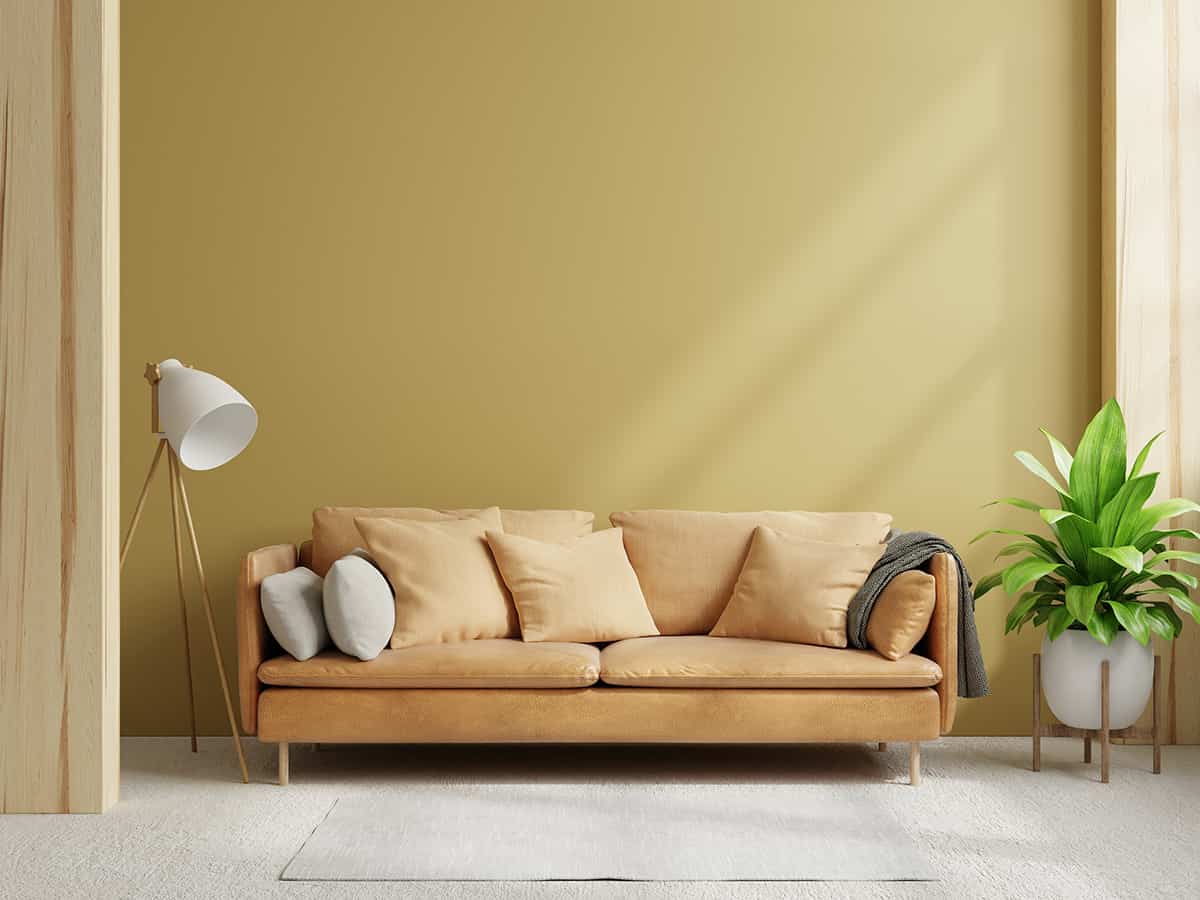 Yellow and beige belong to the same color family, so it makes sense to pair a beige sofa with bright yellow walls. This is the ideal option for creating a monochromatic vibe in a cozy, modern living room.
You can boost the visual interest of your living room with yellow walls by adding a pop of color to your beige sofa. We think crisp white throw pillows will work beautifully with this color scheme as they break the monotony.
Black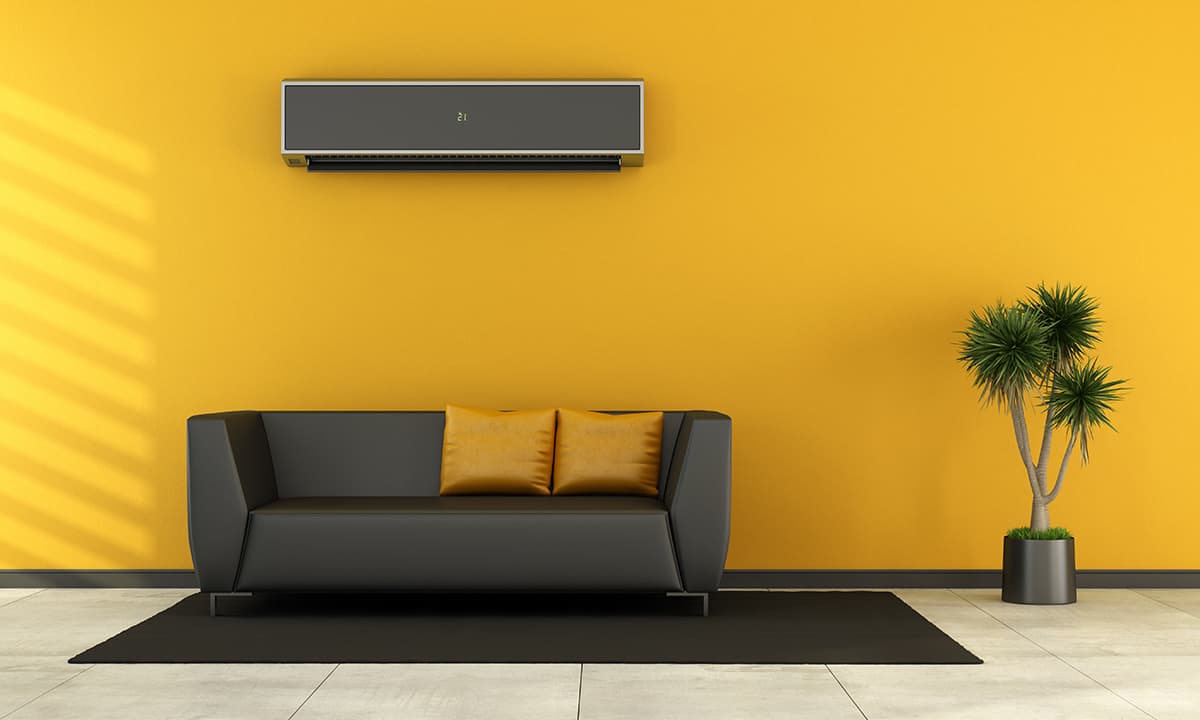 A black sofa can look very smart next to yellow walls. Opt for leather if you want an ultra-modern look and add colorful throw pillows for texture. When in doubt, use the same yellow shade for the accent pillows to match the walls. You can also add darker yellow shades for the decorative accessories in order to keep the design cohesive.
Pastel or muted yellow walls go beautifully with a black leather sofa as they undeniably make a statement without overpowering the room. We think mustard yellow is the smartest shade that can be paired with a black sofa.
Gray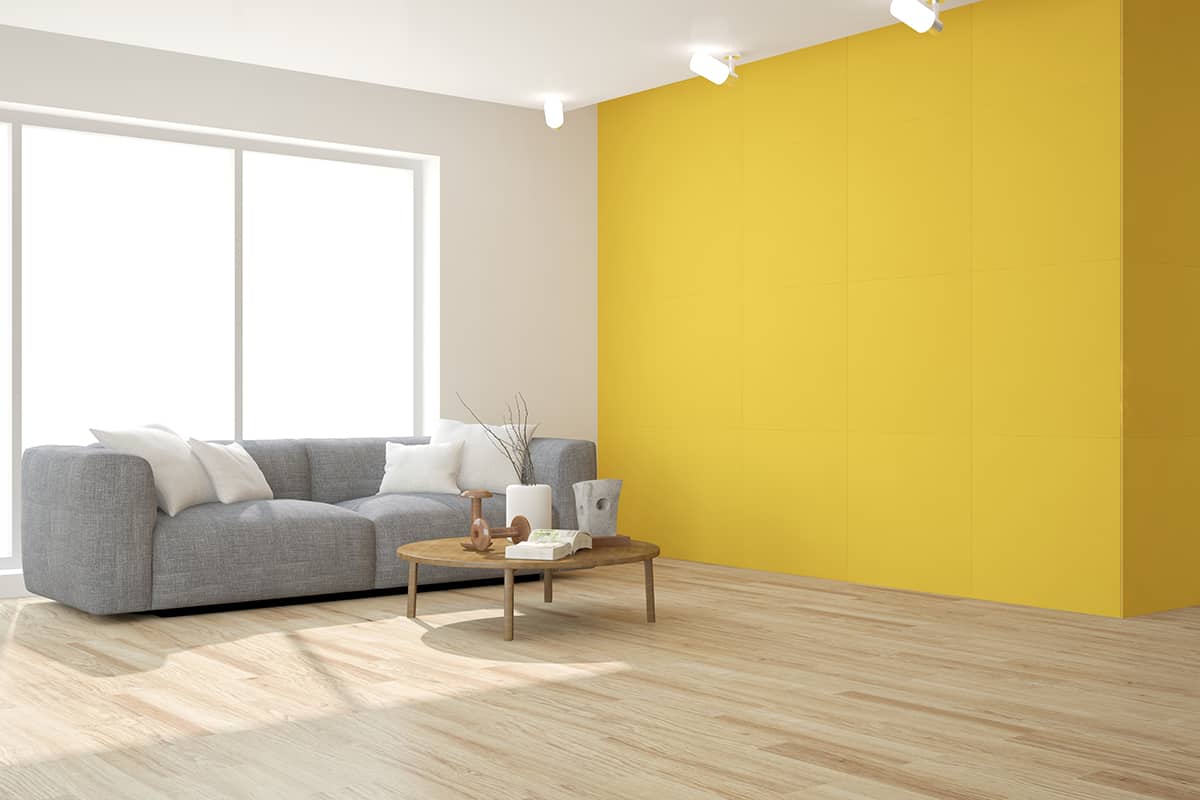 If a black sofa is just too intense for your liking, consider a light gray as a close alternative. This modern color softens the yellow and adds a sense of depth. Whether you have light or dark yellow walls, a pale shade of gray for the sofa works beautifully.
This trendy sofa color can be accompanied by brighter neutrals like white in the form of throw pillows. The color scheme will look incredible next to a cheerful shade of yellow.
Gray is a popular and sleek color that can be paired with practically any bold or neutral hue. Those who want to soften the brightness of their yellow walls should consider using gray seating furniture. This edgy color is super stylish and suits any setting!
Dark Green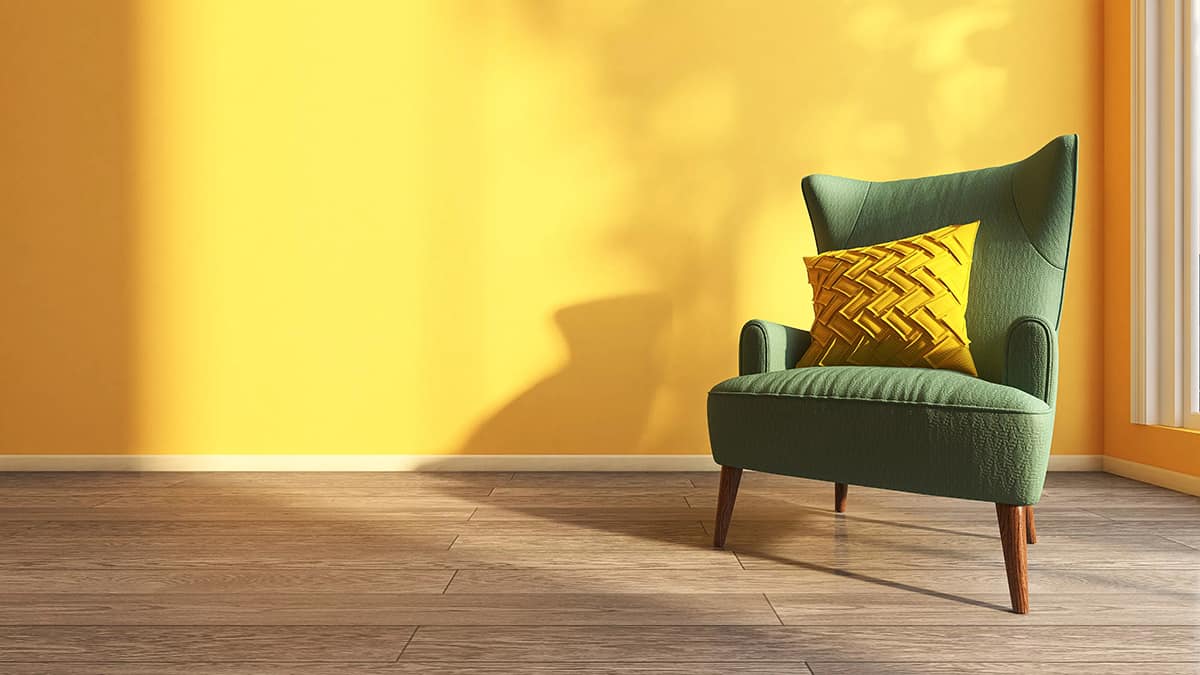 A yellow wall in the living room might seem too bold for some homeowners. But that doesn't mean you should avoid this warm and cheerful color. When deciding on the right sofa color to pair with your yellow wall, green can be a great choice. Dark shades like olive or mint can blend well with any yellow shade.
Plus you can add green accents to the sofa or indoor plants at various heights around the furniture. The combination of green and yellow are sure to bring a warm vibe to any living room.
Brown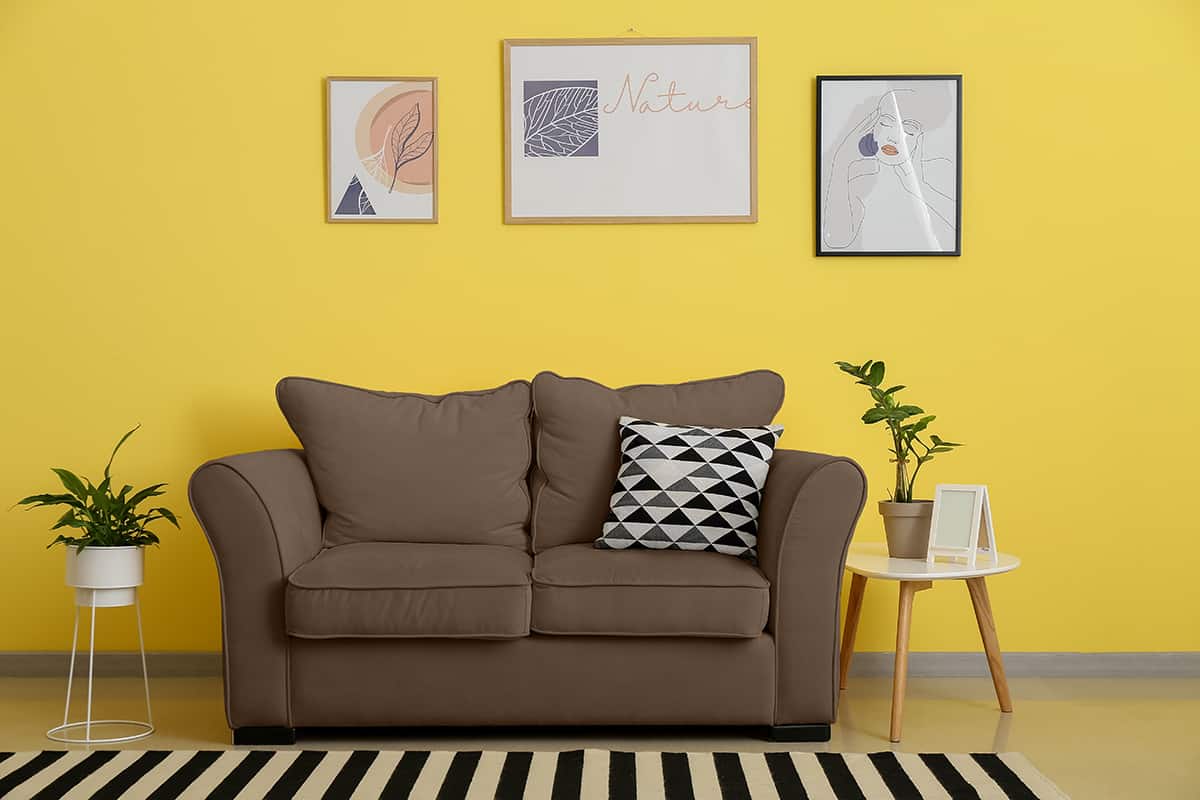 Another earthy, warm-toned sofa color that goes very well with yellow is brown. In this case, a dark shade will work particularly well. There is real chemistry between the yellow and the brown, so by combining them in the same room, you can bring out their best features.
This can be done by adding a patterned (in striking colors) throw pillow with a matching rug as shown here. A mix of neutral accessories with bold yellow walls is sure to complement the stylish brown sofa.
How Do I Decorate a Living Room with Yellow Walls?
Using neutral colors in your living room will allow the yellow walls to shine. But if you want to add a pop of color, opt for orange or red as they are on the same color wheel as yellow. You can include these vivid colors in the form of throw pillows or rugs for added warmth next to yellow walls. You can achieve a cozy vibe by combining orange or red with yellow.
A living room with yellow walls can be decorated with plenty of warm tones in the form of colorful cushions, rugs, and accent pillows. Consider mixing and matching these colors to liven up your living space. In addition, you can place a patterned or striped armchair next to your chosen sofa color in order to accentuate the bright yellow walls.
Conclusion
When it comes to deciding what color sofa goes with yellow walls, we think neutrals like white, gray, or beige work best with any shade of yellow.
But this doesn't mean you can't use darker color sofas like black or brown. These shades look better with more vivid yellow shades as they allow the wall to shine.
Other rich colors that work with more vibrant yellow include red, green, and orange. Any of these options will make your living room with yellow walls more appealing and inviting.