A white couch is an excellent neutral piece of furniture that works well in modern homes. When paired with an attractive rug and other sleek furnishings, your white sofa can make a beautiful statement. Rugs can bring much depth and personality to a room – whether they are displayed on their own or highlighted by the furniture.
But when it comes to selecting the right color rug, you'll want to ensure it works well with your white couch. So what color rug goes with a white couch? There are generally three primary color schemes that are compatible with white couches. These are:
Pastels
Neutral shades
Earthy shades
Pastel rugs tend to make the white couch look bolder yet they offer a feminine vibe, while neutral shades create a softer look. To help you decide on the best rug colors to pair with your white couch, take a look at our following suggestions:
Best Rug Colors that Go with White Couch
Soft Pink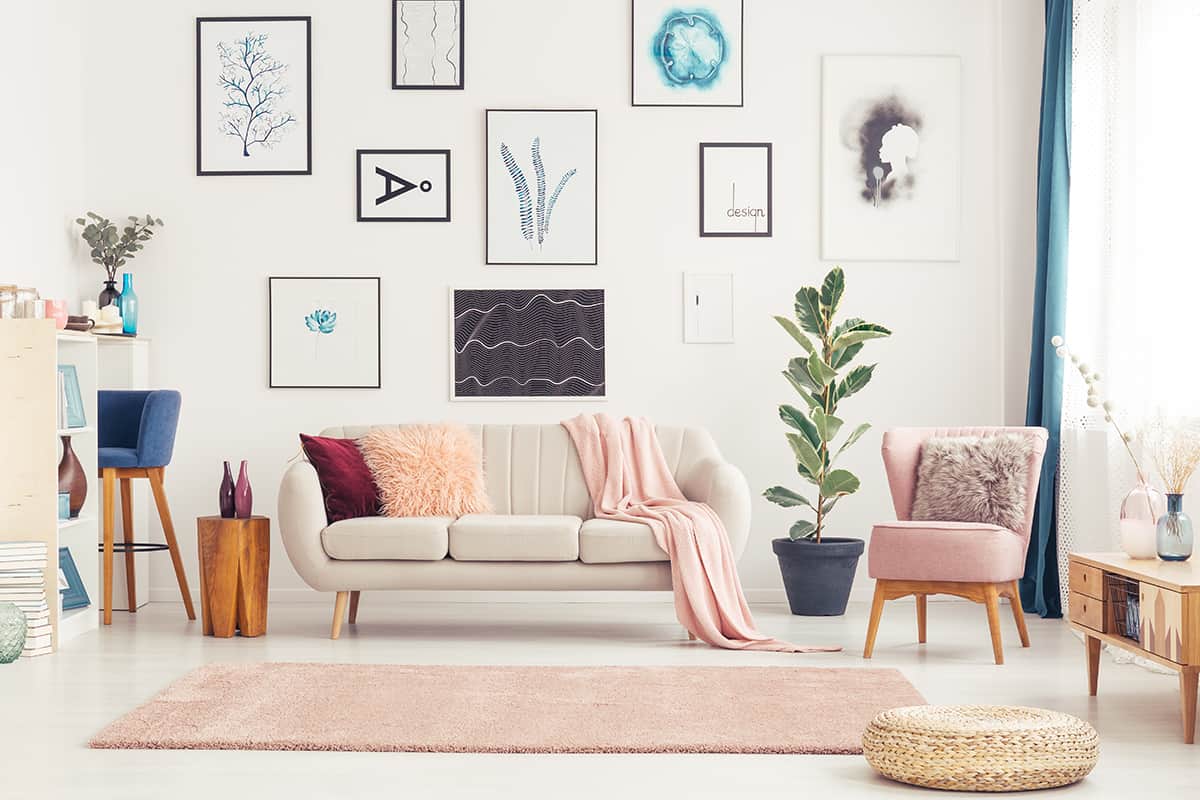 Pastels like soft pink can be a classic combination with a white couch. When you pair your furniture with a light pink rug, your living space will appear much warmer and feel more spacious. This color combo is especially great if you have a neutral living room and wish to make your space more vibrant.
Just as you can see in this modern living room, the white couch is softly accompanied by a light pink rug, which tones down the crisp white furniture and creates visual interest.
Beige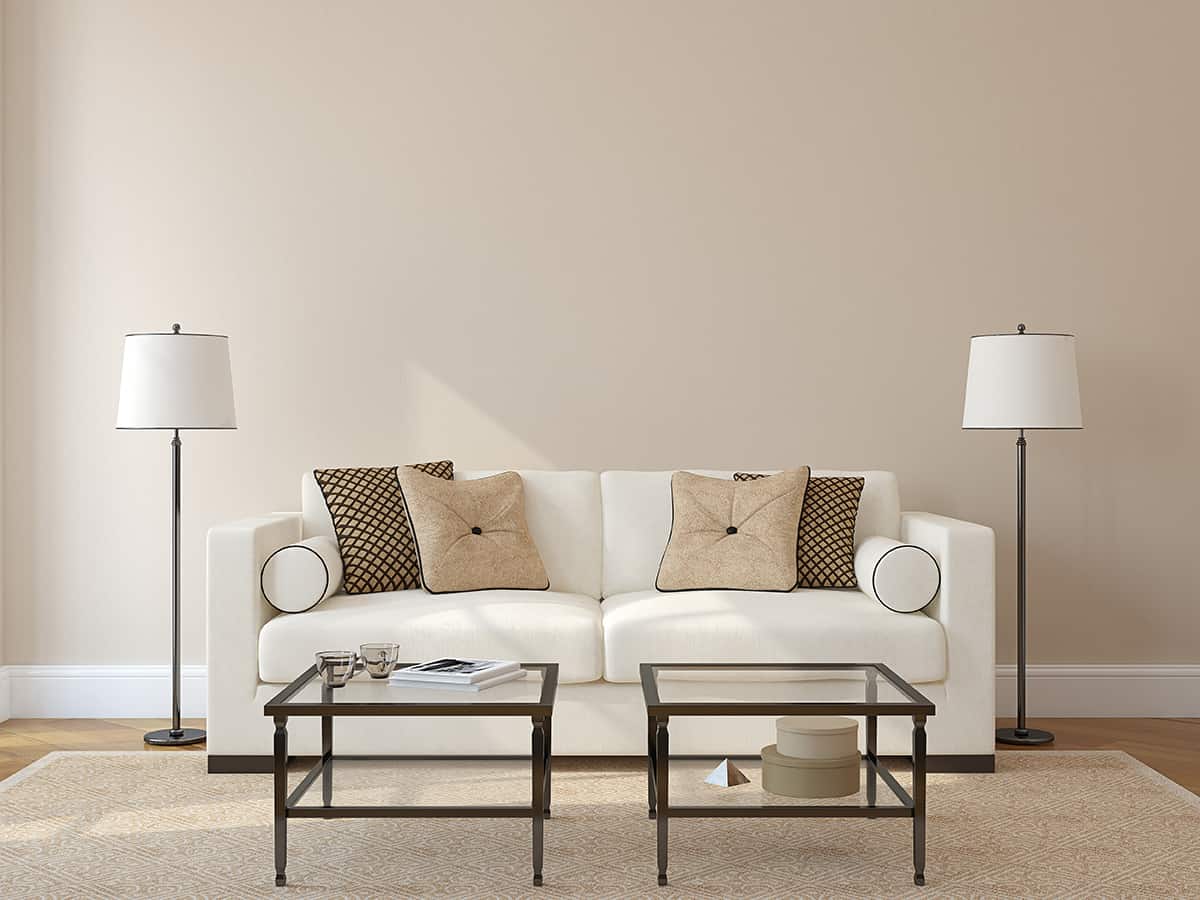 It is not always possible to create an intimate living space using a white couch. But that's not to say it's impossible. A white sofa with a warm beige rug can bring a romantic feel to a modern living room. You can even add beige and brown throw pillows just like in this example for extra elegance.
So if you like the idea of a chic and clean living room, avoid using too many cold colors like white. Beige is a warmer alternative, which can still keep the focus on the couch in a harmonious way.
Cream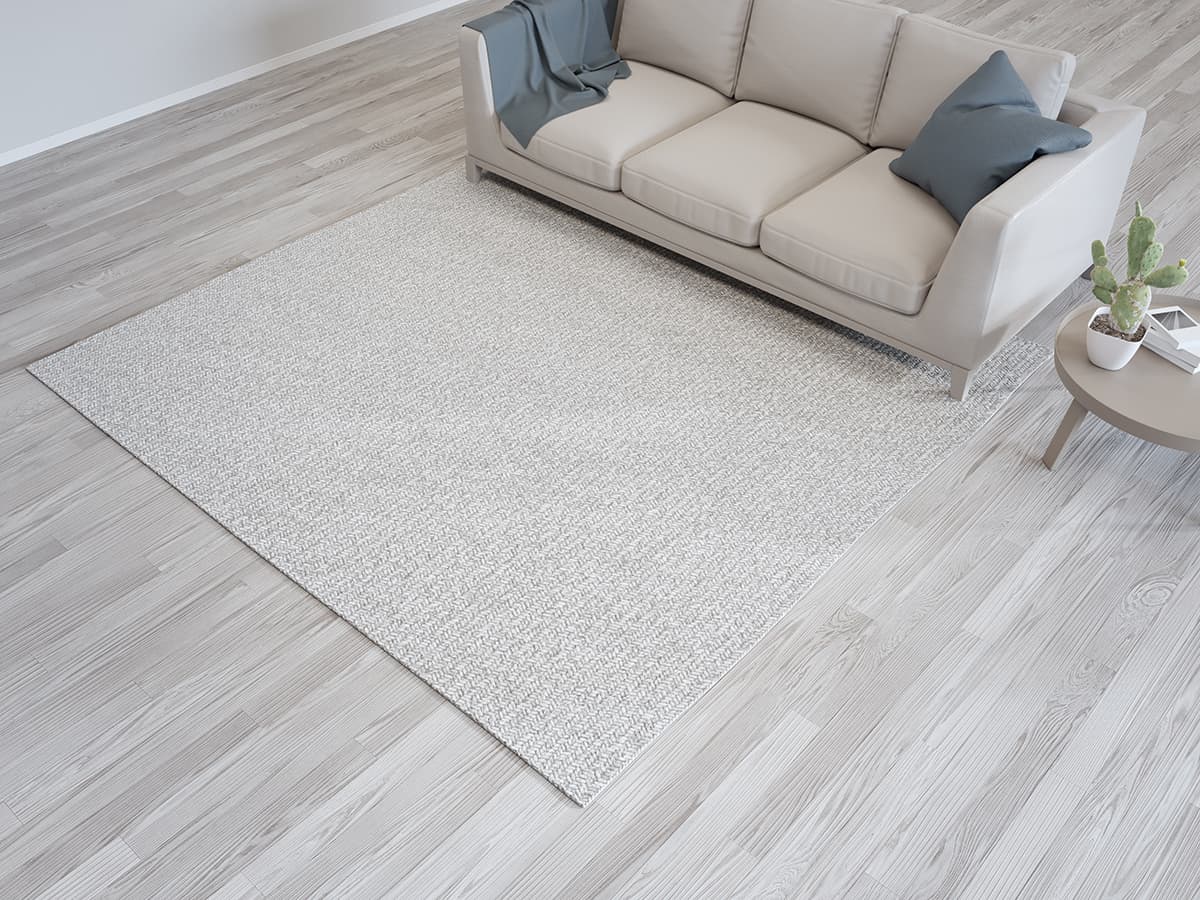 Aside from beige, another simple alternative is a cream rug to pair with your white couch. This flawless look tends to create a monochromatic design, without having to pair the white couch with a white rug. Cream has a rich tone, which avoids your living room looking monotonous.
A simple, seamless design with a warm cream tone and brown curtains can make your white couch stand out. Although cream is very similar to white, this rug color can still add a little contrast between the couch and the rug.
Brown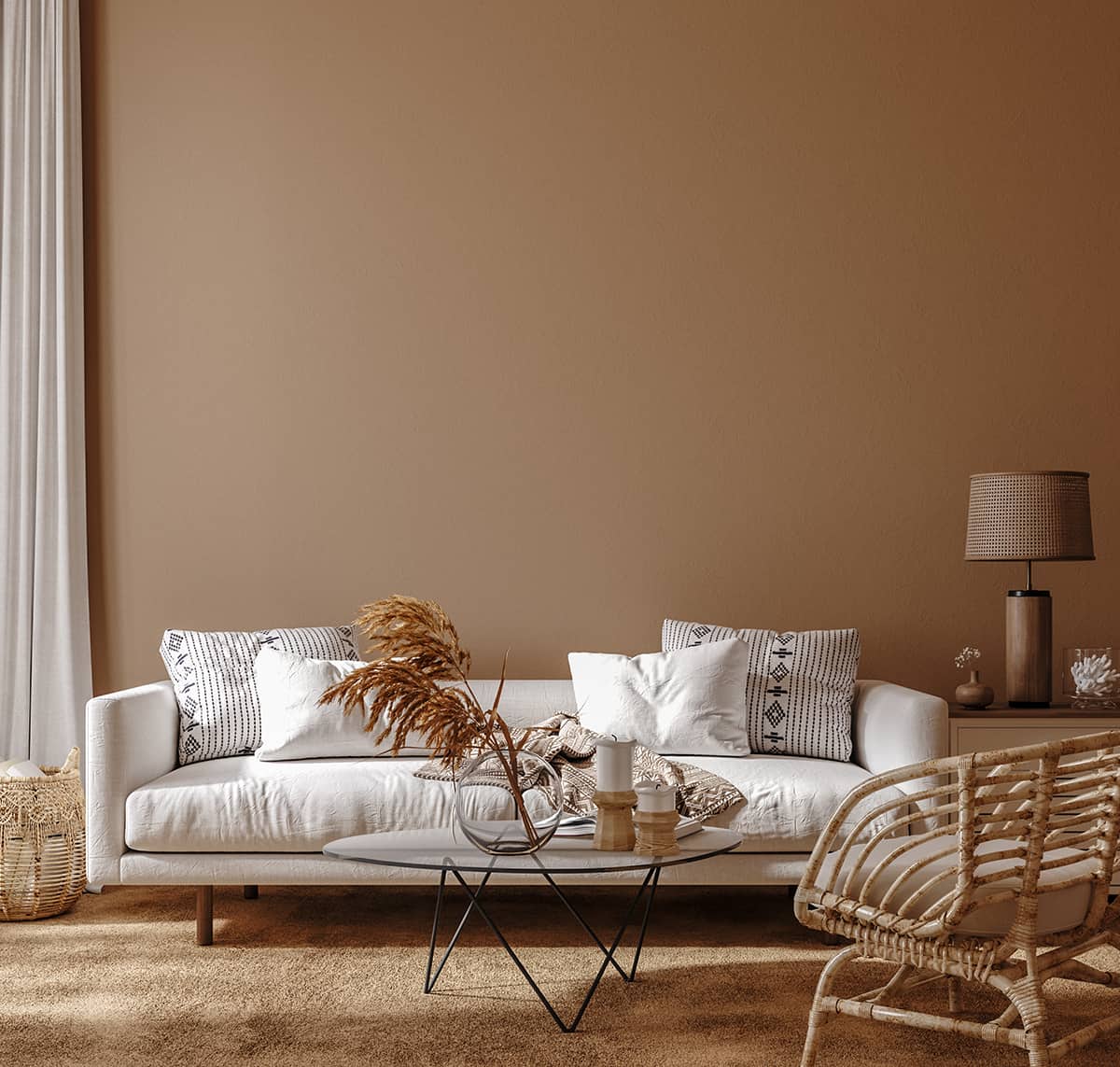 Another neutral option you can use to bring an earthy feel to your living room is to pair your white couch with a brown rug. This rug color can stand out easily and draw the eye to the center of the living room, whilst providing contrasting effects next to white.
There is no denying the visual appearance of a brown area rug with a crisp white couch. This classic combo goes particularly well in both minimalist and modern style interiors in which you want to spruce up your furnishings. But it's not just a minimalist or contemporary living room that can look great with a brown rug.
In boho-inspired rooms, a brown rug provides the finishing touches to the themed room as shown in this example. All you have to do is choose a bold brown rug or ones with patterns to add texture and personality to your interior. And to add emphasis to the white couch, a brown painted wall will serve as the perfect backdrop.
Light Gray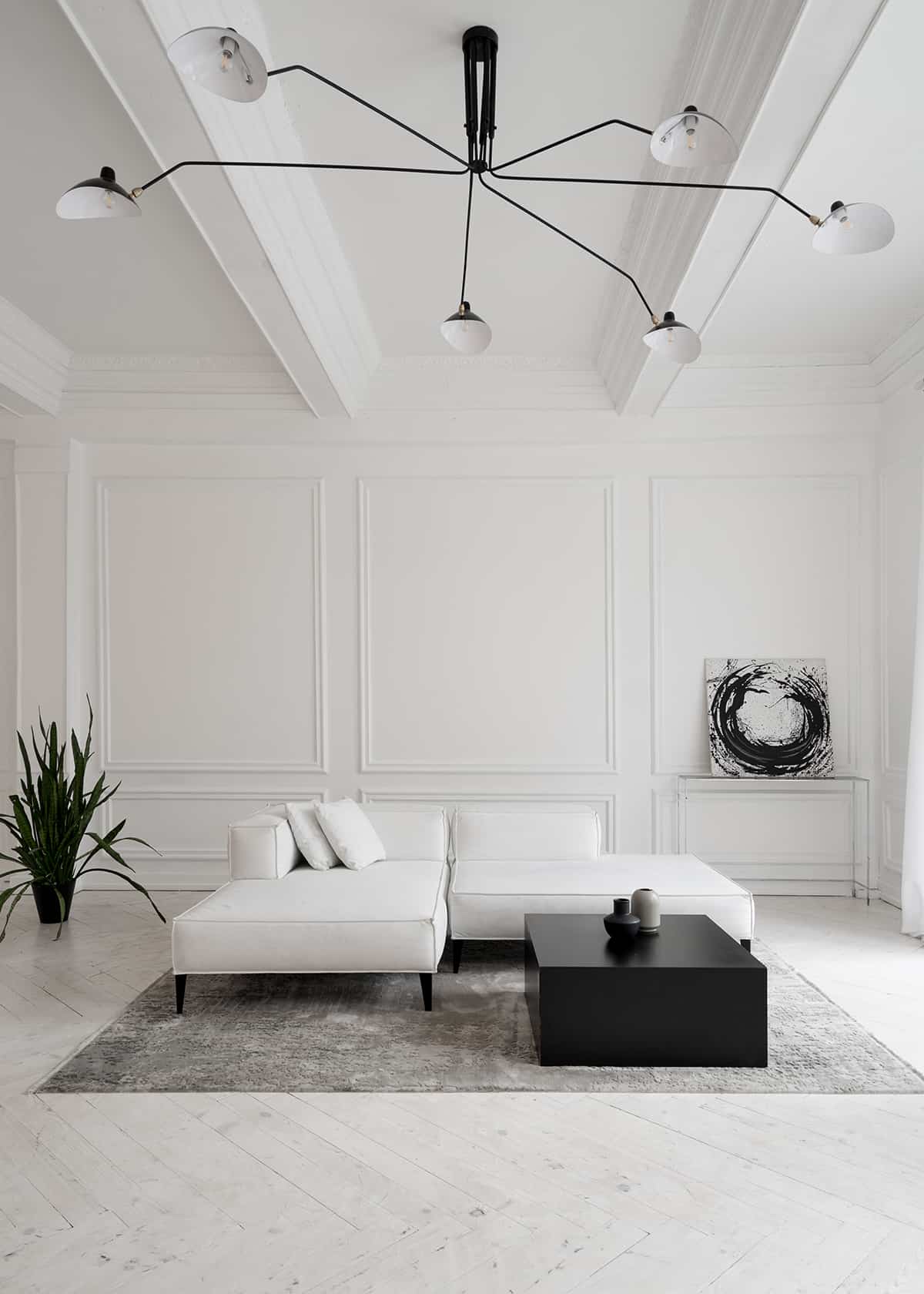 A light gray rug is an excellent match with a white couch, especially in rooms with high ceiling or tall windows. This pairing will create a fresh feel in your living space.
In large penthouses or open-plan rooms, a light gray rug with a bright white couch brings a cool feel to the living space as seen here. The tasteful low-lying white leather sofa is accompanied by a light gray area rug, which have both raised the eye to the magnificent high ceiling.
Dark Gray
If you want to highlight your white couch and make it the focus of the living room, you can't go wrong with a modern dark gray rug. This charismatic pairing will put the emphasis on the seating furniture as well as make the living space more dramatic.
With the addition of silver or brass accents, your living room can transform into a luxurious space. A dark gray rug with hints of silver or brass decorative accents will complement your white couch and enhance its appeal.
Blue and White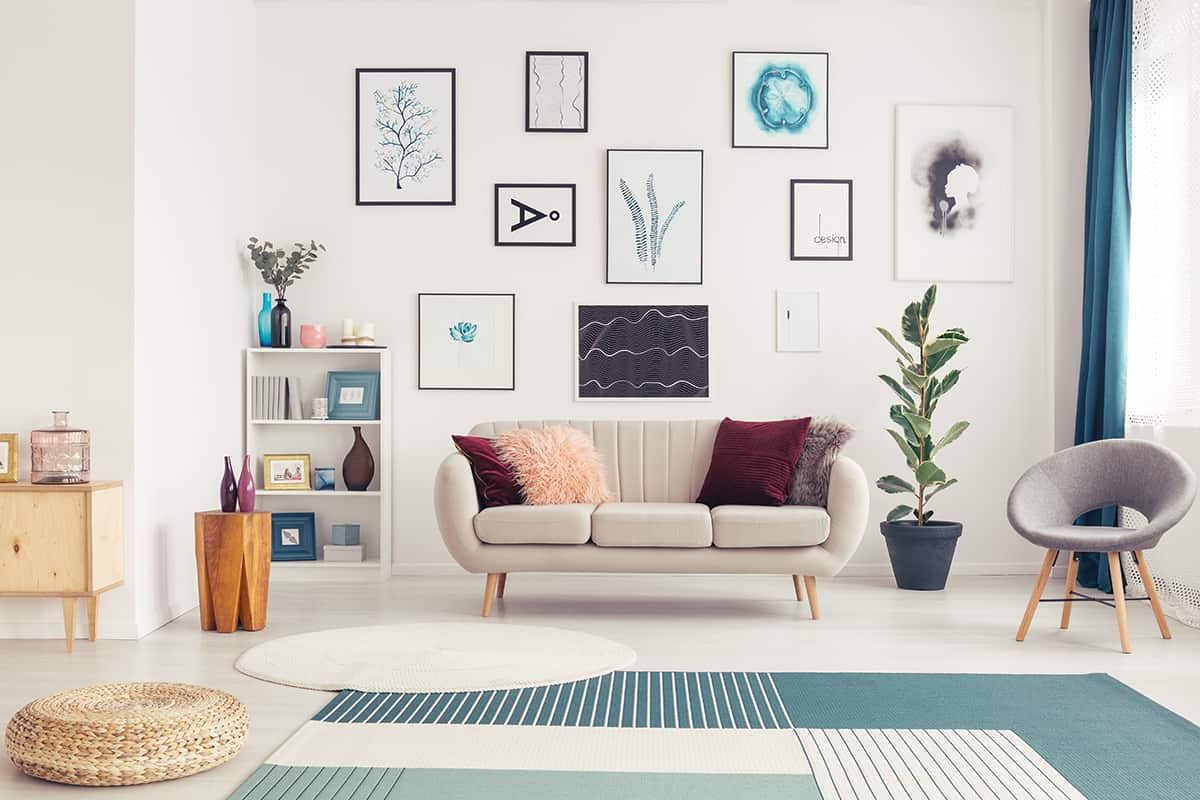 Pairing white with blue can create a strong contrast. This results in a powerful design element that is sure to turn the heads of your visitors. Try a patterned or striped white and blue rug placed close to your white couch, or even underneath it.
If the couch is larger than the rug or vice versa, the larger item will be more noticeable. This is the perfect way to add character to your living room thanks to a blend of cool white and blue shades.
Green
Aside from blue, green is another beautiful rug color that can make your white couch stand out. This earthy, warm hue brings the outdoors in and makes a great addition to a brightly lit living room.
A strong green shade for the rug against a calming white couch is sure to make an impact in a traditional or modern space. Include some indoor plants to complete the outdoorsy look!
Patterned Rug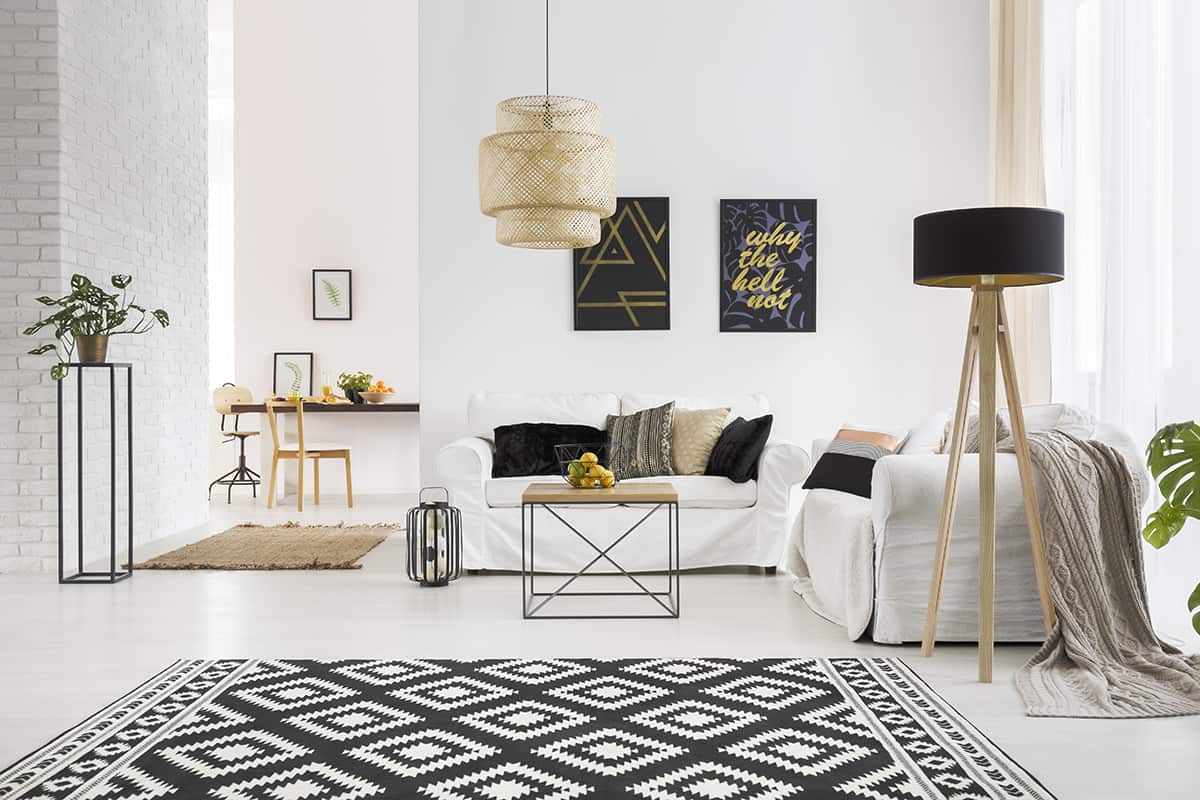 A white couch can also be paired with patterned rugs for a sleek look. To make a statement, choose a geometric black and white rug. In a bright and airy living room, such a rug can be the interior design focal point.
You may even choose a rug with animal prints or plant motifs. This option won't overwhelm the neutral decor of your living room and can work very well with gold accents and wooden furniture, such as a coffee table.
As you can see here, the black and white rug is combined with black and white furnishings, matching fixtures, and wall decor for a minimalist yet glamorous look.
Oriental Rug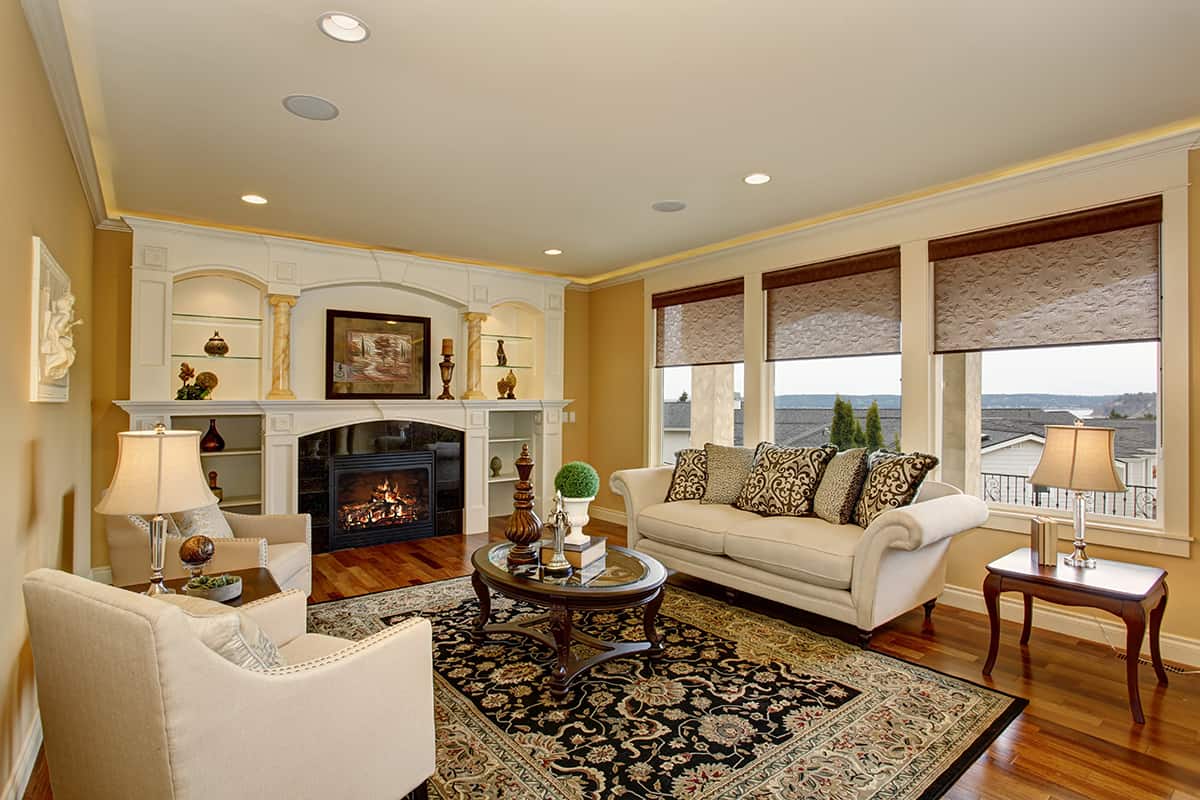 An oriental rug is another excellent option for pairing with a white couch. The strong patterns of oriental or Persian rugs can intensify the visual appeal of a white couch, thus making the furniture more noticeable. A deep shade of red or black oriental rug can put emphasis on the rest of the room's decor, without making the space feel cramped.
In this example, the Persian rug helps draw the eye to the decorative pillows of the white couch thanks to the multilayered design of the rug. This inviting living room feels more comfortable and warm, specifically because of the exotic-looking rug.
A Simple White Rug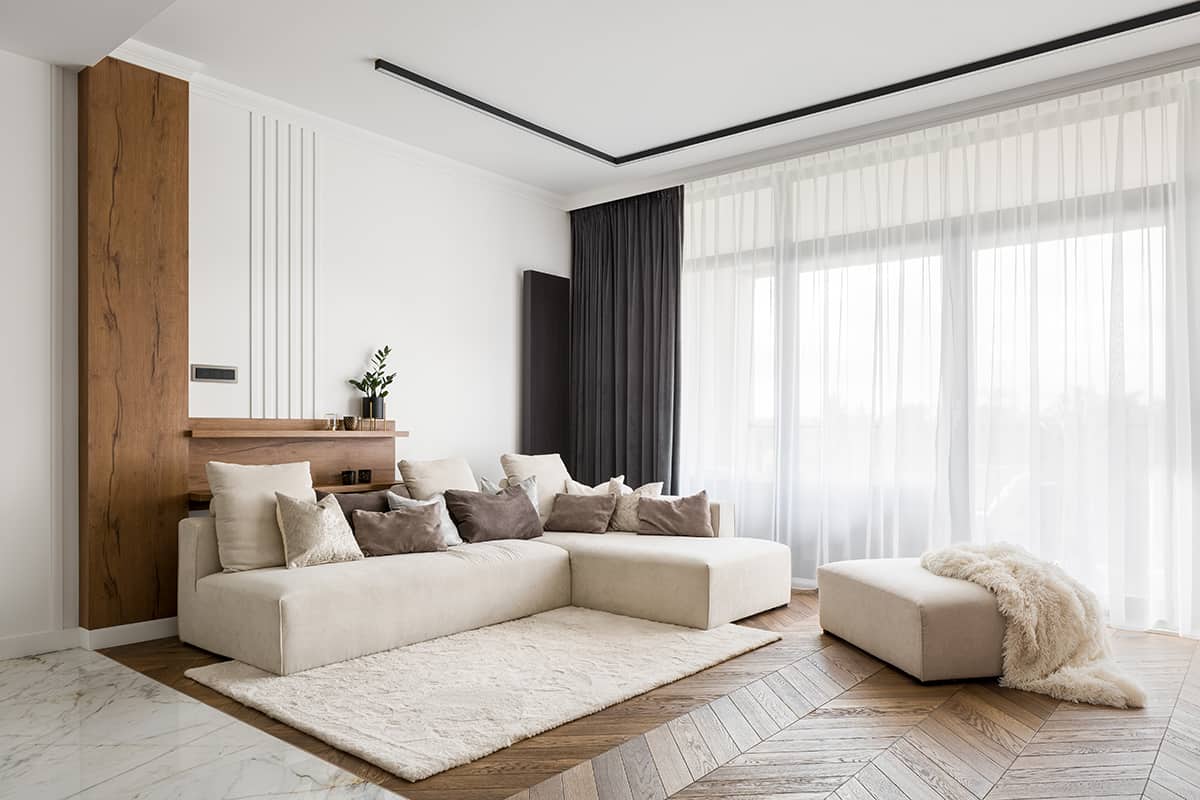 If you are a fan of a super bright living room, then pair your white seating furniture with a crisp white rug. This is a classic combination that helps make the living room brighter and airier.
But you don't have to resort to an all-white living room. Add wooden wall paneling to create visual interest and break the eye from the monochromatic white couch and rug.
How Do I Tone Down My White Couch?
A crisp white couch can often overwhelm a living room, but there are effective ways you can tone down the neutral furnishing without breaking your budget.
Decorate the living space with warm wood tones in the form of a coffee table or corner table. You may also add metallic accessories for a cozy feel. The combination of synthetic and natural accent pieces with your white couch will help make your living room feel more comfortable.
For contemporary appeal, combine your white couch with chrome or nickel decorative pieces. When choosing an accompanying chair to incorporate with your white couch, go for an upholstered loveseat in solid patterns or colors. This pairing will give your living space an ultra-modern appeal.
In a living room with crisp white seating furniture, you may tone down the brightness by introducing textures and pastels. Such a combination won't detract elegance from the white couch, but rather enhance its appeal.
Light gray or soft blue throw pillows work especially well to tone down the white couch. In fact, you can even add brown patterned pillows or cushions to adorn your white seating furniture.
As for the lighting, you'll want to keep it contemporary by installing recessed lights or table lamps that go with white couches. In a living room with a bright white couch, other accompanying colors will boost the modern elegance of the furniture, but take care not to use too many bold colors or patterns so as not to overly complicate the design scheme.