Window treatments are a fantastic way to decorate your home on the inside and out. There are plenty of different styles to choose from. Each has characteristics that can respond to your needs for light management, privacy, and aesthetics.
Window treatments also protect your windows and help keep your house warm. The most popular window treatments include drapes, curtains, blinds, shades, and shutters.
Drapes and Curtains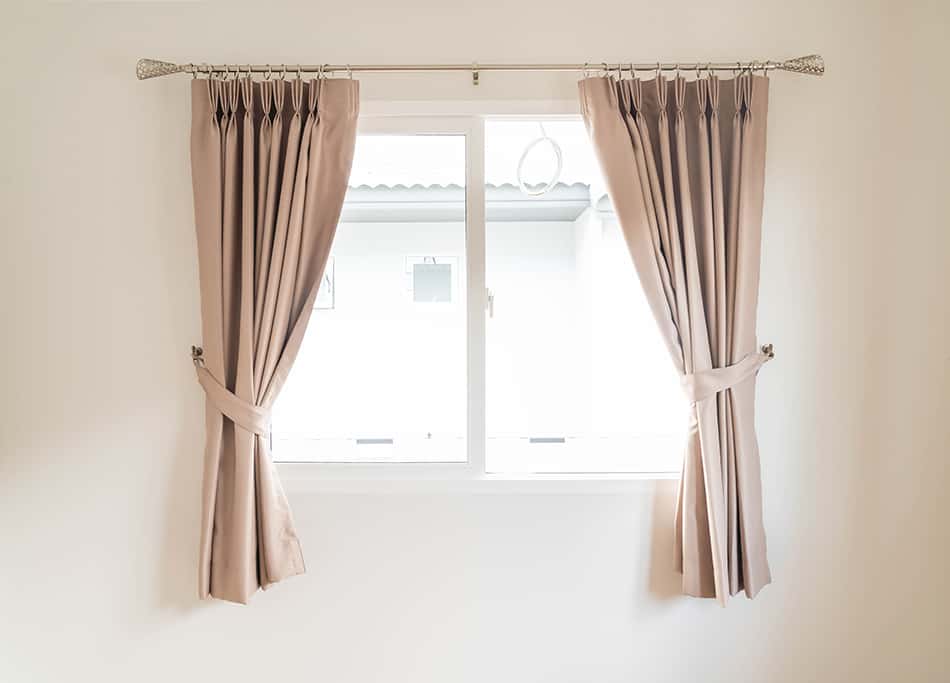 The terms "drape" and "curtain" are often used interchangeably, but there are slight differences between these two window treatments.
Let's start with the similarities. Both drapes and curtains are made from panels of fabric and are often sold in pairs. They are available in different lengths and widths, so they can be customized to fit the dimensions of your windows. Both are hung from rods, which can be visibly decorative or hidden, depending on your preference. Lastly, both drapes and curtains are designed to open from the center to the sides.
Curtains are often made from lightweight and sheer material and have no lining. They're ideal for letting light in and are excellent in your lounge or kitchen. Curtains can work in bedrooms too, but you might find it challenging to get a good night's rest because the room will be too bright.
A common solution is to pair curtains with another window covering, such as blinds or shades, so the room can be dark enough. Curtains are available in a range of decorative designs and color combinations. They can match any decor style, from formal to casual.
On the other hand, drapes are made from heavy and thick material. They also have a fabric lining that effectively filters out light when the drapes are closed. Drapes can be used on their own in a bedroom, TV room, or any other space where light pollution poses a problem. While drapes can also be found in various colors, their designs tend to be plain and muted. Drapes tend to be more formal than curtains.
Blinds and Shades
Blinds are considered a "hard" window treatment because they're made of hard materials, like PVC, aluminum, and real and artificial wood. A set of blinds comprises several individual slats hung horizontally or vertically over a window or glass door. The slats can be different widths, but typically they are ½ inch to 2 inches each.
When hung in the horizontal position, blinds can be raised up from the bottom to the top. Of course, it's also possible to install them so that they open from top to bottom, depending on the style of blinds. Blinds installed vertically open to the side and are the type you will find over sliding doors to make the door easy to open.
It's not necessary to fully open blinds when you want some light. The slats tilt, creating small gaps that allow light to filter in, while largely maintaining your privacy. For this reason, blinds are a popular window covering as you can get the benefit of a bright room without your windows being entirely open to prying eyes.
Vertical Blinds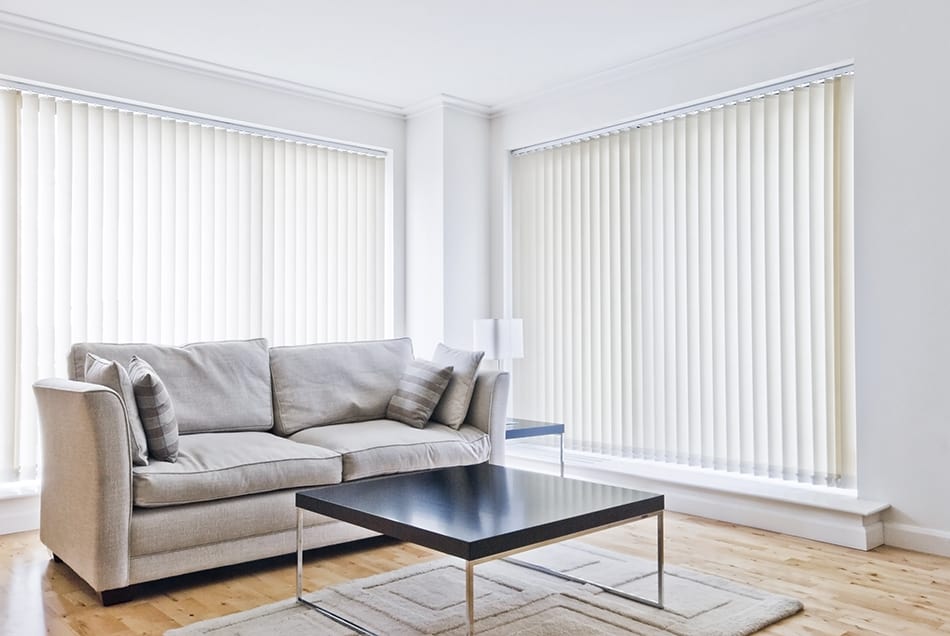 Until recently, the picture that came to mind for most people when thinking of vertical blinds was the dull, grey ones that hung in an 80's office. But this is no longer true.
Today's vertical blinds are available in bright and contrasting colors and can make any window stand out. Vertical blinds have become a popular choice because they are versatile. You can install them to open to one side in the traditional style or have them with a center parting, so they handle the same way that curtains do.
Vertical blinds have the added convenience of easy cleaning too. You simply need to pass a feather duster over them to dislodge dust or wipe them with a damp cloth.
Vertical blinds generally fall in the hard window covering category and are made of materials like PVC and vinyl. However, some options can be made with fabric, lending a soft and cozy look to your room, with noise reduction as an added bonus.
Wood Blinds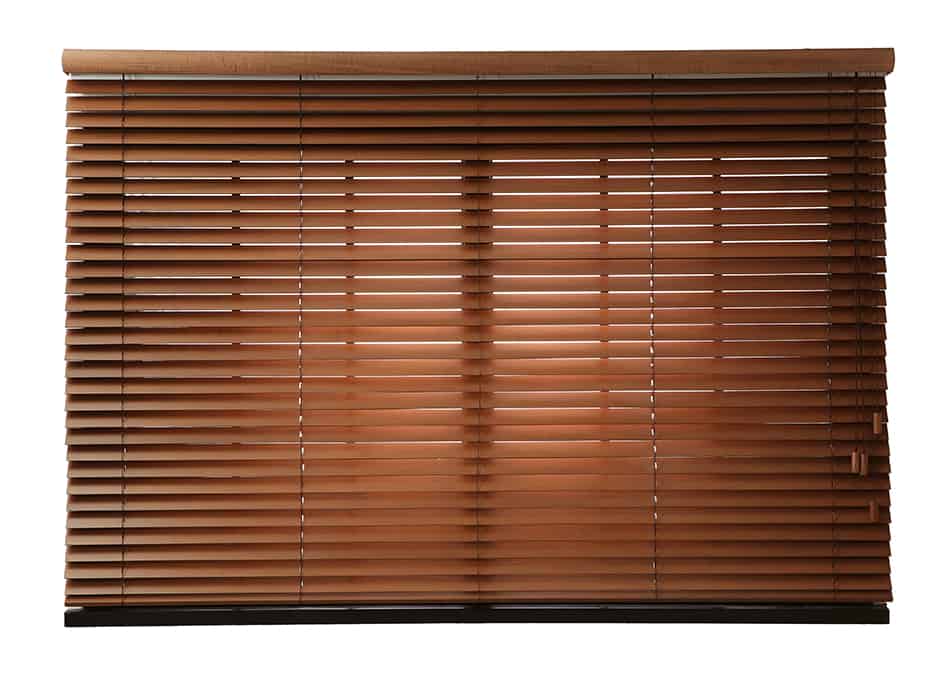 Undoubtedly, wood blinds are aesthetically pleasing and bring a touch of natural beauty into your home. They're a modern and neat window treatment that is stylish without being too stuffy. Wood blinds can be made from sustainable woods such as bamboo, pine, beech, and mahogany, which are also sturdy and long-lasting.
Since the markings on wood grain are already attractive, the blinds can be left in their natural state. Or, they can be painted in different colors to complement your specific room's décor. Wood blinds are also known for being one of the best insulating window treatment styles, so you don't lose heat from your home through your windows.
Wood blinds require the same type of care as any other piece of furniture made from wood. They can be dusted and cleaned with regular furniture polish.
The drawback of wood blinds is that they don't handle humidity well. Some wood blinds can be treated with a sealant that might help make them more water-resistant. But generally, it isn't ideal to have wood blinds in the bathroom or kitchen as they can warp due to the high moisture levels in these rooms. Over time, wood can also crack and break because it is constantly expanding and contracting.
Faux Wood Blinds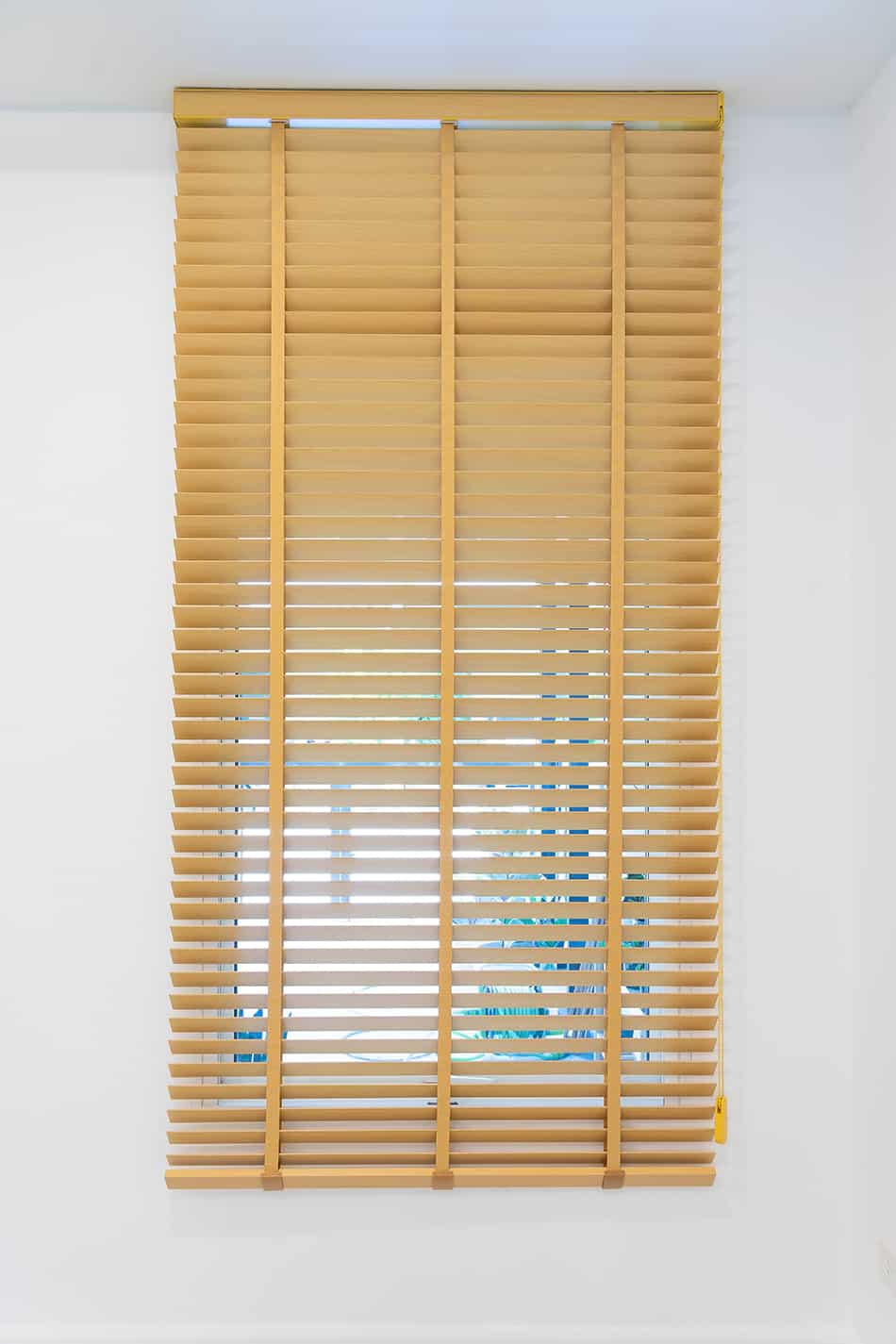 Artificial wood blinds mimic the appearance of natural wood, but they are made with synthetic materials, such as PVC. They can also be made of wood core with a polymer covering.
For the homeowner looking for a budget-friendly alternative to real wood blinds, faux blinds are a great substitute. Their main advantage over the real thing is that faux wood doesn't warp, crack or fade with time. They are also moisture-resistant, so you can install them in humid rooms.
On the downside, faux wood blinds are not as lightweight as real wood, and they don't offer the same degree of insulation. However, they provide excellent value and look great.
Panel Track Blinds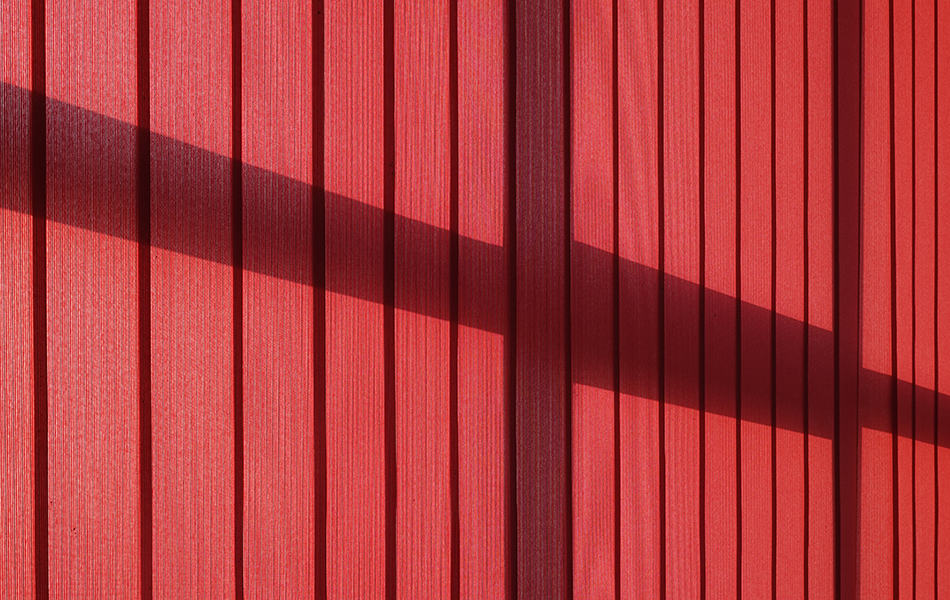 Panel track blinds are a stylish window treatment that's a great alternative to drapes or vertical blinds. They are made with multiple panels and run the entire length of the window. The individual panels glide smoothly along tracks attached above the window, allowing you to manage the amount of privacy you have and how much light comes in.
The panels can be made with solid and woven fabrics, woods, and grasses, and they can be opaque or light-filtering. The rectangular shape of the panels makes them ideal for installing over a glass sliding door.
They also make an attractive décor feature covering oversized windows, especially when the panels are printed with an elegant or bold design. When opened, the panels stack neatly to one side of the window or door and don't take up much space.
Roller Blinds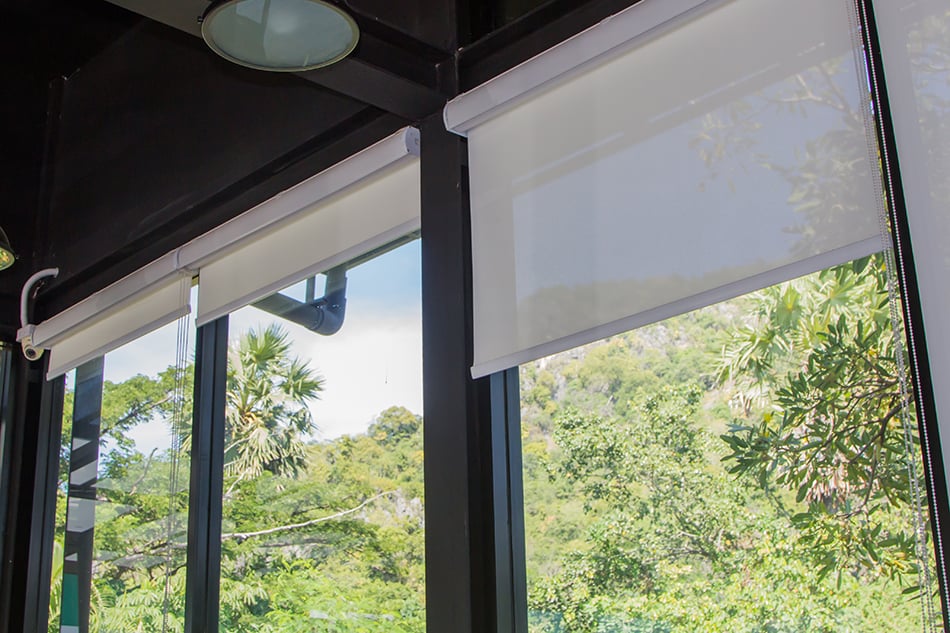 Roller blinds are made with a single piece of fabric, like Roman shades. But instead of forming pleats when opened, the material creates a neat roll that wraps around a bar or tube installed horizontally at the top of the window.
Roller blinds can be made with natural fabrics like cotton and linen, synthetic material like vinyl and polyester, or woven grass like bamboo. Still, you'll want to be careful about the type of material you choose because some may appear bulky when rolled up.
With various designs, colors, and opacities, you'll find that roller blinds can work well in any room. They have no nooks and corners for dirt to accumulate, so they are also easy to keep clean using your vacuum's upholstery brush and a damp cloth.
Zebra Blinds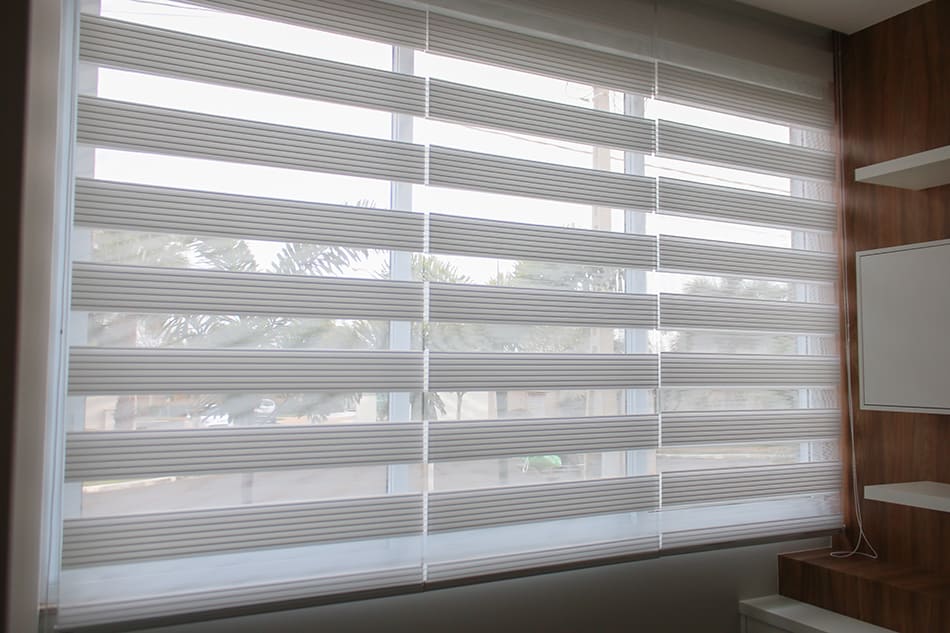 Zebra blinds are an innovative hybrid of vertical blinds and roller shades. They work similarly to vertical blinds, except that instead of rigid slats, they have strips of sheer and solid fabric that perform the same function as slats.
By manipulating the fabric strips, you're able to manage how light filters into the room. If you want a brighter room, open the blinds, so the light enters through the sheer fabric, while the darker strips help to keep your space private. Want less light? Arrange the solid fabric strips so they overlap to block out light.
Zebra blinds are available in various fabric finishes, some with fancy designs if you prefer. They roll neatly into a valance when they are fully opened, and you'll have a full view of the outside.
Roman Shades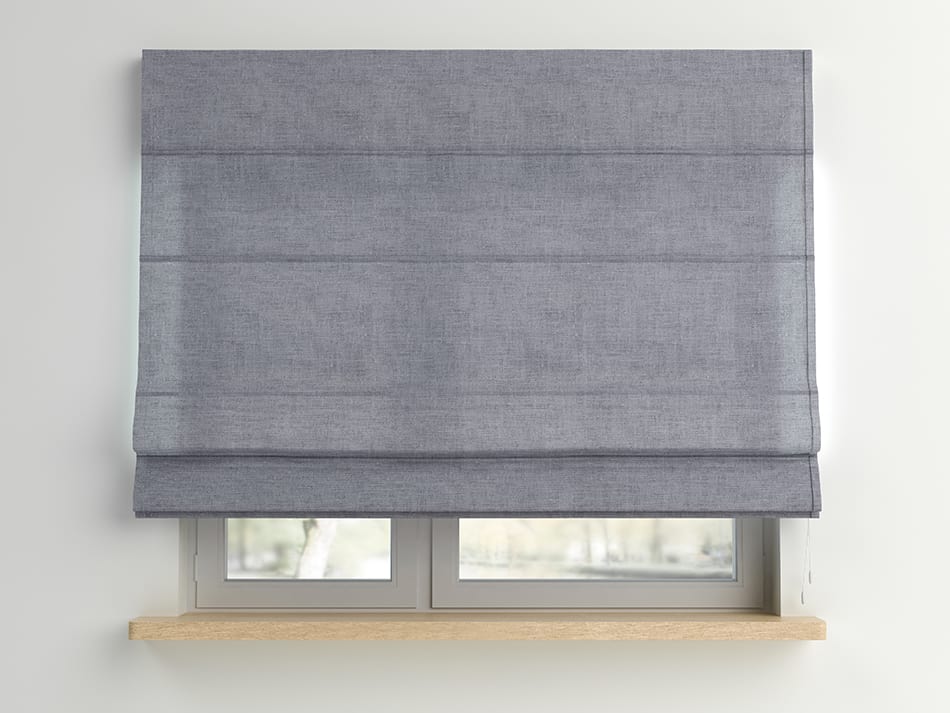 Roman blinds (or Roman shades) are made with a swath of fabric that forms pleats at the shade is opened. They are installed horizontally and are typically suitable for smaller window sizes. The material can get heavy and difficult to open if installed over large windows. Roman shades offer the perfect balance between traditional curtains and contemporary blinds.
Roman blinds are available in natural fabrics like cotton, linen, and silk. They can equally be made in synthetic materials, which are lighter on the pocket too. Roman shades can also be made with repurposed curtains. So if you have a set of old curtains you particularly like but are seeking a more modern window treatment, you don't have to get rid of them entirely.
Roman shades are very versatile, with almost no limit on the color options, designs, or fabric textures you can choose from. An added advantage of Roman blinds is that they offer flexibility in terms of how you control light. You can get them in various sheer and heavy materials, so you can have as much light as you want or have them designed to completely block out light pollution when they're closed. These blinds also offer exceptional insulation from outside noise.
A notable disadvantage of Roman shades is that you compromise privacy when they are open, even if it's just partially. One way of solving this issue is to pair black-out Roman blinds with sheer curtains so you can open the blind, but close the curtains over it and still get some light filtering in.
Cellular Shades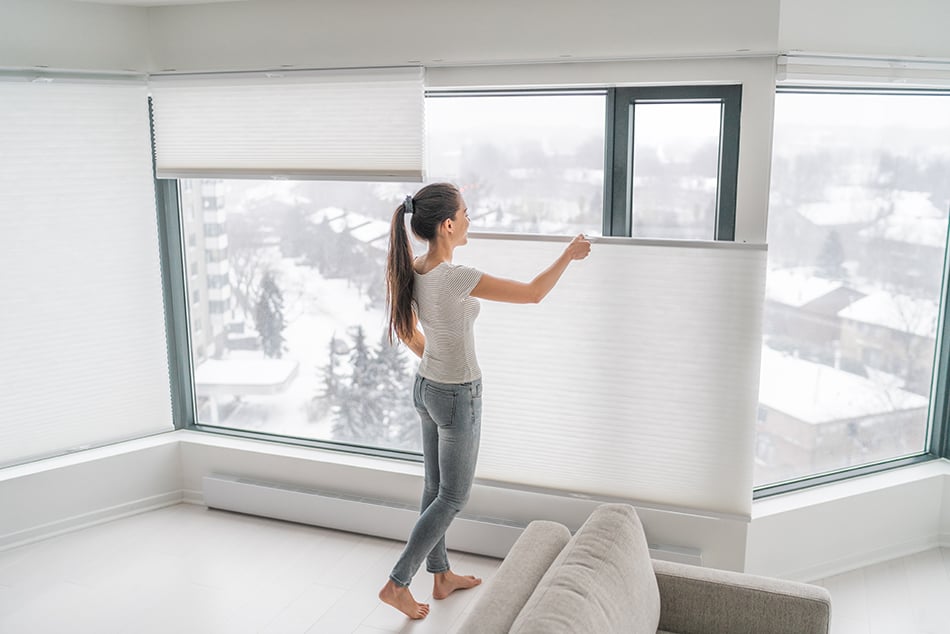 Also known as honeycomb blinds, cellular shades are made with a continuous piece of fabric that folds in a pleated pattern like an accordion. Cellular shades differ from standard horizontal blinds in that they offer even better insulation. They are constructed with cells, which are honeycomb-shaped air pockets that create an insulating layer of air between the window and the room.
Apart from their aesthetic appeal, cellular shades are an energy-efficient choice, especially if you live in a region that experiences freezing temperatures during winter. With cellular shades, you lose 40% less heat through your windows than with other window treatments, translating into actual dollars saved on your heating bill. You can choose cellular shades that are single or double-celled, depending on your insulation needs.
The unique cell structure is also effective in shutting out outside noise, so honeycomb shades would work well in bedrooms.
Honeycomb blinds tend to be a somewhat premium window treatment, so you can expect to find these blinds in high-quality textured fabrics.
Click here to discover more types of window shades.
Shutters
The shutters category of window treatments encompasses a variety of styles. Louvered shutters are the ones that immediately come to mind, but there are also paneled, board and batten, and Bermuda shutters.
Depending on the shutter style you choose, you can have them mounted inside or outside the window frame. The common materials used to produce shutters are wood, wood composite, vinyl, or aluminum.
Louvered Shutters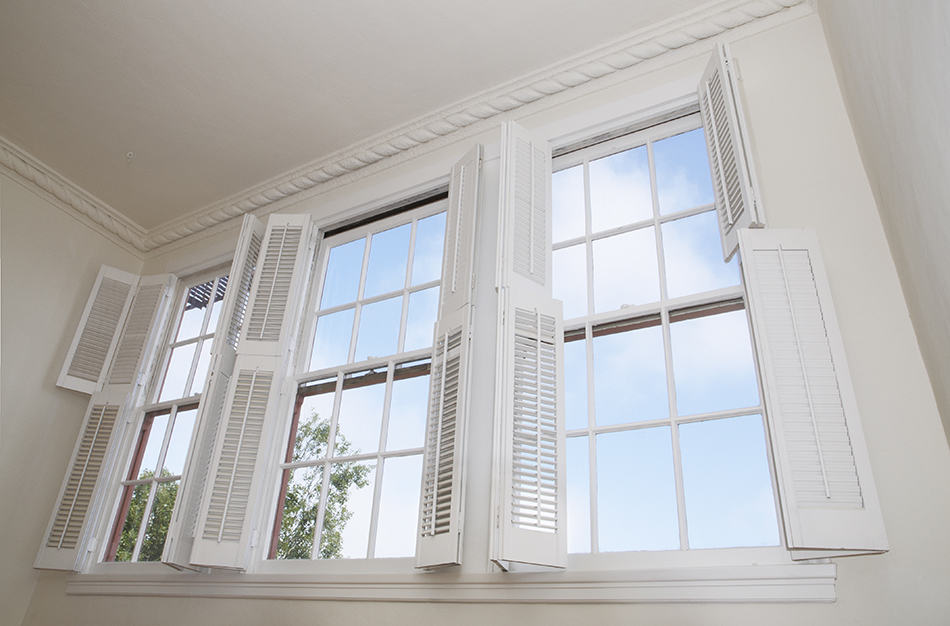 As their name suggests, louvered shutters feature angled and overlapping louvers or slats typically wider than those found on blinds. When angled up, the slats allow light and air to flow into the room while managing privacy.
Louvered shutters are made from traditional wood and vinyl materials. Aluminum is favored for exterior louver shutters because it doesn't crack, rot, or warp. It provides better protection from the elements and extreme weather conditions like heavy snow and hurricanes.
Louvered shutters go well on homes with a traditional architectural style, like colonial, farmhouse, and ranch. However, today's bold and bright styles are equally eye-catching in more modern homes.
Paneled Shutters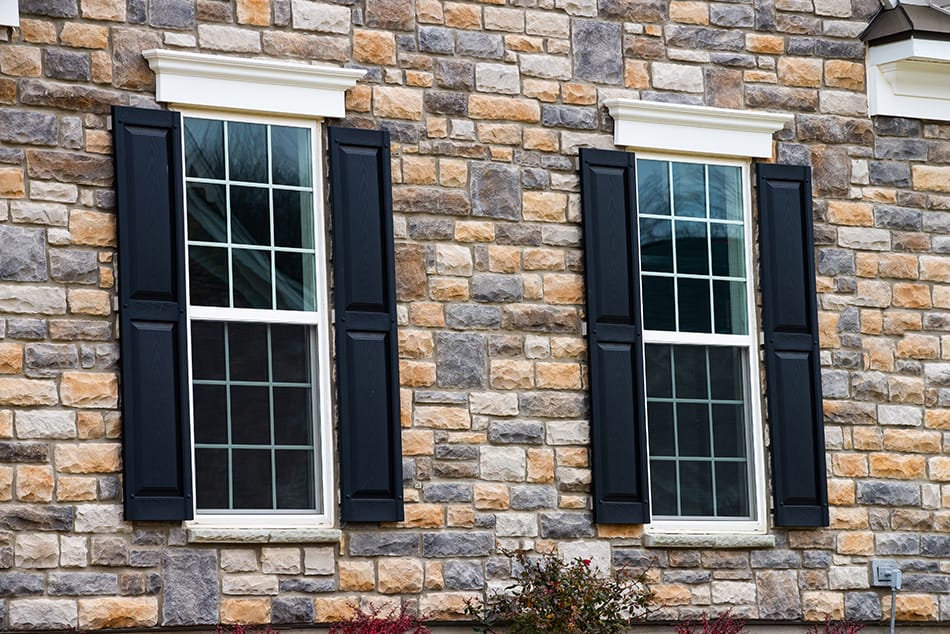 Paneled shutters feature several solid panels mounted vertically to cover the window. When used on oversized windows, the panels are joined to each other with hinges so they can be folded from the center to the sides to open the shutter. On smaller windows, two panels will provide enough coverage.
When closed, the shutters can completely block out light, making them an excellent addition to bedrooms. Open paneled shutters don't offer much by way of privacy, but you can pair them with sheer curtains to solve this. As with other shutter styles, paneled shutters can be painted in neutral or vibrant colors.
Board and Batten Shutters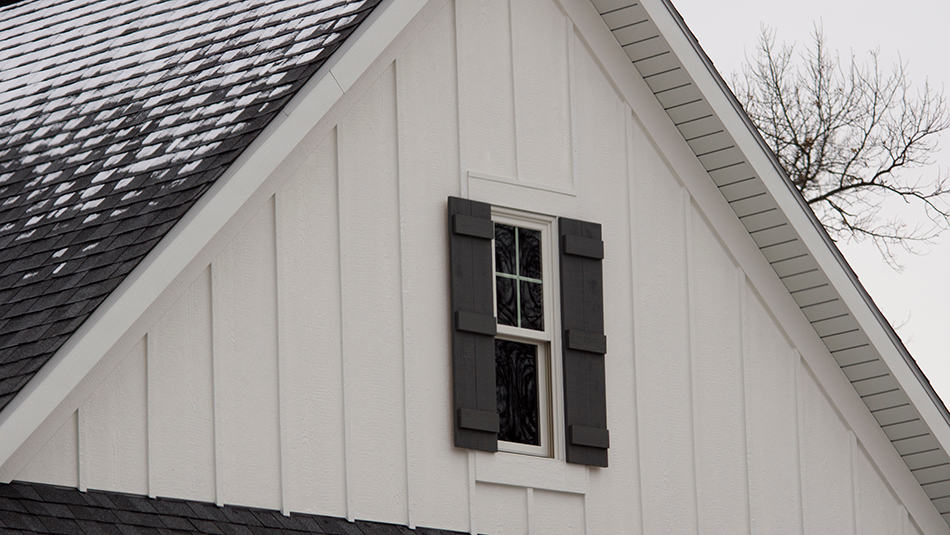 Board and batten shutters are among the oldest styles of shutters. They are traditionally constructed with three wide vertical boards fitted against each other with no gaps in between. The battens are horizontal pieces that hold the vertical boards in place. Sometimes several battens will be attached in the horizontal position or in a combination of horizontal and diagonal placements.
Generally, board and batten shutters are mounted outside the window frame and give the home a rustic and relaxed appearance. They are charming on homes with classic architectural styles, such as French Country Style or Cape Cod.
Bermuda Shutters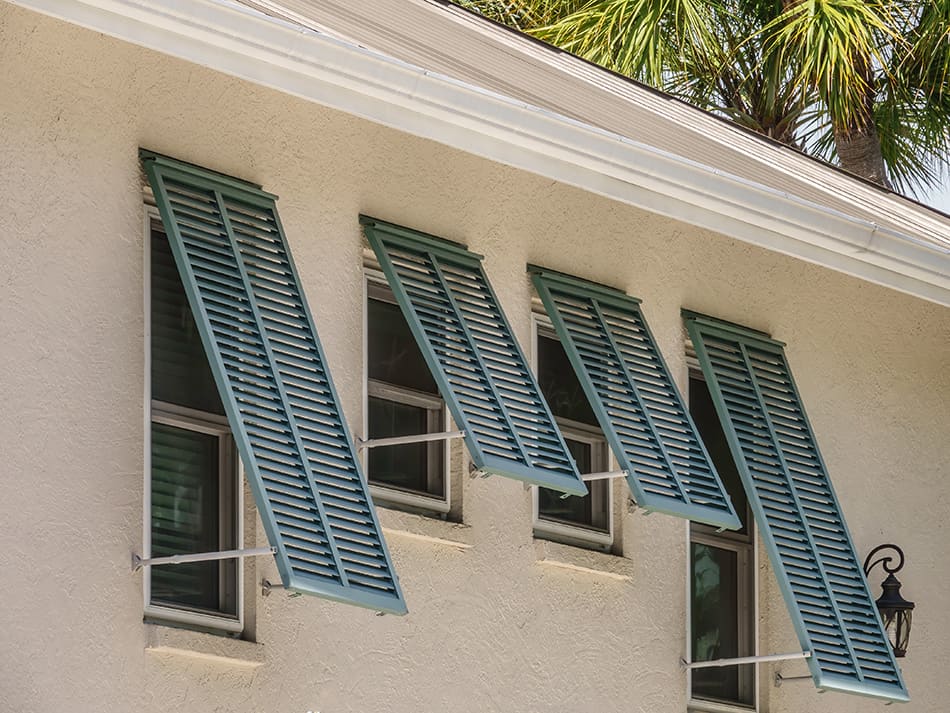 Originally designed to protect homes from hurricanes and storms, Bermuda or Bahama shutters have gained popularity as a casual window treatment reflecting an easy-going island style.
In contrast to other shutter styles – which are attached to the windows via side hinges and open out from the center – Bermuda shutters are hinged from the top. They are pushed out and away from the bottom at a 45-degree angle to open the shutter. When open, the shutter is held in place by two metal rods on either side.
Bermuda shutters have louvers that effectively diffuse the sun's bright light while allowing in a gentle breeze to help keep your house cool.
Learn more about many types of shutters here.
Automating Your Window Treatments
Nowadays, it's possible to automate almost every type of window treatment. Automation offers many advantages. Safety is probably at the top of the list. Some window treatments, such as blinds and shades, use a cord to work the opening and closing mechanisms.
When the cords are loose, they may pose a choking hazard to children and pets – a risk that puts many homeowners off of the idea of installing these window treatments. Automated blinds and shades have built-in safety features that prevent cords from becoming loose. In some instances, they eliminate standard cords altogether by using a motor to open and close the window covering.
Automation plays a role in securing your home. By automatically changing the window treatment's position throughout the day, the impression is given that your house is occupied even if no one is home.
Automated window treatments are also convenient. They can be programmed to open and shut your window treatment at a set time, so you don't have to go room to room doing it yourself. And the ability to control your window treatments via an app on your smartphone, or using a home automation hub like Alexa, is an added convenience.