Curtains are the obvious window dressing choice, but they are by no means the only option.
Here we look at the pros and cons of having curtains installed, along with a number of alternative ways to dress a window without curtains. Here are seven quick recommendations.
Blinds
Valances
Panels
Window Films
Privacy Screens
Shutters
Plants
Do Windows Need Curtains?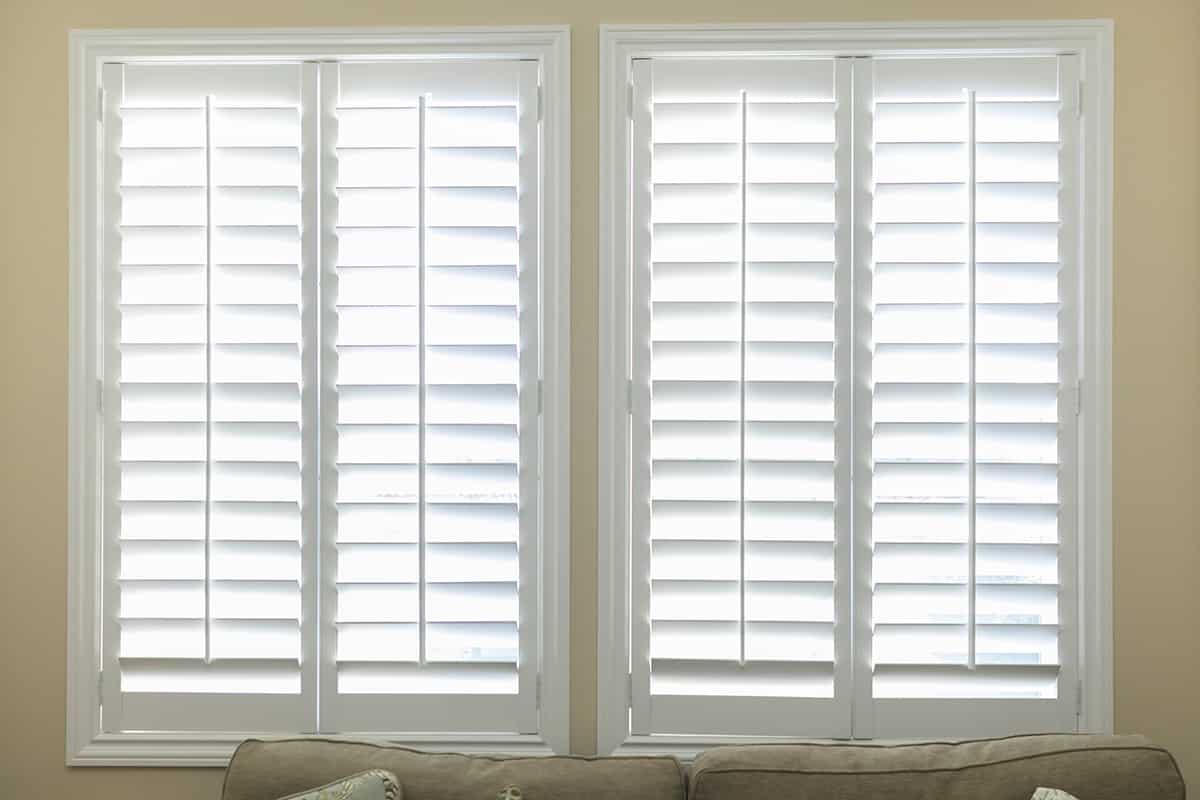 Whether or not you decide to have curtains on your windows is an entirely personal choice. Windows absolutely do not need to have curtains installed on them, but they can make a nice addition to a room if their style and functionality are suitable for what you want.
Many people choose curtains as a privacy solution, but there are plenty of ways you can improve the privacy of your home without opting for curtains.
Before spending money on curtains that you may not need, consider the pros and cons of having curtains, and think about whether alternative window dressing methods might be better suited to your needs.
Benefits of Curtains
Custom privacy
Curtains are a brilliant privacy solution if you like to alter the privacy levels at different times of the day.
For example, if you are happy to let light in and are not worried about being seen in your home during daylight hours, then you can keep your curtains open, while in the evening, you could close them if you prefer to feel cozy and isolated, away from potential watching eyes. Unlike some privacy solutions, such as frosted window film, you can customize your level of privacy whenever you like with curtains.
Block light
Curtains that have been lined, or use a blackout material, are perfect for blocking out light. This might be to help you sleep in during bright summer mornings or to prevent glare on the TV screen during the day.
Since most curtains options are obviously very easy to open and close, you can choose to block light or welcome it into the space, depending on your mood.
Add warmth
Any type of soft furnishing will add a feeling of warmth and comfort to a space, and curtains are counted among these. When a space feels stark, cool, or void of feeling, then introducing soft furnishings such as blankets, rugs, cushions, and curtains will make it feel more homely and welcoming. If you want to make a room feel more lived in, curtains are a good choice.
Add color and style
One of the reasons interior designers love curtains is because they can make a room feel finished. They frame a window while helping to accentuate or even define the style in a room.
Curtains are available in such a wide range of fabrics, colors, patterns, and styles that you can find almost anything you are looking for that will work with your decor theme.
Heavy velvet curtains will help to define a room as luxurious, while linen curtains will make a room feel casual and breezy. Floral curtains could hint at a country cottage style, while blue curtains could coordinate with a blue sofa to make the room feel intentional and purposefully designed.
Drawbacks of Curtains
Expense
A big disadvantage of curtains is their cost. Curtains can be very expensive, especially if you want lined curtains which are going to drape more elegantly and have a more appealing look. If you have several windows in a room, then it can really make the prospect of getting curtains unfeasible.
Can get dirty
Curtains have a tendency to get dirty easily, especially if they reach the floor and pick up dust. You might also notice curtains can pick up sticky fingerprints from children or become stained from marks where pets lean against the curtains for somewhere soft to curl up on. Window dressing solutions that don't drape down from the window like curtains can therefore offer a lower maintenance alternative.
Limit light
Even when curtains are open, they do slightly obstruct the sides of the windows, which can limit the amount of natural light you get in a room. If the space is already poorly lit, then this can make a big difference in the overall feel of the room.
Make a space feel smaller
If you take your curtains down to wash them or to replace them, you may notice when the window is bare that the room all of a sudden looks bigger and more spacious. This is because curtains take up a significant amount of space around the window, making the room feel smaller.
7 Best Alternatives to Curtains For Window Dressing
Blinds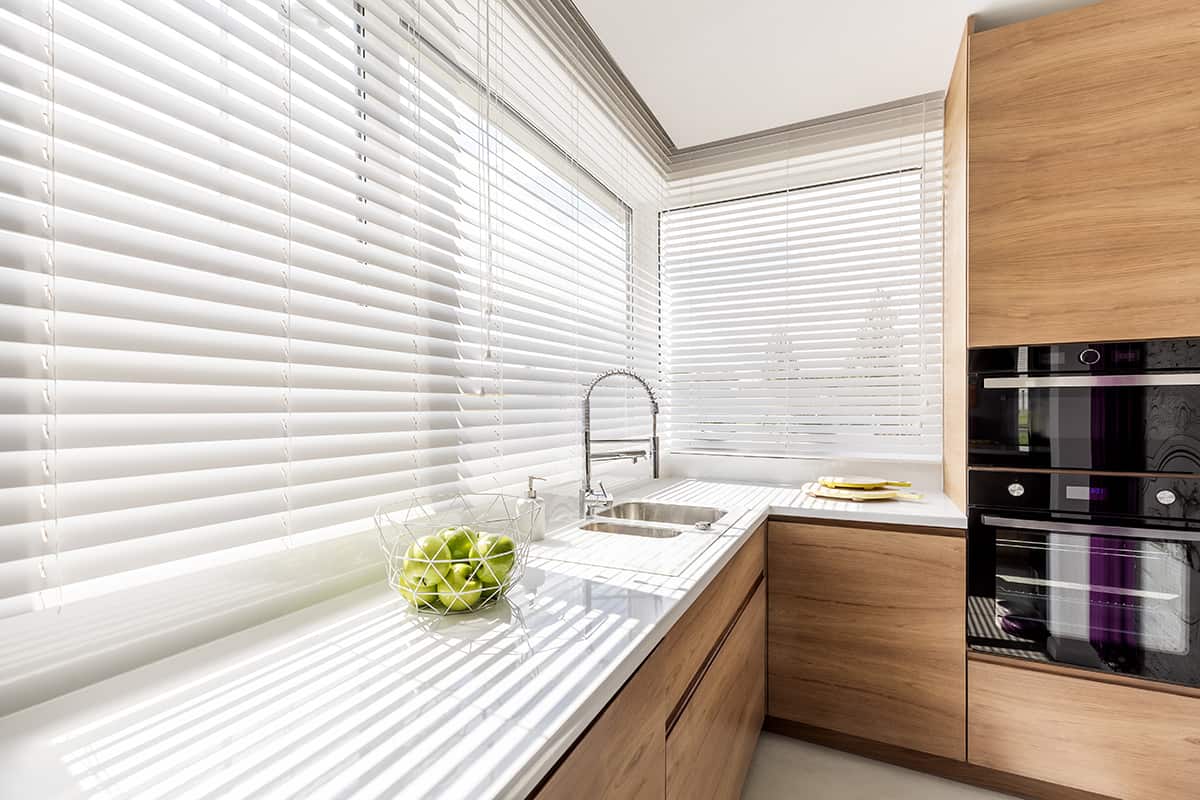 Blinds are a popular alternative option to curtains because they offer much of the same functionality. Blinds can be opened when you want to allow light in or enjoy your view, but they can also be easily closed to block out light or create more privacy in a room.
Like curtains, blinds tend to be quite expensive, so they aren't the best option if you're trying to save money. However, if you want a sleeker or more minimalist look in your home without sacrificing privacy, then blinds represent a great option.
Since blinds don't hang low off the windows, they don't get dirty as easily as curtains, and there are a huge number of blinds available which means you can choose a color or style that works with your decor scheme.
There are many variations of blinds, so you can opt for a type that is going to work for you in terms of both style and practicality. Venetian blinds offer a more casual and modern look, with horizontal slats that can be angled to customize light and privacy.
Roman blinds have a more traditional look, with fabric that folds up into pleats, while roller blinds serve a primarily functional purpose as opposed to dressing the window.
Valance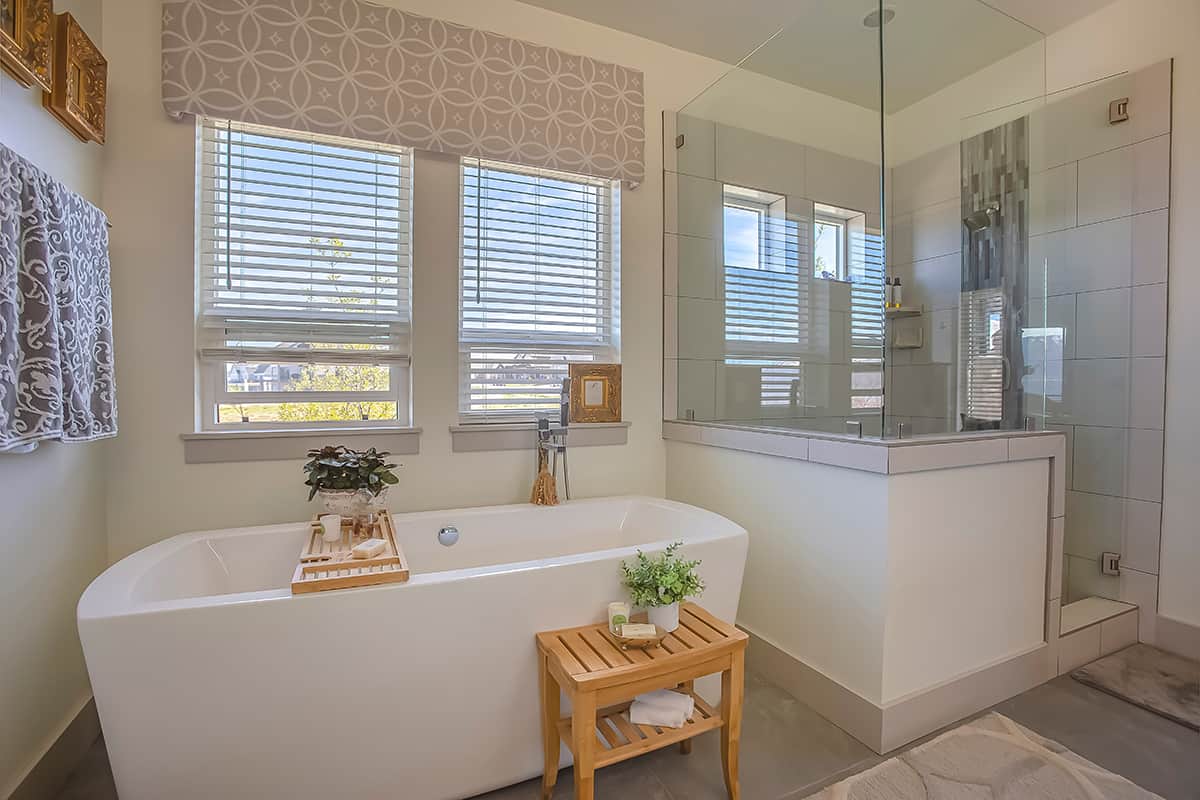 A window valance is a fairly thin piece of fabric that hangs down from a curtain pole to cover the top portion of a window. You can use a valance in conjunction with curtains, but many people also use them alone as an alternative way to dress a window without curtains.
A valance has a traditional look which works well in farmhouse-style homes or vintage interiors. It is a popular choice for kitchen windows since it provides a stylish look without getting in the way of the countertops or kitchen sink.
Panels
Fabric panels are similar to curtains in that they hang down from a curtain pole to cover the entirety of the window, but they remain in place at all times rather than being swept to one side. Panels are typically made from sheer fabric or lace and give a breezy, elegant look to a room. They are much more inexpensive than curtains but provide a similar level of warmth and decoration.
Window film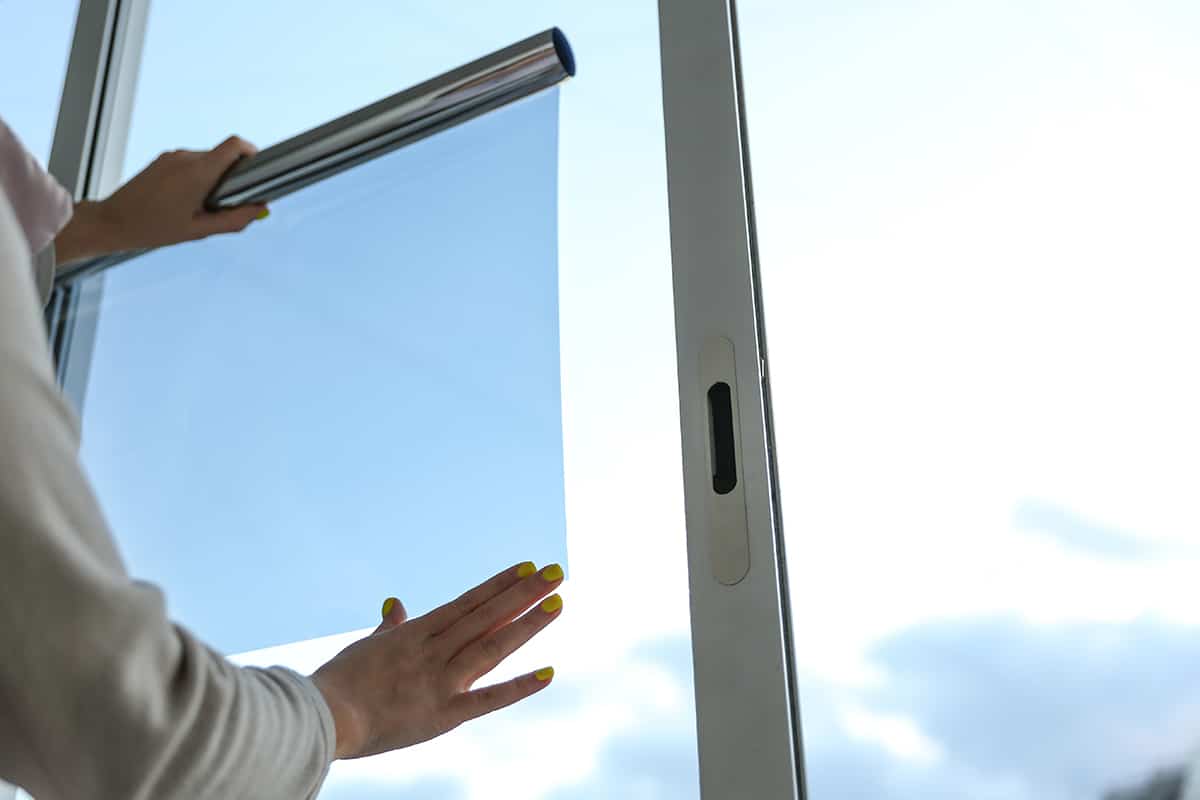 If you want privacy and minimalism on your windows, then window film is a good choice. This is a type of film that sticks to glass, which is usually frosted or patterned so that it lets light in but prevents people from being able to see into your room from outside.
It is inexpensive and can be easily applied and easily removed if you change your mind. It can help to add a subtle decoration and interest to a window.
Privacy screen
A privacy screen is a freestanding piece of furniture, typically made from wooden panels, which stands up without support due to its concertina-style folding shape.
A privacy screen placed in front of a window can help to decorate a window while creating privacy, and of course, these items can be easily moved so you can relocate them to a different part of the room when you want a window that is not obstructed.
Shutters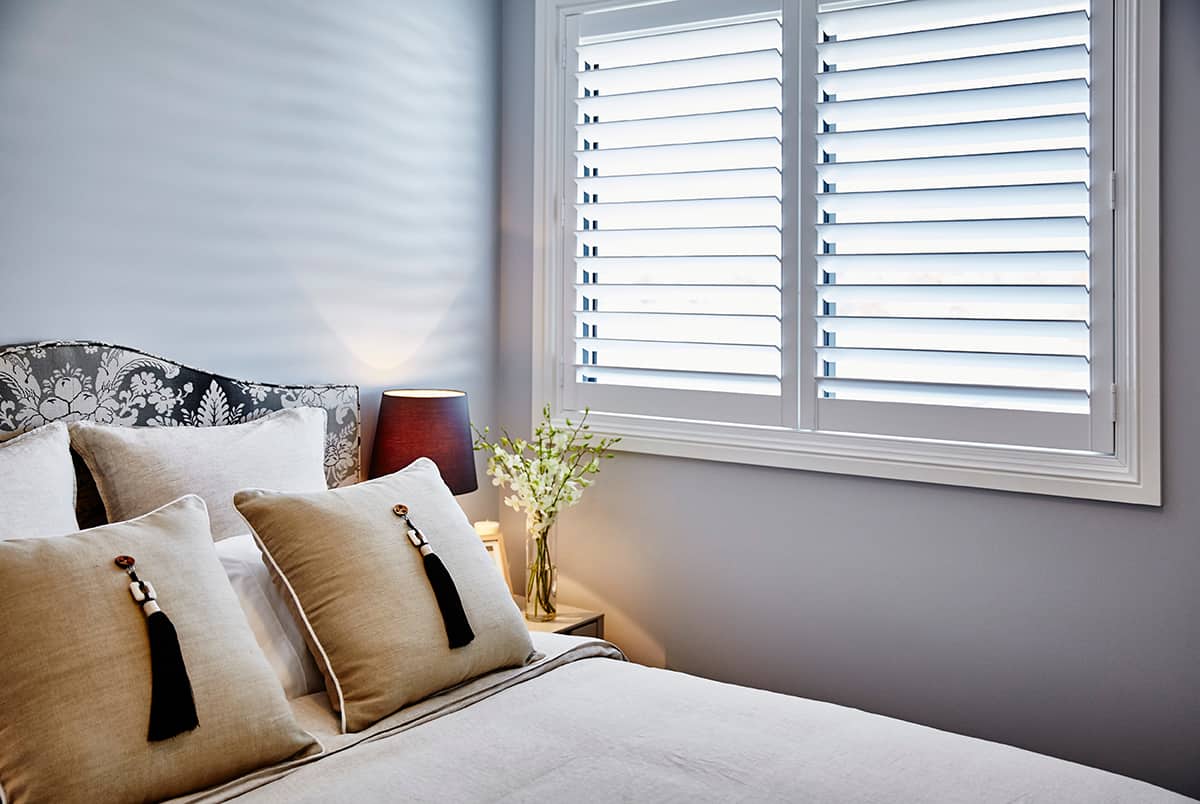 Window shutters are usually more expensive to buy and install than curtains, so these are by no means a budget option; however, they introduce a level of class and sophistication to a room that is hard to achieve with any other type of window dressing.
Window shutters that are installed on the inside of windows offer a variety of practical solutions that are useful. For example, you can close the shutters completely to block out light and ensure privacy, or you can close the shutters but tilt the slats to allow in some light and have moderate privacy, or you can open them entirely to enjoy bright natural light and a full view.
Window shutters are generally made from wood, but plastic and composite versions are also available. They are available in a wide range of colors to coordinate with home decor, but you could also paint them if you wanted to change the color scheme at a later date.
Plants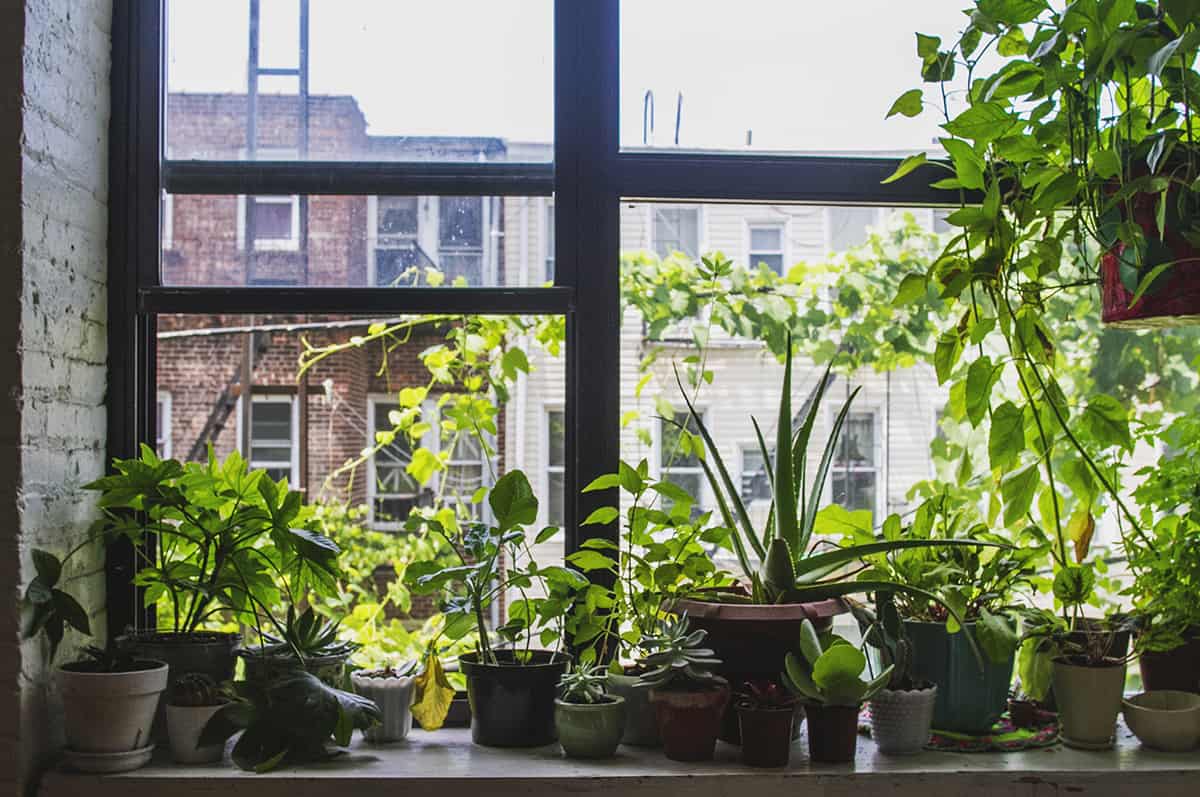 A brilliant way to dress a window without using any permanent fixtures is simply to fill the window sill with plants. Use a variety of plants with different levels of foliage and of different heights so that you gain a certain degree of privacy while still letting in plenty of light. This is both practical and aesthetically appealing since plants add style and life to a room.