You have probably wondered what Bahamas shutters are and why a lot of people are choosing to have them in their homes. Well, for one who wouldn't love to see their homes look extra elegant and stand apart from the neighboring homes?
Furthermore, more and more homeowners today are beginning to choose Bahama shutters for the extra protection and security they provide.
Whether it is a mansion or a duplex, or even a rented apartment, Bahama shutters are a relatively great and inexpensive way to add some design and style. They are mostly preferred by stylish people who love to add some elegance to their windows.
Let's go into detail.
What is a Bahama Shutter?
Bahama Shutters are stylish a type of shutters that are known for their hurricane protection; as such they are commonly used in tropical areas, houses, and properties near the beach.
Bahama shutters have hinges that are located at the top of the window; they are thick and also durable to help withstand the strong winds and heavy rain of the hurricane. Bahama shutters have not only become popular due to their beauty but also for their sturdiness and also the ability to protect one's home from the strong winds and the terrible rains that fall in a hurricane.
Bahama shutters have louvers that are open and are placed in regular spaces and perfectly angled to deflect intense sunlight away from the structure. These louvers also aid in cooling the breeze passing through the house. Bahama louvers allow for a sightline through the spaces between them for a semi-obstructed view.
These shutters are installed with Bahama shutter sizes which are more than 24 inches, and they can feature a signature vertical sub-stile. This sub-stile is used to divide Bahama louvers into multiple horizontal sections. Bahama shutters are also called "Bermuda shutters.'
Besides, the outstanding look, Bahama shutters are also the ideal windows for people who want to keep out bad weather, such as the weather during harsh winters. It is also perfect for times when there is high humidity.
If you are living in areas with long periods of intense sun or hurricanes, you will need Bahamas shutters more than people who live in places with friendly weather. Bahama shutters are mostly found in the southern part of the United States and also in the Caribbean hence the name the Bahama shutters.
Pros of Having Bahama Shutters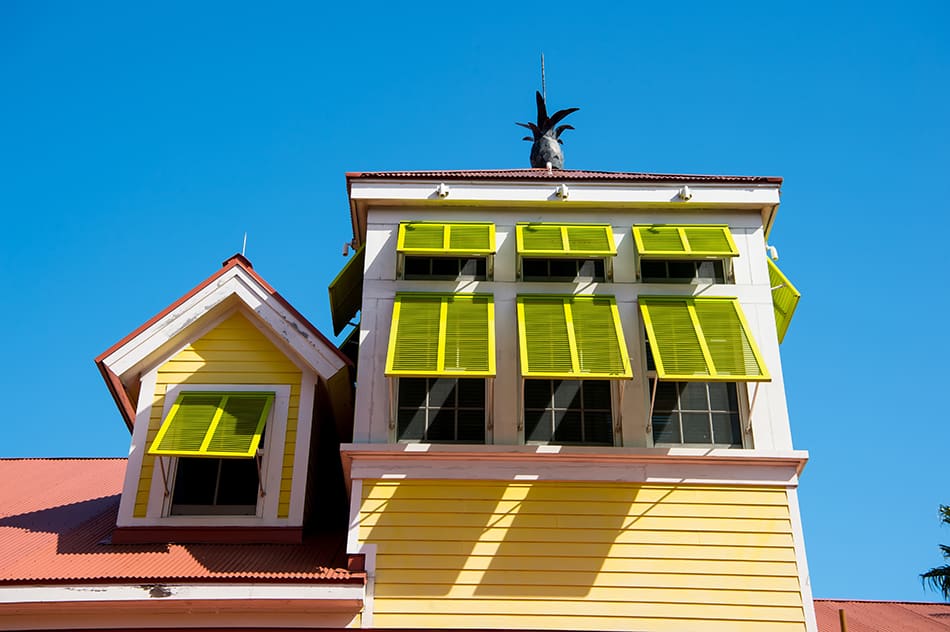 Some of the benefits of having Bahama shutters include:
They Help with the Natural Control of Climate
Bahama shutters have top-set hinges that are designed in such a way that one can easily adjust and choose the angles at which they wish to keep the shutters when they want to keep them open. By doing this, it enables you to be able to regulate how much fresh air you let enter your room. It also lets you position the shutters at angles that will aid natural cooling since it keeps the air circulating.
Bahama shutters are the perfect choice for those who are living in a warm climate as these shutters have several natural cooling properties, thus allowing you to save energy while not spending too much money on utility bills.
They Are Made to Serve as Storm Shutters and Shield One Against Several Changes in the Atmosphere
Bahama shutters have hinges at the top. Because these hinges are positioned at the top of the window instead of down the window at both sides, these shutters can even be opened out very quickly and also rapidly swung shut in preparation for severe stormy weather.
Since Bahama shutters have a storm-protective nature and are quick to close, they make a great choice for people living in such stormy areas. Hence Bahama shutters can be a useful asset during a stormy season.
They are Customizable
Bahama shutters too can be made from aluminum, fiberglass, or even wood compared to other kinds of shutters. Different shutter companies have options for designing Bahama shutters in various styles or shapes according to customer preferences and specifications.
Skilled shutter designers have many times re-created different shutter styles from their customers' sketches and also according to the provided and available resources. The shutters made from cedar, or mahogany are typically robust, and durable and last much longer compared to the shutters made from wood styles and designs since they are so elegant and chic.
They Have Been Styled for Different Climates
There are different Bahama shutter styles for different climates. These shutters have mainly helped people living in hot climates or places with slightly hot temperatures, as these people can enjoy the benefits of these shutters over different seasons. There are several American cities such as Baltimore, Philadelphia, Pittsburgh, and also New York.
These cities experience humid summer weather, spring, rainy, and hot weather. The citizens living in these cities can benefit from quick-to-shut shutters, especially in the rainy season.
They can also enjoy Bahama shutters during summer heat and humidity, thanks to their natural cooling aid. Apart from that, Bahama shutters provide privacy protection in all climates. So they also are a good choice for people who choose to live in a quiet and peaceful place.
They Act as Shade Control and Light Regulators
Bahama shutters are also known for performing the function of light regulators. For instance, Florida is a city known for its extremely sunny days, the people living there can choose to filter out the unwanted light from the sun using Bahama shutters, and hence this is perfect for the hot and sunny months. Too much light from the sun can cause higher temperatures inside the home. These Bahama shutters can help to regulate this problem, therefore keeping your home cooler.
Cons of Having Bahama Shutters
Bahama shutters come along with one major con:
Light Restrictions
Bahama shutters limit the amount of light that comes into the house. It all depends on one's preference. Some homeowners do see this as a good choice, while others who love to have a lot of light inside their homes during the day may not love Bahama shutters.
What is the Cost Range for Bahama Shutters?
Bahama shutters are the most highly desired hurricane window treatment since they cost anything from $40 to $50 a square foot. The exact cost would depend on how many of them you need for your house and the specific design.
Types of Bahama Shutters
Bahama shutters are of different types, and they include:
Outdoor Shutters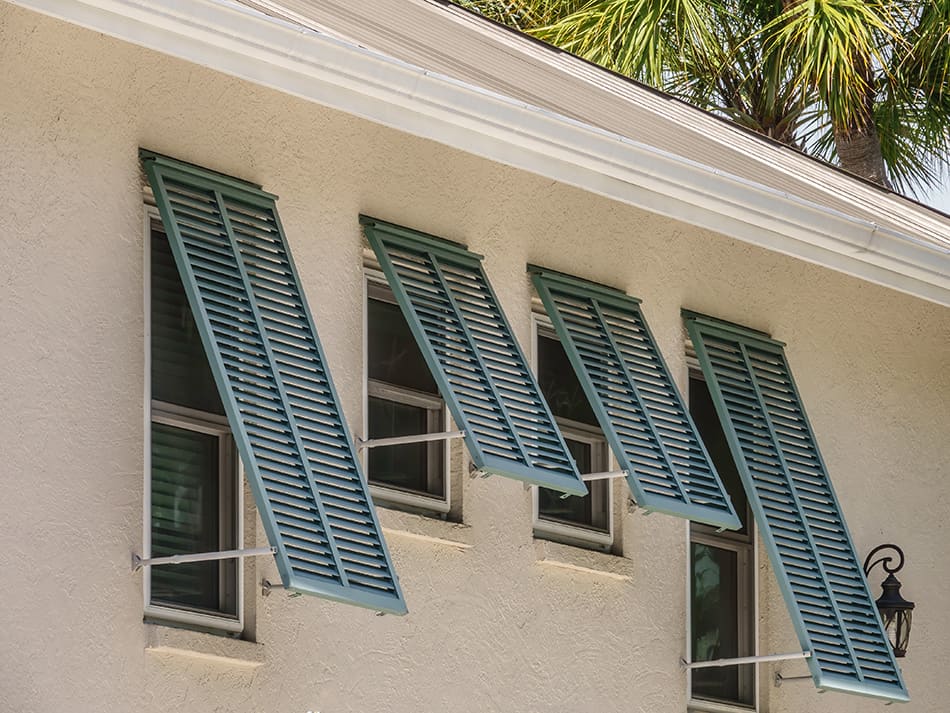 This is a type of Bahama shutters that is used for protecting the home against storms. These outdoor shutters are riveted on the upper-outer section of the window, mostly in areas prone to storms. This means that these shutters are opened upwards hence making it easier to drop whenever there is that need, mostly during an emergency storm.
These outdoor shutters are made from heavy materials that can withstand strong winds or a storm. These are often designed to match the overall architectural feel of a building; hence its colors and design have to be chosen based on the design of the house or the estate. These kinds of shutters are also called exterior Bahama shutters.
Indoor Shutters
This is the type of Bahama shutter that is used to provide some privacy to a building; it also protects one's interior furniture or the floor from damage caused by direct sun rays. The interior shutters are mostly made from a very light material since they are not battered by heavy storms or debris.
When one is installing them, one has to consider them as part of interior decoration to ensure that they match each room. Once they are installed, they become a part of the window. One can either install them on top or in the window jamb. Indoor Bahamas shutters are of several kinds and can also fit in almost all types of windows. They are also sometimes called interior Bahama shutters.
FAQs About Bahama Shutters
Can Someone See Through Bahama Shutters?
Yes, one can see between the slats on Bahama shutter styles. It is also possible to prop up on the panel for a clear view outside and also for some fresh air.
How Effective Are Bahama Shutters?
They are very effective since they do a good job of protecting homes from extreme weather. Additionally, one can easily prop them all the way to open them, and they are also quite easy to close. One is also easily able to regulate the amount of light that enters the house.
How Does One Close Bahama Shutters?
When closing Bahama shutters, one must pull the shutters towards the center of the window and fit the grooves together, then lock the shutters. This engages the locking rods.
What Materials Are Used to Make Bahama Shutters?
Bahama shutter is made from various materials. For instance, the composite-Bahama style ones are made from composite, and they come in various styles and options to choose from so that they can suit any design. The wood shutters are made from high-graded lumber, but these require more maintenance.
Which Is Cheaper: The Aluminum or Wood Bahama Shutter?
Aluminum Bahama shutters cost less, thanks to their lightweight.