Curtains are undoubtedly a stylish way of dressing a window. However, these window treatments tend to look a little too traditional and may not suit every home's decor. If you're tired of your curtains and want to upgrade to other alternatives, then you've come to the right place.
Curtain alternatives give you more when it comes to privacy and light. To emphasize your personal style, it makes sense to consider your options. Here we have listed the best curtain alternatives that are not only functional but also provide semi to complete coverage, with a wide array of materials to match your taste.
Best Curtain Alternatives
1. Roman Blinds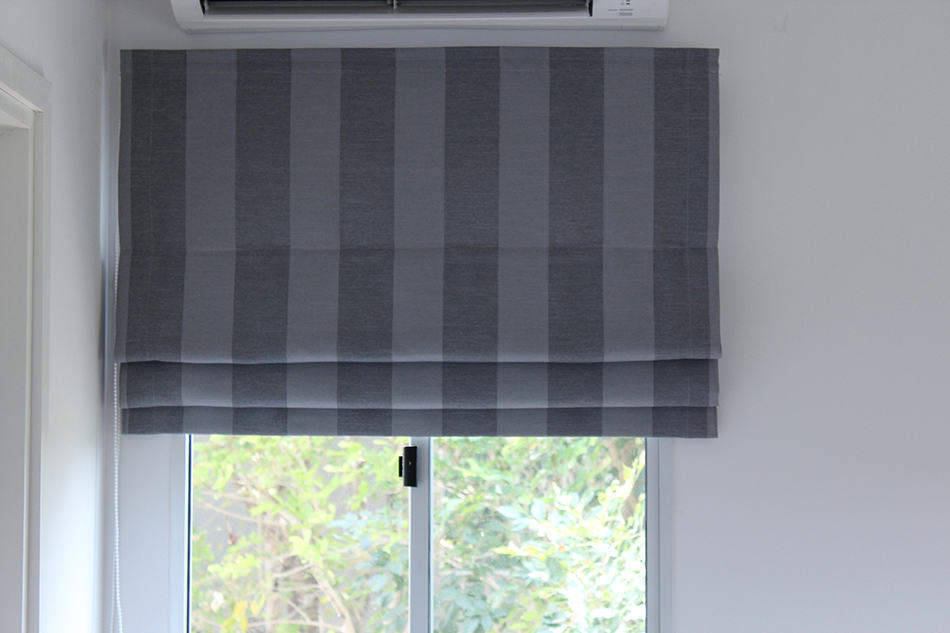 Roman blinds boast a contemporary look and are one of the most preferred curtain alternatives. These attractive blinds help control privacy and light in a room and come in a number of fabrics. Roman blinds are either motorized or controlled manually. Once you choose the ideal fabric and color, you can match the blinds to your space. These affordable window coverings allow you to easily pair the fabric with other furnishings whilst still benefiting from their functionality.
The design of Roman blinds allows a clean and modern look thanks to the discreet roll and brackets, which help reduce the light gap at the top of the fabric.
2. Roller Shades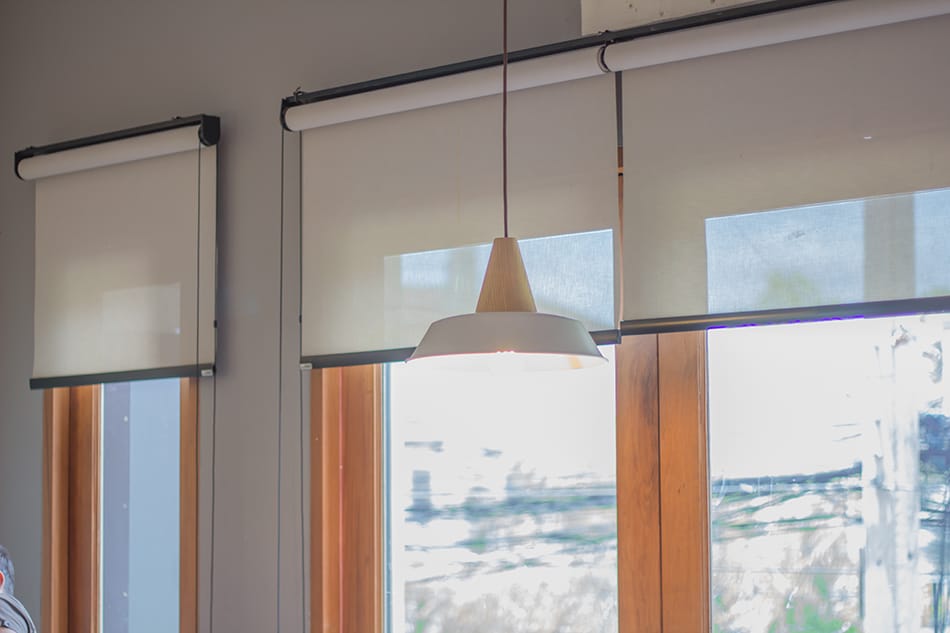 For an even more super stylish curtain alternative to shade your windows, consider roller shades. These space-saving shades have a great uniformity, which makes your windows appear more relaxing and clean. The best thing about roller blinds is their low cost compared to curtains. But just because they are cheaper, it doesn't mean they aren't as aesthetically pleasing as traditional curtains. In most cases, roller shades make a better choice than curtains as they make a small room even larger. What's more, roller shades, just like blinds, allow greater control over how much light you want to get into your room as you can choose how high or low you want to position them.
Roller shades roll up with ease so you'll never have to fiddle around with them every time you want to roll them up or down. These types of shades don't feel bulky and especially suit smaller windows. The understated shades are plain and simple in design, thus ideal for minimalist homes.
3. Patterned Shades
Patterned shades have vastly grown in popularity over the last few years. They now come with even more patterns to select from. Whether you go for honeycomb, solar, bamboo or horizontal types of shades, you can be sure of dressing your window in an elegant way. When other complementing furnishings, such as patterned rugs or wallpaper are added to the room, patterned shades will soften the visual effect and bring a pop of color to the space.
4. Laser-Cut Panels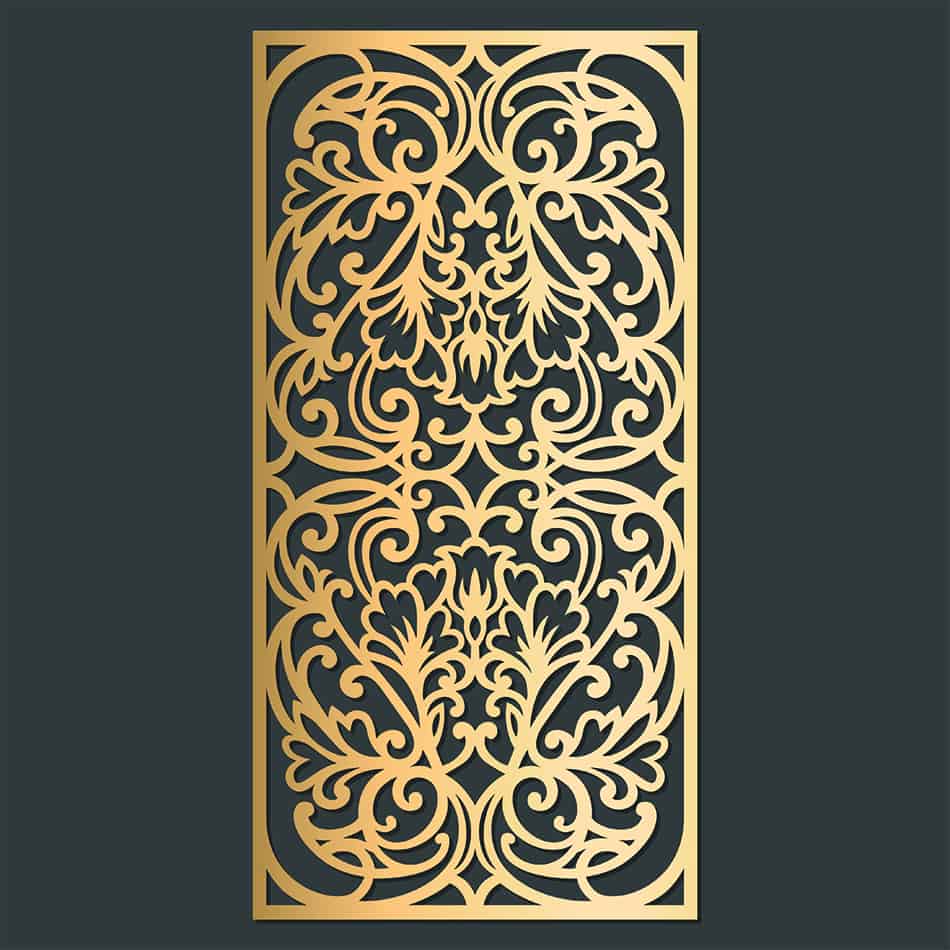 For a bold take on the traditional curtain, why not opt for laser-cut panels to cover your windows. These light filtering window dressings are sewn into a wooden panel for utmost privacy and light control. Laser-cut paneling is a unique home decoration idea that makes a big statement. Even when you no longer want to use them as a window treatment, you can hang them on a bare wall as unique artwork.
5. Metal Screens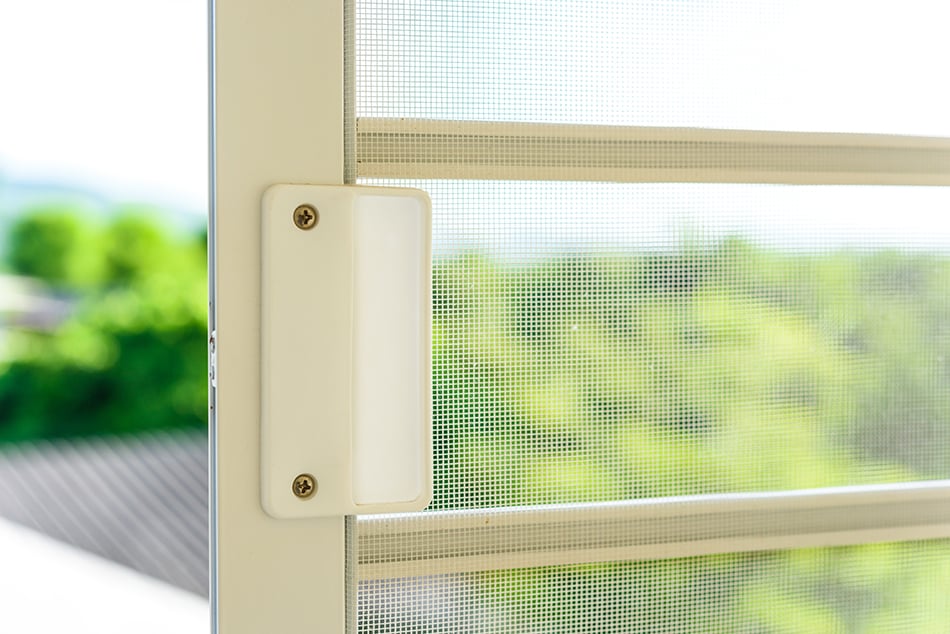 Another artistic and creative idea is to go for metal screens to cover your windows. These types of screens are aluminum sheets that are cut into different designs using water-jet precision. The screens allow sunlight to filter through and provide stunning shadows along the walls and floors. The metal screens are usually mounted on the exterior part of the windows to provide adequate privacy, shade, and storm protection. But there is no reason why you couldn't have these screens mounted inside on your interior windows.
6. Fabric Sheets
For a truly bohemian look, we've come up with a few curtain alternative ideas to dress your windows. Fabric sheets are eclectic window treatments that provide a laid-back and visually appealing texture to a room. Whilst you may not find these interestingly designed sheets in many stores, there are always art suppliers online that sell these curtain alternatives.
With intricately designed fabric sheets, you can bring out your inner hippie and give a warm glow to your rooms!
7. Beads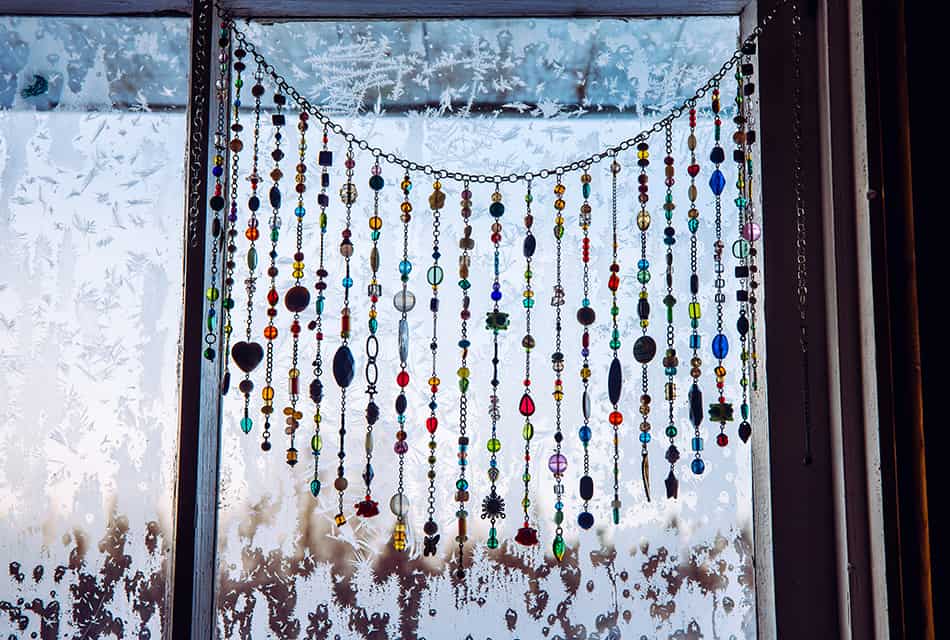 To continue with the bohemian theme, create a subtle window dressing, choose beaded curtains for a touch of quirkiness. Beads come in various sizes, colors, and shapes so you can get as creative as you like based on the theme you are inspired by. In fact, you can choose different bead designs for each window, from acrylic rings and shimmering squares to pearls and metallic circles. The options are endless!
Beaded curtains are for anyone who loves to add brightness to their rooms without decorating too seriously. Beads are sure to grab your visitors' attention the moment they walk into the room!
8. Burlap Panels
Burlap is a traditional material made from jute. This inexpensive and trendy fabric has limitless uses. The thin panels allow just enough sunlight to enter your home while being dark enough to provide you with privacy.
If you're into rustic or farmhouse style decorating, burlap panels will work very well in your home. They can easily be found in most craft stores and online, with many sizes and colors for very low prices. In addition, they are easy to install in a DIY project, which is a plus when compared to how difficult curtains are to install.
9. Indoor Shutters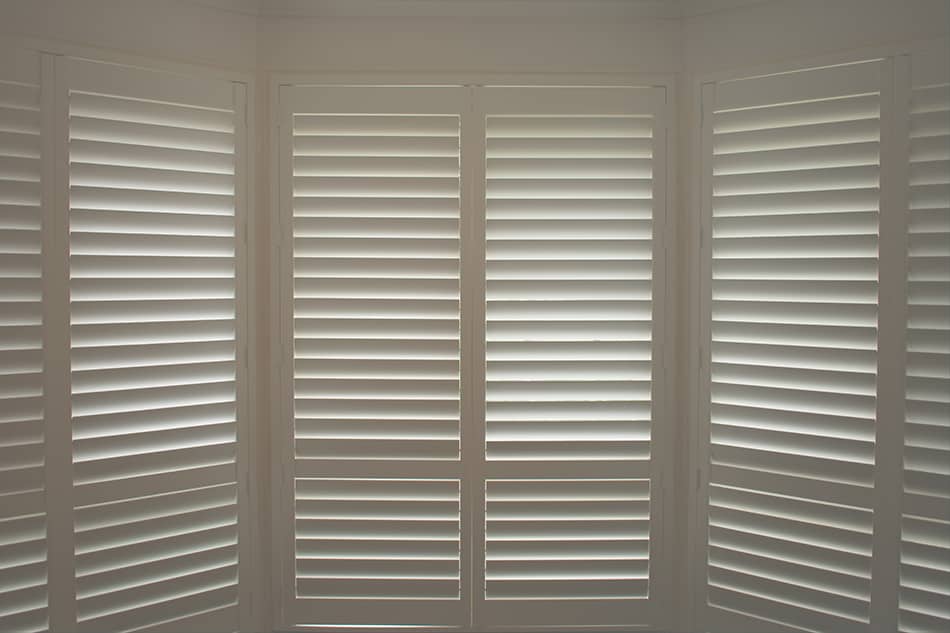 Indoor wooden shutters are a classic way of covering your windows. Shutters block out the light efficiently and provide a wonderful accent to any home. While this option is more expensive than curtains, it is nevertheless a versatile way of dressing your windows. If you value light control, privacy and durability, then there is no better option than indoor wooden shutters. These curtain alternatives create a rustic vibe in your home and you can paint them any color you like to match the rest of your interior.
10. Window Film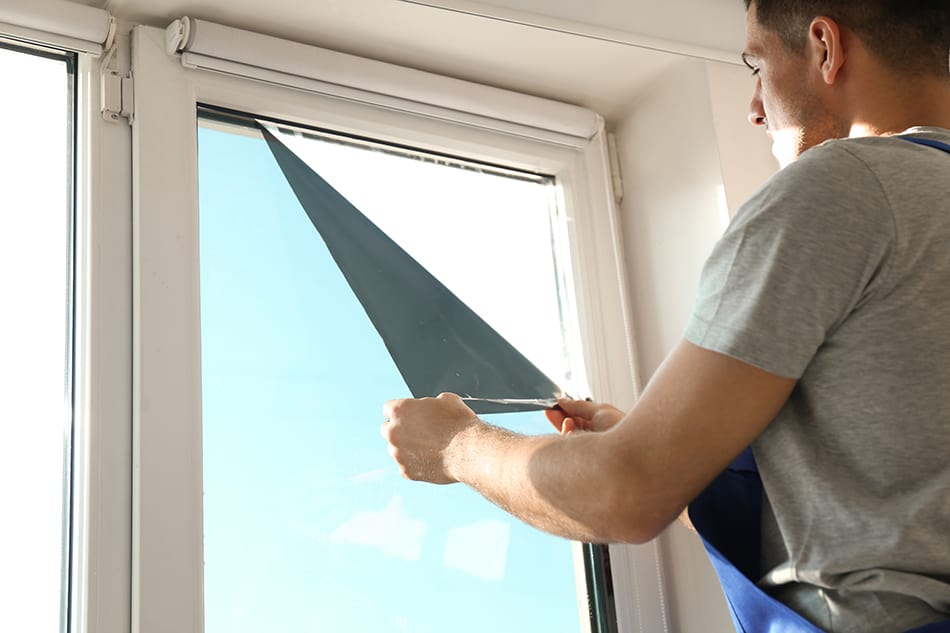 If you're concerned about the amount of sunlight entering your room, you may wish to reduce its intensity by placing window film over your window. These adhesive window coverings can stick to any glass window and give it a slightly dark tint.
A window film is applied directly to the window and used to minimize light penetration into the home. This curtain alternative increases efficiency and typically comes as a tinted color in certain textures or patterns so you can make a decorative statement with it.
Perhaps the biggest advantages of these films are their ability to block up to 99% of sunlight, plus they keep the home cool in summer and warm in winter.
11. Window Panels
If you're looking for a sleek window treatment, then consider window panels for added style. Window panels consist of simple frameworks that resemble tree branches. These minimalist curtain alternatives are ideal for nature-inspired interiors and do a pretty great job of providing privacy.
The best thing about window panels is the limitless ways you can create lighting setups just by repositioning the panels on a motorized track system. These types of window treatments easily fit in any modern home and their installation is effortless.
12. Shelves With Lots of Plants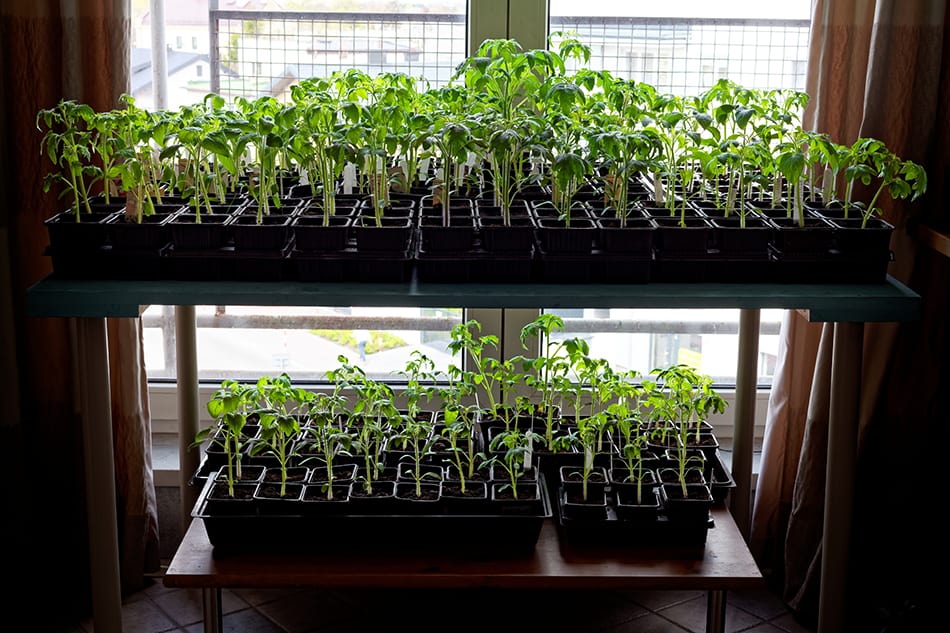 Shelves decorated with lots of potted plants is certainly a unique way of covering your window. If you are a plant lover, why not go all-in on indoor plants and fill every inch of your window with potted plants. Open shelving is a popular window display that can be integrated into the window frame or just sit in front of it. Fill the open shelves with potted plants or your favorite accessories to make the display come to life.
For example, wooden shelves on windows filled with small beautiful succulents will look absolutely stunning. The end result is a window treatment that blocks out the sun and gives you plenty of oxygen!  This is a fun and lively way to dress your window instead of a curtain – just don't forget to water the plants!
13. Decorative Valance Box
A valance is a decorative piece of fabric that's installed across the top of the window. The purpose of this curtain alternative is to add softness and color to the window. For a more traditional and formal type of valance, opt for a box pleated valance, which can be hung directly down over the window. This is an attractive idea that will look beautiful in the kitchen or bedroom.
Rather than hanging a plain valance, when you opt for a valance box for the top of the window, you can fill it with your favorite decorative accessories: from artificial flowers to candles or planters. And since a valance box only covers the top half of the window, it can minimize the amount of sunlight that penetrates through without completely blocking the natural light.
14. Vertical Garden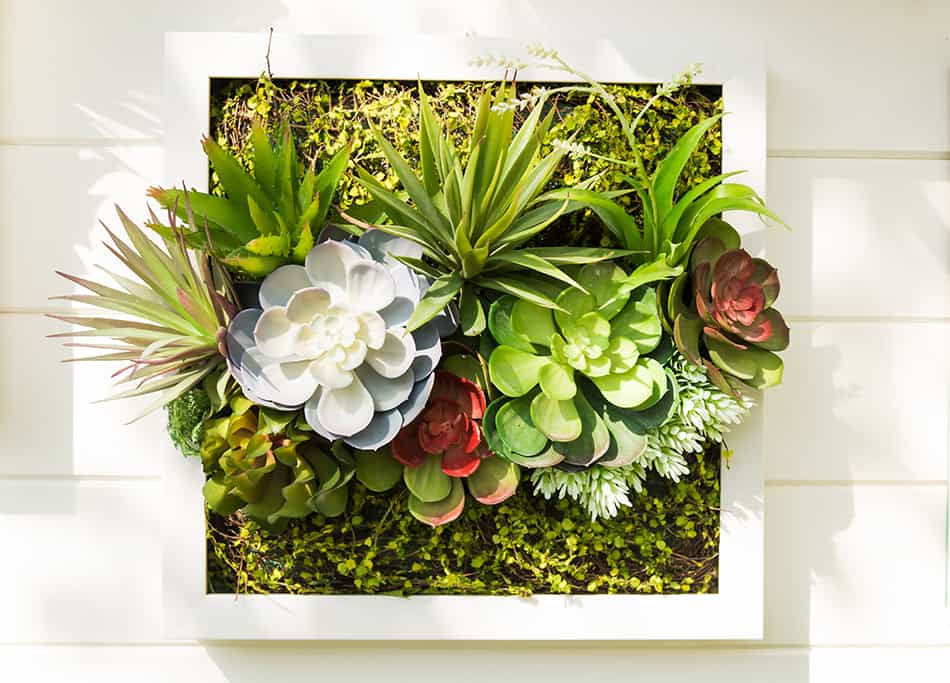 Vertical gardens are highly popular both outside and inside a home. These are especially ideal for apartments where outdoor space is limited. A vertical garden is typically displayed over the window to allow light to enter the room while adding a touch of color to your interior space. This idea works particularly well for kitchen windows. Just don't forget the routine watering!
15. Frosted Glass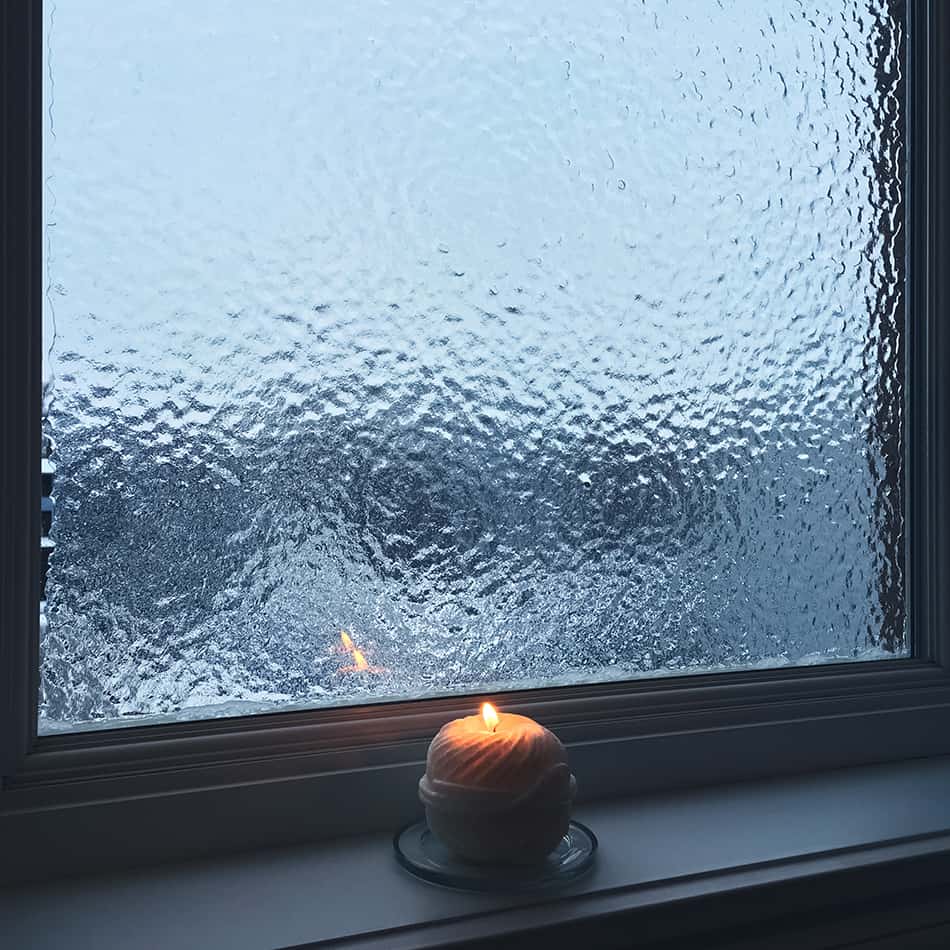 To increase privacy without sacrificing light, consider frosted glass. This type of window treatment is a great curtain alternative, especially for bathrooms. Frosted glass creates a sense of privacy while retaining light transmittance. Some designs consist of a film that lays over the glass to make it look visually interesting. Frosted glass is the perfect window treatment for those who want to prevent prying eyes but without stopping sunlight from entering the room.
There are also some frosted glass designs that feature attractive geometric patterns. These options add a lot of privacy and aesthetic appeal to the window. As mentioned previously, frosted glass is an excellent curtain alternative in bathrooms and bedrooms.
16. Stained Glass
When we talk about stained glass, most people probably think of churches with brightly colored windows. But stained glass isn't just for holy buildings. This curtain alternative comes in any pattern or shade. From simple, white designs that allow plenty of light into the elaborately patterned frosted glass panels that reduce the ability of passerby seeing inside the house.
Glass-stained panels boast bold colors that not only add a unique style to a traditional home but also filter light coming through large windows. While stained glass isn't the most common or popular curtain alternative that pops to mind, it is nevertheless an elegant way of adding style to your interior decor. Perhaps the only downside is the price, which can be more than traditional curtains.
17. Macrame Hangings
Macrame has to be the ultimate boho; it is simple, handmade, and has plenty of charm. If you are tired of curtains, consider hanging chic macrame over your windows. These are knotted strings that stand out in any room and liven up the space. And the best part is you can create your own macrame from fabrics like jute, cotton, yarn or even leather. Most macrame hangings are in beige color, but you can easily add a pop of color by knotting some colorful threads.
18. Louvres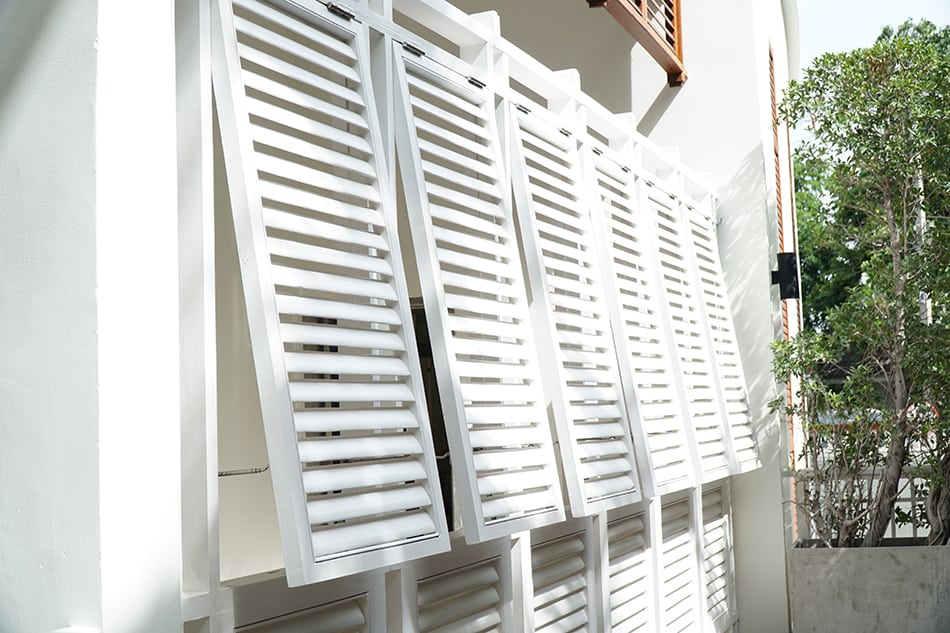 If you dream of a curtain alternative that allows fresh air and light in but without moisture or insects, then consider indoor louvres. These window treatments allow natural air indoors and create a fresh breeze to keep the house cool in warmer months. When closed, louvres serve as an excellent thermal barrier to keep cold air out, thus making indoor temperatures more comfortable.
Louvres feature angled slats in parallel arrangements. They can be adjustable or fixed to the window frame and usually made from aluminum or steel. Aluminum louvres are recyclable, which makes them a sustainable material. These curtain alternatives range in sizes, colors and shapes so you're bound to find the right one to match your home's decor.