We all know how important sunlight is for our health, but being exposed to it for too long can in many ways have detrimental effects. To protect your home from the blazing heat of the sun, the first thing you may think of is to blast the air con at its maximum level. While this may work temporarily and cool you down, the scorching heat will creep its way back inside again through your windows.
When heat penetrates through your windows, your air conditioner will have to work double hard to maintain the indoor temperature. To save money on energy costs, and to keep your temperature down, we have a number of suggestions on how to block heat from windows. These are:  
Overhangs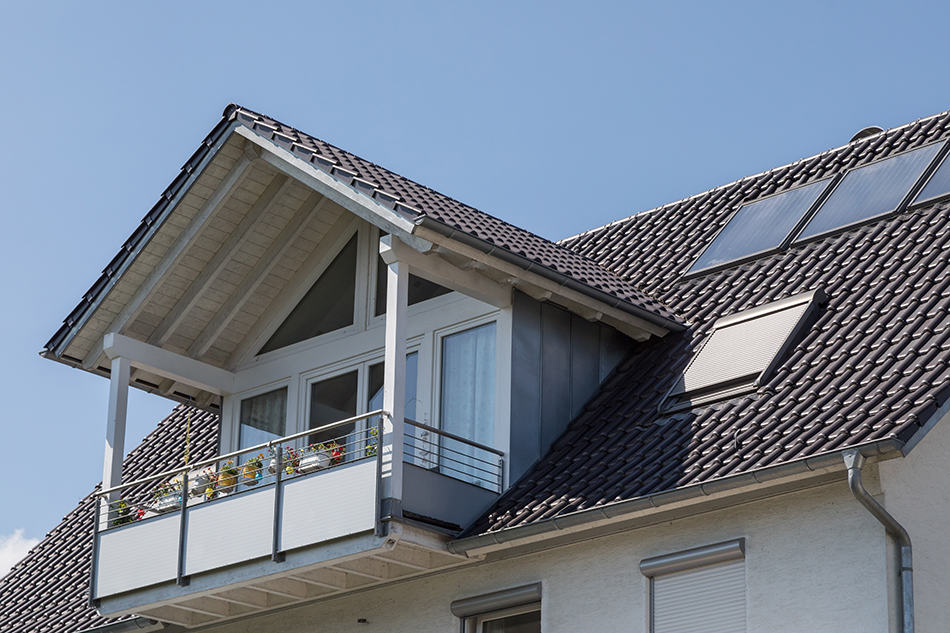 Properly installed roof overhangs can be most effective in blocking heat from south-facing windows. If installed correctly and in the right orientation, overhangs will prevent sunlight from entering through the windows, thus keeping the house cool during the summer months.
Blinds
One of the most efficient ways of saving electricity is by installing blinds. These window coverings block the heat and reflect the sunlight. Most types of blinds are inexpensive and you can find a variety of designs and materials. Installing these shades is very easy, but make sure they are mounted as closely to the glass as possible in order to obstruct the sunlight.
To keep the heat out using the best blinds, we have a few variants to recommend. These are:
Reversible Shades
These 2-in-1 blinds are among the best shades to block heat. They are dark colored on one side and light colored on the other so you can alternate according to the weather outside.
Roman and Roller Blinds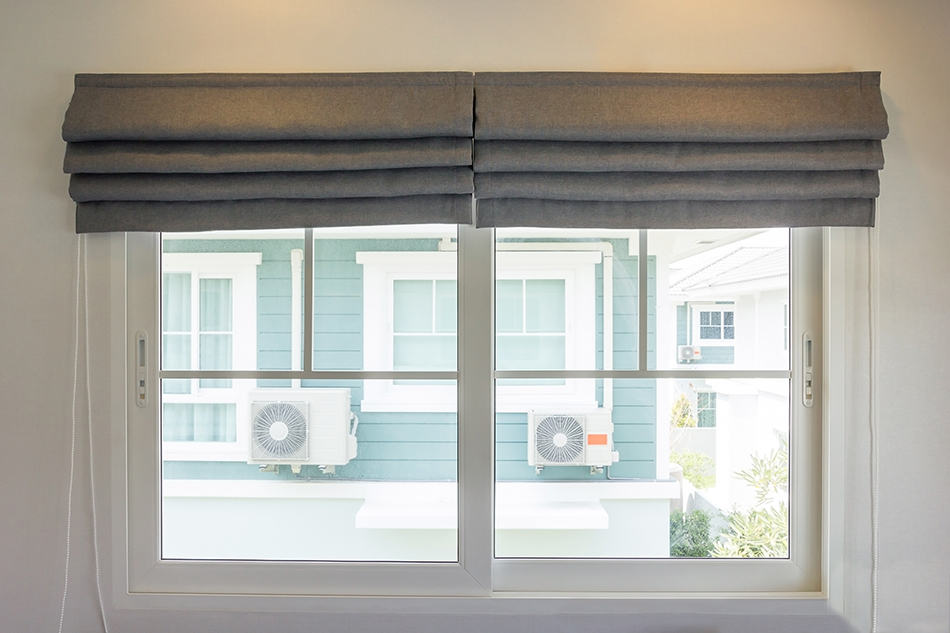 These are another cost-effective shades that are very popular and available in numerous colors, fabrics and weaves. To control privacy, heat and light from entering your room, be sure to choose heavier fabrics for best results.     
Blackout Shades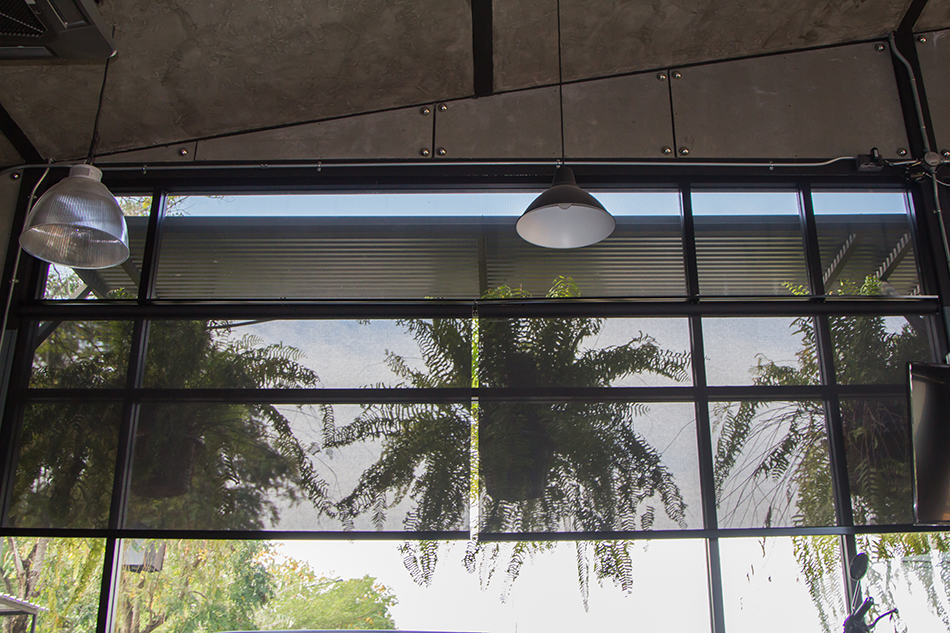 Blackout blinds completely block the sunlight, and they look better than aluminum foil, which some people may consider using as an alternative. However, foil is not an attractive solution nor is it permanent. With blackout blinds, you can permanently leave them mounted on your windows. Thanks to modern interior decor techniques, you can now find a wide variety of blackout blinds to complement your space. These window coverings are one of the most inexpensive ways to block heat from windows.  
Curtains and Drapes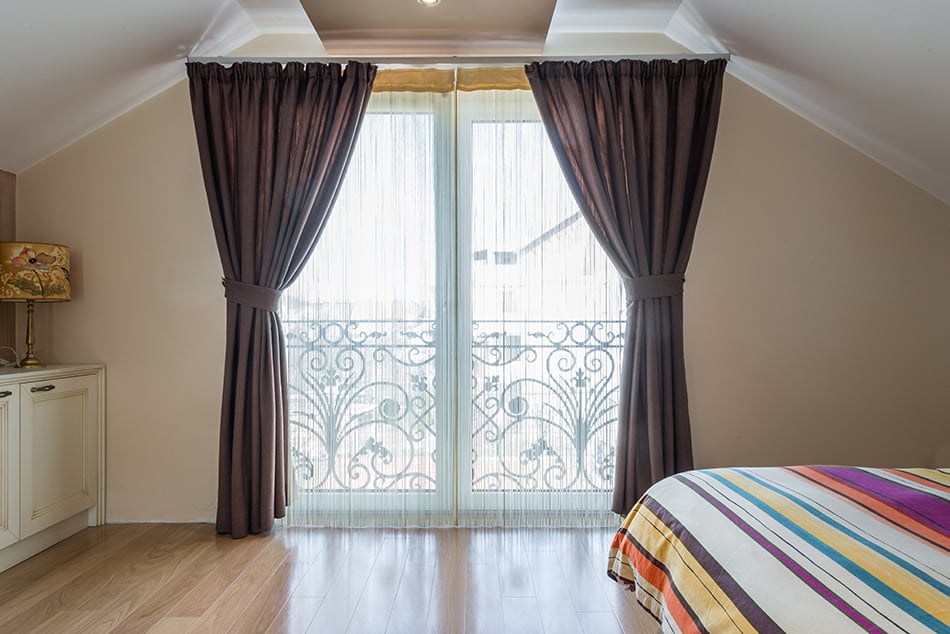 If blackout shades sound too extreme, consider heavy curtains or drapes to block heat. Closely weaved curtains are a better option than open-weave fabrics. The best material is cotton or velvet to keep the heat out of your home. Dark colored curtains do a better job of reflecting heat. But if you want to maximize their effect, install a cornice at the top of the curtains. This extra layer is mounted closely to the window and provides better heat protection.
Remember to hang your curtains as closely to the windows as possible to create a tighter airspace and obstruct the heat. Heavy curtains and drapes not only increase privacy, they are the best choice when it comes to blocking outside heat.   
Exterior Solar Shades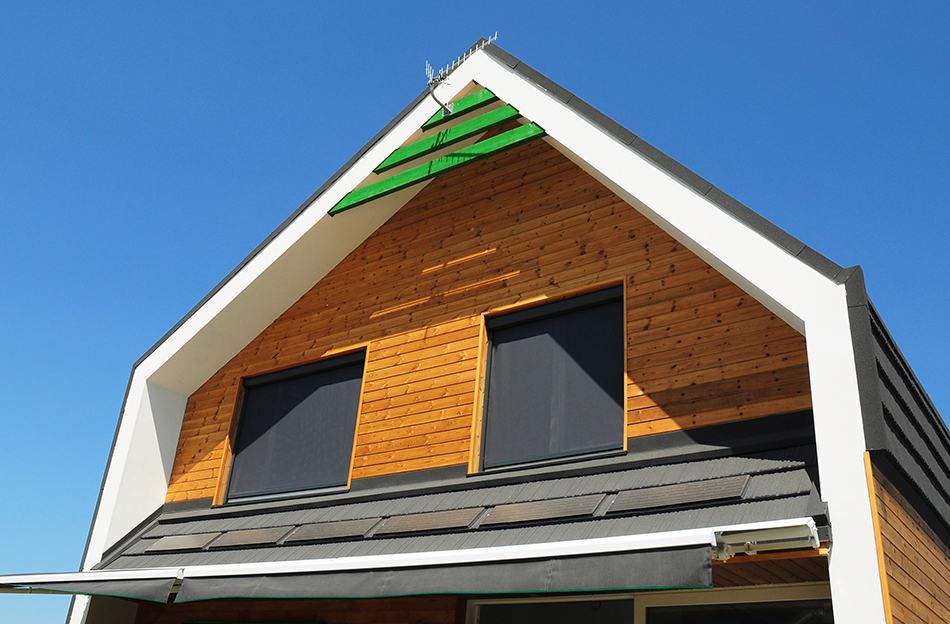 If you have patio windows or doors, most of the outside heat will penetrate through these openings. The best solution is good quality solar shades installed on your patio windows. These shades are low maintenance, durable and reduce the glare. Solar shades prevent the UV rays from disrupting your indoor temperature. But best of all, they look sleek and tidy, no matter where you install them.
Solar shades are easy DIY installations as they are slim in design and do a great job of filtering the harsh sunlight from entering through your windows while retaining your view. 
Shutters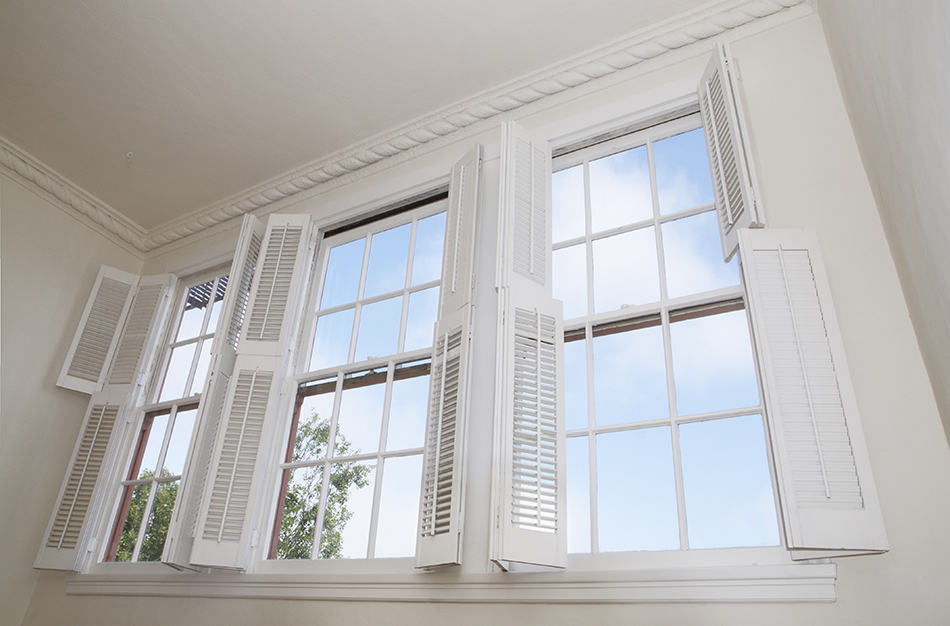 Exterior shutters are extremely effective in minimizing solar heat. They are normally made of wood, steel, vinyl and aluminum. Some people may prefer installing interior shutters while others prefer exterior ones for aesthetic and functional purposes. When choosing the best shutters for your windows, make sure the openings in between the material have smaller gaps for optimal heat resistance. These materials are manually operated, which means you must close or open them yourself. To enjoy complete protection from heat and hurricane, you may keep the shutters completely closed. When the weather cools down, you can partially raise them to let in fresh air and light. Keep in mind that not all window treatments are designed for exterior use. If you wish, you can opt for interior shutters instead.  
Foil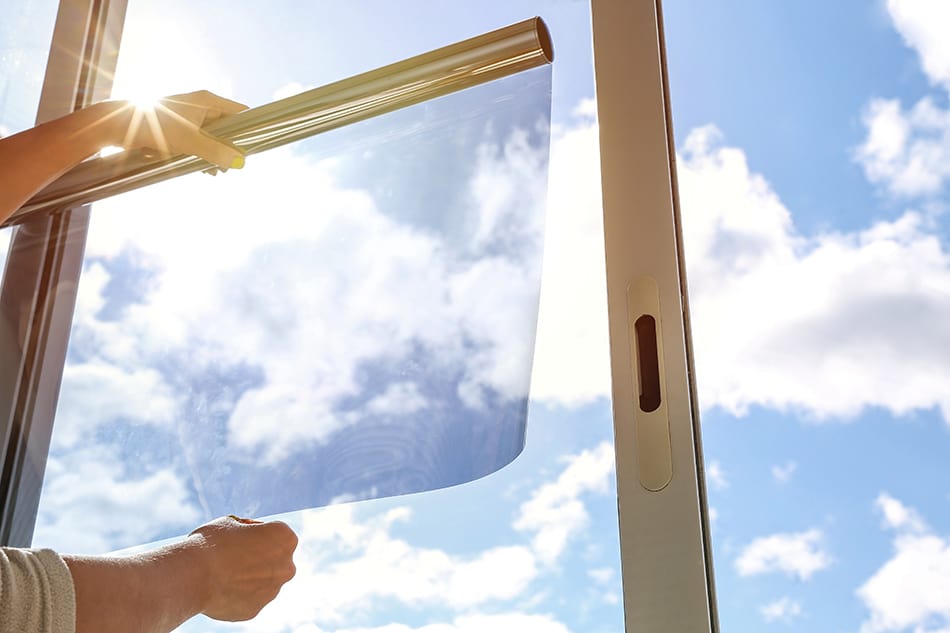 Perhaps the cheapest option to block heat from the window is by covering it with aluminum foil. This solution will completely block your view so it may not be visually appealing for everyone. What's more, aluminum foil will not only filter out the sun, it will also lower your cooling bills. When installing the foil on the windows, tape it with the shiny side facing outwards. You won't need to remove the foil prior to opening the windows as it can be installed on the windows themselves.  
Reflective Film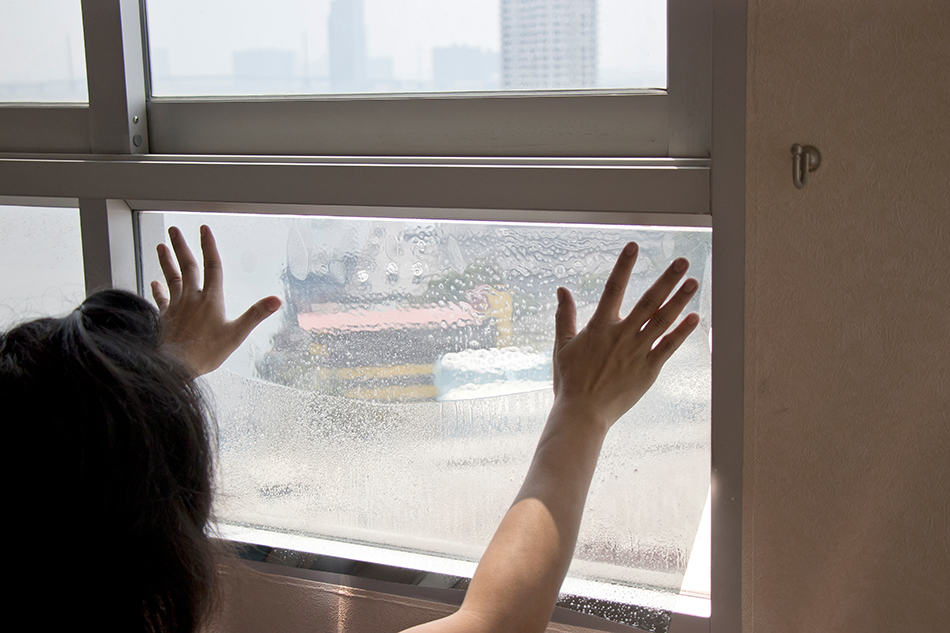 Any insulating plastic film will do the job as this can be attached anywhere in your home. When used on the windows, the reflective film will form a tiny air space just like aluminum foil. This product is readily available and doesn't cost as much as some of our other recommendations.
Reflective window films are best used in regions with long cooling seasons. These silver-colored films are more effective than transparent or colored ones and work best on south and east-facing windows.
High-quality reflective films block sunlight in both summer and winter, thus making them beneficial in all climates. However, the one drawback is that the films may restrict your view or reduce light from entering your home. It is best to weigh up the advantages and disadvantages of such window coverings first before considering the right solution.  
Weather Stripping Seals
If your windows are drafty, then they are most likely not protected against heat nor cold. It never hurts to keep heat out by weather stripping your windows. These seals reduce the air transfer that results in heat gain in the summer and heat loss in the winter.  
When installing weather stripping seals on your windows, make sure it remains in good shape and undamaged. By using the right materials according to your climate, you can ensure of benefitting in the long term. 
Blankets or Sheets
Another cheap and easy way to cover your windows to block out heat is to hang your old sheets or blankets. Opt for the thickest and heaviest sheets for best results. To hang them, use a strong tape like duct tape or hanging hooks. You'll also need a sturdy ladder for the installation.
Hang the blanket from the top of the window frame. The longer it is the better. Secure all the blanket's sides to the window for optimal coverage. While this won't be the most visually pleasing option, it will work as a temporary solution. You'll need to eventually consider something more permanent like blinds or curtains.  
Plant Trees and Shrubs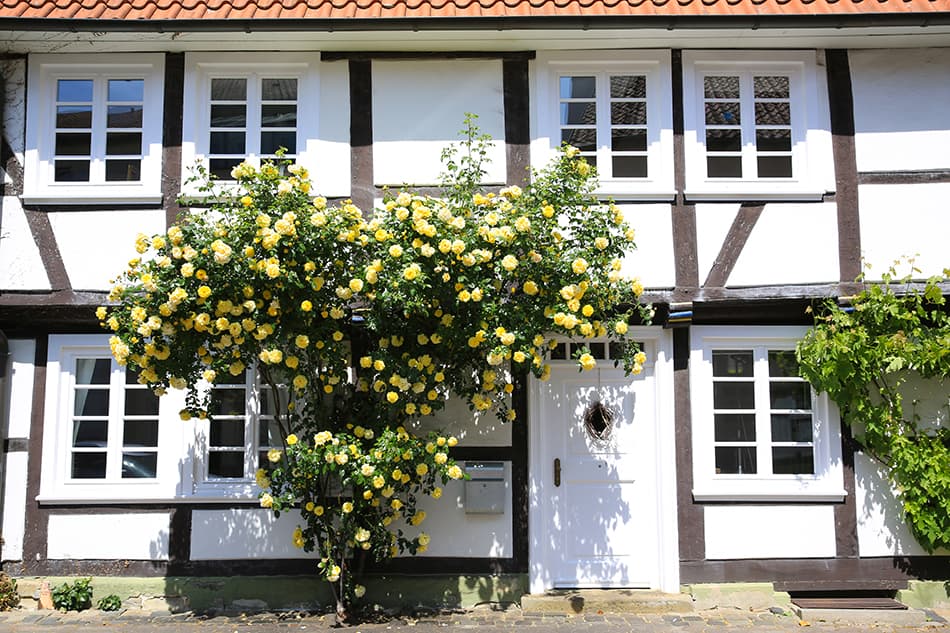 For a permanent solution, consider planting lots of plants and trees around your windows. They will help keep your outside space cooler and prevent sunlight from entering your home. Furthermore, trees purify the air, thus making them a good choice for keeping your outdoor area cooler. Just be sure to plant shrubs and trees at a safe distance from your home to prevent the roots from damaging the foundation. This idea is by far the most energy efficient and inexpensive way of blocking out heat from windows for the long term. 
Alternatively, Replace Your Windows
If all else fails or our suggestions don't work for you, a wiser and longer-term solution is to invest in new windows. This is especially useful for people who have damaged or old windows. Energy efficient windows are your best bet in saving money on electricity by blocking heat from your windows. A newly installed window frame and all the window components contribute to the efficiency of the windows. Once these components are in disrepair, your energy bills will increase.
Double-glazed windows only lose half of the heat of a single-pane window, thus making them more cost effective. However, did you know triple-glazed windows reduce a further 30% of heat loss plus each extra layer of glass minimizes solar heat gain. So if your windows are worn, it may be best to replace them with energy efficient ones. Once you've installed your new windows, you can add shades, films, heavy curtains, or any other window covering we've listed for a winning combination of comfort and energy efficiency.  
The Bottom Line 
By minimizing the amount of heat entering your home through your windows, you will not only save money on your cooling costs, you'll also feel more comfortable living in a cooler home. Implementing any of our suggestions will ensure the least amount of heat enters your home, especially if you install double or triple-glazed windows!