Window shades are not just pretty décor: they play a fundamental role in any room's style. They determine the amount of light that gets in, the overall feel, and even the insulation of the room.
Besides, shades often get less attention than curtains, as there seem to be fewer options available when it comes to style or materials. This is a deceptive impression: shades may not come in as wide a variety of fabrics, but they make up for it through different builds, rolling mechanisms, and finishes.
Check out the list below to learn what types of window shades are available – plus some useful style tips to help you know what to order at your local home store!
Window Shades Models and Designs
There are lots of different shades for you to choose from, ranging from the traditional to the newest fashion choices.
Shutters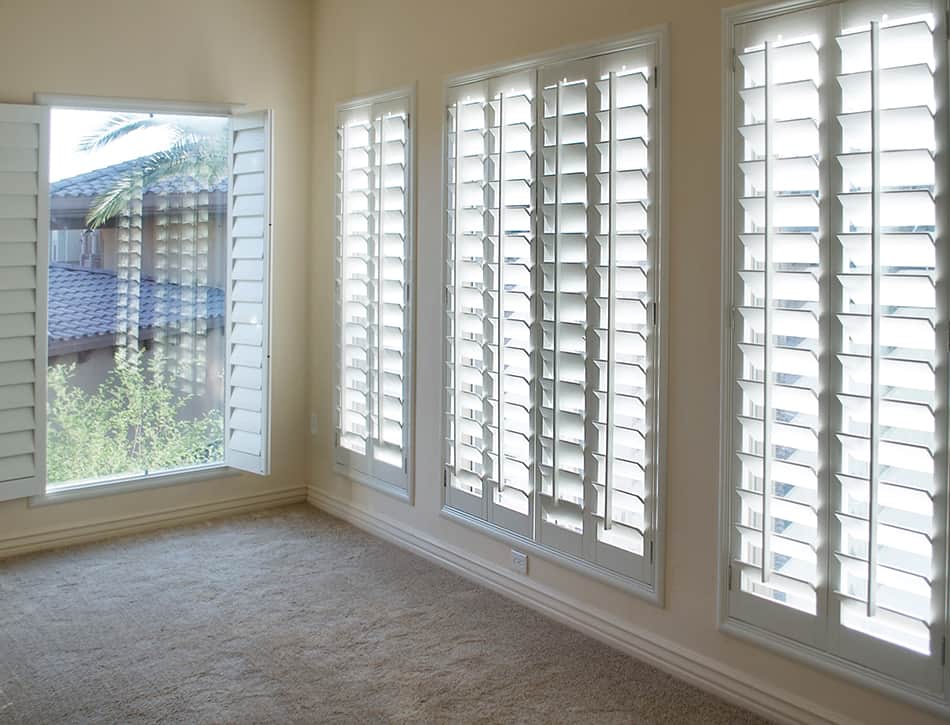 When we say "window shades," most people will immediately think of shutters. This now-classic option was first popularized by upscale offices in the latter half of the 20th century.
Shutters combine thin, parallel lines of any hard material held together by a fiber. They can be easily tilted or adjusted to increase the amount of light that comes in. Their alignment makes a room automatically look a bit more organized and neat while remaining easy to clean.
Shutters are ideal for any room that has large or wide windows, especially if you want to retain some privacy. Their only major downside is that the tilting mechanism can break or jam if not treated right.
Roller Shades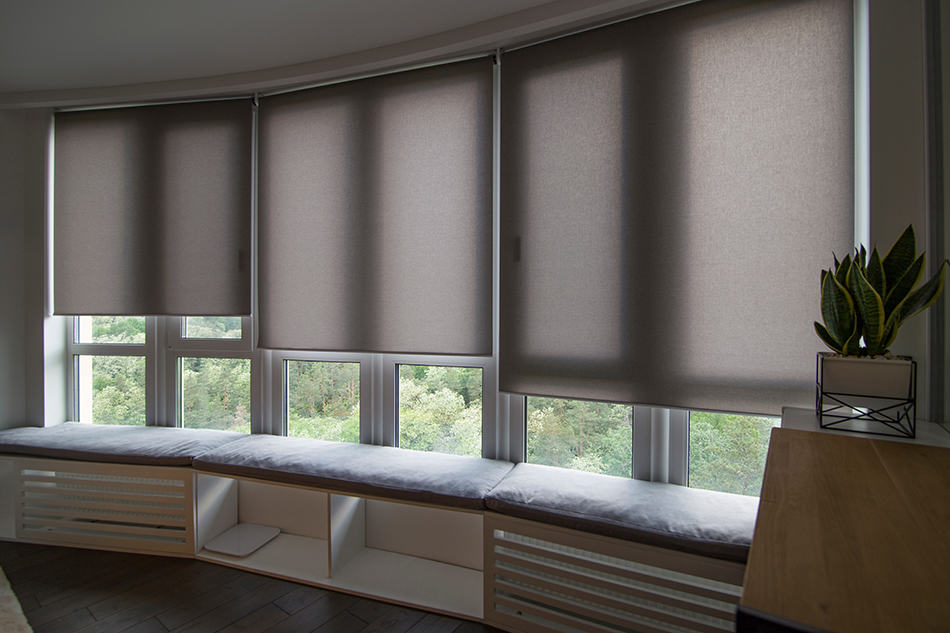 Halfway between a shade and a curtain, roller shades allow you to "roll-up" most of the fabric at the top of the window when they are not in use. When it's time to darken the ambiance, you can just roll them down with a cord or button – of, if you are part of the "smart house" scene, with your smartphone!
Although most use solid-colored fabric, roller shades allow you to play with fabric designs and styles easily. Once you have the basic mechanism, it's very easy to change the fabric and customize them to your taste.
These are often a preferred option for bedrooms, as they provide complete coverage (and privacy) when needed, without obstructing the view permanently. However, they are hard to clean: even if the fabric is machine-washable, you will need to disassemble them first.
Roman Shades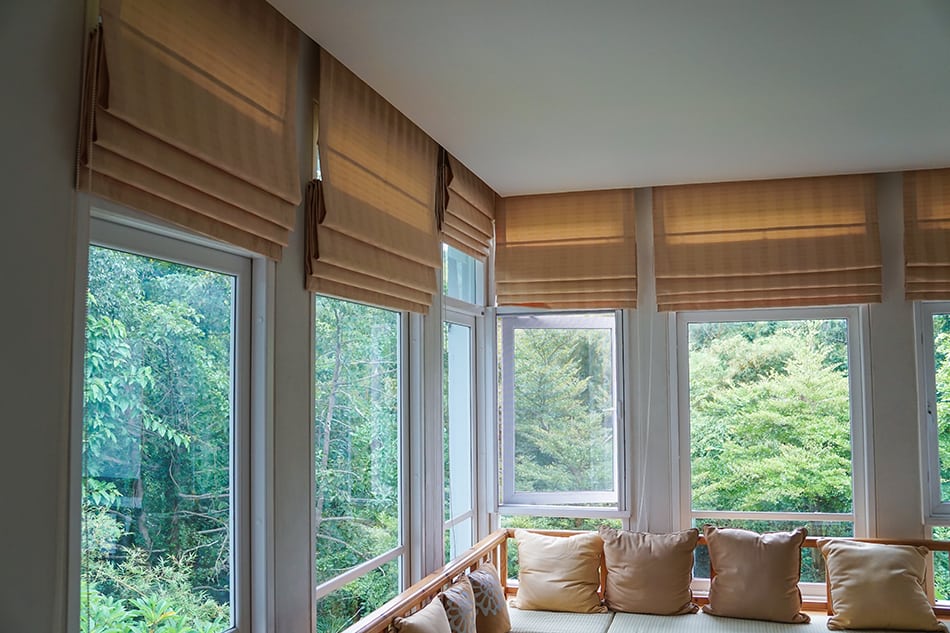 Roman shades have existed since Roman times. These are made up of a single, flat piece of fabric that can be pulled downwards. Unlike roller shades, however, this is done through horizontal pleats, which form neat and symmetrical folds.
They provide a Mediterranean, orderly alternative to standard fabric curtains. They provide great coverage for anyone seeking blackout shades. However, they tend to be a bit pricier than standard shades.
Balloon Shades
Balloon shades combine rings and cords in their opening mechanism. When opened, the cords running through the rings will help the fabric form a "balloon" or a puff of fabric. This lends itself great for a vintage or country-like look, such as cottagecore. If you use a piece of sheer fabric, balloon shades also work great as an addition to thicker shades, providing a very traditional top accent.
Tie-Up Shades
Tie-up shades are a variant of balloon shades and usually go well with the same type of vintage style. The main difference is that, instead of forming a self-supporting balloon, tie-up shades have an additional cord or "tie" that you can use to tie up the fabric. They are often used to support a thicker, blackout fabric while still leaving behind the sheer or semi-transparent fabric.
Simple bows make for a simple closing mechanism – which in turn translated to shades that are very easy to install. Tie-up shades are usually hung from a bar or a mounting board. They can't really be mechanized or made cordless, but if you just need to "dress up" a short-term rental, they let you have a cozy accent up and running in less than a day.
Cellular shades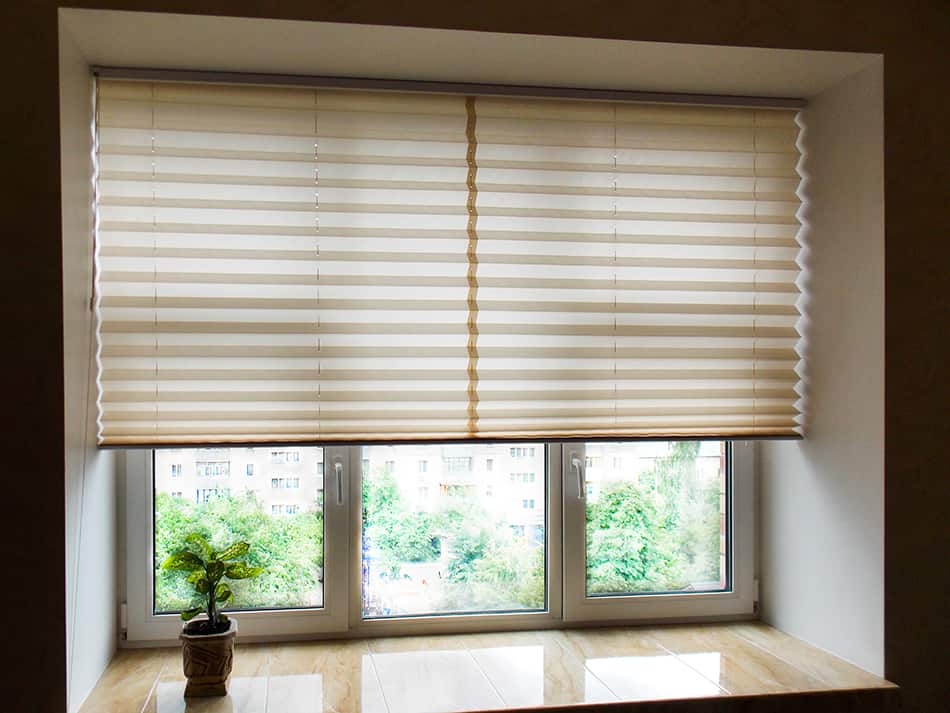 Common in homes and offices alike, cellular shades are made from soft cloth-like synthetic material. This is used to form rows of small honeycomb-like cells, which leave a small pocket of air in between. Cellular shades are particularly popular in light or white-like colors, as they provide a clean look and allow light to enter a room while still keeping the neighbors from peeping in.
Single-Cell shades
Simple single cell shades are made from a single layer of cell rows. They usually let a lot of light in and tend to be pretty budget-friendly. Depending on the material, the small bubble of air that they contain will be enough to put some distance between the room and the hot summer sunlight.
Double-Cell shades
Sometimes known as "honeycomb shades," double cell shades offer two consecutive cell layers. When looked at from the side, the pattern is quite similar to that of a honeycomb.
Double cell shades provide twice as much insulation a single cell ones, which makes them ideal in cities with extreme weather changes. However, they also trap in a lot more light – so unless you are actively going for blackout shades, double cell shades work best in light or semi-sheer colors only.
Pleated Shades
At first glance, pleated shades are very similar to single cell shades. However, pleats don't leave enough room for a small air bubble within them. Pleated shades are usually flattering, take up less space, and are cheaper to produce. If you are looking to soundproof a room or increase its insulation, they won't be the most efficient choice.
On the other hand, they are great for anyone looking for an affordable cordless alternative.
Sheer Shades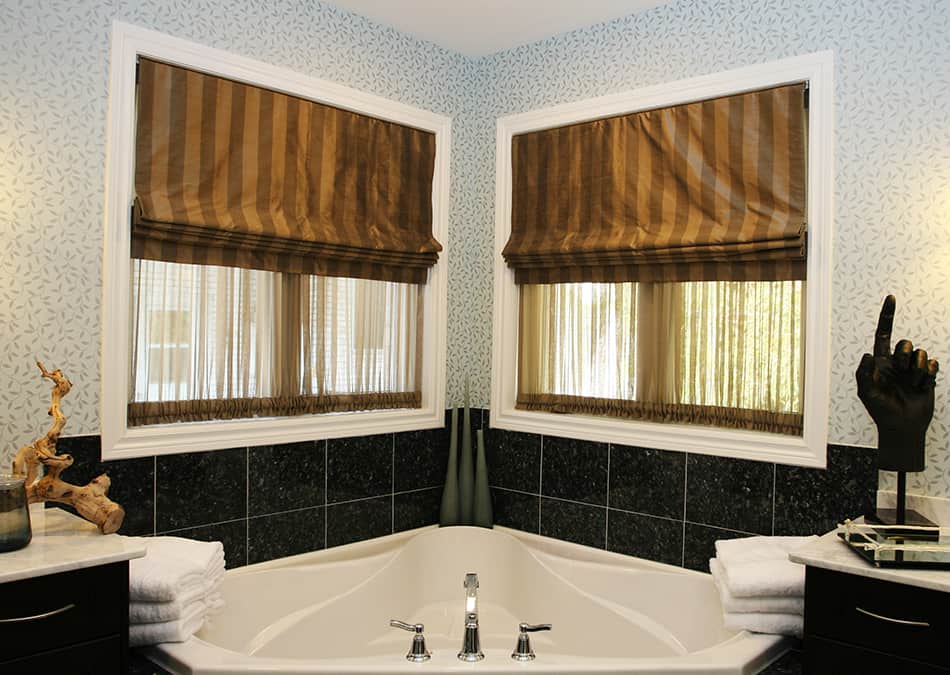 Rather than complete coverage, the goal of sheer shades is to absorb some of the light entering a room. Ideally, the shapes and scenery behind should still be visible – but any harsh direct rays will become a warm, soft light instead.
Sheer shades come in pleated and cell-like options and are compatible with a wide variety of opening mechanisms. Their delicate look matches well with light or earth-like colors if you are going for a rustic cabin look. If you stick to lightweight fabrics, sheer shades will also be very easy to clean: they can just be vacuumed from the inside of the room.
Sheer shades won't provide a complete "blackout" effect, and the inside of the room will still be partially visible (or at least hinted at) from outside. Therefore, they should not be used in bedrooms.
Skylight Window Shades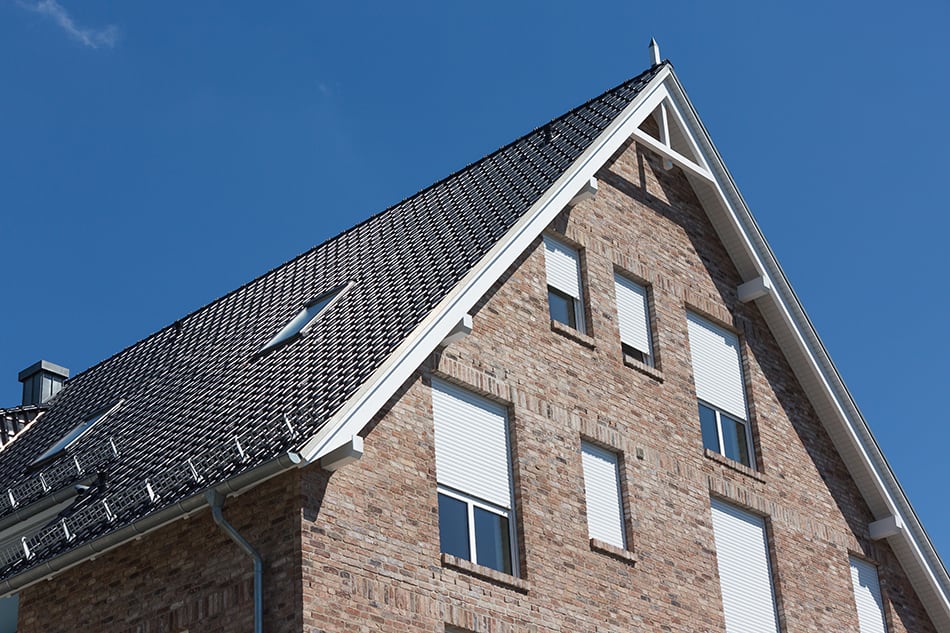 At first glance, skylight window shades are simple pulldown shades that cover a skylight.
Nonetheless, they are one of the best ways to preserve a room's insulation while still enjoying the natural light from a skylight. If you live in a very hot region, skylight window shades should also be coated with a weather-resistant or UV-absorbing material.
Skylight window shades can be relatively easy to install and clean, but this will also depend on the window's location. In homes with high roofs or asymmetrical layouts, it will be necessary to invest in a motorized opening system to operate comfortably.
Solar Window Shades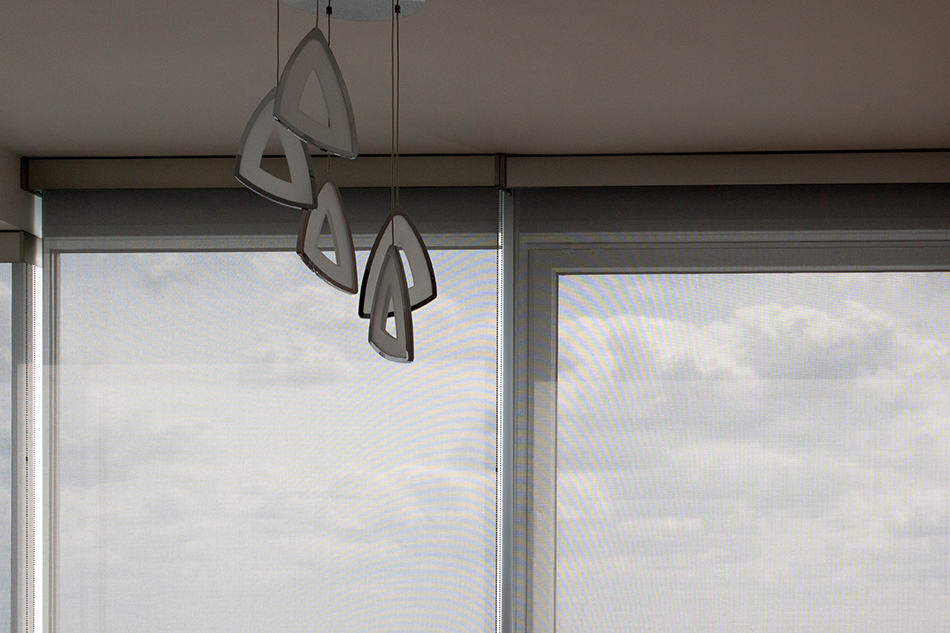 Although they originally became popular as part of the minimalistic décor movement, solar window shades are now mostly seen as part of traditional assembles. Solar window shades are usually made from woven polyethylene and used to cover lookout windows and roof-to-ceiling attic windows.
Solar window shades are made to reduce the amount of direct sunlight that enters a room rather than completely cover it. However, the polyethylene texture will blur the insides of the home better than with sheer shades, and therefore will protect your privacy better.
Bamboo Window Shades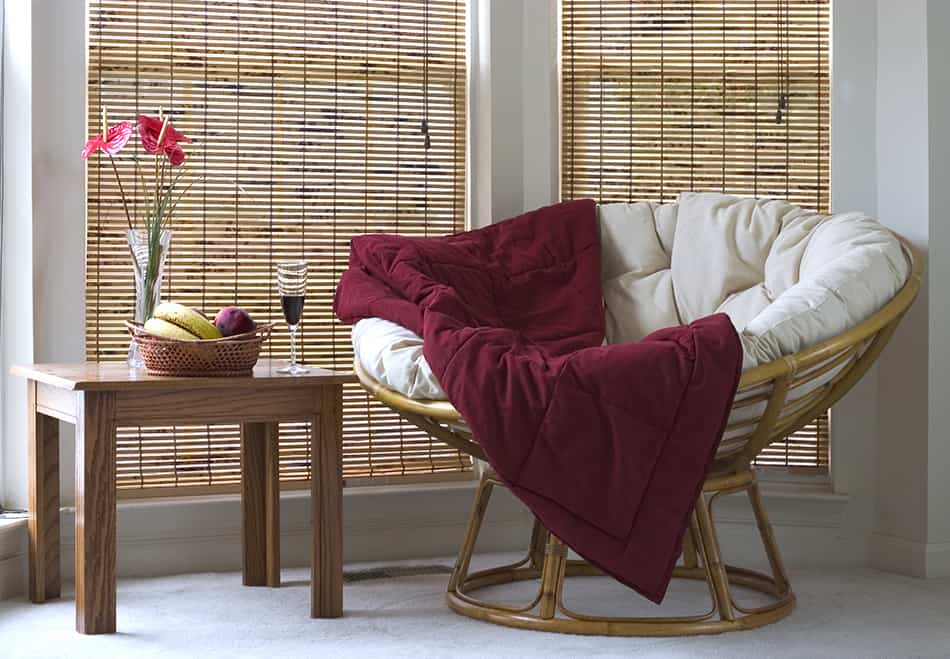 Trendy and eco-friendly, bamboo window shades are not just shades made from bamboo: almost always, these shades are used in rooms with a sleek, Japanese-inspired style. Lately, Roman shades made from bamboo wood are also becoming increasingly popular.
Bamboo shades come in a wide array of textures and thicknesses. You can choose the ideal one depending on the amount of light and insulation you need. Even very thick bamboo, however, will benefit from this plant's natural airiness: bamboo shades won't trap moisture or any unpleasant smells by themselves.
Dark bamboo window shades are often combined with balloon or sheet curtains, as they provide an appealing contrast.
Motorized Shades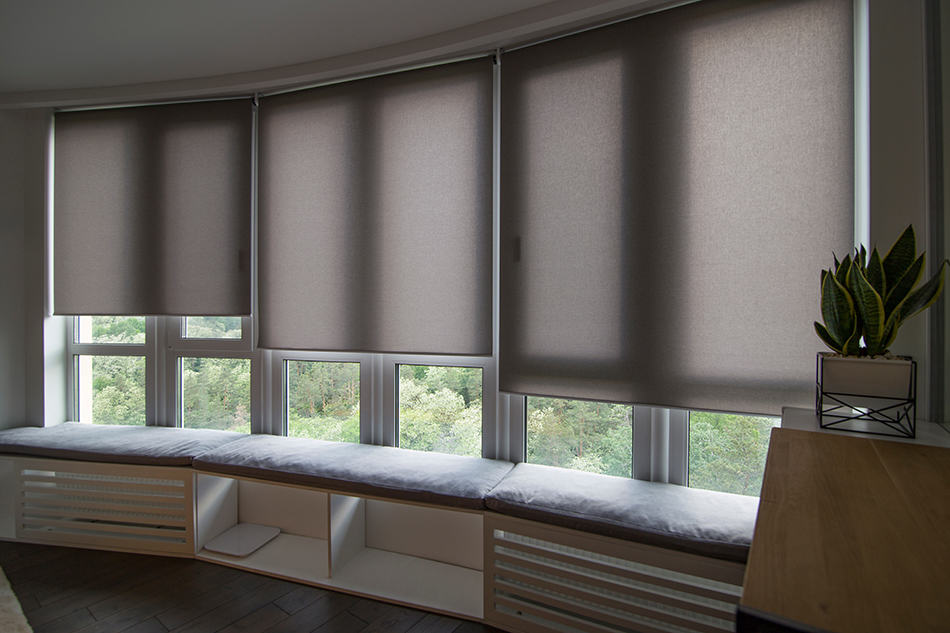 Motorized shades do away with cords, sticks, ribbons, or any sort of manual labor every time you want to let some extra light in. Most of the time, roller or cellular shades are the easiest models to motorize.
Older motorized shades used to require a side button to open or close. However, if you have installed Smart Home capabilities in your home, you can use your smartphone as a remote control instead. If you also have light sensors or cameras with IFTTT (If This, Then That) capabilities, motorized shades can even be programmed to open or close automatically at certain times of the day or under certain weathers.
Storm Shutters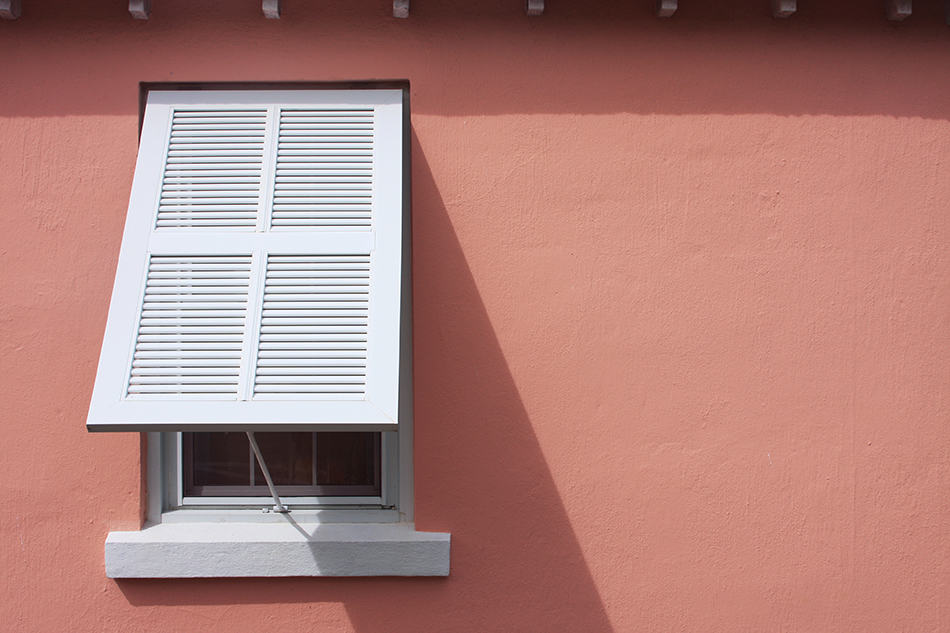 Storm and hurricane shutters don't really count as décor, as they are supposed to be eminently functional. Because of this, they often replace the usual fabrics with a sturdier composite material and tend to be placed on the outside of a window.
The main purpose of storm shutters is to keep water out and to protect the glass itself from being shattered by any flying twigs or debris. Nonetheless, they can still contribute to aesthetic appeal. The choice of horizontal versus vertical planks, as well as any special colors or textures used, can significantly boost a home's curb appeal.
A Quick Guide to Choosing Window Shades
In most modern homes, shades and draperies are not just an accessory – they are often one of the central aspects of a room. Depending on the layout, windows may even be more prominent than the main pieces of furniture, so the way we dress them should reflect this importance.
Many professional decorators recommend choosing the curtains and shades very early on, alongside the main wall colors. Only after walls have been painted and the room "framed" by the right shades should you start thinking about adding light fixtures, furnishings, and other objects.
Naturally, this is not always possible. Often, we need to rent a new furnished or semi-furnished place. Alternatively, you may be moving to your own home with the existing furniture that should not be discarded. The tips below will help you choose the best shades for each type of room in a way that will match the overall decoration style, the purpose of the room, and the overall characteristics of the house.
By Decoration Style
Decorative trends come and go every few years. There is no need to ensure the overall home is always following the latest style: it is more important to ensure the overall look is coherent, balanced, and pleasant.
Contemporary Style
The last 20 years have strongly favored pastel colors, warm natural light, and "Insta-worthy" nooks and crannies. Besides, there is a strong move toward energy efficiency and sustainable materials.
Contemporary décor styles also merge well with ethnic influences. In these cases, the pale browns and rustic feel of bamboo shades can provide both function and an artistic statement. If you want a green, energy-efficient home instead, cellular shades and rolling shutters can be turned softer with a pastel tint.
Minimalist Style
The basic premise of the minimalist style is that less is more. Minimalism favors parallel, thick lines rather than asymmetrical ones. If possible, no lines or pleats should be visible at all.
Often, this emphasis on simplicity hides very well-crafted and highly curated materials. This is why one of the most popular types of shades used in minimalist décor is Roman shades. Their neatness and careful construction will look well around open layouts and free spaces.
Alternatively, cellular shades with a metallic or matte finish will also merge well with the minimalist style.
Mediterranean and Beach-Inspired Styles
Beach décor is all about bright colors to accentuate the fun and warmth of summer. When it comes to shades, this translates into sheer materials that allow large amounts of sunlight.
Sheer pleated shades will usually go well here, especially for dining rooms or balconies with very large windows. For smaller windows (especially those located on the upper third of a room), heavier balloon shades can give you a chance to play around with nautical colors.
Industrial Style
Industrial styles offer simple, rounded lines combined with solid colors. A metallic finish is not necessary, but it helps to tie the whole look together. Often, this is compounded by steel accents or smooth cement walls. This look is a favorite for home offices, studios, and game rooms. These are also the types of rooms where it's best to hide the passage of time. For this purpose, it's a good idea to stick to roller shades thicker fabrics that can provide a blackout effect. Alternatively, mechanized or automated cellular shades or even solar window shades are also a good option.
Country or Rustic Styles
Either by adding hints of country living or by incorporating more radical elements from the cottagecore or neo-Victorian trends, country styles rarely shy away from complex accents or dark wooden pallets.
They also like to draw inspiration from vintage trends. This can be achieved by mixing old-school curtains with balloon or tie-up shades. Paradoxically, the rich texture of bamboo can also merge well with other elements typical of country or rustic style, such as farm motifs or exposed brick.
By Window Type
In general, shades work best with rectangular or square windows. Irregular, curved, or round windows can be made to appear larger by using smooth solar shades.
Tie-up shades can be used to highlight a specific window's uniqueness, especially if it offers an appealing view of a garden or greenery. If you opt to install them on a mounting board rather than hang them from a bar, you can use the board to hide part of the window's shape instead.
If you have large and wide windows, either pleated or rolled up window shades will look tidy and discreet. Steer clear from Roman shades on very wide windows: the clean effect of horizontal lines will be lost if the shades become crooked. This is more likely to happen on wider windows, as the weight itself will drag part of the fabric down.
If you have tall and narrow windows, they can be made to appear larger through vertical shutters or cellular shades instead.
The direction the windows are facing also matters. If you have west-facing windows, this can lead to an overly stifling, hot room in the afternoons. You can prevent this by using thicker materials or honeycomb shades
By Room
From a practical standpoint, the primary function of window shades is to provide privacy and some degree of control over the light entering a room. This should match the room's purpose.
Living Rooms and Family Rooms
These rooms are likely to be used for entertaining, so they should be appealing and stimulating whenever possible. These rooms are also likely to be the most polished ones in the house and often need to be ready to impress.
Therefore, investing in Roman shades, or even more elaborate combinations of shades and curtains, tends to pay off best in living rooms. If you hold parties regularly, this is the style to go for.
At the same time, living rooms are also usually located on the ground level and within direct sight of nearby streets. This means that you should also consider more private, light-blocking models for your living room. If you also hold parties regularly, mechanized roller shades will save you the hassle of interrupting the conversation to close the curtains.
Bedrooms
Bedrooms are the most private part of a house. They also need to be dark and quiet enough, especially if you are a late riser or a shift-worker. Blackout shutters and honeycomb shades will significantly increase your sleep quality, as they block a large amount of noise and light alike.
On the other hand, it's best to keep pleated or bamboo models away from bedrooms. Pleats and bamboo tend to gather dust, which can create problems for any allergy sufferers.
Kitchens and Dining Areas
Any rooms where you eat or cook are going to be continuously exposed to heat, oil splatters, and strong smells. Therefore, it's best to avoid blinds altogether here or to use only washable, light materials. Steer clear from rolled up or Roman shades that would be difficult to disassemble.
Conclusion
Choosing window shades for any room is a major decision and one that deserves thought and care. Windows naturally draw the eyes of visitors and passers-by alike, so it's important to choose harmonious colors that match their surroundings. Beyond esthetics, window shades also play an important practical role: they will allow you to control and alter the amount of light that comes into any room, protect it from prying eyes, and even from extreme temperatures.
Before ordering whichever window shades are on sale, make sure to consider all the factors mentioned above. However, don't take any "décor rule" as gospel: at the end of the day, your home is your castle, and it should serve your needs and tastes before those of anybody else.
Like painting a room, you can also change your shades every couple of years or rotate them to give your rooms a fresh, new look. You may want to change them with the seasons to match or complement your seasonal or holiday decorating style.