When it comes to choosing the most suitable blinds for your home, it can be a little confusing to know which one is right for you. After all, you must decide between function and style as both can be quite difficult to achieve. Since there are so many different types of shades, it would help if you learned about their main functions and advantages before deciding on the right one. To make this task easier for you, I've put my thinking caps on and came up with 20 different types of blinds and material options that you can choose from. 
5 Advantages of Blinds
– Better insulation: since up to 50% of your home's cooling and heating can escape through windows, it's not surprising that many homeowners opt for blinds to insulate their homes. These types of window coverings also reduce carbon footprint as they use less energy, but this depends on the material and the type of blind you choose…more about that later.
– Better light and privacy control: some customizable blinds can be tilted up or down for maximum light and privacy control. Unlike curtains that don't completely block out the light, blinds have the ability to filter UV light and prevent it from entering your home, thus protecting the furniture.  
– Aesthetically appealing: modern blinds add aesthetic appeal to any property. This is especially true with the latest versions of wood blinds that look elegant in rustic homes. Metal blinds, on the other hand, fit the industrial look perfectly.   
– Low maintenance: all window coverings require occasional dusting and cleaning, but they are the easiest window coverings to keep clean. No need to take them off every fortnight or so like you would with curtains – just wipe them down using a wet cloth or a feather duster.
– Not just for windows: blinds aren't just used for covering the windows. They are also ideal for dividing large spaces. When hung from the ceiling, they act as tall shutters that conceal messy work areas or divide bigger rooms into smaller spaces.
Now that you've learned a little about the main advantages of blinds, take a look at the following 20 common types of shades.
1. Roller Blinds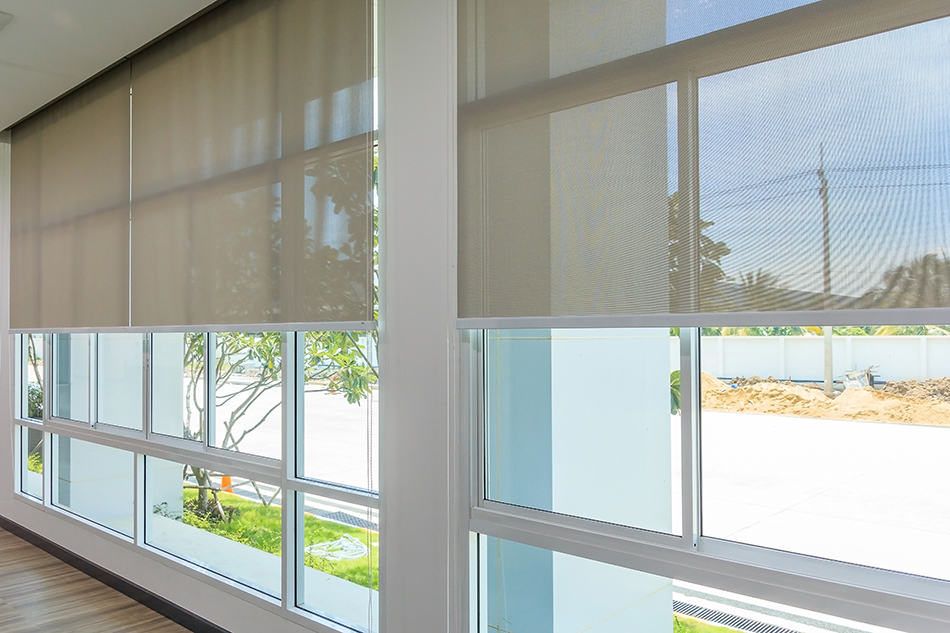 Roller blinds are one of the most popular and straightforward options for homeowners. They can simply be rolled up and down using cords, and you can choose from a variety of different sizes, fabrics, and colors. These blinds adequately provide privacy and light control and work well in all environments.
The cordless variety of roller blinds are especially attractive as they have built-in features. In addition to their modern and elegant appearance, these types of roller blinds offer maximum privacy and UV protection. Since there are no cords that may entangle, they make a safer option for households with children or pets.
2. Horizontal Blinds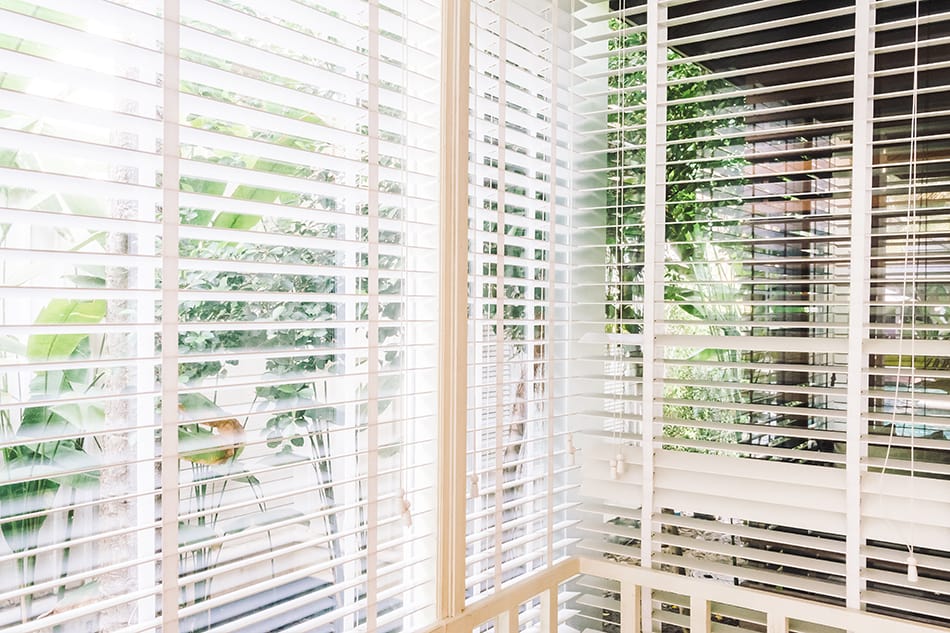 Horizontal blinds consist of more slats per foot, thus less light will leak through. However, the older versions can be a chore to keep clean. Thanks to their adjustable louvers, they offer excellent light control with cords located at the back of the slats for safety. As far as the cleaning is concerned, the newer models have an antistatic feature that prevents dust buildup.
3. Vertical Blinds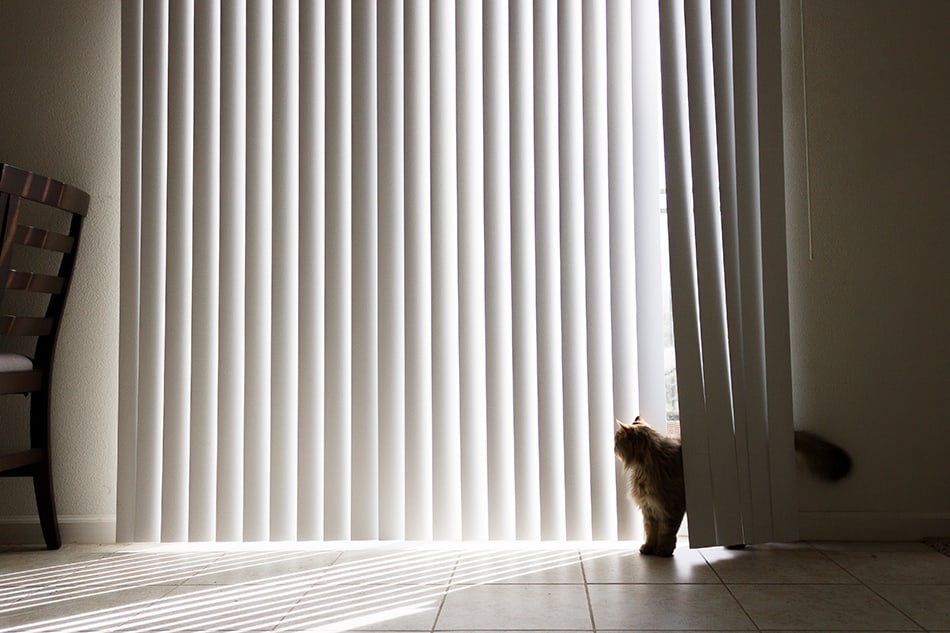 Vertical blinds can be used in any room of the house, from the bedroom to the patio and even the laundry room. These classic types of blinds offer excellent privacy and filter light very effectively. Their anti-glare properties are due to the materials they are made from, thus making them perfect for south-facing windows in study rooms and work areas.
4. Venetian Blinds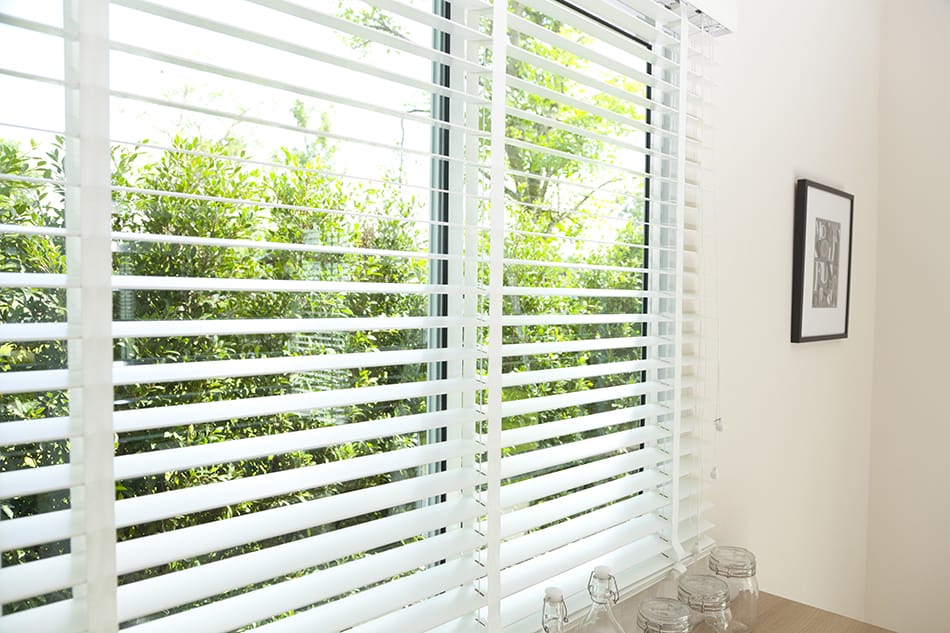 Venetian blinds are perfect for controlling light from entering the room. These aesthetically appealing blinds are made of metal slats in various widths that tilt and are excellent options for homes. Venetian blinds are the classic types of window coverings with suspended cords that can be rotated 180 degrees for maximum light control.
5. Honeycomb Blinds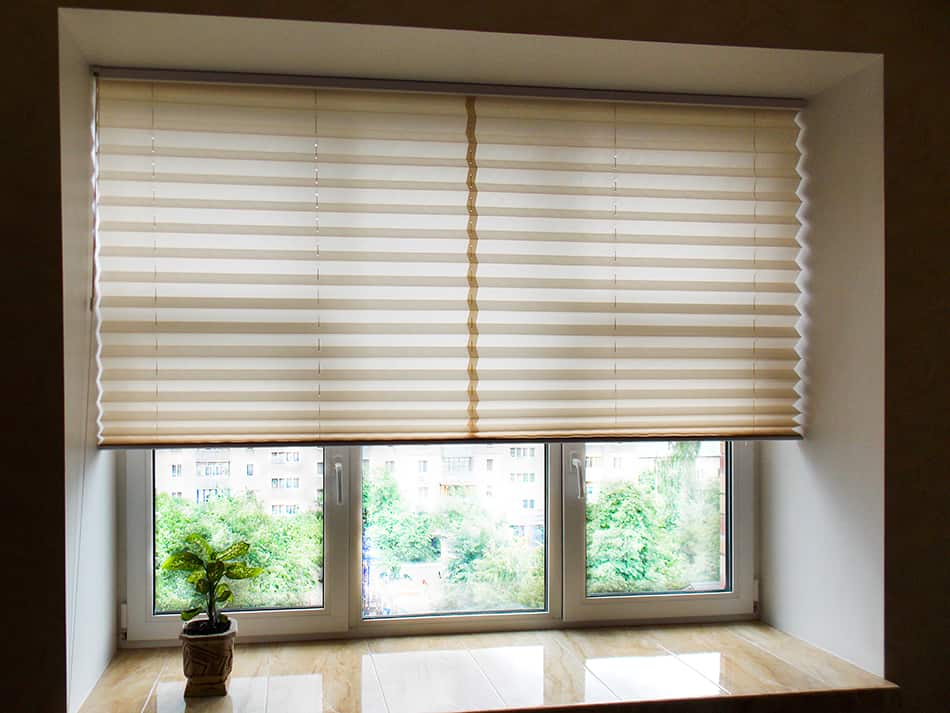 Available in single or double cells, the sleek and sophisticated honeycomb blinds help regulate your home's indoor temperature. These blinds effectively filter light and help prevent heat from escaping through the windows. In summer, they keep the room cool by eliminating UV rays, thanks to their protective barrier. This in turn will prevent your furniture or flooring from fading under direct sunlight.
The vertical versions of honeycomb blinds are trendy designs that not only insulate the window with their cells, but they also help regulate air. These types of honeycomb blinds are especially ideal for sliding patio doors and larger windows. They are particularly suitable for households with small children and pets as they are cordless. What's more, these blinds are effective in absorbing sound and preventing cold air from entering the room.  
6. Roman Blinds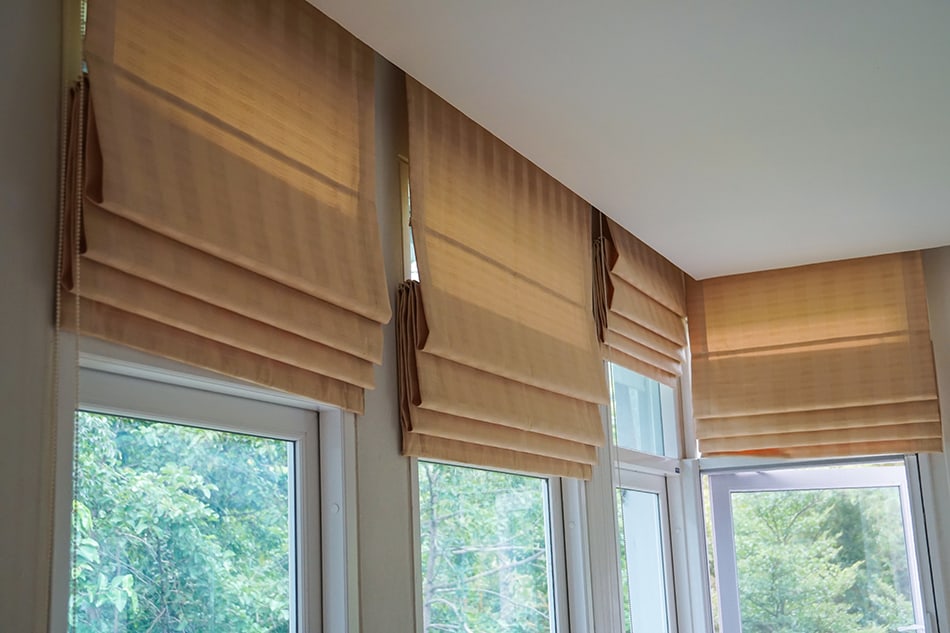 For a more luxurious option, Roman blinds make the perfect choice. These blinds are excellent for keeping the cold out, and since they are easily adjustable using a chain to lower or raise their slats, you can personalize them to complement your interiors. Some Roman blinds feature soft fabric folds in various styles and patterns, but they are not suitable for bathrooms as they are prone to moisture.
These blinds work very well in the living room and bedrooms where you wish to add an elegant and luxurious touch to your interior decor.  Their solid design makes them highly effective in keeping out heat and cold, thus allowing you to adequately control your home's indoor temperature. This makes Roman blinds one of the most energy-efficient solutions.  
7. Top Down Bottom Up Blinds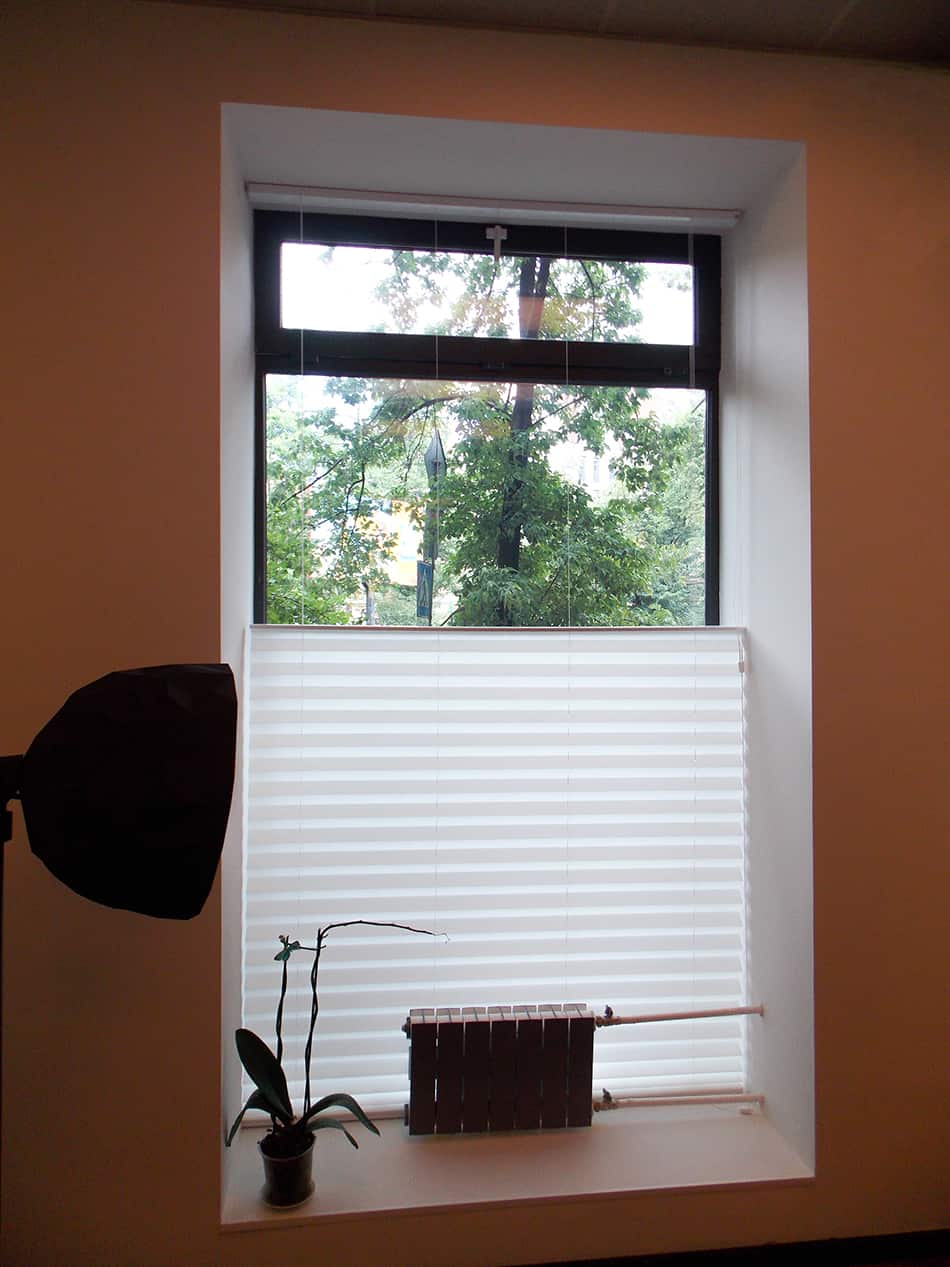 These types of blinds are for those who want to have maximum light and privacy control. The top down bottom up blinds allow you to move the blind down from the top, or the other way round. This means you'll benefit from maximum privacy without sacrificing natural light. But you can also have the option of completely filtering natural light for whenever you're watching TV in your living room or home cinema. These blinds work well in bedrooms, kitchens, and living rooms, but not in bathrooms as they are not damp resistant. They are customisable, which makes them suitable for all window dimensions and interiors. If you want to create a visually appealing and stylish focal point in your living room, then these blinds make the best choice.   
8. Sheer and Semi-sheer Blinds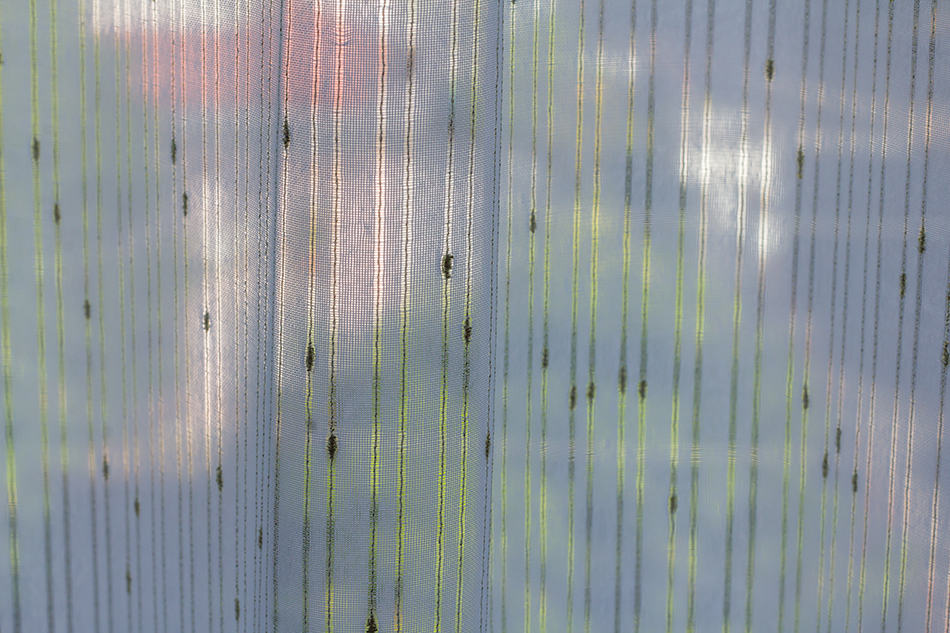 For rooms that don't require much privacy, the sheer and semi-sheer blinds make the right choice. These blinds are mainly used for decoration purposes and allow natural light to pass into the room thanks to their special fabric composition. The sheer and semi-sheer blinds enhance a room's ambiance by softening the incoming light. However, these blinds aren't recommended for home theaters as they don't block the natural light.
9. Blackout Blinds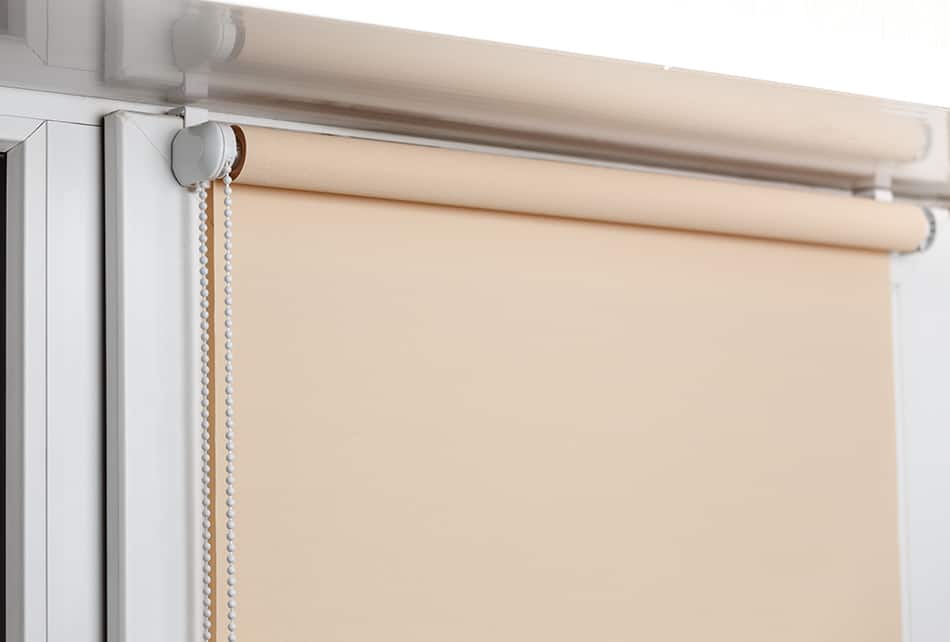 Blackout blinds, on the other hand, are perfect for home theaters and lofts. They are ideal for those who work on their computers at night and sleep during the day. These blinds effectively block light from entering the room and can be fitted on any window frame.
10. Skylight Blinds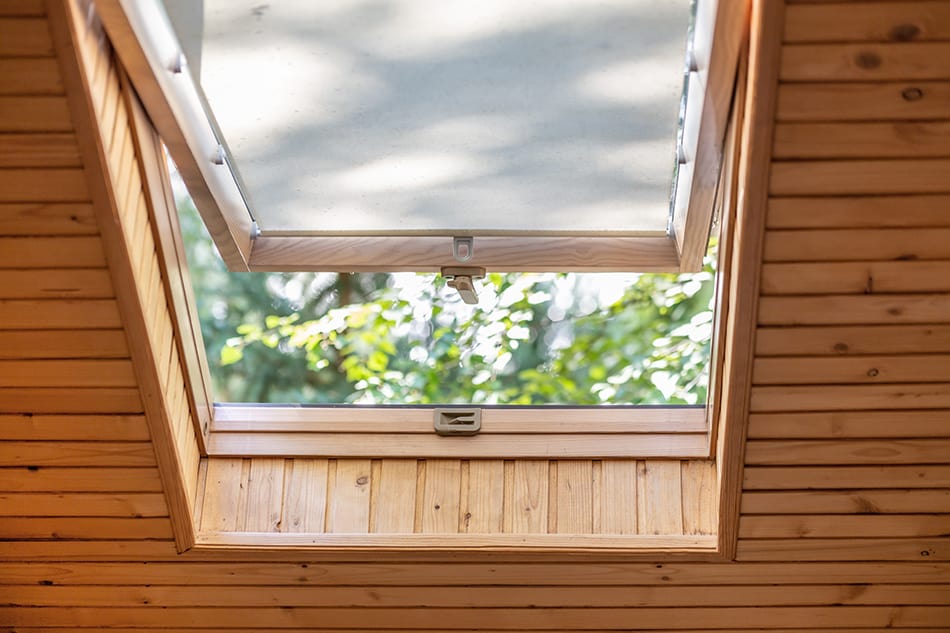 Skylight blinds are available in an impressive range of colors and patterns. They work excellently with velux windows in converted attics, kitchens, and patios. You can choose the blackout fabric for maximum darkness, but there are also other materials that filter light. The colored fabrics allow you to choose a specific shade to complement your room's decor and create ambiance. 
11. Panel Blinds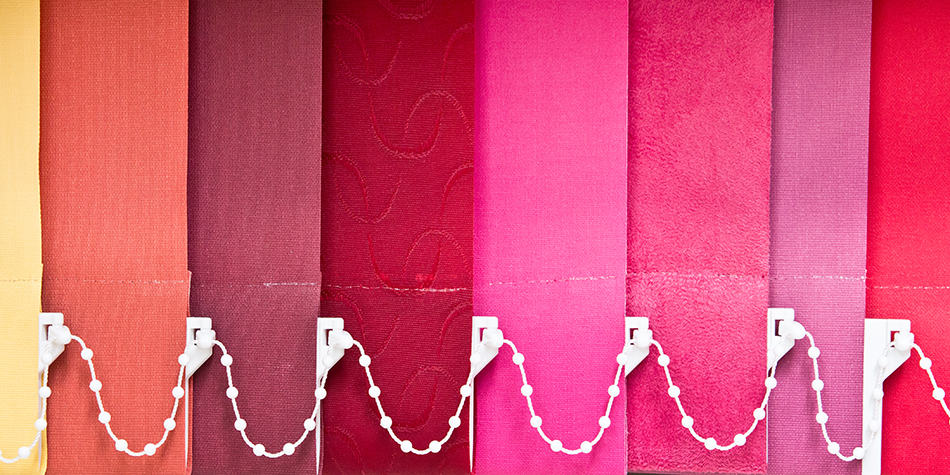 These contemporary blinds are perfect as room dividers not just window coverings. They add color and dimension to any room of the house. There are also patterned versions of panel blinds that act as a focal point in a living room.
12. Pleated Blinds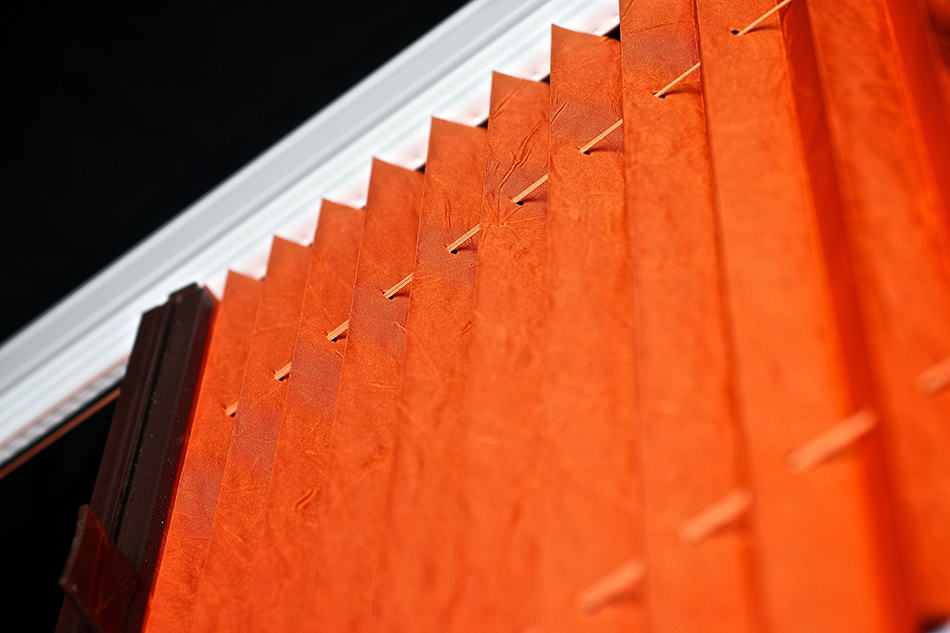 To inject some style into your room, consider pleated blinds. These window coverings bring a modern feel to any room and are made of honeycomb fabric folds that can be extended out or tucked away discreetly with the help of a cord. Some models can simply be tabbed to raise or lower the slats. 
13. Motorized Blinds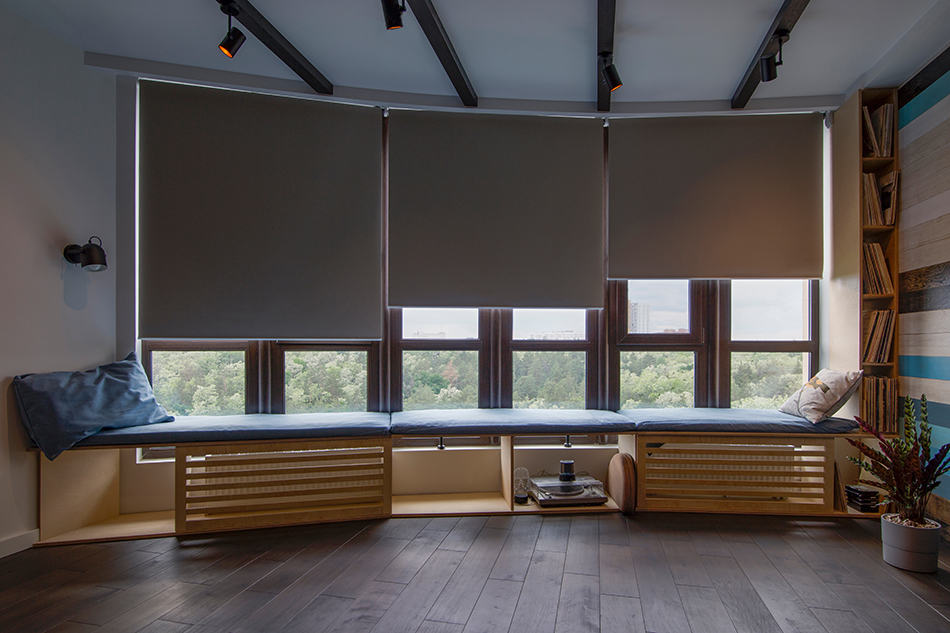 Motorized or electric blinds are the most convenient shades that require minimum effort to open and close them. These mechanical blinds operate with a simple push of a button. Some models come with a remote control so you won't even have to get up from your seat to adjust them!
14. Solar Blinds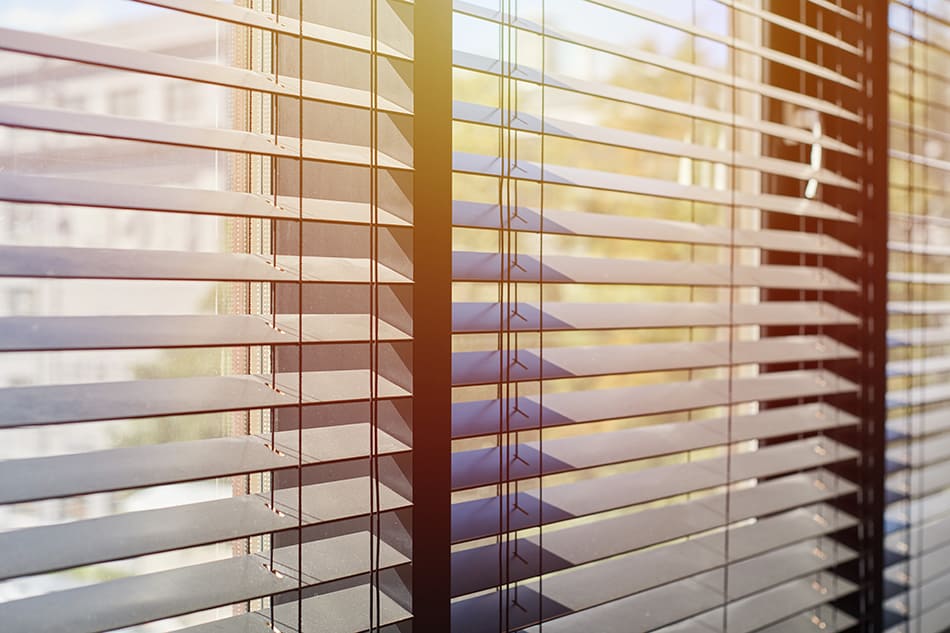 Solar blinds are designed to filter light with a greater control over how much sunlight you want entering inside. Even though solar blinds don't let much sunlight enter the room, they don't actually block your view. This is because the sunlight is filtered in a non-transparent way. Solar shades are the perfect window coverings to spruce up your living space and protect your skin from UV damage. 
15. Smart Blinds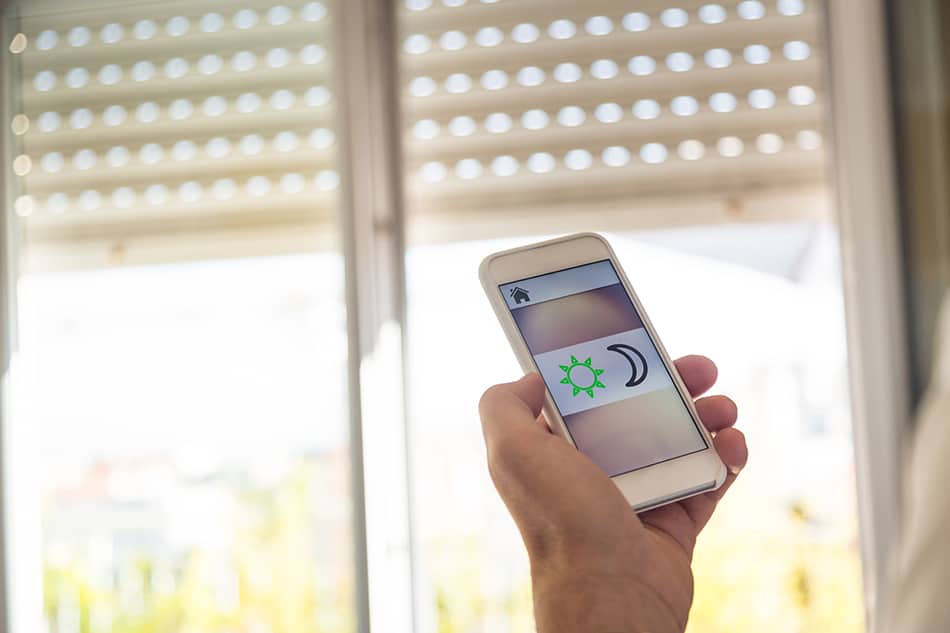 Every smart home needs smart blinds. These advanced window coverings are versatile and easy to function, with different features to suit a particular room. Whether you live in a contemporary or traditional home, the high-tech smart blinds will perfectly suit your interior decor. All you need to do is sync them with your smartphone by downloading the app so that you can have maximum control. They can be programmed to open and close at desired times of the day. 
Material Options for Blinds 
Blinds aren't just available in different styles, but you can also find them in various materials. These include :
1. Wooden Blinds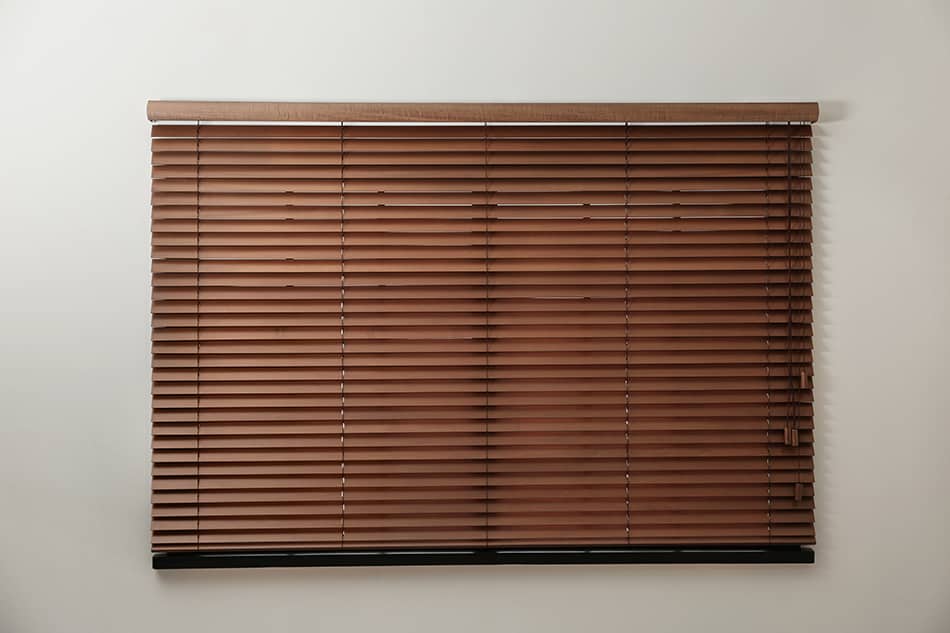 Wooden blinds are the pricier options but they offer high durability, sophistication, and strength. However, they're not suitable for bathrooms or anywhere with high humidity. Wood can warp over time due to moisture plus it runs the risk of fading in sunlight. Having said that, it makes an ideal window covering option for living rooms and bedrooms.
2. Faux Wood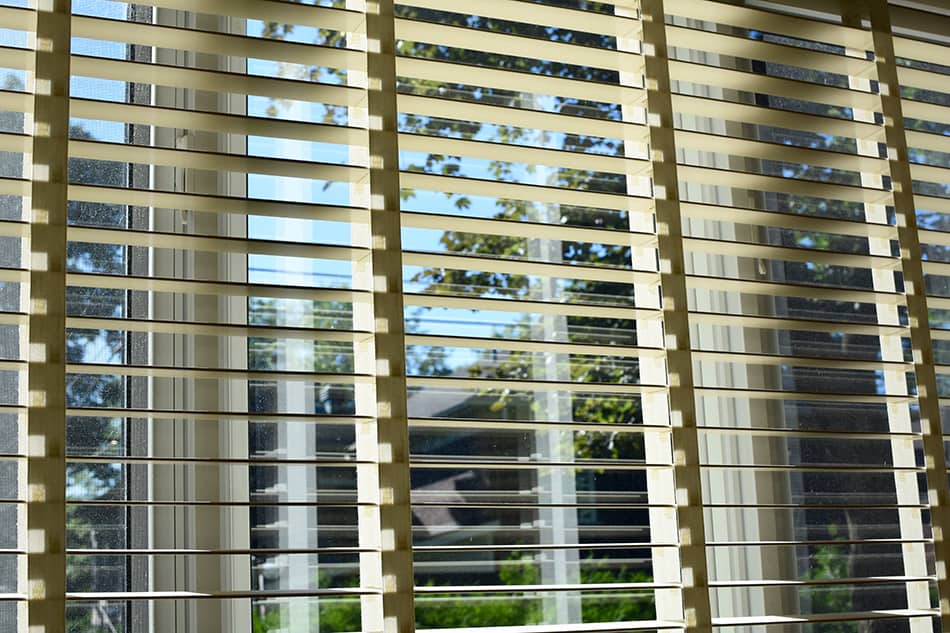 If you like the look of wood, but you don't want the drawbacks of this material, opt for faux wood instead. Faux wood is a type of synthetic material that won't warp nor age in the sunlight. Faux wood blinds are customizable and can be used in the bathrooms as they withstand moisture. This composite version consists of synthetic wood and plastic components that look like wood but are as durable as vinyl. 
3. Vinyl Blinds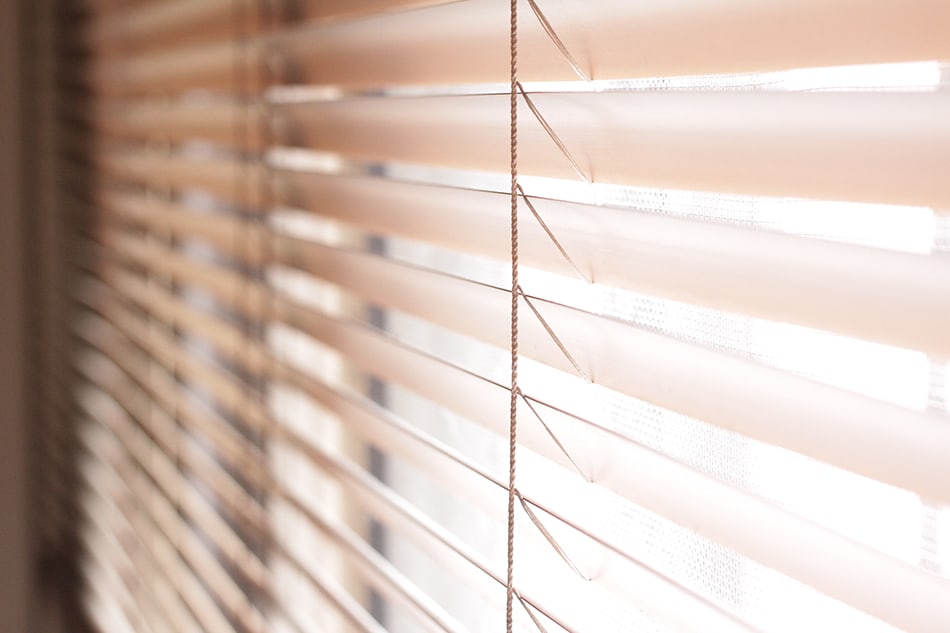 Vinyl is another synthetic polymer material like faux wood that's highly resistant to aging. No matter which room you use vinyl blinds in, they are perfectly suitable for your environment. This material for blinds is easier to maintain than wood and can be customized to suit all tastes. Moreover, vinyl is more affordable than most other types of blinds. Perhaps the biggest drawback to vinyl is its lack of aesthetic appeal. Unlike wooden blinds that provide a luxurious look, the same can't be said about synthetic blinds. Furthermore, some vinyl blinds are so thin that they can become damaged over time. 
4. Aluminum Blinds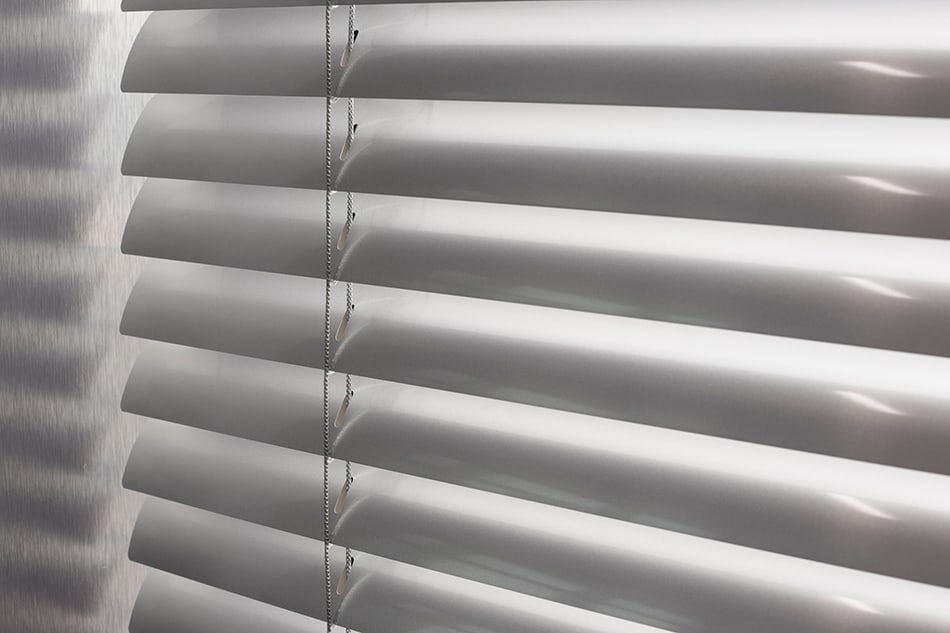 Aluminum is a highly durable material that offers excellent control over light. These types of metal blinds possess useful features that make them perfect in any room. Aluminum looks similar to synthetic and is available in a variety of finishes. It's resistant to damp and ideal for bathrooms and laundry rooms. This type of material for blinds tends to be thicker and more durable than wood, but it is much noisier during operation so it may bother some people.  
5. Bamboo Blinds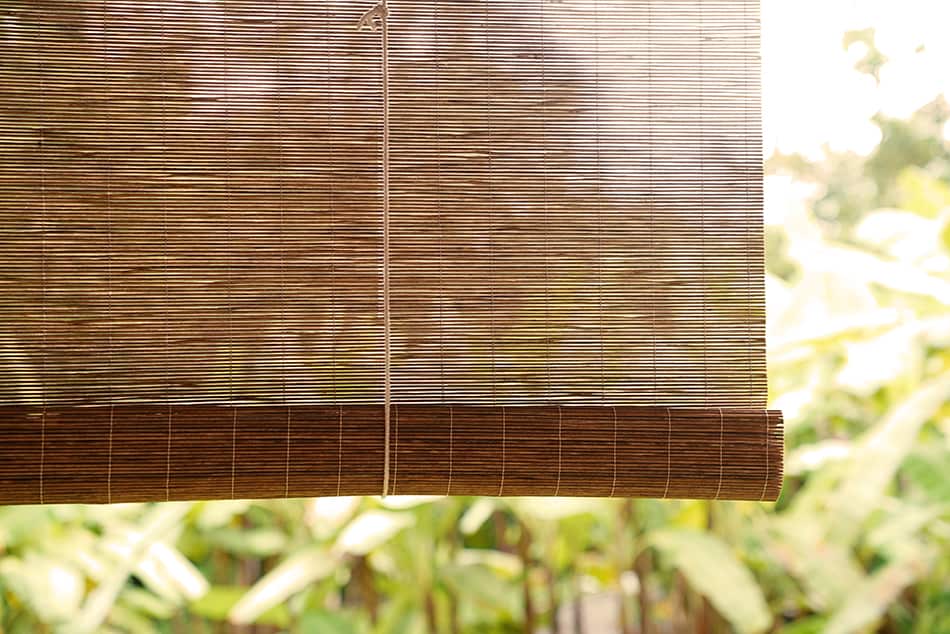 To add charm and character to your living space, consider an environmentally friendly material that's highly suitable for both warm and cold climates. Bamboo blinds look bohemian and work beautifully in minimalist and Japanese style interiors. These blinds look similar to large sushi mats and are large enough to cover the entire window. You can choose from different colors and designs, from stylish modern to casual and traditional. Bamboo blinds are the sturdy and inexpensive option for window coverings of any room but they're not as durable as metal blinds plus they normally come with cords, which may not be suitable in households with small children.