Nothing makes a home more beautiful and smart-looking than a curtain! Curtains add a special appeal to a room space. Just like every aspect of an interior decoration plan, beautifully-hung window treatments, shower curtains, and their alternatives can play an integral role in a home's overall aesthetics.
Curtains bring color and style to a window while offering privacy from the prying eyes of the neighbors. These window treatments also help prevent sunlight from entering the room.
Choosing the right curtain for your home can be a challenging process as there are many styles and fabrics available. There is also the matter of differentiating between curtains and drapes. So to make this task a stress-free experience for you, I've compiled a comprehensive guide to different types of curtains, their linings, and material options.
Before we get started, let's first take a look at the main differences and similarities between curtains and drapes:
Differences Between Drapes and Curtains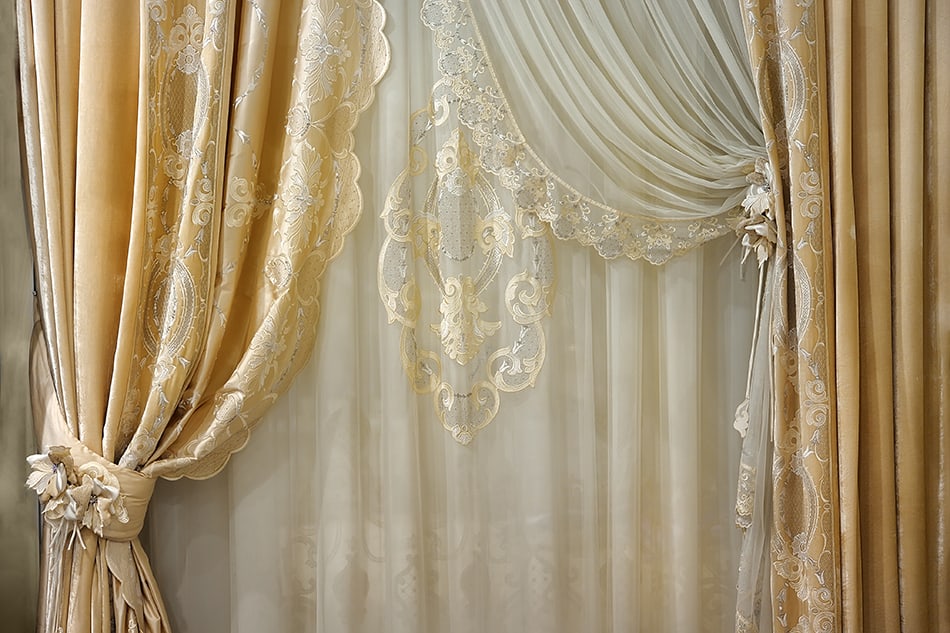 A drape is a more formal window treatment than a curtain
Drapes are heavier in weight as they are made from thicker fabrics
Curtains are more popularly used in homes, restaurants, offices, and hotels, whereas drapes are mainly seen in the dining rooms of stately homes or mansions
Most drapes tend to be longer in length than standard curtains
Heavy drapes do a better job of keeping the cold air from entering the room through the window
Curtains can easily be hung or taken down, whereas drapes require more effort due to their heavy fabric and long length
Drapes require dry cleaning or steam cleaning because of their special material, while curtains can easily be washed at home using a washing machine (select the delicate cycle)
Curtains are opened and closed by pulling the fabric, but drapes can oftentimes only open and close via a drawstring
Drapes are generally floor-to-ceiling lengths, while curtains only drop to below the window sill
Similarities Between Drapes and Curtains
Both drapes and curtains are available in a wide range of patterns, colors, and styles
They can both be opened or closed in front of the window
They are both available in different widths and lengths
They can both be tied back using decorative ribbons to let the sunlight in through the window
Drapes and curtains can last for many years if they are well-maintained
They both suit all budgets
17 Popular Types of Curtains
1. Single Panels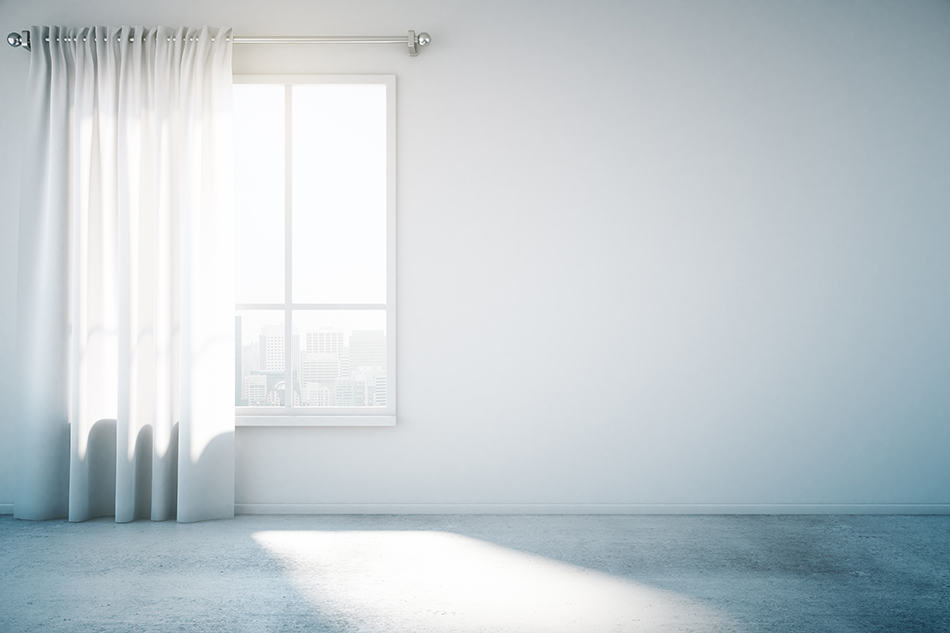 Just as the name suggests, single-panel curtains are made using only one fabric piece. These types of curtains have a wide variety of uses. They are also ideal for sliding glass doors and can even be combined with several single panels to cover an extra-wide window.
Single panels are mainly used on small windows. They can be tied back for maximum light or hung straight for privacy.
2. Valances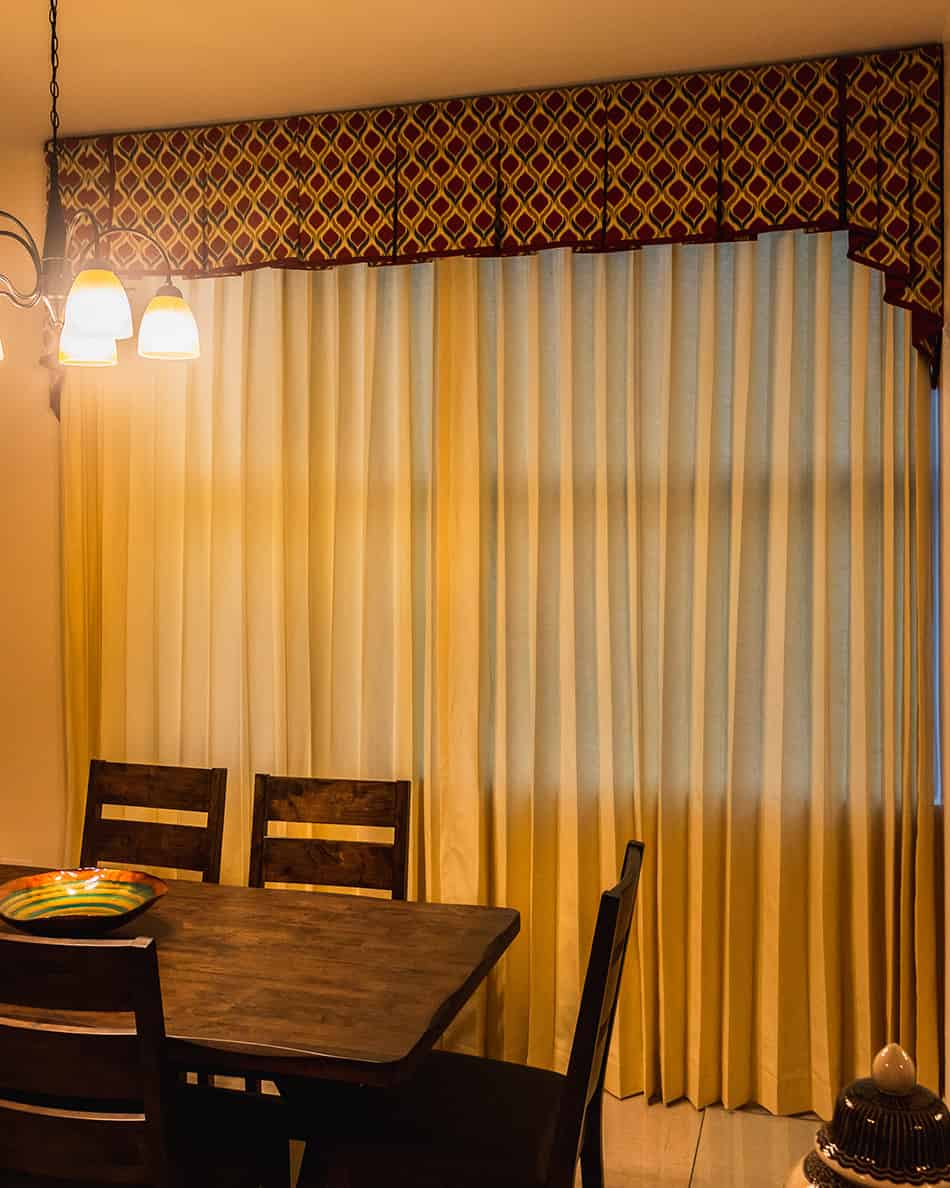 Valances are decorative types of curtains that are used to hide the fixtures at the top of the window and add color and pattern to the room. These curtains are usually made of plywood and mostly flat-designed like a box shape.
Valances are a great addition to the interior decorative details in the bedroom, home office, or restaurant. They come with a pleated or gathered heading and are the perfect finishing touch to a window dressing.
Tip: to create a luxurious look in your bedroom while hiding the curtain rods, consider hanging a pleated valance.
3. Cafe Curtains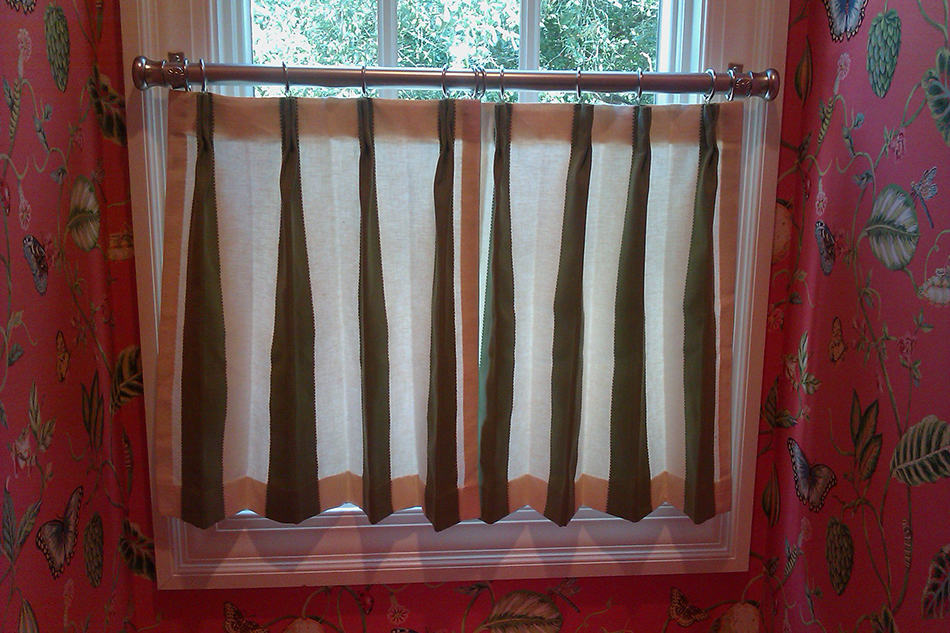 These types of curtains are hung halfway, mainly closer to the lower part of the window. The curtain's height can be made to match the divider liner of the window.
The main advantage of opting for a cafe curtain in your home is the privacy it offers. You can also control light without completely blocking it thanks to its opening at the upper part of the window. These curtains work well in kitchens and bathrooms.
4. Window Scarfs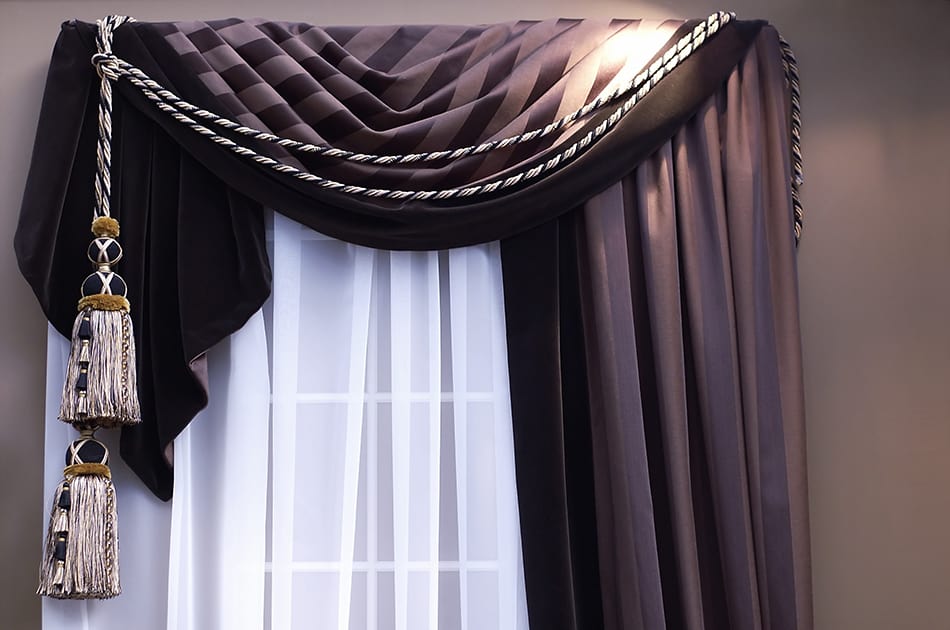 These curtains consist of long and continuous fabric pieces that simply hang in front or on the side of the window. Although window scarfs aren't very elaborate in their hanging style, they are nevertheless very simple to hang; just use a rod and drape the scarf over the rod, or hang it between two brackets.
Window scarves provide a soft framing around the window, but they don't do a great job of blocking the sunlight.
5. Ripplefold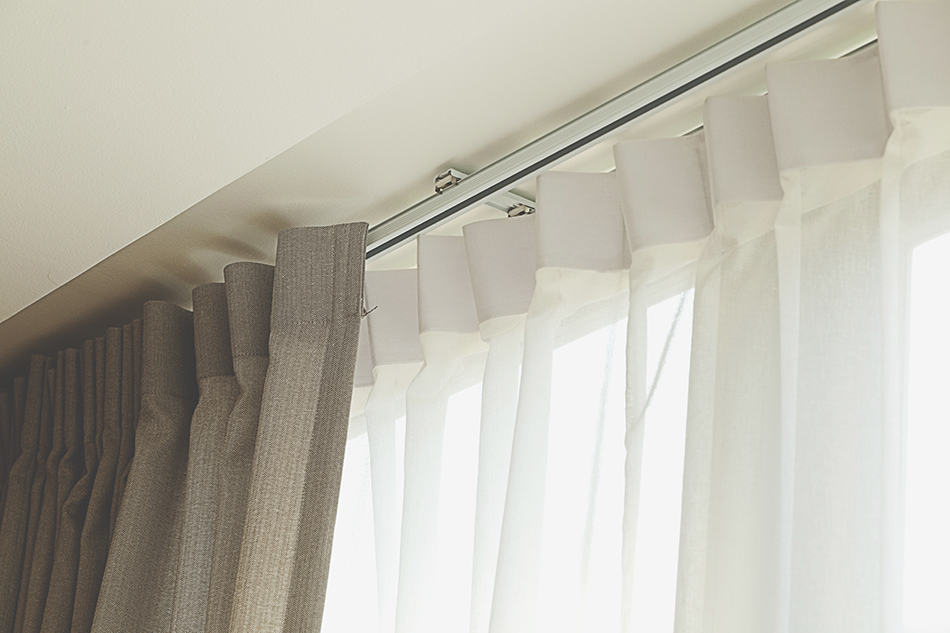 No more bulky curtain rods! With ripplefold curtains, dressing your window is an effortless task. These curtains stay in a zig-zag shape and are the best alternative to bulkier curtains.
Ripplefold curtains are usually customized to create the perfect spacing between the ripples. They are constructed using double fabrics for a fuller look, so no need to add additional width. These curtains come with a custom-made track that can either be mounted to the wall or ceiling.
6. Pinch pleated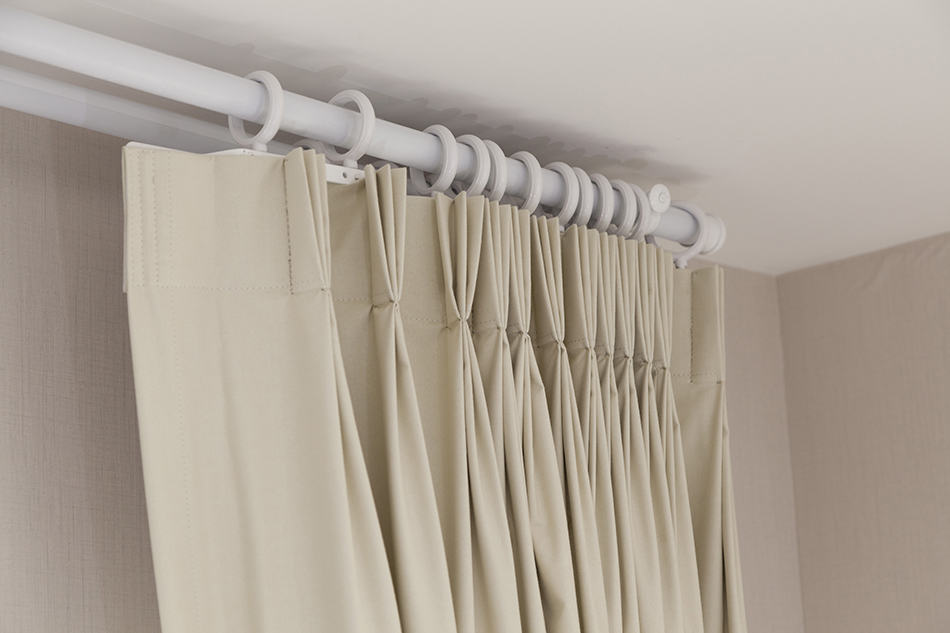 Pinch-pleated curtains are the most common (and popular) type of pleated curtains that are pinched and stitched at the top. This allows the fabric to fold from the bottom, thus creating a formal and elegant look.
These pleated curtains range from two to five-finger pleats for a fuller appearance. However, the most common type is the three-finger pinch pleat.
Pinch pleated curtains are ideal for light and privacy control, and they can be opened or closed with great ease. These curtains are suitable for living rooms, game rooms, and bedrooms.
7. Inverted Pleat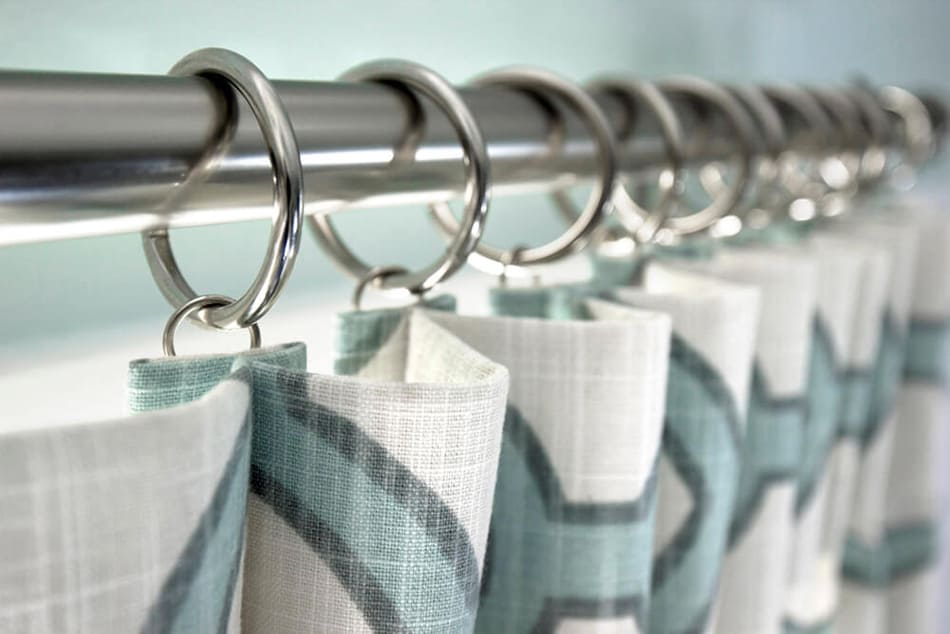 For those who prefer a unique look in their living rooms, the inverted pleat curtains make the perfect focal point. The inverted folds in these pleats are hidden to create a flat surface at the top of the curtain.
Inverted pleats are a good option if you like pleats but prefer something less traditional than pinch pleat curtains.
8. Box Pleated
To create a stylish look in any room of your house, consider box-pleated curtains. The fabric of these curtains is deeply folded inward, and instead of having hooks on top with a border, the pleated box curtain is attached to the pole with clips that keep it in position. Box pleated curtains work well in casual living rooms and dining rooms.
9. Goblet Pleated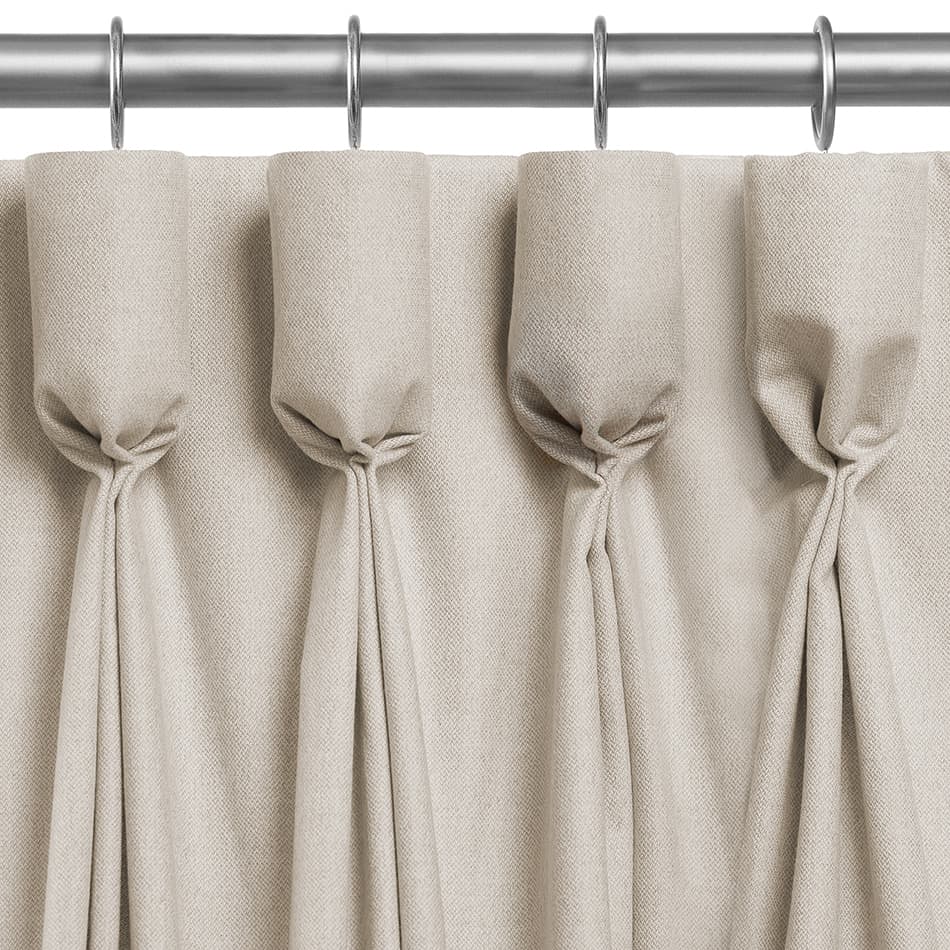 The goblet pleated curtains are perfect for large, formal living rooms with high ceilings. These curtains get their name from their resemblance to a wine glass. Georgian and Colonial-style homes tend to have goblet pleated curtains for a traditional look.
The top part of the goblet pleat has a cylindrical cuff, while the pleat itself is interlined. You can use them as a draped hem on the floor or tie them back with a rope.
The delicate structure of the pleats means they should remain hanging in a stationary position or just decorate the window.
10. Versatile pleated
Just as their name suggests, versatile pleated curtains are highly convenient for any type of window. The tape of these curtains is knitted on the top part of the panel with hooks pinned to the tape. It's also possible to remove these hooks to create up to 5 new headings.
11. Rod Pocket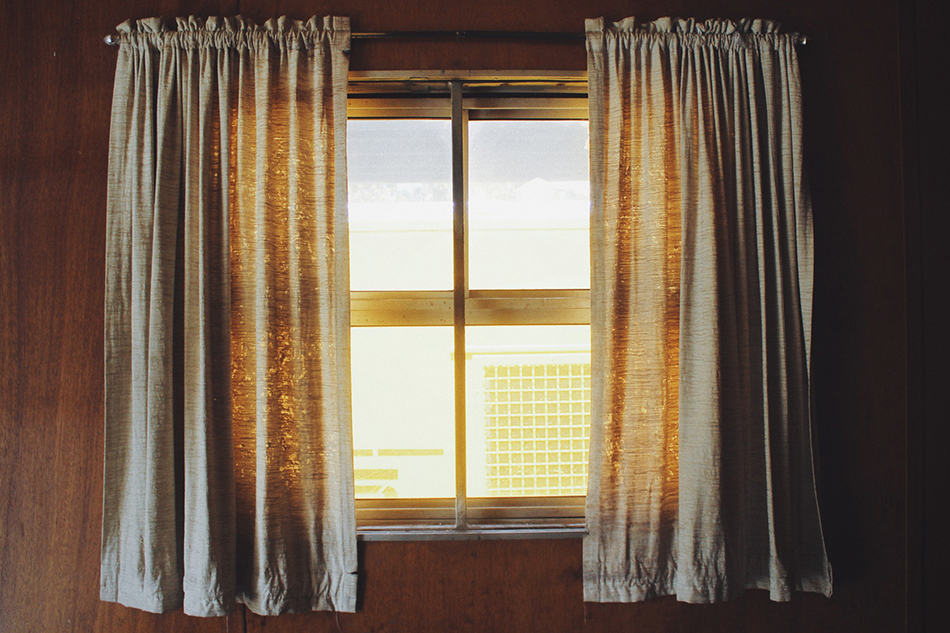 The rod-pocket curtains are usually made from lightweight fabrics. These curtains are a lot more casual in design and easy to assemble: simply slip the rod through the pocket, and you're done!
These curtains are made by creating a casing on the top. This casing passes over the rod, so there is no need for curtain rings.
Once you've assembled a rod-pocket curtain in your living room or bedroom, you'll notice how the rod becomes almost invisible under the curtain, as though it's integrated into the wall.
Since these curtains are made from lightweight materials, they are best paired with a second layer for maximum privacy.
The panels of rod-pocket curtains are compatible with thinner rods, so it's not a good idea to open and close them too often.
12. Thermal curtains
Thermal curtains are generally made from layers of acrylic foam. These types of curtains offer maximum insulation, block out sunlight and noise, and protect the living room or bedroom from uncomfortable drafts. This makes them the ideal curtains for cold winters.
13. Eyelet pleated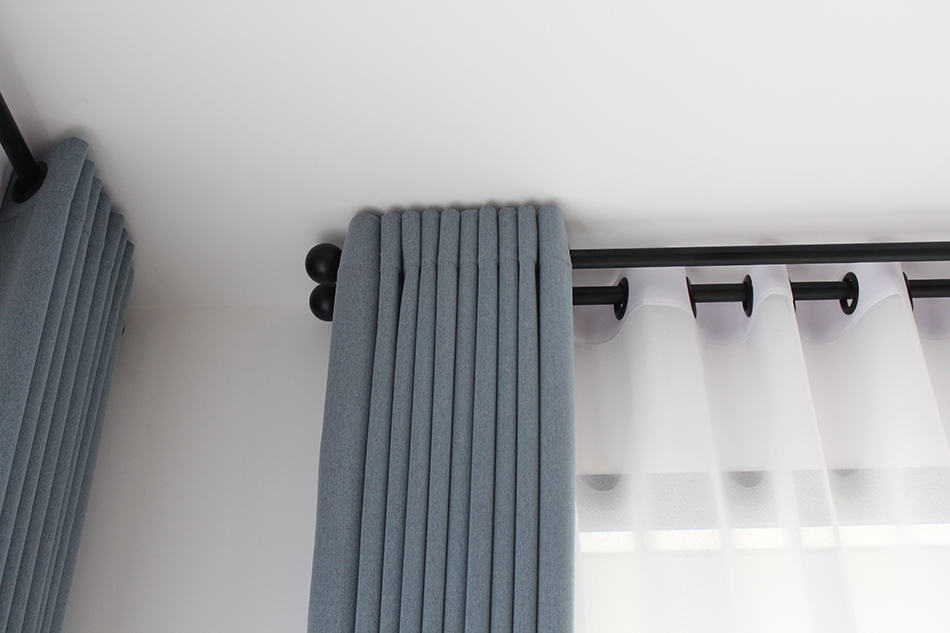 Eyelet curtains are the next best thing for a modern home. Their open rings are used to provide support for the panels. These rings make opening and closing the curtain very easy, which is why they make an excellent choice for bedrooms.
Eyelet pleated curtains are also known as grommet curtains. They are one of the most popular varieties of window coverings for homes. These curtains generally have silver rings included at the header, and the fabrics are mainly made of cotton or linen.
They also make a perfect addition to a patio window as they're easily accessible and simple to operate.
14. Tab-top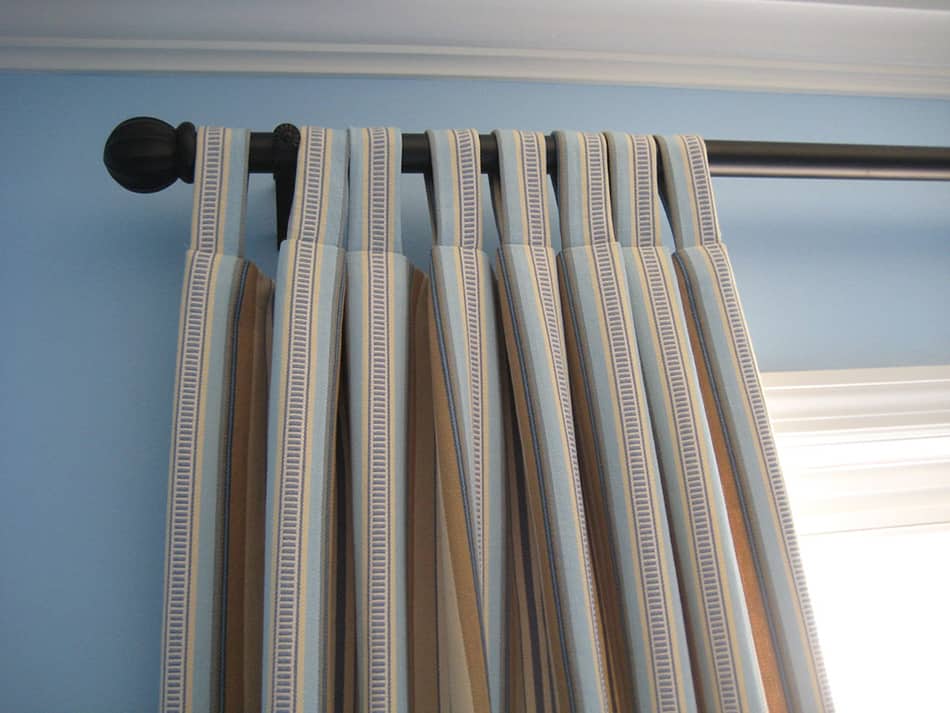 Just like grommet curtains, the tab-top curtains are also easy to assemble. They come with protruding loops that hang from the top part of the panels and are used to support the rod.
These casual-style curtains are made with flat loops that are spaced along the edge of the curtain (the top part). The rod passes through these flat loops, so opening and closing the curtain is made easy – without the need to pull any cords. Furthermore, these curtains don't require any rings for assembly.
Tab-top curtains add an attractive accent to traditional farmhouses and country-style homes.
15. Pencil Pleated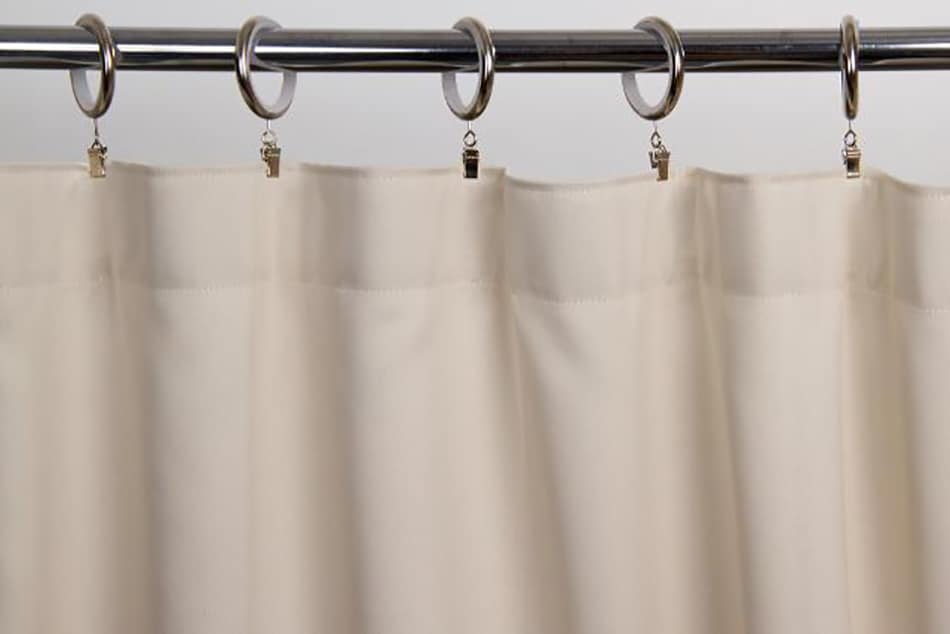 Pencil pleat curtains consist of small and thin pleats that are located on the entire top part of the panel. These are the most popular pleated curtain types and look best if the cords are pulled tightly.
These curtains are named pencil pleated because their design resembles a row of side-by-side pencils. The pencil pleats are created by folds coming together while retaining the shape of the heading.
16. Semi-sheer and sheer
Sheer curtains allow plenty of natural light to come through the windows while providing the least amount of privacy. For a light addition to any room of the house, sheer curtains are the ideal choice.
But for a little more privacy, the semi-sheer curtains make a better choice, especially if they are paired with blinds.
17. Euro pleated
Euro pleated curtains are also known as top tack pleats and are somewhat pinched at the top and comprise of an elegant stitching design.
These curtains beautifully fold into even pleats that hang all the way to the floor. Euro pleated curtains are often the preferred choice for modern and classic interiors.
7 Common Types of Curtain Materials
1. Cotton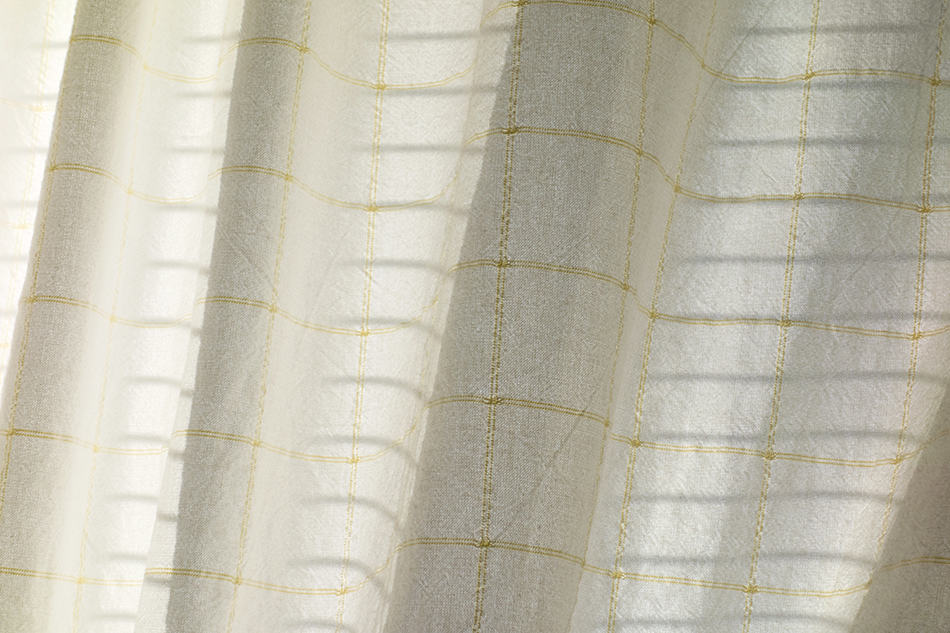 Cotton curtains come in a variety of styles. These versatile fabrics offer a clean feel that fits modern or traditional interior decor.
Cotton is a very light fabric that doesn't need to be properly lined, so you can hang the curtain as you desire. Tip: if you want to block the sunlight, opt for a tight weave cotton curtain.
Pros:

Incredibly easy to clean
Strong and absorbent
Light and versatile
Biodegradable

Cons:

They can wear out over time when exposed to direct sun
May shrink after the first wash
Prone to mildew
2. Lace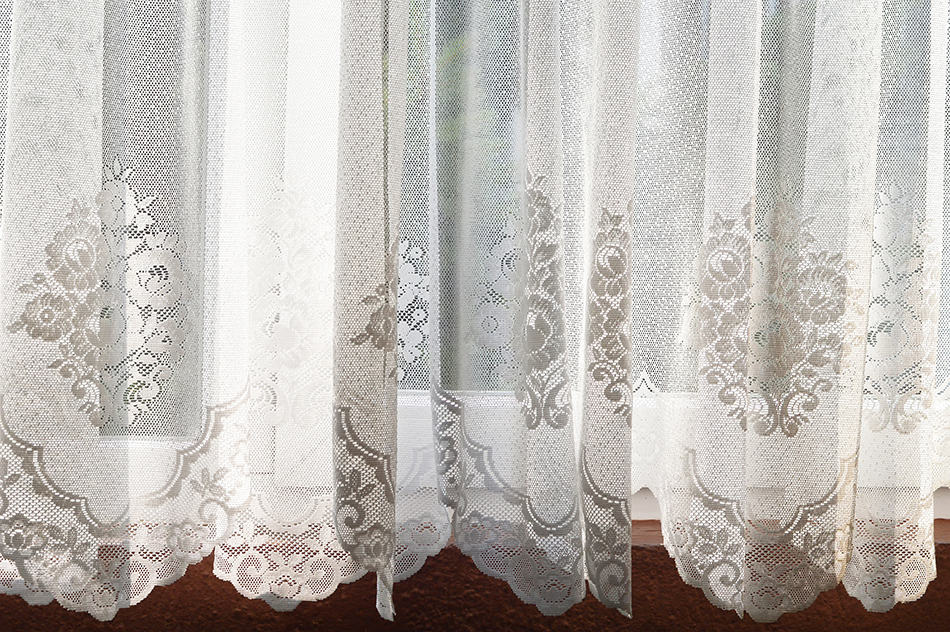 Lace curtains are romantic and very traditional. They cut glare and most often come in neutral colors like ivory or white that can easily be matched with other colors. Just like cotton, lace is a light fabric but with a more luxurious look.
Pros:

Ideal for bedrooms as it offers more privacy
It feels and looks luxurious

Cons:

Must be dry-cleaned to keep its original shape
It needs to be paired with a thicker fabric for maximum privacy
3. Velvet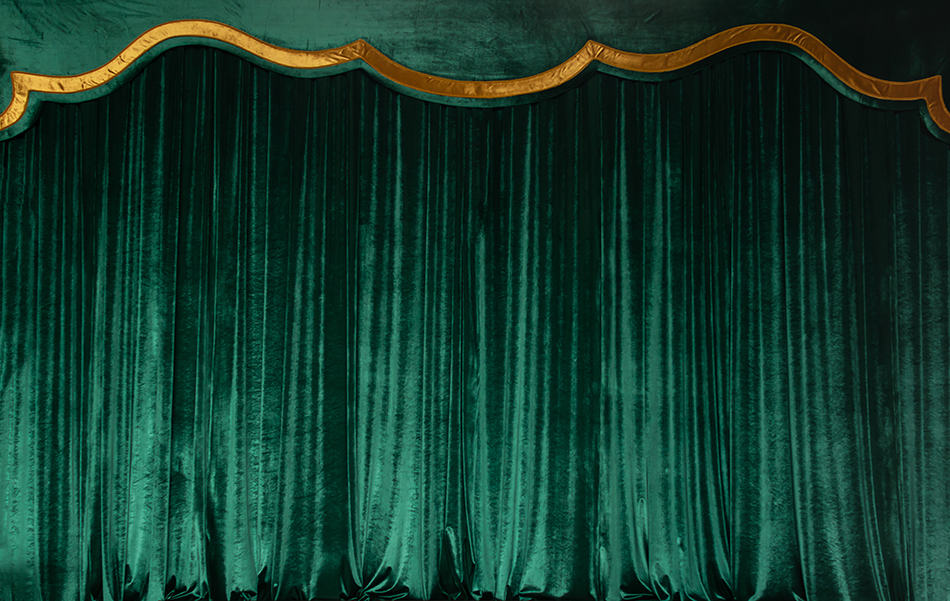 For a plush-looking home interior, velvet works best in formal rooms as well as in bedrooms. Velvet curtains can be made from natural or synthetic fibers.
This type of material is expensive and adds glamor to a room, and is great for blocking draft, light, and sound from entering the room. It is a heavy fabric that's ideal for cold temperatures while providing excellent privacy.
Pros:

It adds a luxurious feel to any room
Its heavy weight means better insulation against sound and drafts
Excellent privacy

Cons:

Too heavy and difficult to wash
Expensive
4. Linen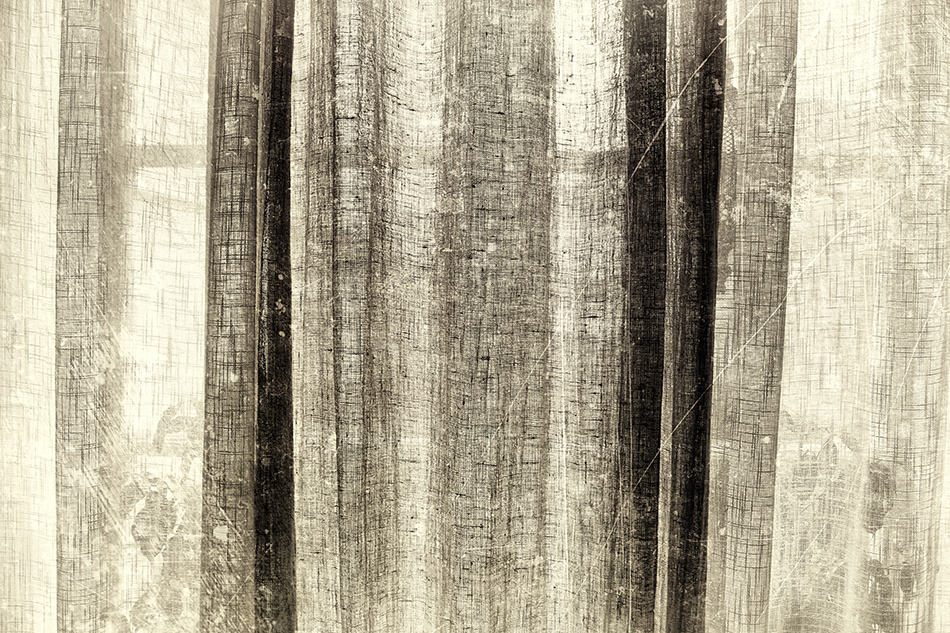 Linen curtains create a light and relaxed atmosphere in any room of the house. This natural fiber is a great choice for light and airy rooms, but it won't block the sunlight as effectively as cotton curtains.
If you like your curtains to fall to the floor, linen would be a good choice.
Pros:

The open weave of this material allows more light in and provides better texture
Lightweight

Cons:

Dry-clean only, so not suitable for windows that get dusty
Can crease easily
Attracts mold
Doesn't provide privacy
Expensive
5. Silk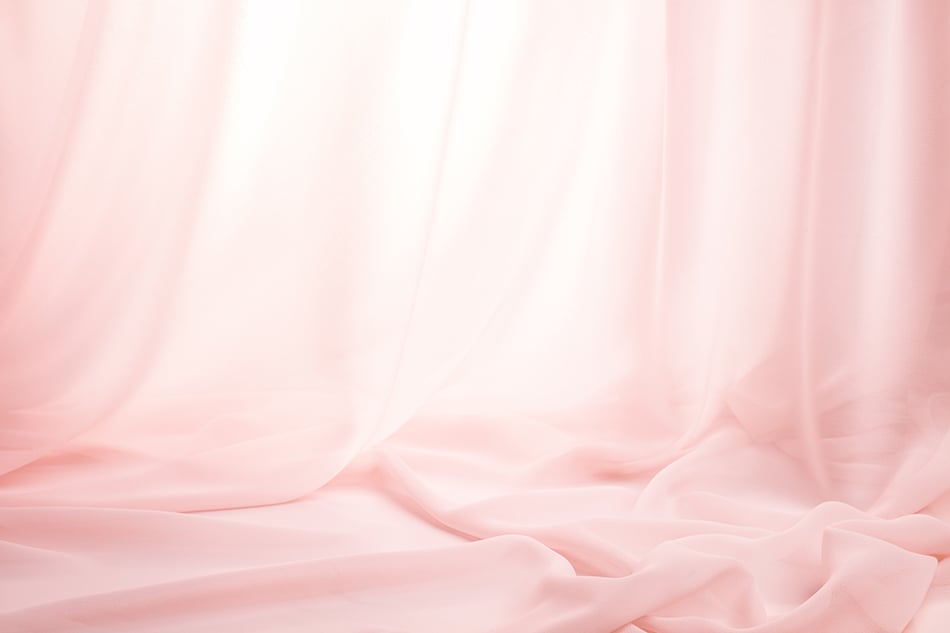 Silk is perhaps the most luxurious material for a curtain after velvet. But be warned; this fabric is mainly chosen for its aesthetic appeal rather than practicality.
The heavy fabric is ideal as a curtain in the master bedroom or dining room.
Pros:

Since silk is heavier than cotton and lace, it makes an ideal choice for formal rooms and as a romantic interior decor
It's a refined yet light fabric that falls beautifully

Cons:

Expensive
Can only be dry cleaned
Prone to sunlight damage, so best used on tinted windows
Doesn't provide privacy unless it's lined or a heavier layer is added
6. Polyester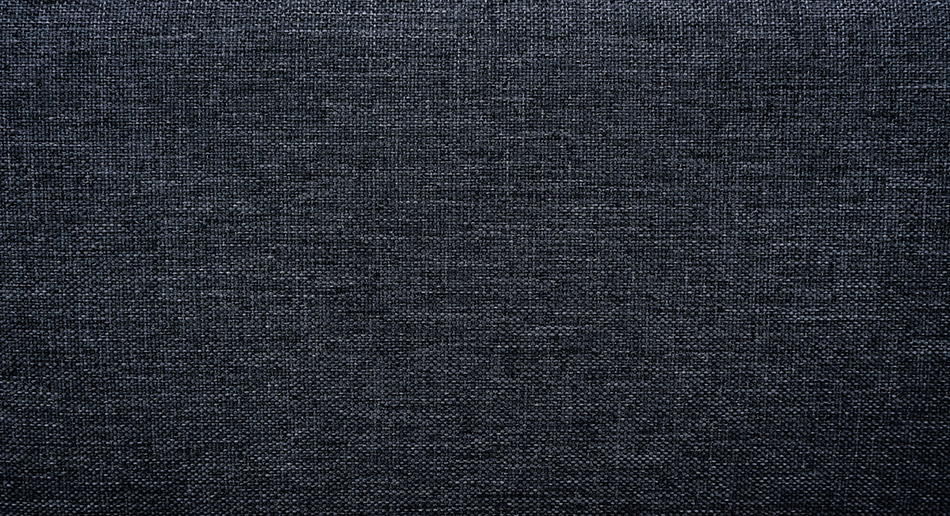 Polyester is a popular choice for curtains as it's highly durable and easy to care for. What's more, polyester doesn't stretch or shrink. It is ideal for living rooms and bedrooms, but not in kitchens, as it doesn't allow good airflow.
Pros:

Highly durable
Doesn't deteriorate quickly
Less likely to get wrinkled after washing
Provides good insulation against draft
Inexpensive
Mold resistant

Cons:

Flammable
Not as attractive as silk or velvet
Absorbs odors, so not suitable for kitchens
7. Acrylic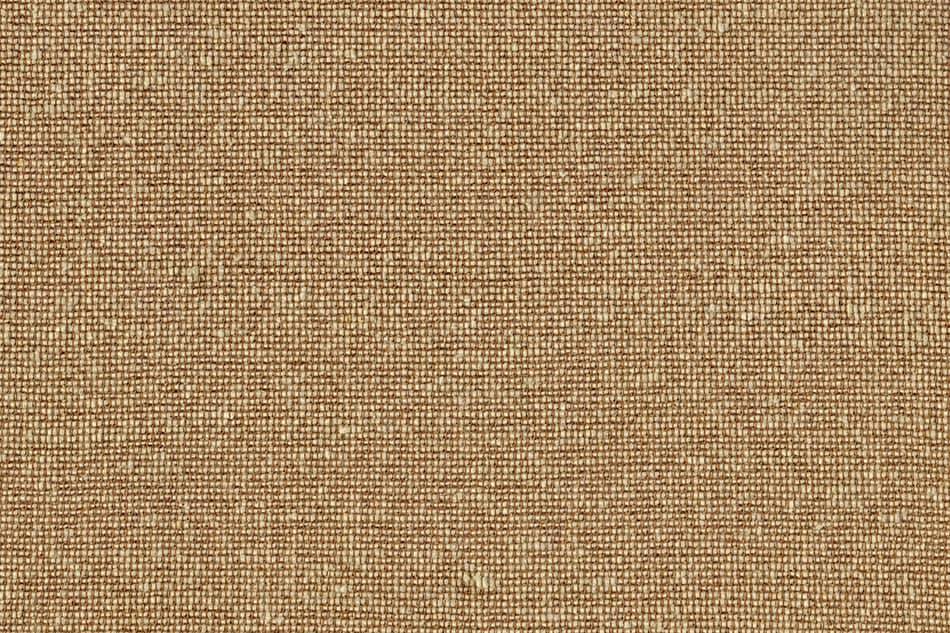 Acrylic is similar to wool in terms of texture. It is a lightweight material that drapes beautifully and provides effective insulation against drafts. Acrylic curtains repel moisture and are resistant to mildew. The hypoallergenic fabric is suitable for any room of the house.
Pros:

Soft, warm, and lightweight
Machine washable
Retains its shape and doesn't wrinkle
Moth resistant
Has a cotton-like appearance

Cons:

Heat sensitive
Develops static electricity
6 Types of Curtain Lining
In case you didn't know what a curtain lining is, let me explain it in simple words. Curtain lining is the material that's attached to the back of a curtain or drape. The fabric lining can be patterned, colored, striped, or plain.
There are many reasons why people choose to add curtain lining to their drapes. The fabric lining has heat-retaining properties and filters or blocks the sunlight for total blackout, depending on your preference.
But curtain lining does more than just filter or block light. It is used to line curtains for both practical and aesthetic reasons.
Now that you've learned a little about the benefits of curtain lining take a look at the six most common types you can use in your home.
1. Standard lining
The standard lining of a curtain is a polyester or cotton sateen, which prevents sun damage and fading. This lining improves the curtain's drape by creating a fuller look.
2. Poly cotton lining
Poly cotton lining is another standard type of curtain lining made with a blend of polyester and cotton. These are generally available in neutral colors that improve the curtain's drape.
The fabric is manufactured in a way that ensures the lining offers the best of cotton and polyester fibers. This type of lining is ideal for warmer climates as it allows adequate airflow, while the polyester offers insulation, mold resistance, and durability.
Polycotton is also wrinkle-resistant and retains its color and shape after every wash.
3. Poly Cotton sateen twill lining
This curtain lining is made with a softer sheen finish and is available in a wide range of widths. It is ideal for heavier curtains, such as velvet. Twill lining fabrics are crease-resistant with a dense texture that allows the curtain to drape beautifully for a luxurious appearance.
This type of lining for curtains offers partial light and privacy control. It's easy to maintain as the fabric can be dry cleaned or washed in the washing machine. You can add a positive focal point to your living room by using this type of lining for your curtains.
4. Blackout lining
Just as the name suggests, blackout lining for curtains blocks the light from entering the room. This is thanks to a special coating in the woven fabric. The material is thick and provides thermal and noise insulation.
Blackout lining makes an excellent choice for bedrooms where you want the most privacy and darkness. They also help protect your furniture from sunlight damage.
5. Interlined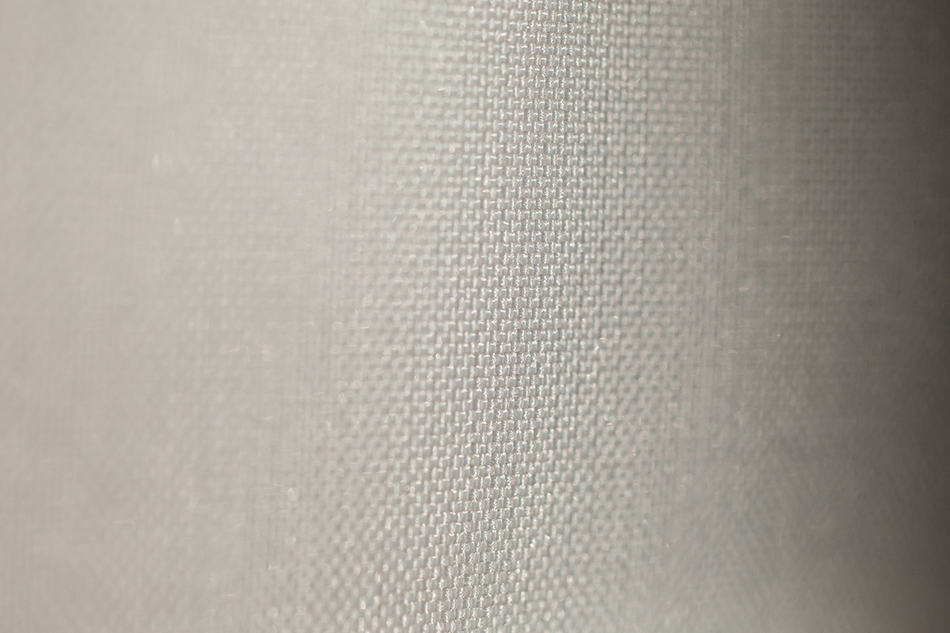 Interlined curtains consist of an additional layer of fabric, which can be described as a light blanket over the existing curtain. These fabrics comprise of a more rounded and fuller pleat with a luxurious appearance.
If you have lightweight silk or linen curtains and wish to increase the privacy of your living room or bedroom, opt for interlined curtains for added fullness. Interlined fabrics are usually made from 100% cotton or a blend of viscose, polyester, and cotton.
Interlined curtains also work well with larger-size windows for a high-quality finish. So if you live in a period property and want to decorate the windows with traditional coverings, interlined curtains will be the best choice.
Similarly, they work well in modern properties as they can be paired with blinds for additional privacy.
There is one disadvantage to interlined curtains, and that's their need to be dry-cleaned.
6. Thermal lining
Similar to blackout lining, thermal lined curtains have a thermal lining that helps them hang better. They don't tend to wrinkle and offer a more finished appearance.
The heat retaining properties of thermal lined curtains means they keep out drafts from windows and help you stay warm in winter. This type of curtain lining is ideal for bedrooms and living rooms.