For most of us, having a roof over our heads is the most important, pivotal thing in life.
However, did you ever think about the fact that our own roof we are all striving for can take on many, many forms?
There are many types of roofs for homes. The shape of the roof is usually the main feature of a roof. A particular shape is usually not all about the looks, but also about functionality.
Another important aspect is the material from which the roof is made of.
Let me introduce you to the most commonly encountered types of roofs – but also to some eccentric variants, just to make things more interesting.
Roof Types According To Shape
Unless you have some special fascination, your house's roof shape was probably the last thing you thought about when you've been daydreaming about your home. The roof just covers things up, right?
Well, it's not that simple. There are many, and I mean MANY roof shapes out there, each of them with its own specific properties. And they are a key to the shape of your interior.
Let's find out more about them, A to Z, and help you make the best decision.
Bonnet Roof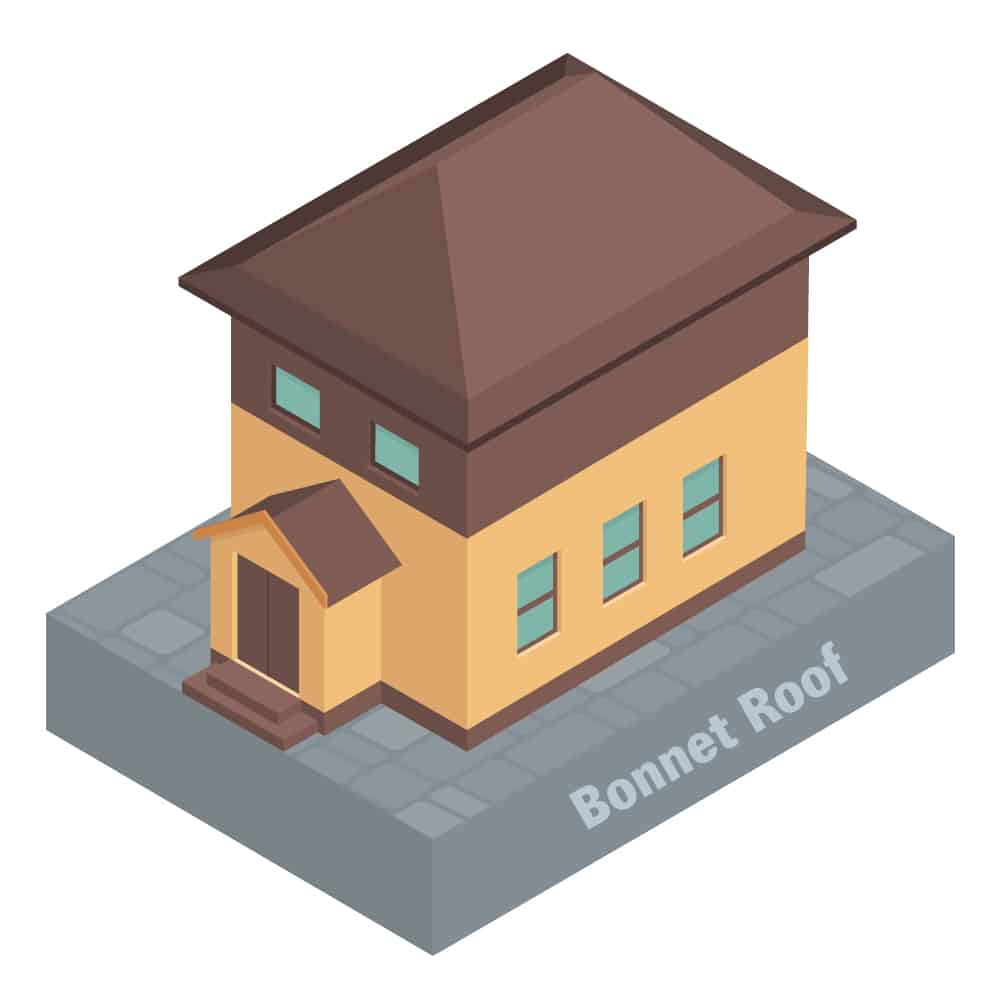 Bonnet roofs are similar to pyramid roofs and hip roofs (see below). What makes a bonnet roof different is that it has two longer sides that slope outwards, thereby providing shade and shelter to an outdoor area below this roof type (e.g., front porch or back porch).
This way you can create a seating area with no additional construction. Also, when the eaves are farther from the house itself, it is easier to avoid rainwater pooling right next to the entrances and wetting the walls.
Butterfly Roof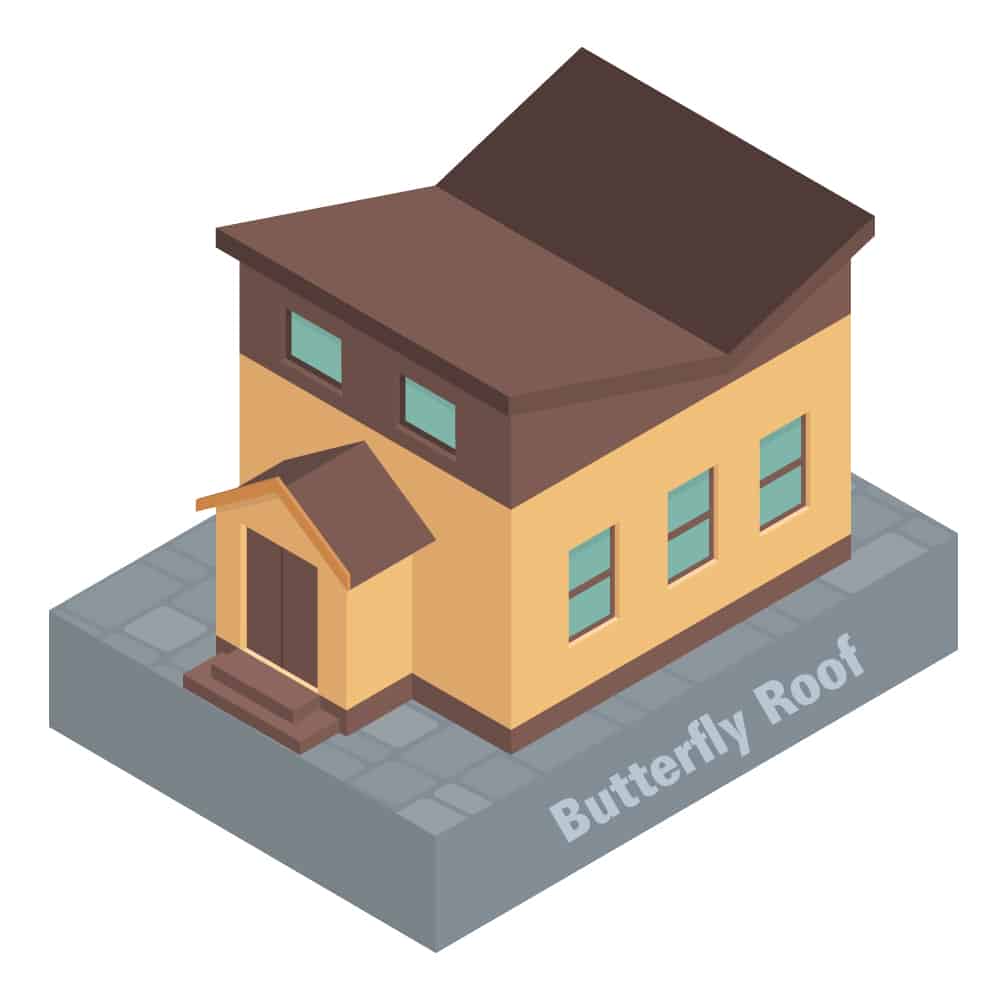 The shape of this roof is very particular. In fact, it looks a bit like a roof turned upside-down. Two tandem pieces are angled in a mild V-shape and meet in the midsection, giving them the shape that reminds of the butterfly flapping its wings. Well, sort of.
The biggest advantage of this roof is the ability to collect rainwater. With many regions of the world getting dryer due to the ongoing climate crisis, rainwater collection and butterfly roofs are very worth considering.
Also, a butterfly roof lets you have really tall ceilings on two sides of your home.
Clerestory Roof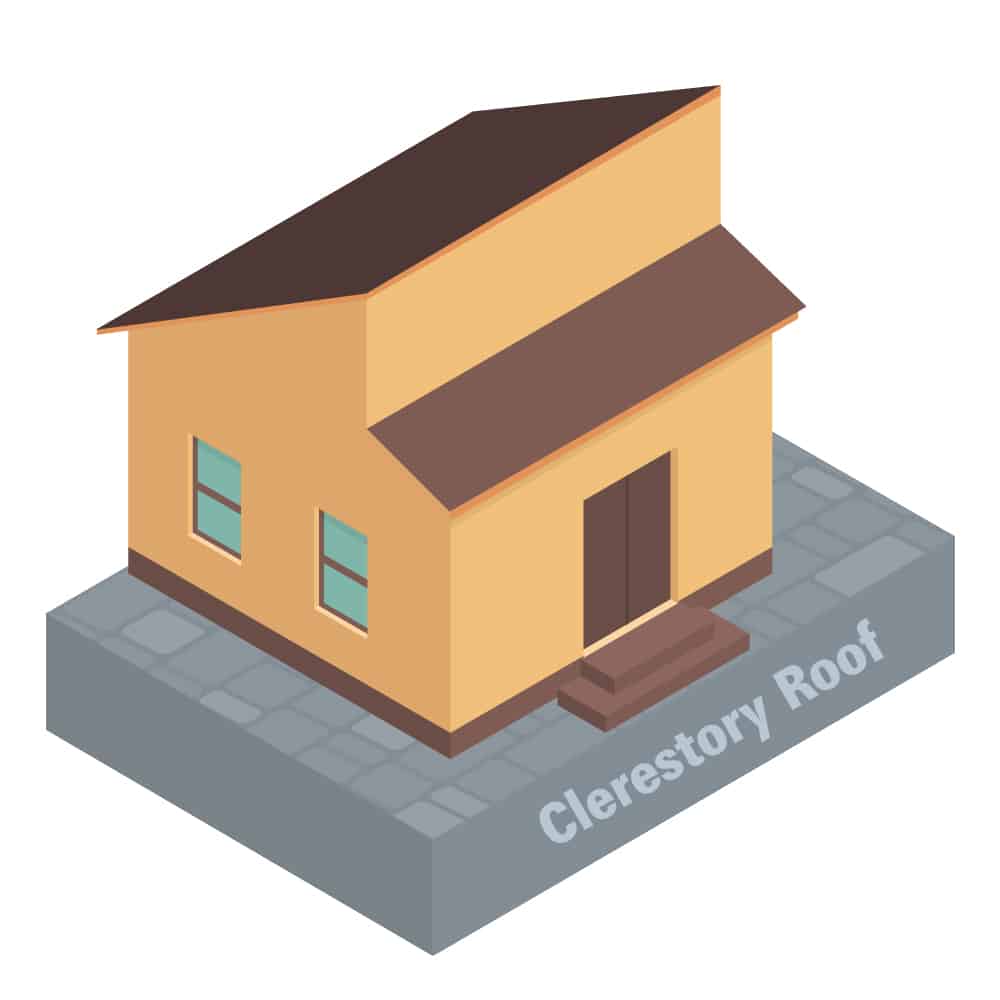 The main idea of the clerestory roof is to have an interior wall that reaches above one section of the roof, which is then lined with either one long or several smaller windows. The sections of the roof on the sides of the vertical wall are sloping. All of this helps to get a large amount of natural light to reach your home's interior.
Combination Roof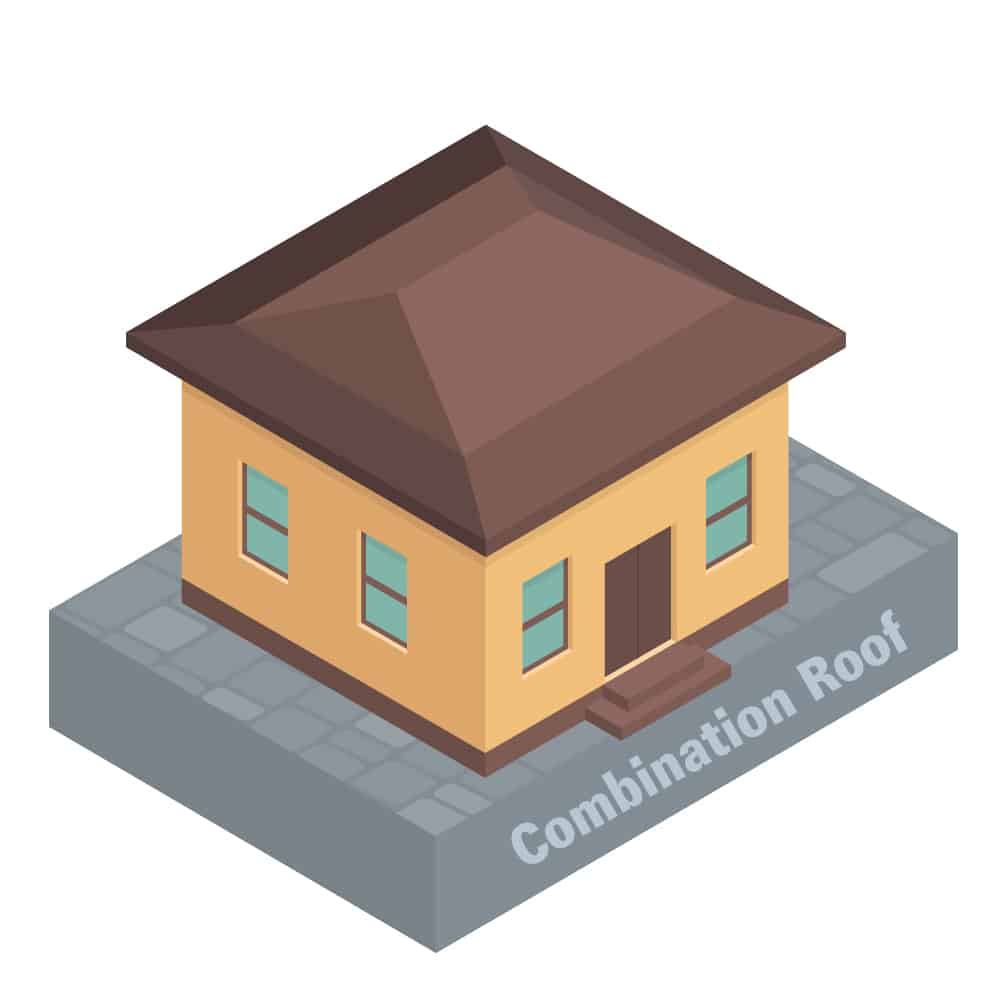 As its name suggests, the combination roof combines two or more other types of roofs. The reasons to go wild with the roof design like this can be practical, aesthetical, or both.
Curved Roof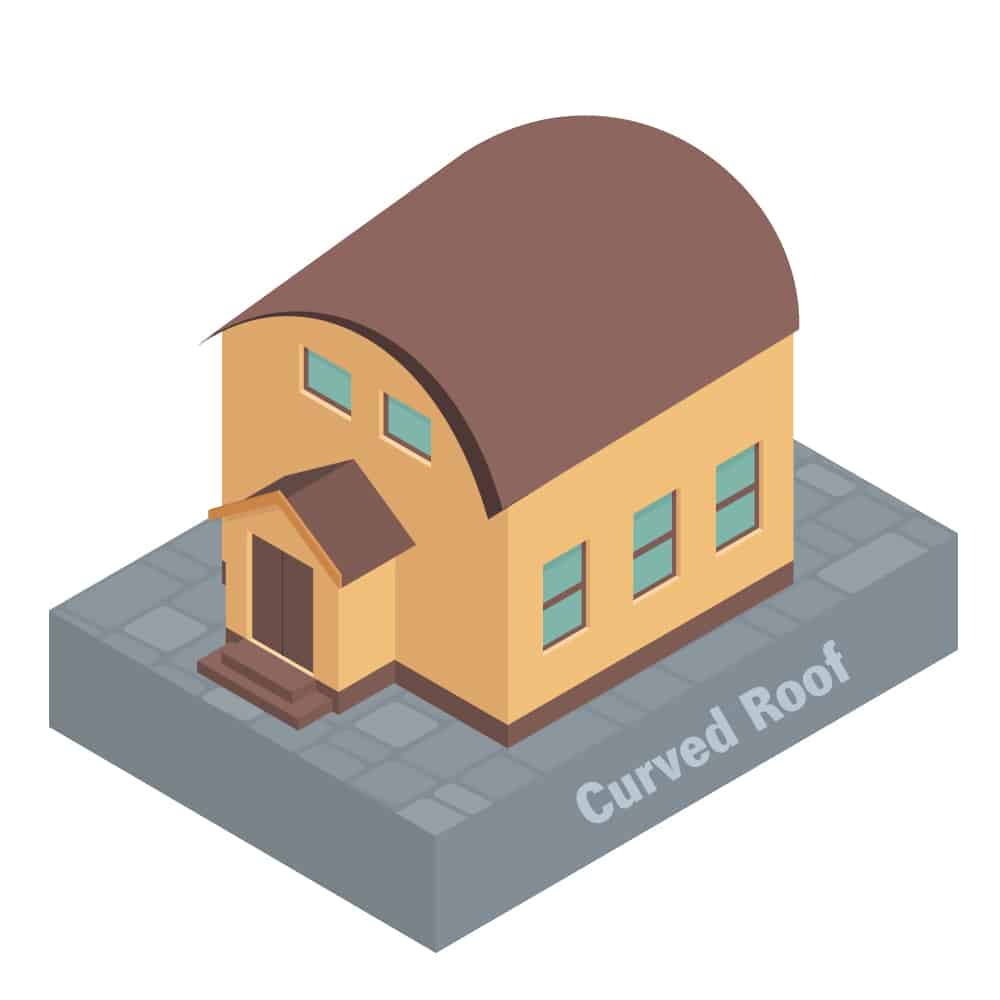 Here is a sleek-looking, modern and unusual roof. The main feature of these types of roofs is that they have the shape of a smooth curve. Besides the attractive looks, curved roofs help reduce wind resistance.
Dome Roof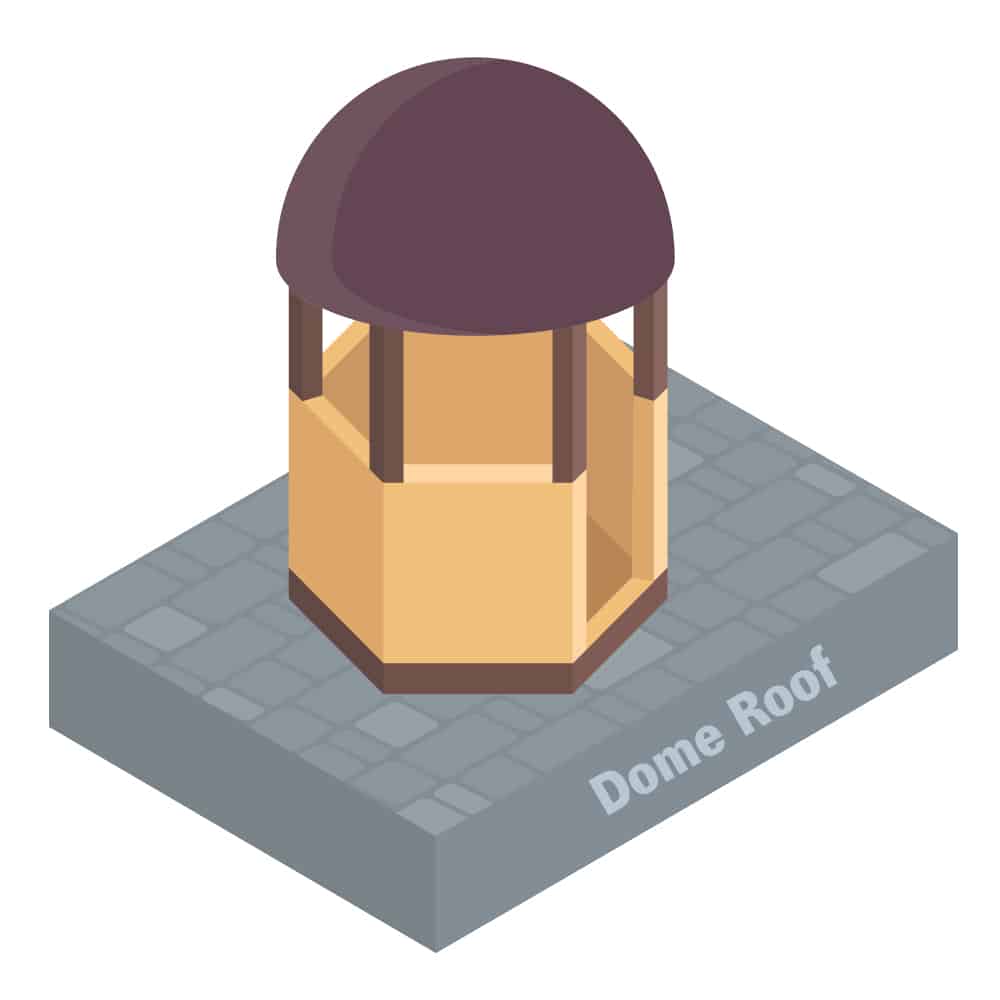 Here's another unusual, strikingly beautiful, and very resilient option – the dome-shaped roof. Although it also features smooth lines like the curved roof (or rather, the lack of lines), the dome roof is more of a classic than a modern invention and can be seen on cathedrals, Byzantine-style churches, and many historical buildings. As you may surmise, the dome roofs pass the test of time with no issues.
Dormer Roof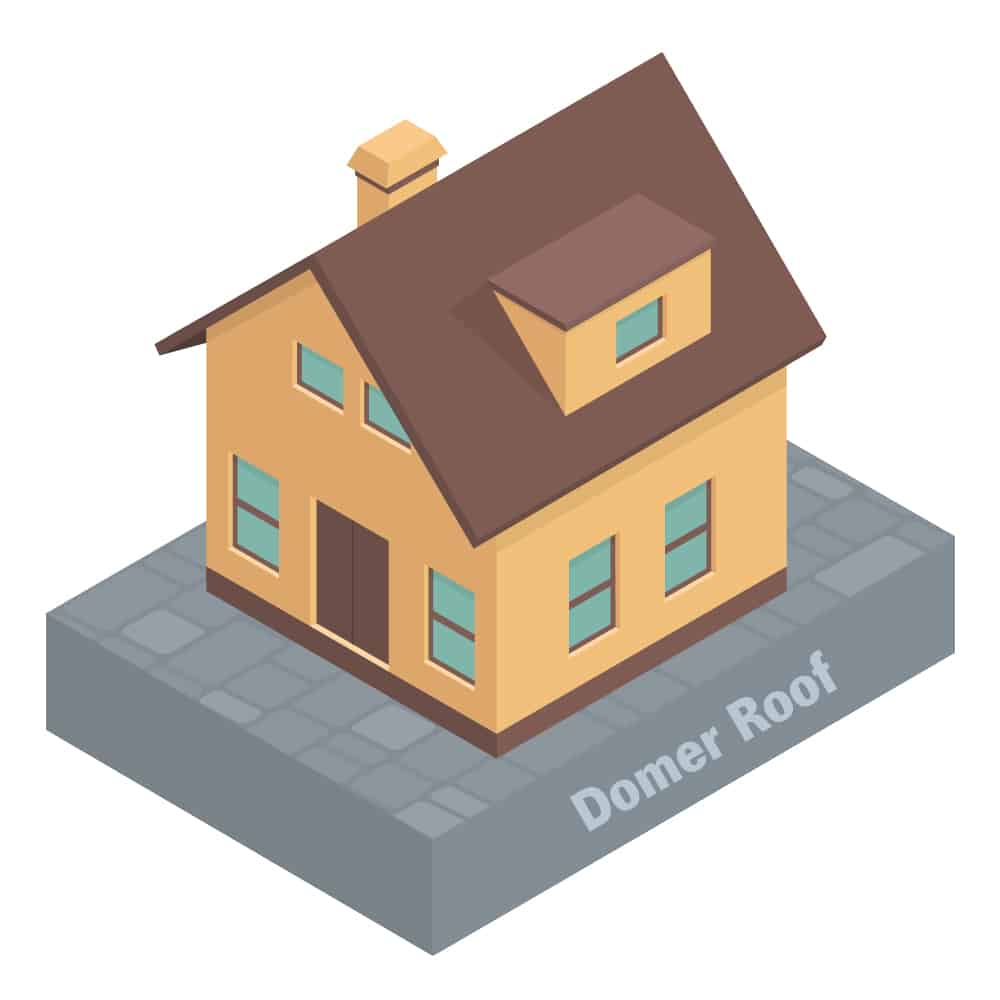 Here's another light-oriented roof. Dormers are windows (with their own little roofs) that extend vertically from a classic pitched roof, creating a sort of extended window on the roof. It is often seen in loft conversions.
Flat Roof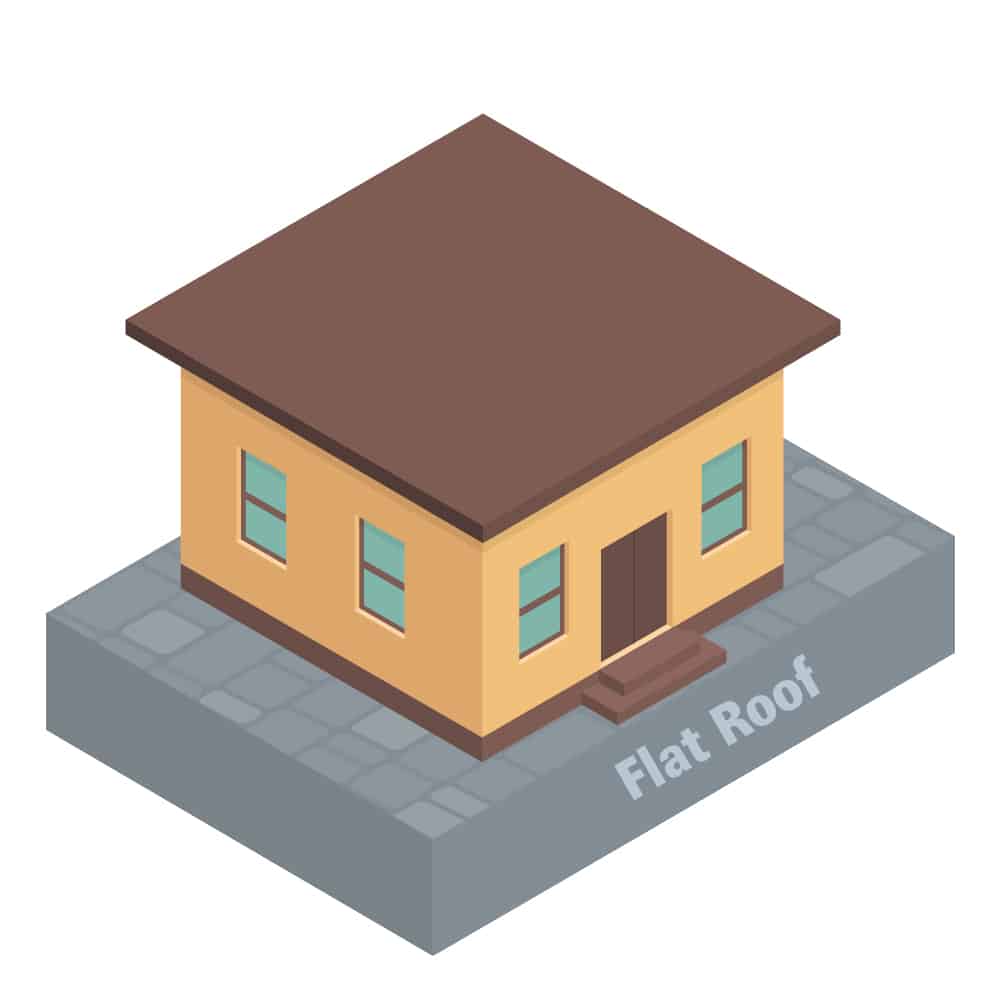 Flat roof is a common option for mid-century and modern homes, where their simplicity adds perfectly to the contemporary minimalistic design trends. It allows you to have BUR-roofing and can be a good base for green roofing. It can be used as a terrace as well. There is a comparison between a flat roof and sloped roof explained here.
Gable Roof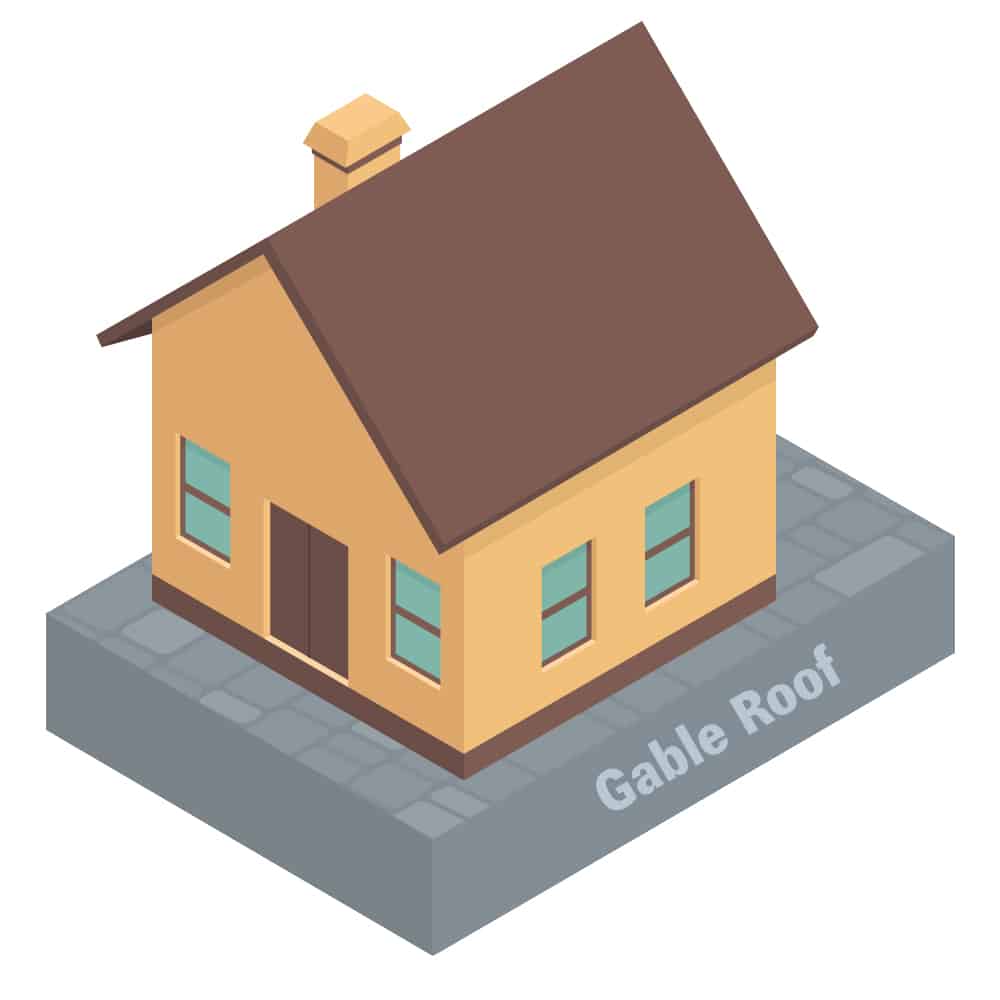 Gable roofs of all kinds are true classics. The term itself ("gable") refers to a triangle shape that is formed by the pitched lines of the roof. It is easy to build, provides good water runoff, ventilates well, and it is very versatile. No wonder it's one of the most popular types of roofs.
A gable roof can have many shapes: Box gable, Cross Gable, Dutch Gable, Front Gable, Open Gable, and even more. The exact type of gable roof depends on the shape of the home and the needs of its inhabitants. For example, a Cross gabled roof is a version of a triangle-based gabled roof adjusted for houses with extra wings – that have a shape close to a cross.
Gambrel Roof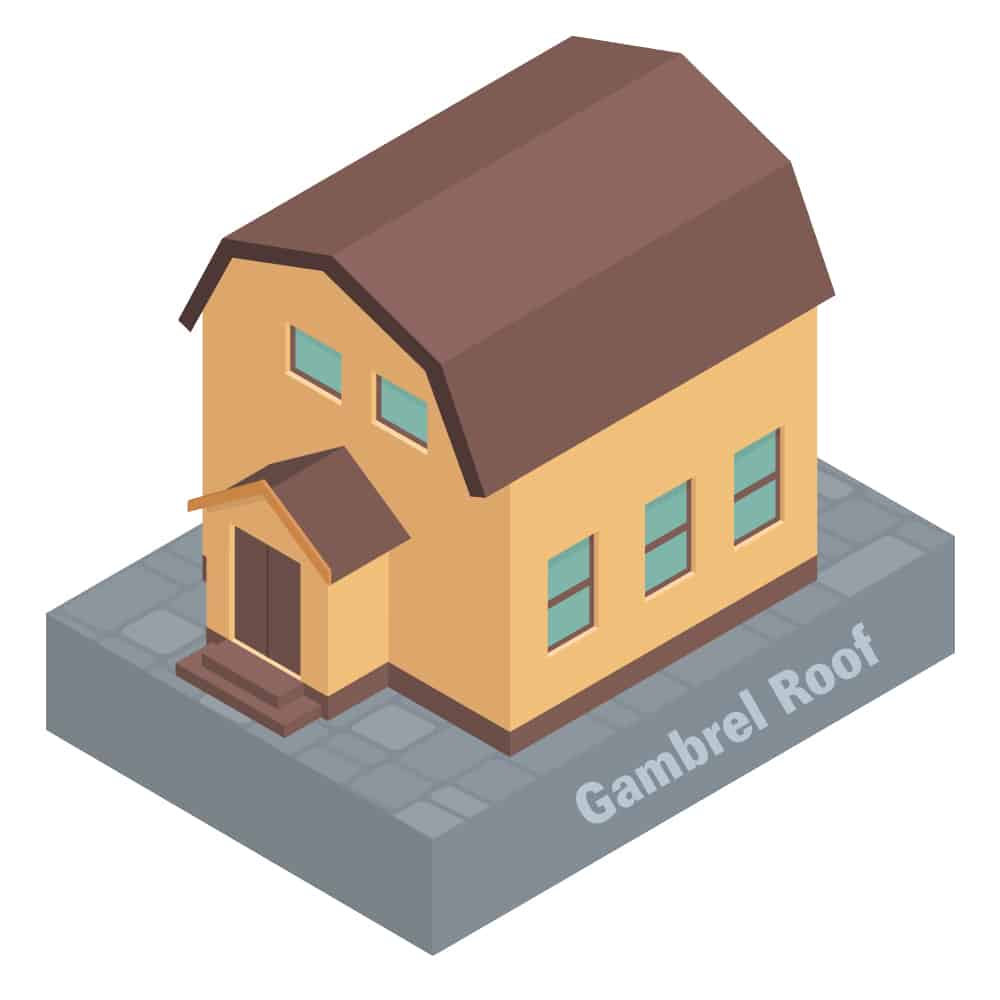 A gambrel roof is a four-sided roof with two top sides that are not as steep as the bottom sides. They can include window dormers as well.
Hexagonal Roof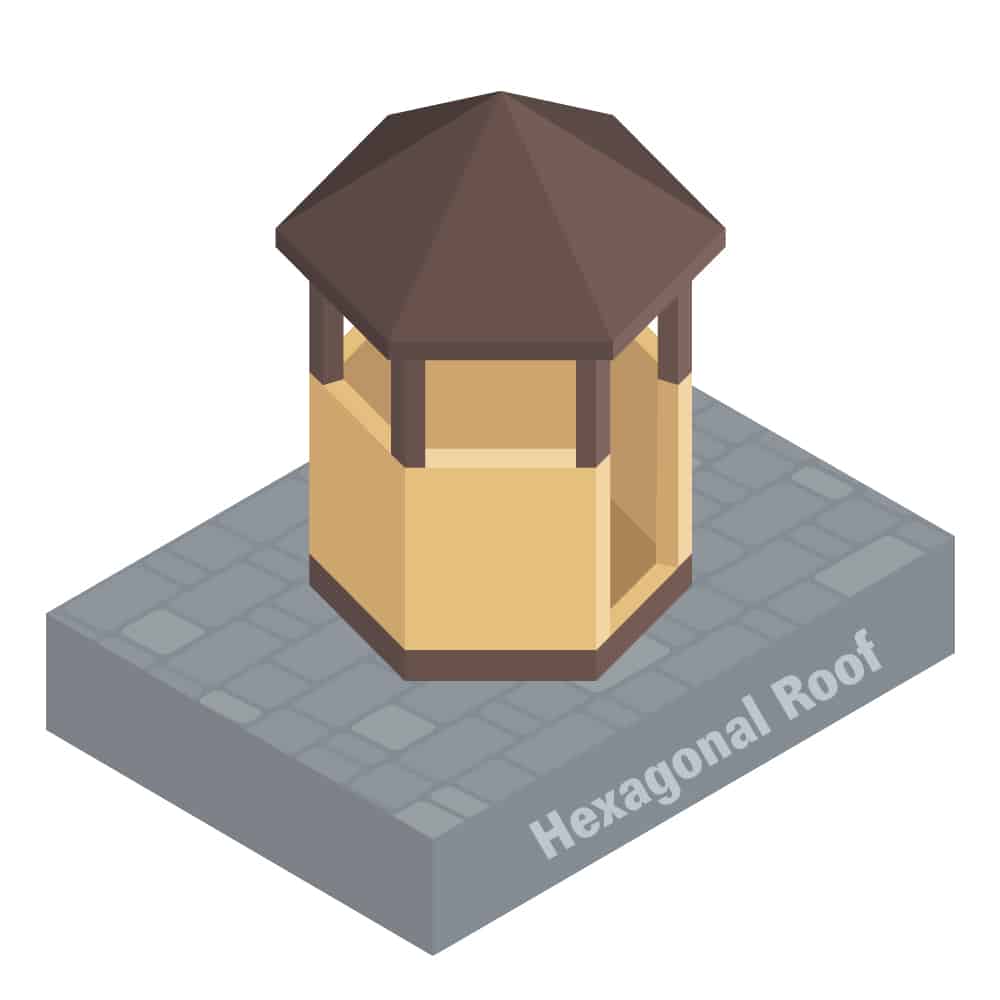 With its six triangular roof panels above six supporting posts or rafters, the hexagonal roof is often seen in a garden gazebo design or more complex modern architecture.
Jerkinhead Roof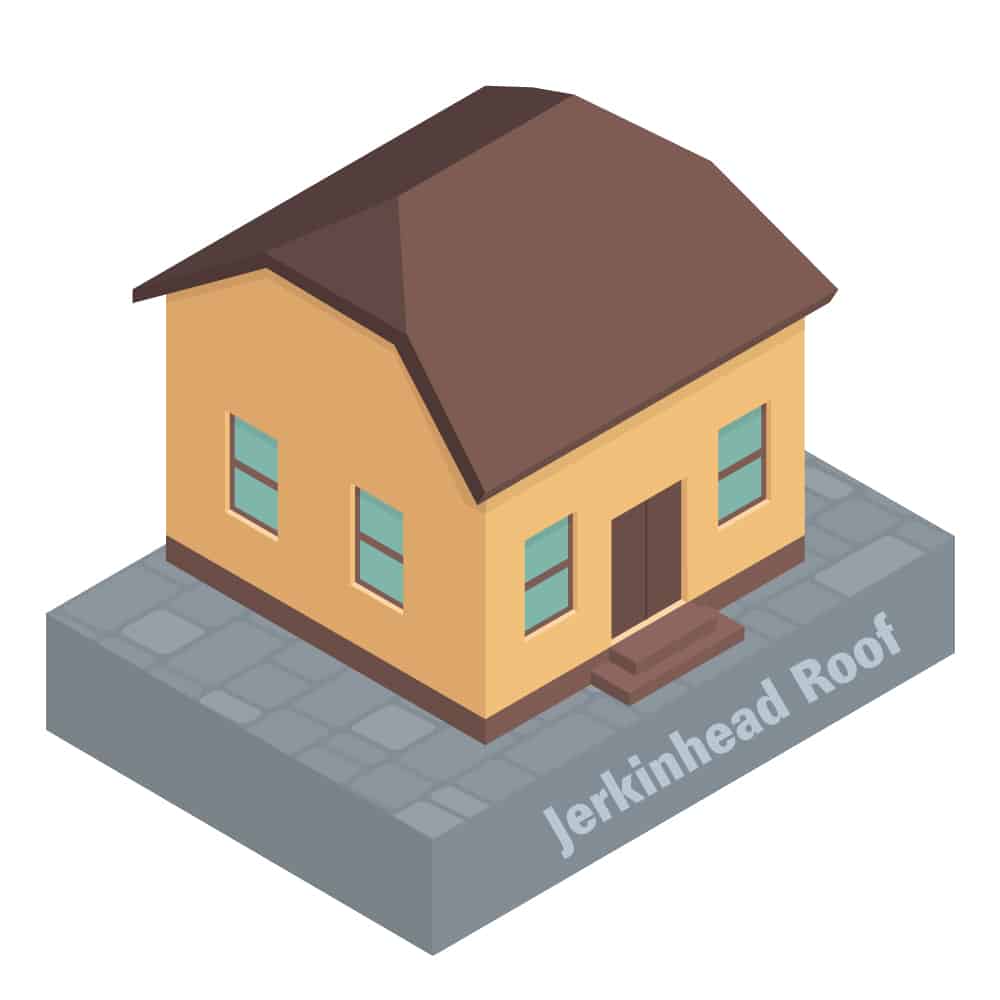 This type of roof with a weird name is also known as the clipped or snub gable roof. As that suggests, the Jerkinhead roof is a gable roof with the two peak ends "cut off". This modification is done to reduce wind damage and make the roof more stable in the wind.
Hip Roof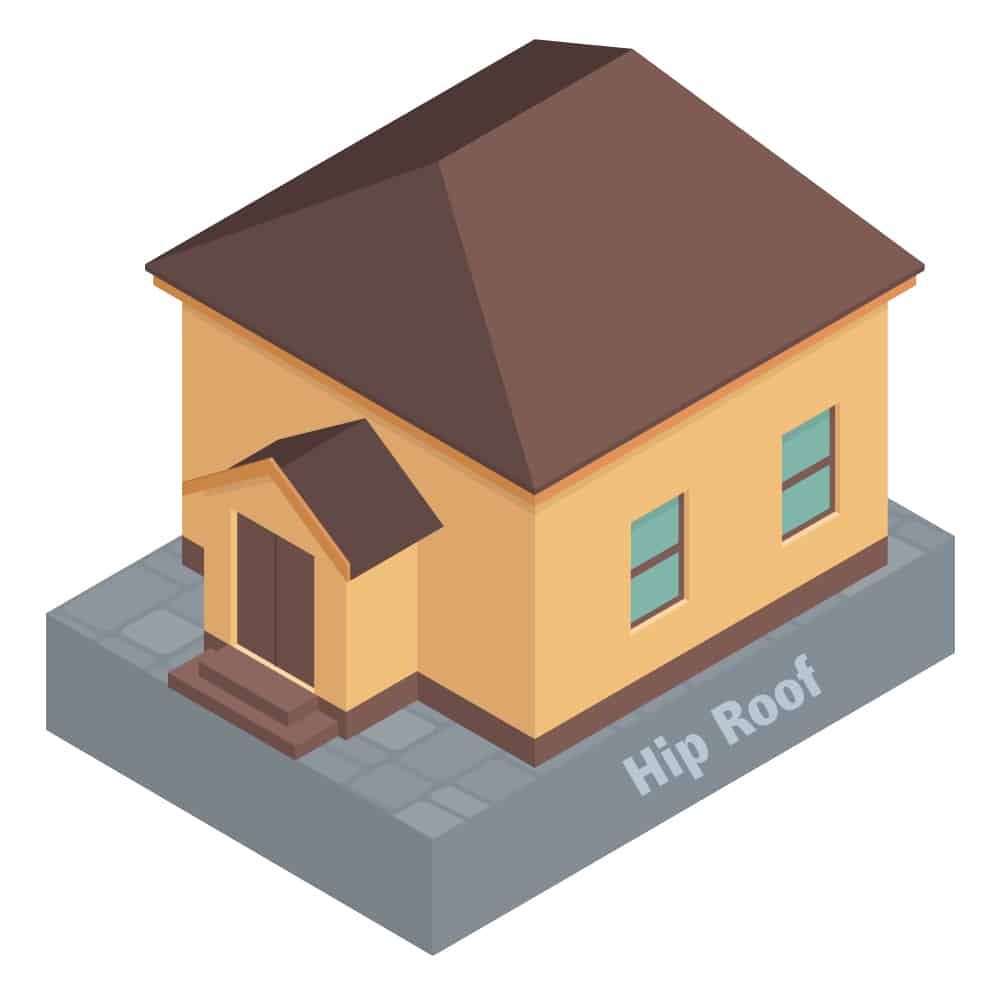 The Hip Roof has sloping ends that are turned inwards. All hip roofs are symmetrical, with sides with identical pitches. There are two main types: the ordinary, Simple hip roof, and the Pyramid hip roof, which is distinguished by the four sides that meet at one point.
There is also a Cross hip roof which hip sections that form the shapes of letters "L" or "T" in the hip itself, and the half-hipped roof, with shortened roof sides that create eves.
Mansard Roof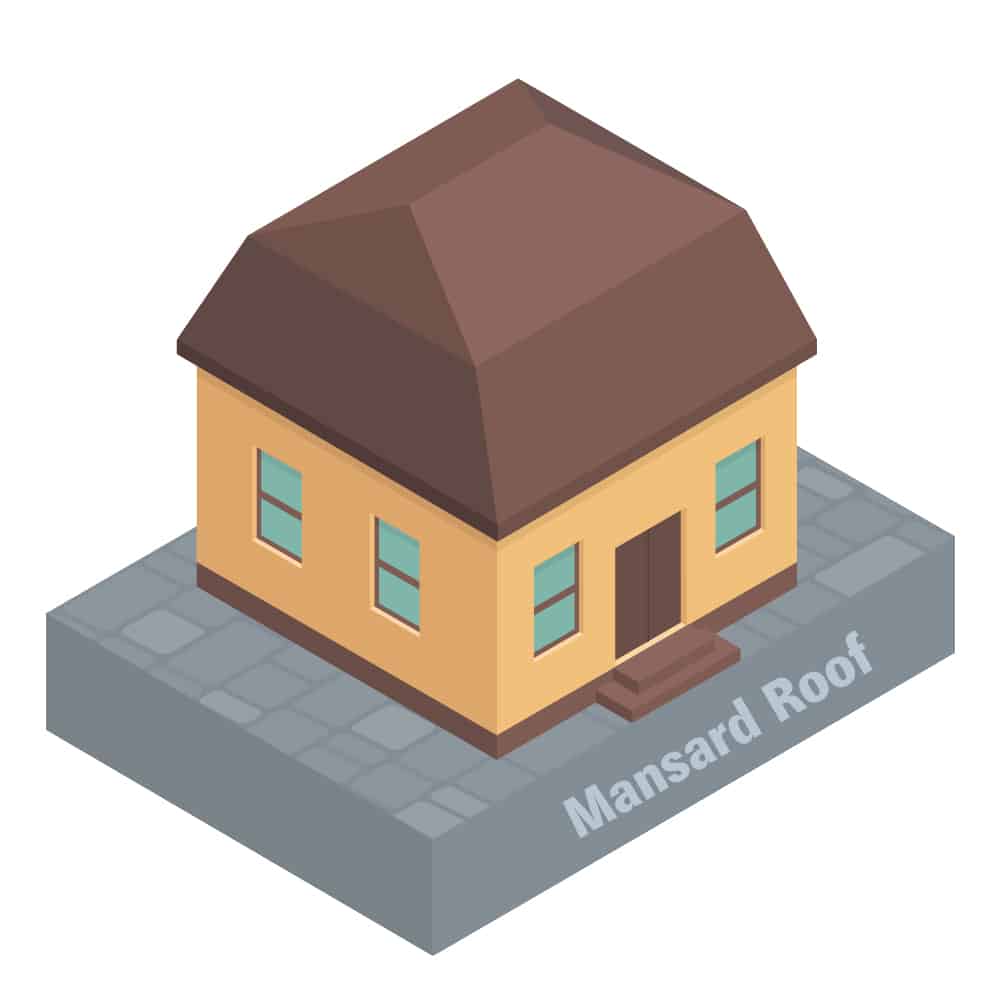 The Mansard is a French type of roof that is more complicated to make, but it allows for extra space inside the house. Practically speaking, it is a four-sided gambrel roof, with each side having a double slope – one steeper and one shallow upper slope. Mansard roofs are often equipped with dormers and are known as a distinct type – Mansard with Dormers. There are also the Pyramid Mansard and Flare-Out Mansard roofs.
Saltbox Roof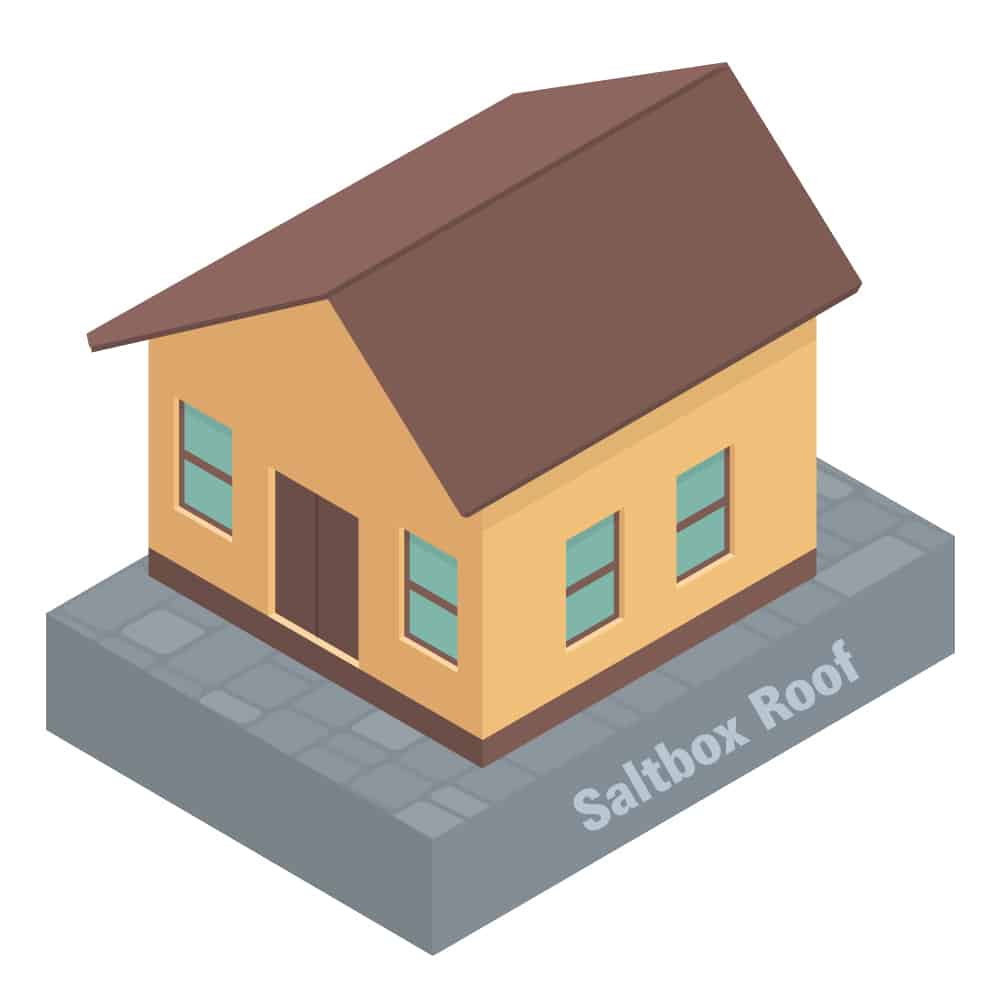 The saltbox roof is not very popular, probably because of its asymmetry, but still, it is an intriguing design. It has a long pitch and two sides that differ in length. They are often found on homes that have a single story on one side, and two stories on the opposing side.
Shed Roof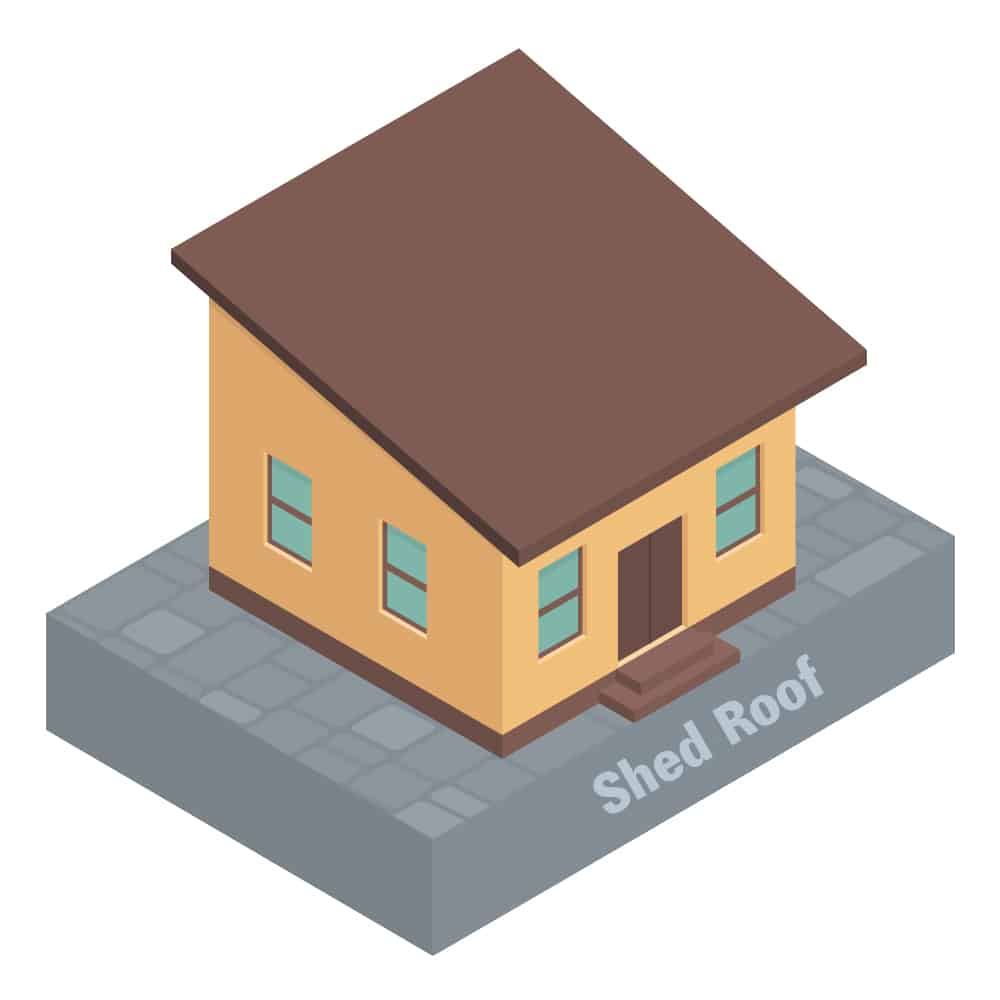 The shed roof, also known as a skillion roof, has a very simple design with just a flat roof that slopes. The roof can be held up by the posts on four sides or the walls.
Lean-to or Skillion Roof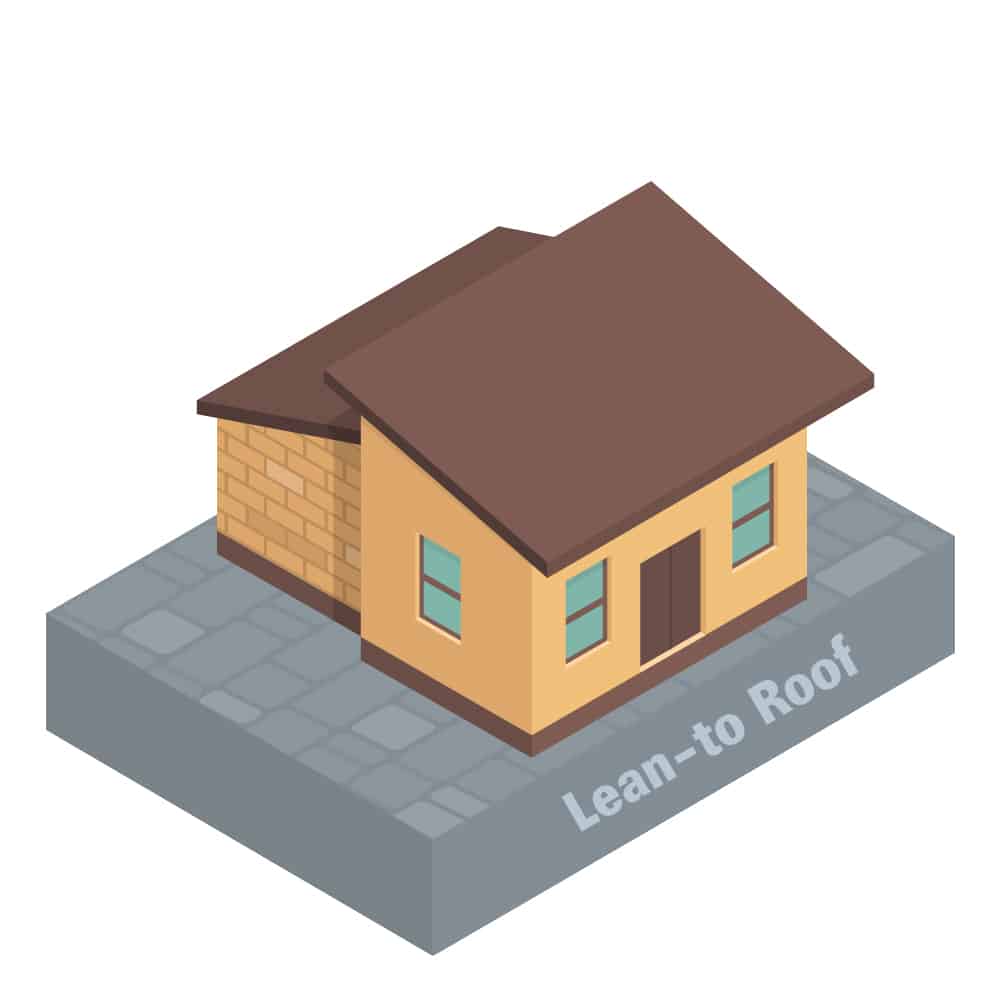 Lean-to roof or skillion roof is just like a shed design with a sloping roof, but what differs is its upper-end roof will lean to/adjoin a wall, building, or another roof.
With its slope, which can reduce waterproofing, this type of roof is best for constructing in high rainfall areas. It is also great when you need more space. Say you need a small storage area, just set up a roof against an existing wall.
Sawtooth Roof
Sawtooth Roofs are characterized by continuous ridges with dual pitches on each side, looking similar to the teeth of a saw. With their steep sawtooth design, they are commonly seen in old and some current factories nowadays in order not to catch direct sunlight and heat but still have a great amount of light for the spaces below.
Roof Types According to Material
There are many materials that you can use to cover your roof, from the classic shingles to beautiful but still unusual green roofs. All have their pros and cons.
If you are set on the roof shapes and styles, but you are wondering "But, which roofing material should I use?", this is a section for you – read on!
Tile Shingles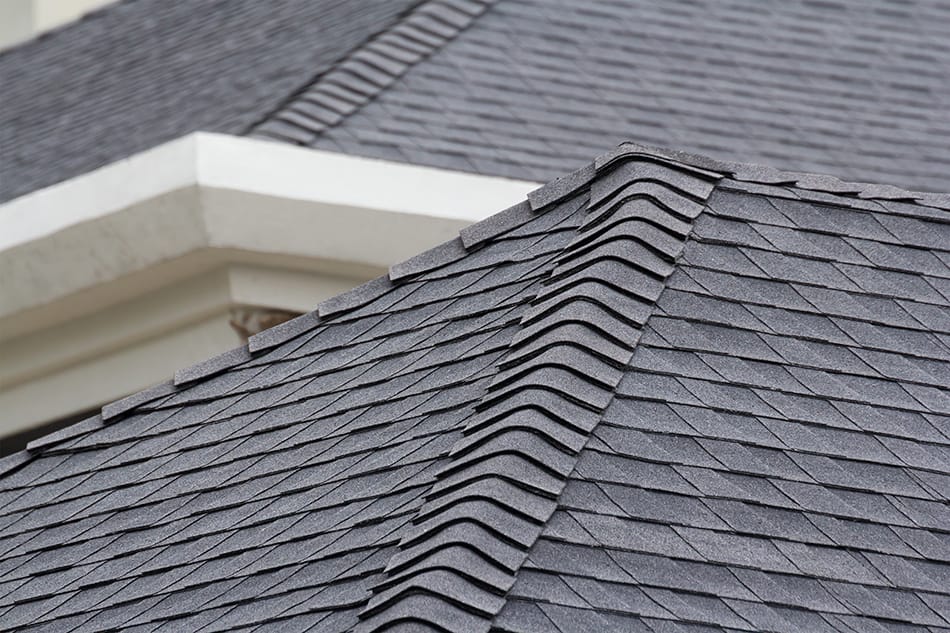 Tile shingles are made from clay and there are several variations of them. All of them provide that old-timey, warm, Meditteranean look and feel, which makes them a true classic.
The only drawbacks are that tile shingles can get quite expensive, and can break if you walk on them. They can also get damaged in the case of a massive hail storm, and require a sturdy wooden construction that can put up with all the weight.
Still, with a little luck and a bit of care, tile shingles can last for almost a century. If undamaged, it is the longest-lasting type of shingle.
Wooden shingles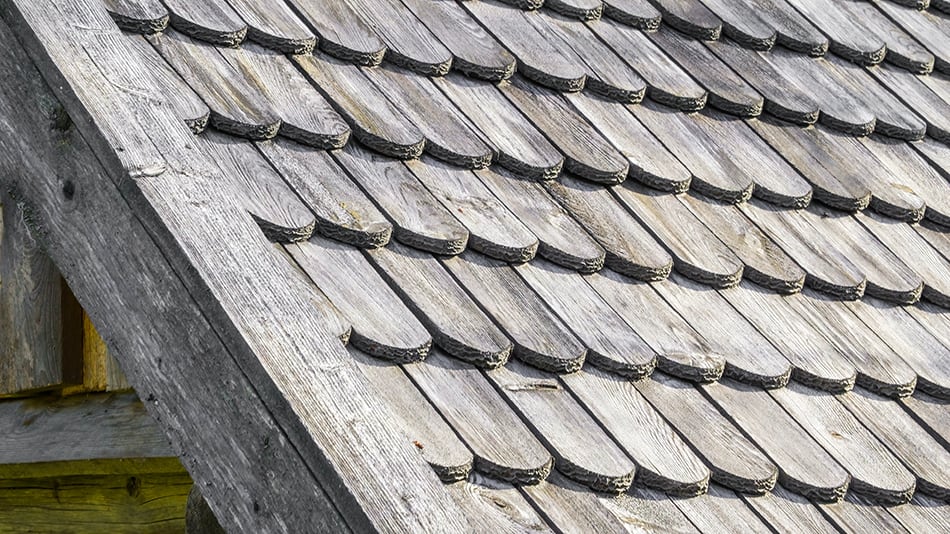 Wood shingles are highly praised for their natural, rustic appearance loved by homeowners who like their house to be blended in with the natural surroundings. They are considered highly attractive. Although they are not as lasting as tile shingles, their lifespan depends on the type of wood that is used to make them. Shingles made from redwood and cedar can last 50 years.
The cons include that they cost more than other varieties such as asphalt shingles. They have to be set up and sealed tight and they, therefore, may be very difficult to install, especially if you would like to do it yourself. You will also need to replace the shingles that weather away or get damaged very quickly to prevent water penetration and escalation of the damage.
Asphalt shingles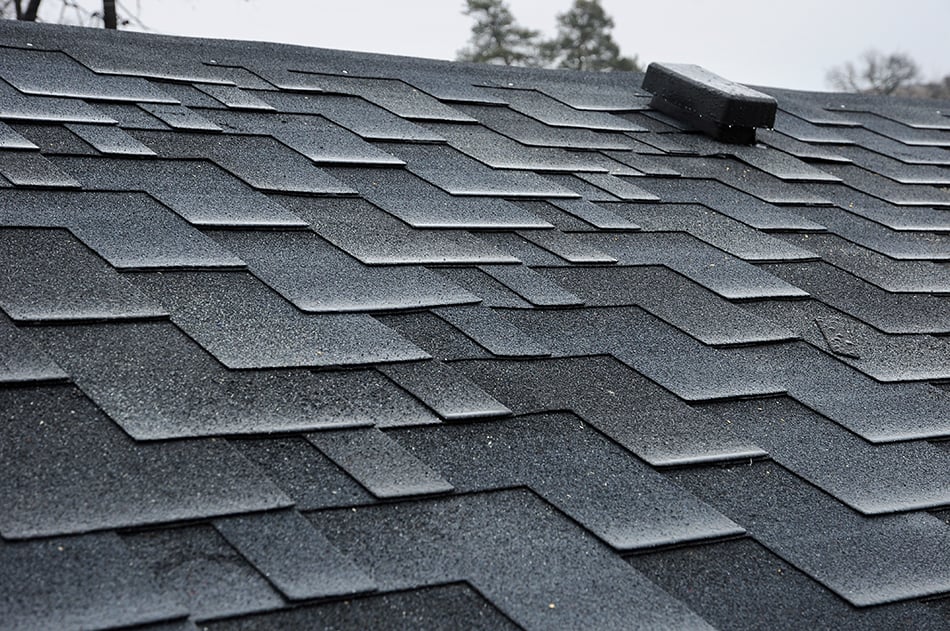 Asphalt shingles are quite common, and that is no coincidence – they have plenty of upsides. They are durable and meet the Energy Star criteria for "Cool Roof", helping you to reduce interior cooling and heating and save some energy. However, an asphalt shingle is thinner than other shingles and last between 20 and 30 years. If you expect them to last longer or be more durable because you live in a storm-prone area, look for thicker varieties.
As for the environmental concerns – although the environmental benefits of cool roofs are undoubted, you should consider the fact that asphalt is made out of petroleum.
Composite Plastic Shingles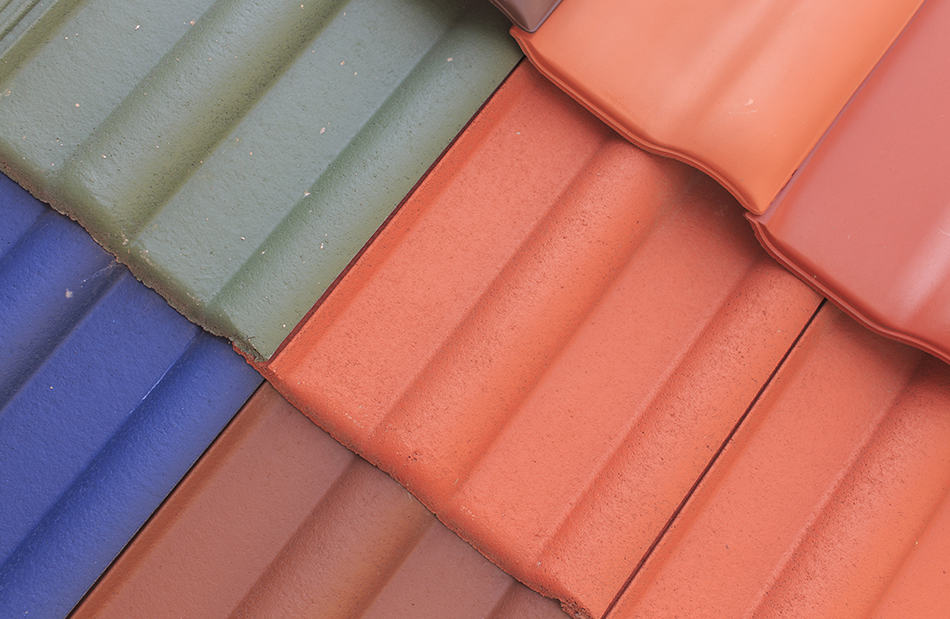 Composite or plastic shingles are durable, lightweight, and cheap. They are very easy to install and therefore are ideal if you are going DIY. If you are worried about the environmental impact of plastics, you can invest in recycled plastic shingles which certainly repurpose quite a lot of plastic waste.
The smoothness of plastic shingles makes them ideal for collecting rainwater. Still, it is the very feature that reveals their true nature – although they are made to resemble other types of shingles (e.g., clay tiles), they still have their plastic shine. This may be of concern to you if you are worried about aesthetic appeal.
The drawback is that they are prone to cracking on the edges if handled roughly in transport, as well as during cold spells and/or under snow cover, so they are not suitable for cold climates.
Synthetic Rubber Slate Tiles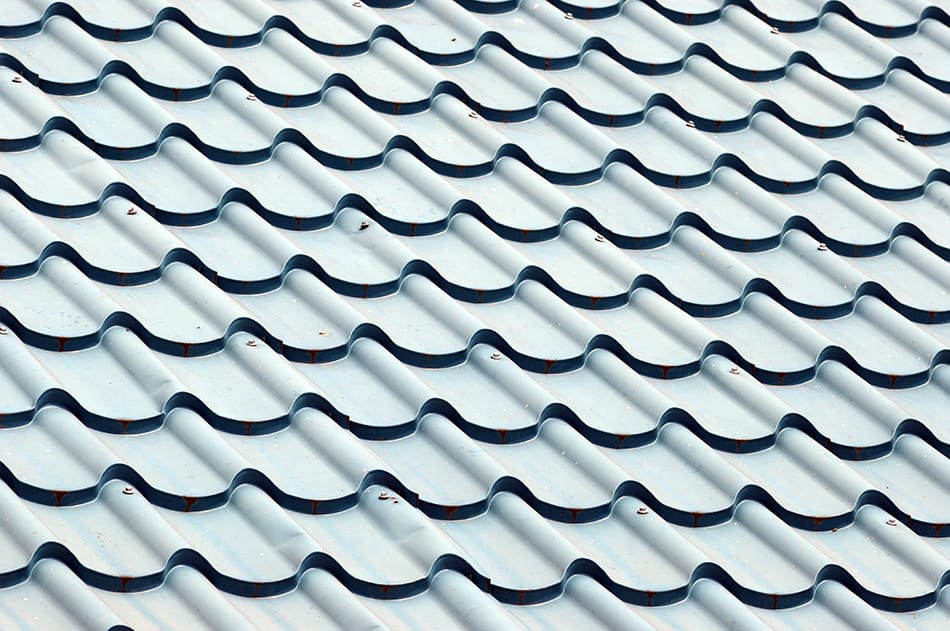 These synthetic tiles are made to imitate the natural slate. The fact that they are made out of synthetic rubber makes them substantially lighter than the original, but not as durable and long-lasting. They can be damaged by hail and by walking on them. Also, they need a professional who is experienced in installing a rubber slate roof.
Rubber slates can be easily cut and modified, so they might be a good solution for unconventionally-shaped roofs.
BUR – Built-Up Roofing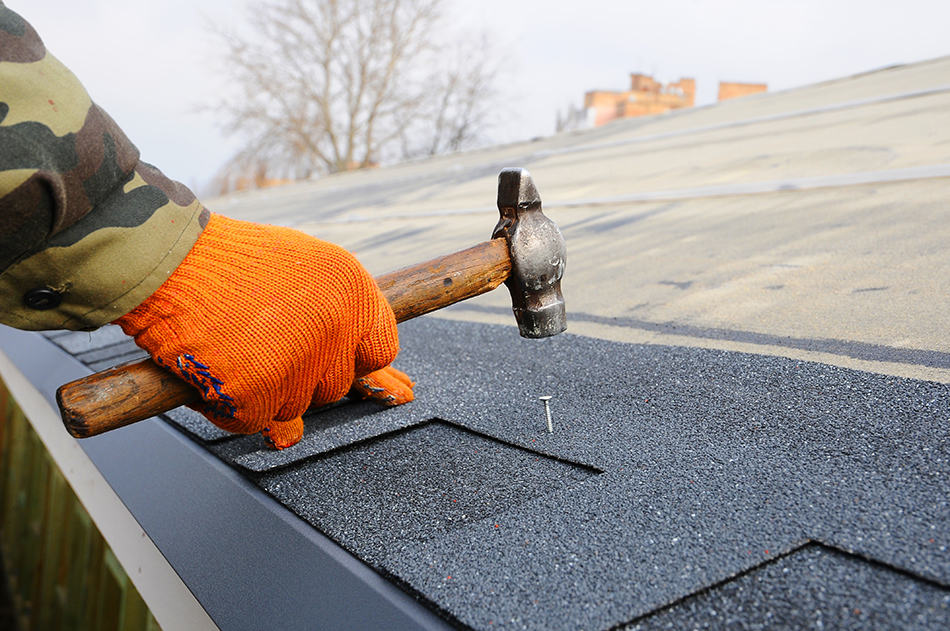 BUR is also known as "tar and gravel roofing", and it is a common roofing solution for flat roofs, and especially those with a lot of roof traffic.
This type of roofing is created by alternating layers of bitumen and reinforcing fabric. Together, they make up the membrane which is the base of the roof. The base is topped with an aggregate such as gravel, mineral granules, glass fiber or mineral surfaced cap sheets. Aluminum or elastomeric coatings or hot asphalt mopped over the entire surface can also be considered.
Metal roofs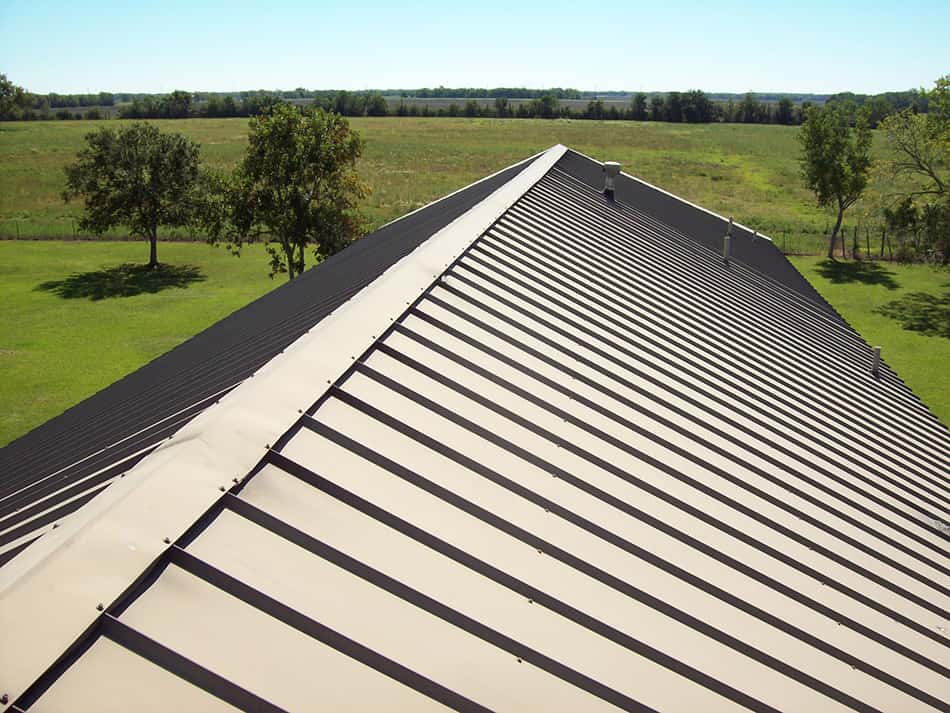 Metal is extremely cost-efficient, can reflect UV rays very well, and lasts for a long time – around half a century. It is a good option for both steep and flat roofs.
Although the low cost is one of the main reasons for galvanized metal roof popularity, the initial cost can be higher if you have a steep pitch. In any case, it will require a skilled professional to install metal roofing. Another unusual feature is that rain creates a specific noise during downpours which can be annoying to sensitive people
Solar roofs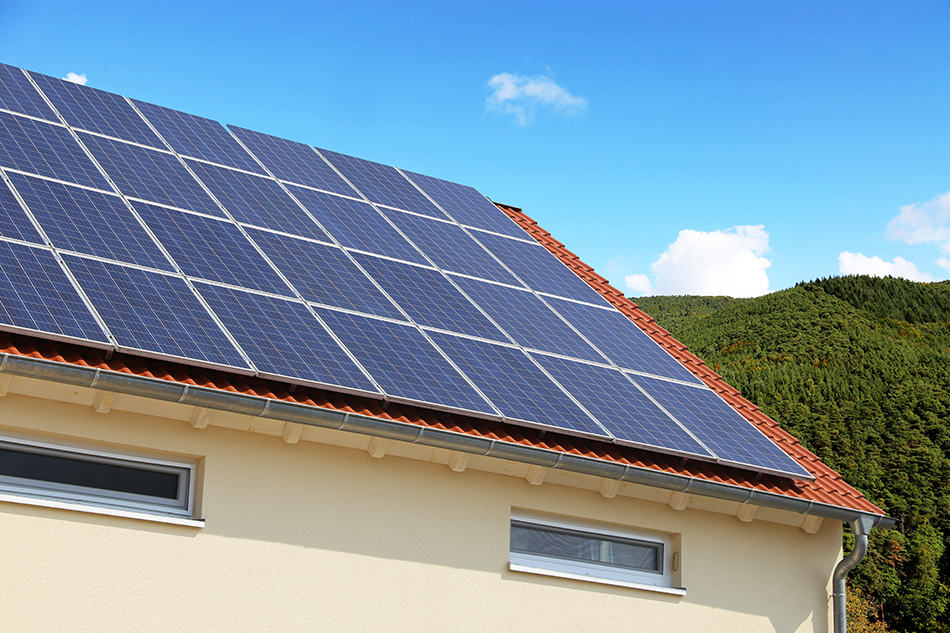 Now here are the roofs that are productive members of the household. Rooftops provide a lot of space, so why waste it. They can be perfectly utilized for energy production thanks to the solar panels and their ever-increasing affordability. They can help offset your energy costs. Some people pursuing off a grid lifestyle opt for solar to be their only source of electricity. Even if you are not looking to ditch the system, a solar roof can be a good sole energy strategy for holiday cabins.
Solar tiles are usually incorporated into your existing shingles and additionally help protect your roof. You will need a skilled professional specialized in working with solar panels to ensure they are installed properly.
These roofing shingles are not exceptionally decorative, but they do have a certain charm. Visually, they signal progress, modernity, thoughtfulness, and consideration for the environment.
Green roofs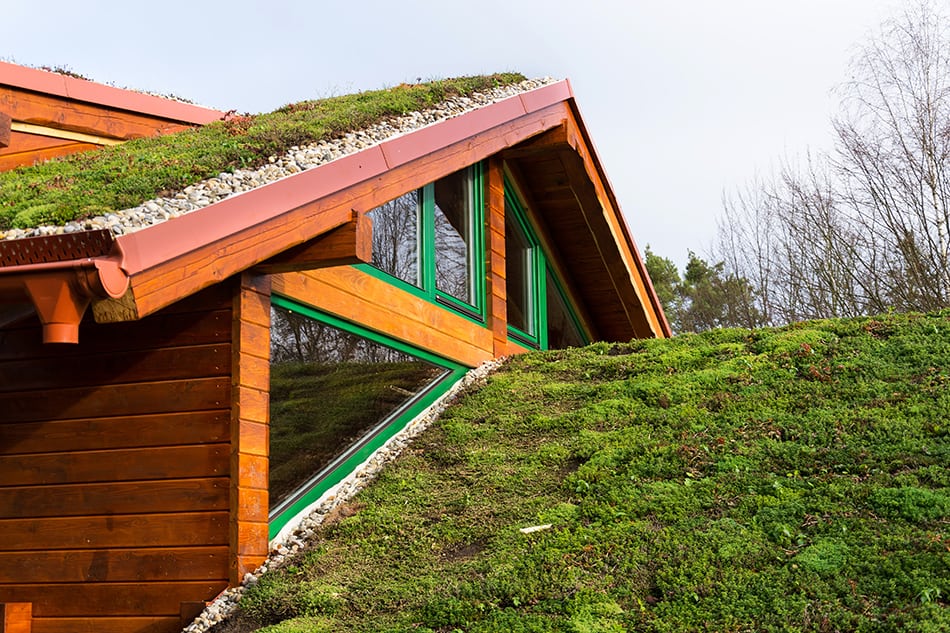 Green roofs the most environmentally friendly type of roof on our list. Also, they are extremely beautiful, tried and tested in the past when they were common on centuries-old Viking cabins (that still exist today BTW), and also a case for the future as we try to cope with and minimize the effects of climate change.
The roof that is covered with living vegetation will help insulate a home, reduce water run-off and improve air quality, helps pollinators, and lower the effect of heat island common in urban environments. And as the Viking example shows, with some maintenance, a green roof can last a long time.
However, since beauty usually comes with a price, green roofs can be demanding on your wallet since they need additional structural support, waterproofing, drainage, water filtration, topped with soil and plants.
Also, at least in warmer climates, a green roof is not something you can just leave unattended. Having a healthy dense cover will also prevent unwanted weed growth.
On the bright side, as a green roof owner, you get to say crazy things like "Hold on honey, I need to water our roof!"
Learn More About Other Types of Roof Shingles Here
Conclusion
Although the roofs are not the first thing to consider when thinking about a house, they are nevertheless critically important. Each roof shape and material have different properties that can have a great impact on your quality of life within the house. Learning about them is a must before taking on a project of building or modifying your home.
What's the shape of your home's roof? What is your favorite roofing material and why? Write it down in the comments!