When it comes to protecting your home from pests, adverse weather conditions, and water leakage, you'll need good quality roof shingles. But before choosing the right material for your roofing, you should first weigh up all the advantages and disadvantages of different types of roof shingles. To make this task easier for you, I'm going to explain in detail 10 types of roof shingles, how long they last for, and their pros and cons.
What is a Roof Shingle?
While each type of roof has its own shape (with each own pros and cons), Roof shingles comprise of individual overlapping components that are laid on the roof starting from the bottom and all the way to the top. The purpose of roof shingles is to protect the house from rain, pests, ice, and snow. When it rains, the water runs down the shingles and drips into the gutters instead of leaking into the eaves underneath.
The Importance of Roof Shingles
Shingles act as a water barrier: they prevent leaks from entering the house, which can eventually lead to mold or rot.
Improve your home's curb appeal: the type of roof shingles you choose will affect the look and style of your house. This also depends on your roofing budget and goal so make sure you choose wisely as there is no going back once the shingles are laid on the roof.
The right shingles are energy efficient: roof shingles can regulate the attic temperature. This, however, depends on the material and color you choose. For example, a lighter color shingle reflects excess heat so it depends on the location of your property as different shingles offer different levels of energy efficiency.
Increase your home's resale value: the type of roof you have and its quality will affect your home's resale value. It is, therefore, best to opt for high-quality roof shingles that last for many years.
Your home's lifespan is determined by its shingles: the type of roofing materials you choose for your roof will affect the lifespan of your home. This is why it's imperative not to go for cheap roof shingles as your roof will not be the only part of your home that will deteriorate over time.
Average Lifespan of Roof Shingles
| Type of Roof Shingle | Average Lifespan |
| --- | --- |
| Asphalt | 20 years |
| Fiberglass | 20 years |
| 3-Tab shingles | 20 years |
| Architectural shingles | 30 years |
| Slate tiles | 60-150 years |
| Clay tiles | 50-100 years |
| Concrete tiles | 100 years |
| Wood shingles | 25 years |
| Metal shingles | 20 years |
| Organic shingles | 15-30 years |
| Solar shingles | 30 years |
| EPDM Rubber | 15 – 30 years |
| TPO Rubber | 7 – 20 years |
| Green Roof | 5 – 40 years |
10 Types of Roof Shingles
1. Asphalt Shingles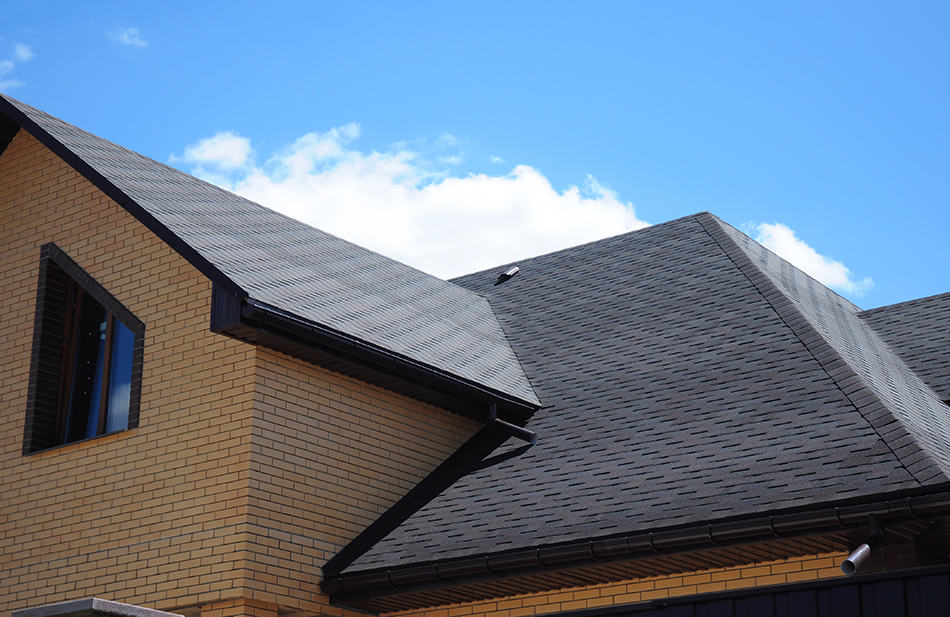 Asphalt shingles are not just used to protect the roof but they are also useful for waterproofing the roof. These shingles are the most widely used materials in North America because of their affordability and easy-to-install factors. The asphalt shingles are saturated under hot tarmac before the top surface is covered with minerals.
Pros
Affordable and popular: these shingles are most popular in the US because of their inexpensive installation costs.
Lightweight and fire-resistant.
Many styles and colors available: you can choose from a variety of styles, sizes, and colors that are modifiable to suit your home.
Energy efficient: asphalt shingles are made using cool-roof technology to minimize heat absorption, thus lowering energy.
Low maintenance: if the asphalt shingles get damaged, they are cheap to replace or easy to repair.
Cons
Less durable: Asphalt roof shingles are susceptible to weather damage and don't last as long as other roofing types. Although they can withstand both hot and cold climates, they are more likely to crack or wear away under extreme temperatures or elements, such as hailstorms.
Not suitable for flat roofs: asphalt shingles will only work on sloped roofs as they're less likely to wear away.
Not as environmentally friendly as other roofing materials.
There 3 asphalt shingle subtypes. These are:
Fiberglass Shingles
Fiberglass is a sub-type of asphalt shingles. It's processed using multiple fiberglass layers woven together before getting reinforced with a coat of asphalt for waterproofing. It is then topped with ceramic particles that protect the shingle from the UV rays. This type of material is non-porous and highly resilient, thus making it a great option for roof installation. Furthermore, fiberglass shingles don't change shape or dry out in hot temperatures.
Pros
Lightweight: because the fiberglass shingle is composed of multiple mat layers, it requires less asphalt.
Environmentally friendly: fiberglass shingles are more environmentally friendly than the traditional asphalt shingles.
Easy to install: any experienced roofer or DIY enthusiast can install these shingles.
Budget friendly: fiberglass shingles are one of the most affordable roofing choices when compared to other materials.
Cons
Not as durable as other roofing shingles: while some shingles can last up to 100 years, fiberglass roofs only tend to last for 20 years or so.
Annual checkups are necessary: due to the short lifespan of fiberglass, it's crucial to carry out annual inspections of the roof and replace any cracked shingles. This is especially important in hot climates.
 3-tab Shingles
3-tab asphalt shingles are the standard type of roof shingles that are most commonly used in North America. These shingles were introduced in 1930 and were soon adopted by other countries. Although these roof shingles have been around for a while, their design process has remained the same. The only aspects that have changed are their installation and the materials used to make them. 3-tab asphalt shingles are made of a fiberglass layer, asphalt, stone, and adhesives to keep the layers in place.
Pros
3-tab asphalt is one of the most affordable types of roof shingles that ranges in quality and price.
Suitable for any type of climate, although you'd make a better choice by going for the architectural shingles that can withstand extreme snow in winter and high winds.
Can easily be replaced.
Easy to install by a roofer or DIY expert.
Cons
Not as hard wearing against adverse weather as other roofing shingles.
Can't withstand stormy weather as well as other roof shingles.
The attic must be well-ventilated before installing these shingles.
Not as durable as other roof shingles.
If moisture gets trapped in between the shingles, it can cause mold or decay.
 Architectural Shingles
Architectural shingles are the more stylish version of 3-tab shingles. They vary in width, and come with a vast range of shapes, colors, and designs. Architectural shingles are unique in appearance and make a great option for those who can afford such shingles.
Architectural shingles are made of the same components as 3-tab roof shingles, but with much thicker layers of asphalt. These shingles consist of triple fiberglass layers and stronger adhesive. Although these roof shingles are heavier and costlier, they are more interesting to look at and a lot more tougher than other asphalt shingles. Note: these shingles require specially skilled roofers to install them.
Pros
Architectural shingles withstand severe weather conditions.
They last much longer than other asphalt shingles: since these shingles are twice as thick as 3-tab shingles, they are less prone to curling and much more durable.
They increase your home's curb appeal.
These shingles are designed to resemble slate or cedar shingles but can hide the roof's imperfections much better.
Architectural shingles come with long warranties.
Cons
Difficult to install.
Very heavy in weight.
Installation comes at a higher price.
2. Slate Tile Shingles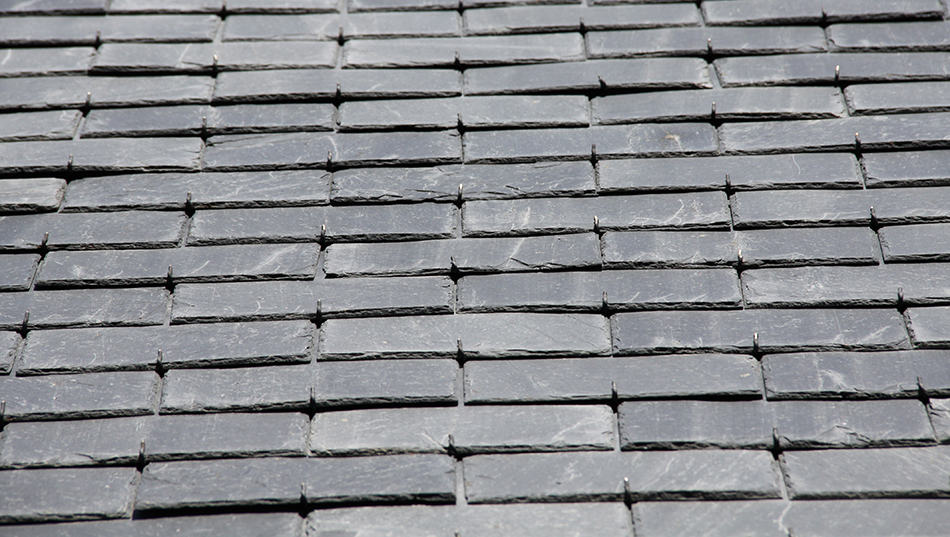 If you want to give your home a Spanish or Mediterranean look, then you should opt for slate shingles. These tiles can be molded into many different shapes and are lighter in weight compared to other shingles. This means they absorb less heat. Slate tiles are a naturally occurring material that are suitable for roofing shingles. These are mined from rocks and can be split into multiple layers easily.
The typical slate tiles tend to have grey hues, but their colors vary depending on their origin. Slate tile shingles have a wide variety of patterns and textures to choose from, thus making them highly flexible. The tiles are designed to be installed to the roof using nails and pegs.
Pros
Just like architectural shingles, slate tiles are considered to be one of the most aesthetically pleasing roof shingles thanks to their unique design.
They make a great choice for roofs that are in direct exposure to extreme hot weather.
When installed in the right weather conditions, the tiles can last for many decades.
Unlike wooden shingles that can decay or rot, slate tiles are highly resistant to termite damage and decay.
Cons
One of the most expensive types of roof shingles in terms of both the material and installation.
Higher cost of repair: since tiles are more likely to crack or break under the slightest pressure, their replacement or repair will be more often and special tools are needed to fix them.
Heavy in weight: the structure of the roof must be able to cope with the heavy weight of the roof. In fact, some slate tiles can weigh as much as 900 pounds per square.
3. Clay Tile Shingles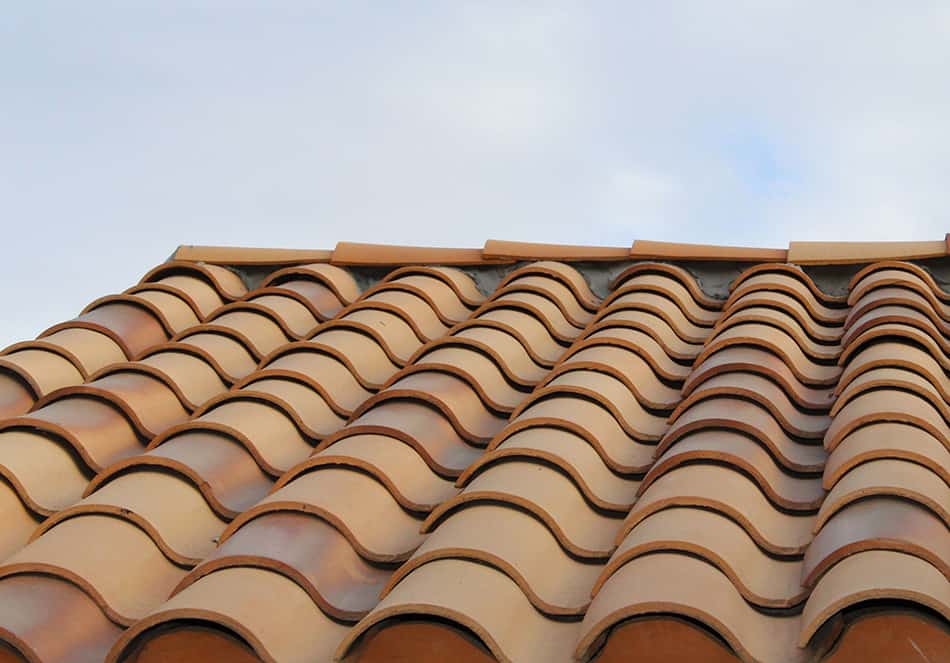 Clay tile shingles are made from a mixture of hard wearing and natural materials, such as fired clay and cement or concrete. These molded tiles are baked in very high temperatures. Their density is determined by how long they have been baked for and at what temperature. The range of colors you can choose from include yellow, white, orange, and brown. The most common color for clay tiles is terracotta, which is by far the most popular choice. The other alternative is to choose a ceramic type of clay tile, which consists of spraying enamel over the shingle prior to baking it. The high temperature used in the making of these tiles makes them highly resistant to fading or peeling.
Clay tiles come in a wide variety of finishes, profiles, and styles. Because of the way these tiles are shaped, they make an excellent protection as an underlay for the roof, while creating adequate ventilation for the roof. These tiles not only insulate the roof, but they also prevent excess heat or cold from entering your attic.
Pros
Environmentally friendly: since clay roof shingles are made from natural materials, they are recyclable and eco friendly.
Energy efficient: these types of tiles make an excellent green roofing option as they are chemical-free and made from earth materials.
Highly resistant to strong winds and hail storms.
Long lasting. Just like concrete tiles, clay roofing shingles can last up to 100 years or even longer.
Fire resistant.
Low maintenance.
Cons
Expensive to install.
Very heavy in weight.
Prone to breakage.
4. Concrete or Cement Tile Shingles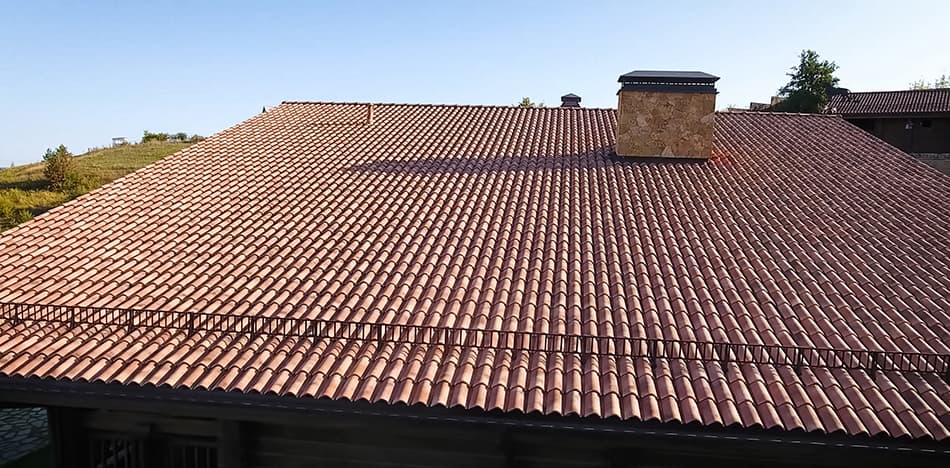 Cement roof shingles are similar to clay shingles in appearance, and they can last just as long as clay tiles. These types of roof shingles are reminiscent of ancient stoneworks of South American ruins, but the main difference is that concrete tiles don't crumble. This is because the shingles are made from a mixture of cement, water, and sand, molded under high heat to form. Once the tile has been created, its surface can then be painted.
Cement tiles have the benefit of locking water and preventing leakage. This is thanks to their interlocking ribs located on the edges of the tiles in order for water to flow out from the roof.
Concrete tiles can mimic the appearance of clay, wood, or stone tiles. They can also be textured or smoothed, with uniform or ragged edges.
Pros
Highly resistant to adverse weather conditions: concrete tiles can withstand fire, wind, and hail storms, thus making them a safe option for roofing.
Low maintenance: since concrete tiles are not easily damaged, they are unlikely to require any repairs. The most maintenance you'll be doing is just cleaning them from time to time to prevent mildew.
Long lasting: concrete tiles are just as long lasting as clay roof shingles (up to 100 years).
Fire resistant.
Highly versatile: concrete roof shingles are available in many different colors and shapes. You can even choose tiles that match your home's exterior design.
Cons
Very heavy: these roof shingles are extremely heavy in weight so you'll have to ensure that your roof can take the extra weight of these tiles. Most roofs must be reinforced adequately before laying these tiles.
Susceptible to breakage: Just like slate tiles, concrete shingles can also be prone to breaking. Although they can endure heavy rainfall, hail storms, and even tree branches falling on them, they may still break or crack.
Not completely wind resistant: compared to other roofing shingles, concrete tiles are stronger. However, they are not totally storm resistant and high winds can still lift them from the roof.
5. Wood Shingles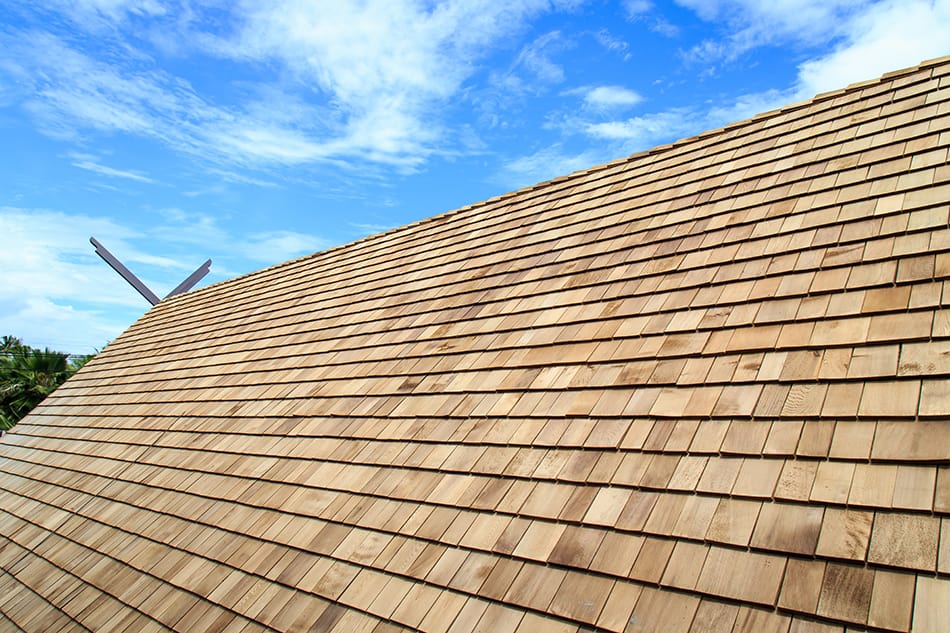 Wood is a popular and much loved material for roofing and building purposes. In fact, it's the oldest type of roof shingle that has been used by mankind. Over the years, wood has undergone many innovative makeovers and is a preferred choice for roofing. The manufacturers of wood shingles can produce tapered and smooth shingles with a rustic look, depending on your home's style. However, wood shingles can be very expensive, especially if you choose cedar wood.
Wood shingles aren't as fragile as they used to be. Thanks to modern and innovative methods, they are now more durable and have a longer lifespan. Another advantage of wood shingles is that they will retain their look long after they are installed. They make a great choice for high-end properties.
Pros
Aesthetically appealing: wooden shingles, such as cedar, are considered to be the most beautiful type of shingles. So much so that manufacturers of other shingle types have created roof shingles that mimic the look of cedar.
Environmentally friendly: wood shingles are biodegradable and organic. Since they come from sustainable sources, they are the most environmentally friendly materials for roofing.
Energy efficient: wooden shingles provide natural insulation to the attic and allow air to circulate throughout the house. This means you will save money on your utility bills.
Lightweight
Cons
Shorter lifespan.
Costly: the cost of replacing wood shingles is higher than most other materials. The installation is expensive and the material can be exceptionally fragile during the installation process.
Not as sturdy in harsh climates: wood tends to splinter in hail storms and strong winds.
Difficult to install or replace: the installation or replacement of wood shingles requires professional experience.
Difficult to maintain.
Highly flammable.
Prone to rot and insect damage.
6. Metal Shingles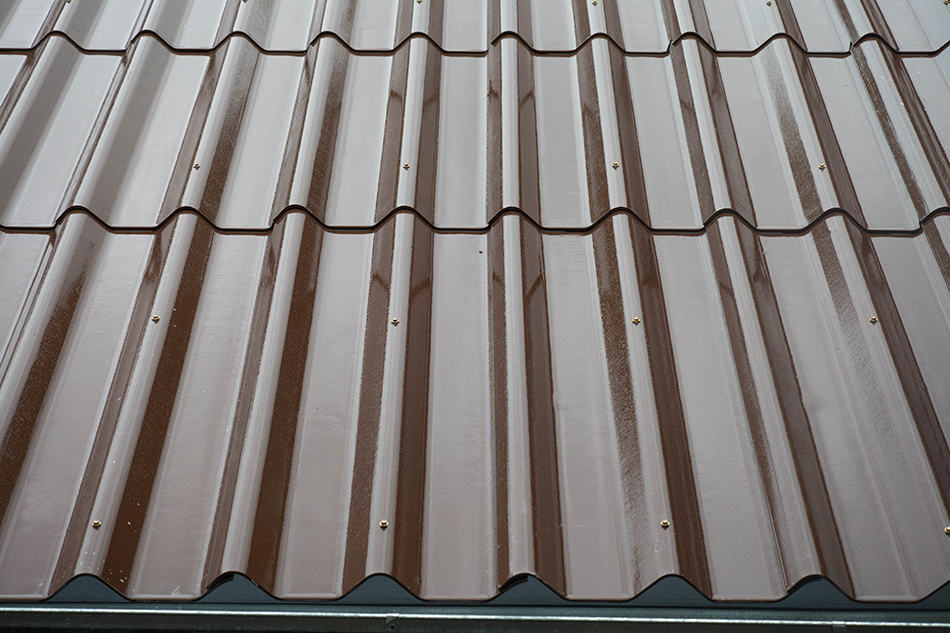 Metal shingles are highly stylish and available in a wide variety of colors. They are light in weight and their installation is quick. This makes them a favorable roofing option for both commercial and residential properties. However, metal roofs can't take heavy loads so if you live in an area with heavy snowfall, you shouldn't choose this type of roofing.
Metal roof shingles can be aluminum, iron, or stainless steel. They usually have ridges that stretch down the metal panels. These shingles can be made to mimic clay tiles, wood, or slates.
Pros
Ideal for flat or steep roofs
Durable: metal roofs can withstand most weather conditions and aren't prone to splitting, warping, cracking, or rotting.
Energy efficient: as metal reflects the UV rays of the sun, it keeps the house cool throughout the hot months.
Resistant to fire.
Environmentally friendly: metal shingles are recyclable and can easily be installed over an existing roof.
Cons
Very noisy: when it rains, the noise from metal roof shingles can be disturbing.
Expensive to install.
Not popular for residential roofs: some people don't like the look of metal, hence the reason they aren't commonly seen on residential homes.
Difficult to replace or repair: Replacing or fixing a metal roof is a dangerous task that no DIYer should take on. Only a professional roofer can replace or repair a metal roof.
7. Organic Shingles
If you want to do your bit for the planet, then why not choose organic roof shingles? These roofing shingles are made from recycled materials, such as wood fibers, waste papers, felt, used cardboard, and cellulose. Organic shingles are usually coated with thick ceramic and salt layers with asphalt for extra protection against water penetration.
These types of roofing shingles make the best choice for homeowners who are looking for a cheaper roofing option that's easy to install. However, you will need to replace these roof shingles more often than other types of roofing as they don't last as long.
Pros
Environmentally friendly.
Quick and easy to install.
Cheaper than other roofing shingles.
Cons
Heavy: the final coat of ceramic layer adds to the weight of the shingles.
Shorter lifespan.
Unsuitable for hot climates
8. Solar Shingles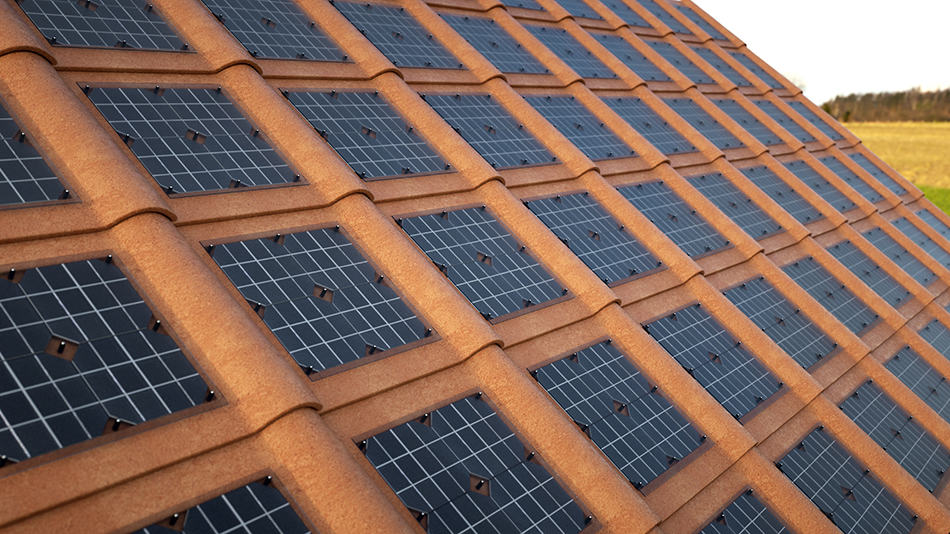 Solar shingles are the most modern roofing options available. Although they are highly expensive compared to other shingles, they make up for their high price by saving you money on electricity. This is because solar shingles aren't just used for roofing. They turn solar energy into power. The concept was first developed in the late 90s by a company called Uni-solar.
Aside from the energy-saving benefits of solar shingles, you also have the option of matching the look of these shingles to slate or asphalt roofing styles.
Pros
Look pleasing to the eye: most solar panels don't need to cover the entire roof area so they leave adequate space for the solar roof shingles to be installed. This makes the shingles look attractive, especially when they are installed on a modern property.
More cost-effective: there is no need to replace your existing roof shingles for solar shingles. And even if you do wish to replace your current roof, you'll save money in the long term since these shingles serve as both energy savers and roof shingles.
Can withstand adverse weather conditions: solar shingles are made from strong materials that can withstand high winds and hail storms.
Cons
Complicated installation process that can only be handled by professionals.
Roof must be in good condition.
Your roof's slope must be of appropriate angle towards the sun in order for the solar shingles to work effectively. These shingles aren't suitable for steep roofs or the ones that don't face the sun's direction.
9. Rubber Shingles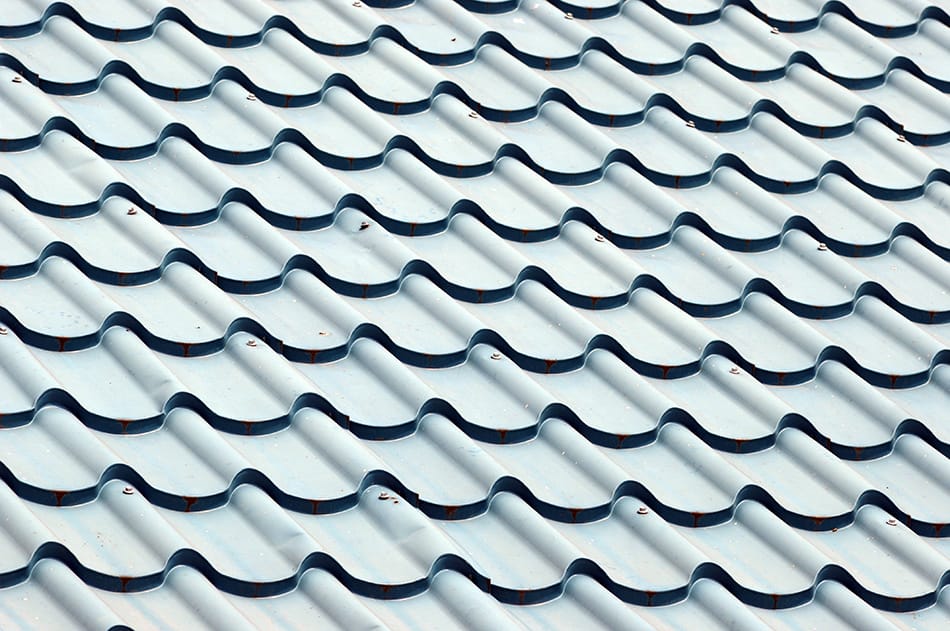 Rubbers is a nice material to make roof shingle. It is known for its high durability, which can last more than 30 years. Rubber shingles are easy to install, maintain. They are also energy-saving and look similar to asphalt shingles. That makes it more expensive than asphalt, normally 3-4 times the cost. There are many types of rubber shingles, which thereby affects their pricing, duration, and looks as well.
Pros
Easy to install, and maintain
High Durability
Energy-saving
Weather and heat-resistant
Cons
Not inexpensive
Delicate and prone to breakage by heavy objects
Colors can fade towards time
10. Green Shingles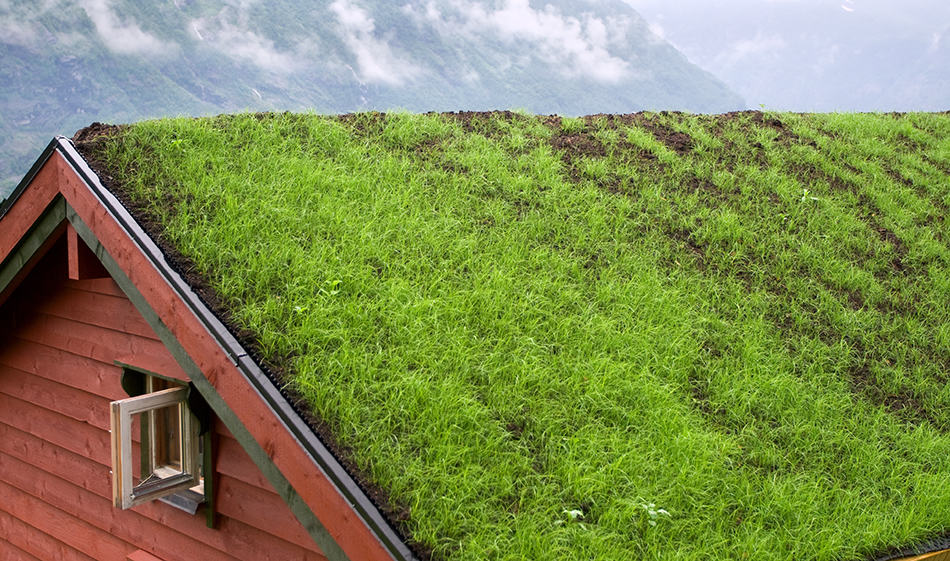 The list will be not complete without talking about green shingles, or green vegetation roofing. As the name implies, green shingles are made of living vegetation, which makes it the most environmentally-friendly shingle type. Green shingle helps improve the thermal insulation of the home, improve its looks, and prevents water run-off. But it comes with a downside that this shingle type needs high maintenance – you need to water it regularly but not too much for not draining the water to the roof; Also have the patience to take care of it to make your roof always look best.
Pros:
Environmentally friendly
Can be considered as the roofing of the future when the earth is getting warmer
Improve the looks of your property
Can last long, up to 50 years
Improve insulation, and air quality of your home
Cons:
Not easy to install. Demanding for the right structural support (soil, plants, and water-proofing foundation)
High maintenance. Proper watering and regular maintenance needed
Expensive to install, and maintain with all of its cons above.