Metal roofing for homes started becoming popular at the turn of the century. Many people no longer perceived this roofing type as suitable for commercial buildings as there were many advantages that came with metal roofs. Not only are metal roofs lightweight and durable, but they are also fire and hail-storm resistant.
Since you can paint these roofs any color, deciding on the best metal roof and siding color combinations can be overwhelming. But before we show you some color combination ideas, it is important to take into account the impact of such colors on your own home's exterior.
For example, the style of your home (modern or rustic) can influence the metal roof and siding colors you choose. The color of the roof should not only match your home's siding, but it must also boost the overall appeal of your home's exterior.
All this and more are discussed at the end of this article to help you determine the most suitable color variations for your siding and metal roof. Keep reading for some excellent color ideas for making a bold statement or creating a subtle beauty.
Gray Metal Roof with White Siding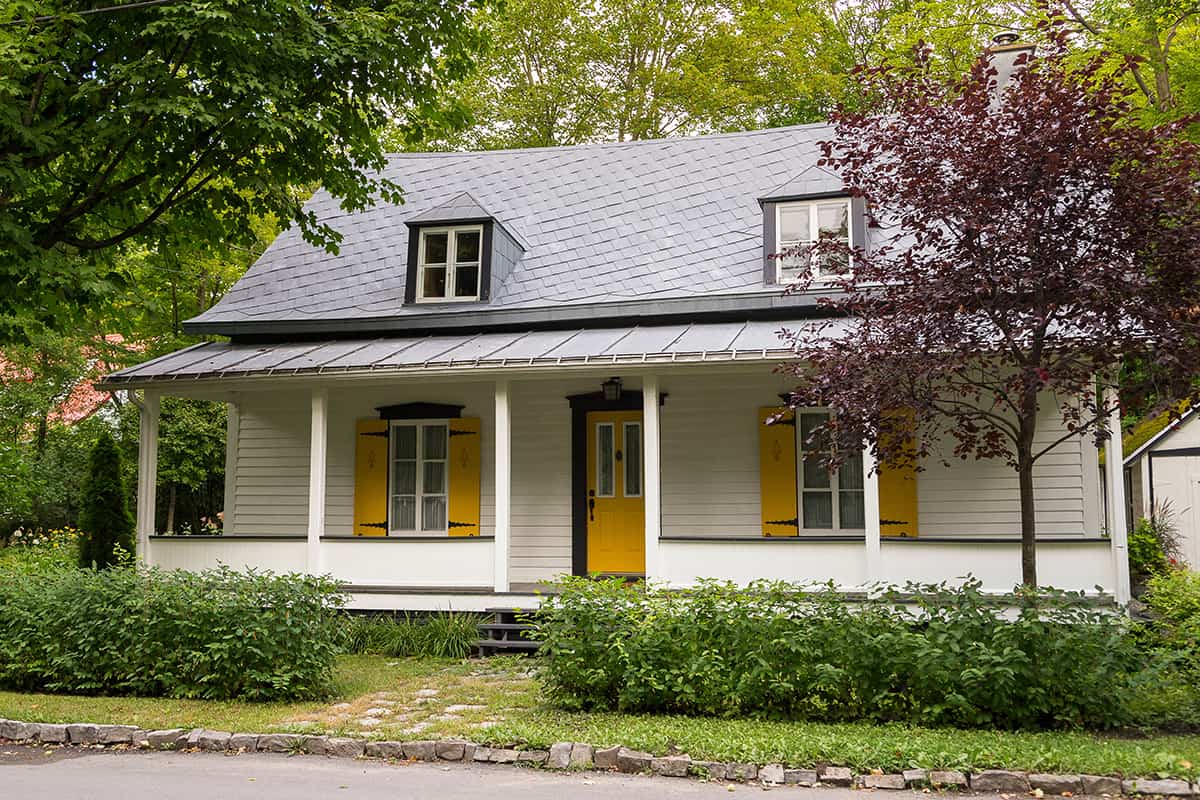 Gray is a highly versatile color for a metal roof. This neutral comes in a variety of shades and is suitable for many style homes, including country cottages and contemporary villas, or everything in between.
If you live in a warm climate, a gray and white color combination is the right design for you. A home with white siding and light gray metal roofing will repel the sun's heat and keep your home cool.
A home with a gray metal roof and white siding looks incredibly welcoming just like the example here. This pretty, rustic country house stands out with its clean white exterior and gray roofing. The yellow shutters pop as a sleek design.
Brown Metal Roof with Earthy Siding Colors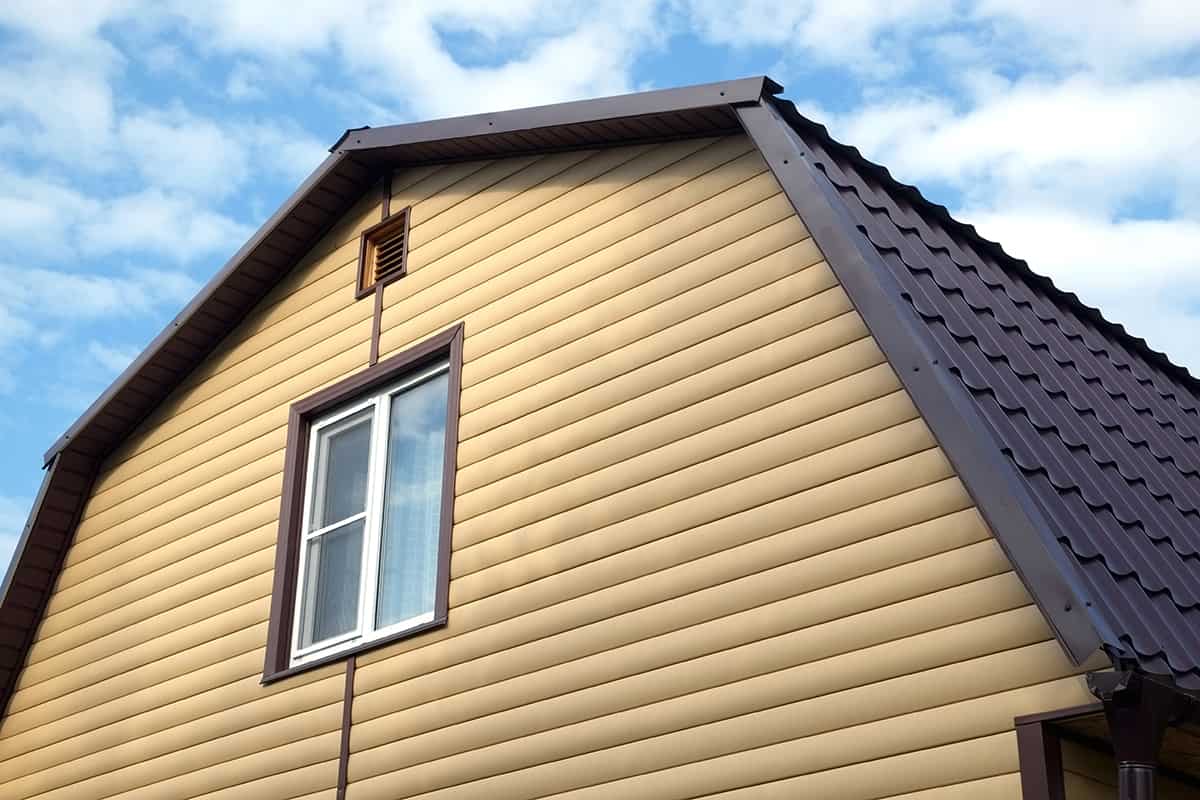 Brown roofing has been a popular choice for many years. When you choose a brown metal roof with a matching siding color, you can create a warm, earthy look. Think tan, yellow, or beige for the siding paired with dark brown for the metal roof as harmonious color schemes. And as for the trim, you can go with a lighter shade of brown or yellow.
This color combination is ideal for country homes like the one shown in this image. Both the roof and siding colors have a warm, earthy undertone for an inviting feel.
Red Metal Roof with a Contrasting Siding Color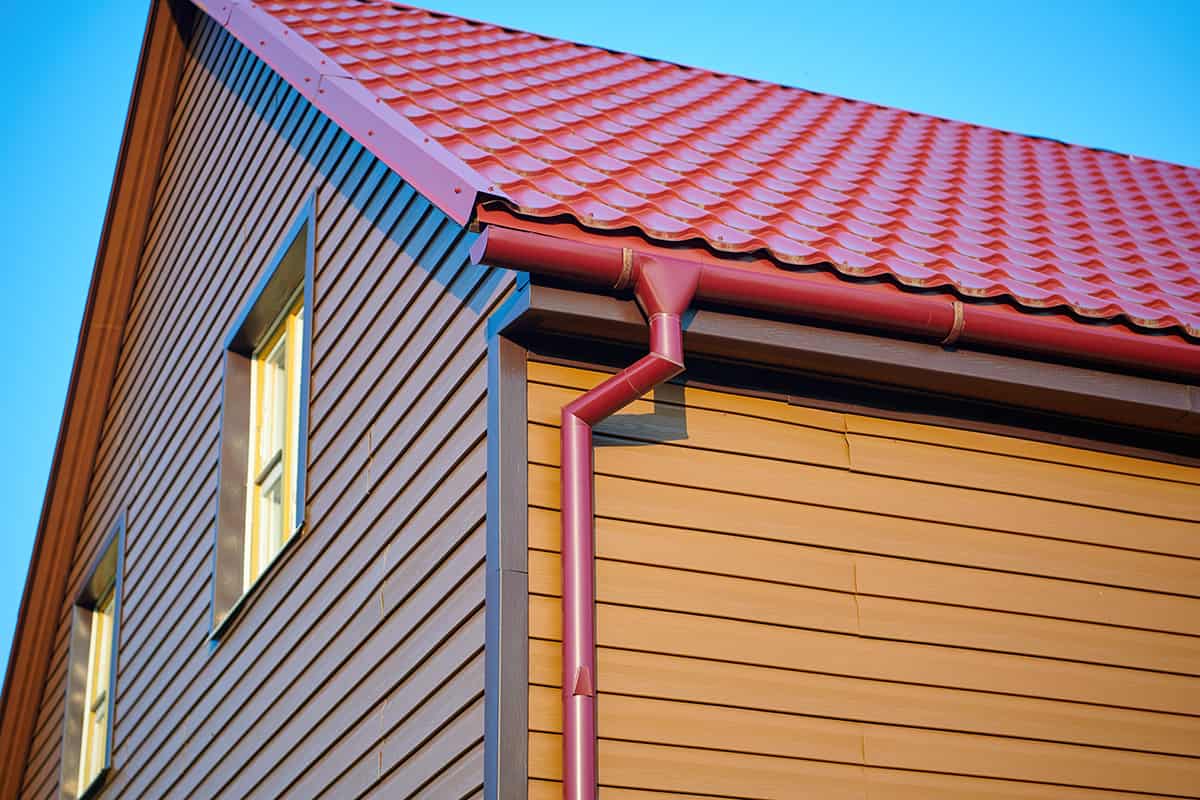 A red metal roof with a contrasting siding color can really stand out. While red isn't an obvious roof color choice, it can work with almost any other contrasting color. Think a pale shade of green or blue for the siding together with a dark red metal roof for a vibrant pop.
This house features a red metal roof with dark blue and beige siding as a unique color combination. You may also pair your red metal roof with other bright and contrasting colors, such as white, orange, or light brown.
Green Metal Roof with Gray Siding Colors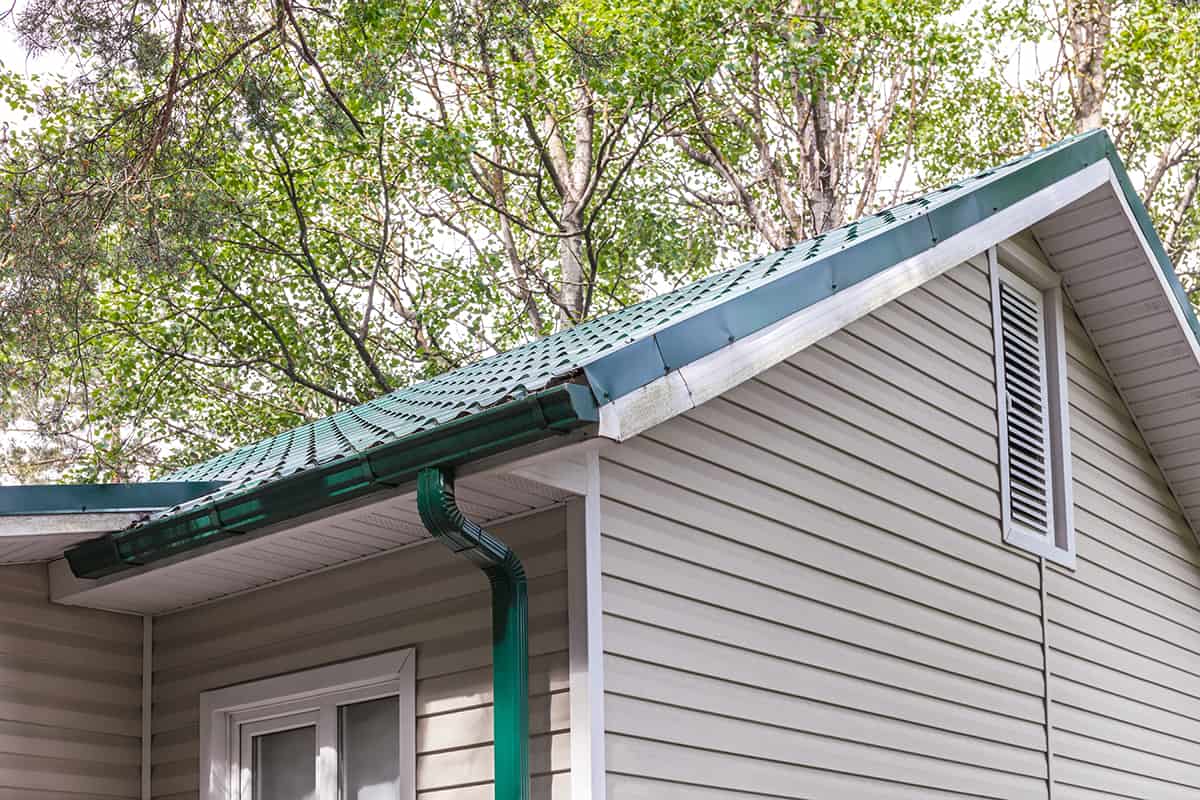 Green is a popular metal roofing color as it blends well with nature. This eye-catching, warm color emits a soft, calming vibe, which makes it perfect with cool-toned gray siding. Choose an earthy green with a blue undertone as it can be paired with many other colors for trim and siding, including orange, gray, brown, and yellow.
There are also muted greens that are close to neutrals. Since green is a versatile color, it can go with a variety of exterior designs. Almost any shade can be chosen for your metal shingles as an inviting look.
Gray siding with green metal roofing looks ideal on homes that are surrounded by lots of landscaping. With this color combination, your home can be transformed into a stunning sanctuary!
Blue Metal Roof with White Siding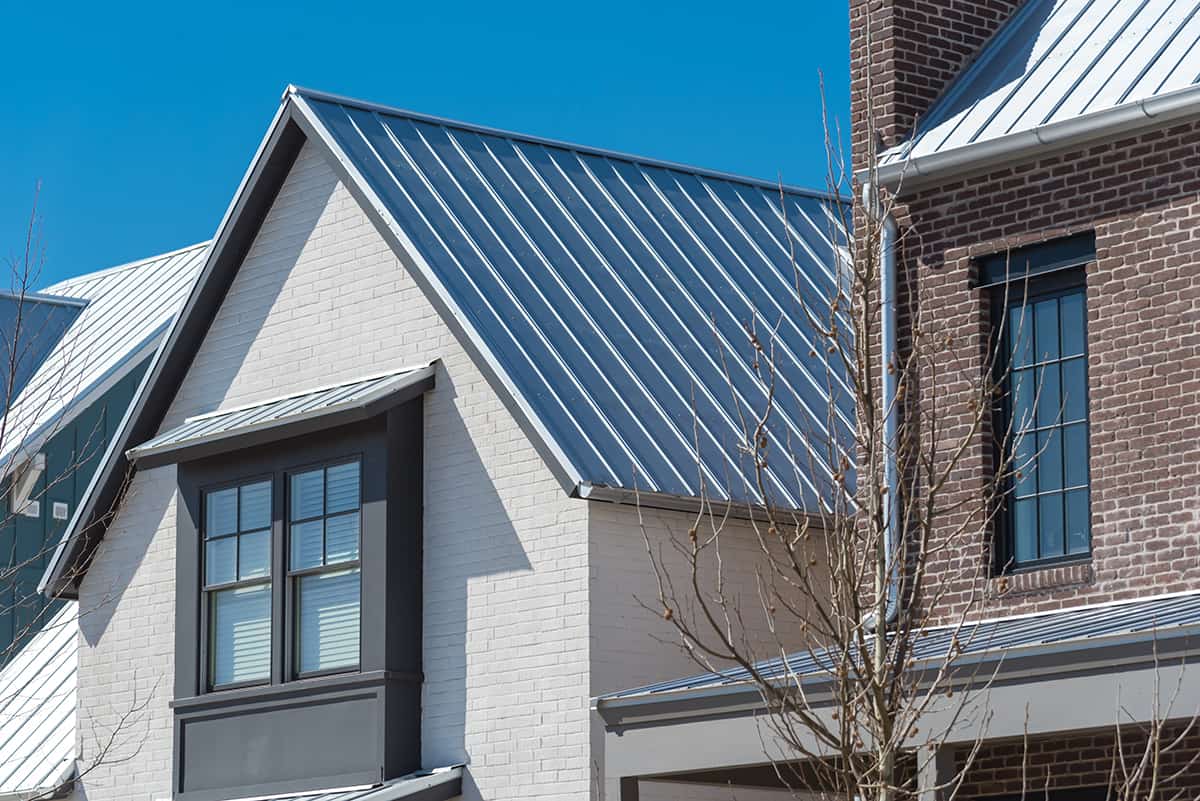 Another beautiful metal roof color that blends well with neutral siding is blue. This color combination is especially ideal for homes with brick siding as you can create a striking balance between the metal roof and the white brick.
For those who are daring enough, try the blue metal roof with bold trim colors like black or dark gray. The white-painted brick siding can serve as an eye-catching backdrop to the dark blue roof and the trim. You will often find these color schemes on modern Suburban homes just like in this example.
Black Metal Roof with White Siding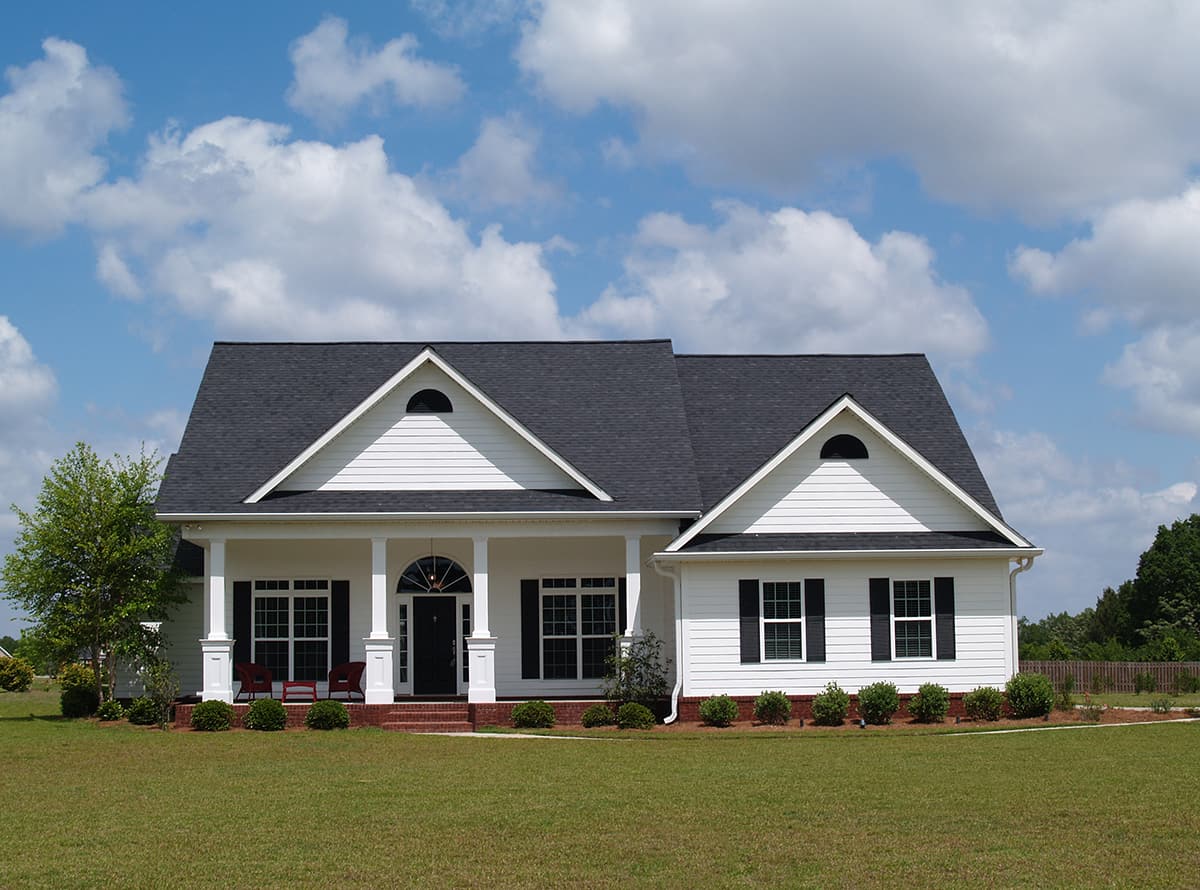 A black metal roof gives a home with white siding a modern and sleek look. This color combination goes with many architectural styles, including Georgian, Craftsman, and Stick-style houses. Both modern and farmhouse homes can also look stunning with a black metal roof, black trim, and bright white siding.
When choosing a black paint finish for your metal roof, we recommend matte as semi-gloss reveals scratches and imperfections.
Look how beautiful this single-story house is with its black metal roof, matching shutters, and bright white siding. As contrasting colors, black and white look good on any exterior design and architectural style.
Metal Roof and Siding Color Combination Tips
Now that you have a better idea of the best color combinations for metal roofs and siding, you should take note of the following tips before grabbing your paintbrush:
Consider Contrasting Colors
One popular way of combining metal roof and siding colors is to contrast them. For example, if your metal roof is a dark blue or red color, you can choose a light yellow shade for the siding or vice versa.
Cool Vs. Warm Hues
Another helpful way to combine your metal roof color with siding is to decide between cool and warm-toned hues, including black, white, beige, and gray. These are a solid choice for both siding and roof.
It is usually best to pair cool-toned colors with warm instead of just warm or cool hues. Cool-toned colors include:
Warm-toned colors include:
By combining cool and warm hues for your metal roof and siding, you can achieve a cohesive exterior design for your home.
Dramatic Vs. Subtle
One color feature that can make a world of difference to your home with metal roofing and siding is whether you select dramatic or subtle color combinations.
If you want to make a bold, striking statement, opt for rich colors like reds and dark blues as these are guaranteed to bring drama. For a more subdued option, opt for tan or beige colors as bright and muted tones.
Keep in mind that homes with subtle metal roofs and siding colors don't attract attention, whereas dramatic and contrasting colors instantly draw the eye, so take these into account before deciding on how bold or subdued your roof and siding colors will be.
Modern Vs. Traditional
Another important factor you should consider when narrowing down your optimal siding and metal roof color combinations is to decide between a traditional or contemporary design.
This tip is particularly applicable to those who are buying a brand new house or homeowners who want to remodel the exterior of their homes. Of course, the choice of color for your metal roof and siding should also match the architectural style of your home.
For example, if you have a country cottage, dark blue metal roofing can be paired with gray siding for a farmhouse look.
On Craftsman-style homes, you usually find light or dark gray roofs that blend well with dark blue. Similarly, a rustic cottage can look beautiful with olive-green metal roofing and gray siding.
But what about a contemporary home with metal roofing? You will often find dark siding colors with matching metal roofs, or white siding with black metal roofing. Such modern design homes also feature a combination of unique metal roof styles that make them stand out.
When in Doubt, Choose Neutral Colors
If you can't decide which color combinations work best for your metal roof and siding, then a blend of neutrals is the safest option. Using neutral colors is especially advised if you're intending to sell your home as most homebuyers prefer a neutral exterior design rather than excessive purple or green siding. You can play it safe by going with a brown metal roof and gray or white siding, for example. Such neutral tones fit almost any architectural style home.