Ceilings are an essential part of a home's interior effect, aside from being integral support to the interior walls, furniture, and flooring. The height, style, and even the material used for a ceiling can greatly affect the entire room's overall ambiance. A distinctively decorated ceiling treatment with creative architecture will enhance your home's interior design.
To learn about the different types of ceilings and their material options, make sure you read this article now.
1. False or Suspended Ceilings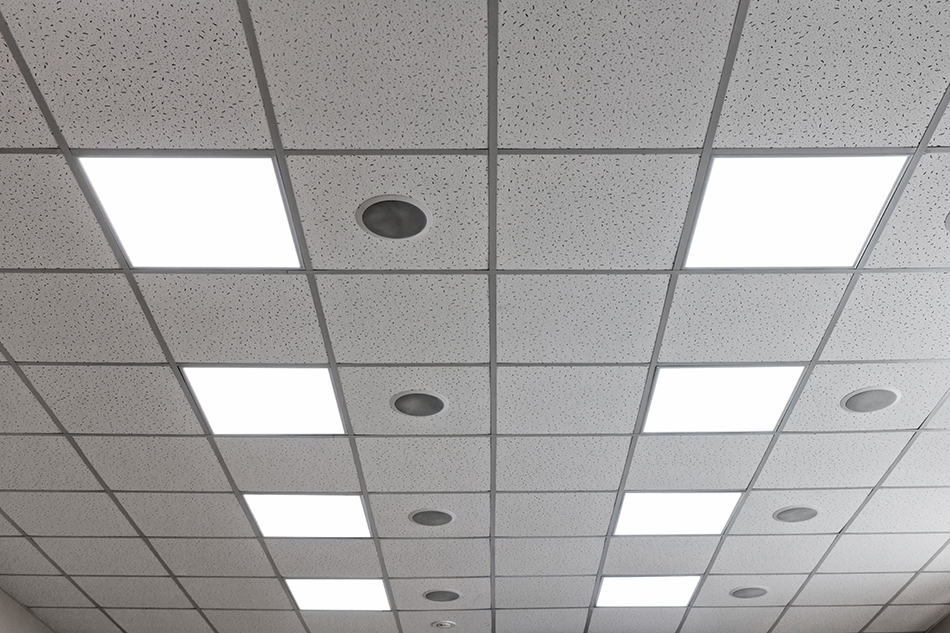 False ceilings are the secondary T-bar type hung below the main ceiling. These are usually found in modern apartments or houses. In older homes, suspended ceilings were used to conceal wiring, plumbing, and ducts, but now, they are simply a symbol of modern architecture. When accompanied by recessed lights or a chandelier, these ceilings give an alluring look to the living room.
A suspended ceiling can also feature textures, fiber panels, or even geometric designs. But before installing such ceilings for your home, take into account the size of the room as ample ceiling space is required.
2. Shed Ceilings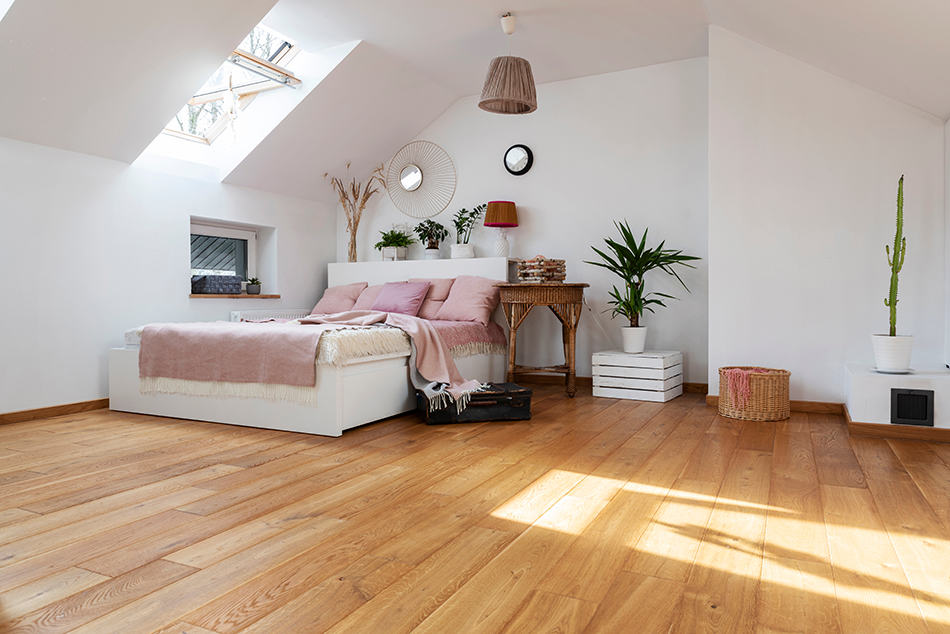 Shed ceilings have a slanted slope towards one side of the space. They are usually used in attic spaces or under the sloped roof of a loft room.
The shed ceiling's rise angle is not as steep as vaulted ceilings, meaning the room will benefit from better ventilation and insulation. This type of ceiling creates an uneven wall height, but it can be designed to drop lower to make the large space smaller.
You can use shed ceilings to your advantage by sprucing up the upper floor of your home as part of your interior decoration project. Just make sure the ceiling height is high enough so you can stand up straight without hitting your head against the shed ceiling.
3. Tray Ceilings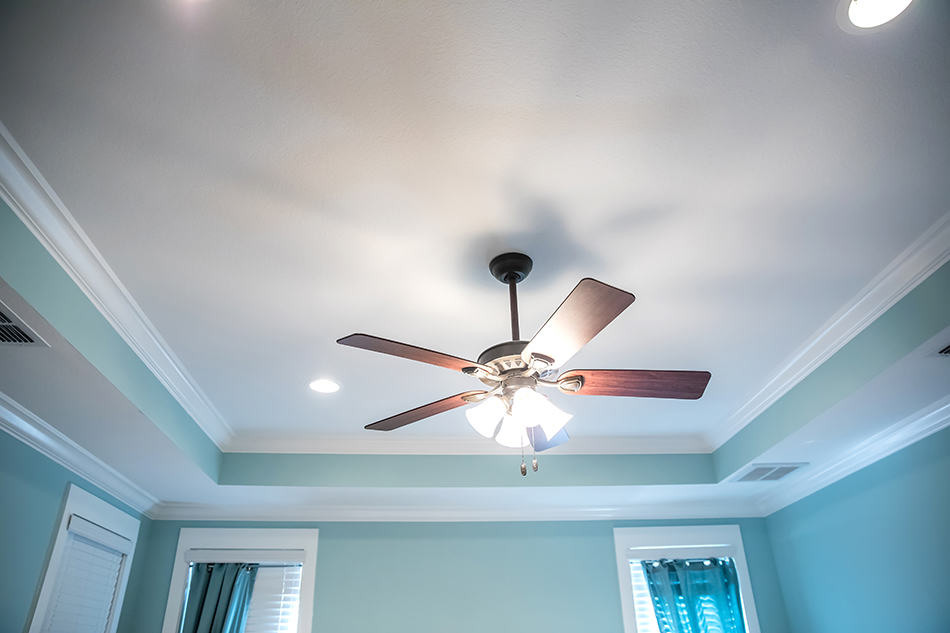 Also known as recessed ceilings, tray ceilings are the central part of the ceiling that's higher than the rest of it. To put it simply, this ceiling looks like an upside-down tray. The groove along the tray's sides is for the purpose of LED lights to create a dramatic effect. A tray ceiling adds an enhancing visual element to the living or bedroom area, especially in open-plan layouts.
The other advantage of tray ceilings is their ability to create a focal point in any room of the house. Whether these ceilings are in the kitchen, bathroom, laundry room, or even the study room, they provide a beautiful visual effect. Tray ceilings are now even more popular than before, and most people who live in modern homes prefer these types of ceilings for their bedrooms and living rooms.
4. Flat Ceilings
Flat ceilings are the conventional type of ceilings that are just as beautiful as architectural designs. They are the most popular and common ceilings that can be enhanced by adding trays or wooden beams. In fact, there are hundreds of different ways you can design your drywall flat ceiling to your liking by adding moldings or lighting features.
A typical flat ceiling consists of an 8-feet vertical continuation from the floor with no architectural features. This conventional ceiling type was usually covered with "popcorn" texturing that hid the imperfections; however, it traps dirt and dust, which often pose a cleaning and painting challenge. Some can even make the room look darker, hence the reason why most people prefer flat and plain ceilings in a neutral color.
5. Tin Ceilings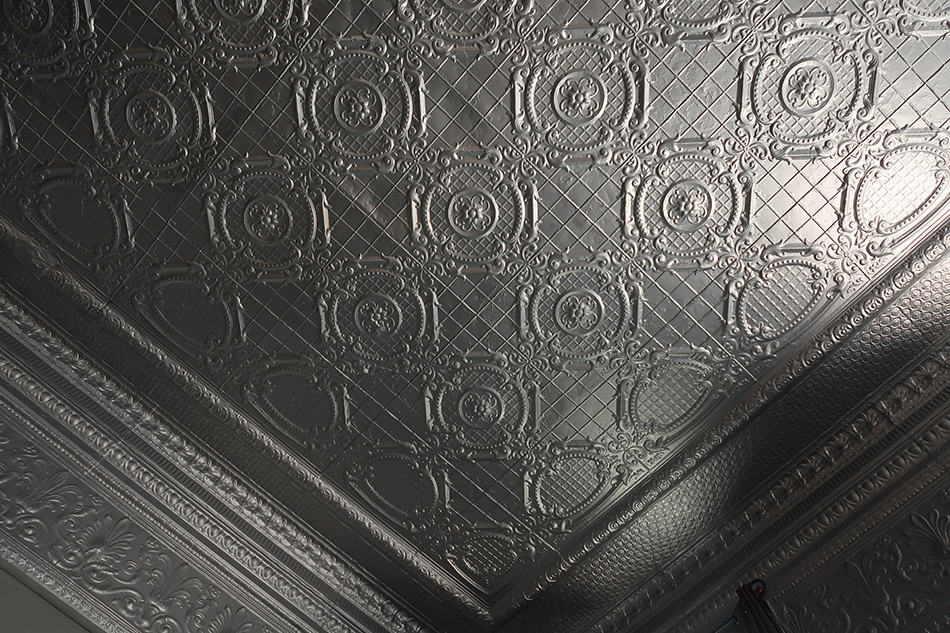 Tin ceilings are architectural features of a room that consist of pressed tin plates into the framing of the ceiling. These types of ceilings are mostly seen in the 19th and 20th-century Victorian homes in North America. Tin ceilings gained popularity in the late 1800s as part of the American households' elegant interior design.
Tin ceilings are lightweight, durable, ready to install, and fire-resistant that appeal to character homes as functional and attractive design elements.
6. Coffered Ceilings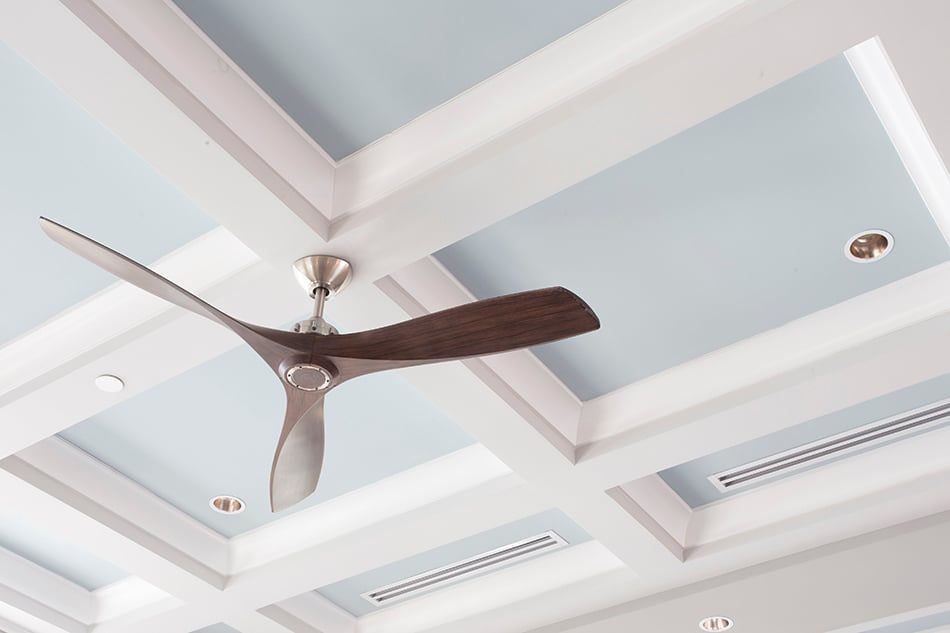 Coffered ceilings are patterned just like tray ceilings, but the only difference is their multiple recessed areas add dimension, unlike tray ceilings that make the room feel smaller.
The traditional coffered ceilings are created using grid-like timber or stone crossbeams, perpendicular beams, or crown molding with sunken panels that are usually rectangular or square in shape. Coffered ceilings are among the most used decorative ceiling types. They also provide structural strength to the ceiling.
7. Cathedral or Vaulted Ceilings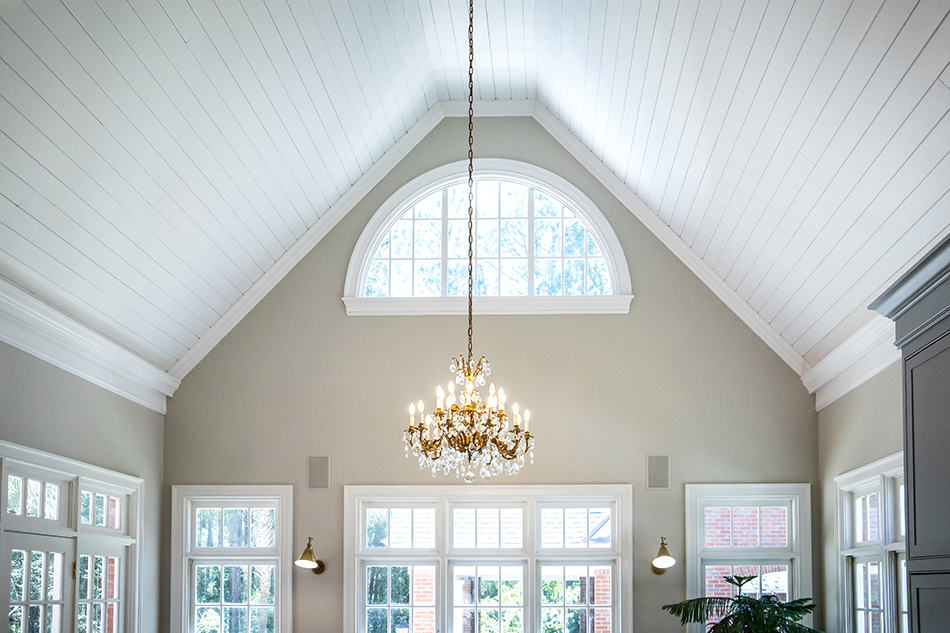 Vaulted ceilings serve as expansive optical illusions that add significant space to even the smallest rooms by making the space look and feel larger. These types of ceilings usually have sloping angles with at least 15 feet of height.
Aside from giving a spacious feel to the room, they mimic the roof's pitch and have 2 steeply sloping corners that meet at the ridge in the center of the room, just like you see in the cathedrals, hence the name "cathedral ceiling".
Most vaulted ceilings tend to have exposed beams, which are the architectural focal points of a living room or in fact any room of the house, including bathrooms. A vaulted ceiling can also be used with beadboard to create a stylish design for the room just like the image above.
Peaked ceilings make the space brighter and airy, but they are only found in homes with higher ceilings. However, this doesn't mean that such ceilings are restricted to a particular design. They have, in fact evolved throughout history and consist of many different forms and shapes. Take a look at the following vaulted ceiling types that are the perfect examples of this category.
7.1. Domed Ceilings
Domed ceilings resemble the shape of a half-sphere or dome, hence the name. They are mostly used to add an accent to the existing ceiling and can further be highlighted with decorative paint, a chandelier in the middle, or recessed lighting, just as examples. A domed ceiling is ideal for hallways, living rooms, and dining areas of the house.
7.2. Pitched Brick Vaults
Originating in 3000 BC, the pitched brick vault types of ceilings have evolved from the domed type in terms of the brick installation. Rather than the bricks being laid geometrically, they are placed vertically to lean at slight angles.
This type of ceiling is not as common as domed ceilings in character homes, but it is still considered to be an architectural feature. However, the style of bricklaying on the ceiling requires expertise, so it's not a DIY project.
7.3. Barrel Vaulted Ceilings
Another ancient architectural type of ceiling in this subcategory is the barrel or tunnel vault, which originates in Egypt and ancient Persia but later popularized by the Romans. It consists of an arched, semi or half-cylindrical vault in a barrel shape that runs the length of the entire ceiling. These types of ceilings are usually used in long hallways or lobbies.
A barrel vault ceiling requires higher ceiling heights and is most suitable for open layouts. It enables natural light easier to enter the room and can be painted in light or neutral colors.
The bricks can be left exposed as focal points of the ceiling. One drawback of these ceilings is their vast height that results in more energy usage during colder weather.
8. Cove Ceilings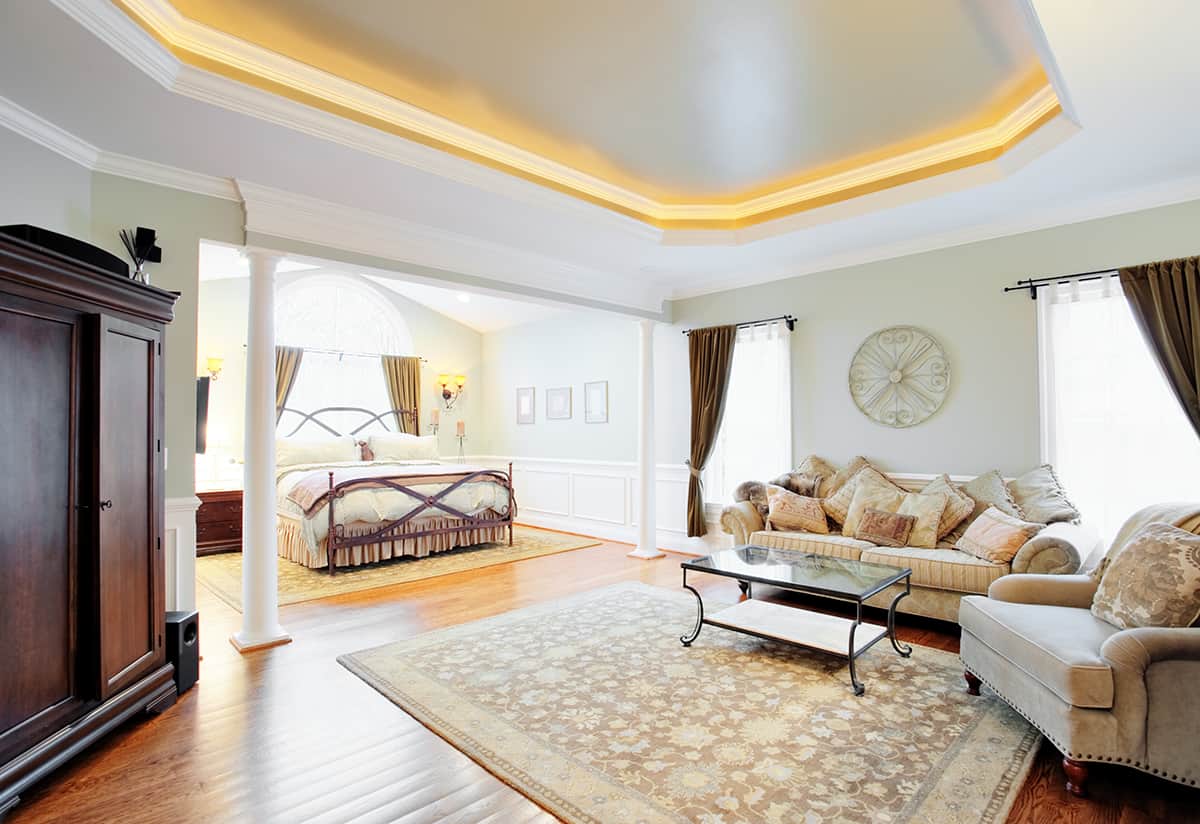 Cove ceilings can be found in many designs and forms. These types of ceilings are mainly used in bedrooms and living rooms.
The main concept behind a cove ceiling is the way the wall interconnects the ceiling at a wide angle. These ceilings boast rounded or shallow curves, depending on their individual design and construction.
Cove ceilings are mostly paired with tray ceilings to further enhance their appearance. They are also used to accentuate the light fixtures of the room. These types of ceilings are usually found in historic homes and feature gilded tiles for added style.
9. Beamed Ceilings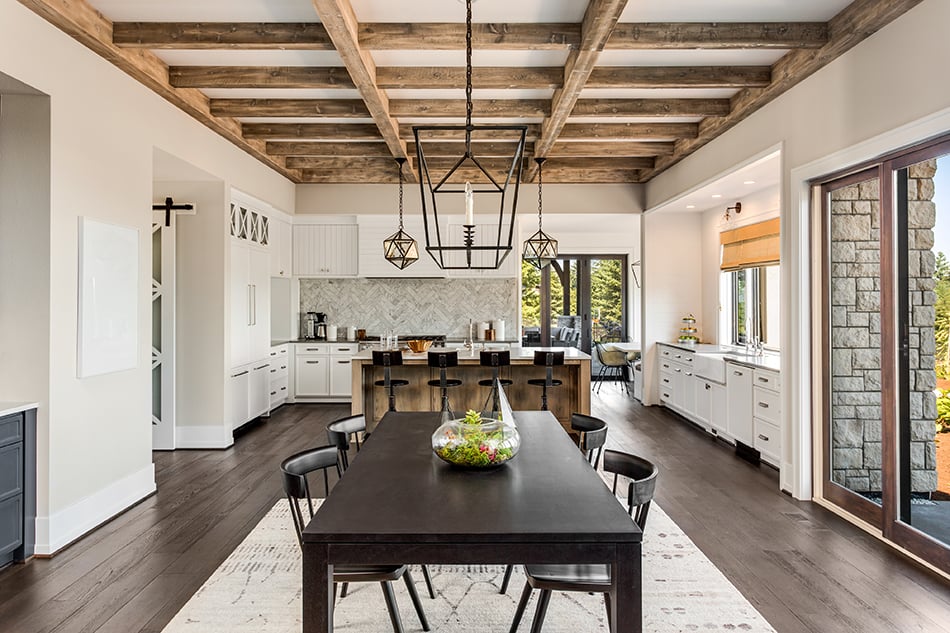 Wooden beamed ceilings are the ultimate focal points of a room. This type of ceiling consists of exposed structural joists that support the structure of the house. This exposed ceiling design adds charm and character to a home.
This not only creates visual interest, especially in larger rooms, but also makes the house feel more inviting and traditional. In modern homes, the same effect can be achieved by installing faux beams across the entire length of the ceiling. Just make sure the ceiling height is at least 10 meters high otherwise, the exposed beam ceiling will make the space feel smaller.
10. Shadow-lined Ceilings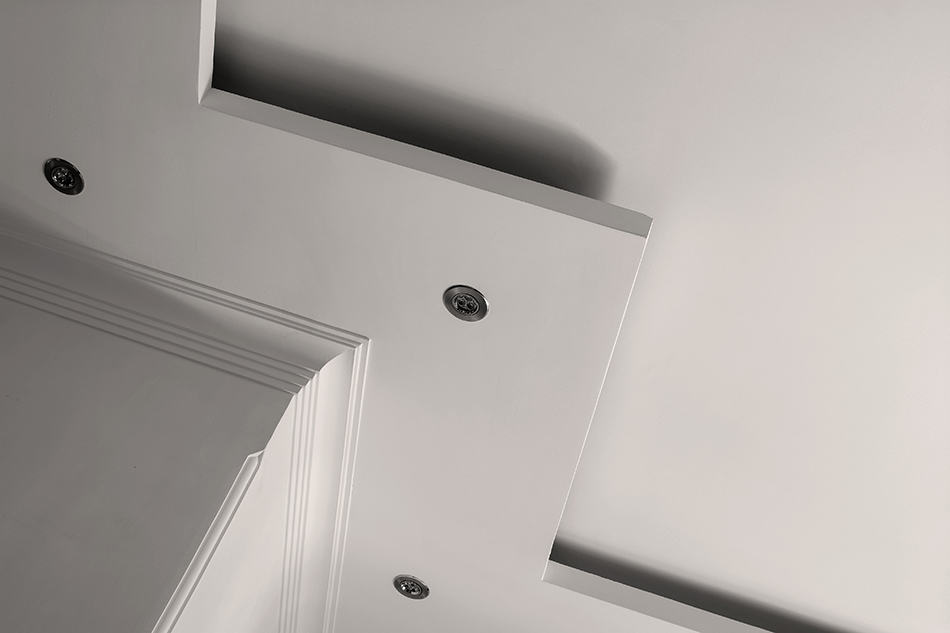 Cornices or shadow-lined decorative plaster works have been used on flat ceilings for centuries. The purpose of these ceilings is to conceal the wall/ceiling joint inconsistencies.
The installation of cornices is relatively easy, and the shadow lines can be enhanced by adding a recess or metal stopping angle nailed into place. To do this in the most precise way, both the ceiling sheets and the wall must be cut neatly. Most modern and simple homes have shadow-lined ceilings as a minimalist finish.
11. High Ceilings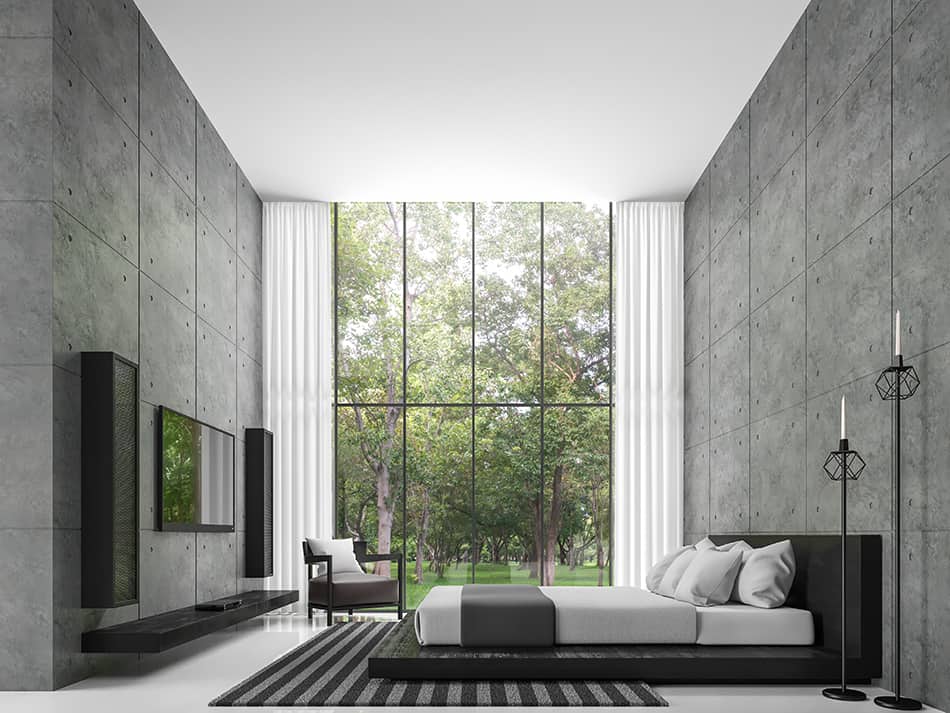 A high ceiling is without doubt one of the most interesting features of a room as it brings elegance and a feeling of spaciousness. These types of ceilings are found in double-height rooms in
Victorian and bungalow-style properties with the aim of creating an open space. Just like the vaulted ceilings, one drawback of high ceilings is the significant amount of energy that gets wasted in cooling or heating the room.
12. Exposed Ceilings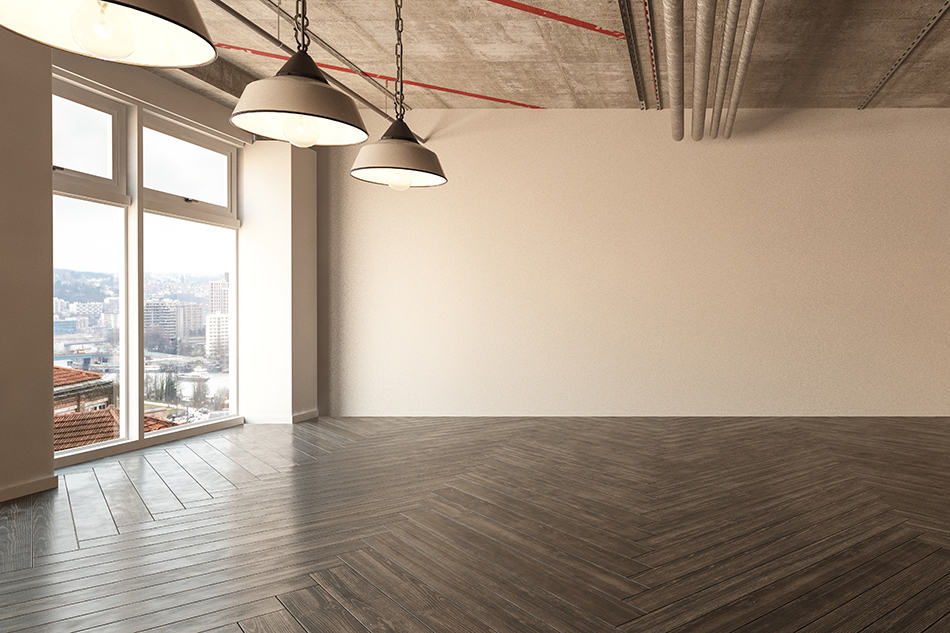 If you love the industrial look where the pipes, bricks, electrical wiring, and ductwork are left exposed on the ceiling, then you'll love a home with exposed ceilings.
The warehouse look of exposed ceilings has always been a popular trend in Manhattan apartments, but it has caught the attention of interior design enthusiasts from other parts of the world.
To match the quirky look of these ceilings, you'll need industrial lighting fixtures or even classic chandeliers to turn the ceiling into an artwork. Most industrial interiors are dark and dreamy to match the ceiling fixtures.
13. Acoustic Ceilings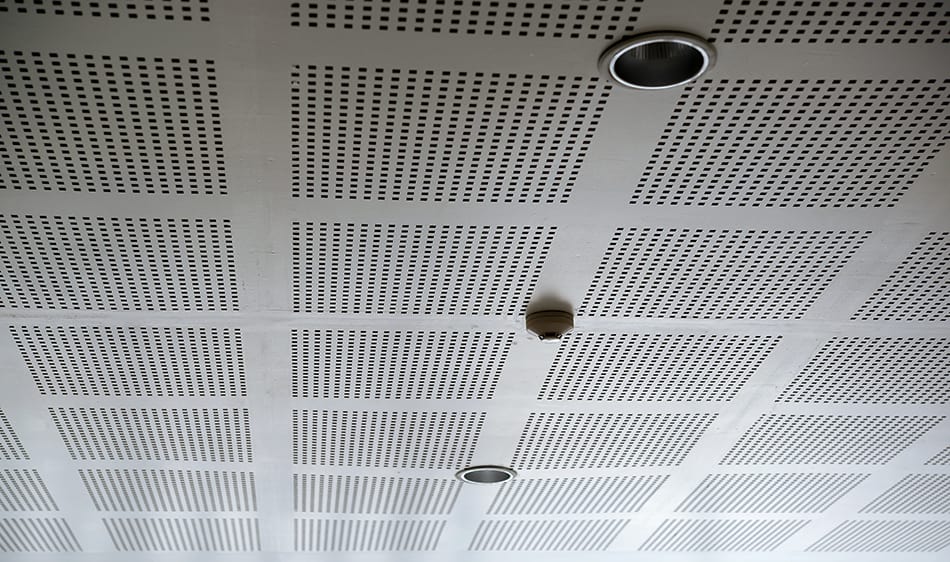 Besides creating an outstanding look with suspended or dropped ceiling grid tiles, an acoustic ceiling dampens ambient noise. It can be paired with soundproof curtains to greatly reduce the noise in the room.
The acoustic ceiling tiles are usually made from mineral fiber, synthesized from many materials like clay, perlite, newsprint, etc., which are great at absorbing the noise and reducing the room echo.
Ceiling Material Options
Drywall
A drywall ceiling is typically installed directly to the joists of the ceiling by taping the joints. Drywall is usually used on flat ceilings, but it can also be textured to act as noise insulation and to hide any imperfections. The most common ceiling texture materials for drywall include orange peel, splatter, and popcorn.
Plaster
Prior to the 1940s, plaster was the most common ceiling and wall material. This is a versatile material that can be applied to any surface, such as stone, brick, or wood. What's more, plaster can be easily molded into decorative patterns just like drywall.
Metal
Stamped metal is a highly decorative material used for ceilings, especially for tin ceilings. It gives the room a characterful look and was made popular in the US shortly after the Civil War. Stamped metal is easy to install and highly durable.
It comes with a 3D pattern that can be painted on if desired. The metal ceiling can be finished using copper or chrome as a decorative feature.
Wood
Wooden ceilings create a dramatic and cozy accent to any room of the house. Whether you use a series of wooden beams, planks, or tongue and groove rafters on the ceiling, this natural material is a practical and decorative addition that makes the space feel inviting and warm. And the best thing about wood is that you can paint it whatever color you like to match the rest of your interior decor.
Fiberglass Tile
Fiberglass tiles for ceilings are usually made from glass fibers in polymer coating and are considered to be a low-cost alternative to wood. There are numerous advantages to using this material for your ceiling. Fiberglass tiles are environmentally friendly materials that are lighter in weight than wood.
These tiles can also be made from recycled glass which is relatively simple to install when compared to other materials. And unlike plaster, which contains asbestos, fiberglass tiles aren't a health hazard, thus the reason they are environmentally friendly and highly popular in residential homes.
The tiles can be mounted directly to the ceiling without causing any sagging. Furthermore, this material benefits from effective sound absorption features, and unlike wood, it is fire resistant.