When planning a residential home building project, the first thing that pops to mind tends to be the square footage of the property rather than the ceiling height. But the latter defines the spaciousness of the house, hence it should not be overlooked.
While low ceilings emit a sense of coziness and warmth, they can make the room feel a little cramped. High ceilings, on the other hand, create a feeling of openness and add elegance to a home.
Once you've learned about the current standard ceiling height and how it's determined, you'll be able to plan your building project based on this information.
In this guide, we will answer what standard ceiling height is and provide some insights into the minimum ceiling heights for different rooms of the house as well as how to choose the right height for your needs.
You can also find the quick size chart via the table below.
| | |
| --- | --- |
| Ceiling Type | Height |
| Traditional Ceiling Height | 8 feet |
| Today's Standard Ceiling Height | 9 feet |
| Minimum Ceiling Height for Habitable Spaces | No less than 7 feet (According to the IRC section R305.1) |
| Minimum Ceiling Height for Non-Habitable Spaces | No less than 6 feet 8 inches (According to the IRC section R305.1) |
| Minimum Ceiling Height for Bedrooms | No less than 7 feet. |
| Minimum Ceiling Height for Kitchen | No less than 7 feet |
| Flat Ceiling Height | 8 feet |
| Tray Ceiling Height | 9 feet |
| Vaulted Ceiling Height | Up to 13 feet |
| Coffered Ceiling Height | 9 feet tall |
Traditional Ceiling Height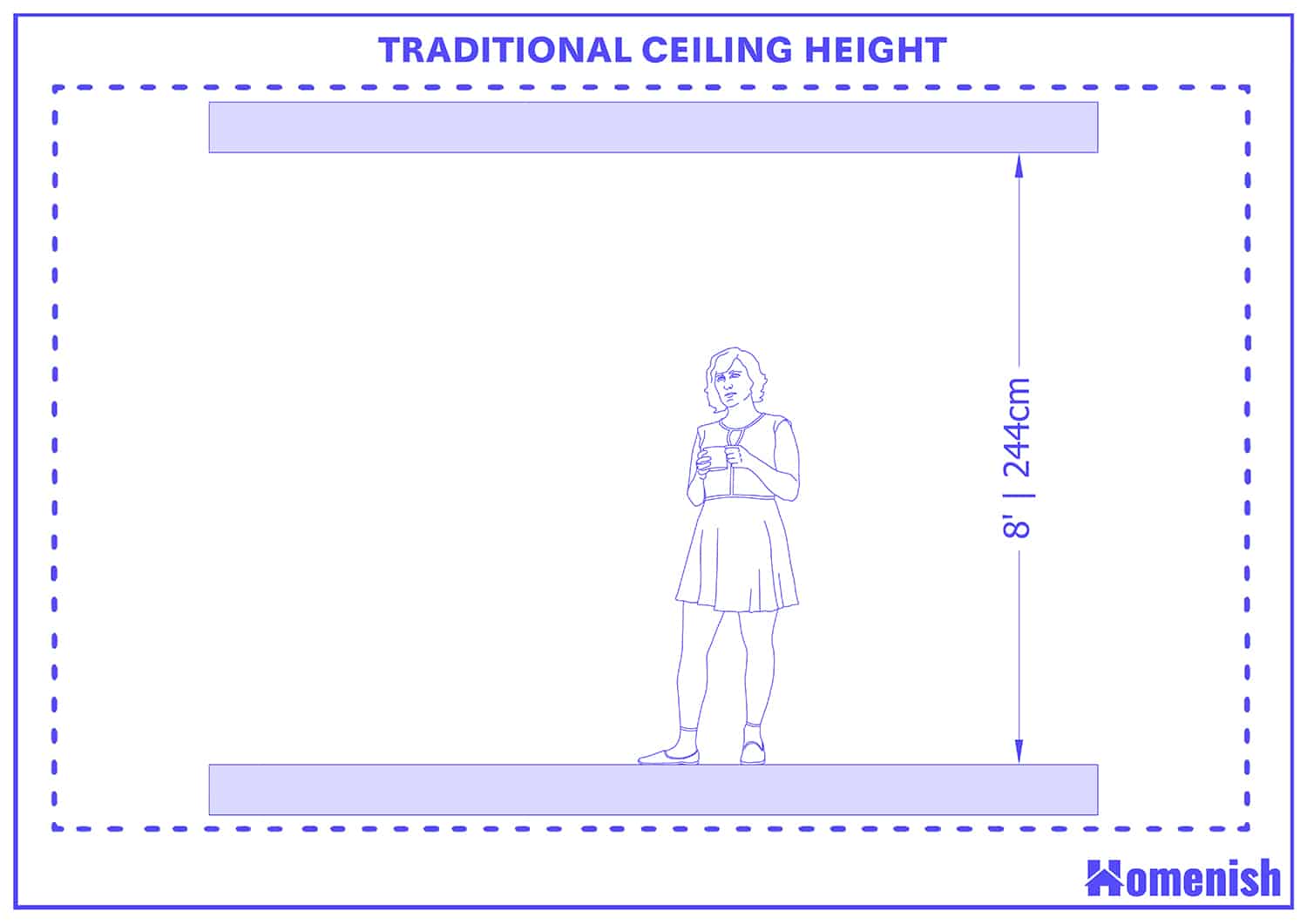 Over the last few centuries, ceiling heights have gone through different heights and designs, but compared to today's standards, they were considered to be quite low in height.
People weren't as tall back then so most homes that were built before the 19thcentury had ceilings as low as 6 feet. The post-war era brought with it higher ceilings (up to 12 feet tall) but in general, 8-foot ceilings were the norm.
In the 70s and 80s, 8-foot ceilings were the standard height purely because of the timber frames being 8 feet in length. Since most homes were built with wooden frames, 8-foot ceilings made sense, plus there was the issue of lack of energy to fulfill the households' heating and cooling needs.
In those days, higher ceilings meant higher energy to keep the space warm or cool so most people opted for low ceilings to save money on heating and cooling costs.
Today's Standard Ceiling Height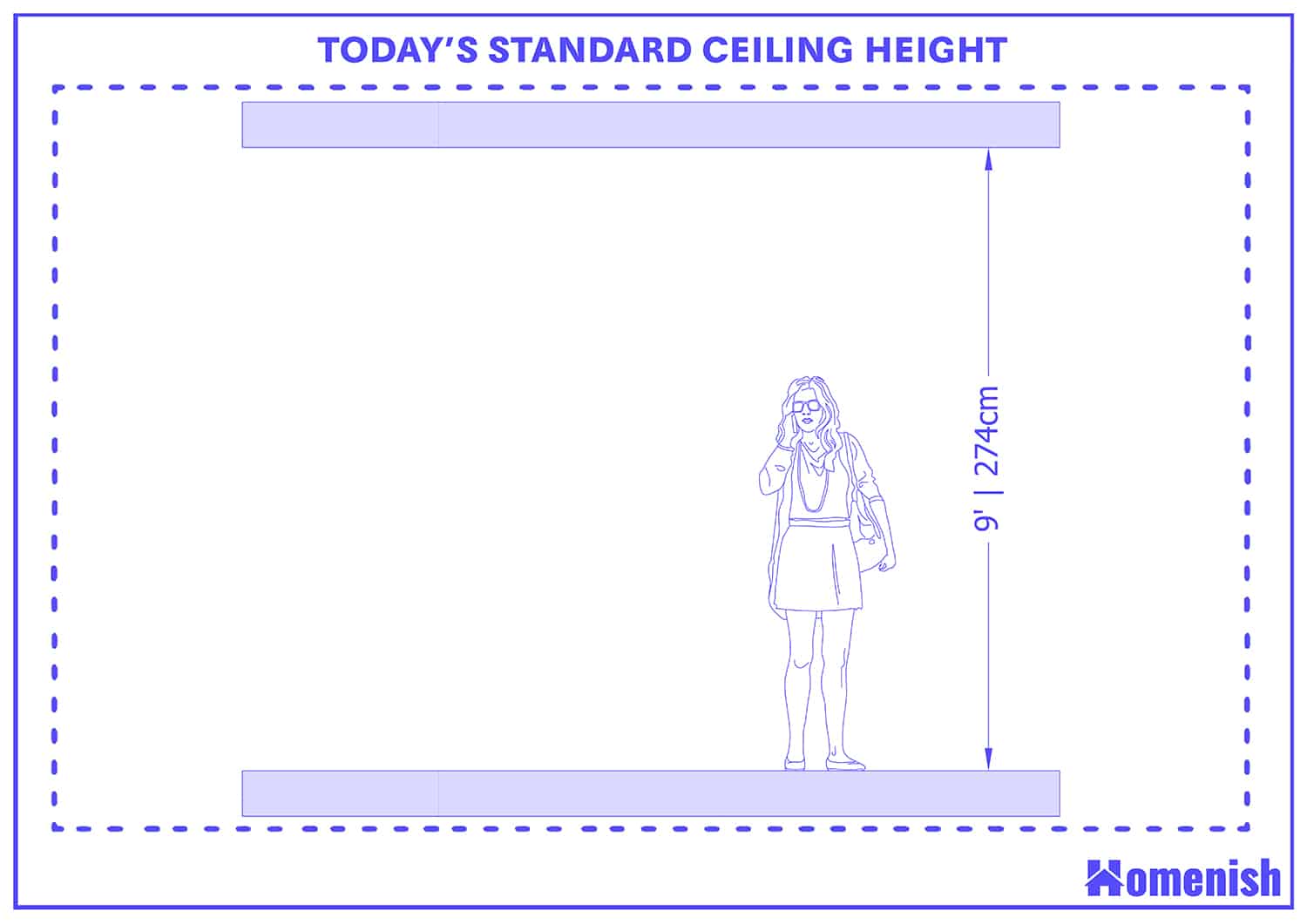 With the improvement in heating and cooling systems, 8-foot ceilings are a thing of the past now. From the 20thcentury onwards, all the newly built homes have standard 9-foot ceilings and sometimes 8-foot ceilings on the second floor.
The reason for the increase in the standard height for the living room and bedroom is mainly to improve the proportions of these rooms.
The standard ceiling height of bathrooms, however, tends to remain at 8 feet. Having said that, most people who live in warmer climates prefer higher ceilings that go beyond 9 feet high. This is because the difference in temperature at floor and ceiling level in a high ceiling room can be as much as 4 degrees celsius.
How to Determine Ceiling Height
Determining the minimum ceiling height for a residential building depends on the use of the space. The minimum ceiling height requirements by space is decided by the IRC (International Residential Code). Most US residential building codes are based on the IRC's standards. Let's take a look at how the minimum ceiling height of a residential home is calculated and applied:
Measure your approximate height together with the ceiling height and multiply it by the number of measurements from the floor to the ceiling. For example, a person's average height is around 5 feet 5 inches.
When you raise your hand, the height is around 6 feet 5 inches. Add an additional 2.5 feet to this in order to calculate the ceiling height. Therefore, we can conclude that the standard height should be 9 feet in a residential building.
Of course, if you are building a luxury custom home like a barndominium, there is no reason why you can't have two-story ceilings of up to 18 feet high to create a feeling of spaciousness in the living room.
Minimum Ceiling Height for Habitable Spaces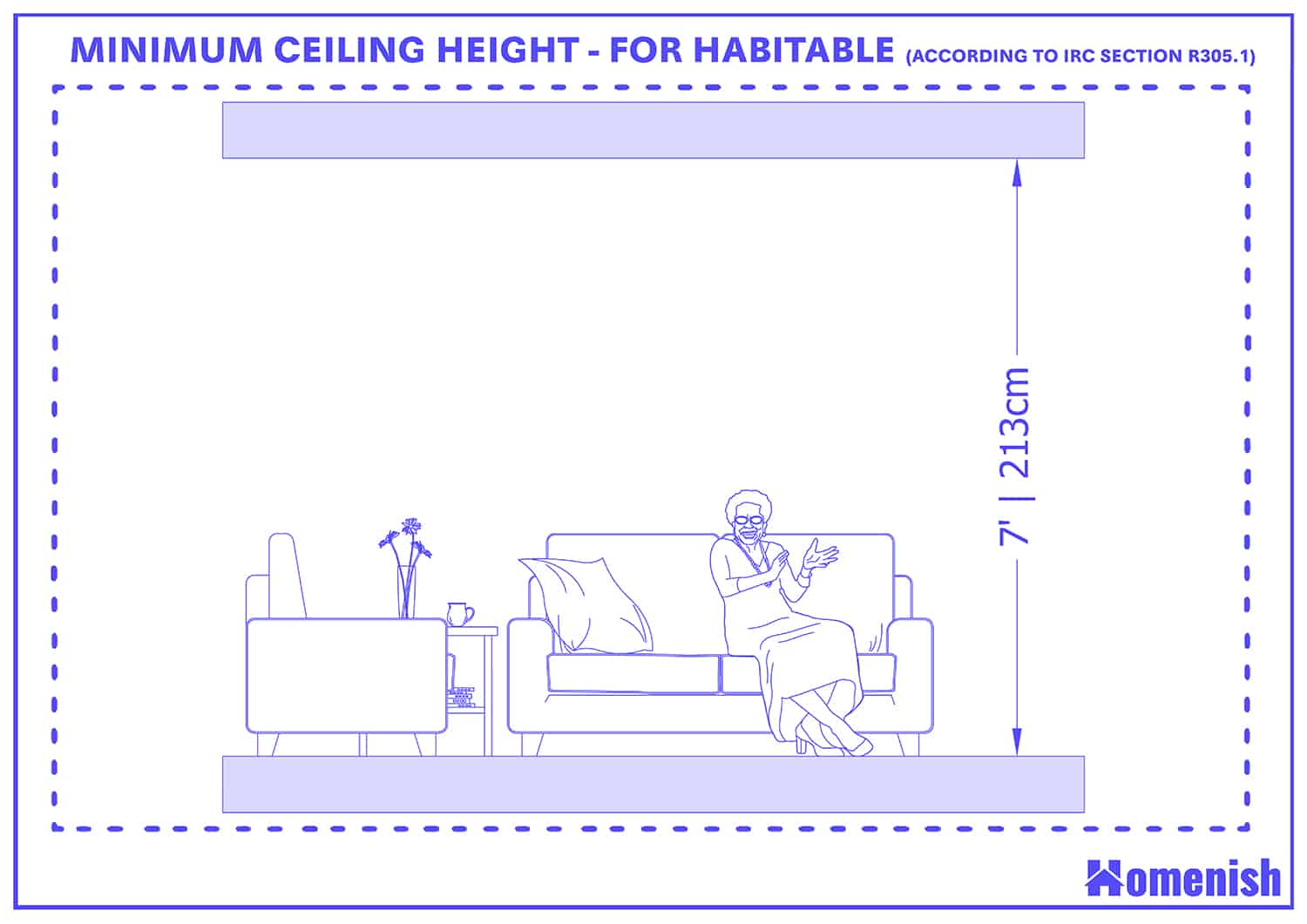 According to the IRC section R305.1, the minimum height for habitable spaces, such as converted basements, entryways, laundry rooms, and bathrooms should be no less than 7 feet.
The code takes into account the fixtures, such as tubs and showers in the bathroom, which should be a 30-inch by 30-inch area with a minimum ceiling height of 6 feet 8 inches at the showerhead.
Minimum Ceiling Height for Non-Habitable Spaces
Rooms without habitable spaces, including bathroom, laundry room, and basements (without habitable spaces) must have a minimum height of no less than 6 feet 8 inches.
Minimum Ceiling Height for Bedrooms
The minimum height of the ceiling for the bedroom must be no less than 7 feet.
Minimum Ceiling Height for Kitchen
Since the kitchen is the most used area of the house, its ceiling height must be no less than 7 feet.
Any Exceptions?
In single and multiple-family dwellings, wooden beams should not be spaced less than 4 feet apart. The beams are also permitted to project no more than 152 mm (6 inches) below the ceiling height.
According to IRC code, any room with a sloped ceiling, such as an attic, must measure no less than 5 feet from the floor to the ceiling in one-half of the area.
The room size is measured as the square footage and any spaces with ceilings lower than 5 feet are still allowed but they don't count as official spaces.
Types of Ceilings and Their Heights
Flat Ceiling Height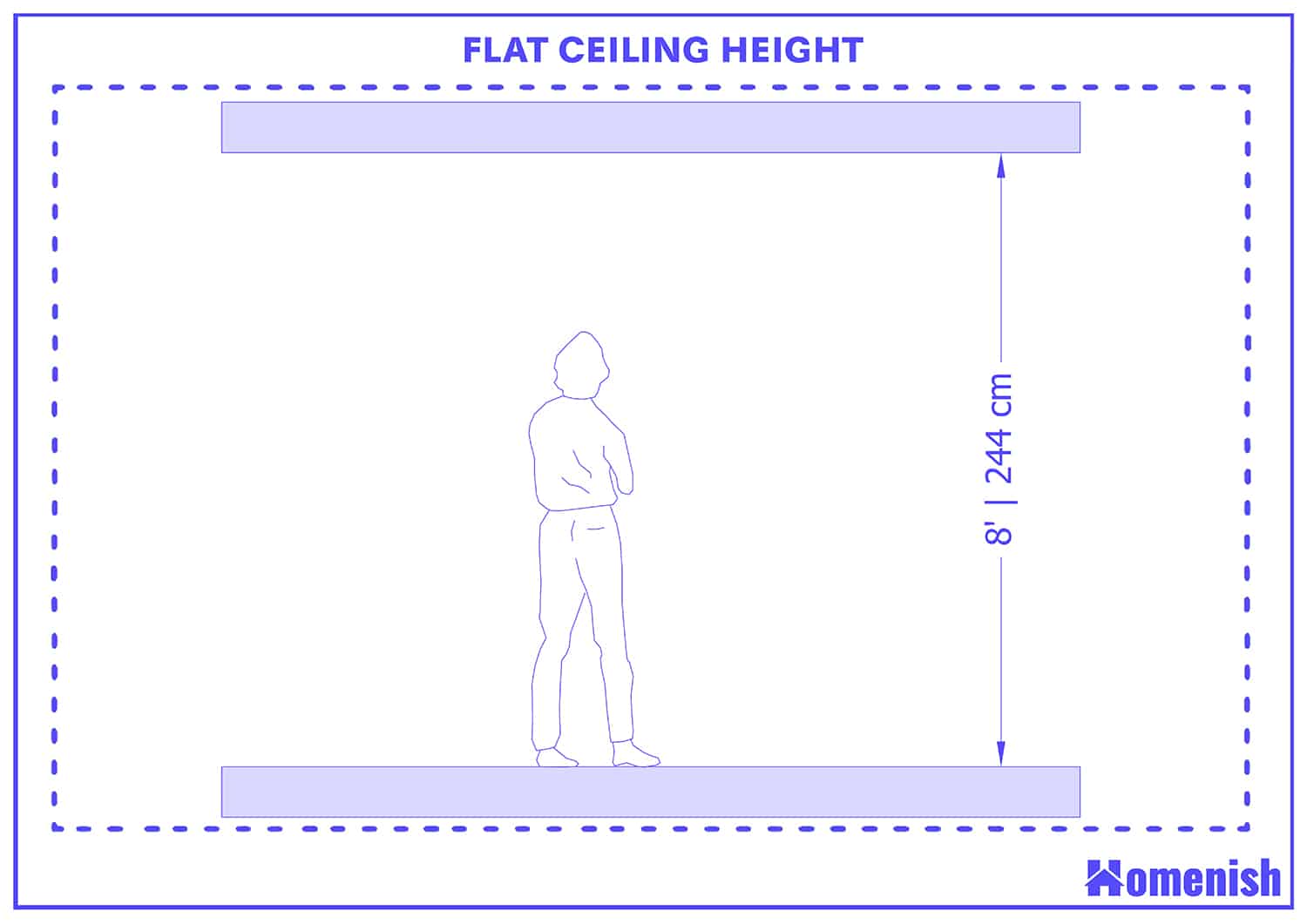 These are the most common types of ceilings found in most homes with a standard height of 8 or 9 feet high depending on the year of construction. Just as the name suggests, flat ceilings are simply flat and easy to access, but there is nothing special about them.
Bear in mind that increasing the height of these ceilings will be costly so it's best to decide whether you are comfortable with their standard height prior to building your home.
Tray Ceiling Height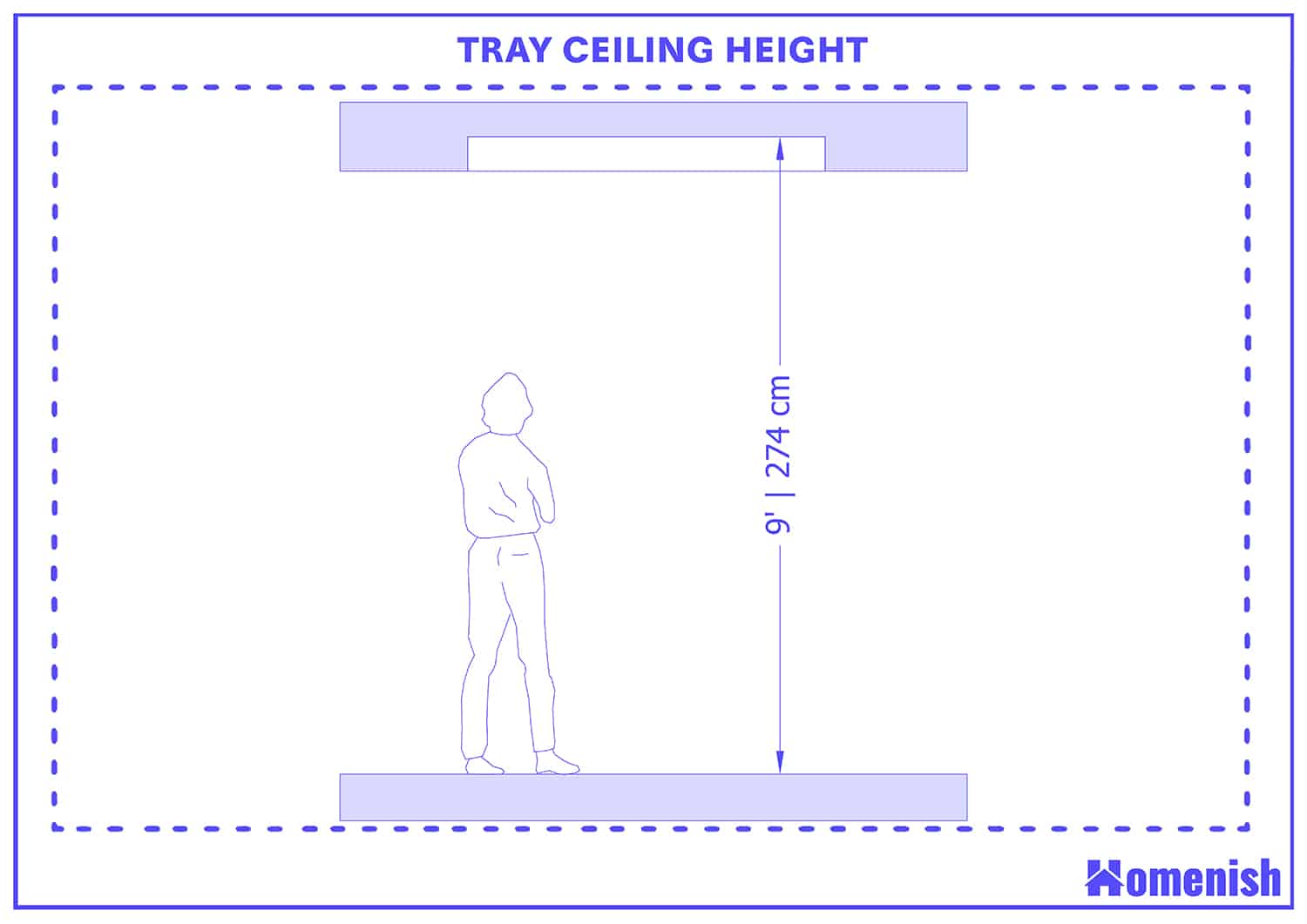 These types of ceilings are typically 9 feet tall around the perimeter and have a raised center with an inner section that extends a foot higher to 10 feet.
The size of the rooms will determine whether tray ceilings are a good option or not. Tray ceilings are mainly suitable for taller homes with larger spaces.
Vaulted Ceiling Height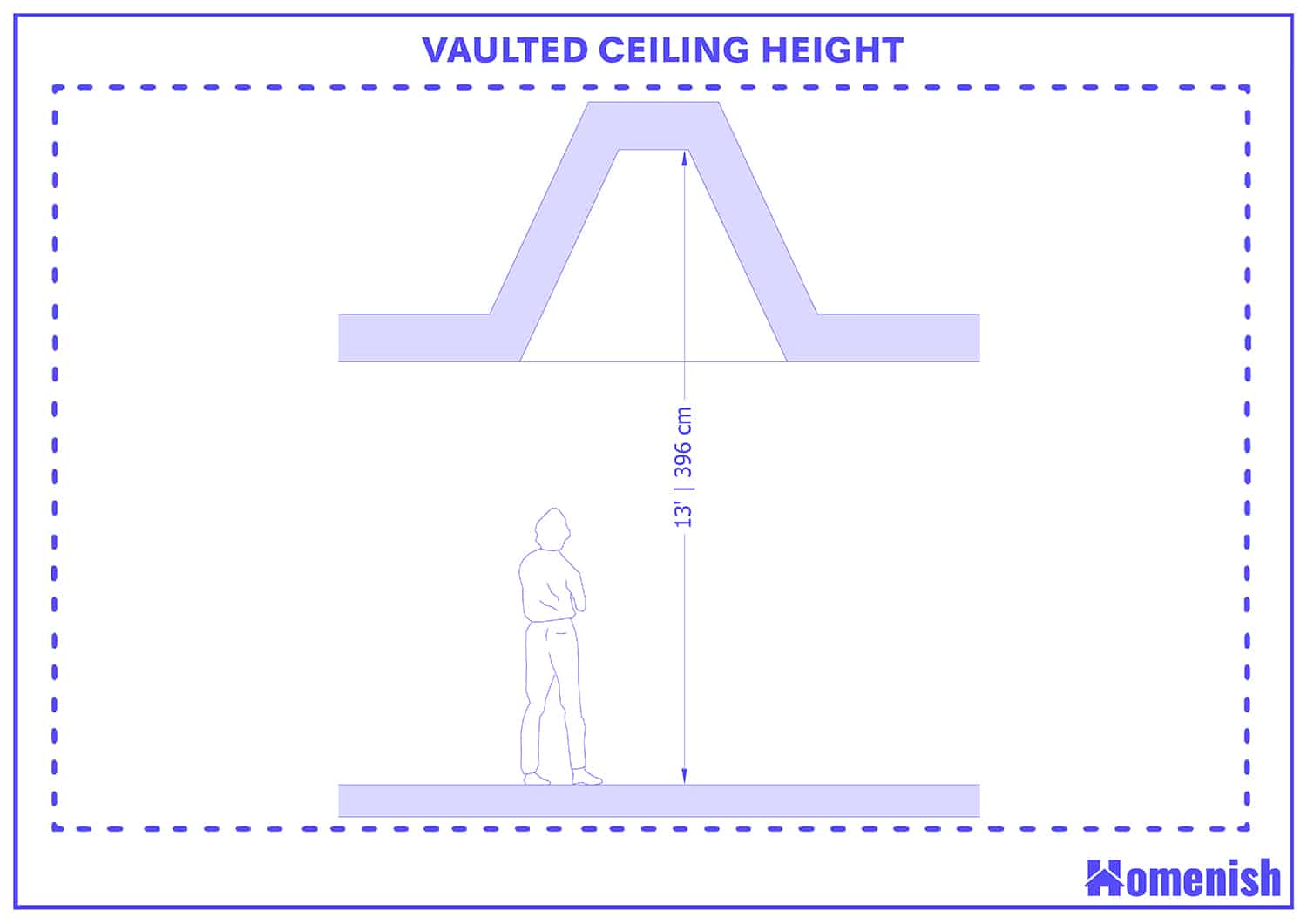 Vaulted ceilings are also referred to as Cathedral ceilings and are considerably taller than conventional ceilings (up to 13 feet high). Some people would agree that vaulted ceilings are more visually appealing than any other type of ceiling thanks to their beautiful design features and craftsmanship.
Exposed wooden beams, skylights, or chandeliers can be the stunning features of vaulted ceilings.
Coffered Ceiling Height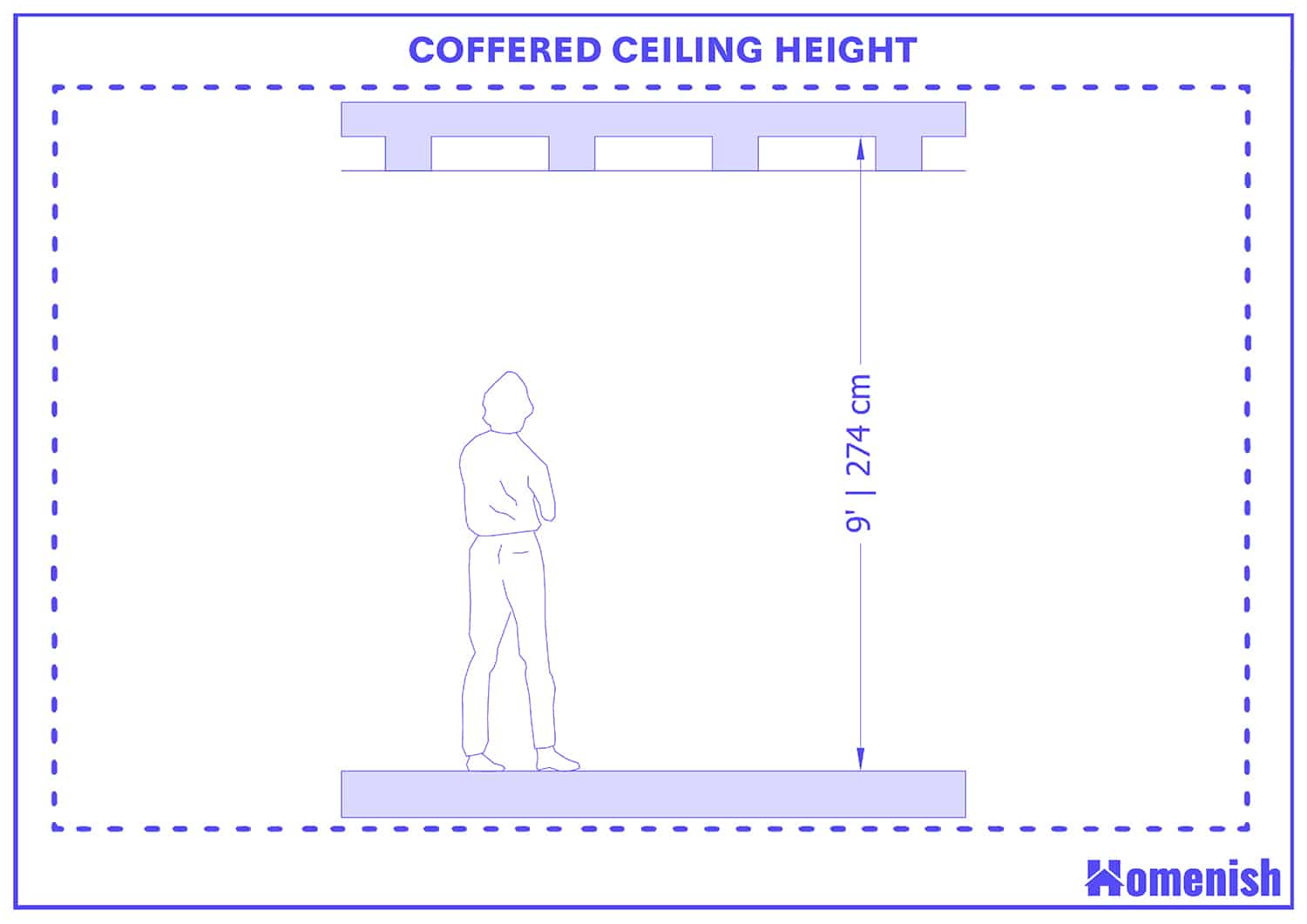 These ceilings feature sunken square or rectangular panels and are typically 9 feet tall. Coffered ceilings are the dramatic type of ceilings even though they are flat.
What makes them so impressive is their three-dimensional design consisting of grooved wooden panels that are arranged in a checkerboard pattern. These ceilings must be at least 9 feet tall to have the desired effect. Since coffered ceilings are highly customized, you'll need the expertise of a carpenter.
Tips on Choosing the Most Suitable Ceiling Height
Go for a minimum of 9 feet if you love the coffered, tray, or flat ceiling for your new home.
If you have an existing flat ceiling and want to refit it with a tray type, take into account the existing ceiling height. It must be at least 8 feet high in order to accommodate the drop-down borders.
When extending an existing 9-foot ceiling, aim for at least one foot higher for comfort.
Want an even higher ceiling? 10-12 foot dimensions are the best choice as they provide you with extra wall space for art.
Vaulted ceilings should have a minimum height of 13 feet the top. You can add exposed wooden beams to accentuate the ceiling or hang a beautiful chandelier from the center.
For two-story ceilings, consider the size of the room as well as the inside wall space. Determine whether they fit the dimensions of the ceiling. Keep in mind that the typical height of such ceilings can be up to 18 feet.
These types of ceilings are often seen in barndominiums and other contemporary home designs. The height of the first floor should be 9 feet and the second story up to 8 feet with one foot of spare floor space between the two stories. Vaulted ceilings are considered as two-stories so if you can manage the energy costs of such homes, speak with your builder.
Speaking of energy costs, this is an important consideration that's often overlooked by new homeowners. Houses with higher ceilings require more energy, which costs more. If you're reluctant to pay higher for your cooling and heating needs, then you should think twice about such ceiling heights.
Final Thoughts
Thanks to the standard height for ceilings changing from 8 feet to 9 feet, the extra height ensures better ventilation, comfort, and lighting. It also helps households optimize their walls' spaces.
But you can go even higher than 9 feet when planning your home design. This is an especially good idea if you will be living in a warmer climate. Consult with your architect and builder to ensure you get the right ceiling height for your needs.