Coffered ceilings are a work of art in their own right. They are ideal for creating texture and architectural elements on a plain ceiling. The design of coffered ceilings can be customized to suit the homeowner's taste. However, these types of ceilings aren't perfect for every home. Here is a rundown of what coffered ceilings are, their history, why you might consider building one or more in your rooms, and how to install them in a day.&&&
What is a Coffered Ceiling?
Coffered ceilings are the classic architectural design that consists of a series of square, polygonal, or rectangular grids in sunken or recessed panels. The word 'coffer' in Latin means 'hollowed container' or 'basket'. The most noticeable feature of coffered ceilings is their decorative 3-dimensional grid.&
Some people may confuse a coffered with a tray ceiling. But the two aren't the same as the latter is a single recessed form while the former has multiple recessed segments.&&
Key takeaways of coffered ceilings:
A coffered ceiling has a series of hollows or indentations on the ceiling's surface.
The design of coffered ceilings is considered formal and extravagant.
The simplest coffered ceiling designs are created by interlinking beams in geometric patterns that are usually in rectangle or square.&
History of Coffered Ceilings
Coffered ceilings have been used as an architectural detail since ancient times. From the famous Roman Pantheon to modern residences and courthouses, this type of decorative ceiling can be seen in many domed and historic structures. Coffered ceilings gained popularity in the Renaissance era and again in the early 20th century. In addition to formal structures that feature such architectural detail, this type of ceiling can also be found in the homes of the wealthy.
Why Choose Coffered Ceilings?&
Aesthetically appealing: coffered ceilings create an English Renaissance-inspired feel that exudes a sense of extravagance. This type of ceiling has a way of adding dimension to any formal or informal space.
Sound absorbing: just like popcorn ceilings that absorb sound, coffered ceilings eliminate echoes while preventing noise from traveling to other rooms of the house.
Illusion of space: if you want to enhance the feeling of spaciousness in your living room, consider adding a coffered ceiling with narrow beams. Note: the beams should be painted a different color to the ceiling panels.&
Hide imperfections: coffered ceilings hide any imperfections on the ceiling in a decorative way while creating the illusion of height.&
Increase home's value: a coffered ceiling is highly sought by potential buyers, thus you can significantly increase your home's resale value.&
Any Drawbacks?&
Expensive to install: professionally installed coffered ceilings with intricate features require expert carpentry skills. Expect to pay at least $25 or more per square foot.
For decorative purposes only: the function of a coffered ceiling is to serve as a decorative purpose only, regardless of whether you use real or hollow beams.
Not suitable for low ceilings: while a coffered ceiling creates the illusion of a larger space, it can still make a low ceiling look even lower. If you don't want to feel claustrophobic, consider installing this type of ceiling in rooms with at least 9-feet ceiling height.&
3 Examples of Coffered Ceilings
High Coffered Ceiling in a Modern Living Room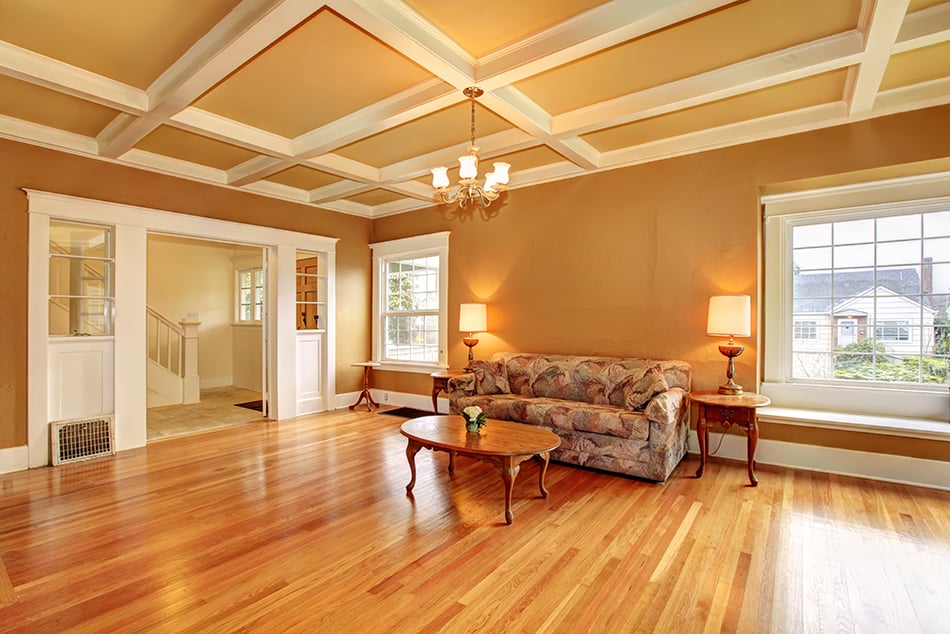 Since coffered ceilings work best on high ceilings, why not use them in a modern and formal living room to add a stylish flair to the space. The soft yellow color of this coffered ceiling complements the white beams beautifully and brings out the ceiling's highlights.&&
Coffered Ceiling in a Traditional Living Room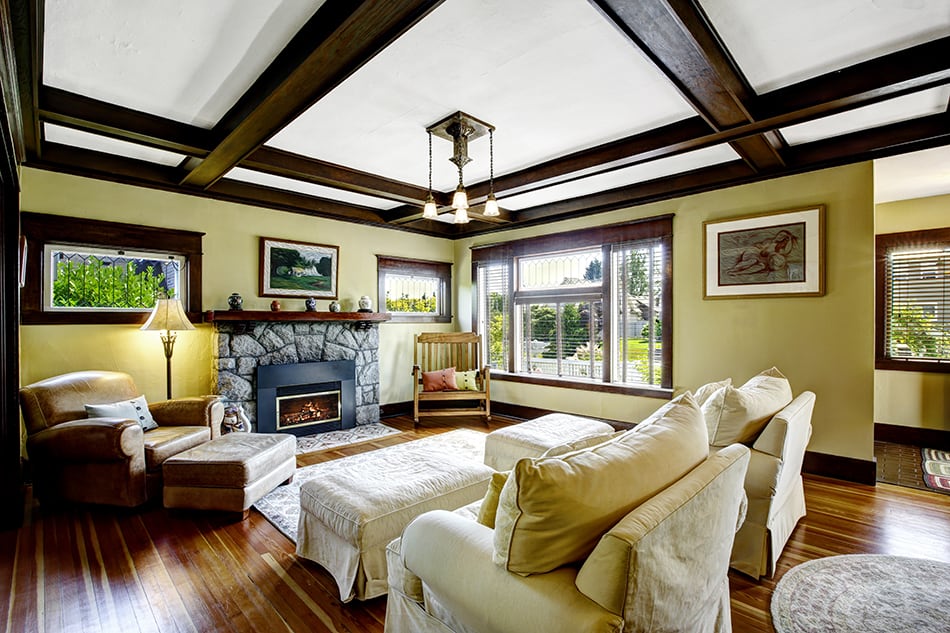 There is no denying the elegant look of a coffered ceiling, especially when it appears in a traditional living room. This eye-catching ceiling is further enhanced with the statement lighting that has completed the look.&
Coffered Ceiling in the Home Office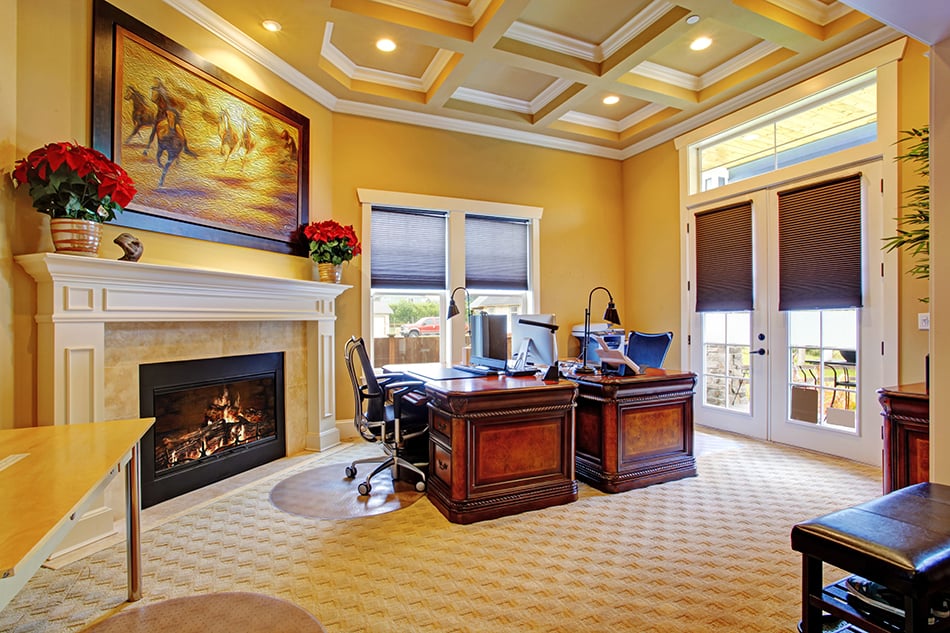 One of the most logical places for a coffered ceiling is in your home's library or reading room. But you don't actually need a library to enjoy the classy look of a coffered ceiling. Use the home office you already have and install a coffered ceiling to make your space luxurious as shown here. &
What to Consider Before Installing a Coffered Ceiling&
If you wish to add dimension to your plain ceiling, then a traditional coffered ceiling makes perfect sense. While constructing coffers may sound like a daunting task, if you're an average DIYer with basic carpentry skills, you'll easily be able to create this characterful feature in your own home. To simplify the task for you, I've included a quick video demo at the end of the article.
The secret of constructing a coffered ceiling lies in the flat boards installation before you work on the low-profile parts. Before you start, take note of the following tips:
Don't overuse the coffered detail no matter how dramatic you want the room to look. Going overboard can make a ceiling feel too low or heavy.
While it's true that coffered ceilings add charm and character to a home, you must consider the height of your ceilings before planning on installing this feature. Ceilings as low as 8 feet aren't ideal for coffers.
Keep reading for more information about ceiling height requirements and other useful pointers.
Height of the Ceiling
Although it's true that coffered ceilings create the illusion of more space, their extended downward beams tend to take up some overhead space. This is the reason why coffered ceilings are best suited for rooms with high ceilings of 9 feet or more. In lower ceilings, the addition of coffers will feel cluttered or claustrophobic.
Remember the deeper the indentations, the higher your existing ceiling must be to ensure the beams don't collide with headspace.&
Hollow or Real Beams
In traditional homes, most coffered ceilings are made of real wooden beams that support part of the home's structure. One exception to this is the second story of ranch-style homes, where you'll often find non-load-bearing beams. The majority of modern homes' coffered ceilings are also purely decorative and made from hollow beams. So depending on whether you live in a rustic or modern home, you can choose between deeply recessed faux or real beams for your coffered ceilings.&
Installation Budget
In case you don't have any DIY skills – or the enthusiasm – to take on the task of installing a coffered ceiling, you should know that hiring a professional for such structural work can be expensive. Someone with the proper carpentry know-how and skills may give a price quote of at least $25 per square foot. Then there is the detail in the design as well as the type of wood you choose. All of these will affect the final cost. Tip: if your budget is tight, choose painted pine over stained cherry or oak.&&&
How to Install Coffered Ceilings in 4 Steps&
These instructions are for those who feel confident enough to do the project themselves. Just follow the 4 easy steps here and watch the video at the end.&
Step 1: Start by positioning the main base beams in a perpendicular direction to the existing joists. These base beams will later be further covered with additional wood. The purpose of base beams is to serve as structural support for the rest of the ceiling. You must, therefore, attach them securely using a nail gun and glue.&
Step 2: the next part is the base crossbeams that will complete the grid-like pattern. You must use the same type of wood you used as the main base for the cross beams. These lumber beams run parallel to the ceiling joists so nothing must be attached to them. The idea is to connect the cross beams to the inner corners of the main base beams using a nail gun and glue. The skeleton of your coffered ceiling should resemble a checkerboard pattern.&
Step 3: next follows the staining or painting the beams before installing them. Depending on the type of wood you choose, (faux or real) you may wish to frame the cross beams directly on the base beams. Another option would be to create box-like or three-sided panels, which are installed over the base beams.&
Step 4: the final step is to install the insider trim of the coffer as well as any ornamentation you wish to add. You can paint the ceiling any color to match your interiors. But make sure the beams are in a different color to the panels.&
Watch this quick video on how to install a coffered ceiling in just one day:
Final Thoughts&
Installing a coffered ceiling in your home doesn't have to be an expensive job. Simply buy some rustic wooden beams to match your home's tone and mount them to the ceiling in classic patterns. You'll instantly transform a plain white ceiling. Even if your room doesn't benefit from adequate natural light, it's possible to incorporate skylights into your coffered ceiling without ruining the look. As long as your ceiling height is at least 9 inches high, you'll easily be able to achieve the purpose.