When your room is small, it can feel cramped and dingy. By painting the ceiling a bright coat of paint, you can open up the space. But it is important to choose the right paint color in order to trick the eye into thinking the room is larger than it really is.
Neutral colors often work best to carry the color from the wall to the ceiling. While no paint color can physically expand your room's square footage, choosing the right shade can create the illusion of more space. Of course, the most effective color is white as it's known for its space-expanding qualities.
But aside from white, there are other bright paint colors for a small room, which are just as effective in opening up the space. Let's start with the most obvious one first: white.
Ceiling Colors that Make a Small Room Appear Bigger
Bright White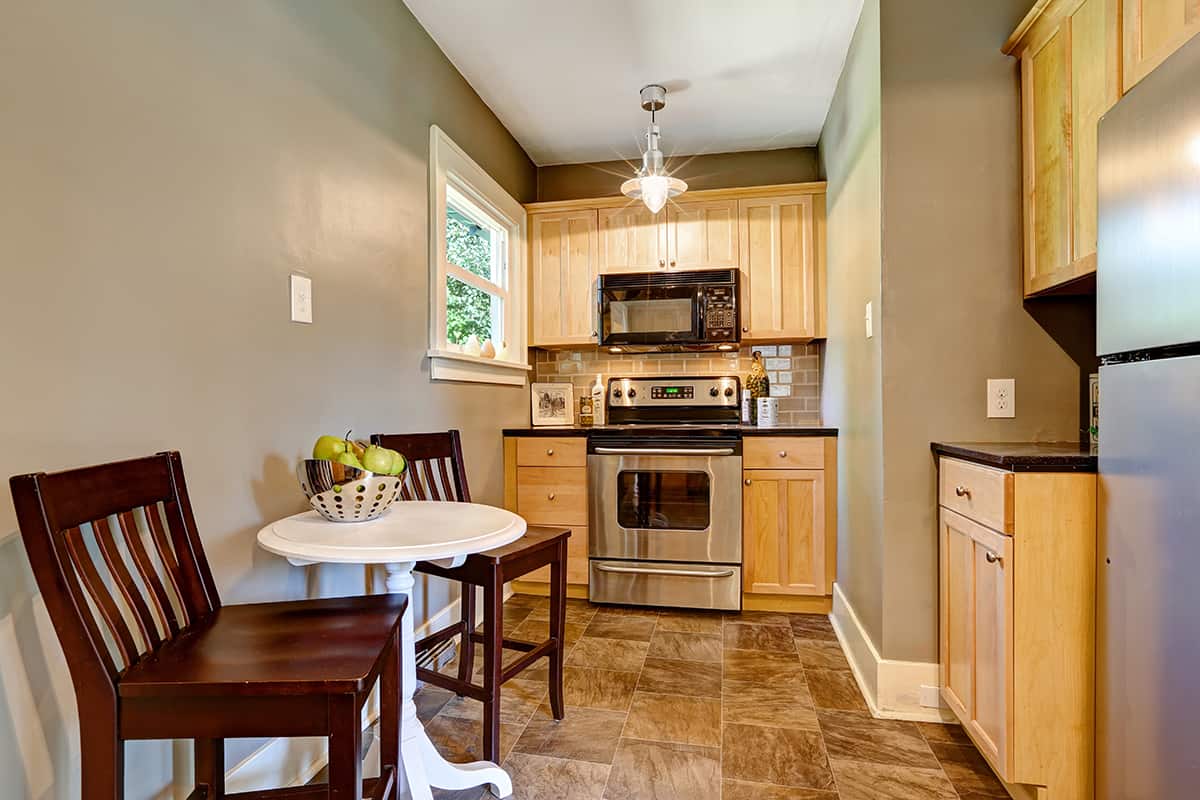 White is most people's favorite paint color, and with good reason. This bright shade reflects light and helps make a small room appear larger. By painting your small room's ceiling a crisp white shade, you can add the illusion of height to the room. Not only does this color make the room more modern, but it also works well with all other soft and bold wall paint colors. In addition, a white ceiling makes the small, cramped room feel taller by drawing the eye upwards.
Aside from pure white, you may also opt for an off-white shade for a clean, fresh look. This neutral goes well with vibrant wall colors as they are set off nicely by the brighter ceiling.
To create a flawless color scheme, go with the same or a similar white undertone as your walls. A monochromatic design will detract the eye from the small space by opening up the room. Alternatively, you can paint the walls a darker hue for a cozier feel as shown in this very small kitchen.
Beige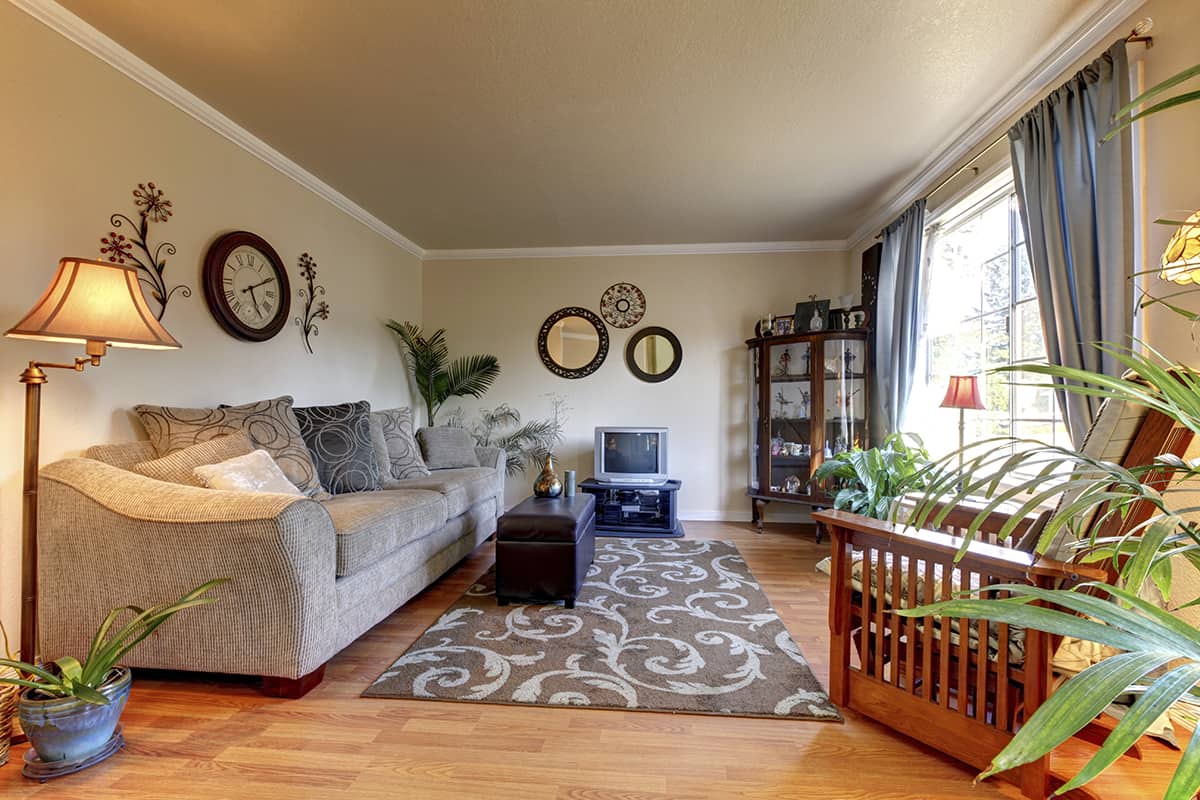 In small spaces, low ceilings can make a room feel cramped. This can be avoided by painting the ceiling a soothing, warm tone. Beige not only adds dimension, but unlike white, it prevents a cold vibe in the small room. This color is ideal for anyone who doesn't want to paint their ceilings a basic white shade or a bold color.
In small living rooms, a neutral, warm-toned ceiling color like beige brings a softer feel to the space. Opt for a deep shade of beige or even a muted tan. Remember that the color of your small room's walls determines how bright and open your space feels. Most people are under the impression that small living spaces must be painted white, but contrary to popular belief, a deep, warm hue can also work well to make the small room feel cozy and inviting.
Light Blue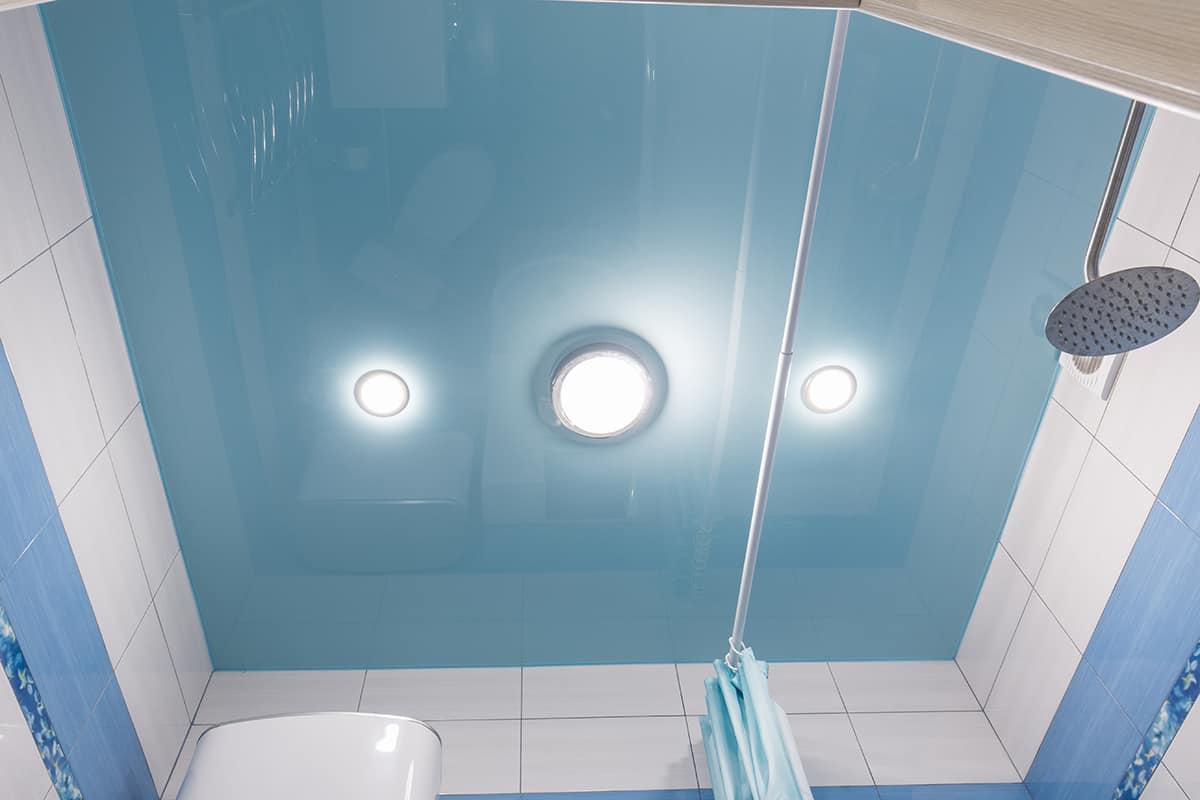 A pale blue ceiling evokes the feeling of looking up at the blue sky. While a dark shade of blue can feel oppressive, pale blue has the power to visually open up the small space. To enhance the feeling of open spaces, paint your molding or baseboards a bright white shade.
Light blue is one of the most popular ceiling paint colors for small bathrooms, nurseries and bedrooms.
Pale Yellow
Another surprising paint color for a small room's ceiling is a pale yellow. Just like soft blue, this cheerful color gives the small room an illusion of space, with plenty of breathing room. Pale yellow is a great choice in kitchens and laundry rooms thanks to its bright, warm hue that goes well with many palettes.
If you like the idea of painting your small room a pale yellow, pair it with a darker shade for the walls together with another neutral decor color like gray. This combination helps keep the focus on the yellow ceiling.
Light Gray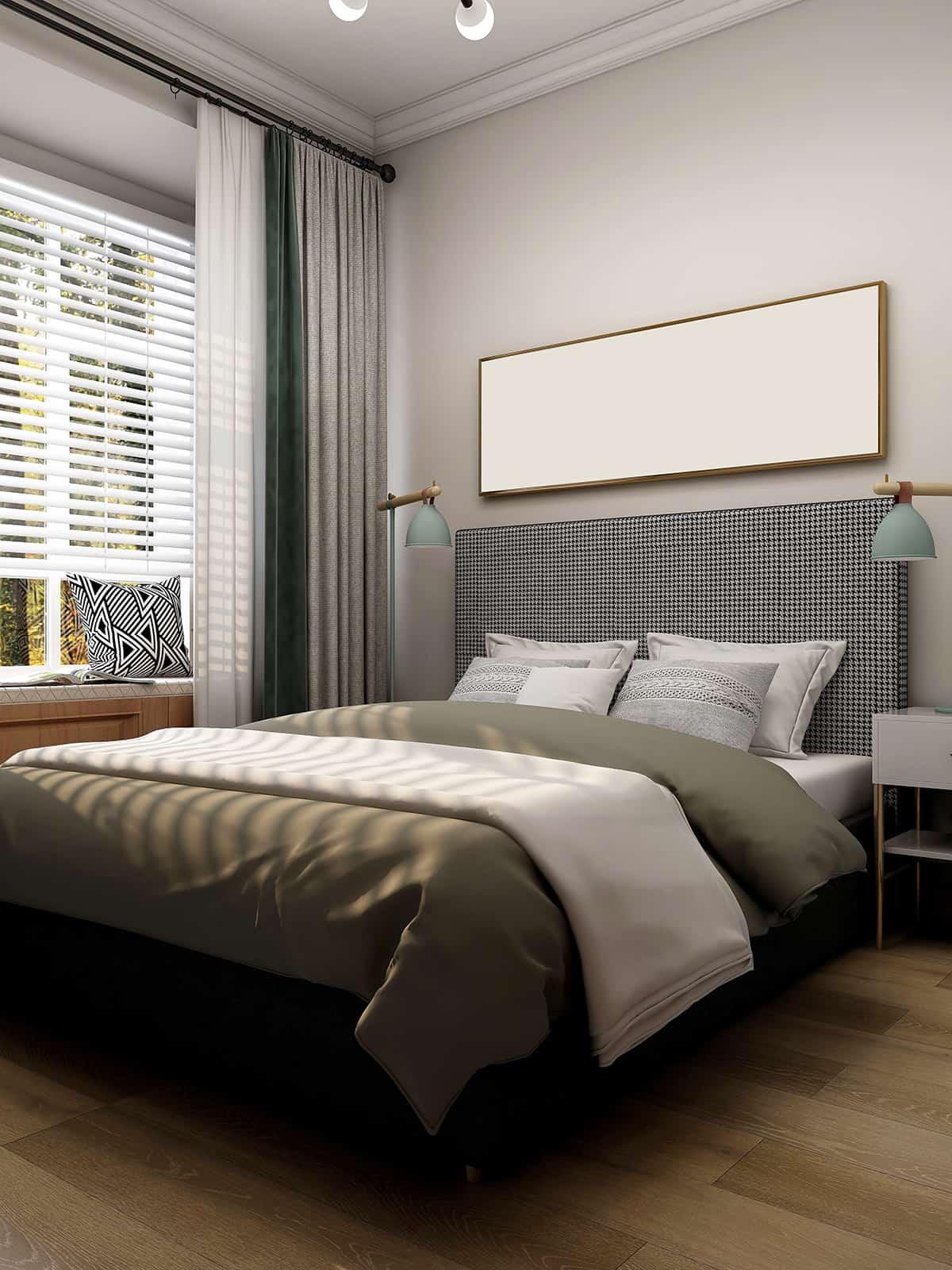 A cool, neutral tone works well in small bedrooms as they evoke a calming ambiance. By using a pale shade of gray for a small bedroom's ceiling, it will bounce the light around the space just like other pale, warm-toned shades.
In this small, minimalist-style bedroom, the light gray ceiling is paired with crisp white molding and gray accessories. The monochromatic palette creates a simple, clean feel and provides a neutral backdrop to the interior. This is proof that light gray works very well in small rooms as the color fluctuates with the natural light. In small rooms, it is always intriguing to use a modern ceiling color like pale gray for a unique vibe.
Light Brown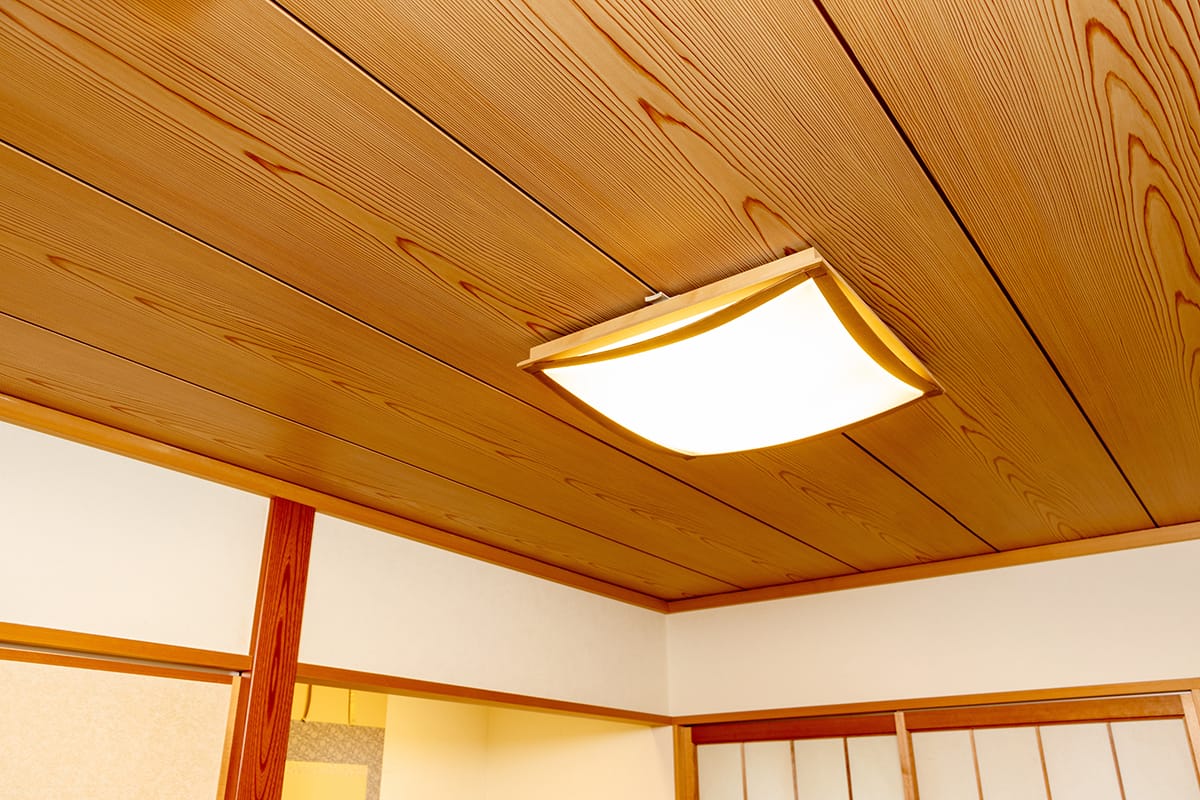 A wooden ceiling can make a small room feel even smaller – But not if you paint or stain the wood panels a light shade of brown! While you might not want the walls the same brown shade as the ceiling, this idea works particularly well in small bedrooms or hallways as it gives the room a warm, inviting feel.
Pale Green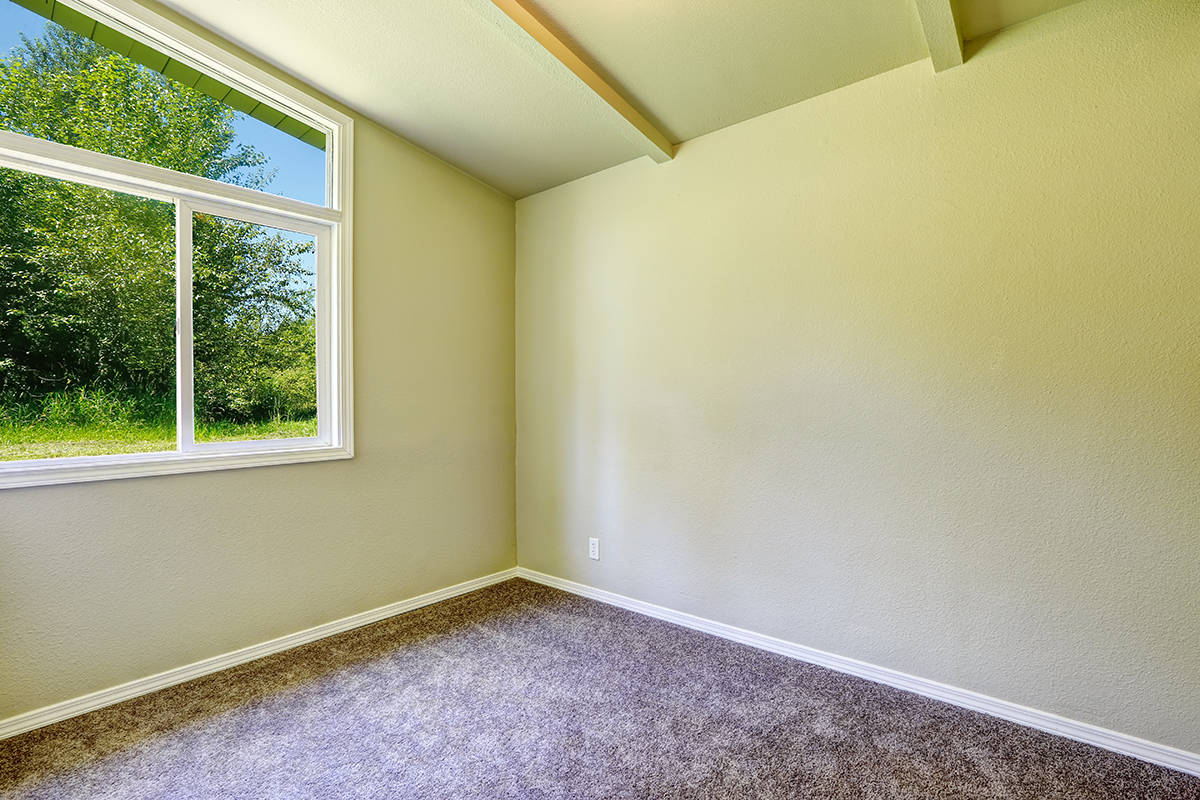 A pale cool shade of green paint for a small room's ceiling can transform it into a tranquil sanctuary. This is the ideal paint color for a small bedroom as it brings a clean, bright feel while evoking a soothing ambiance. A pale, mossy green in a small space like a home office or bedroom allows the room to get plenty of natural light without overwhelming it. Another pale green shade for small rooms' ceilings is sage. Pair it with matching walls as if it's a natural extension of the outdoors.
Bright Orange
Orange may seem too bold for a small room's ceiling, but it can surprisingly work. A saturated orange shade will take the focus away from your decor or appliances and instead, bring the eye directly to the ceiling and the walls, thus making the room appear larger. Consider this bright, vivid ceiling color for small living rooms that are furnished with lively furniture colors as shown in this example.
Soft Pink
Another lovely, bright ceiling color for a small room is a soft shade of pink. In living rooms and girls' bedrooms, this neutral alternative can work beautifully to offset other bold colors. Pink is a great choice for small spaces as it gives a warm and welcoming feel while reflecting light at the same time. When using this color for the ceiling of a small bedroom or living room, paint the walls and the skirting a lighter color in order to draw the eye upwards and create the feeling of space.
How Do I Paint My Small Room to Make it Look Bigger?
The key to making your small room appear larger is to avoid breaking up the space. Accent walls, including woodwork, should continue onto the ceiling if you want to make a statement as well as visually expand the space. Similarly, the same paint color used for the walls and molding can continue to the ceiling.
If you want to visually add height to your small room, go with the safest option: white for the walls and the ceiling. Alternatively, you may paint the ceiling a very light shade of green or gray together with matching walls. These paint colors trick the eye into thinking the ceiling is higher than it actually is.
For the flooring color, stick to a dark shade and keep the rest of the room's decor neutral. Here are some quick tips on choosing the right ceiling colors for a small room:
Just because you've chosen a neutral color for your small room's ceiling, it doesn't mean the shade has to be boring or bland. There are many fun neutrals that you can find on the color wheel so always check the full range before going ahead with the painting process. There are also free paint color apps that help you visualize your interior when painted the color of your choice.
You can adapt the ceiling paint color to the small room's furniture and decoration, not the other way around. Don't forget to get inspiration from your wall's artwork!
If you're going with two different shades of the same color for the walls and ceiling, consider using the lighter shade for the ceiling so as not to close in the space. For example, a light blue ceiling can be paired with dark blue walls. Experiment with your selected paint colors by obtaining samples from your local home improvement store.