Beadboard ceilings are often associated with Cape Cod style homes with their welcoming interiors. This type of ceiling appeals mostly to traditional homes because of its simple and uncomplicated style. The beadboard ceiling panels of cottage homes have a way of adding texture to the entire space without overwhelming the overall decor.
Now that I've aroused your curiosity about beadboard ceilings, let's learn more about them here.
What Exactly is a Beadboard Ceiling and What is it Made of?
A beadboard ceiling is a narrow tongue and groove paneling that can be used as wainscoting on the ceilings or even walls. The reason it's called beadboard is because of the raised ridge in between each panel. Each ridge or bead is as long as 6 inches and usually made from pine, although there are modern and cheaper versions of beadboards that are made of MDF instead of wood. 
Other Beadboard Ceiling Types
Vinyl: as I mentioned earlier, most beadboards are made of MDF as a more environmentally-friendly alternative to wood. However, you will often find Vinyl beadboards that are installed in porch ceilings. The advantage of vinyl is its warp-resistance qualities, which means it won't lose its shape or rot in wet weather conditions. Vinyl beadboards make a great choice in rooms that lack ventilation, such as kitchens, bathrooms, and of course, porches. 
PVC: In addition to MDF, wood, and vinyl, there are also PVC beadboards that are considered as the best waterproof option. Just like vinyl, PVC is also ideal for bathrooms, kitchens, porches, or any other area that's prone to water damage. But what makes PVC stand out is its reversible beadboard planks that give the double-lined appearance on one side of the plank and the single-line appearance on the other side.  
If you choose PVC beadboard panels for your bathroom or kitchen ceiling, you can be sure of reducing the chances of mold or mildew growth. For those who live in humid areas or don't want to maintain their ceilings, PVC beadboard is the best option. These planks look very similar to wooden beadboards so the final appearance remains the same, except without having to maintain it regularly. 
Why Choose a Beadboard Ceiling? 
Adds Character to Your Home
Beadboard ceilings have a seamless look no matter what material they are made of. You can give your rustic, modern, or traditional home charm and character by adding these unique types of ceilings. Beadboard ceilings are available in many textures and colors, from red cherry wood to classic maple so you're bound to find the most suitable option for your home.
Hides Imperfections
Want to hide those old damp stains or unsightly cracks on your ceiling? Do you have an outdated popcorn ceiling that you want to conceal? Then consider installing a beadboard as this type of ceiling is the perfect solution to hiding imperfections.   
Beautiful to Look At
Beadboard ceilings look unique and beautiful on any ceiling. Thanks to a variety of colors and finishes they offer, you can choose the exact look and design you want to achieve for your home. 
Affordable 
In addition to the aesthetic appeal of beadboard ceilings, you'll be pleased to know that the materials they are made of are the least expensive when compared to coffered or vaulted ceilings. In fact, the lowest price for beadboard planks per square foot is as little as $2. Now that's a bargain! 
Provides Good Insulation
One of the best features of beadboard ceilings is their excellent insulation in both cold and warm climates. This makes them the ideal solution for any room of the house. 
Easy to Install 
Unlike vaulted ceiling installations that are best left to the professionals, there are easy-to-install DIY beadboard kits that anyone with basic carpentry skills can install. So if you know how to measure and cut planks, and you have a ladder, then you can easily install beadboard panels on any ceiling in your home. Keen to get started? Read on to the end of the article for some great installation tips and a demo video. 
Any Drawbacks to Beadboard Ceilings?
The biggest drawback to wooden beadboard ceilings is their susceptibility to water damage. If you're planning to install wooden panels, any water leaks will extensively damage your ceiling. This means you'll need to think carefully about the ceiling material you choose for each room in your house.
For example, if you want to install beadboards in the kitchen or bathroom, bear in mind that wood can rot or warp from excessive condensation. My advice? Go for vinyl or PVC beadboards for the porch, kitchen, and bathroom. You may install wooden planks for the rest of the rooms in your home only if you don't mind the regular maintenance that comes with them. 
4 Examples of Beadboard Ceiling
In the Living Room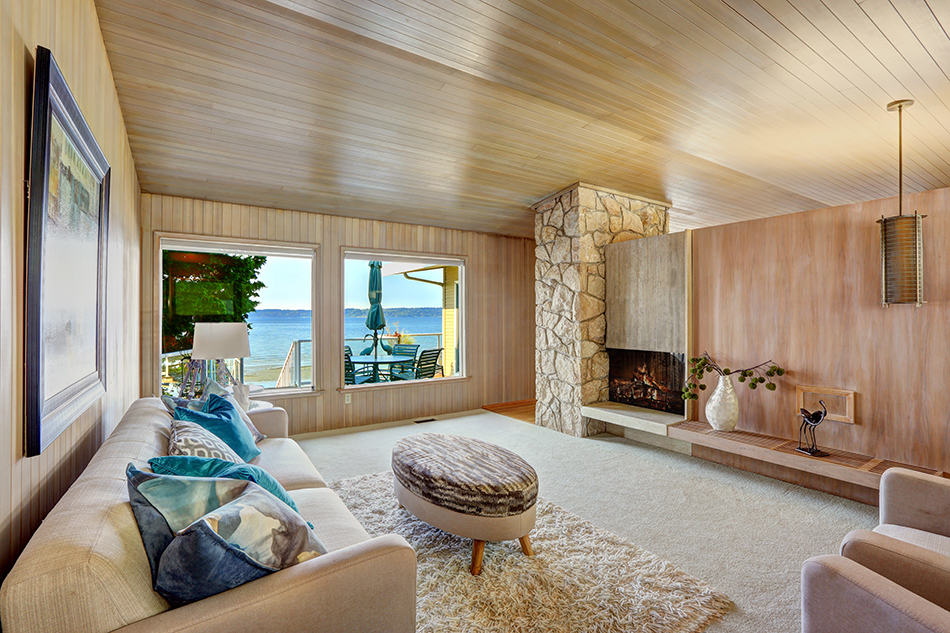 Just take a look at the beautiful wooden plank ceiling in this traditional living room. The wooden beadboard ceiling has enhanced the appeal of the space and created such a cozy and romantic atmosphere, don't you agree?
In the Kitchen/Dining Room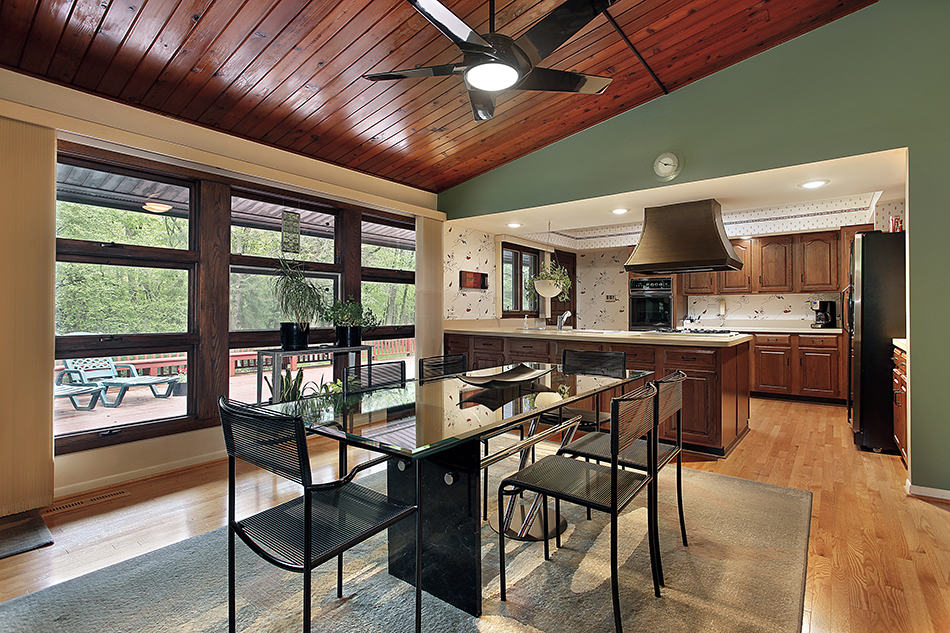 A beadboard ceiling adds warmth and character to a kitchen/dining area. A welcoming atmosphere is, after all, essential in the dining room area since it's a place of gathering for the family. In this image, the dining room boasts a clean and simple style that appeals to everyone. What stands out is the dark cherry  wood ceiling panels that have given the space more depth. 
In the Bathroom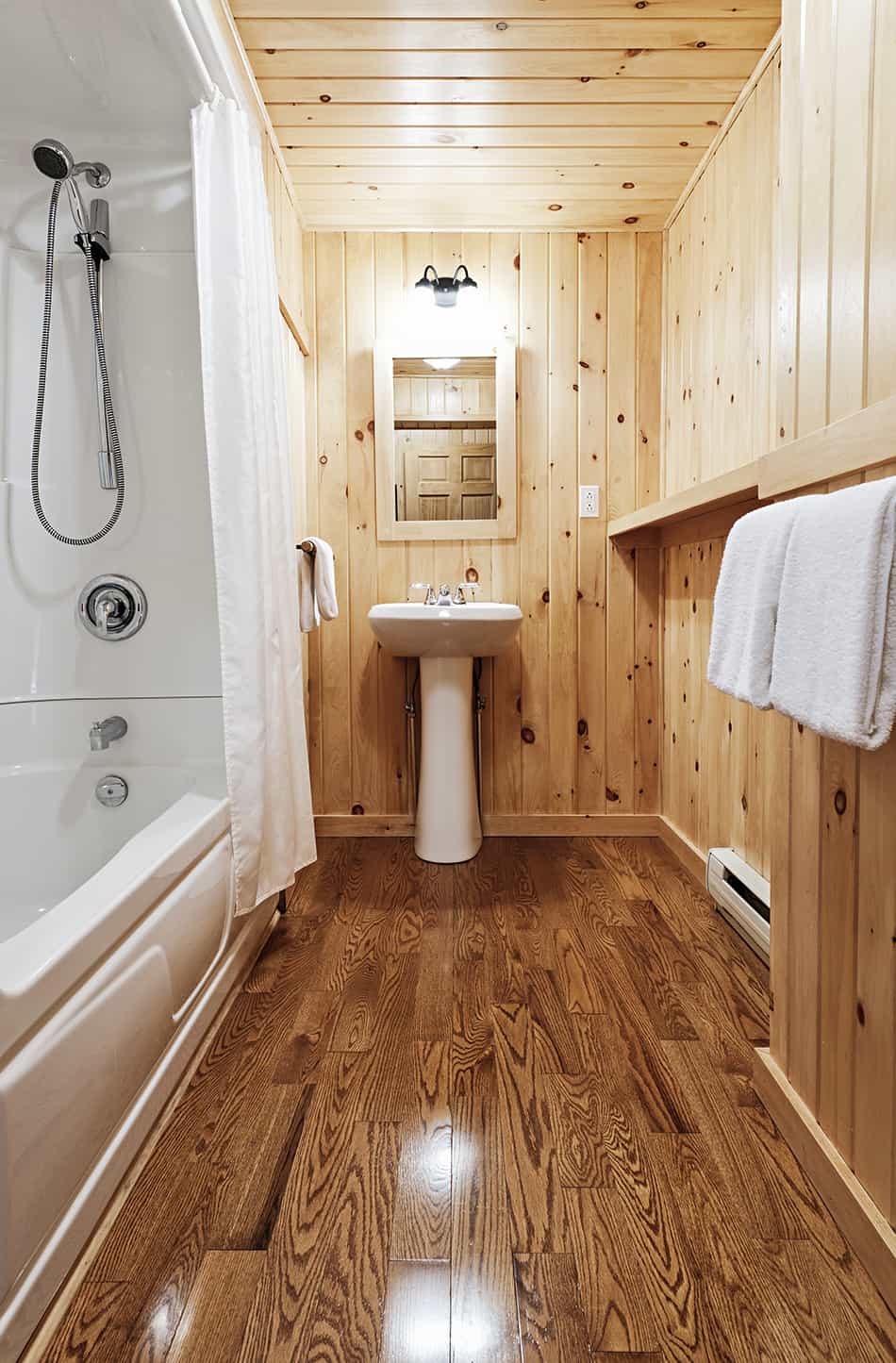 The bathroom space is a little challenging to design, especially if it's small. By installing a beadboard ceiling in your bathroom, you won't need to think of additional decorative pieces to make the room stand out. See how the beadboard ceiling in this small bathroom works in harmony with the flooring and the walls.  
In the Bedroom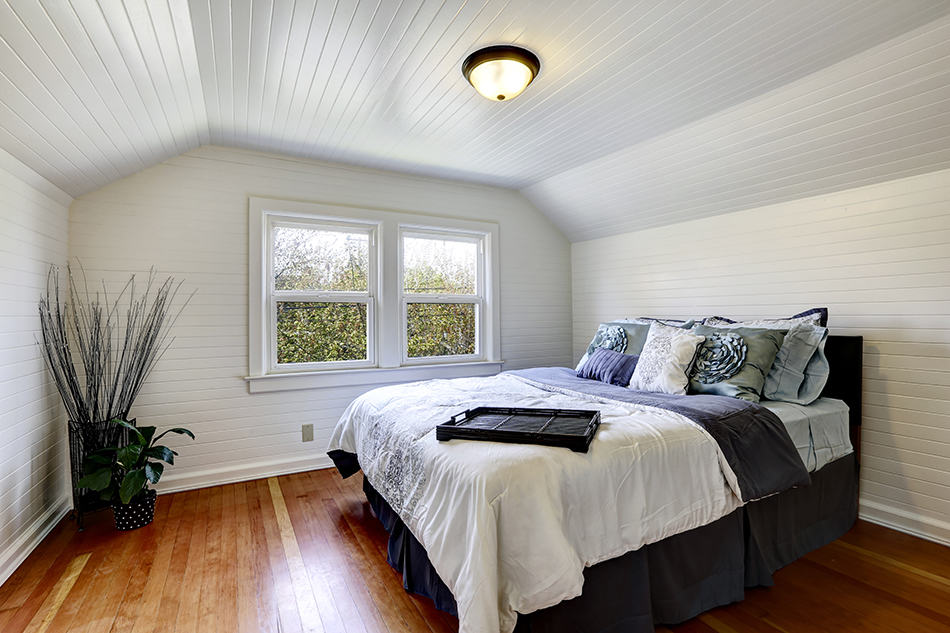 This is a charming sloped attic-style bedroom featuring white beadboard ceiling and wall paneling in a fully coordinated design. It oozes simplicity and warmth, don't you think?
Beadboard Ceiling Installation Tips
Installing a wood beadboard ceiling is a great idea for rustic or cottage-style homes as it can add a lot of character to the home. Wood is a natural material that can be painted with any color you like to match your interior design. You may even leave the wood color as it is to create contrasts.
Since beadboards are simple to install, you can save money by installing them yourself. A little home improvement knowledge is all that's necessary to achieve the best result. To make the installation job even easier, most manufacturers provide metal clips and tracks that hold the wooden planks in place.
You can find beadboard planks that either come in small pieces or as panels. The small pieces of wood can easily fit together. The panels, on the other hand, must be nailed to the ceiling and are suitable for larger areas. You will have to decide which type of beadboard is the best option for your ceiling.
To help you decide on the best installation method, let me give you some quick ideas: one popular method is to install the panels inside the framework of larger wooden planks that are in square or rectangular shapes.
Another installation technique is to place the beadboard panels in various directions rather than in a straight row. This will give your ceiling a unique look. Try it for yourself and see! 
Here is a video on how to install beadboard panels on the ceiling: 
Final Tips to Choosing Beadboard For Home
For larger-sized rooms, opt for wide beadboard planks so as not to overcrowd the space. Most panels come in standard, V-board and random width board styles. Try to match the style of the ceiling with your floors. For example, beadboard ceilings work very well with wooden or composite floors, but not so much with marble.

Avoid installing wooden planks in rooms that are prone to water damage, such as porches, kitchens, and bathrooms. If you have surplus beadboards, you can place them horizontally on the walls to make them look wider, or vertically to make them appear taller.

Before painting the planks, make sure you seal the surfaces using an oil-based primer. This will protect the wooden panels from moisture and shrinking. For maintenance-free panels, opt for PVC or vinyl instead.

Aesthetically, wood beadboards are stronger and more durable than vinyl, but they are prone to getting scratched. To fix the scratches in the wood planks, sand the area first before filling them with a polyester based filler.

No matter which material you choose for your beadboard ceiling, remember to clean the planks by running a long-handled feather duster over the panels. This is a routine cleaning chore that should be done once a month or so in order to keep spider webs and dust out.