When it comes to renovating a kitchen, it's helpful to understand some basic interior design guidelines so that you can achieve a stylish look you are pleased with. If you are opting for wooden floors, you can fall into the trap of trying to match them to the wooden cabinets, but this will not give a good result.
Here we look at whether wood floors should be lighter or darker than cabinets and how to choose a color for your wooden flooring.
Don't Match Floors and Cabinets
Before we look at whether wood floors should be lighter or darker than cabinets, you may be wondering why you can't simply match the wood floors to cabinets and have them be exactly the same color.
There are two good reasons for this design guideline. For one, in a kitchen, your cabinets will usually take up most of your wall space. If you have these and the floor in the exact same color, then there will be very little definition in the room, giving your kitchen a flat and uninteresting look.
The second reason you shouldn't match your cabinets and wood flooring is that getting an exact match is unlikely. Even if you get a near-perfect match for the shade, the woodgrain may be slightly different, or the finish may be different.
This almost-matching effect gives an unappealing look to the room, which can look like a design flaw. It can make people wonder if you tried and failed to match the cabinets and flooring, and so it is better not to attempt this in the first place. It is much easier to choose two different colors for the floor and cabinets, and you'll also end up with a better result.
Lighter or Darker?
If you shouldn't be matching your wood floors to your kitchen cabinets, then should you be going lighter or darker for your flooring color? This choice comes down to the type of mood you want to achieve in the room, your personal style, the functionality of the room, the size of the room, and the amount of natural light it receives.
There is no simple answer as to whether your wooden floors should be lighter or darker than your cabinets. They still work great if you know how to use the color scheme well. You can check out our pages to see some inspirations where lighter or darker still look good ' What Color Cabinets Go with White Tile Floor ' , ' What Color Kitchen Cabinets with Gray Floors? '.
And there is a selection of things you'll need to consider to make the right choice for your particular circumstance.
Style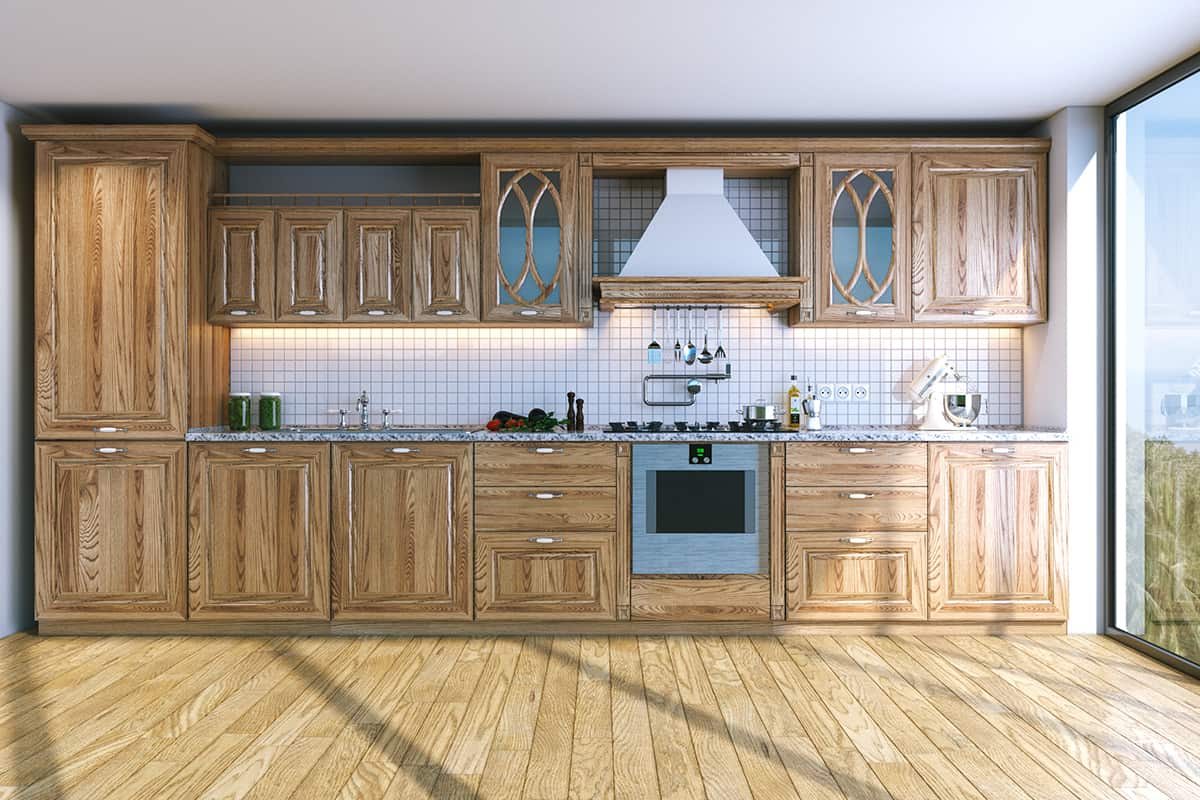 The type of look you want to achieve in your kitchen will play a big role in helping you narrow down your color options for the wood flooring. In general, you can expect that a dark wood flooring will create a sophisticated and elegant look in a room, while a light wood flooring will bring a more casual, airy style to the space.
If you are going for a classic or formal style, then a medium to dark wood floor will be more appropriate. For a modern, relaxed look, lighter wood floors work well.
Practicality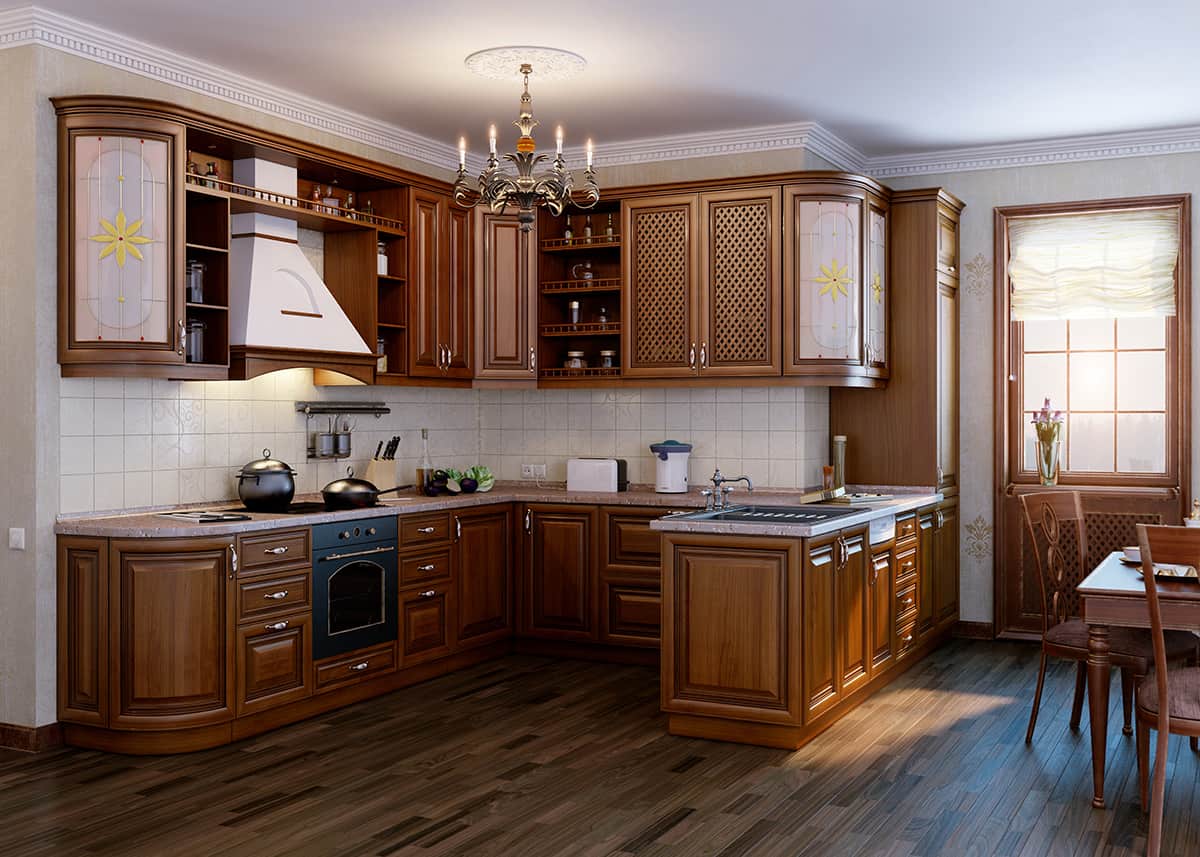 When choosing a wooden floor, it's worth remembering that our flooring bears the brunt of wear and tear due to foot traffic within the room. Consider the size of your family and their ages, as well as the likelihood of your kitchen floor becoming damaged with heavy use.
If you have pets who live in the kitchen who are prone to scratching the floor, then this is another point to take into account. Darker wooden floors will show scratches more easily than light floors, while light floors will show scuffs from shoes more obviously than dark floors.
Room Size and Aspect
The size of your kitchen and the amount of natural light it receives may be an important factor when it comes to deciding on a light or dark wood floor. This is because the shade of your floor can help to make a space feel bigger or smaller.
If you want to make a small kitchen feel bigger, then a light-colored floor will help to reflect light and create a feeling of more space.
A dark floor in a small kitchen can have the effect of drawing the eye downwards and highlighting the small footprint of the room. However, if you have a very bright small kitchen with plenty of windows, or a large window in a south-facing aspect, then you can get away with a dark-colored wooden floor if you wish. In big rooms, dark floors have the benefit of grounding the room.
Contrast and Coordinate Floors and Cabinets
Once you have decided whether to go lighter or darker than your cabinets for your wood floors, you'll need to select a color and a shade. Here we will go over some easy design guidelines to help your decision process.
Pick a color palette
For any interior decor transformation, you should start by selecting a color palette. In most cases, three colors are the optimum number to work with because this allows enough interest and room for contrasts without making the room overstimulating and busy. You will want the main base color, a main accent color, and a secondary accent color, which will be used in a rough ratio of 60-30-10.
Most people will choose a neutral shade for the main base color as these are easy to live with and make for a nice background shade. An example of a color palette with three coordinating colors is gray, green, and gold.
In this instance, gray is the neutral main base color and will cover 60% of the room, while green will cover 30% of the room, and gold will be used for the remaining 10% to accent the other two shades.
After choosing this color palette, you can introduce different shades of these colors in a room. In a kitchen, this might look like pale gray cabinets, a dark gray floor, green painted walls, with green and gold accessories.
Coordinate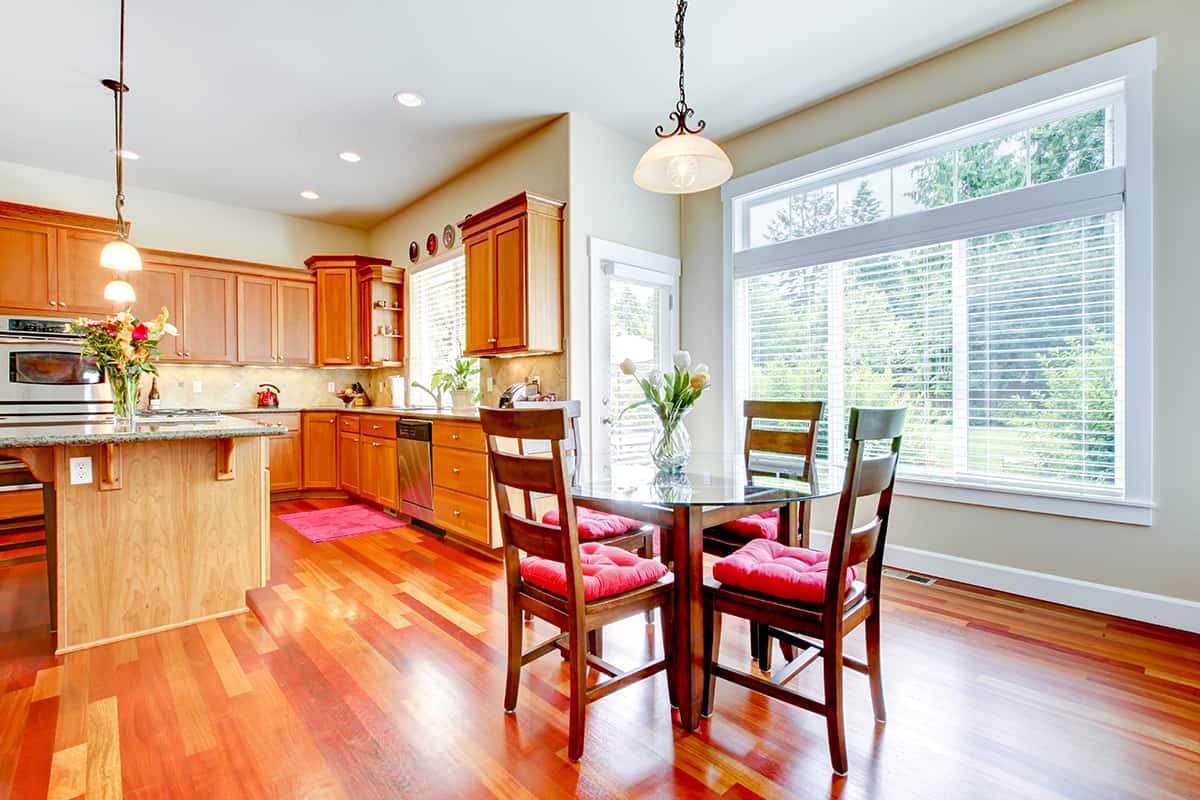 Although your wood floor should not match your kitchen cabinets, it should coordinate or contrast the cabinets. Stick to your chosen color palette and pick shades within this for your cabinets and flooring. For wooden flooring, it may not always be easy to find a wood type in your chosen colors, and in this case, you should look for flooring that has the right color undertones.
For a color palette with cool undertones, you will want a wooden floor surface with cool undertones. These are woods that have hints of blue, green or purple, and have a grayish hue to them. Cool tones of wood include ash and maple. For warm color palettes, you will need a warm wood floor. These are easy to spot as they have yellow, orange, or red undertones and can look golden.
Adjust shades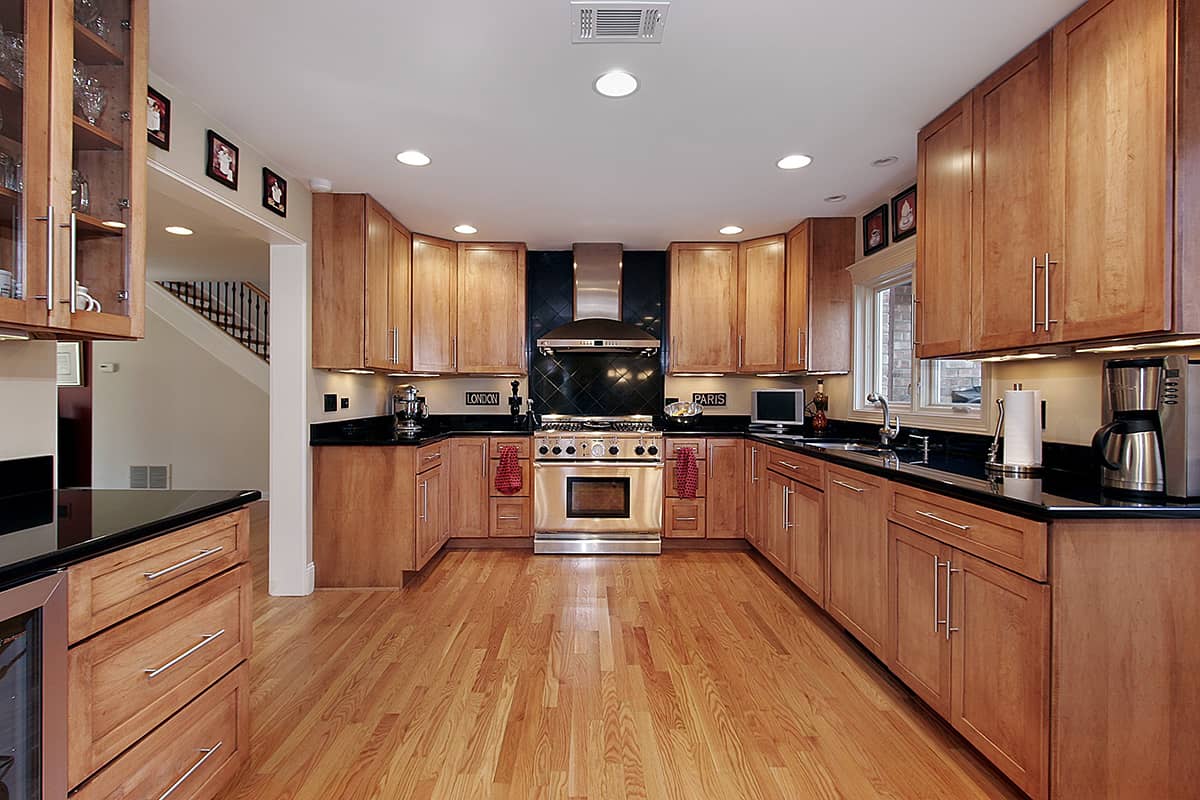 If you want your cabinets and flooring to be the same color, this can work well as long as you opt for significantly different shades of the same color. The general rule is for elements in the room that go side by side to be at least three shades away from each other. This will differentiate them enough from each other to show that there is an obvious and intended difference in shade.
If you choose shades that are too similar, it can look like you have tried, and failed, to match them. An example of adjusting your shades for the same color is to pick a floor in a medium oak finish and cabinets that are dark oak.
Contrast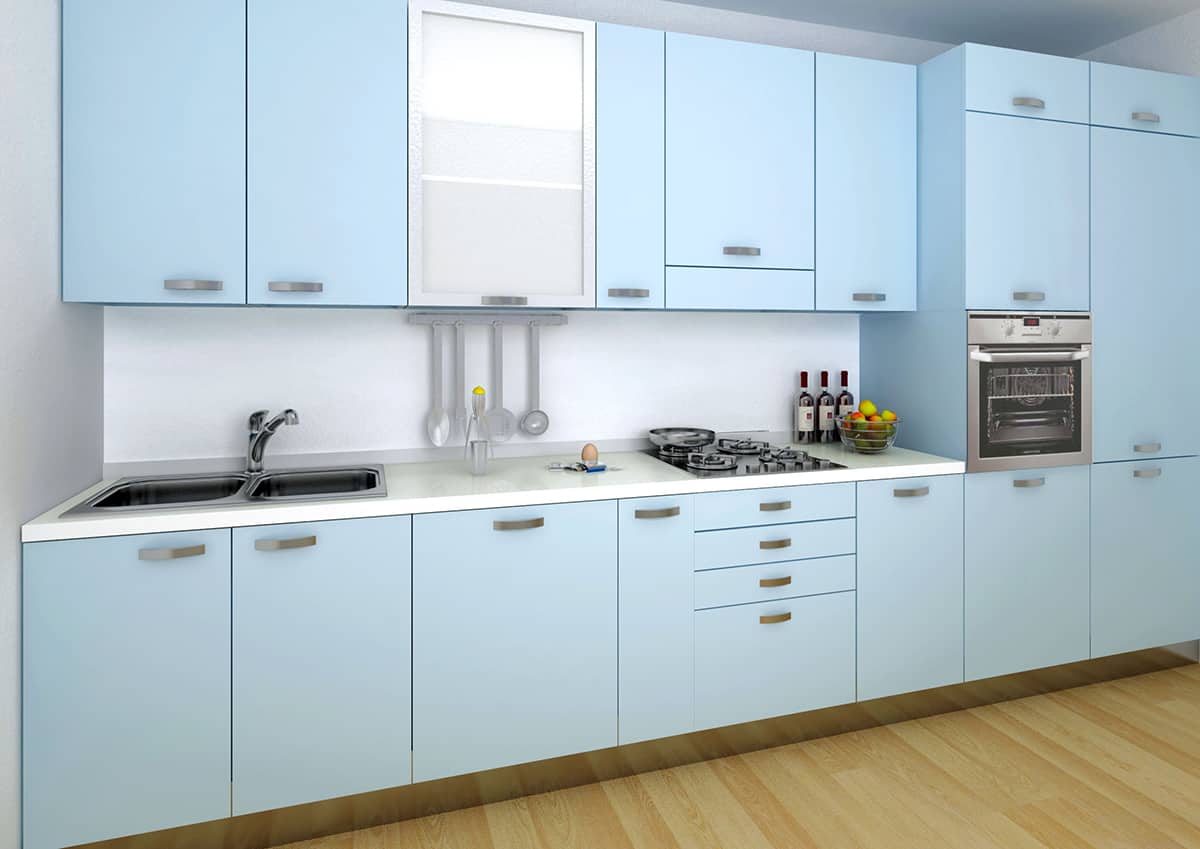 Contrasting your wooden floor with your kitchen cabinets can make a striking visual impact. You can do this by using contrasting colors or contrasting shades. Contrasting colors create a bolder effect and help to make each color stand out. An example of this would be in a kitchen where the color scheme is brown, blue, and orange.
You could have a brown wooden floor with orange undertones next to blue kitchen cabinets. An orange-brown floor will contrast blue cabinets because these two colors are opposite on the color wheel.
For a contrasting effect using different shades, you can have your cabinets and wood flooring in the same color but at opposite ends of the shade spectrum. For example, you can have a very dark gray wooden floor and very pale gray cabinets.
You can also create more subtle contrasts by choosing shades that are not so far apart from each other, for example, a dark gray floor with medium gray cabinets. This makes for a tonal, layered look which is popular in contemporary design.
Neutrals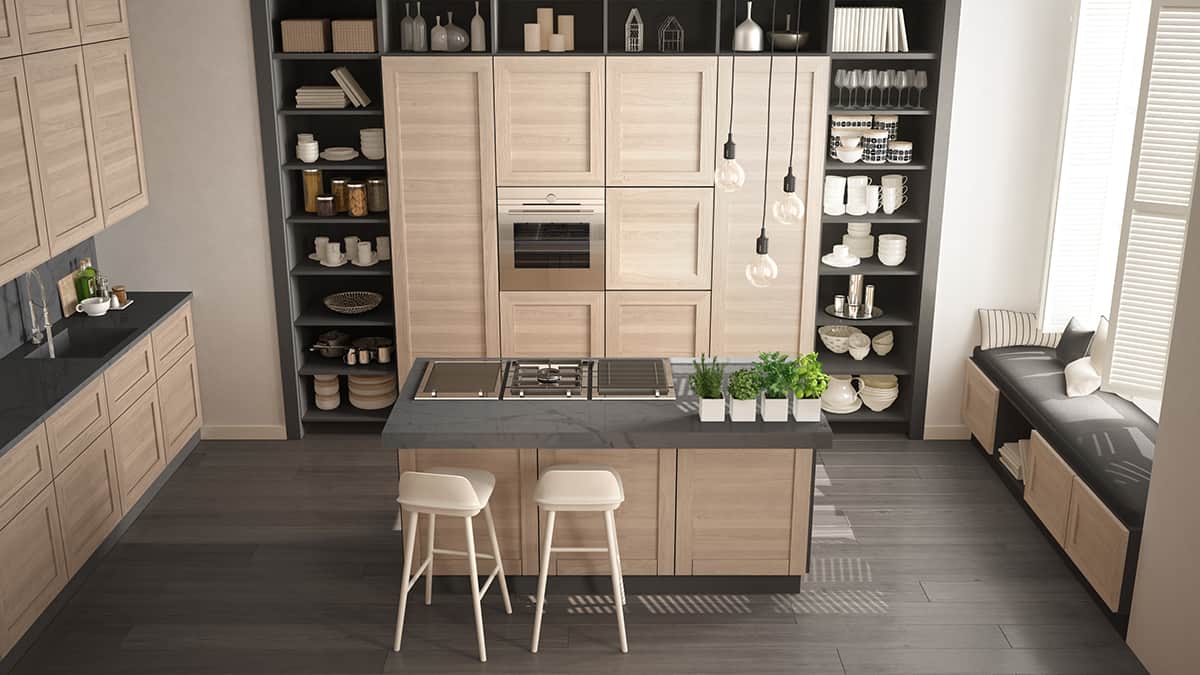 Neutral shades are popular for floor surfaces because they will easily coordinate with most other colors. This is a sensible option because it means you can alter your color scheme at a later date without having to pay out for a whole new floor.
For this reason, you may want to stay away from wooden floors which have very vibrant tones to them, for example, red oak or cherry floors, which have intense red undertones, as these can be difficult to coordinate with other colors if you want to change your accessories in the future.