White tile flooring never goes out of style thanks to its fresh and calming feel. When you choose white tile for your kitchen floor, it can give this room an airy and spacious feel, and since white is such a versatile color, it goes with just about any other cabinet color.
If you want to give your kitchen an uplift, you must first decide how bold or subtle you want your cabinetry color to be. So what color cabinets go with white tile floor?
In general, homeowners prefer gray, off-white and black cabinets as they look clean and modern next to white tile floors. But there are also other bold colors that will look just as beautiful and contemporary, including pastel blues and greens.
To prove how the mentioned cabinet colors look when paired with white tile floor, you might want to take a look at our examples with images below:
Best Cabinet Colors that Go with White Tile Floor
Birch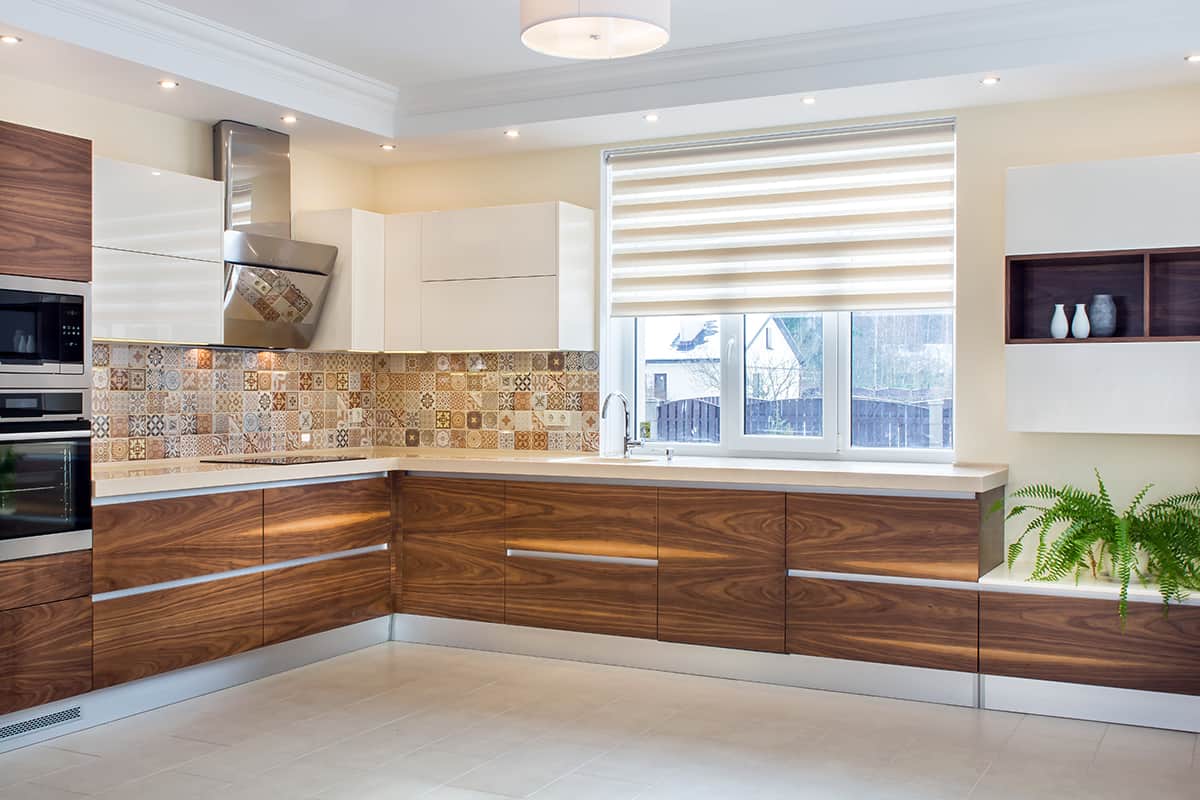 A medium-toned birch for the cabinets works incredibly well with white tile floor. This creates a light and bright look in a traditional style kitchen, but also prevents your kitchen from looking outdated. Birch is a type of hardwood with medium density and is known for its remarkable durability and resistance to dents or scratches.
In this example, the elegant brown birch cabinets mix in beautifully with the white tile floor. This cabinet color plays off against the light neutral floor, thus making the kitchen brighter and airier.
Off-White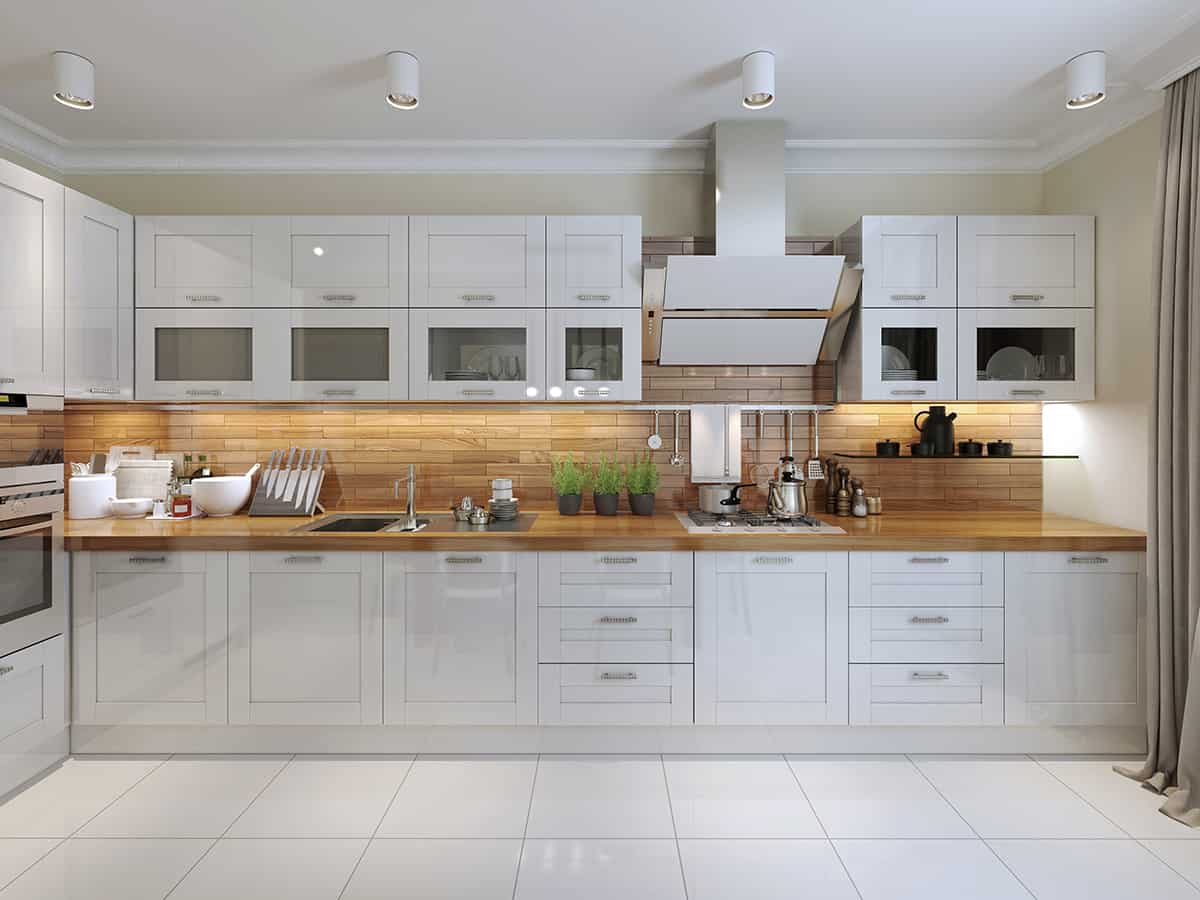 The reason we're not suggesting white is to avoid a monochromatic design. To break the monotony, how about off-white cabinets as a classic color pairing with the white tile flooring?
This idea works in both modern and traditional kitchens. The neutral pairing means you can introduce any other color to the combination to make your kitchen look super trendy.
Here, the light brown backsplash goes wonderfully with the off-white cabinets and white tile floors. This contemporary kitchen design works in both small and large spaces thanks to the light neutral mix of colors.
Midnight Green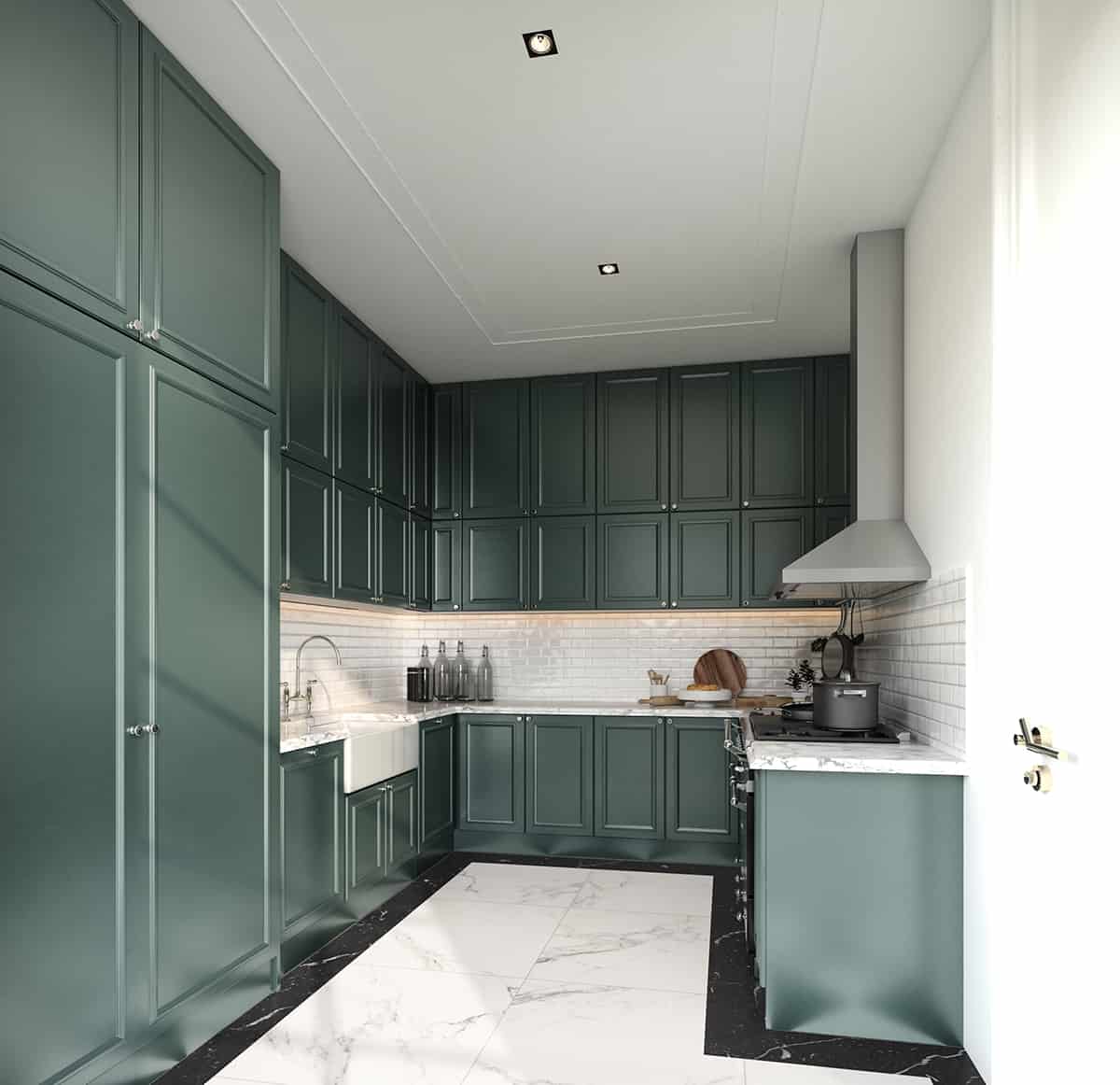 In recent years, dark green has become a popular kitchen cabinet color. This is because green has an earthy tone that oozes sophistication. Whether you pick sage, mint, dark forest or midnight green, there is a shade for everyone.
In this modern kitchen design, for example, the midnight green cabinets give a chic look to the white tile floor and matching backsplash.
The stainless steel hardware has enhanced the stylish feel of this kitchen, and the white tile floor has added some dimension to the space.
Light and Dark Gray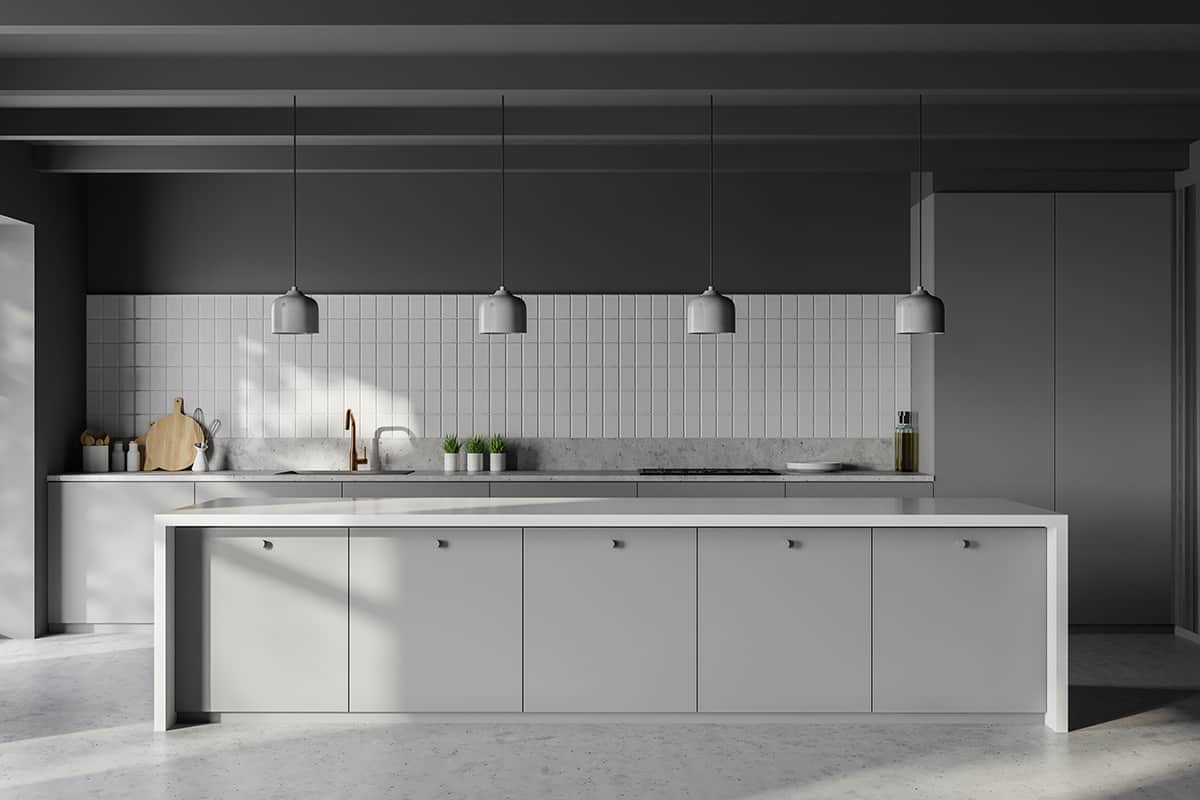 Gray remains most home buyers' favorite for kitchen cabinets, thanks to its contemporary and versatile look. It is the neutral nature of this color that makes it so popular.
Light gray cabinets give your kitchen an airy feel, while dark gray adds drama. When you mix these two shades with your white tile floor, you can bring a beautiful contrast to your kitchen design. A warm shade of gray works perfectly with white tile flooring as you can see in this example.
The dark gray walls with the matching island perfectly complement the light and dark gray cabinetry and the white flooring.
Greige or Taupe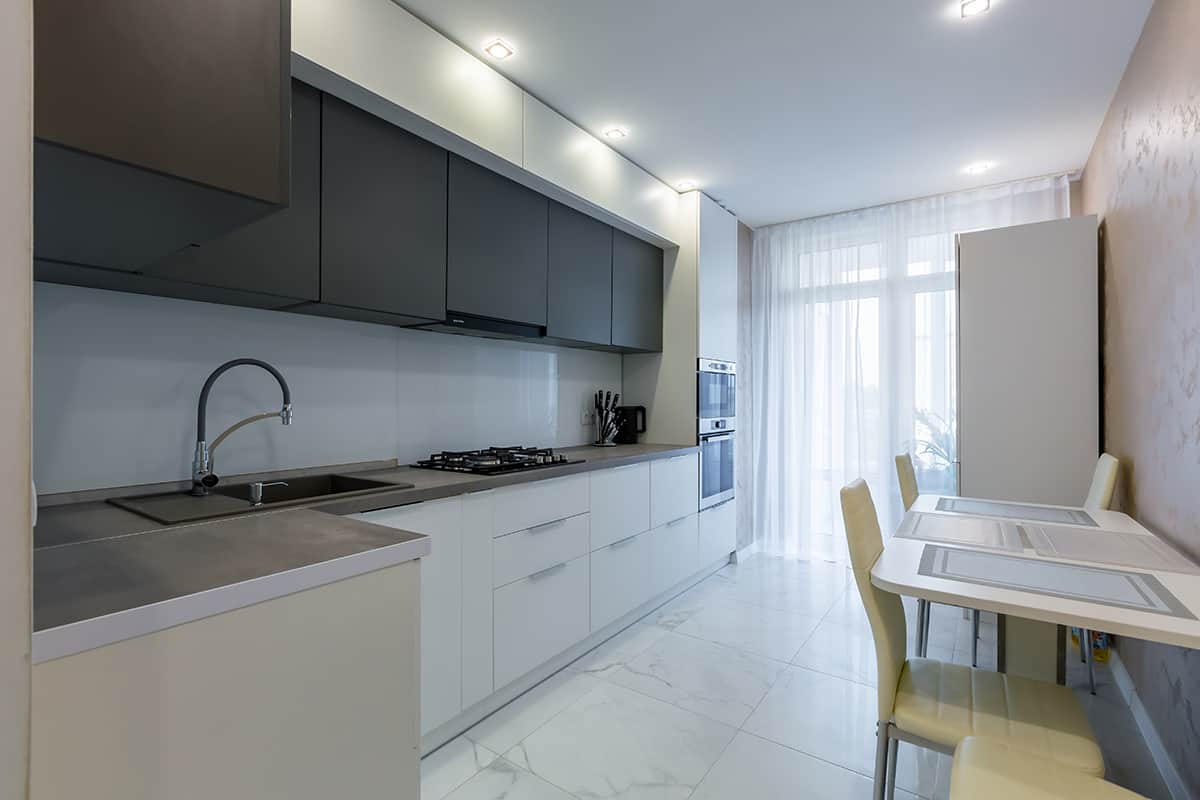 If using gray for the cabinets feels a little cold, but you still want a similar color to pair with your white tile flooring, then how about taupe or greige? These paint colors are neutral yet more visually interesting than plain gray.
Greige is a mix of gray and beige with a warmer undertone. Taupe consists of brown and dark gray, which can create a warm and refined atmosphere in your kitchen with white tile floor.
If you can't decide between these shades, then use both as per this example. The combination of light and dark elements in this kitchen have added much depth to the space, with the white tile flooring as the focal point.
Mustard Yellow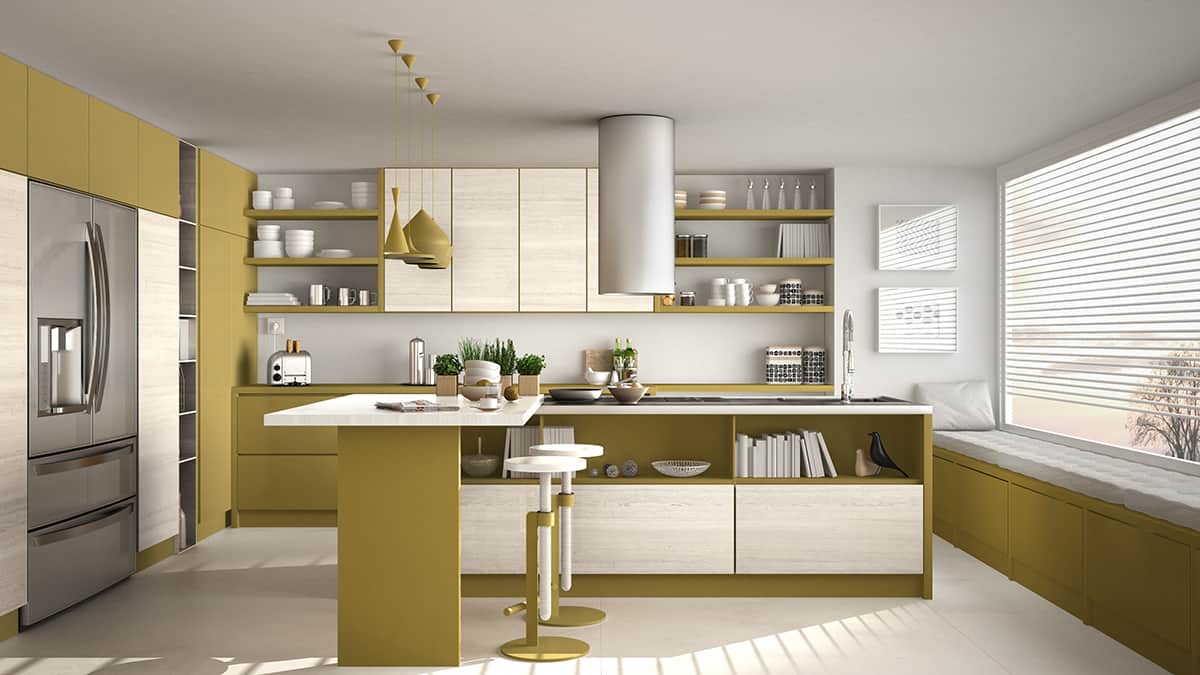 If you want to inject an energetic and fun vibe into your kitchen, go with mustard yellow cabinetry. When paired with white tile flooring, a cheerful shade of yellow will create an inviting feel.
This sunny shade is ideal in both farmhouse style and modern kitchens as it welcomes guests with a nice glow in the morning. The timeless cabinetry color works especially well in bright and airy kitchens with white tile floors.
As a warm, bold and bright color, yellow can be used throughout the kitchen, including the countertops and island. You can also incorporate a neutral backdrop color like white to highlight the yellow cabinets. This energetic hue is the perfect focal point in a space where we tend to use most.
For those who aren't daring enough to use a bold shade of yellow for the cabinetry, we recommend mustard yellow as a softer and muted hue. This shade will still make your kitchen with white tile floor look contemporary, but it's not as bold or dominant as lemon or sunshine yellow.
Just look at how harmonized this modern kitchen example feels thanks to its stainless steel appliances, white tile floor and mustard yellow cabinets.
Blue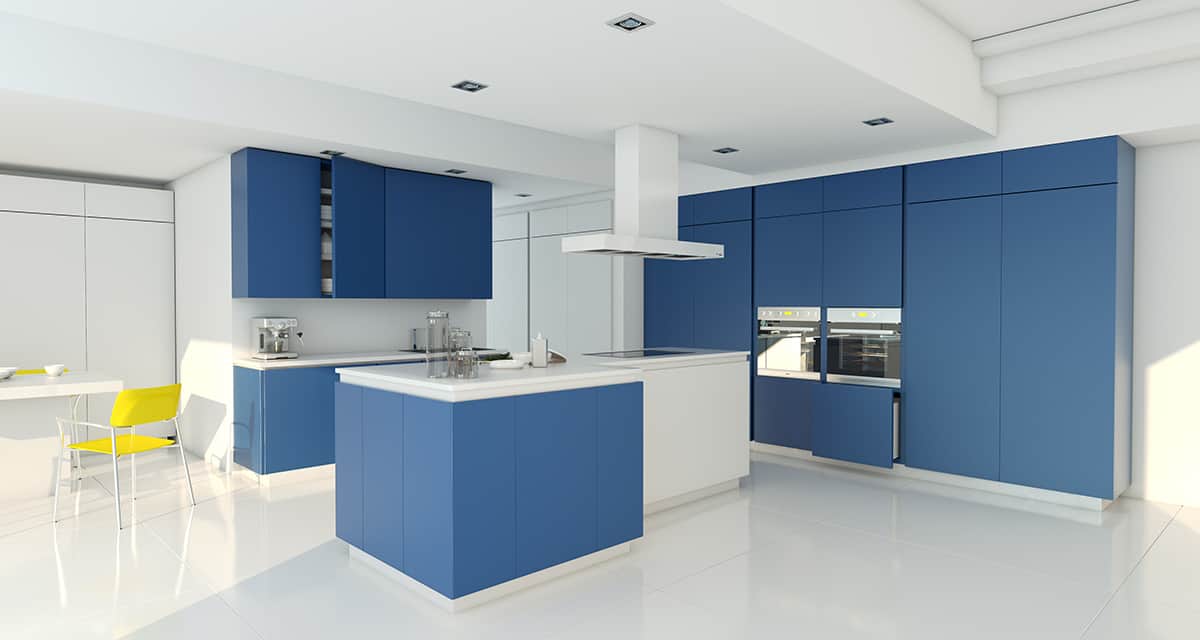 As a classic color that emits a relaxing vibe, blue is mostly favored for the bedroom. However, have you ever considered using this color for your kitchen cabinetry? From pale sky blue and teal to navy, admiral and azure, there is always a shade that fulfills your expectations.
A pale blue shade for the cabinets will help make your kitchen with white tile floor appear larger. This color combo is, therefore, ideal for small or narrow kitchens. It is also a great choice for kitchens that lack adequate natural light.
Dark blue, on the other hand, works best for larger kitchens. But if you want a warm and inviting feel in your kitchen, best to avoid cool shades of blue.
In general, the darker the blue shade, the less chilly the kitchen will feel. Cobalt and admiral are our top two favorite shades as they tend to bring more warmth to the kitchen. Just like the example here, the dark blue cabinetry paired with bright white tile floor have made this space look anything but cold or unwelcoming.
Black and White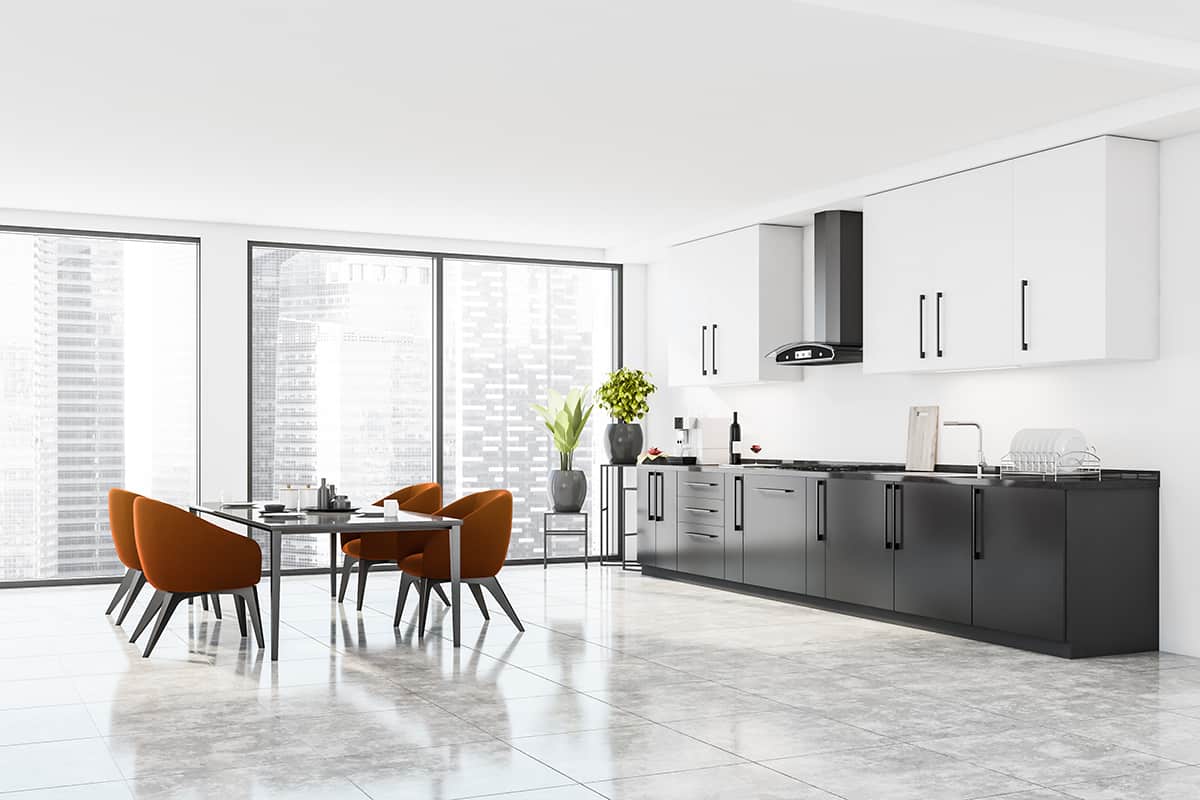 Another trendy cabinetry color combination is black and white. This color scheme is easy on the eye and easy to maintain. Black is a dramatic color that absorbs light instead of reflecting it. When paired with white cabinetry and white tile floors, it becomes a highly desirable design scheme.
A black and white kitchen in a large, open-plan layout, for example, is the ultimate design for a penthouse or large villa. Just make sure your room receives plenty of natural daylight.
With the help of the white tile flooring, light gets bounced around in a sophisticated yet cozy kitchen just like the example you see here.
Is White Tile Flooring a Good Choice for the Kitchen?
Kitchen floors experience high foot traffic throughout the day. They also have to contend with lots of food spills and stains, so it's important to choose the right tile flooring color.
White tile floor is easier to clean and maintain when compared to other tile colors. A white tile floor in the kitchen helps make this room appear larger and airier. So it is fair to say that white tile flooring in the kitchen will never go out of style. After all, this bright floor color reflects light and creates a spacious feel.
By contrasting your white tile floor with dark countertop or cabinet colors, your kitchen can look modern and spacious. The added advantage of light tile flooring is that it hides scuffs and scratches caused by the constant foot traffic.
And when deciding on the best tile material, ceramic or porcelain are popular choices as they are both affordable and highly durable. These materials are less porous and spill resistant. What's more, porcelain tiles are more slip resistant than ceramic due to their special manufacturing process.
In Closing
Our examples of kitchen cabinet colors that go with white tile floor prove just how versatile white is when paired with other bold or subtle colors. But in case you get tired of your cabinetry color, you can always repaint it a different shade or get a professional to do it for you.
Keep in mind the size of your kitchen as dark cabinet colors will only make the space appear even smaller. In general, warm cabinet colors, including greige and light birch work best in small kitchens.