The rising cost of interior upgrades, such as kitchen renovations and building work, is causing many people with DIY experience to turn their hand to producing their own cabinetry.
If you're new to creating cabinets, you'll need to know all about cabinet face frames, including what purpose they serve, and what their standard sizing is.
Cabinet Face Frame Dimensions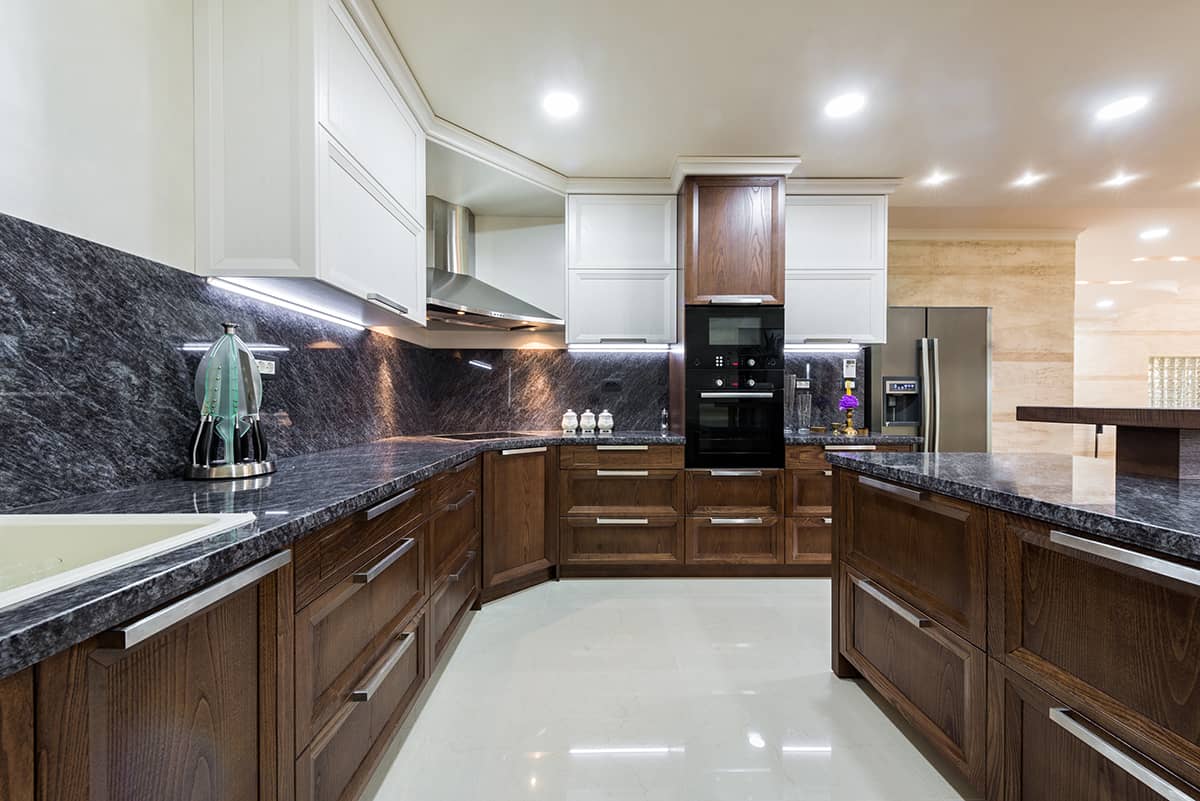 The overall size of the face frame is going to be dependent on the size of the cabinet carcass because it will of course need to be custom-made to fit onto the carcass. The point of a cabinet face frame is that it hides the edges of the carcass, so it needs to perfectly fit onto the cabinet frame.
For this reason, the length of the stiles and rails will always be determined by the size of the cabinet carcass, however, the width of the stiles and rails is variable.
Standard sizing
The stiles of a cabinet face frame are typically the same width or a larger width than the rails. This is simply a matter of aesthetic preference and won't affect the functionality, but in general, most people agree that stiles that are wider than rails make a cabinet look more stylish and well-balanced.
The standard width size of a stile is 2 inches. Ready-made cabinet face frames will usually have stiles that conform to this industry standard of 2 inches in width, but when making your own cabinet face frames you don't need to adhere exactly to these specifications.
When it comes to rails on cabinet face frames, there is much more variation in standard sizing. For an aesthetically pleasing look, the rails should be the same width measurement as the stiles or less.
When the rails are larger in width than the styles, this tends to look unbalanced. The minimum standard size of rails that you can expect to find in the industry is 1.25 inches in width, and this can go as high as 3 inches maximum.
Custom sizing
The rails and stiles of a cabinet face frame can be any width size you like, whether you are making the face frame yourself, or having one custom-made by a carpenter or cabinet manufacturer. Standard stiles are 2 inches in width, but for a more robust look, 3 inches also works well. The minimum size of a stile should be 1.5 inches.
Though the width measurement of the stile can be dictated by your own preferences, the one rule you must stick to for a high-end style kitchen is that all stiles must be the same width measurement. While rails can have varying width measurements depending on their position on the face frame, a stile will always need to be the same width measurement as the rest.
If you choose 2 inches for your first stile, then every subsequent stile should also be 2 inches wide. Rails, on the other hand, can differ as long as you maintain some consistency across the space.
For example, in a kitchen, the rails on the cabinet face frames might be 2 inches along the top of the frame, and 1.5 inches along the bottom of the frame. This is fine, as long as all rails along the top of the frames follow the same measurements, and all of the rails along the bottom of the frames follow the same measurements.
What are Cabinet Face Frames?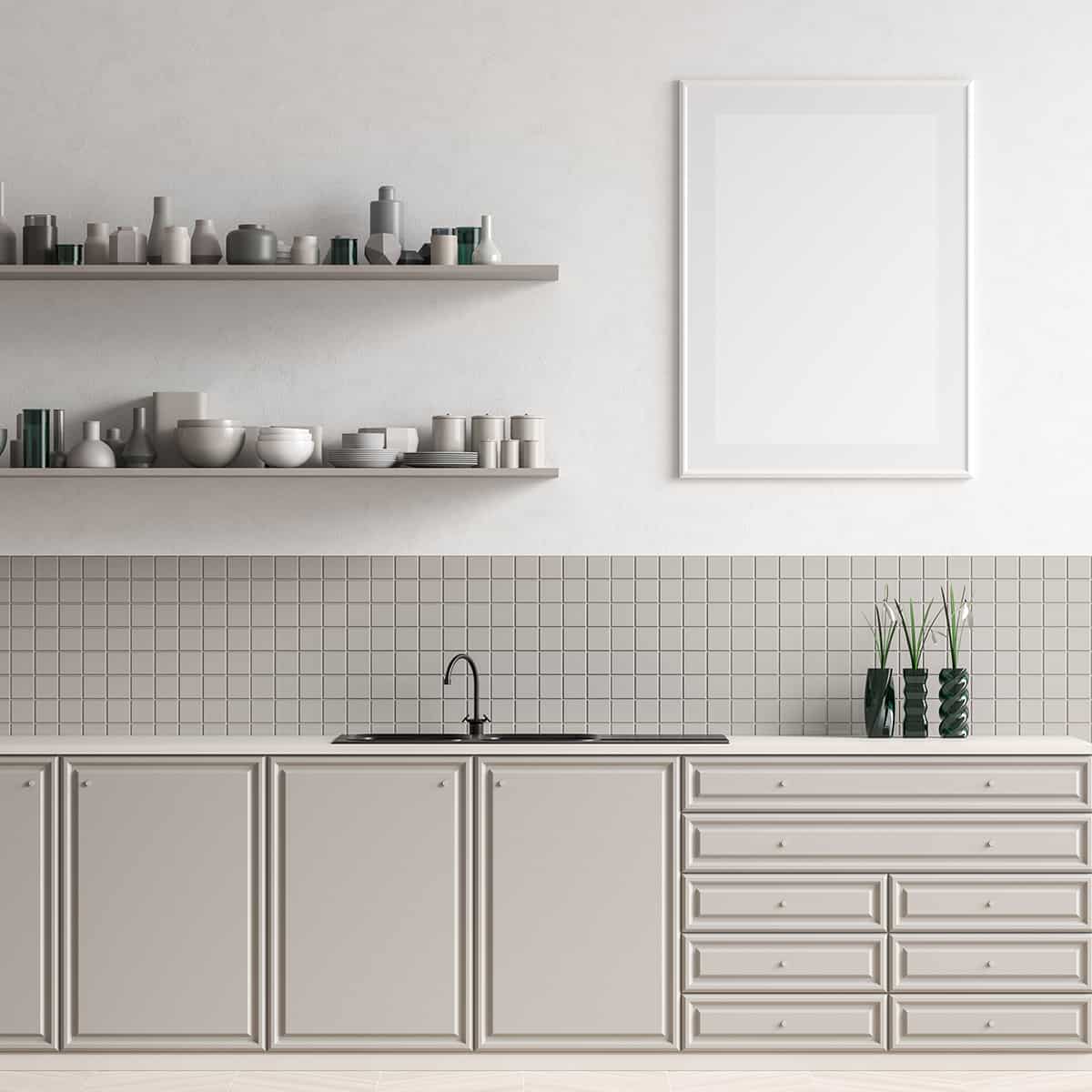 A cabinet face frame is a frame that is installed on the face of the cabinet carcass. There are many reasons why you might decide to include a cabinet face frame in your cabinet design, including improved stability, and a more chunky look.
Not all cabinets have face frames and it's certainly not a prerequisite for cabinets, so it's worth investigating whether you want to include face frames in your cabinet designs.
Parts of a Cabinet Face Frame
Cabinet face frames can be made from solid wood, laminate, or particleboard. They will include a number of pieces of these materials cut to specific sizes, and the position of these pieces within the face frame will determine what they are referred to as.
Stiles
The stiles of a cabinet face frame are any part of the frame which runs vertically. These will typically be the side edges of the frame which run vertically to cover the side edges of a cabinet carcass, and they will be the components where any door hinges are attached.
Stiles do not have to run along the cabinet edges and instead can also run vertically down any area of the cabinet. Often, a face frame stile will be placed vertically running down the center of a cabinet, to divide it in two for two separate cabinet doors to be installed.
Rails
The rails of a cabinet face frame are any part of the frame which runs horizontally. Commonly, these will be installed to cover the upper and lower edge of the cabinet carcass, but they can also run across the middle of a carcass to divide it for drawers, shelving, or cupboards.
What are Cabinet Face Frames For?
Cabinet face frames can be incorporated into cabinetry designs for both visual and practical purposes.
Strength
Cabinet face frames help to reinforce a cabinet carcass, making it more structurally sound. Over time, you can expect that cabinets with a face frame will stand up better against daily use than those without face frames.
Style
The look achieved by using face frames on cabinets is the main reason people opt to install them. A face frame provides a traditional look that is in keeping with classical-style homes. The addition of a face frame will also make cabinets look more robust, which gives them a more high-quality, expensive look that many people prefer. If you want to achieve a modern or minimalist style, then it is advisable to avoid using cabinet face frames, because they don't lend themselves well to these types of interior designs.